If you're looking for a beginner guitar and still stuck with a price range, the Fender Sonoran SCE may be a worthwhile Fender to check out. It is one of the best guitars in the market because of its class and price, but let's find out if this is indeed good enough when it comes to playability, overall craftsmanship and quality.
Overview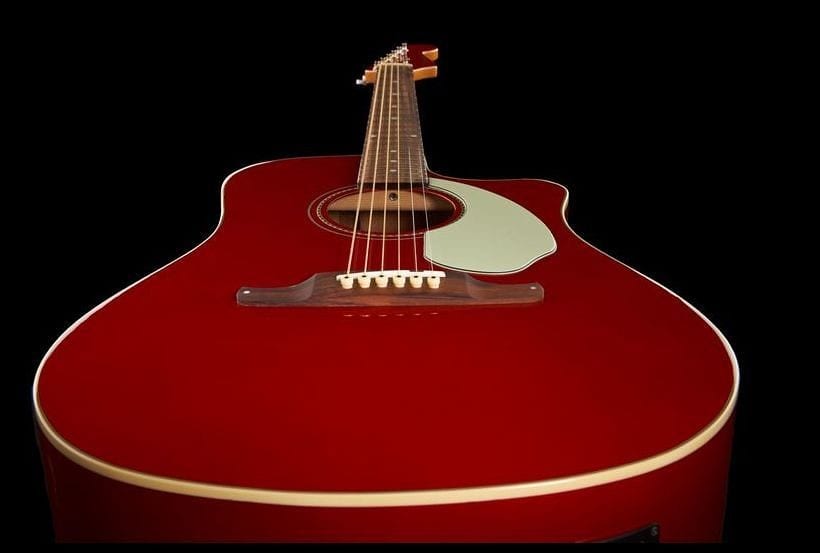 To get an idea of what a Fender Sonoran SCE is, let's start by giving you a short overview. The Fender Sonoran SCE is an acoustic-electric guitar with a vintage flair. It has a tight Dreadnought cutaway shape, solid spruce top with the strong X- bracing and mahogany sides and back. Check the side, and you'll find the Fishman Isys III System with an active on-board tuner and pre-amp. The Fender Sonoran SCE is ready to play anywhere, just connect to an external amp, and you're done.
Things to consider before buying a Fender Sonoran SCE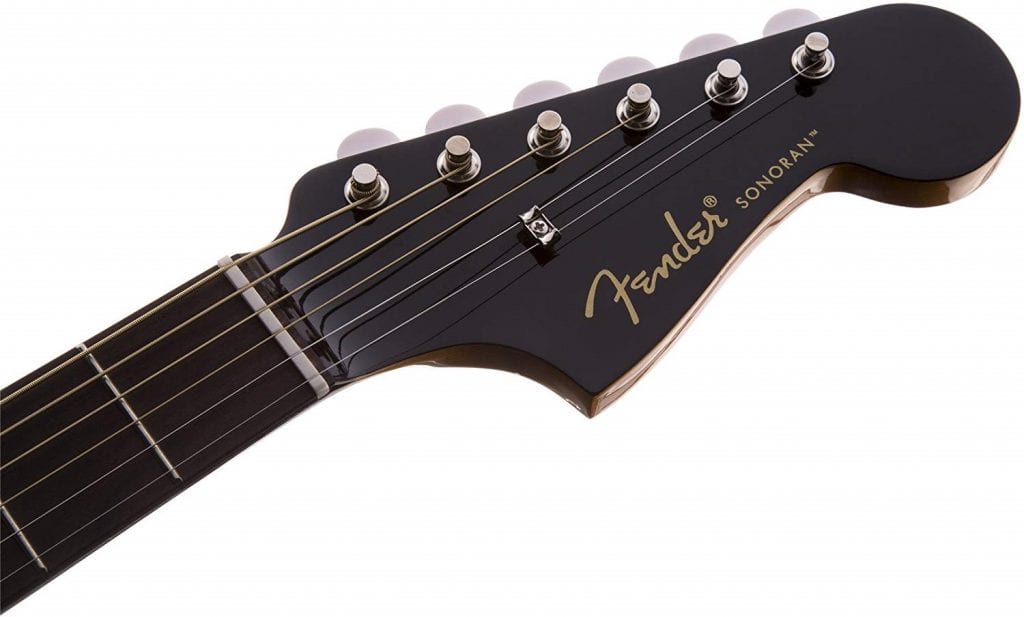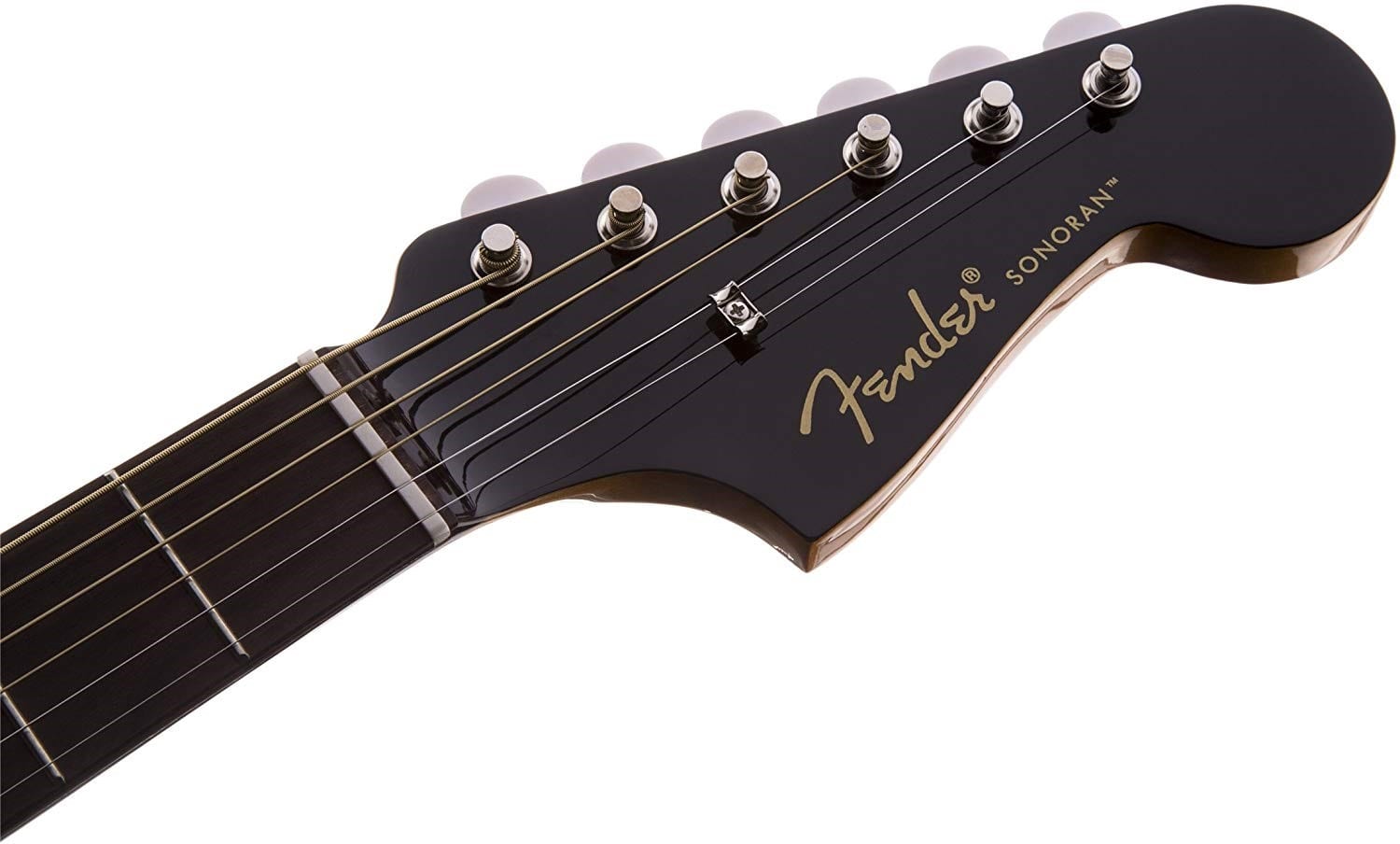 Do you need an acoustic-electric guitar?
Why an acoustic-electric guitar like the Fender Sonoran SCE? Many prefer this type of guitar because they like the smooth sounds of an acoustic and the volume of an electric guitar. An acoustic-electric brings the two qualities in one using an on-board pre-amp and tuner.
This is the guitar for you if you're looking for these two qualities: smooth playing and high volume. It is not the guitar for you if you are looking for the screeching high volumes of an electric.
Brands matter but should not be the deciding factor
Yes, branded guitars like Fender, Yamaha, and Ovation are among the most popular in the market, especially when you're looking for acoustic-electrics. But this should not be the only factor to decide on. Get to know not-so-popular brands and see what they offer. Check out videos, reviews, and recommendations, if there's any, and use these to decide. Also, it's very well known that branded guitars and musical instruments are more expensive compared to others, so think of how much you can save when you choose a less-popular name.
New or used guitars
The Fender Sonoran SCE is a classic, and this is why many guitar collectors still keep their Fender Sonoran SCEs in good playing condition. This is why you should also consider whether you want a new guitar or a used, pre-loved one. Think of the advantages: you can save money on a used one, money you can use to buy other guitar accessories although some used guitars may also be sold with some.
Meanwhile, new guitars, of course, have that "new guitar smell" that feeling and excitement. Although a new guitar could be very expensive in the end, you'll get more out of it rather than buying a used one.
Accessories
We recommend buying guitars in a set or kit, which means it comes with compatible accessories like guitar strings, picks, straps, amps, tuners, and bags. However, some guitar manufacturers are not so generous, so you really have no choice but to buy accessories for your instrument.
We also recommend using genuine accessories to enhance the quality of your play. Don't settle for cheap imitations, which will only ruin your work.
Do you have a specific budget in mind?
Almost all shoppers have a particular price range. Luckily, the Fender Sonoran SCE is in the middle, not too cheap and not too expensive. As with shopping for other guitars, let the price and the brand be your final factors in choosing the ideal instrument. You should compare features, pros, and cons, and ratings so you'll get the most value out of your money.
Features and Benefits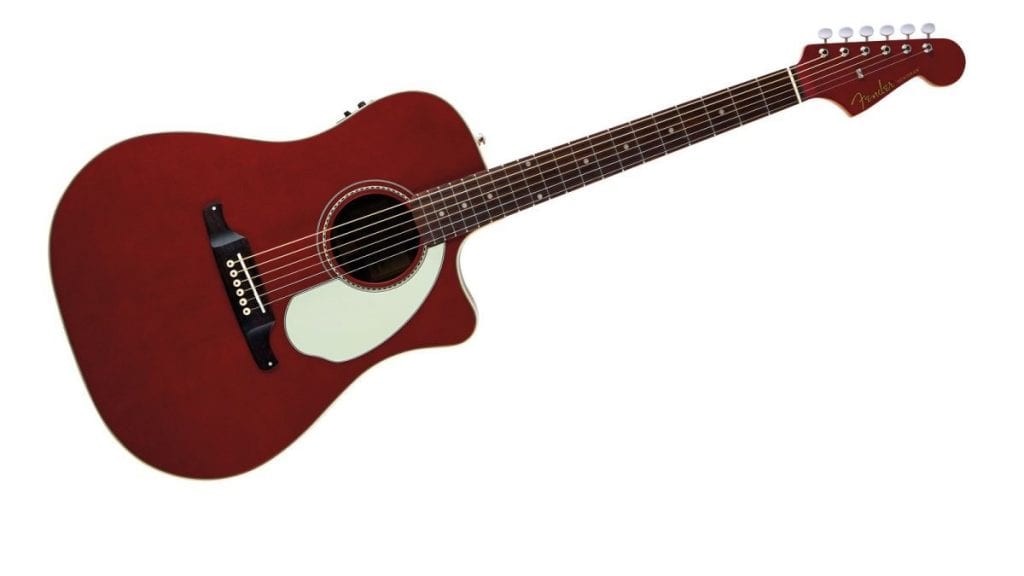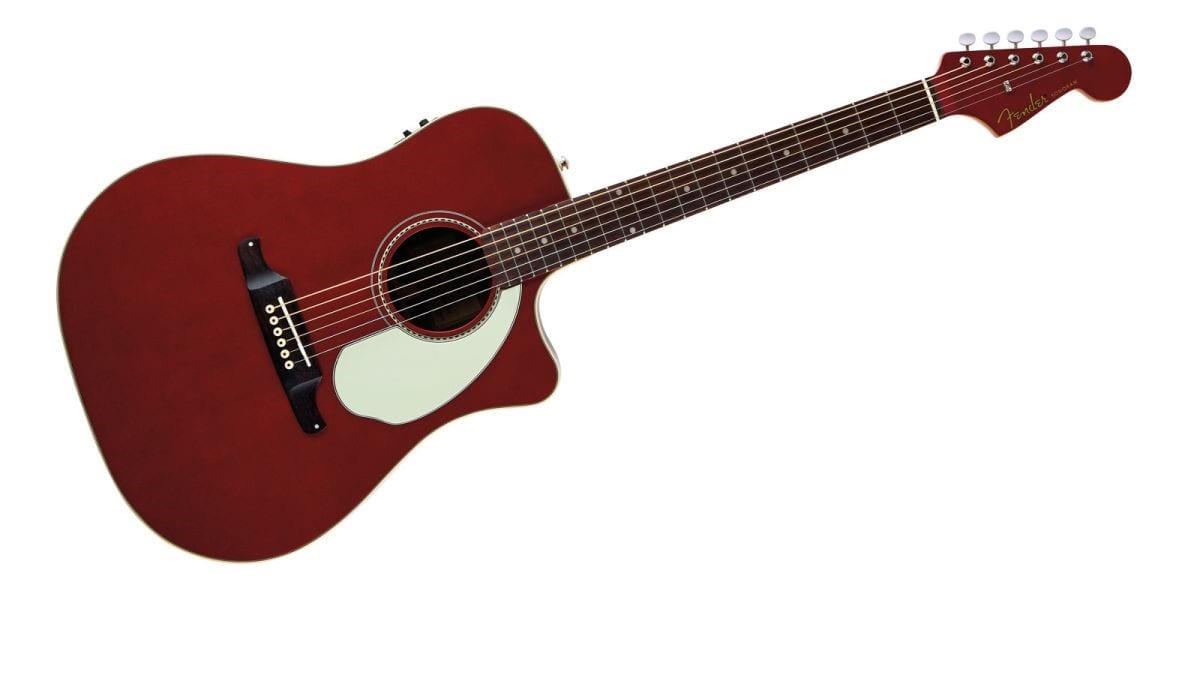 First impressions
The very first thing that I noticed when I saw the Fender Sonoran SCE is that it's too large, especially for someone like me with a small frame! But I did not let this first impression sway my review; I still had to proceed. The Dreadnought cutaway design accents the top that's laminated on all sides, even at the back. Having this shiny and dazzling appearance has made the guitar more eye-catching and interesting.
The top is fitted with the scalloped X-bracing, which helps keep the top strong and to prevent damage to the guitar body. The X-bracing seems to be the norm in most acoustic-electric and acoustic guitar these days and is now a very common feature.
I reviewed a blue Fender Sonoran SCE just like the photo at the beginning of this review, and I am very pleased with the finish. They called it "Lake Placid Blue" finish, and it looks more interesting than the usual wooden materials and finishes. Do you know that the Fender Sonoran SCE also comes in Candy Apple Red and Surf Green?
On top is a three-ply pickguard, something that first-time players and very aggressive players need. This pickguard is perfect for protecting the body of the guitar, for making sure that when you strike the strings with the pick, it won't damage the top as well. The pickguard has a vintage feel, and this further adds to the beauty of the Fender Sonoran SCE.
The neck is sleek with a C profile; the fretboard has 20 frets while the bridge has that classic Fender Viking style. The headstock also comes with the same glossy finish as the body, but the main concern is the plastic tuners, which are very flimsy. Whether you use your guitar often or not too often, you must opt for metal tuners because plastic will almost always give in.
Design
The Fender Sonoran SCE has a classic deep Dreadnought cutaway style, and this is not for show. This style allows players to better reach frets near the body. Just compare how you reach these far-flung frets with a classical western-style guitar.
The neck is made of maple, with a standard soft C-profile. The fretboard is made from rosewood and comes with 20 frets. Another classic is the Viking bridge, which is common with most Fender classic styles. This is also made from rosewood, and thus it's strong, consistent and will always give you the best results.
The nut width is 1.69 inches, and this is a standard for mid-width necks. It is an inch longer than the famed Stratocaster, which was measured from the headstock pin to the endpin.
Fender loves to coat their California Series with high gloss and thus makes the Fender Sonoran SCE more appealing from the headstock to the body. Just like most of the acoustic-electric guitars from Fender, the reliable Fishman electronics is at the right side of the instrument (we'll get into the features and great things about this on-board electronics later). This system has a pickup and pre-amp controls, volume controls, and tuner. There is a small digital screen that tells you the volume level of your instrument and a battery indicator too.
Playability
The action and the neck of your guitar are the two most important things to consider. This guitar has a maple neck, which is one of the most uncommon materials used to build acoustic guitars, but it is a staple in making electric guitars. Therefore, if you're in the market for an acoustic that plays like an electric, then you'll find it in a Fender Sonoran SCE.
The neck is fairly thought and is soft, which is a plus for people who are just learning how to play. Due to the X-bracing, you will get the perfect balance of weight to the strength of the top and the back. Overall, the Fender Sonoran SCE is light and very easy to play, a plus for novice players.
The Fender Sonoran SCE is a high action acoustic-electric, but yet it is very easy to play. If this is okay for you, then this would do just great, but if you're still learning, then a low action is the ideal one for you, have a luthier adjust the Fender Sonoran SCE for you.
The Fender Sonoran SCE comes with a rosewood fretboard, and yes, this is one of the best materials. The edges of the frets are polished and thus make it easier to move and to play fast. The Fender Sonoran SCE is equipped with D'Addario strings and is one of the most reliable and will stay in tune for longer times.
Sound
When acoustics are considered, the Fender Sonoran SCE is a great-sounding guitar, and we're talking about whether plugging it to an external amp or not. The full and rich tone is there, and I think this may be due to its lovely spruce top and mahogany back and sides.
The laminated mahogany provides this warm and positive sound, most importantly, the mid-tones. The deep Dreadnought cut reduces bass, and this is not a good thing for most players. But if you are not into a bass or you want less bass, then the Fender Sonoran SCE may be the best for you. You'll get a well-balanced, good sound for the price.
The Fender Sonoran SCE may lack that signature sound, but because of the materials used, it offers better tonality. It is also strong enough to handle vigorous fingerpicking and strumming without losing its vibrance.
As we mentioned earlier, the tuning pegs are made of plastic, so over time, it will break and even be dangerous to use. So we recommend that you change these tuning pegs to metal one's upfront. Don't wait until these plastic ones break.
Electrics
The Fishman Isys electrics is the heart of the Fender Sonoran SCE acoustic-electrics. It is one of the most common in most Fender acoustic-electric guitars. It has a simple control panel with controls for the volume, 3-Band EQ, and a digital tuner. These controls are easily found on the side of the guitar directly in front of the player, and this enhances the playability of the Fender Sonoran SCE guitar.
The tone produced is an under-saddle, piezo tone. It has a strong output, which makes it worthwhile to use during open mics and especially during a gig indoors or outdoors.
Materials
Now let's check how good the Fender Sonoran SCE is when it comes to materials. The shape is a Dreadnought therefore this can resist wear and tear. It's a good size Dreadnought, so the sound is definitely worth checking out.
The soundboard is made from solid spruce, but the thing with spruce is it's hard to achieve a unique sound from this material. What the spruce top is capable of is to give you a crisp sound with a wide dynamic range.
The back and sides are made from laminated mahogany. Apparently, you can't expect good-quality solid back and sides on an instrument that costs less than $500. The saddle and nut have an enhanced bone saddle and a nut made of bone. Some expensive guitars come with cheap plastic saddles and nuts and can't come close to the great quality in this Fender Sonoran model.
The bracing is scalloped X-bracing, and this is another good feature that was unexpected from a mid-range guitar like the Fender Sonoran SCE. Meanwhile, the bridge is strong as it is visually appealing because this is made from rosewood.
The headstock looks like an electric guitar, and this does not affect the sound or how you play. But for people who want a true blue acoustic, then this may not be visually appealing. The tuners need to be changed, as I said many times in this review because they look like cheap plastic.
The neck feels like an electric because it's made from maple. This is a rare find for an acoustic guitar. The neck is also glossy and is great on electrics but not as great for an acoustic guitar. The fretboard is made from rosewood, which is also common for an electric and so it's great to have it in an acoustic-electric Sonoran SCE.
Transport
The Fender Sonoran SCE is easy to take anywhere because it will come with a large guitar bag or carrying case. Just about any type of strap would do, but we recommend genuine Fender guitar straps. And when it comes to playing on the road, it comes with an instrument cable so you can plug it into an amp to start playing live.
This guitar is best for…
The Fender Sonoran SCE is a good choice across many styles, but because it is a Dreadnought, it may not be appealing to folk musicians. Another problem would be the tone of the Dreadnought, which may not be warm enough for folk tunes.
But this guitar is well-rounded and may be played with rock, blues, bluegrass, pop, and country. It's good for beginners, but it's not the best as long as the action is lowered.  Please ask the help of an expert in lowering the action of this guitar.
When it comes to the price, it is at a good price point for novice users.  And for anyone who wants to get that electric guitar feel in an acoustic, then the Fender Sonoran SCE may be the one you're looking for.
Good value for your money
The Fender Sonoran SCE is a great basic acoustic-electric guitar for the money. It has good specs, impressive features, and is available at an affordable price. For a beginner looking for his first guitar and has a limited budget, then this is the one you're looking for. Meanwhile, pro players may use this as a backup guitar, but it also has massive stage potential, no doubt.
If you plan to use this guitar often, we recommend replacing the tuners because these are cheap plastic and may break soon enough. If you prefer a lower action, then let a professional luthier help you make adjustments.
Alternatives for the Fender Sonoran SCE
Here are some of the alternative Fender acoustic guitars that are known for their great features, good price, and impressive sound. Any of these may be an alternative to the Fender Sonoran SCE.
Fender FA-100 Acoustic Guitar Pack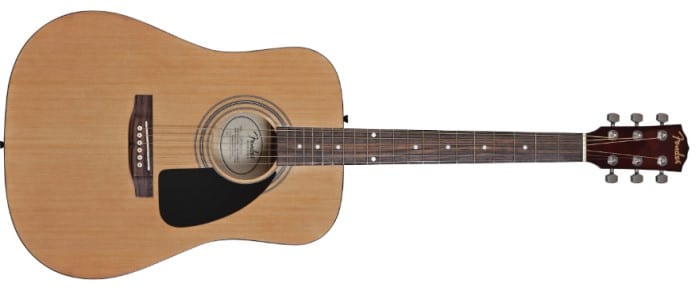 The Fender FA- 100 Acoustic Pack has all you need if you want to learn how to play acoustic guitar. This classic comes with a clip-on tuner, picks, a durable gig bag, strap, and instructions. It comes with a stunning spruce top with a Dreadnought shape.
Fender CD-605 All-Mahogany Solid Top Dreadnaught Acoustic Guitar

The CD-605 All-Mahogany comes with a sleek mahogany top, sides, and back. But it's not all looks because it comes with a classic resonant sound. This is one of the easiest to play and thus a good choice for beginners. It comes with rolled fingerboard edges to keep you from missing a beat.
Fender CC-60SCE Concert Acoustic-Electric Guitar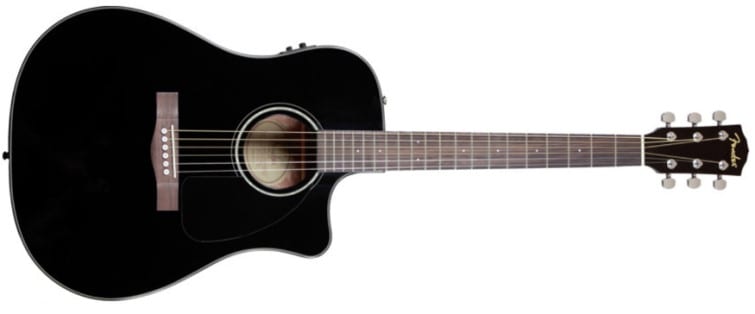 The CC-60SCE is an acoustic-electric with an on-board Fishman pickup and pre-amp. You'll get amplified performance and rich sounds. It comes with a concert body which is slightly smaller than a Dreadnaught while the cutaway lets you easily reach the higher frets.
Fender CD-140SCE Acoustic Electric Guitar with Case
The CD-140SCE is another classic acoustic-electric with the Fishman Presys. Your sounds will be electrified with this on-board electrics. It comes with a solid spruce top, and the cutout design allows you to reach the highest frets with the utmost ease. And as a bonus, you'll get this guitar with a hardshell case. You can keep it safe and secure no matter where you go.
Fender 6 String T-Bucket 300-CE Acoustic Guitar

The T-Bucket 300-SCE is an acoustic-electric that also comes with the Fishman Isys. The finish is a rich, transparent color that adds to the guitar's visual appeal. It is also easy to play because it's lighter and the cutaway on the body so you can get those high frets.
Conclusion
The Fender Sonoran SCE is a great beginner guitar because of its features, looks, and price. Despite not having a distinct sound, it provides a warm and comfortable sound that's a given for the spruce top, good neck, and overall structure of this Dreadnought guitar. There are some cons, too, like its high action and plastic tuners, which should be resolved right away if you want to keep this guitar.