Source: Pexels
It is not easy to create good music. It takes a lot of talent and dedication. However, as musicians attain mastery over the art, the type of instruments that they use also becomes a vital factor in the quality of music that they produce. Professional musicians tend to go with certain brands and models of instruments. On the contrary, music teachers recommend certain brands of instruments for beginners and amateurs. Thus, it is clear that one has to choose their instrument quite carefully, depending upon various factors. If you're a beginner, you might not be looking for the nuance that a professional may look for while picking their instrument. Therefore, you'd want to invest in a brand that is good but not too expensive. When it comes to drumsticks, the buying process can be a tad bit complex. Here are 20 drumsticks to consider in 2021:
1: Promark Hickory Junior Wood Tip
Promark is a very reliable brand when it comes to drumsticks. This drumstick is made of hickory wood that makes it resilient, sturdy, and responsive. This particular model is also a bit shorter than most drumsticks which makes it ideal for younger players. Full-sized sticks can become a hindrance for younger players as they might not be able to grip them properly. Moreover, shorter sticks like Promark Hickory Junior Wood Tip don't cause much fatigue while playing because they're lighter. This drumstick is a serious contender in the list of 20 drumsticks to consider in 2021.
2: Regal Tip Nylon Series
This model of Regal drumstick is also made of Hickory wood, which puts it at an advantage over others. With its nylon tip, this drumstick will last longer than most others. Thus, it's a good buy if you're looking for something that will sustain you for a long time. Moreover, Regal is a respectable brand when it comes to musical instruments. There are many variants available in this range but all of them have the trademark nylon tip. You can get models in various lengths and diameters.
3: Promark Classic 5B Firegrain
This model of drumsticks is another good option if you're looking for something that will last long-term. Promark is a very good brand, as we have mentioned earlier and it offers a variety of good models. The classic Firegrain is one of its best models. When it is manufactured, it goes through heat treatment which increases its durability. It is not completely synthetic but a hybrid. All in all, it is an amazing model that is preferred by professionals and amateurs alike. However, it is a bit more expensive than other drumsticks, yet that is justified because of its quality and durability.
4: Zildjian Artist Series sticks
If you're a musician, you would have probably heard of Zildjian. It is one of the oldest manufacturers of musical instruments in the whole wide world. The brand is famous for the quality that it offers its customers. The brand is mostly known for its cymbals, drumsticks, and various other drum accessories.
The Artist Series of Zildjian is quite popular for the quality offered. Zildjian drumsticks have been used by stars like Dave Grohl and Ringo Starr. Many current drummers still brandish the Zildjian brand. In other words, Zildjian is the equivalent of Apple in the drumming world.
5: Meinl Stick and Brush Hybrid 5A sticks
Meinl Stick and Brush Hybrid 5A drumsticks have been dubbed the best drumsticks for modern drummers. They are sleek and stylish. However, they are not suited for younger players as the sticks are quite long to increase reach. This brand is quite new, yet it has made its mark on the scene with its progressive ideas when it comes to drum accessories. It has a unique hybrid tip design. This model enables dark and smooth cymbal articulation with its unique design. Its length facilitates fast fills and grooves that are quite intricate.
It's a very good model for up and coming drummers with a new approach to the art. The brand may not be old and reputable, but it does produce amazing products.
6: Ahead Classic 2B
If you're a drummer in a heavy metal band then this pair of drumsticks is for you. It is specially made for intensive bouts of drumming. Thus, these drumsticks are preferred by heavy metal drummers who more often than not end up breaking their sticks. It is quite durable and facilitates vibration control. Therefore, it gives the drummer more control over the drumming. Moreover, this model of drumsticks has replaceable tips and sleeves. If you've worn out the tips, you can just replace them instead of buying a new pair of drumsticks.
7: Vic Firth Nova 5A
If you're just a beginner and looking for your first pair of drumsticks to start your musical journey, then Vic Firth Nova 5A is worth considering. This model is made of Hickory wood even though it is quite cheap. You won't find many drumsticks at this price made of Hickory wood. The drumsticks are weight and pitch-matched. Vic Firth makes sure to do that with all of its drumsticks before they leave the factory. Above all, Vic Firth is a trusted brand that makes musical instruments of good quality.
8: Vater Manhattan 7A
Vater is one of the best brands out there when it comes to quality. It's a world-renowned brand. Whenever you buy their product, you know you're getting your money's worth. Their Manhattan 7A is a beast of drumsticks. They are not suitable for younger players due to their size though. But they are quite popular among adult drummers. These drumsticks come with nylon tips too. This pair of drumsticks is actually quite balanced and most of its users have given it a thumbs up. It's definitely worth considering.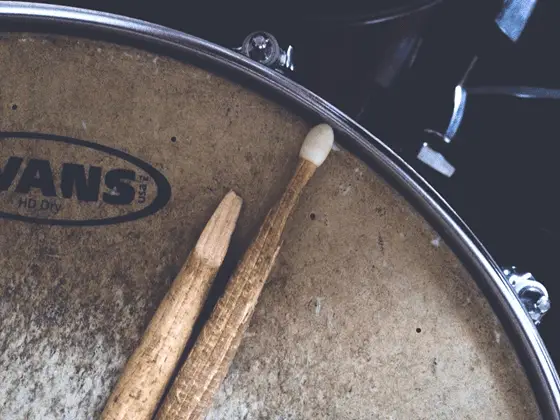 Source: Pexels
9: Vic Firth American Classic 5A
Drummers can't get enough of Vic Firth as they keep producing amazing drum accessories. The Vic Firth American Classic 5A is quite good when it comes to drumming balance and cymbals. This model of drumsticks has been dubbed as a rock drummer's go-to pair due to durability and stick quality. They have a good diameter for the grip and offer decent length. The pair comes coated with lacquer which facilitates the grip. Sometimes, the drummer gets sweaty hands and might lose his grip. But the American Classic 5A doesn't let that happen.
10: Promark Shira Kashi Oak 7A Wood tip
It's no surprise that Promark would make numerous appearances in this list as it is one of the best brands out there for drumsticks. This model put out by Promark doesn't take the traditional approach of going with Hickory. It is made of Japanese Shira Kashi Oak. This wood material is dense and heavy which helps in facilitating cymbal articulation. Jazz drummers all around the globe love this material. The drumsticks are also quite durable, so you won't have to worry about them breaking anytime soon.
11: CooperGroove Performance
CooperGroove is another great option for amateur drummers who have just started out. It is not that expensive and also not that nuanced. Professionals may not go for it, but amateurs just love it. The reason behind their popularity among beginners is the comfort that they provide. Drumming is a very hard skill and it takes time for a learner to get settled. CooperGroove drumsticks provide comfort and help the learner find their style and settle. It even has a great grip.
12: Vater VH5AW Wood Tip
Vater's VH5AW is also very good for both professionals as well as amateurs. They provide a certain level of comfort but also the nuance that professionals seek. Moreover, for someone who is on a tight budget, this model of Vater is worth considering. It won't make a heavy dent in your wallet but still provide you with quality and leave you satisfied. It is well-balanced and made of Hickory wood. Most users have commended the quality of Hickory wood that Vater uses for its drumsticks.
13: Pocket Stix Maple
Not all great drumsticks are for adults or teenagers. Talent for music is not limited by age. If your kid is a drummer and you're looking for good drumsticks for them, you should consider Pocket Stix Maple. They are only 15 inches and made for kids around the age of 8. They are light, so your child's groove won't be ruined by fatigue. You can even fit these cute little drumsticks in your pocket! And when your child isn't using them, you can use them for practice drumming sessions.
14: Zildjian Maple Green Dip 7A
The most revered brand of them all makes another appearance on this list with its Maple Green Dip drumsticks. This model by Zildjian is made for younger drummers. Apart from the enormous brand value, the drumsticks offer a really great grip. You won't have to worry about losing your grip due to sweat while playing the drums. The material used for this model is maple that makes the drumsticks light. Thus, if you have a knack for lightweight drumsticks, then this model is for you.
15: Color changing LED drumsticks
Drumming is about the show that you put on. If you're interested in purchasing something fun for drumsticks, then you might want to take a look at color-changing LED drumsticks. These drumsticks are all the rage right now. If you want to make your performance memorable, then what better way than to put on a whole light show for your audience. You might have to make some compromises on the durability, but you will surely have a lot of fun with these drumsticks.
16: Vater VHFN Fusion Nylon Tip
This variant of Vater's VHFN Fusion comes with nylon tips – something that every drummer desires. The material used for these drumsticks is hickory wood. The nylon tip makes the sticks ideal for cymbal articulation and playing jazz in general. Moreover, Vater is a good brand and their products won't let your expectations down.
17: Custom Laser Engraved wooden drumsticks
If you want to gift drumsticks to a drummer for their birthday or Christmas, then it's time to go custom! The personalized laser engraved wooden drumsticks would make a perfect gift for a drummer of any age. We humans just love personalized products. You can have anything written on these drumsticks.
18: Old-school Maple Wood drumsticks
If you're one of those drummers who prefer the good old school drumsticks without any fancy additions, then these are for you. Old-school maple wood drumsticks are mostly preferred by old-timers who have a thing for nostalgia. The maple used in these drumsticks makes them lighter. Due to their lightweight, there isn't much fatigue. These drumsticks can also fit a tight budget.
19: Vic Firth American Classic with Vic Grip
This model of Fic Firth is just a variant of the American Classic. The base model doesn't have a Vic grip but this one has. The Vic grip makes it easy to grip the sticks and not lose them when engaged in heavy bouts of drumming. If you constantly face the problem of losing the grip while playing drums, you might want to consider this model of Vic Firth.
20: Donner Snare drumsticks 5A
Donner Snare drumsticks are for those who are on a tight budget but do not want to compromise on quality. However, they are recommended for beginners. Professionals tend to prefer Hickory but these are made of maple wood. Maple wood is light and helps amateur drummers settle into playing drums. Donner is a good brand, even though it is not as reputable as Promark or Vater. If you're looking for something cheap and for beginners, then Donner Snare drumsticks are for you.