Steinway & Sons, or Steinway Pianos, is a company that builds grand and upright pianos. The company established in 1853 by a German man called Heinrich Engelhard Steinweg, on Varick Street in New York City.
Heinrich was a piano builder, and their first patent came out in 1857. Since then, they have been granted more than 125 patents. Each piano consists of more than 12,000 parts.
Steinway pianos are famous all over the world and enjoyed by most popular musicians everywhere. There is no other company that has come close to the craftsmanship of a Steinway piano. 98% of renowned musicians choose Steinway pianos over any other and are not associated, endorsed, or paid by Steinway & Sons.
During the 1800s, piano manufacturers were always experimenting with piano design. Every piano builder tried adding different number of keys, like eighty-five or eighty-eight. Some came up with different types of pedals that could be installed. The industry came up with enough designs, and Steinway helped solve the issues. Steinway was setting benchmarks for the piano manufacturing industry. Their piano started to become the industry standard in piano design. You can tell by the number of patents they have.
Steinway & Sons also have two brands that manufacture pianos in Asia. These are much cheaper pianos that use Steinway's designs. The brands are Boston and Essex.
Let's have a look and learn about the ten best pianos built by Steinway & Sons.
1. Steinway Model B
The model B comes in the top 10 seven feet pianos available on the market. It is called as 'the perfect piano' and is loved by piano players everywhere.
The piano is a 211 cm long grand piano and weighs 760 pounds (344.73 kg). This instrument is perfect for home use bit smaller venues where the pianist will play live.
It is one of the greatest pianos ever built since the last century and remains a favorite of many pianists. It is the benchmark by which piano quality is judged.
Steinway pianos use maple wood to build their instruments, which generates a beautiful tone. You can also learn more about the sizes of the piano models to figure which suits your needs.
2. Steinway Model D
The model D is a beautiful 274 cm grand. It's bigger than Model B, which means that it will generate more volume.
These are great for concerts that take place in large spaces due to its size. Concert piano players love the Model D piano. The larger the size of the instrument, the more volume it will generate. It's too big for home purposes. Model B would be much better if you're buying for home use.
It's estimated that ninety percent of all concert pianos are Model D.
3. Steinway Model K
Steinway Model K, also known as Vertegrand, is an upright piano designed in 1903. Steinway stopped manufacturing the Model K in 1939 but brought it back in 1982.
A model K has been used for a long time at the Abbey Road Studios and has been used by many musicians on their albums. The band Beatles used the piano in songs like Penny Lane.
Its length is 132 cm, which is between two popular models by Steinway.
4. Steinway Model I
The Model I was the largest upright piano manufactured by Steinway & Sons in 1894. It is identical to the Model R built in Hamburg, Germany. The Model I was created in New York City, US.
It weighs 695 pounds and is 5 feet 2 inches long.
5. Steinway Model O
The Model O is 180 cm long and weighs 616 pounds. It doesn't come in the category of grand pianos, but smaller grand pianos. The Model O is the largest piano in that category.
The size of the Steinway Model O makes it perfect for your home and studio. It's great if you need a piano to practice. It's smaller but doesn't compromise on tone. It still sounds crisp and boasts a rich, powerful sound.
6. Steinway Model M
The Model M looks gorgeous. It is 170 cm long and weighs 275 pounds. It is a great medium-sized option for home use. The Steinway Model M is among the popular models of the company and worth looking into.
7. Steinway Model A
Model A is a much smaller piano. It is 188 cm long and weighs 695 pounds. It delivers a big sound even though it's smaller than other piano models. The solid spruce soundboard generates a bright tone that is soothing to the ears. It's not harsh and resonates a clear sound.
You might consider this as a great option to purchase for your home to practice music. Model A can also be used by recording studios on a budget. It's a great piano for those who don't want to spend too much money.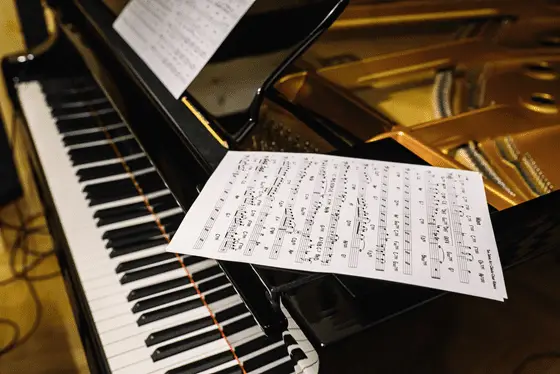 8. Steinway Model S
Model S is a baby grand. It is called a baby grand due to its much smaller size. Its length is 155 cm and weighs 540 pounds (244.94 kg). The design came about in 1930 to create an instrument for those who couldn't afford or didn't have space for a grand piano. Baby grand are a good purchase for someone who started dabbling in the world of grand pianos. The best use of Model S is home practice and to use with a simple recording setup because it creates the same Steinway signature sound.
9. Steinway Model P
The model P is an upright piano designed in 1950. It is called by different names such as Pianino and Hepplewhite. The pianino means a smaller sized upright piano.
The height of the piano is forty-five inches. It comes with ivory keys and excellent veneers. The Steinway Model P is much forgotten and known by true fans of Steinway & Sons. You can still find and purchase these gems and are great instruments for a variety of purposes.
10. Steinway Model C
Steinway Model C is a semi-concert grand piano. It's 227 cm long and weighs 937 pounds (425.02 kg). It is the second largest piano built by the company, Model D being the largest. It boasts of a sorted bass and treble tones. It doesn't sound mushy but very clear and precise. Steinway uses the best material available to build the best piano.
It was first built in 1878. It's not a popular model for some reason. Musicians many times prefer a Model B or Model D since they are maybe more versatile.
It is an eighty-five-note piano, which is equal to seven octaves. The Model C was re-designed by the piano builders at Steinway & Sons to improve the quality.
The modern Model C built in Hamburg is a beautiful instrument and is often forgotten. It's larger than Model B but smaller than Model D. This makes it a good option for pianists to explore because it has a unique tone.
Boston and Essex
Steinway is marketer of two brands that manufactures pianos using Steinway & Sons designs. These are Boston and Essex. Steinway & Sons suppliers manufacture the pianos and sell through dealers of Steinway & Sons.
Boston and Essex manufacture pianos using lower quality materials and employ cheaper labor. Boston is a mid-level brand and Essex manufactures entry level pianos.
Boston pianos are built in Japan, at the Kawai factory. They have eight models, out of which five are grand and three are upright pianos.
Essex pianos are built in China at the Pearl River factory. Since 2005, these pianos are built in Korea. Essex piano has six models in total, two grand and four upright pianos.
Final Words
Everyone who has ever touched a piano knows the name, Steinway & Sons. Steinway is a world-renowned piano manufacturer that dominates the piano manufacturing industry. The most famous piano players of all time play Steinway pianos. All big venues around the world keep pianos made by Steinway & Sons. The most prominent recording studios everywhere have Steinway pianos. Musicians will most of the time ask to perform or record using their pianos.
Steinway & sons have been in the industry for over a hundred and fifty years and have a hundred and twenty-five patents to their name. They sell their pianos in almost every country in the world.
Steinway & Sons also presents their Crown Jewel Collection. They offer multiple wood options that you can contact Steinway to use for your piano. They build pianos according to your requirements. You can create an instrument that will sound unique and look much better.
Piano comes in different sizes and designs. You must decide what suits your needs before you purchase a piano. Steinway Model B is a beautiful instrument if you want to use it for smaller spaces. Model D is a much larger grand piano that is great for large concerts. We hope you liked the article and enjoyed reading about the different models Steinway & Sons manufactures. Choose wisely.