We can find peace in the most unexpected things, learning music being one of them. Yes, it's tough to attend physical classes for now, but if you think about it, the internet has everything to offer for us to get things started.
A great way to start learning and understanding music is a keyboard. Guitars are too mainstream these days and drums are too expensive and have a steeper learning curve. A keyboard, though underappreciated, is one of the most respected musical instruments which any band, musical group or a song for that matter can't do without.
Keyboards are also great for creating music if you already know how to play. And while there are several inexpensive options out there, buying a great quality keyboard with all the right bells and whistles doesn't really hurt the pocket as much if you are truly invested in taking your time out and doing something original. Here are five keyboards that you can easily buy online and would be suitable for your needs, be it as a beginner or as a savant.
Note: Almost all keyboards with full-sized keys have standard features such as reverb and metronome. They also have the basic physical specs such as basic I/O ports for USB, MIDI (In and Out) and headphones. Companies like to sell their products by saying these make their keyboard versatile, but that's not how it works.
Casio's Casiotone Series (CT-S100, CT-S200 and CT-S300)
This is probably the easiest series to simply plug and play. Casio is a big name in the music industry and these 61-key keyboards are more suited to beginners and intermediate-level players. There are a few sub-variants in this lineup as well, which are perfect for anyone's pocket. I myself have started learning the basics using the CT-S100. It was the cheapest model out there in the market and I needed full-sized keys to be able to have a holistic playing experience.
The top of the line model in the series, CT-S300, costs about $150. The entire series is extremely portable and lightweight. The keys have a nice tactile feel and texture.
The CT-S300 can also function as a MIDI keyboard; if a professional who's tight on the budget is looking for a cheap option to add some flavour to their music, this is a great choice to go for.
Yamaha PSR-E463
More expensive than the Casiotone series, this has the same features plus a great song database and a loop-pattern maker. This might allow you to multitask if you're into using two instruments at the same time. This is a nice keyboard for players who want to experiment more with sounds and music. It comes in two variants, a 61-key layout and a 76-key layout.
The Yamaha PSR-E463 also features about 758 instrument voices that will allow you the capability to mix, match and adapt to any genre. For a live performer, this can be incredibly handy if you need a certain sound to go along with a certain musical piece. Yamaha has been kind enough to showcase a few samples of their backing tracks and instrument voices on their website, which can be found in the links in the sources section.
Alesis Virtue
This keyboard and the setup it comes in is as close to a piano as it gets with an affordable price. The Alesis Virtue is a full-sized, 88 key keyboard that comes along with a piano stand and a bench, both of which give the keyboard a premium look and feel. This friendly giant in the keyboard arena also comes with three pedals: Soft, Sustain and Sostenuto for the finest adjustments you'd like to make while playing.
The keyboard has a backlit LCD screen for showing the chord names and the notation. The keys have velocity sensitivity which many intermediate/experienced players might feel comfortable with. Response is everything when considering complicated soundtracks and songs. The downside is that the keys are non-weighted, the presence of which would have made this product an absolute winner.
Also included is a three-month membership of Skoove Premium with in-depth piano courses and consistent feedback, so that you can learn at your own pace.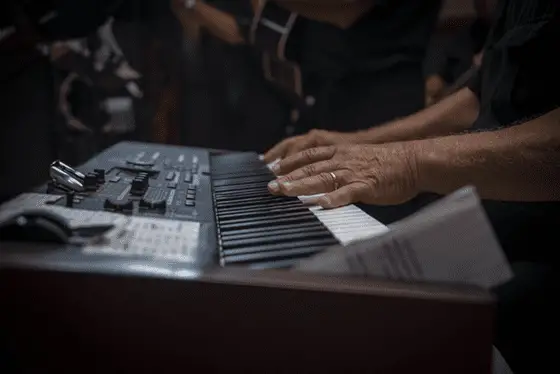 Roland FP-30
Stepping into the sub $700 price range for keyboards, the Roland FP-30 packs a punch with Bluetooth connectivity to popular apps. The weighted keys are a godsend for professional players, keeping the feel of this musical instrument as true to a piano as possible. In fact, most customers think that this has the closest sound to a grand piano.
It is certainly heavy for its size, coming in at 50 lbs. or 23 kg, and could be a hassle to carry if you're travelling for gigs a lot. Nevertheless, with the name of Roland behind this masterpiece, it's unlikely that you'll be disappointed with the level of performance on offer. It comes with an optional 3-pedal unit as well, similar to the Alesis Virtue, and has a twin piano keyboard mode as well. There's an almost never-ending list of features for any player, and to be honest, it's a steal for the price.
The FP series also has other keyboards for distinct needs, and each of them comes with Roland's SuperNATURAL Piano modelling technology that attempts to 'recreate, rather than replay, the sound'.
Roland claims that 'the FP Series has a big, powerful sound that projects beautifully in small performance venues, eliminating the need to bring an external sound system.' While I personally can't vouch for that, the company's reputation definitely indicates that this might be true to some extent.
Korg SP-280
Korg's range of electronic keyboards is famous among music artists. This model, the SP-280 makes an attempt to be as faithful to an acoustic piano as possible with its naturally weighted hammer action on the keys. It's surprising that it's lighter than the Roland FP-30 (weighing 42 lbs.). This one is for the purists: a minimalist keyboard that caters to the need of those who are willing to spend on technology being as invisible on the keyboard as possible.
The keyboard is also known for its stylish appearance that goes well with the decor and comes in two colours: black and white. The Key Touch Control is an add-on to the hammer action for adjusting the playing dynamics and their effect on the output.
Similar to Yamaha, Korg has also listed a few sounds on its website (available in the source section) that it incorporates in the SP-280. Of all the keyboards in this article, this is the only one that includes two headphone jacks. Korg says that it makes things convenient for two people to enjoy playing the keyboard together.
Honorary Mention: Alesis Melody 61 MKII
This deserves a place among others for a simple reason: This is a younger brother to the Alesis Virtue.
It's hard to believe that this keyboard also comes with its own stand and stool, and costs only about $119 on Amazon. You also get the same benefits, AND a pair of headphones AND a microphone to go along with this. Three months of Skoove Premium is also included.
As the name suggests, this has a lesser number of keys than the Alesis Virtue (61 instead of 88) but at the same time, it brings a sense of satisfaction that perhaps the Casiotone series or Yamaha PSR-E463 can't at a price that is tough to compete with.
Considering the huge demand, some of these products might jump in and out of stock pretty fast. But that's not something to worry about. There are several buying options out there apart from the ones mentioned in this article, so make sure to scout the internet a little for those before losing hope.
It's difficult to make a decision in regard to a keyboard that can be deemed the best in a certain price range or a certain category. What that means is, these keyboards are not the only options out there. But if you don't want to dabble too much, these might be your best bet. What are you waiting for, then? This year may not have been as eventful as expected. But learning music is a skill that goes a long way in developing patience and calmness. May your next keyboard give you some hope for the future.