To perform well in any musical performance, you need a durable, reliable music stand to hold your music sheets together. Even professional artists, performers, and musicians use music stand for every performance. And whether you're shopping for a new music stand or you're looking for your first music stand, we are here to help you with the 12 best music stands in 2020. Find out which one is the best for your needs from our list.
Quick Review
1. Manhasset Model #48 Sheet Music Stand
Best Value Most Durable Music Stand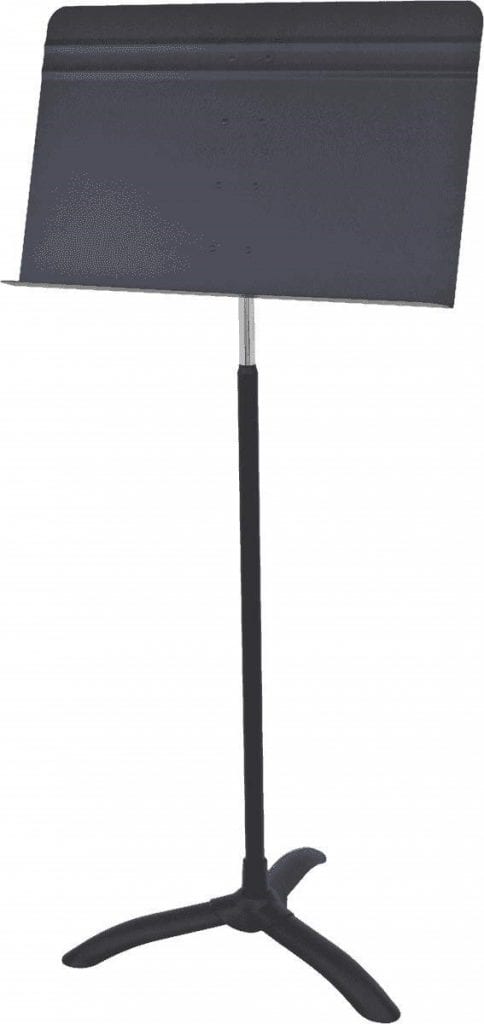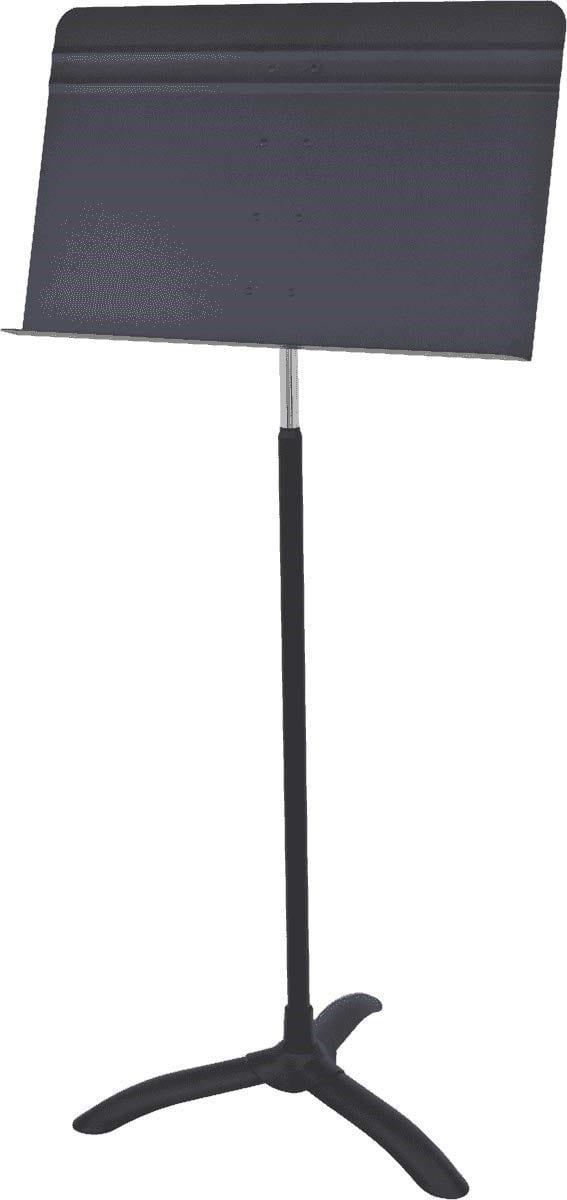 Manhasset is one of the best manufacturers of music accessories, including their music stands. These stands have the best quality because these are made from the toughest and the most robust materials available. Model #48 is one of their best stands and is recommended for many applications, including school bands, orchestras, and musicians.
The Manhasset Model #48 comes with a tilt neck with uniform tension in all tilt positions. All you need to do is to set it up by placing it on your desired angle. It comes with heavy-duty bearings made of brass with an inner shaft and a greaseless chrome with an easy magic finger switch for one-hand adjustment.
The Manhasset music stand also looks elegant with its textured finish. It can resist scratches and chipping, so it will look amazing even after years of use. The full steel-welded base makes this stable and, therefore, will stand the test of time.
Durable music stand – this is a durable stand and is longer-lasting, which you'll surely use for a long time.
Easy tilt neck – the tilted neck is easy to move with constant tension no matter what position this is in. 
Heavy-duty – this music stand has solid-brass bearings, the strong inner shaft, and the traditional Magic Finger Clutch. You can even adjust this using only one hand.  
It needs only a small space –  it has a wide all-steel base that offers amazing stability and will only need a small space even when in storage.
Will hold a heavy load – this is secure no matter what height and even how heavy your load of music sheets is. 
Specs
Size dimensions 20 x 19 x 48 inches
Can accommodate 7.6 pounds of weight
Will tilt at any position
With solid-brass bearings
Greaseless chrome inner shaft
With Magic Finger Clutch
Steel-welded base
2. ChromaCast CC-STAND Folding Music Stand with Carrying Bag
Best Value Folding Music Stand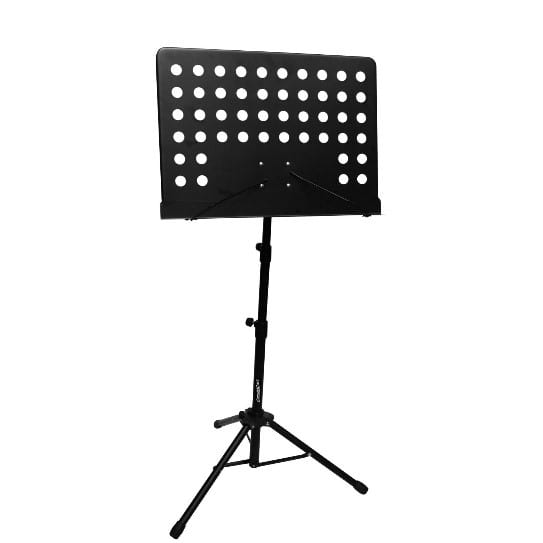 ChromaCast is the brand for quality music that stands in varying sizes. ChromaCast is popular for providing quality and affordability. For musicians and performers who need a good quality folding stand at the most affordable price, this is the best quality music stand for you.
This is the best if you're traveling as it is lightweight and may be folded down and placed in a bag. The bookcase is tilt-able, so you can sit and play or stand while you play any kind of instrument. This also comes with a two-tier shaft, strong tripod legs, easy to adjust the height, and can tilt safely with metallic extensions. With these spring extensions, your music sheets will remain in place.  
ChromaCast measures 23 x 2 x 3 inches and is only 1.9 pounds heavy. Also, it comes with a carry bag which can make this easier to transport.
Professional-grade music stand
Very durable
Lightweight and easy to take anywhere
Will hold music in place
Adjustable height
Folds to a small size
Portable
Specs
Measures 13.5″ x 19″
With a 2″ platform
With metal spring arms to hold music sheets
With a two-tier vertical shaft
Adjustable height from 32″ to 58″
Comes with a bag
3. Gearlux MS100 Deluxe Collapsible Orchestra Music Stand
Best Collapsible Vented Music Stand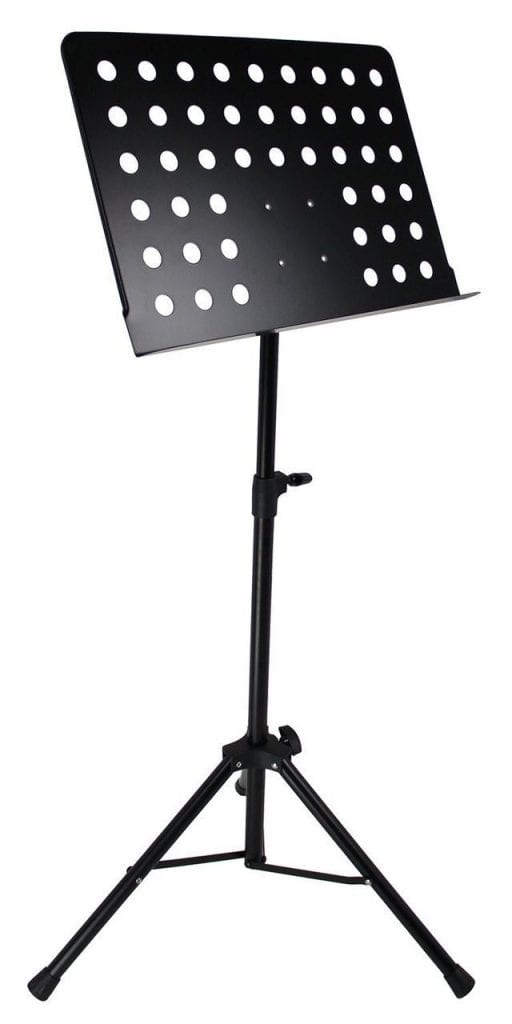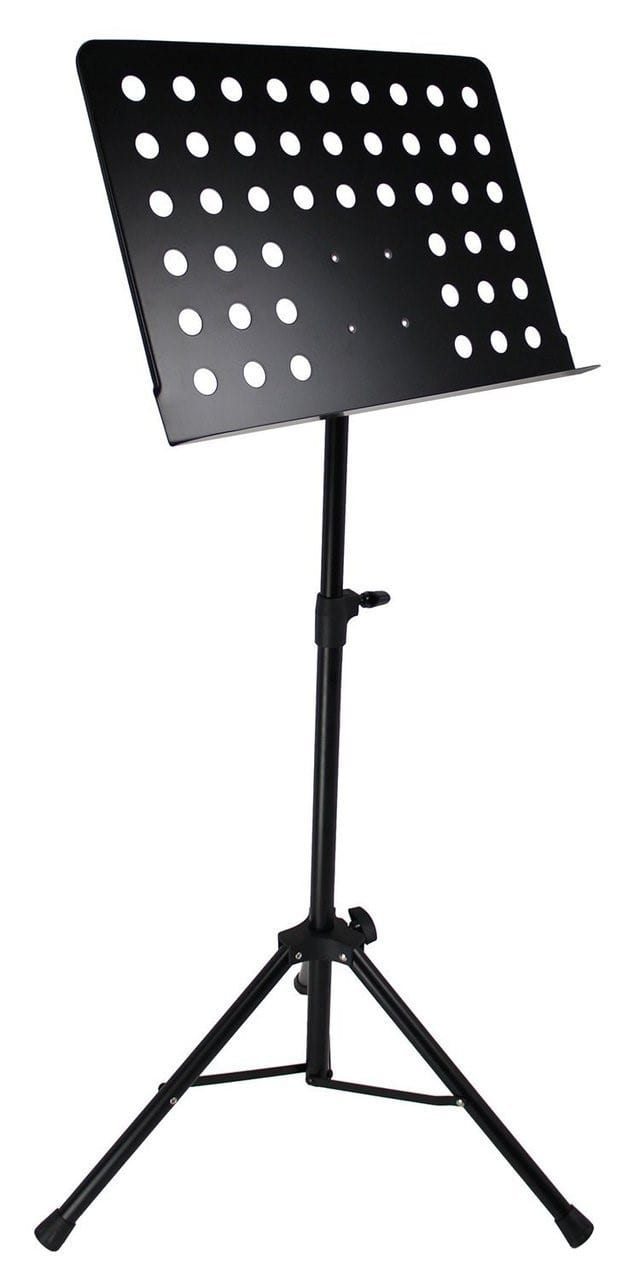 Gearlux music stands are known for good quality and excellent construction. These are reliable and comes with a classy and sophisticated design. It has a tough structure that's durable but is also lightweight making it very easy to transport. The legs may be detached and maybe folded easily to transport. It has an adjustable height from 28-48 inches, which makes this ideal for sitting and standing. It has a twist knob that keeps the stand stable while on standing or sitting position.
The shelf to place the sheet music is also flexible and can tilt to 180 degrees. And aside from holding music sheets, this can also hold Android phones and iPads.
Tough and durable – this is a tough music stand made from very durable material and comes with accessories that are made to last.
Lightweight compared to other music stands – this is one of the lightest music stands which you can fold away and keep. You can carry it wherever you want to play your instrument.
With height-adjustable positions – the height can be lowered or increased accordingly.
Can handle maximum weight – the shelf is very durable and can carry a lot of sheets of music or the weight of a tablet.
The tray can tilt for maximum flexibility – you can move the shelf left or right without making a lot of fuss.
Magnetic sheet music shelf – you can use magnets to fasten your sheet music in place or use ordinary magnetic paper clips so these won't fall or fly away.
Specs
Measures 27.3 x 4.1 x 14.3 inches
Total weight is 7.4 pounds
With a 2″ x 29″ tray
Height adjustable from 28 to 48 inches
The tray can tilt up to 180 degrees
With a magnetic sheet music tray
Twist knob for easy height adjustment
With a vented tray
4. Crafty Gizmos Black Adjustable Folding Music Stand with Carrying Bag
Best Super Compact Adjustable Music Stand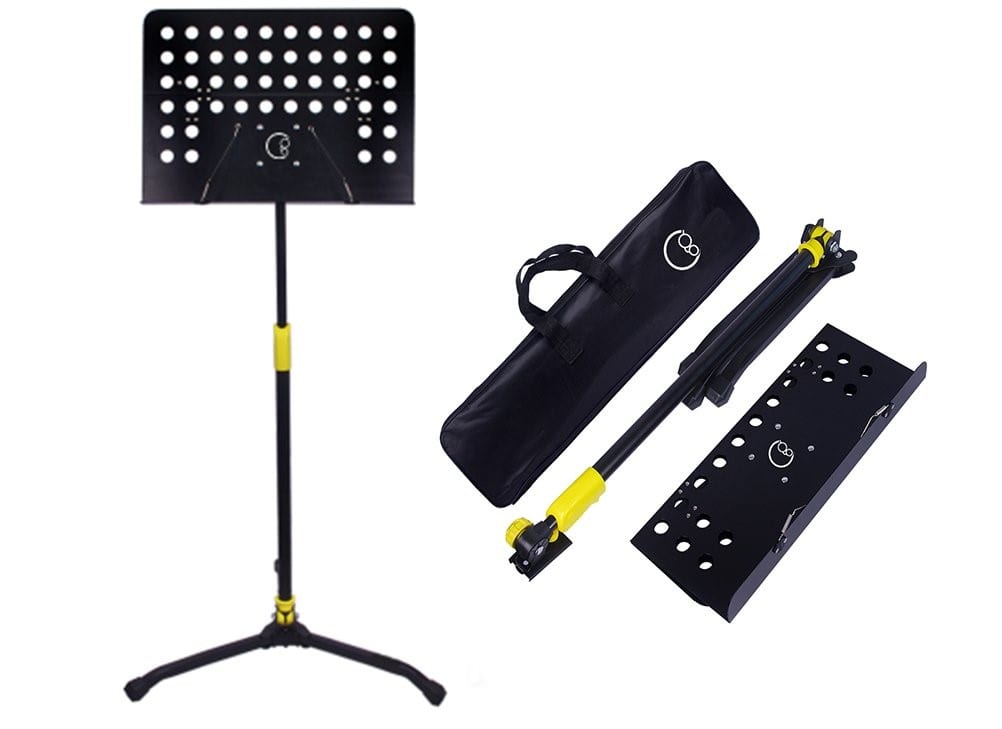 The Crafty Gizmos music stand is ideal for traveling performers as it is adjustable and lightweight and comes with a carrying bag. It has an adjustable angle knob to secure music sheets in place at your preferred angle. This also has an adjustable height, which makes it easier to play your instrument standing or on a sitting position.
This music stand can be folded in a compact size, so this can cover less space. This is lightweight but also feels very solid. The Crafty Gizmos stand will arrive fully assembled, and thus you can play your instrument right away. Along with your purchase is a sturdy carrying bag that will keep the stand as you travel.
Adjustable and very compact – You can adjust the height and angle so you can sit or stand while playing your musical instrument. And when you're done, just fold and pack away.
Will hold music sheets and books – the stand is durable and will hold music sheets and even thick music books. You can use the spring holders to hold the pages together.
Adjustable squeeze handle – instead of a knob, this stand has a squeeze handle for easy or effortless height adjustment
Can adjust to uneven surfaces – because it can adjust to a 15-degree angle, it can stand effortlessly on uneven surfaces, especially outdoors.
Made from very durable materials –this music stand is made from very durable materials making it sturdy and will last for a long time.
Specs
Measures 21.1 x 3 x 2 inches
Total weight is only 1.65 pounds
Height adjustable
Adjustable angle to 15 degrees
Made from quality materials
5. On Stage SM7122BB Folding Music Stand with Carrying Bag
Best Classic Design Music Stand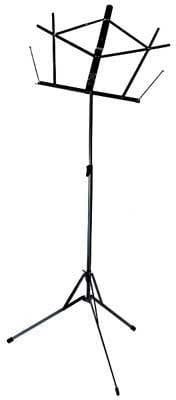 The On-Stage folding music stand has a classic music stand design that's affordable, which is what first-time users are looking for. But despite the price, this music stand has impressive structural quality and improved strength.
This classic strand is in black color, which gives it an expensive and classy appearance. It comes with a tilting pate that can accommodate up to three sheets of 8.5 x 11-inch paper. Its ideal for holding music sheets securely, but fold-out extensions are included as well.
The height is completely, and it's foldable so it can fit a gig bag. You can travel with this music stand, or if you're a student, you can take this to school or your recital. The gig bag is durable and easy to carry around.
With a classic design – this design is different from other music stands as it does not have a flat or vented music piece shelf. However, this design is a classic, something that you'll only find in a philharmonic orchestra.
Adjustable height – this has an adjustable height and tilt so you can sit and play music or stand and sing or play.
With easy friction-locking clutch – this comes with a friction-locking clutch that replaces the ordinary knob to adjust the stand height.
Can adjust to any floor surface – because of its tripod leg, leg braces, and non-slip feet, you can place this on any surface and even uneven floor surface. 
With a durable music stand bag – the music stand bag has a convenient strap so you can carry it on your shoulders, pipped bag edges, and is made from durable materials so you can protect your music stand as you travel.
Specs
Height adjustable from 26-40 inches
With a friction-locking clutch
Lightweight at only 2.2 pounds
Size dimensions 23 x 2 x 3 inches
Can hold music sheets 8.5 x 11 inches
With non-slip rubber feet
With durable bag
6. Peak Music Stands SMS-20 Collapsible Music Stand
Best Peak Collapsible Music Stand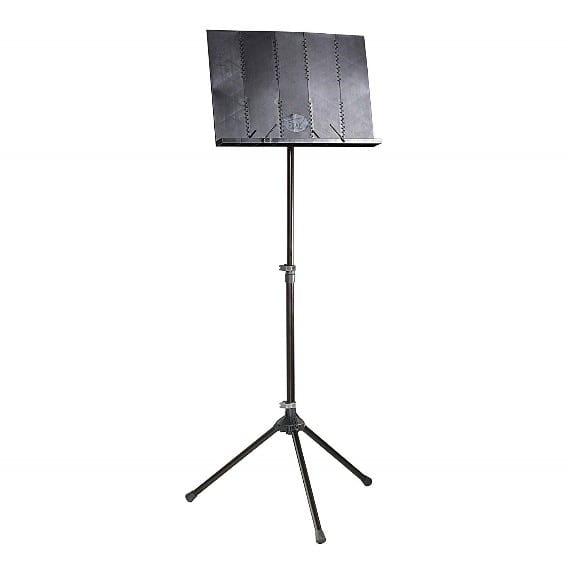 Peak is another name for music stands and other music accessories. The SMS-20 is a lovely and solid music stand made from steel. It comes with a sleek black finish, which improves its overall appeal. It is collapsible so you can adjust according to height or fold it away when not in use. The music sheet shelf is made of plastic, which is durable and easy to clean.
Peak offers high quality and affordable music stands. It comes with a smooth-functioning clamp are also included so you can adjust the stand easily. This stand also comes with a handy carrying bag that protects your music stand when you travel.
With a large, plastic desk – the desk or the music shelf is large and is made from plastic, which can hold a thick bunch of paper and even books or notebooks.
With strong tubular construction – the body is made from strong steel with a tubular shape, and thus it's more durable and will stand years of use.
Fully adjustable – you can adjust the height according to your preference from 24″ to 47″ but you cannot tilt the stand.
Easy to carry and lightweight – you can fold this down to a small pack and then keep and carry inside its carrying bag. You can take it to school, to work, or to your recital.
It comes with a generous warranty – it is covered by a generous 1-year warranty which is not typical for this kind of music equipment.
Specs
Weighs only 4.9 pounds
Measures 27 x 6 x 6 inches
Desk measures 20 x 13.5 inches
With a tubular steel body
With carrying bag
Comes with a 1-year warranty
7. Musician's Gear Heavy-Duty Folding Music Stand Black
Best Value for Your Money Folding Music Stand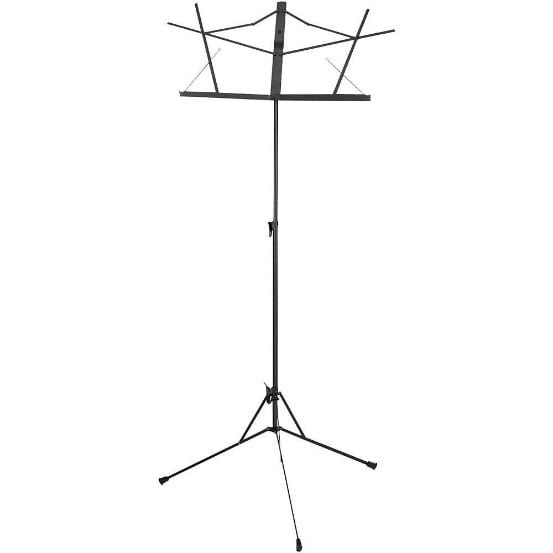 The Musician's Gear folding music stand is made from strong and durable materials giving it a solid construction. It is durable and will stand daily use. You can use this in school, at home, in band practice, or for a recital.
The stand is portable, easy to fold away, and carry inside your bag. It comes in black color, making it look stylish and classy, as expected for the best value music stand. Musician's Gear is adjustable as you can use it sitting or standing. It has durable tripod feet that will let you use it on any surface such as a grassy area, at the beach, or on flat ground.
The music piece shelf may look flimsy, but we can assure you that this classic design music stand can hold several sheets or even a book.
Easy to set up – just unfold and adjust this music stand and place it anywhere you wish to play. You can set it up indoors or outdoors.
With sheet holders – the sheet shelf is not just a place where you place your music pieces, but it also has sheet holders to hold paper together. You can also place music books on the holder.
With a classy design – this music stand has a classy design that is similar to music holders used by orchestras. 
Stable on any surface – this music stand is stable no matter where you set it up. It can sit on the grass, soil, or on concrete.
Easy to carry anywhere – it's lightweight, plus it's also easy to carry wherever you want to play. It is foldable, too, so you can carry it inside your bag.
Specs
Measures 27.4 x 11.8 x 3.8 inches
Total weight is 6.03 pounds
Height may be adjusted from 37.01″ to 58.07″.
With durable body and feet
8. Audio2000'S AST4442PL Portable Sheet Music Stand
Best Value Colorful Portable Music Stand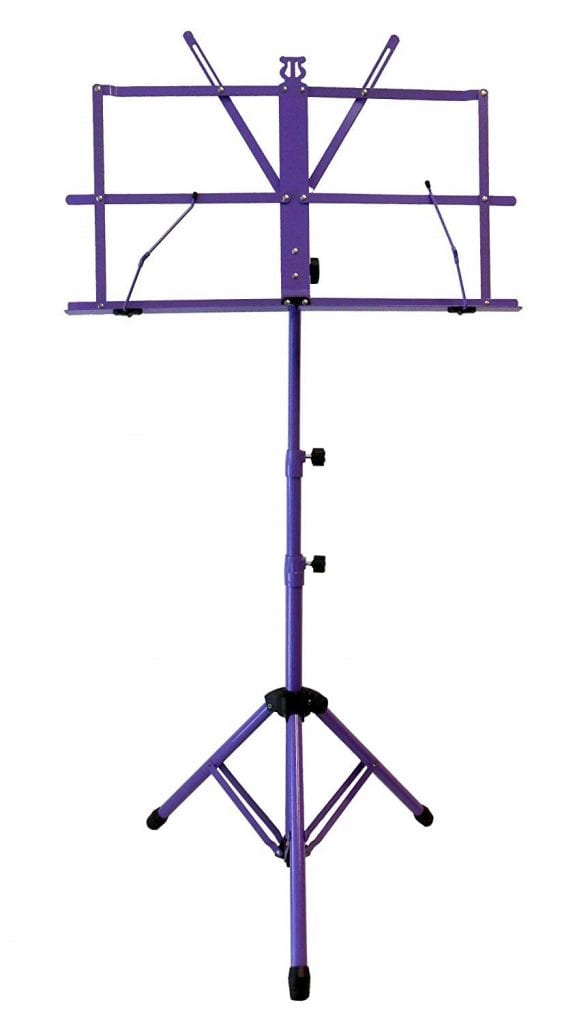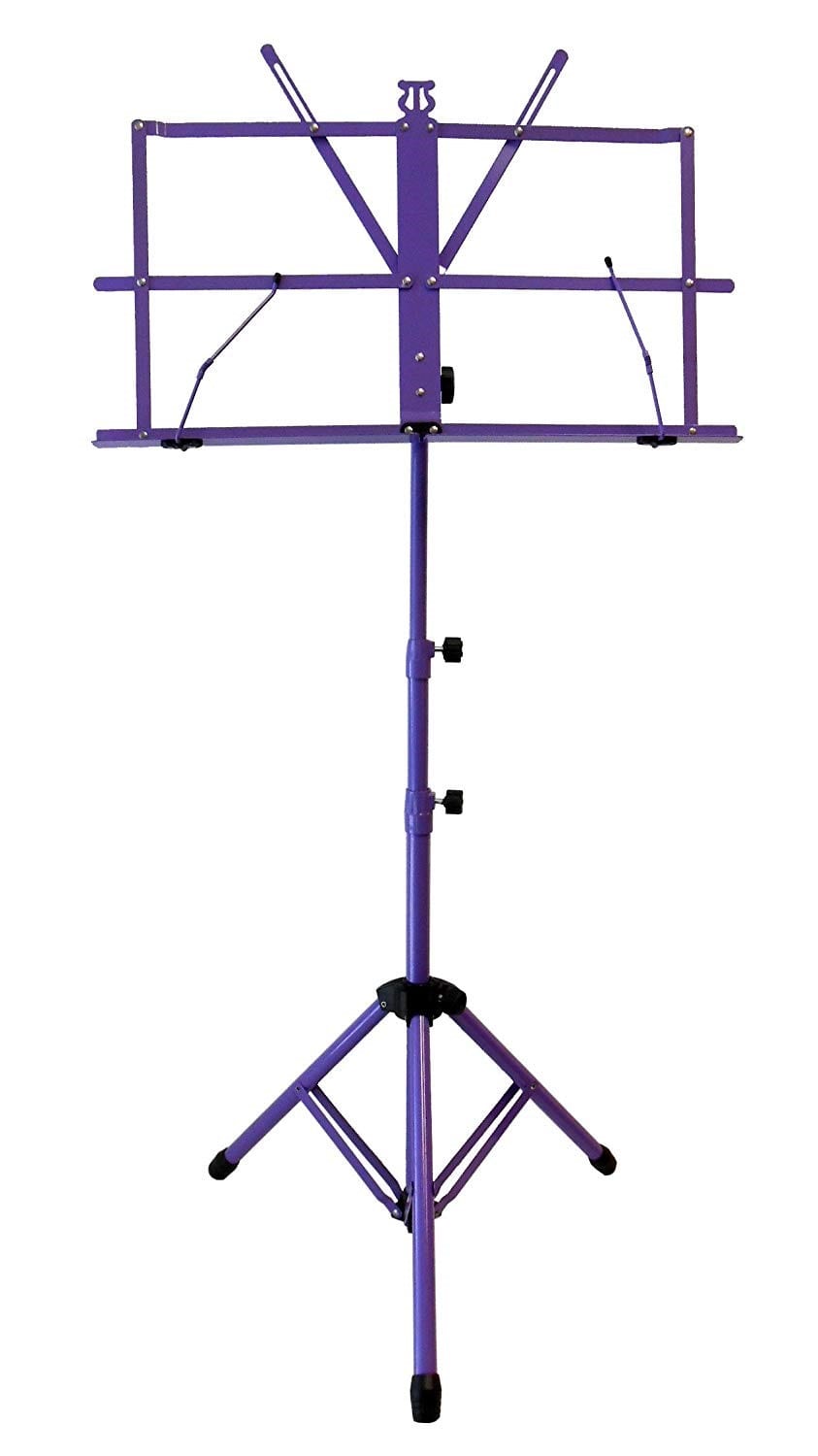 The Audio2000 is a colorful music stand that has good quality features that's comparable with quality stands. It is colorful and thus has a better visual appeal. If you're up for a colorful music stand instead of using a plain-colored stand, then this could be the one you're looking for.  
This music stand is stable with strong tripod tubes and steel links. The sheet holder is also spacious and spring-loaded so that you can quickly adjust it according to your needs. It comes with easy-operating knobs located in two points of the stand to keep it at the ideal height you want to use.
And compared to other music stands, it's lightweight and thus portable. You can also choose from a wide variety of colors.
Stable tubes –this music stand is supported by stable tripod tubes that enhance stability. This is important if you want to play in unstable surfaces, including grass, cement, and indoor flooring.
Taller than other music stands – this stand is taller than other stands at up to 44′ height, adjustable to three height sections.
Easy to use and install – you can quickly assemble your music pieces because the book holder is spring-loaded. It pops up fast so you can play as soon as you like.
Very durable metal joints – these are very durable metal joints made from zinc. This will last longer than music stands that only fold or warp easily.
Available in different colors – you can choose from ten different colors. The color purple, red and pink is currently the most popular of all.
Specs
Weighs only 1.1 pounds
Measures 25 x 5 x 5 inches
9. Hamilton Folding Stand, Chrome
Best Chrome-Plated Folding Music Stand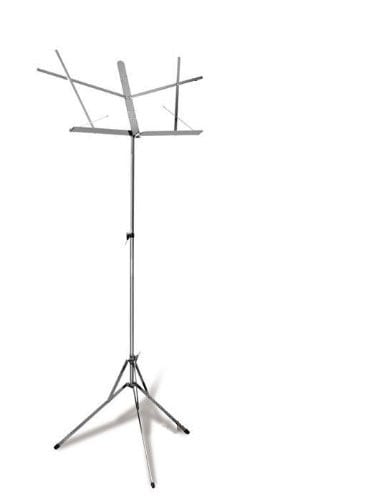 Hamilton is a popular name for music stands and is a name that you can trust for good quality. There is a wide range of Hamilton stands that are stable and durable like the Hamilton Folding Stand in chrome. It is a reliable music stand that is also more affordable than other music stands.
It is chrome-plated, which means that it has a stylish, classy look, and it's also more durable compared to other stands. This comes with a fixed angle desk that has two sections. The stand height can be adjusted using thumb latches. You can fold the legs down as it has a spring-loaded lever.  It is easy to fold and take on the go because it's lightweight and foldable.
Durable and strong – this is made from durable materials; therefore, it's strong and perfect for use indoors or outdoors, in school, or to a concert.
Fine folding stand – the stands folds into a small size so you can take it wherever you want to go. Also, it can fold according to the size you want so you can play your instrument sitting or standing up.
Chrome-plated stand – the stand is chrome-plated, so you can guarantee that this will resist bending, warping, or scratches and will last longer. You'll surely use this stand for many years to come.
With two-section design – the two-section design lets you use this stand while playing standing up or seated.
Adjustable and foldable – this is adjustable and can be folded down so you can take it to where you want to play. You can place this inside your bag or any instrument bag and be ready to play your instrument wherever you go.
Specs
Weighs only 2.36 pounds
Measures 21.5 x 2 x 2.4 inches
Folds 21 ½" and extends to 55″
With a two-section design 
10. Hamilton KB90 Traveler II Portable Music Stand
Best Hamilton Portable Music Stand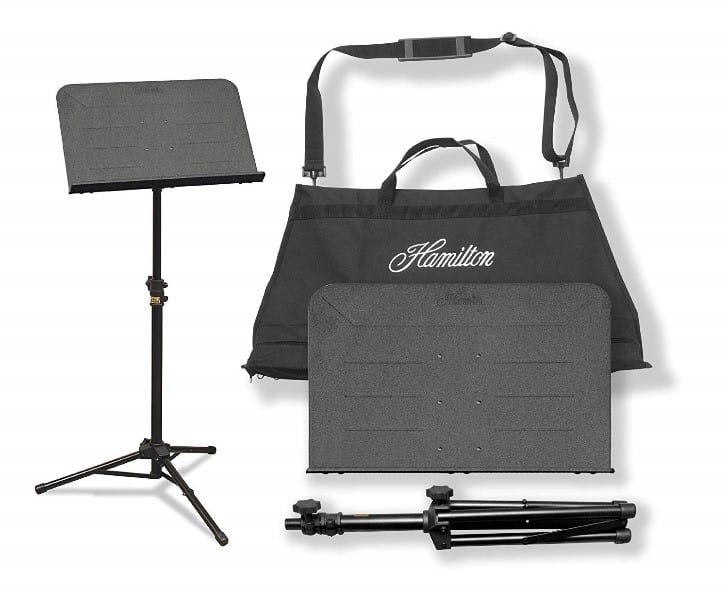 The Hamilton KB90 is a portable music stand that comes with good structural quality and classy design. Hamilton's brand stands are also very affordable; therefore, you can get more value out of your money with this stand.
The KB90 is adjustable, portable, and is made from durable materials, so this stand will resist bending, warping, and scratches. You also get a strong carrying bag made from Cardura cloth. The bag has two compartments so you can easily store the desk and the base.
It comes with a durable bag – the bag is durable, made from Cardura cloth fabric. It also has pockets and sections to keep the stand and the music shelf separately.
Foldable and adjustable – this is foldable so you can carry it wherever. It is adjustable; you can use this as you sit or when you stand.
With a large and strong music sheet shelf – the music shelf is large and can hold a bunch of music papers or even a book. And since it's wide, you can also place an iPad or tablet here.
With steady tripod stand – the tripod stand is stable, which you can use on a smooth or uneven surface.
Specs
Measures 25.1 x 4.4 x 14.1 inches
Weighs 8.84 pounds
Adjustable height from 26 to 47 ½ inches
Comes with durable Cardura bag
11. Ravel TRAVEL Folding Music Stand
Best Extendable Music Stand


Ravel is another music stand brand that offers high-quality music stands at the most affordable rates. Ravel is popular among people who have a tight budget. Because not only are their music stands cheaper but are also durable with great structural strength and stability.
It has a black enamel surface that adds to the stand's strength and robustness. And when you're done using the stand, you can conveniently fold it for easy storage. The height is adjustable, and you can increase its height up to 52 inches. You can take it wherever you want to go because it also comes with a heavy-duty carry case. The case protects the stand and makes it easier to transport.
Very durable – this is made from strong material with black enamel, so it's durable, won't warp or bend, and will be able to handle a book, a bunch of music sheets, and more.
With protective pads – this stand won't mar your floor as it has protective pads under its feet.
Available in varying colors – you can choose from nine different colors, including yellow, red, green, and pink.
Easy to fold and store – you can fold this down to 50.5 inches, and this makes this easier to hold and take anywhere.
Easy to carry/transport – it comes with a convenient carrying case that will allow you to take this anywhere you want to play.
Specs
Measures 22 x 22 x 48 inches
Weighs only 3 pounds.
May be adjusted up to 52 inches
Folds to only 20.5 inches
Comes with carrying bag/case
12. On-Stage SM7222B Tripod Music Stand
Best On-Stage Music Stand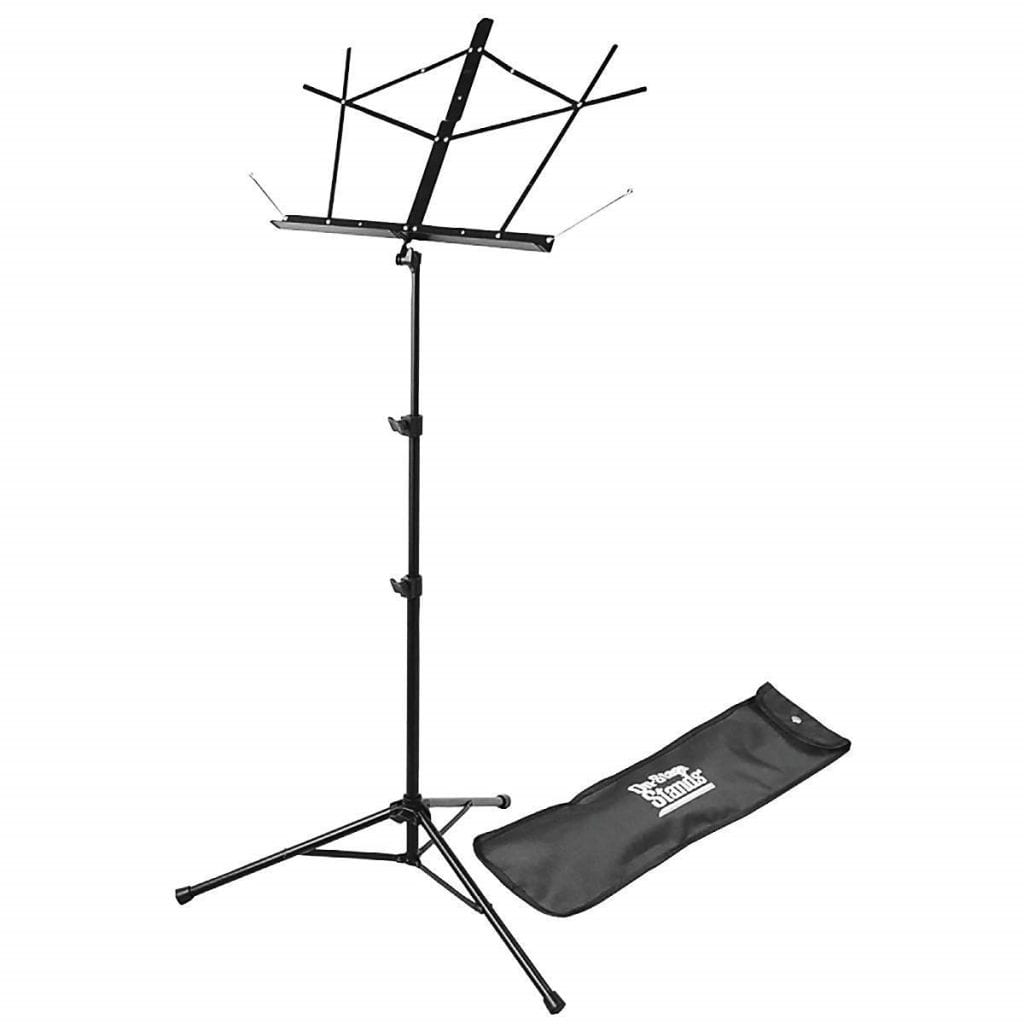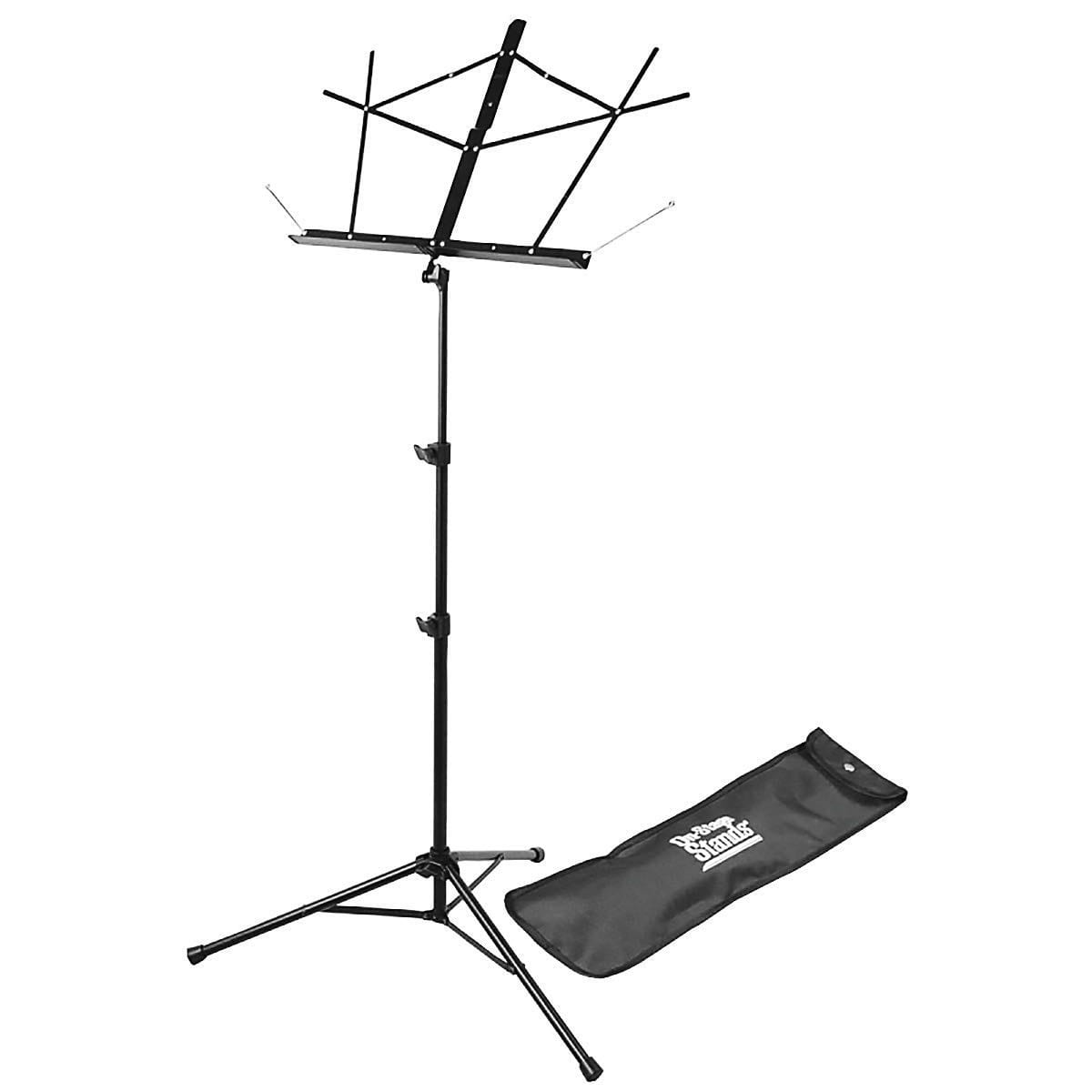 On-Stage tripod music stand has a compact design, is lightweight, and folds to a small and easy to carry a piece of accessory. You can buy it at a very moderate price. Compact design, lightweight, and folding structure help the players to carry the stand comfortably. It has non-slip rubber feet, and the tripod legs come with braces, so these will remain steady when used.
Just like most music stands, this has a convenient carry bag and makes this stand easy to transport. The bag is made of durable material with piped edges. The bag also has a shoulder strap and a Velcro flap to secure your stand as you travel.
Strong and tubular – this stand has tubular components, so this is very durable and will never fold, bend and warp out of shape.
Easy to adjust height and angle – you can adjust this quickly using its telescoping shafts and easy to operate clutches
It can hold three times as many music sheets – the shelf is larger and thus will accommodate more paper or a thick music book.
Can fold easily – with just a few flicks of the ergonomic clutches, this will fold easily so you can place this inside the black bag and transport it easily anywhere.
With non-slip feet – it will stay in place no matter what surface because it comes with non-slip feet.
With a black bag – the black bag easily keeps the music stand, and the bag has a shoulder strap to let you take it no matter where you want to play.
Specs
Weighs just 2.2 pounds
Adjustable from 20 inches to 52 inches
Can hold 8.5 x 11-inch sheets
With three telescoping shafts
With two ergonomic clutches
Rubber end caps on the legs
Bag with shoulder strap, clean edges, so it's easy to carry
Buyer's Guide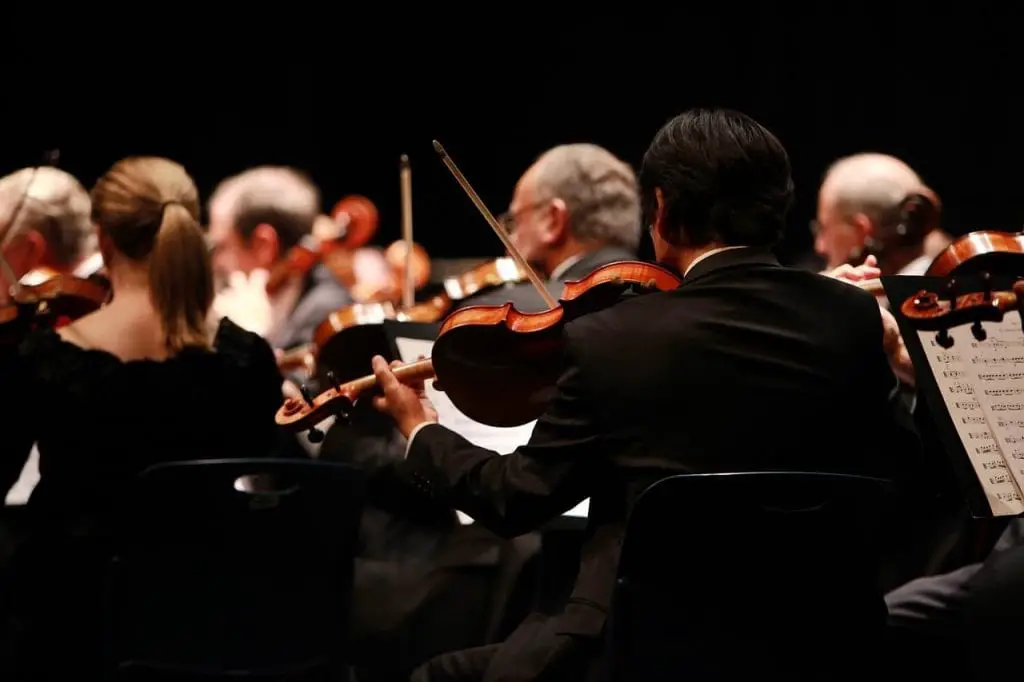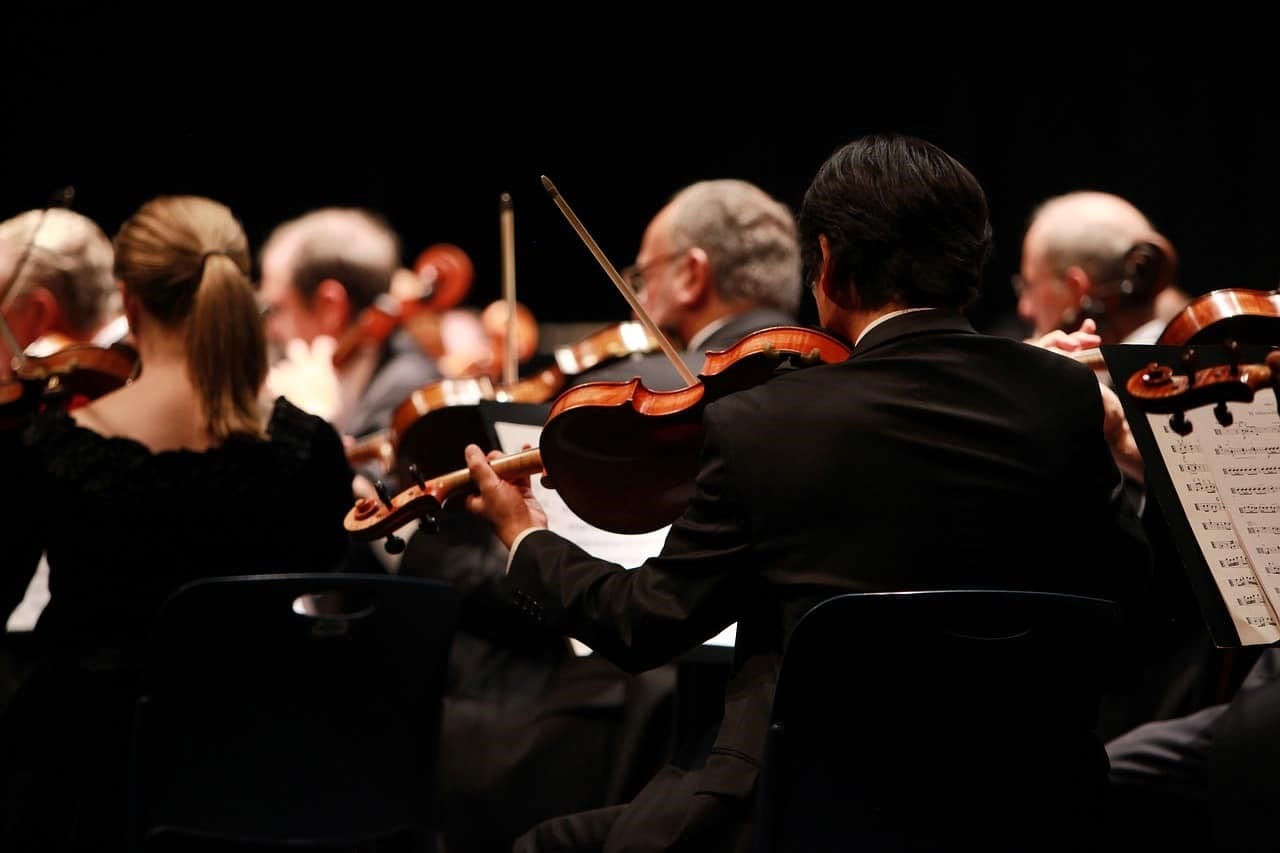 Select a good quality and sturdy music stand. A well-constructed music stand using very durable materials is less prone to physical damage. We recommend a stand with a tubular body since this is more load-bearing and is easier to adjust and keep.
The stand must be adjustable according to the height you prefer. It must be a stand with a standard height but may also be increased or decreased enough to use for playing different kinds of instruments.
Aside from the adjustable height, consider the size measurements. Music stands come in a variety of sizes and shapes. The one you choose should accommodate the kind of instrument you play.
Many popular brands make music stand, but you can't rely on popularity alone. The stand must be available online and must have good reviews and recommendations as much as possible.
FAQs
Why do music stands have holes?
The holes on the desk of a music stand are known as vents. The vents ease the weight of the stand and the shelf less heavy. The holes also make a stand more stable when you tilt it.
What are the advantages of Folding Music Stands?
With a folding music stand, you can keep the stand out of place and conserve space. Folding stands are easier to take anywhere. These usually come with a bag to hold the stand as you travel. You can play almost anywhere when you have a folding music stand.
What are the disadvantages of a Folding Music Stand?
Most folding music stands may not be as durable as non-folding stands. Some claim to be easy to assemble but are more complicated to set up.
What is the ideal height of the stand?
The ideal height of the stand depends on your preference as long as the music sheets can be easily seen, and when you sit, the music sheets should be at least on eye level.
How to keep a music sheet/book open?
You can use a clip to hold the sheets open, or you can use a music stand with additional features to hold the sheet or book open.
What should I buy? A foldable stand or a heavy-duty stand.
This may depend on your preference. If you travel a lot, then a foldable stand is best for you. If you need a stand for a music room, for church or your performance venue, then a heavy-duty, non-foldable stand is best.
The difference between a friction clutch and adjusting knobs?
Friction clutch music stands may be adjusted by pushing down on the shaft or pulling it up. Meanwhile, adjustment knobs will require you to loosen or tighten the knob to adjust the stand height.
Conclusion
According to our review, the Manhasset music stand model #48 is the best music stand because of its good features and is ideal for different applications. You can use this to play your instrument in school bands, orchestras, and in concert halls.
The Manhasset Model #48 has a tilt neck with uniform tension for all tilt positions. It is easy to adjust and will keep its position no matter where you wish to play. The Manhasset music stand looks elegant with a textured finish. It will last for many years of use with its full steel-welded base.