A guitar strap allows you to hold your acoustic or electric guitar while you play standing up. A strap ensures that your precious instrument remains safe and secure at your person at all times. Your guitar strap must be made from durable materials because a strong strap is likely to last a long time.
If you're new to choosing the right guitar strap, we'll be glad to help you out with a list of the top eleven in the market today. These eleven guitar straps are strong and stylish, perfect for playing on stage or performing at an event. A guitar strap should be an extension of your style, so we also made sure that these straps are colorful to match your mood and personal preference.
Quickly Review
1. Mr. Power Strap With 3 Pick Holders for Electric/Acoustic Guitar
Best Versatile Guitar Strap For Electric or Acoustic Guitars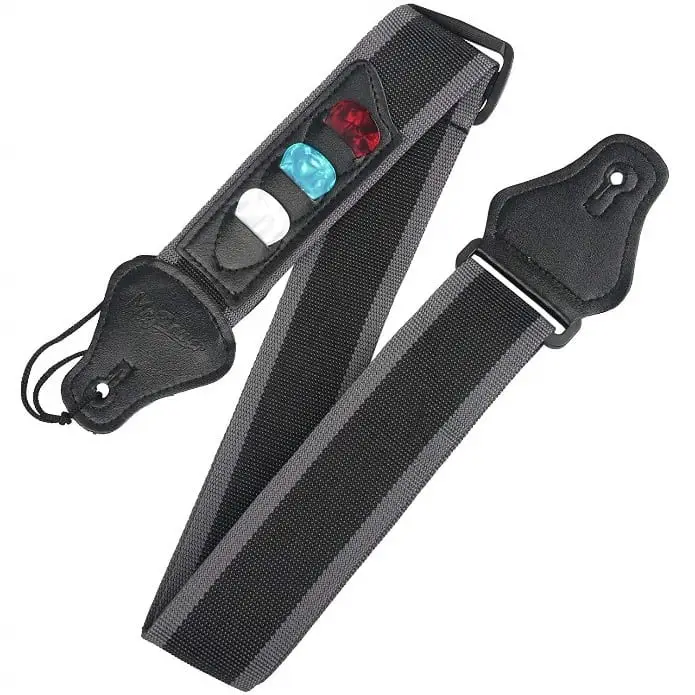 When you're shopping for guitar accessories, you should look for very durable ones and those that will give you good value. Mr. Power Strap is a guitar strap made for acoustic and electric guitar use. It is made from tough materials that will never wear or tear plus offer better comfort on your shoulders and back.
Longer and adjustable straps
This guitar strap may be adjusted from 36.6″ to 65″ one of the longest and the shortest in our list. This means that you can wear this strap no matter how small or how large your body frame is. Because it's adjustable, you can make it longer or shorter, the length that will fit your level of comfort while playing.
With extra attachment string
The extra attachment tie string makes the strap safer and more flexible compared to using a thick strap to secure the end near the neck. Because it has one connection point at the neck, you can swing the guitar better. However, this tie string may not work in some acoustic guitars.
Secures your instrument well
The end of the strap is attached at the bottom of the guitar using a special end. And thus, you can wear this with almost all types of guitars including most acoustic, electric guitars, electric bass guitars, semi-acoustic and acoustic-electric guitars as long as the end fits the strap. 
What's cool about this guitar strap is that it comes with pick holders but not just one but three. The holders are not as deep, so it won't be difficult to remove the pick from the holder during a performance.
Specs
Made of nylon
Width 1.8 inches, length 65 inches
With attachment string
Strap ends connected to the bottom of the guitar
Ideal for all types of guitars
With convenient pick holders, can fit three picks
Comes in black-grey
2. Fender 2 Vintage Tweed Strap
Best Vintage Style Guitar Strap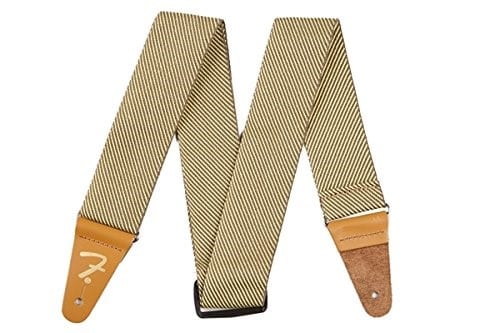 When it's a Fender, nothing comes close, right? The Fender 2 is a vintage guitar strap basically because it's made from tweed. It's adjustable, comfortable, and the classic style makes this perfect for a classy acoustic guitar.
The polyester webbing and spandex strap material is soft on the skin and is also elastic, making it easier and lighter to hold a large or heavy guitar. It's not just for performing on stage but for playing during long lessons without tiring your back or shoulders.
This Fender strap is completely adjustable, from 44″ to 52.5″ ideal for men or women, people with large frames, and those with smaller frames. It's also wider than other straps and thus will feel more comfortable on your skin and on your back.
The polyester webbing and spandex blend are indestructible. The ends are genuine leather and thus won't rip, peel off or lose their shape. This strap will last longer and will never wear or tear when properly used.
The strap is longer, so you can find the comfortable length according to your body size and your instrument weight and size. Also, the strap is 2″ and is thicker than most standard straps. A thicker strap is more comfortable to wear since it spreads the weight on a larger surface area on your shoulder and back.
This guitar strap is comfortable to wear. It will fit all kinds of guitars, including heavy electric acoustic guitars. It will take the weight of a heavy instrument from your shoulders so you can focus more on your music.
Specs
Fully adjustable from 44″ to 52.5″
2″ wide
With classic Fender initials
Made from polyester webbing with Spandex
Made in Canada
3. Art Tribute Guitar Strap Embroidered Red Vintage Woven
Best Artistic Design Guitar Strap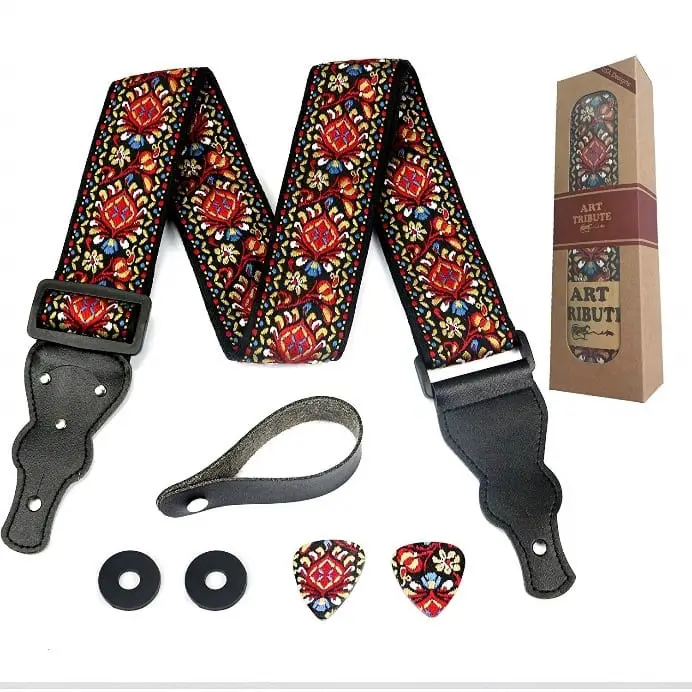 One look and you'll agree that this Art Tribute Guitar Strap is the most intricately designed guitar strap you've seen. It's for acoustic or electric guitars, bass, or acoustic-electric models. Best of all, it comes with free matching picks, strap locks, and a strap button; everything you need to install this strap right away.
You'll have everything you need in a guitar strap in and more because this comes in a set with strap locks, neck strap buttons, and two picks. No need to spend more money on straps with incomplete parts and accessories.
You can wear this guitar strap and adjust it from 37″ to 64″. It will fit people with small, medium, and large frames, and adjusting it is very easy. Wear it shorter to hold the guitar closer to play intently or wear it longer to move like a rock star.
Enjoy playing for hours with this vintage-style strap that's light and breathable on the skin. You won't feel sweaty, tired or hot and thus you will be playing for hours.
With a lovely vintage design
This is the gorgeous guitar strap design on the web! The pattern is similar to a Turkish rug with all the dazzling colors. It's best for all types of guitars, but despite its lovely pattern and colors may not be appealing to all guitar players.
With a generous lifetime warranty
You'll get more value for your money because your purchase will be covered by Art Tribute's 100% customer satisfaction guarantee, lifetime warranty, and 24/7 customer service.
Made from high-quality materials
Just by looking at this vintage-style strap, you can tell that it's luxurious and very comfortable. Now, what do you think if this rests on your skin? The strap is durable, and thus you can wear this and wash when it gets dirty.
Specs
Measures 37″ to 64″
For men, women, and kids
Made from quality, woven materials
With complete set (strap lock, strap button, and picks)
4. KLIQ AirCell Guitar Strap for Bass and Electric Guitar
Best Comfortable Guitar Strap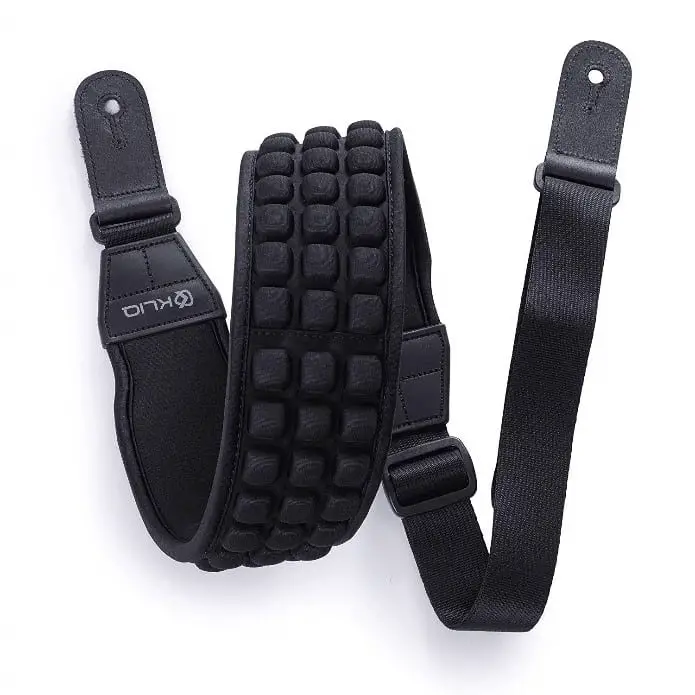 Even playing for just five minutes carrying an 8-pound electric guitar can put so much strain on your shoulders and back. But when you have the KLIQ AirCell strap, you can play longer without breaking your back and shoulders. It's more than a guitar strap with a wide neoprene pad that keeps you comfortable no matter how much longer you play.
The unique AirCell technology is a strap with air cells found at the underside. This makes the strap more flexible and very comfortable to give you lasting comfort, even if you play for longer hours. Just feel the strap surface, and you can tell that it's different from other guitar straps you've worn before. 
Balanced neoprene shoulder straps
The shoulder pad is 3″ wide made from neoprene, so it's soft and comfortable. This is more than just a shoulder pad as it disperses the weight of your guitar evenly on your back and shoulders. Say goodbye to hours of strain and pain when you have a wide and comfortable shoulder pad.
This strap may be adjusted from 46″ to 56″ in length and thus will fit most instruments. This guitar strap also comes in extra-short and extra-long, so it's best to choose the ideal length that's right for you. The ends of this strap are high-quality stitched leather that's durable and provides a good fit. The ends can fit on any kind of strap lock or strap buttons easily.
With moisture-wicking capabilities
The strap is comfortable as it wicks away moisture from your skin. It won't chaff clothes are skin too since it moves comfortably on the skin of the back and shoulders.
With a limited lifetime warranty  
This KLIQ Music Gear strap was created to last and is covered by a generous limited lifetime warranty. This could be a sound investment that will help you play better for many years to come.
Specs
Uses AirCell technology on the underside of the strap
With 3″-wide neoprene shoulder pad
Length from 46″ to 56″
Available in extra short and extra-long straps
Modern look
5. TIMBREGEAR Extreme Comfort Acoustic Guitar Strap Electric Guitar Strap
Best Value Classic Style Acoustic Guitar Strap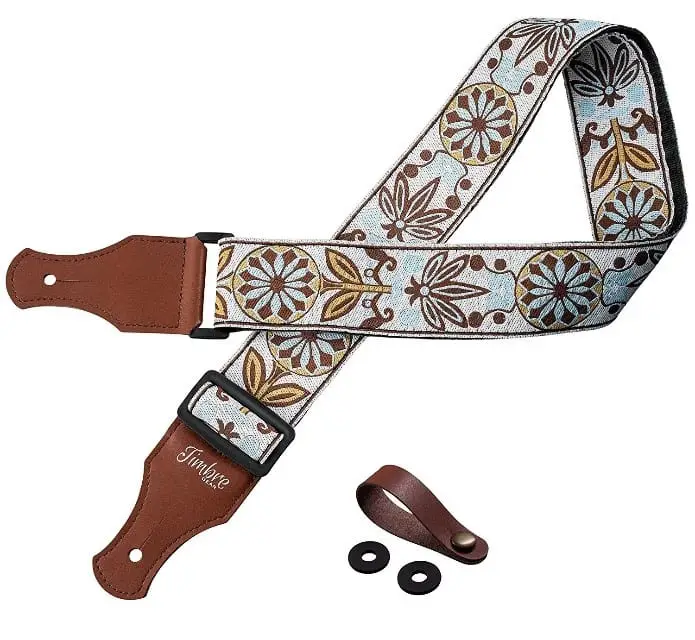 The TIMBREGEAR acoustic guitar strap lets you wear your guitar in comfort and a cool vintage style. It is wider and longer to fit men and women alike. This strap is a value pack with all the things you need to set the straps up and play.
Made from very durable materials
This guitar strap is made from durable and comfortable soft 100% cotton with genuine leather ends. According to the manufacturer, this vintage-style strap will out-perform any kind of strap, especially those made from polyester with faux leather strap ends. These materials will just not hold a large and heavy guitar like a cotton + leather strap.
Comfortable feel on the skin
Aside from being made from cotton, this strap is also comfortable on the skin as it is wider. With a wide strap, the pressure of a heavy instrument will be dispersed on a larger area of the back and shoulders. No more aching back and shoulders with this guitar strap.
The TIMBREGEAR comes with a strap lock and strap buttons; no need to buy these at all. The strap buttons will secure the strap on the guitar bottom and neck.
You can adjust this strap to 62″ long or shorter if you want. Therefore, you can wear this whether you're male or female, short or tall, or with a large or small body frame.
With a cool vintage style
The vintage style makes a good acoustic guitar strap. And aside from this brown design, you can also choose from a dreamy blue, green, black, or black-red design. You'll find one that's right for your style and color preference.
A pick slot on the strap end lets you keep your picks nearby. You won't have to lose a pick again.
Specs
Adjustable up to 62″
2″ wide
Made from 100% cotton
With genuine leather ends
With pick slot at the end
Comes with guitar strap lock, and strap button
6. D'Addario Accessories Planet Waves Planet Lock Guitar Strap
Best Value For Your Money Guitar Strap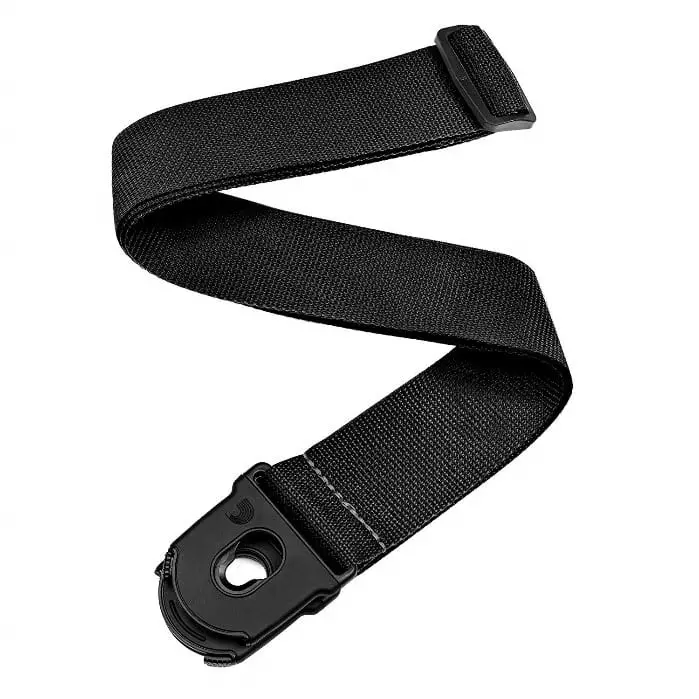 Usually, if you want to change guitar straps, you need to change your hardware as well. The D'Addario Accessories Planet Waves guitar strap comes with the patented lock system that will work on all kinds of the guitar without the need to change any hardware or buy a new one. It can save you money plus because it's made by D'Addario, you'll know that it will last longer than most straps.
The Planet Lock system will fit all kinds of the guitar, so there's no need to change or buy new hardware. Just slip the end to the guitar string to the bottom of the guitar, and you'll have it ready in seconds. You won't have to buy new hardware even with their leather end and acoustic quick-release lock system versions. 
This guitar strap is completely adjustable and can be as short as 35″ to as long as 59.5″. It may be used by men or women, those with small or large body sizes, and can even fit kids. Use the adjustable strap to keep the guitar near you if you are a beginner. Loosen the straps to play like the pros.
Material safe for all kinds of guitar finishes
This type of material is softer and more comfortable on the skin, and thus, it's also safe to use on all finishes. It won't scratch the guitar body and destroy its lovely finish compared to other rough or coarse material.
The Planet Waves Black Design is perfect for a budding rock star. But it's also available in different colors such as blue, brown, green, pink, yellow, red, silver, white, and rainbow colors.
Specs
Adjustable from 35″ to 59.5″ long
Planet Lock system
Also available in leather strap ends and the Acoustic Quick Release
With Planet Waves design
7. D'Addario Accessories Planet Waves Classic Leather Guitar Strap
Best Value Classic Leather Guitar Strap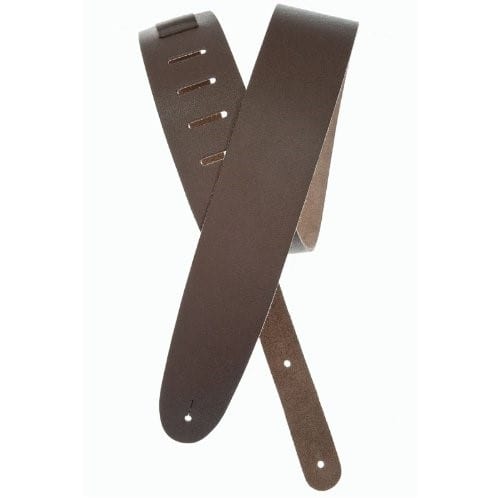 The D' Addario Accessories Planet Waves classic leather strap is unlike all the guitar straps we have here because it's made of lovely, warm brown leather from one end to another. It is completely adjustable up to 53″ long and is the perfect gift for anyone who wants to play the classics.
One-ply or two-ply leather
This guitar strap is strong, easy to use, and is durable that will last for a long time. Because this is made from genuine leather, this guitar strap will retain its shape no matter how much you use it. It is a versatile guitar strap that can be used for acoustic guitars, electric guitars, or acoustic-electric guitars.
With comfortable suede backing
This is unlike other leather guitar straps because it has comfortable suede backing, which won't be too rough on the skin. It won't scratch your clothes too. The suede backing is comfortable and won't be too hot on the skin as well.
With tapered contours to avoid twisting
At each end of the strap are tapered and contoured ends, so you won't have to deal with twisting, especially when you're playing an acoustic guitar. And you can use this strap on almost all guitars whether you're playing an electric or an acoustic-electric guitar.
4″ longer than other straps
This strap is not padded but is four times longer than other straps. Longer straps will let you use this on different kinds of instruments.
Available in different colors
Not everyone loves brown leather, so D' Addario Accessories have other colors available such as black, white, blue, and red. You'll surely find the right guitar strap color that's the best for your style and needs. 
Specs
Thicker at 2.5″
Length from 41″ to 60″
All brown leather
Comfortable suede backing
Adjustable
8. Art Tribute Van Gogh "Starry Night" Guitar Strap
Best Art-Inspired Guitar Strap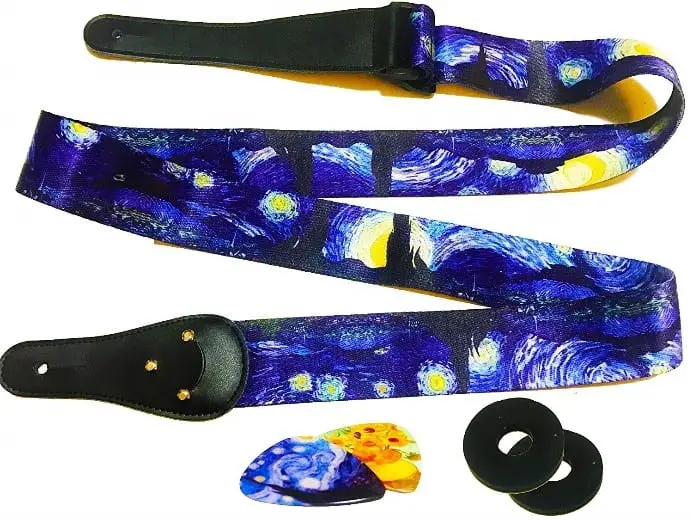 Art Tribute lets you wear Van Gogh's Starry Night around your body with this cool guitar strap. It comes in a complete bundle, everything you need to get you playing your favorite classic or modern tunes. Check out Art Tribute Van Gogh Guitar Picks Set to complete your tribute.
You get a complete set so you can install this strap as soon as you bring it home. It comes with two matching picks, strap locks, and a fully adjustable strap. No need to buy extra accessories and thus you'll save money in the long run.  
With a lovely artistic pattern
This Artistic Tribute guitar strap is a lovely-looking guitar strap inspired by Van Gogh's Starry Night. Inside out, from one end to another, this strap is cool, colorful, and perfect for someone who loves playing guitar and someone who loves art. 
Just like all guitar straps in this list, this Art Tribute strap is adjustable and practical. It can be adjusted from 42″ to 68″ and thus it's a perfect fit every time. It's also 2″ wide, which is more comfortable than a narrower guitar strap. There is also a handy pickpocket where you can store your picks safely and securely.
Made from quality materials
This is a strap made from high-quality, durable, and easy to clean material. It has a soft surface that won't scratch your skin or clothing.
Compatible with all types of guitars
It is compatible with all kinds of guitars, including electric, acoustic and acoustic-electric models. It's also for mandolins and other string instruments. It's also compatible with children's guitars or mini guitars as well.
Comes with a generous lifetime warranty and money-back guarantee
All Art Tribute guitar straps are covered by a lifetime warranty as well as a generous money-back guarantee. If you need answers to any questions about their products, you can always contact customer service available 24/7.
Specs
Length adjusts from 42″ to 68″
2″ wide
Made from strong and durable materials
Comes with complete  accessories
Fits all types of guitars
9. Legato Guitar Strap 3 Inches Wide Double Padded Soft Leather Black Brown
Best Double-Padded Leather Guitar Strap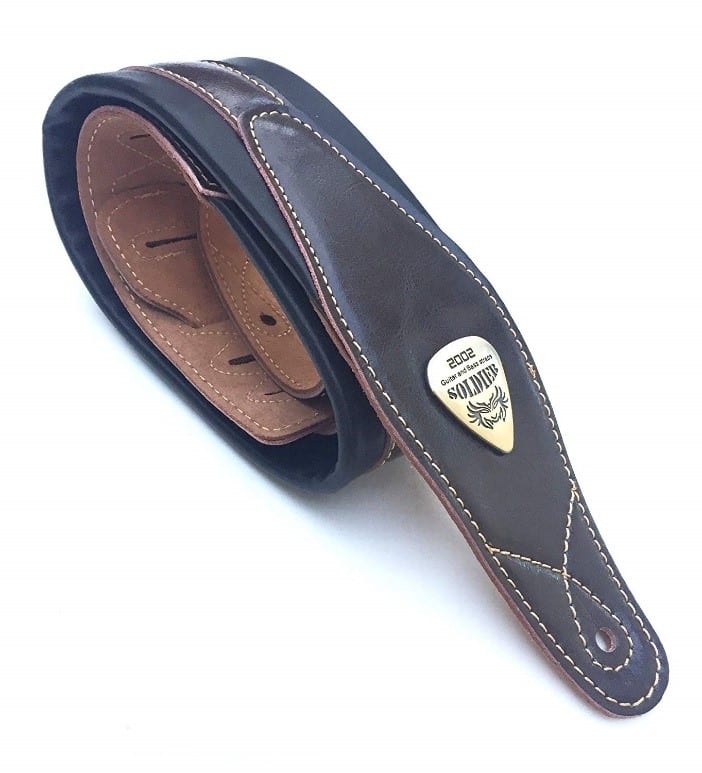 For a classic, all-leather guitar strap style, the Legato Guitar Strap is for you. It is wider, adjustable and thus it's more comfortable. It is one of the classiest guitar straps you'll ever lay your eyes on. It will make you look and feel like a professional player, even if it's your first time playing or performing.
The Legato guitar strap is all-leather, and thus it looks and feels classy and perfect all kinds of guitars. Genuine leather is durable and is soft to touch. It is probably one of the most comfortable guitar straps in the market.
This guitar strap is versatile as it can be adjusted from 50″ to 57″. Although this is a small margin of adjustment, it is still recommended for people with small to large frames, men, and women and may even fit a child. You can use this for all types of guitars from acoustic to electric guitars.
Classy and eye-catching style
This has a classy and stunning style with a two-tone brown leather finish and impressive stitching. It looks and feels like expensive and classy leather.
This guitar strap is soft and will never dig into your skin, especially the skin on your shoulders. This is perfect for very long playing sessions and gigs.
The rounded edges will never hit the surface of your glossy guitar and scratch it. Also, the rounded edges add a classy flair to your style.
Allows even weight distribution
Because of its padded design and its wide 3″ design, the weight of the guitar won't strain your back and shoulders.
Specs
Adjustable from 50″ to 57 "
3″ Wide
Made from genuine leather
Well-stitched
Dual-padded and rounded
10. Amumu Chevron Jacquard Guitar Strap
Best Pure Cotton Guitar Strap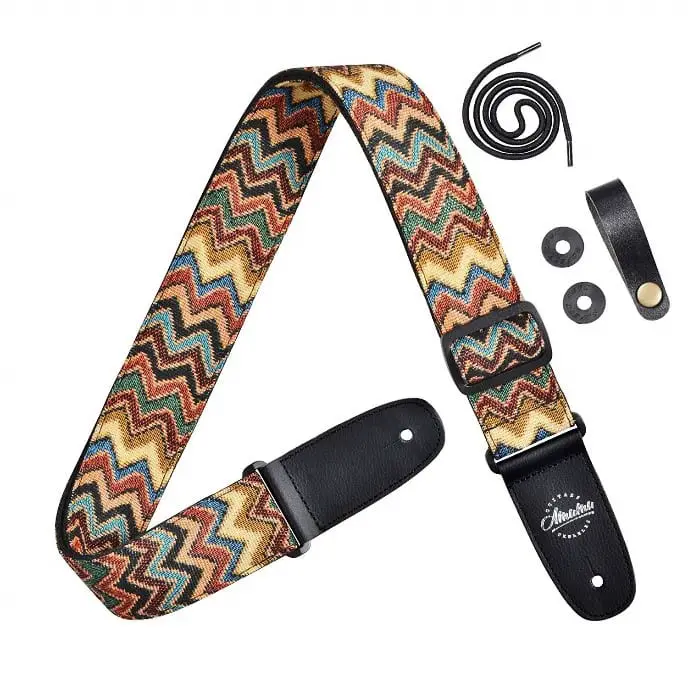 Made from double layers of 100% cotton material, the Amumu Chevron Jacquard guitar strap is soft and durable. It has an adjustable length and a woven pattern design that's perfect for acoustic guitars. It has a plastic buckle and soft surface that will avoid scratching the surface of the guitar. It also comes with complete accessories, including a headstock tie, buttoned tie, and rubber blocks.
Double layer for total comfort
This Jacquard guitar strap is one of the softest. You can hold the strap and see how it feels very soft and comfortable on your skin. Also, because of its double-layer design, it is very durable.
The length can be adjusted from 34″ to 59.5″ and this is the length from end to end. The width is 2″ which means this won't strain your back as there is more surface area that disperses the weight of your instrument.
Prevents scratching the guitar surface
Because it's soft with a quality plastic belt buckle, it won't scratch or dent your smooth and lovely guitar finish. You can preserve the warm finish of your instrument even if you use this more frequently.
Comes with complete accessories
Purchase of the Amumu Chevron Jacquard strap gives you complete accessories, including a buttoned headstock tie, rubberized strap blocks, and a tie lace. No need to spend money to buy these accessories. 
This guitar strap is for all types of guitar, including electric, acoustic, bass, and acoustic bass guitars. It is adjustable and thus will fit men, women, young or old, and also smaller string instruments like ukuleles.
Specs
Premium leather ends
Length from 34″ to 59.5″
2″ width
With complete accessories (buttoned tie, tie lace, and rubber strap blocks)
Available in different colors and styles
11. BestSounds Guitar Strap 100% Soft Cotton Genuine Leather Ends
Best Durable Comfortable Cotton Guitar Strap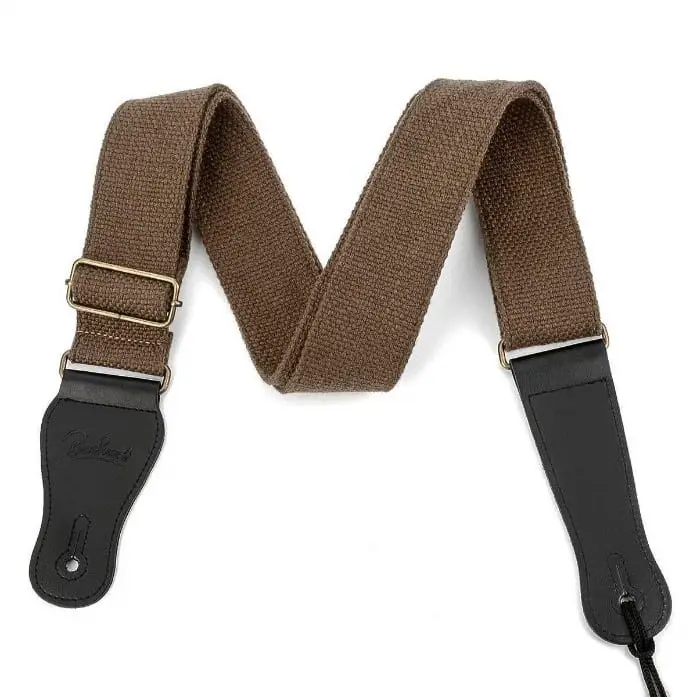 The BestSounds Guitar Strap is made from pure cotton with durable leather ends. It is a guitar strap for acoustic or electric guitars and even for mandolins and other string instruments. It is completely adjustable, will fit any body size, and is universally compatible with all kinds of instruments.
This guitar strap is made from soft yet thick cotton that provides complete comfort even when you wear this for a longer time. No need to buy additional locking components to use this strap as well. 
Made from genuine leather
The ends are made from real leather, and thus these are very durable and will last longer than straps with faux leather ends.
With all the things you need
All you need to install this guitar strap comes with your purchase, including strap locks and a headstock adaptor. No need to spend money on accessories.
This guitar strap is adjustable as you can shorten or lengthen it from 38.6″ to 63.8″. And with a 2″ width, this will be more comfortable to wear than narrower straps.
This comfortable strap will fit all types of guitars and all guitar body sizes. You can use it for your electric guitar, bass guitar, acoustic guitar, acoustic-electric guitars, and mandolins.
With a generous guarantee
The BestSounds guitar strap gives you more value for your money as it is covered by 60 days, no questions asked guarantee.
Specs
Made from thick and soft cotton
With black leather ends
Adjustable from 38.9″ to 63.8″
With complete accessories including strap locks and a button headstock
FAQs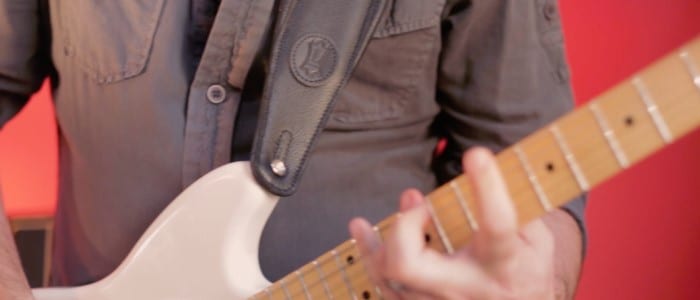 Are all guitar straps adjustable?
Not all guitar straps are adjustable, while some are adjustable only to a certain degree. You should select a strap that's the ideal length you need depending on your body size, the weight, and the type of instrument you are playing.
Can you wash a guitar strap when it's dirty?
This may depend on the type of material the strap is made from. If it's made from polyester or cotton, washing it in warm soap and water would do. Leather straps are special and need extra care and maintenance. A special spray or cream can be used to clean and buff genuine or faux leather straps.
What is a universally-compatible guitar strap?
Universally-compatible straps mean that these straps can fit almost all types of guitars such as electric, acoustic, electric acoustic, and mandolins.
What is the best material to make a guitar strap?
The ideal material is leather because it lasts longer and is resistant to regular dirt and grime and wear and tear. Genuine leather is better, while faux leather may not be as durable.
How to avoid a guitar strap from scratching the guitar surface?
The guitar surface is precious and will easily lose its luster and quality when it is hit by anything rough or courses like a guitar strap and buckle. You can avoid this by using a softer guitar strap with safe, rounded buckles instead of regular, hard plastic or metal buckles.
How to choose the best guitar strap?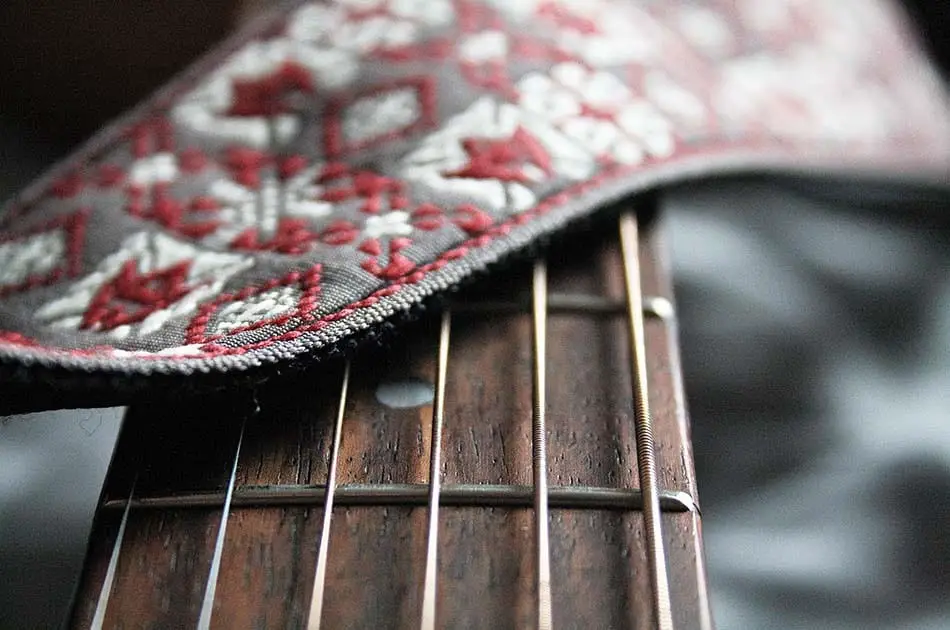 Choose the most durable material
There are many types of materials used, including polyester, cotton, leather, and Spandex. Some use neoprene material to wick moisture and reduce discomfort. Each of these materials has their pros and cons so consider these when you choose the right guitar strap
Consider a comfortable strap
Aside from a durable material, you need straps that are comfortable and easy on the skin. Some good materials are cotton, leather, and neoprene. Avoid polyester because this is too warm on the skin.
The guitar strap adjustable length matters
The strap length is adjusted to match a wearer's preference. Look for a strap that can accommodate the length you prefer rather than just take any strap that could be too short or too long for you.
The way the strap is attached to the guitar matters as this will decide if you need to use additional strap attachment. Choose a universal-style guitar, which means that it will fit all kinds of guitars.
The strap that fits your style
Guitar straps are available in different styles, colors, and designs. There are classic and vintage designs, colorful artistic styles, and other different styles that will bring out the rocker or crooner in you.
Conclusion
From our 11 best guitar straps, Mr. Power Strap is considered the top choice. This is because it's versatile and will resist regular wear or tear plus. It's comfortable and adjustable and secures your instrument well. As an extra, it comes with three pick holders, so you won't lose your picks. We recommend Mr. Power Strap for acoustic or electric guitar players, young and old alike.