Weighted digital pianos are ideal options for musicians because they provide you a wider range of options compared to an acoustic one, and they also give you the same kind of feel in your fingers because of how the weighted keys feel natural.
But if you are thinking of buying a weighted digital piano in 2020, there are a lot of different options available for you. To make things easier for you, we have put up a list that rounds up the 10 best weighted digital pianos in 2020.
1) Yamaha CP88 – Best Overall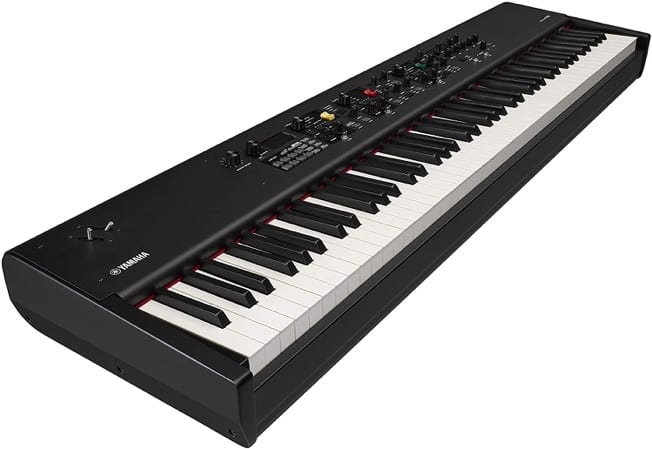 Editor's Rating: 5 out of 5 stars
It is one of the most powerful weighted key digital pianos in the market and is considered a premium option for different types of musicians, songwriters, or even producers.
Despite being a premium stage piano, it was designed to be very intuitive, depending on the user to make it one of the options that are easier to use regardless of who the user is.
The keys are made with natural wood to give you that natural feel that is similar to the ones you would experience when using an acoustic piano.
Features a wide range of different types of grand pianos that will allow you to switch between genres easily depending on the type of music you want to play or produce.
2) Casio PX-770 BK Privia – Best Looking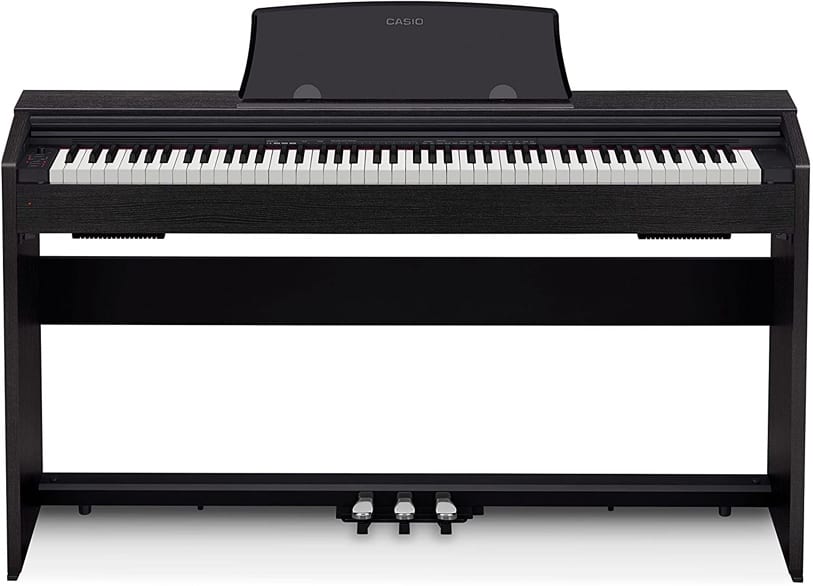 Editor's Rating: 5 out of 5 stars
Designed to be a high-end weighted digital piano that looks and feels like a true piano so that it can act as a piece of furniture that can complement your entire home.
Its keys are so responsive because of how it comes with the best sensors that are sensitive enough to detect simple strokes.
There are hardly any other products as complete and as comprehensive as this one because it comes with everything you need to replicate the feel and quality of an acoustic piano.
It comes with a lot of versatility because of how it has 18 different tones you can choose from.
3) Roland RD-2000 – Best Weighted Keys


Editor's Rating: 4.5 out of 5 stars
What makes it our choice for the best keyboard is that it does not lack in terms of how authentic it feels as the weighted keys feel very similar to acoustic pianos.
Versatility is another one of its strengths because it has all of the features that make it great for home use, for the studio, and for professional musicians alike.
It comes with two onboard sound engines that allow you to have a wide range of choices in terms of the sounds you want to produce.
The sound it produces is amazingly rich and full to the point that it can easily knock the park out when used for live performances and when reproducing non-piano sounds.
4) Yamaha YDP184R Arius Series – Best Grand Piano Look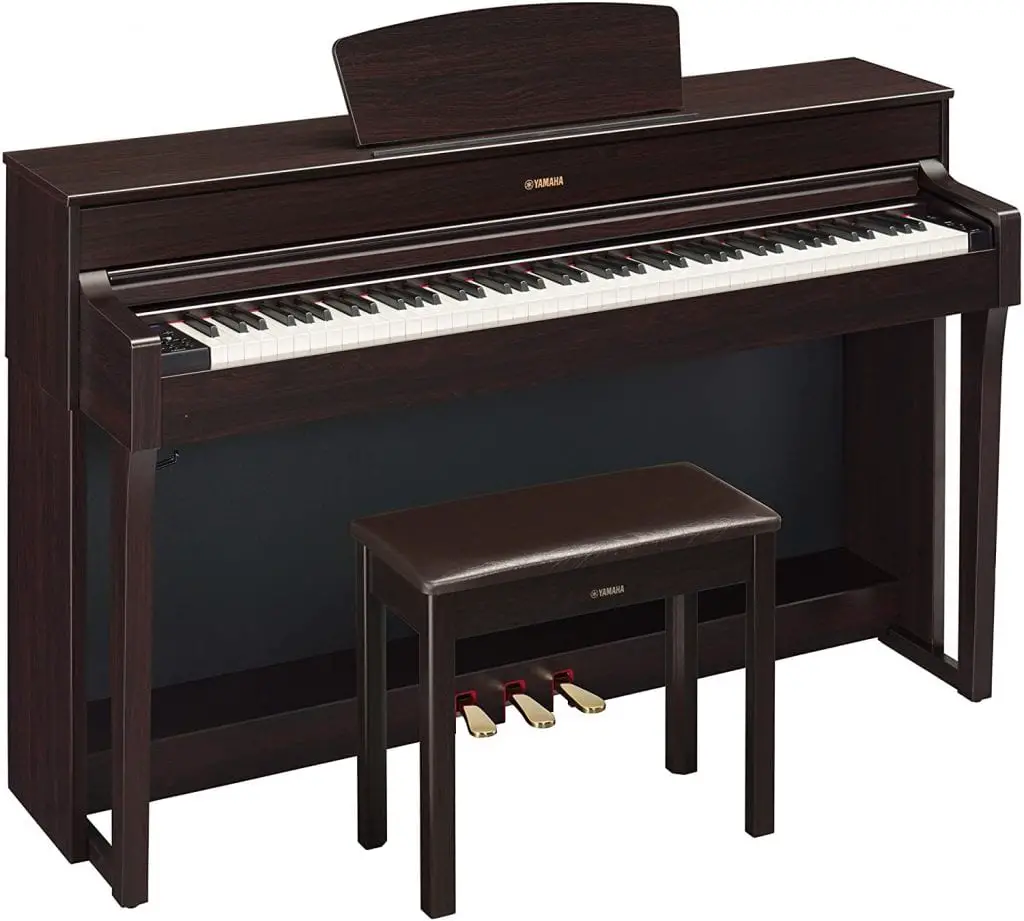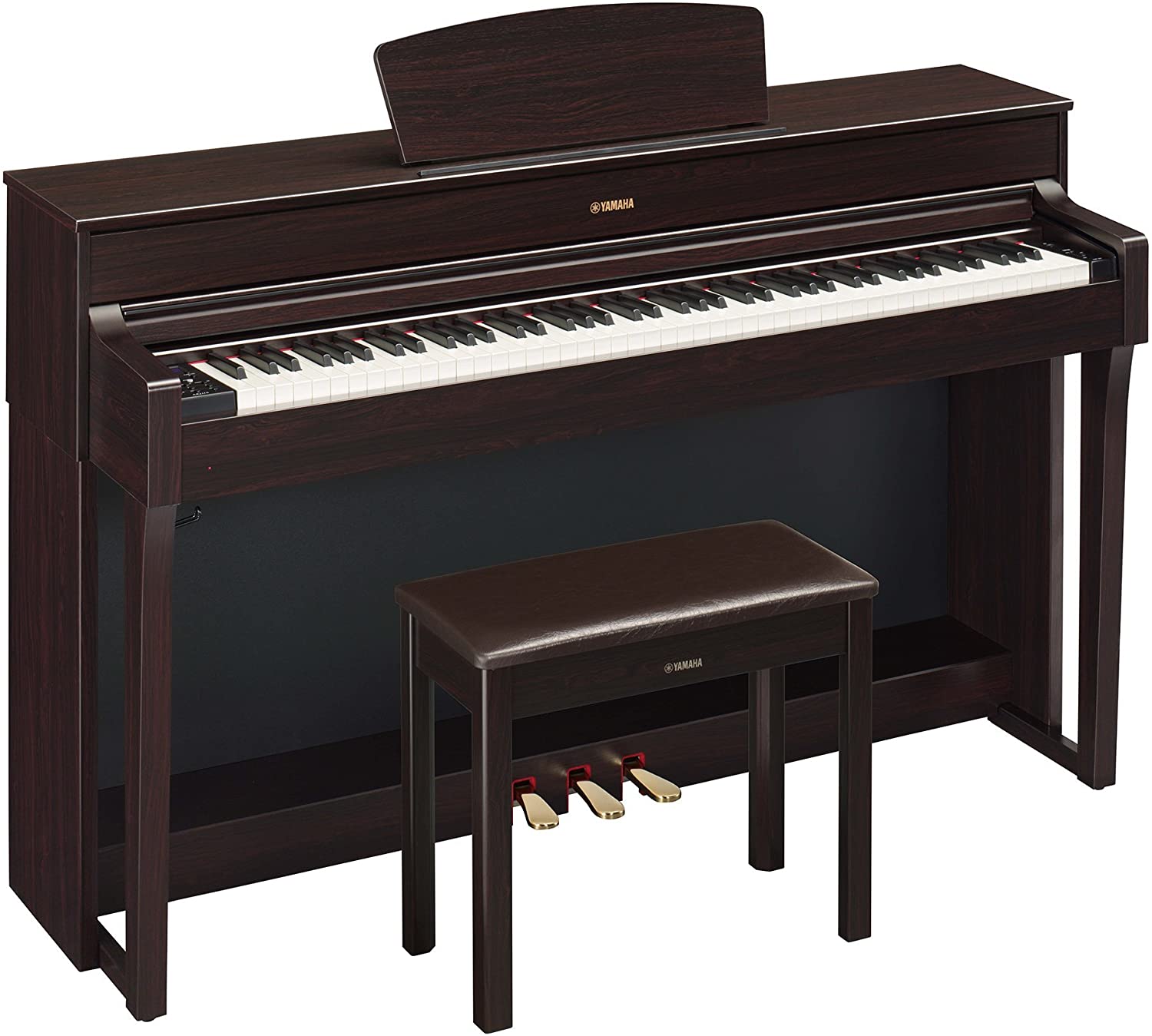 Editor's Rating: 4.5 out of 5 stars
Compared to all of the other digital pianos, this one does not only feel like an acoustic piano but also looks like an actual grand piano that was retrofitted to become a digital piano.
The weighted keys are so responsive and expressive in their own way to give it that classic grand piano appeal.
It gives you that pure piano experience due to its amazing sound quality and how it is able to mimic the vibrations that can only come from acoustic pianos.
Despite looking and sounding like a true acoustic piano, you can still adjust the parameters of its sound to fit your style and need.
5) Korg BI 88 – Best Price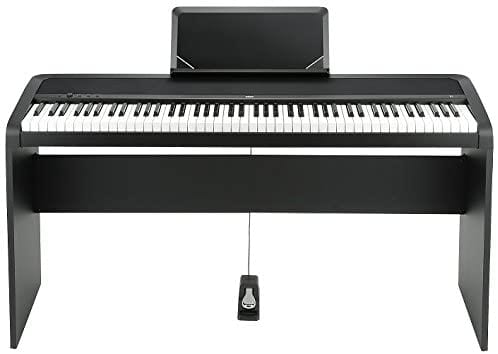 Editor's Rating: 4 out of 5 stars
Very affordable compared to all of the other weighted digital pianos because of how it is usually priced under $500 but still comes packed with neat features.
It comes with a compact design that makes it smaller and lighter than most options so that you can carry it around and use it wherever you might want to use it.
Simplicity is a selling point to this piano as it is very easy to use since it does not require a lot of experience and knowledge on your part for you to actually use it well.
Despite its affordable price and compact design, its keys were made to feel realistic thanks to its "natural hammer" feature.
6) Casio CGP-700 – Best Value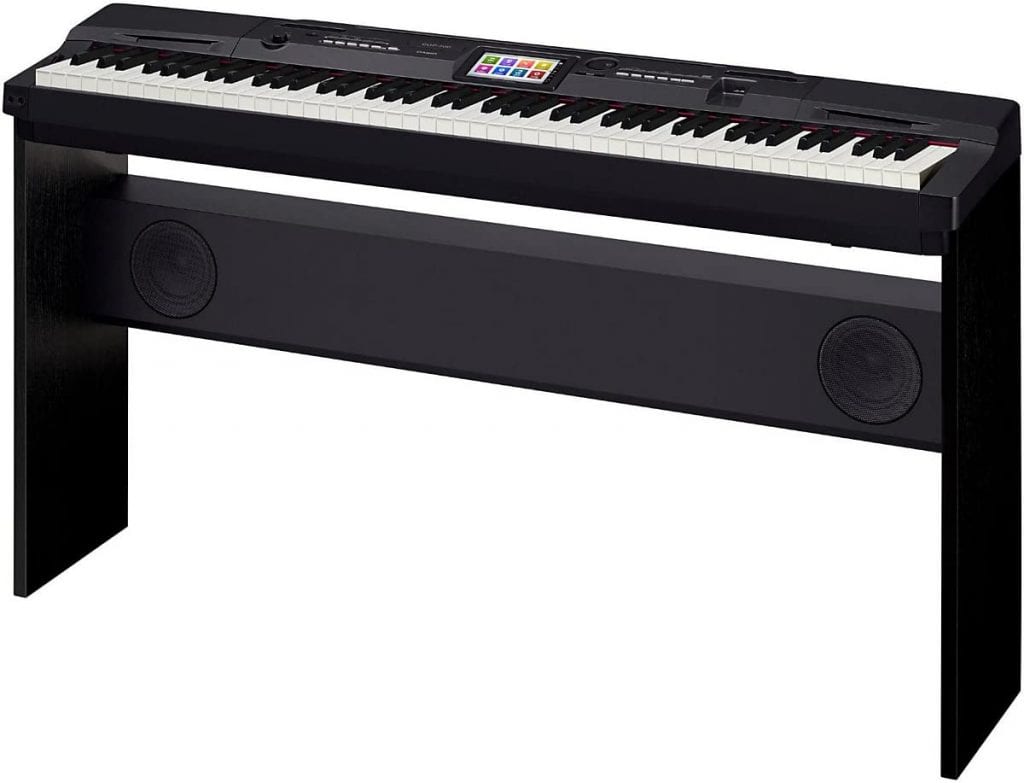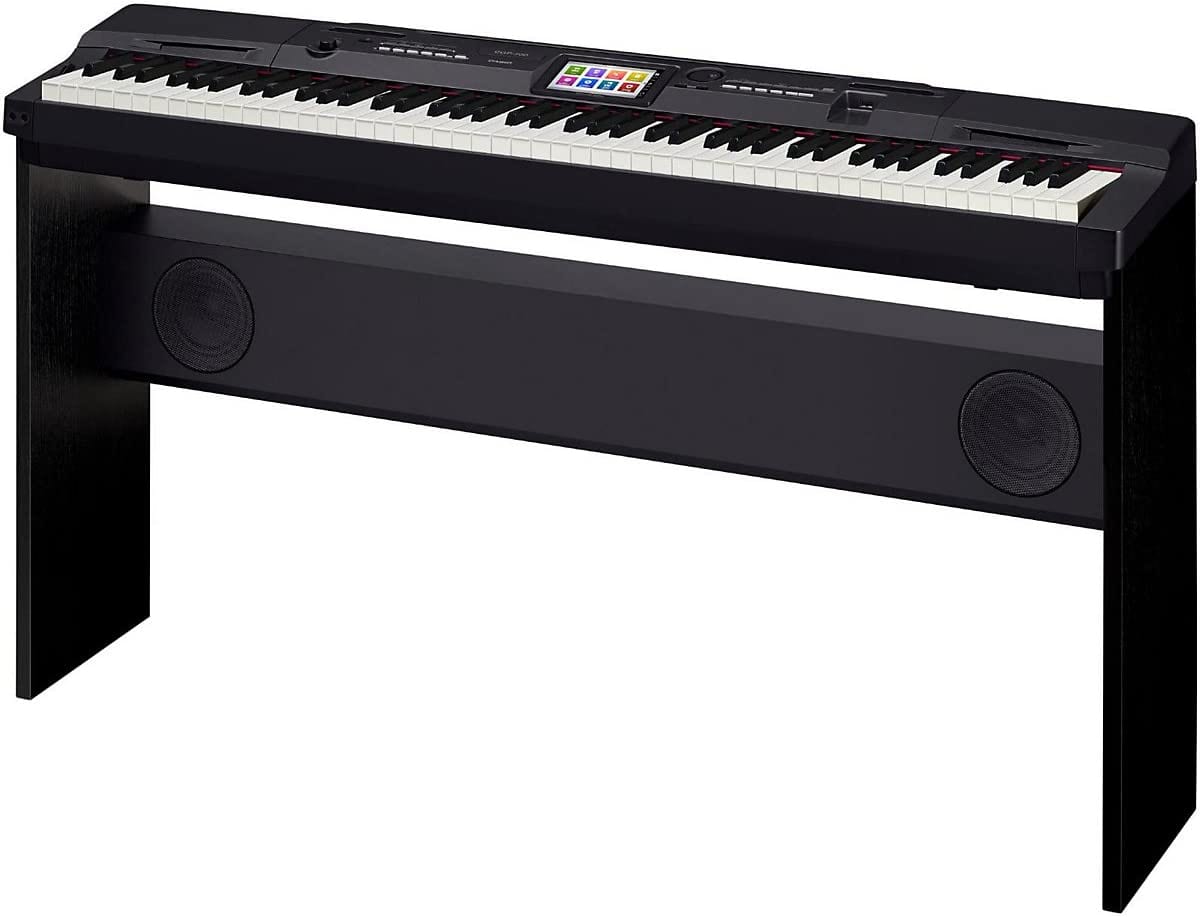 Editor's Rating: 4 out of 5 stars
It might not be the cheapest, but it has a price tag that is also pretty affordable, and it has the performance and features that make it the best value for your money.
You can access different voices and rhythms that number in the hundreds so that you can add variety and versatility in your sound or music.
Simplicity is a strength for this one because of how it is easy to control and use thanks to its large color panel.
7) Medeli SP4200 – Best Weighted Keyboard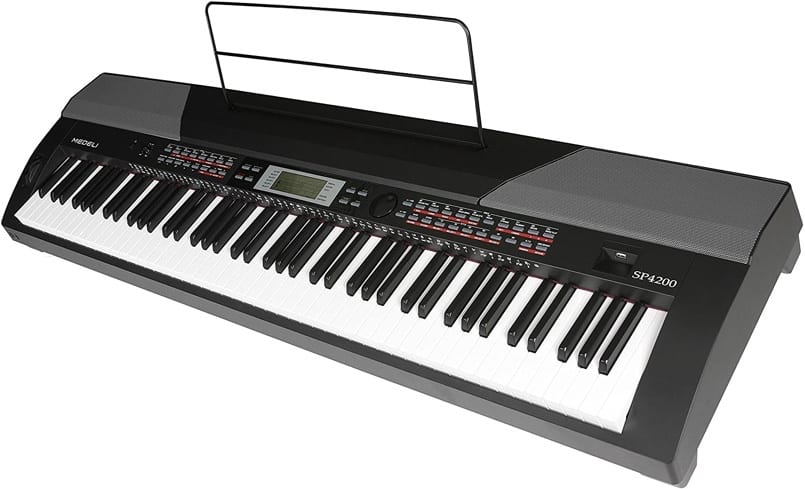 Editor's Rating: 3.5 out of 5 stars
Described mainly as a weighted keyboard with digital piano features, it still covers all of your needs and has great weighted keys that feel natural.
Packed with over 600 voices that add a lot of options and versatility on your part.
If you want to replicate different sounds, it comes equipped with a guitar mode that allows it to sound like a guitar so that you can produce and mix different types of music.
It has a price tag that is very affordable, especially when you compare it to the bigger brands on this list.
8) Nord Stage 3 – Best in Style


Editor's Rating: 3.5 out of 5 stars
Very sleek and stylish if you factor in how modern it looks and how it fits today's generation with all due respect to the other weighted digital pianos that look traditional.
Comes with three sections that each have their own unique sounds and customizable feature to add a lot of variety to your style of music.
Its sounds are great when it comes to quality, as it is easily able to match up to other brands that are just as well-known and as expensive as this one is.
If you are a sound producer, it is the perfect choice for you because of how it comes with great digital effects.
9) Roland RP501R – Best for the Family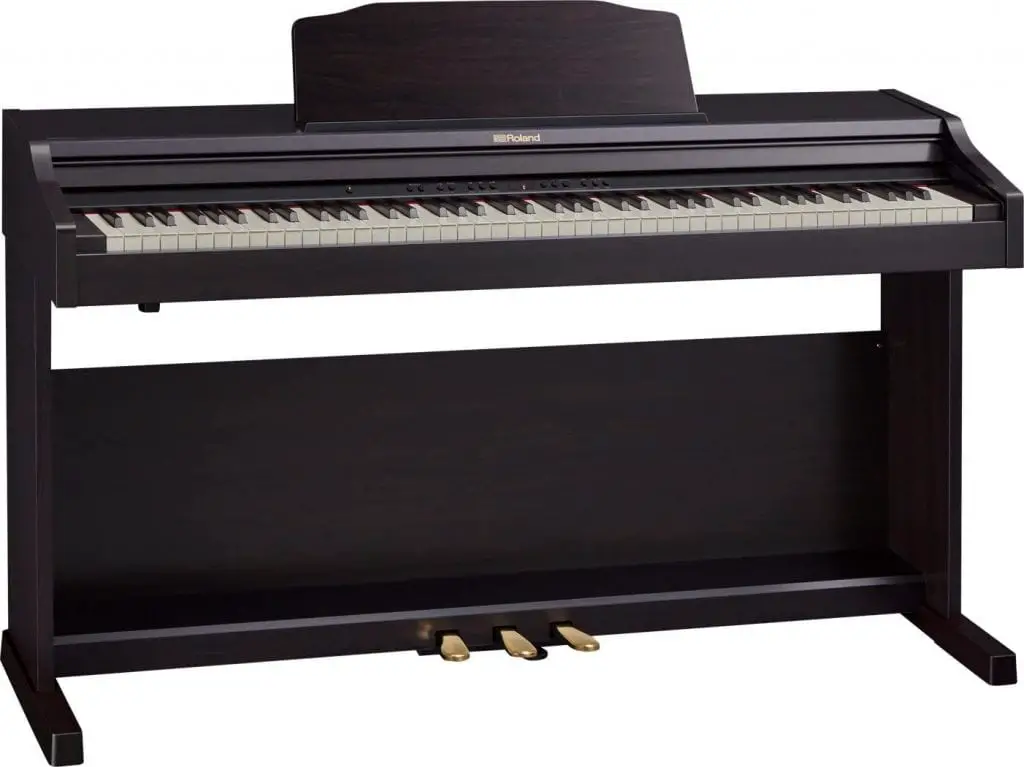 Editor's Rating: 3.5 out of 5 stars
Looks really great as it has that classic piano design that makes it good for a family home.
Perfect for an entire family because beginners and advanced users can have joy using this piano thanks to how interactive it is if you are using its app.
Adding to its natural look, its keys are also as natural as any key can get so that you will really get the acoustic piano feeling when using this one.
It has a recording function that will allow you to record music into its internal memory or to a USB flash drive.
10) Casio Privia PX-S3000 – Best Compact Piano


Editor's Rating: 3.5 out of 5 stars
Make no mistake about it because this is the world's most compact digital piano thanks to its slim yet cool-looking design. This makes it easy to carry around wherever you go.
Despite how slim it is, it still comes with amazingly responsive keys that give a unique yet classic acoustic feel to each and every key. You can even customize how responsive the touch sensitivity is.
The sounds and the tones feel very expressive in their own unique ways to make it a capable piano in its own right, even though it is a lot smaller than other products.
How to Choose the Best Weighted Digital Piano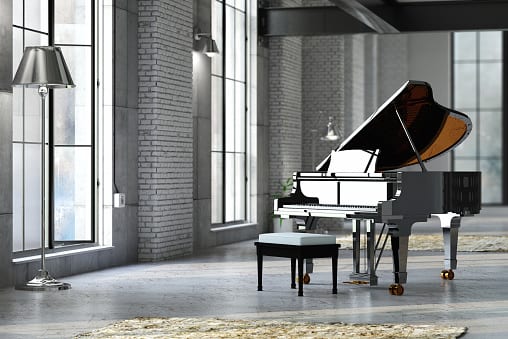 Judging the weighted digital piano using sound quality should be a priority for you because of how everything boils down to how well it actually sounds. Regardless of its features and its weighted keys, the sound quality is what really makes or breaks a weighted digital piano because that is really its original purpose.
The reason why people go for weighted digital pianos is that their keys are weighted as compared to ordinary keyboards. What that means is that the keys feel like the actual keys on acoustic pianos, which make use of mechanical devices instead of digital components to produce sounds after a press on the key. This allows you to have a similar kind of intuitiveness and responsiveness of an acoustic piano but with the performance and versatility of a digital piano.
It is important for the weighted digital piano to have a lot of different tones and sounds from different types of instruments so that you will be able to have a wide variety of choices and a more varied style of music. This is crucial for producers and songwriters because of how they need a digital piano that can play different instruments so that they can get a rough idea of what their music sounds like when played with actual instruments.
Size can also be a factor in judging a weighted digital piano. Truth be told, plenty of musicians, sound producers, and songwriters rely on pianos that they can carry and bring around wherever they go so that they can easily play, produce, or write on the go instead of just in their studios or homes. That is why it is important to take into consideration the size and portability of a weighted digital piano if you are someone who is expected to go around playing or producing music in different places.
Digital pianos should not be difficult to use for any kind of user or musician. Regardless of whether you are simply a beginner or if you are already an expert musician, the weighted digital piano should have tools and features that are easy to use so that you can tinker with all of the different tones and voices without having to spend a lot of time figuring out how to change the settings and how to use the different features it comes with.
The truth is that not all those who purchase weighted digital pianos are already experts in playing this instrument. There are those who buy them to know and learn how to actually play the piano. That means that a good weighted digital piano should come with features that will allow the user to have an easier time learning the piano. There are some that have displays that will allow you to know which key to press. Some have built-in functions such as a metronome so that you will be able to follow the rhythm of the piece you are trying to learn and master.
Additional built-in features
A good weighted digital piano comes with a wide variety of additional features built into it. For example, there are those with accompanying apps that will allow you to learn different pieces by using the app in conjunction with the digital piano. There are also some that allow you to save your music in its built-in storage or via a USB flash drive. And the most advanced digital pianos can seamlessly connect with laptops regardless of the operating system used.
Finally, because a weighted digital piano is an expensive investment, it should be able to last long, even when used continuously. That means that all of its internal and external components should be made with high-quality materials so that they would actually survive the test of time. And for pianos that are expected to be carried around, they should be made with durable materials that can handle the wear and tear of travel and transport.
What are the benefits of learning how to play using a digital piano over an acoustic piano?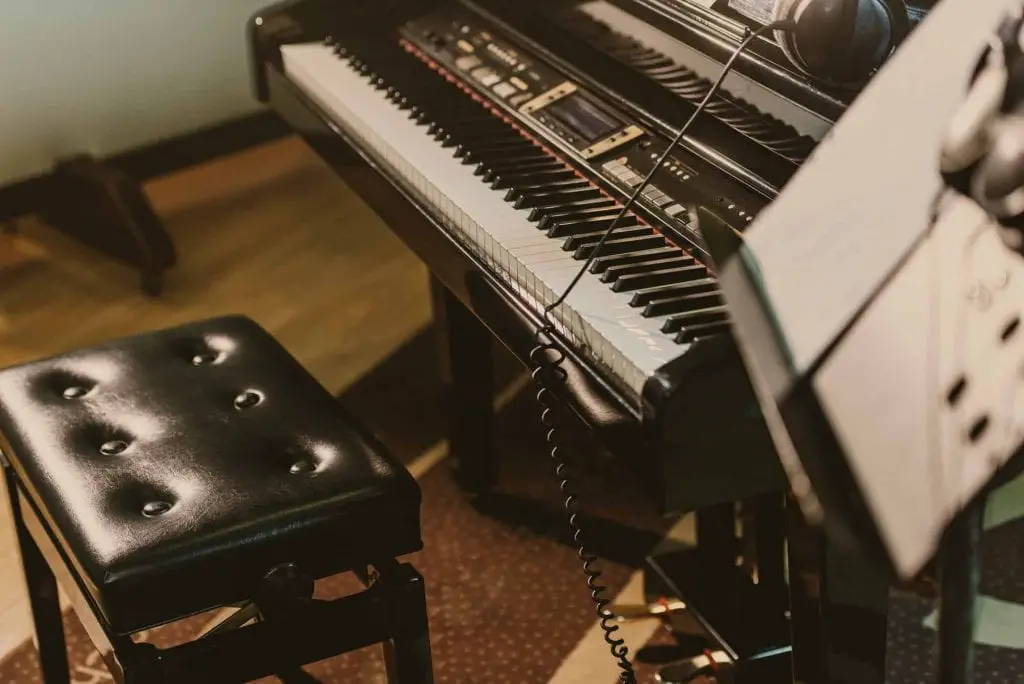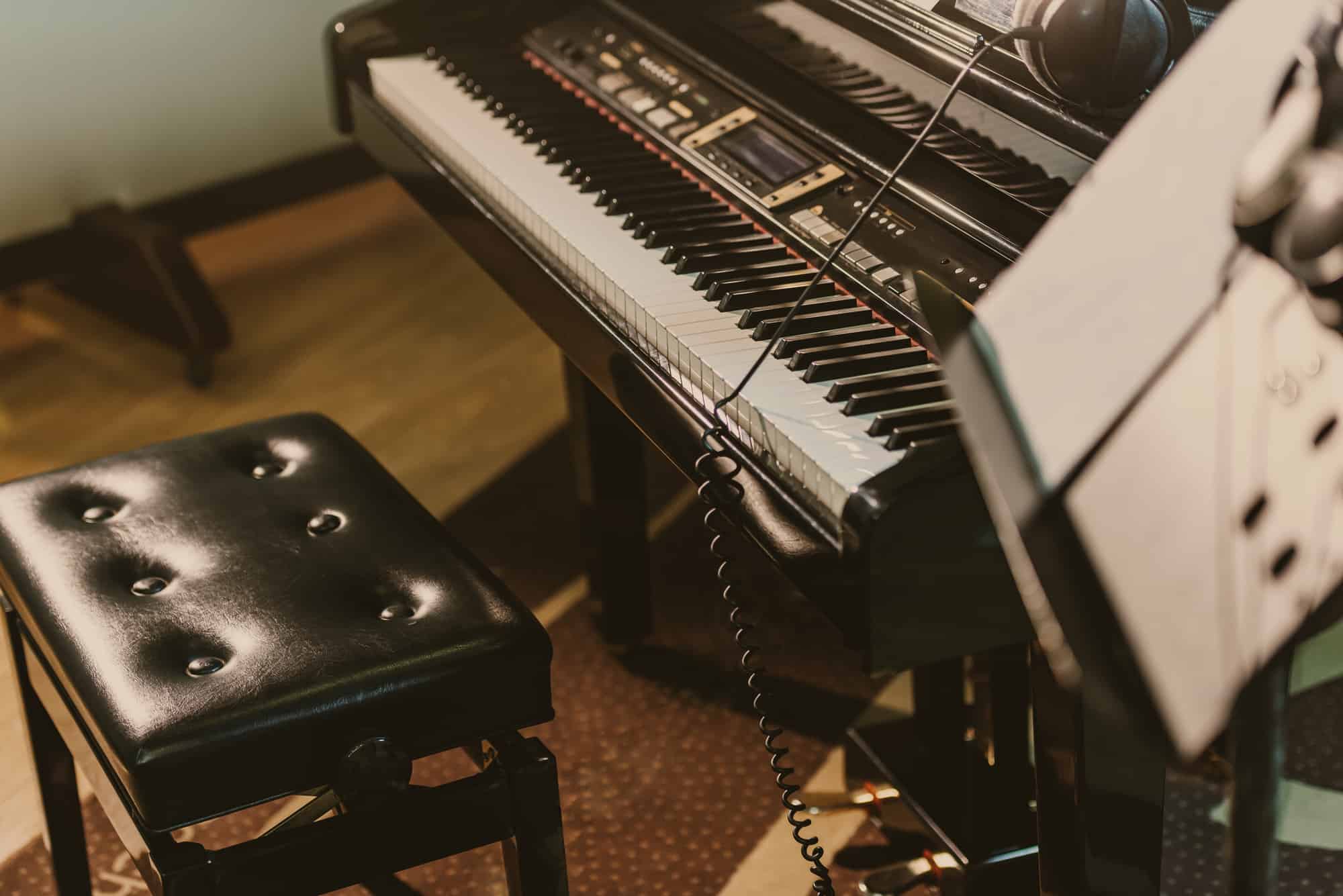 Weighted digital pianos typically have a lot of different learning tools that will make it easier for beginners to learn how to play the piano as compared to using an acoustic piano. The tools can vary. Some use a built-in metronome to help you follow the rhythm of the piece. Meanwhile, some use an on-board display that guides you in pressing the right keys. There are also those with apps that you can use in conjunction with the digital piano to make the learning curve easier.
You can practice using headphones
The best weighted digital pianos come with headphone jacks that will allow you to plug headphones in so that you will be able to have a more intimate way of learning the piano as the headphones block any sort of external sounds that can get in the way of your learning. This is also useful if you want to avoid making a lot of noise in the house.
Allows you to record your performances
There is a difference between listening to your performance while you are performing and listening to a recording of it. As such, digital pianos allow you to record your performances so that you can listen to them later on if you want to judge and break down your performances on a deeper level. And if you are proud of the way you performed, you can actually save the recording and share it online or keep it on your computer or phone.
Gives you a wide variety of sounds
Weighted digital pianos come with all sorts of sounds that will allow you to learn how to play the piano in a more well-rounded way. For example, some digital pianos have electric piano sounds that are different from the ones you hear from acoustic pianos. You can even use guitar sounds and other types of instruments when you are playing with a digital piano.
FAQs
Weighted keys are heavier keys that were made to mimic the feel of using an actual acoustic piano, which relies on weight to produce sounds. This allows you to have a more realistic feel in your hands when you are playing using weighted digital pianos as opposed to pianos that do not have weighted keys.
What are Semi-Weighted Keys?
Simply put, semi-weighted keys are similar to weighted keys in the sense that they do still have the same kind of realistic feel of an acoustic piano but rely on springs to produce sound. The spring adds some resistance when you are pressing, but the difference lies in how they do not rebound as quickly as acoustic piano keys. In addition to that, the springs inside the keys also require you to press the keys a bit more firmly, which might take a lot of effort on your part.
Hammer action is actually the mechanism used by acoustic pianos to produce sounds and provide resistance in the keys. There are small hammers attached to the keys and allows them to have a bit of resistance when you are pressing them and also allows them to bolt back up after you press them.
Conclusion
In conclusion, if you are looking for the best weighted digital piano that has all of the features of a good digital piano and the intuitiveness of the keys of an acoustic piano, we recommend that you go for the Yamaha CP88 because of how it has all of those premium functions and design that make it stand out. However, if you are also looking for a weighted digital piano that performs just as well, we also like the Casio PX-770 BK Privia because of its premium look and also because of how responsive its keys are. However, in any case, you can refer to our list if you are looking for digital pianos with other types of strengths and features as well. We hope that we were able to help you find the best weighted digital piano for your needs and preferences.