Do you ever wanted to learn how to play electronic drums but don't know where to start? Playing drums isn't easy, especially if you are new to the hobby. On top of that, questions like, "How can I play the drums" or "What should I do to get things started?" This quick and easy guide will be started on the right track!
Like most hobbies in this world, the hardest part is usually the first step. Lucky for you, we are here to help! Your fondness of the drums will what keeps motivate you in the process to fully learn all the basics, even if you haven't touched a drum stick before.
In this guide, we'll easily break it down for you the simplest drum techniques for newbies and along with all the basic information needed. This will provide you a great foundation you need to achieve the best thinkable drumming understanding. 
Is it easy to learn drums?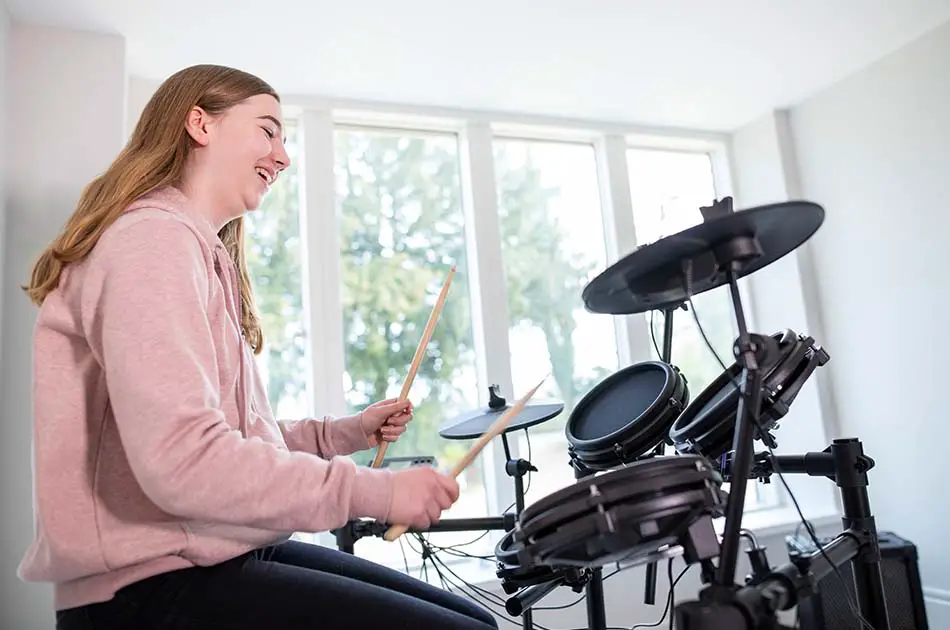 That is a question for you to decide. If you put in the work every single day, then learning drums is way too easy. However, you need all the determination in the world to know how easy to play the drums. Just like most professionals do, if you are passionate about the hobby, the mastering of how to play the drums will run smoothly.
However, some users have the natural talent to play the drums, and some don't. However, the best drummers in the world put their heart and soul to it to perfect their craft. It requires a lot of experience, time and dedication. If you don't have those attributes, then most likely, you'll end up playing basic drums. Sometimes, being dedicated and passionate about the things you do will go a long way.
What do I need to get started?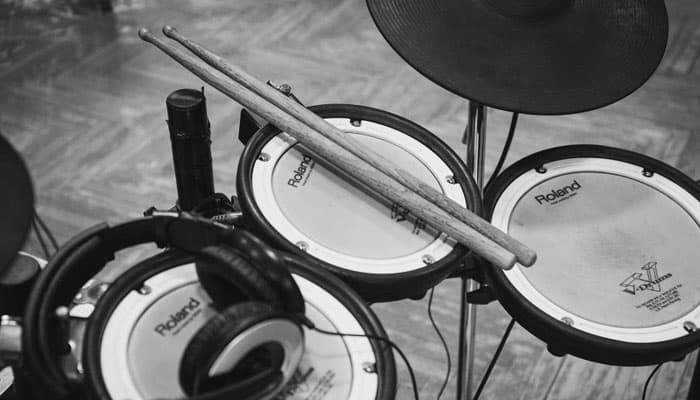 For things to start, you need a pair of the stick, and a practice pad will do. But this will only take you so far, and practice pads get quite boring over the course. It is best to have an interactive drum pad that can help you speed your growth as an aspiring drummer. Luckily for you, there are many interactive pads that are sold in the market for a low price.
Also, to get you started, you need lots of time. First, you need a metronome; this will help you in so many ways. Metronome is the mechanical equipment that provides an audible click that helps you grasp the idea of proper timing and tempo.
At some point in time, you will be craving for a true electronic drum kit. However, choosing a drum kit in this generation is hard, especially if you are tight on budget. Although there are many types of drum kits available in the market today, you might be tempted to go for the cheapest one to give you something to play with right away. 
It is also noteworthy that musical instruments are an investment, and you'll only get so far with the cheap ones. So it is with the best interest to go with the right drum kit to ride you a long way until you have fully developed your drumming skills.
Benefits of Electronic Drums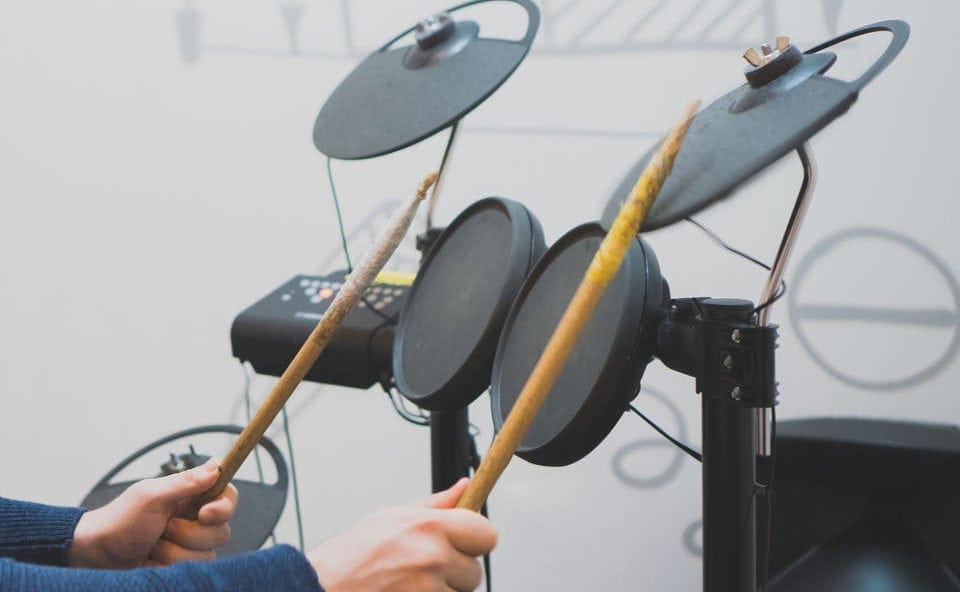 Electronic drums have been in this world in the late 80s but have just lately been gaining popularity. The older versions of the electronic drums were so hard to use, and they don't quite function like the traditional drum kits. However, advanced technologies made it possible for electric drums to work like traditional ones. When talking about electronic drums, there are a lot of benefits/advantages they provide. 
Fortunately, we'd like to explain different aspects as to why they are beneficial in today's generation. 
Confines Noise 
It is hard to practice when your neighbors get annoyed from the loudness of your drum kits; this applies especially if you live in a close neighborhood, apartment, or condominium. So, when buying an electric drum kit, you won't be hard-pressed playing your drums, as they can be played as silently or as loudly as you would like. 
Electronic drum kits can be even played through your headphones; this only means that you can practice all your cords in the middle of the night. For professional users, producing music with electric drums makes it easy to achieve professional-sounding track without the need to have a microphone or a speaker. 
Practice anyplace you want
This the best part about electronic drum kits; they can be as portable as they can be. If you are on vacation, you can bring them anytime, anywhere, as long as you want. Traditional drum kits are a mess to have around, especially if you want to travel, they consume lots of space and require different kinds of bags for each part.
But with an electronic drum kit, you can easily store drum kits in a small bag and travel the world without any hassle. If you think you'll frequently be traveling, opting to buy an electronic drum kit might be the best option you have. 
Makes soundtrack easy
Although electronic drum kit features vary from kit to kit, almost all electronic drum kits offer a plethora of built-in features such as recording. In traditional drum kits, it is hard to record music, as it requires different kinds of equipment such as speakers, PCs, microphones, and some high-quality recording equipment. But with an electronic drum kit set, you don't need those to record.
Built-in tools
As was said earlier, electronic drum kits offer a lot of built-in tools. Other types of a built-in feature of an electronic drum kit are having an integrated metronome; this only means that you'll never have to practice in a separate metronome. They also have built-in jacks for connecting to different kinds of components such as speakers, amplifiers, or MP3 players so you can jam along with your beloved tracks. 
Specifically made for small spaces
Most people don't have the space to accommodate traditional drum kits; they require large spaces and are a mess around the house. But with electronic drum kits, you'll never have to worry. These kinds of innovations are built to be used inside of your room or in small spaces. For this specific reason, electronic drum kits are the best option when comparing to their acoustic counterparts. 
Multipurpose in Nature
Admit it; electronic drum kits give you the free will to change the sound of your music in a single push/touch of a button. With thousands of sound effects at your disposal, your imagination takes in and takes over your head that will mimic some of the best tracks in the world. Plus, you don't have to worry about sound bleeding as electronic drum kits don't need mics to record their sounds.
Top 5 Products
There are no words to describe the joy it brings when playing the drums. Whether you are a beginner or an experienced one, you could benefit from having an electronic drum kit. Luckily, we've searched the internet and listed some of the best electronic drum kits that are out in the market today.
1) Alesis Drums with Nitro Mesh Kit | Eight Piece All Mesh Electronic Drum Kit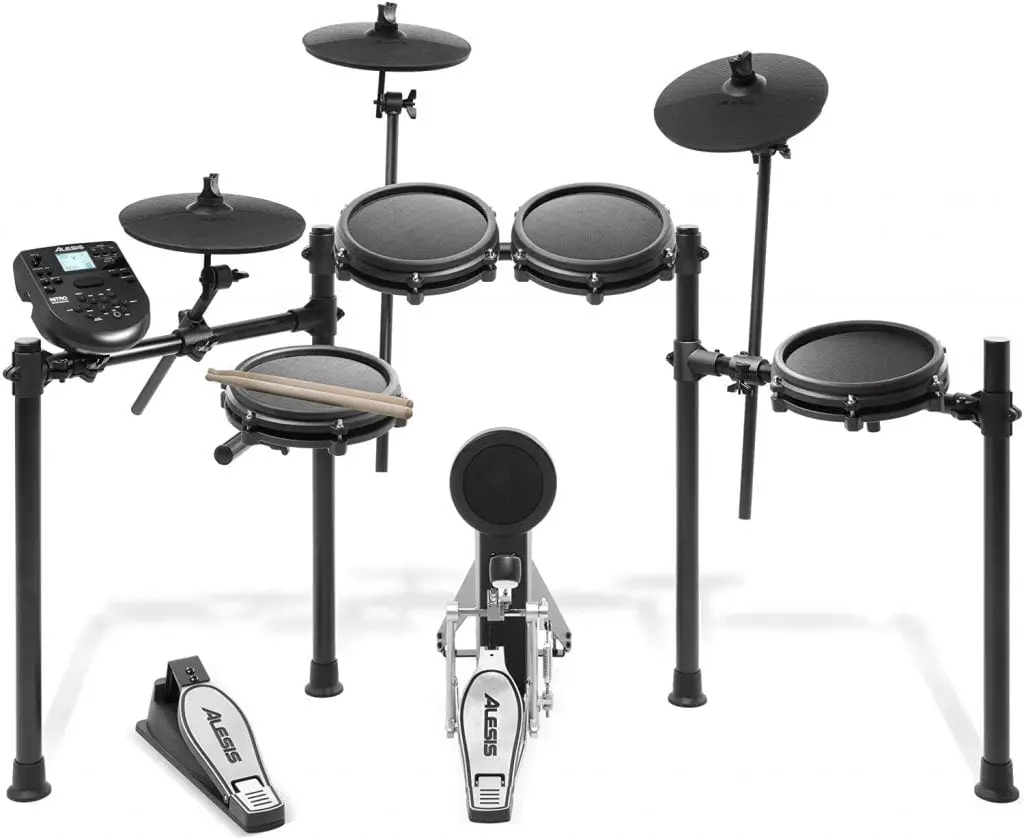 Rating: 4.5/5
Considered to be the best electronic drum kit for beginners, this kit easily deserves our top spot. This is an entry-level drum kit that provides the basic functions of an electronic drum kit. There are many nice things to say about this product, but one that interests us the most is its size. Most of the beginner kits don't quite have everything you need in a kit. But with these, it simply provides everything you need!
What's also nice about this product is having a nice feel with its mesh heads, it offers a natural feeling, a feeling like having a traditional drum kit. Another nice feature about this product is its size when users opt for having a kit; they often choose the size. This electronic kit is portable enough to be stored in a single bag. 
Plus, this kit offers up to 40 different kits and 60 play-along tracks that will surely suit your needs as an aspiring drummer.
Key features: 
Affordable
Natural feel for Mesh heads
Tons of Built-in features
MP3 Compatible
Superb Quality
Portable
Specifications:
Type: 8-piece drum kit
Brand: Alesis
Weight: 13.39 pounds
2) Roland Electronic V-Drum Set with TD-1K Entry-Level
Rating: 4.5/5
When talking about the best brands in the electronic drum kit industry, the Roland brand comes to mind immediately. Although they are known to have expensive products, they make up for it with its exceptional feature and build quality. 
A great introductory kit for beginners, the Roland TD-1K caters the needs for people looking to have the best brand at their disposal. This kit is specially designed for basic use such as, training, practicing, teaching, and just learning how to play. It is user-friendly and can be introduced to beginners. 
This kit is basically small and can be stored in tiny rooms. The Roland TD-1K offers 15 different drum kits, an integrated metronome, a tutorial function, and many more. Although it is inferior compared to the Alesis counterpart, it more than makes up for its feel. Although it's a bit expensive when compared to others, you could never go wrong with Roland. So if you are a diehard Roland fan, this kit might suit your needs.
Key Features:
9-piece drum kit
V-drums based mesh heads
15 built-in drum kits.
It is made with premium quality materials.
Portable
Specifications:
Brand: Roland
Model: TD-1K
Item weight: 25.3 pounds
3) Alesis Surge with Mesh Kit | Eight-Piece Electronic Drum Kit with Mesh Heads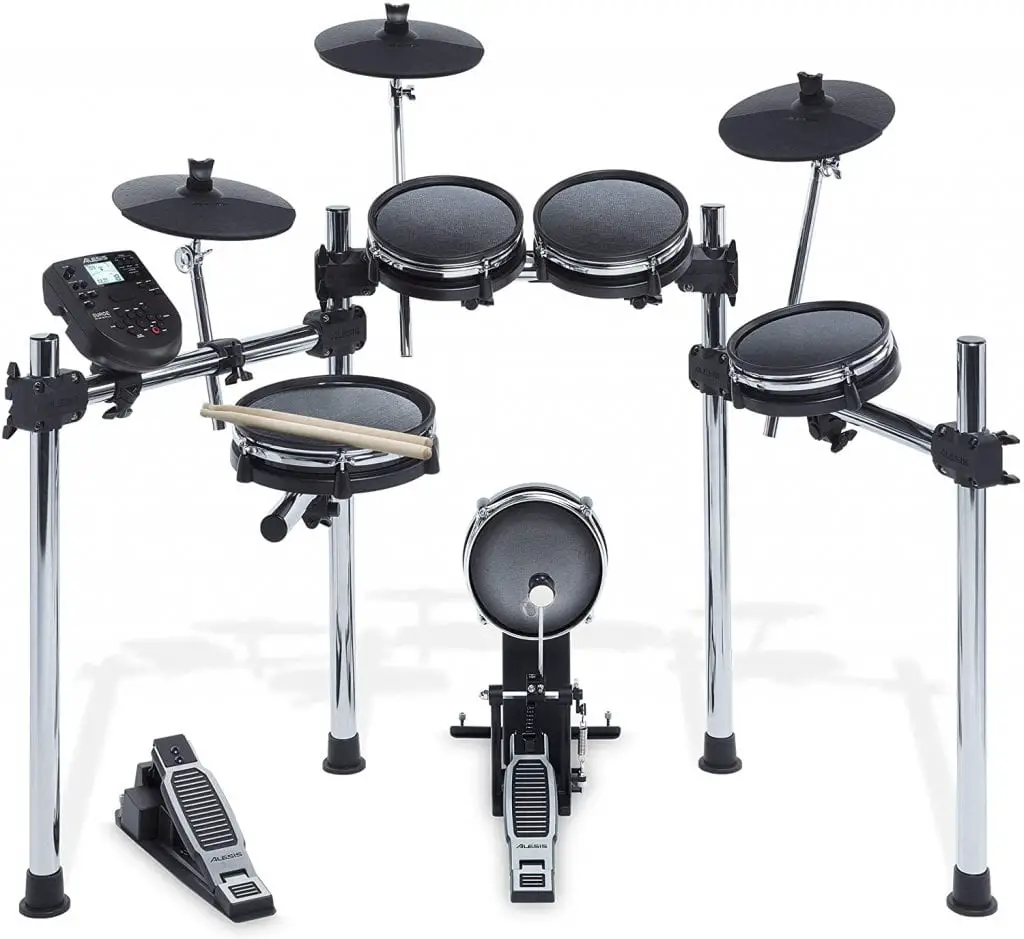 Rating 4.4/5
The Alesis brand is quickly gaining popularity for its quality kits, and the Alesis Surge Mesh Kit model is an upgraded version from what we featured a while ago. Although it is more expensive than the other, this kit is for the intermediate-level users. So, if you think you have greatly improved, might as well take it up a notch.
Although this is a lot more expensive than the Alesis Nitro, this one offers more built-in features. One of the first things you'd notice about this product is its shiny metal frame, it has a professional-looking feel to it and is usually more durable than those of the plastic ones. 
Everything about this product is similar to the Alesis Nitro, but everything about this product is upgraded to provide an added premium feel to it. One of its biggest upgrades is the mesh kick drum tower that is now 8 inches. Mesh Kick drum tower is the most common part wherein users try to complain about, and the Alesis Surge Mesh might be worth spending a little bit more if you want an authentic feel when kicking a drum.
Key Features:
385 built-in sounds
Compatible with MP3 and MIDI
Mesh heads
8-piece drum kit
Portable
Specifications:
Brand: Alesis
Model: Surge Mesh Kit
Item weight: 50.9 pounds
4) Roland V-Compact Series Electronic Drum Kit, Set (TD-17KVX-S)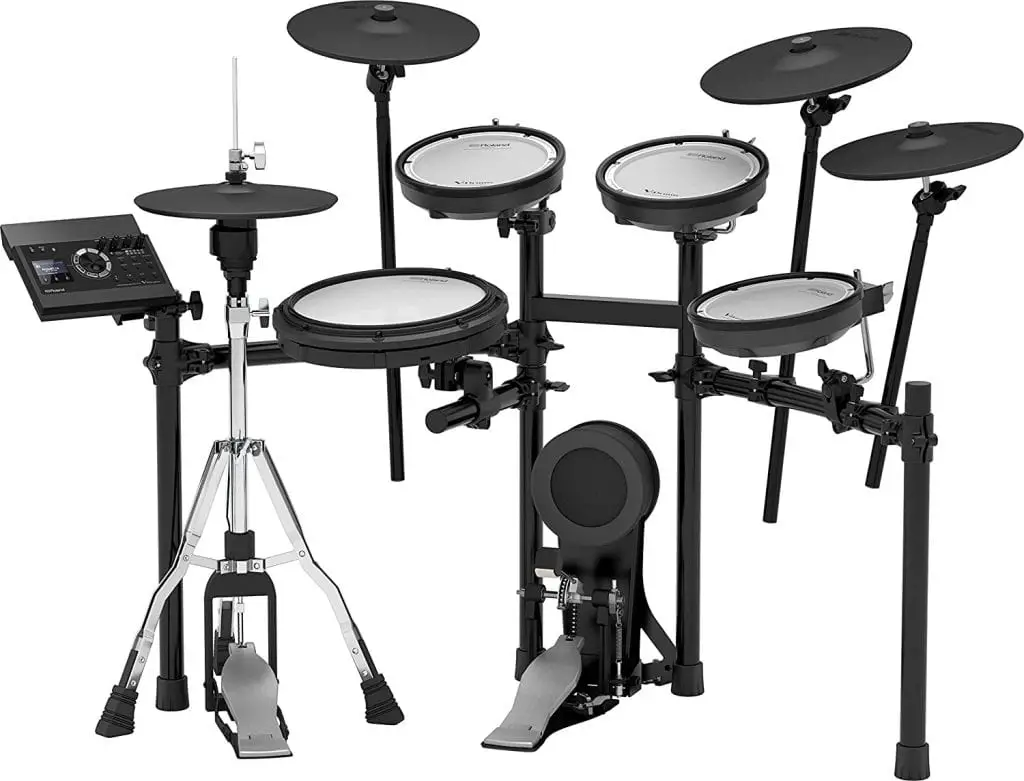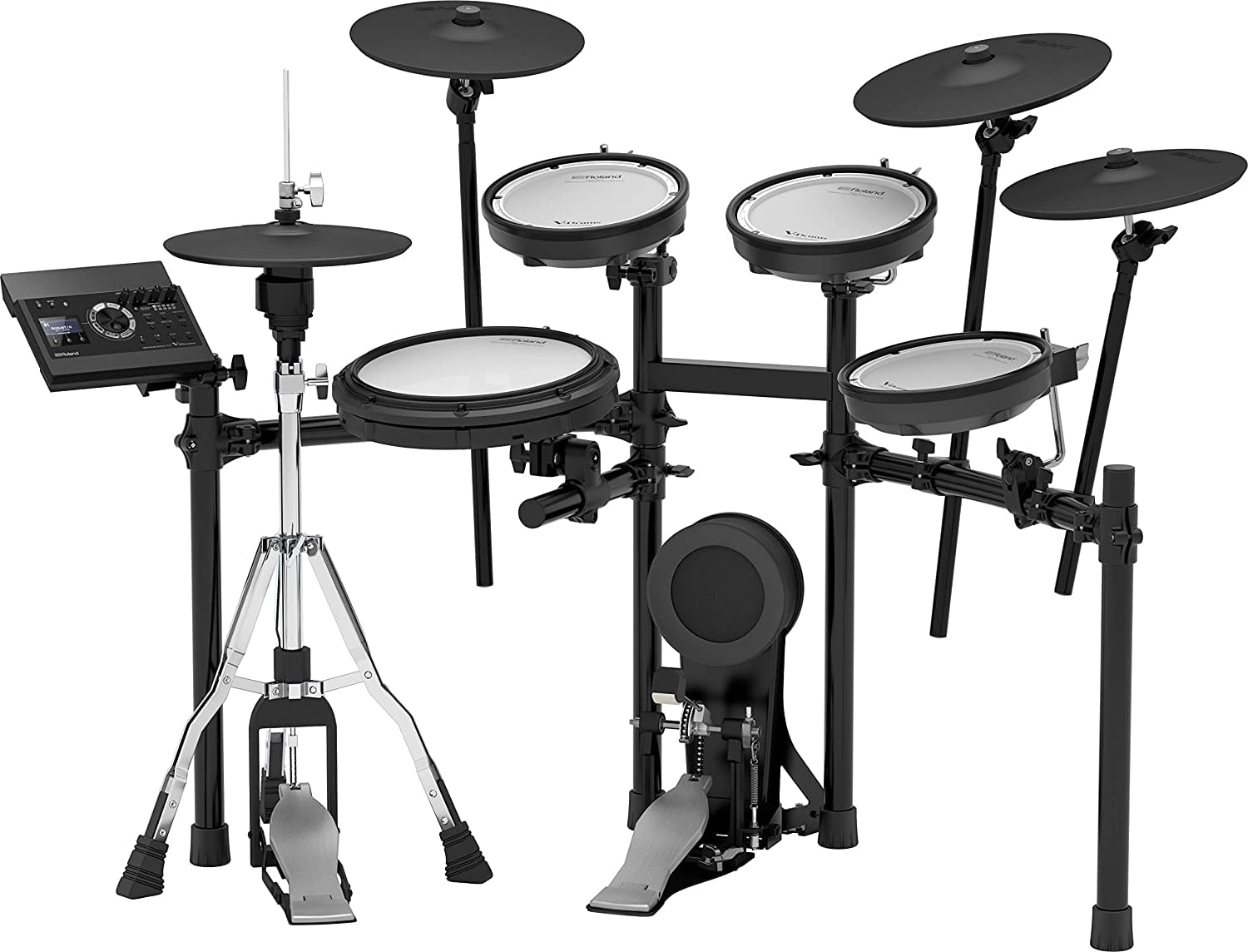 Rating: 4/5

Although it is a bit expensive when compared to other kits on this list, the Roland V-Compact (TD-17KVX-S) is simply the best kit in this list, regardless of the price. It will be the closest thing you get to an actual drum kit. However, the quality of this product will cost you additional money. 
What makes this product outstanding is its Hi-hat; it simply gives the best actual feel. Electric Roland Drum kits provide an exceptional and most advanced control system you could find in a kit. In addition, its plethora of features makes this kit an outstanding one, plus it has a very impressive coaching function that speeds up your progress to become a professional drummer. 
If you are looking for an electronic drum kit that may not be as professional as other ones, this entry-level product will give you the closest feel to an actual one. 
Key features:
9-piece drum kit
Advanced coaching functions
Mesh heads
Authentic feel
Superb Build quality
Specifications:
Brand: Roland
Model: TD-17KVX-S
Weight: 58 pounds
5) Carlsbro Electronic Drum Set (CSD120XXX)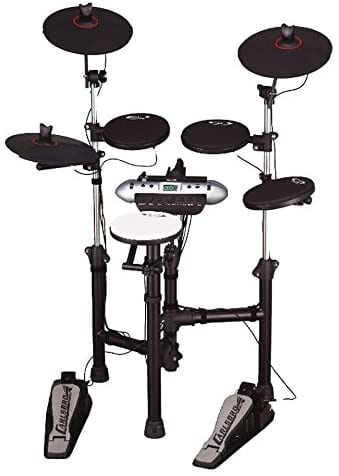 Rating: 3.9/5
It might be the cheapest one on our list, but don't be fooled by its price, the Carlsbro CSD120XXX is an entry-level electronic drum kit that is suited for beginners. It is user-friendly and has a compact design. Easy to set up, cheap but made with good quality materials, this product is specifically made for the budget-oriented musicians and newbies. 
Although its drum pads aren't meshed pads, they still provide a semi-realistic feel to it. With 250 different sounds, 30 present drum kits, and 20 built-in songs, you'll be getting some advanced modules with this product for the price. Its compact, lightweight design and built-in features are what keeping this product in this list, and for the price? You could never go wrong purchasing this one. 
Key features:
9-piece drum kits
Rubber Pads
Many different built-in features,
High quality.
Super affordable
User-friendly
Lightweight and compact.
Specifications:
Brand: Carlsbro
Model Name: Carlsbro CSD120XXX
Item weight: 33 pounds
Buying guides
Beginner Drum kits– this is often great whenever you want to start your drumming journey, they are cheaper compared to the professional ones. Although they aren't as advanced as the professional ones, they still provide anything that you need at a lower price.
Professional Drum kits– Obviously, this type of drum kit is way too expensive. They are not usually advised for beginners, but if they have the money, why not? Professional electronic drum kits have the closest feel right next to the real thing. Most professional drummers use this kind of kit to hone their abilities and even perform live performances. 
Price– In any decision you make when purchasing certain products, it is important to always consider the price. Usually, when purchasing drum kits, the price is always associated with its build quality. So, if you are looking for a professional drum kit that offers a little bit of everything, it might cost you a lot. However, there are many beginner drum kits that are cheap enough but still provide all the functions. 
Reviews– Reviews are always worth looking if you are buying certain products. It is the best way to gather some honest opinions about products. It's because some users aren't paid to lie about the product; they just simply spill it all.  
Noise control– Some users buy electronic drum kits for this particular reason. They are just more silent to work with and can even be used in the middle of the night. You can just plug your headphones to your kit and do your own thing without getting worried about loud sounds being emitted. 
Size– If you are buying yourself a kit or for your kids, then you must adjust the size of the kit you are going to buy. Some drum kits are bigger and are more appropriate for adults and teenagers. However, if you are buying for a child, then try having a smaller one.
Connection compatibility– There are so many ways for your drum kits to be connected – you can play them with your PC, MP3's, mobile phones, and a whole lot more. So, if you see yourself connecting to several devices, reading the user's manual is the key. 
Pad Materials– Most pads are often made with rubber-like materials; however – it doesn't have that authentic feel to it. Other pads are made with mesh that offers a more realistic closer to the actual one. Nonetheless, the type of pad really varies from owner to owner.  
Brand– Equipment brands matter if you are in the music scene; many brands dominate the electronic drums industry. Some brands specialize in making high-quality kits, just like Roland and Alesis, to name a few. 
Frequently Asked Questions
What is the best electronic drum kit for beginners?
For us, the best electronic drum kit for beginners is the Alesis Drums Nitro; it has everything you are looking for as a beginner. Tons of built-in features, user-friendly, and superb quality. This product eases your way to becoming an aspiring drummer in the future. Nevertheless, there is a lot of electronic drum kit for beginners out there; it is up to you to choose the right one!
Is an electronic drum set good for beginners?
Yes, they are the best option for beginners. For one, they are really silent, and you can practice at any time of the day. Second, they are portable and can easily be taken anywhere anytime. Third, they have coaching functions that help you become a better drummer. Lastly, they are cheap too if you are lucky enough. 
Electronic drum sets paved the way for aspiring drummers to practice/train without having to buy the traditional ones that require a lot of components such as speakers, microphones, and a lot more. Traditional ones also cost way too much when compared to electronic ones; it is best to weigh your options. 
How are the drums played?
They are usually played with a pair of sticks. Usually, when you have an electronic drum kit, everything is set for you. By just plugging it in, you can easily play without having to assemble all the parts as most traditional acoustic drum kits offer.
How much does an electronic drum kit cost?
It really depends on what type of electronic drum kit you would be buying. They usually range around 200$ to 1000$ and even more. If you are a beginner, there are drum kits that cost 500$ below. However, research is the key to choosing the right one for you. 
Conclusion
Learning to play electronic drums is really hard at the beginning. But when you've taken enough practices and training, you will easily transition to becoming a great one. However, it takes months and even years to master all the drum techniques.
Dedication and discipline, when learning how to play the drums, will play a pivotal part in your dreams to become a professional drummer. If you put in the hard work, the results will follow. So, if you are looking for the best electronic drum kit, we highly recommend the Alesis Drums Nitro. Hopefully, we've helped select the best electronic drum kit for you!