It is common knowledge that in-ceiling speakers do an amazing job at organizing and de-cluttering any space from the usual huge speakers, which have the tendency to make any room look cramped and small.
In-ceiling speakers are commonly seen in public places these days, including restaurants, office buildings, airports, and more. They are also installed at homes for convenient music listening. With this popularity comes the challenge involved in selecting the best one that will meet your needs and preferences.
To help you out, we have come up with reviews of the best in-ceiling speakers that are currently out in the market this year. To make things even easier, we have rounded up a buying guide that will provide you with a quick crash course that will help you make a wise purchasing decision.
Benefits of In-Ceiling Speakers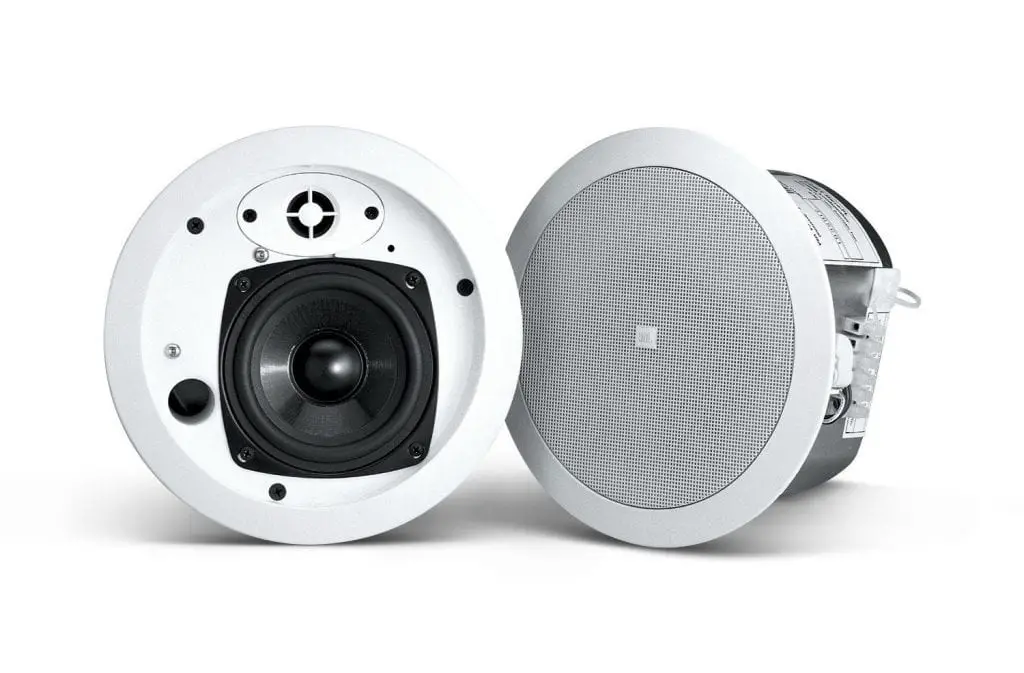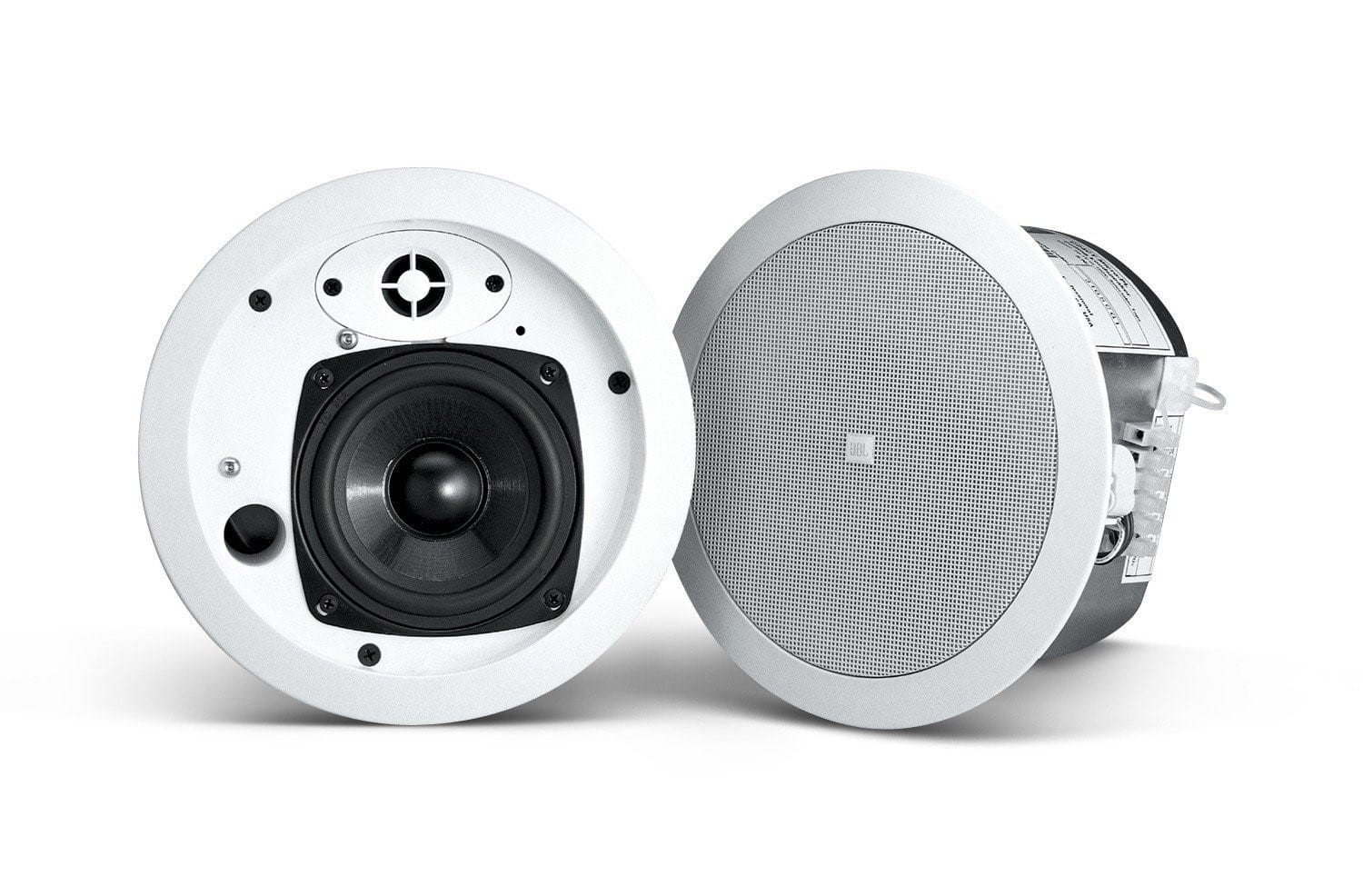 Using in-ceiling speakers offer a number of benefits, with some of them including:
Saves Space
Unlike floor speakers, in-ceiling speakers do not consume a lot of space in a room. Since they are placed strategically in the ceiling, they will never lose their sound quality. The speakers are also generally out of view since they no longer need to be installed on any pedestal or on the floor.
Hidden Wires
Some people try to address the problems of wires by opting for Bluetooth wireless speakers. True, they are useful. Still, they are present physically in the room, occupying a huge amount of space.
One way to make sure that the wires stay hidden, with the speakers being out of the way, is to install the speakers on the ceiling or on the wall. They are better on the ceiling in most homes, as the wall space may also be used for decorative items.
Most of the time, ceilings are obstacle-free and ideal for mounting speakers. Once they are mounted, the wires will be hidden completely.
Room Visuals
For some people who love installing pieces such as speakers, considering the aesthetic aspects are often neglected. This is particularly true when it comes to combining together the effects of home theater systems and audiovisual systems.
Typically, the interior decorations are planned before getting a home theater system. In these cases, when the time comes for the speakers to the added, they alter the original setting of the room, giving a different visual to the originally planned interior design.
With this in mind, having the speakers mounted on the ceiling will allow homeowners to keep the same visuals that were initially planned, while still being able to enjoy great sound and music without compromising the décor of the room.
Reviews of the Top 10 Best In-Ceiling Speakers
1. Polk Audio RC80i 2-Way Premium In-Ceiling Speakers
Best Overall Choice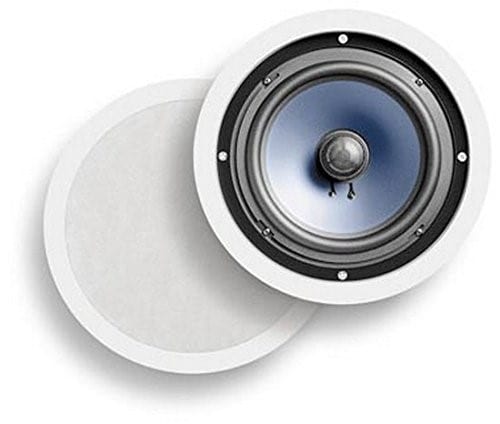 Polk Audio is a brand known to create different types of speakers. Among them is the RC80i 2-way In-Ceiling/In-Wall speakers. Sound-wise, it sounds balanced and full, thanks to its customized physical design. With very convenient features for wiring, mounting, as well as frequency response tuning, this model is one of the best out there.
In terms of design, this in-ceiling speakers come as a pair. It has a round circular accessory with a grille that faces outside. Both the flange and the grille are paintable. This results in the set coming with different paint masks. The hole that is used in mounting this speaker measures at 9.375 inches (diameter), and 3.25 inches (depth). It also comes with an exposed backside, which is why it is quite easy to install them into ceilings and walls.
The audio of this speaker makes any movie dialog real. While the bass may not be what you expect it to offer, but with a separate subwoofer, you get the deal.
2. Pyle PWRC65BT 6.5" Ceiling Mount Speakers
Easiest to Install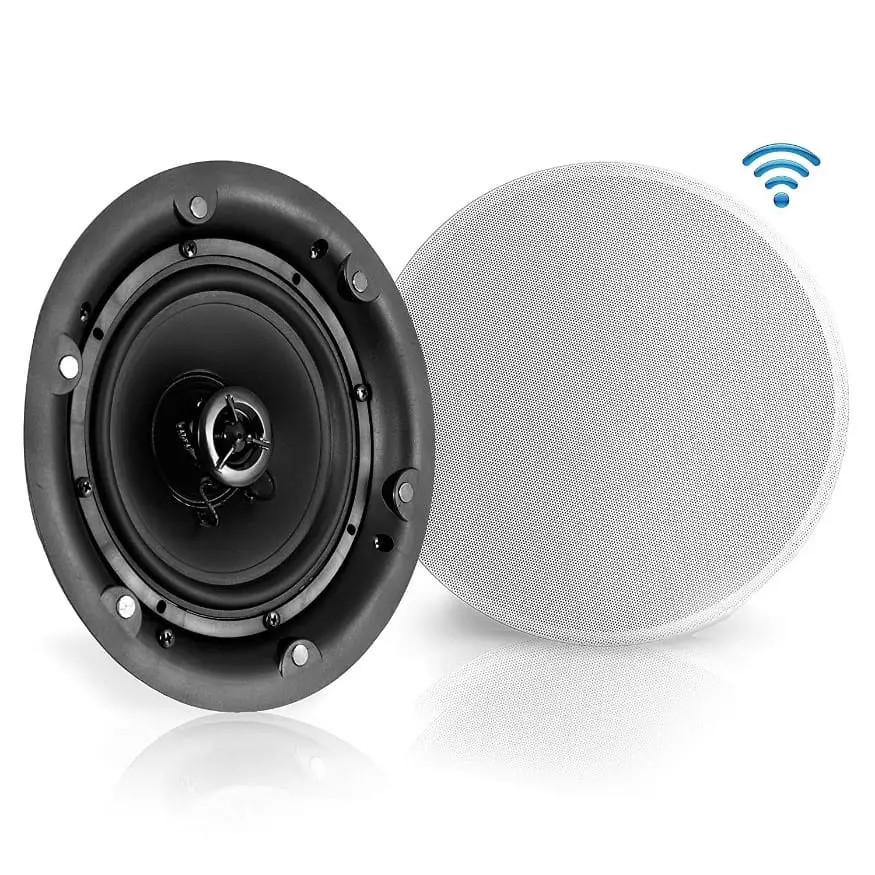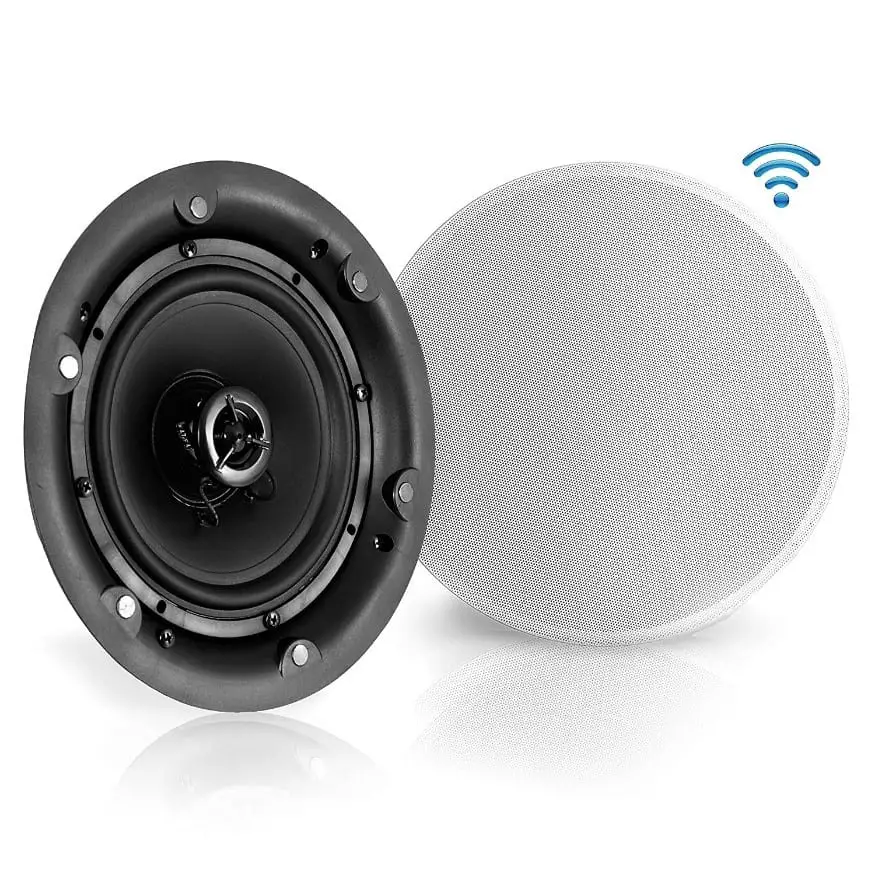 This pair of in-ceiling speakers cost less and is easy to install. It features Bluetooth connectivity, which means that you can skip the wire clutter. This feature also allows you to connect any of your devices seamlessly, streaming music at any time of the day. It is also compatible with any type of device, given that it is Bluetooth-enabled.
These speakers also introduce a very low bottom-end response, even the lowest in this list. With this bit of a hitch, these speakers offset the lack by its powerful 300-watt peak power capacity, which is amazing for volume. This allows these speakers to offer super clear audio quality.
To assure the durability of this model, the manufacturer featured a cone that is made out of polypropylene with a rubber edge. This edge works by increasing the life of the cone significantly, also making the speakers ideal for custom audio applications.
3. Yamaha NSIC800WH 140-Watts 2-Way RMS Speaker
Rich Stereo Sound from the Ceiling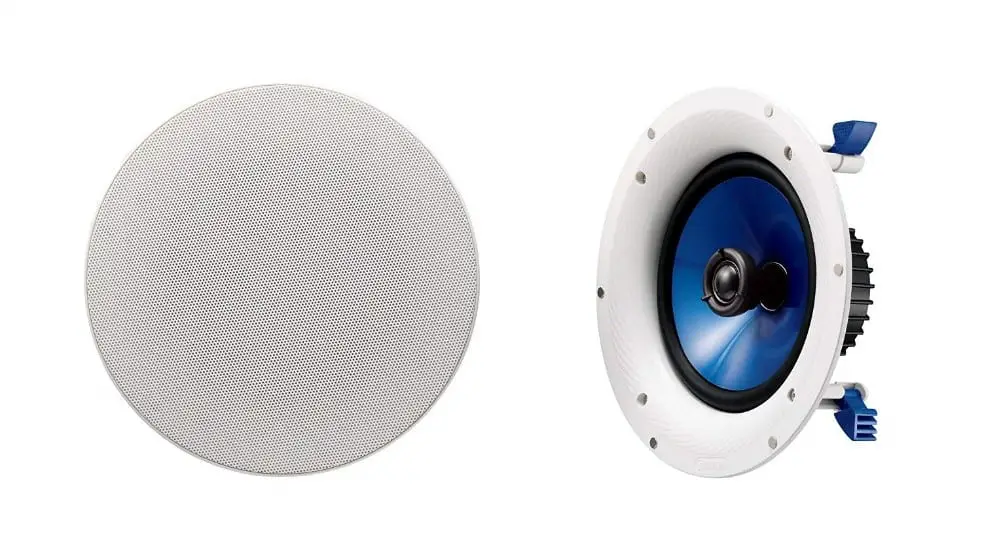 If you are searching for speakers that will be difficult to notice in the ceiling, the Yamaha NSIC800WH is an ideal option. It features a magnetic grille that can be painted over, allowing it to blend well with the ceiling. It also comes with a huge mounting clamp and an overall slim profile that makes it perfect for flush in-ceiling and wall mounting.
The speakers are also provided protection against moisture and dust, thanks to the sealed back cover. This allows this model to be used ideally as in-wall speakers and in-ceiling models.
In terms of power, these speakers come with 140-watts RMS output power, along with a 3.50 kHz crossover frequency, delivering powerful and high-end stereo sound. Also, its polypropylene mica cone woofer controls the mid and low sound reproduction at its best.
With this model, the sound is naturally dispersed throughout the entire room because of the grain-finished acoustic baffle that features a spiral pattern. As a bonus, these speakers are very easy to install. You can skip the help of a professional installer.
4. Micca M-8C 8-inch 2-Way In-Ceiling Speaker
Lowest Price on a Single Speaker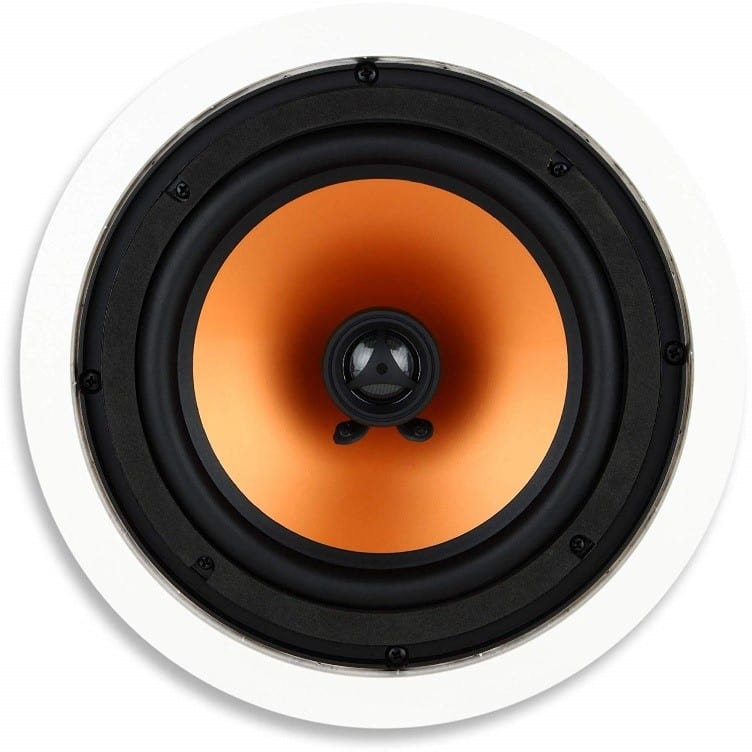 The Micca M-8C in-ceiling speakers are what you are looking for if you need a center channel speaker which can be hidden easily, or if you are looking for an affordable option. It comes as a 2-way speaker that introduces an 8-inch poly woofer, along with a 1-inch soft-dome pivoting tweeter. This means that it can be used in a wide range of configurations.
This model can either be used in stereo mode or be free to create your customized configuration, which can mold your needs perfectly. These speakers are amazing for providing a relaxing music background inside the bedroom.
The grille of these speakers is paintable, which is why they also serve as a high-impact, multi-channel home theater system, which is almost invisible. Each of the speakers is manufactured using durable materials that can last a long life.
As a bonus, these speakers are very easy to install, and you can do it by simply using a simple set of tools. Just a note, however, the grille is pressure fitted, which is why removing it can be difficult.
5. Klipsch CDT-5650-C II
Amazing Treble and Mid-Bass Attenuation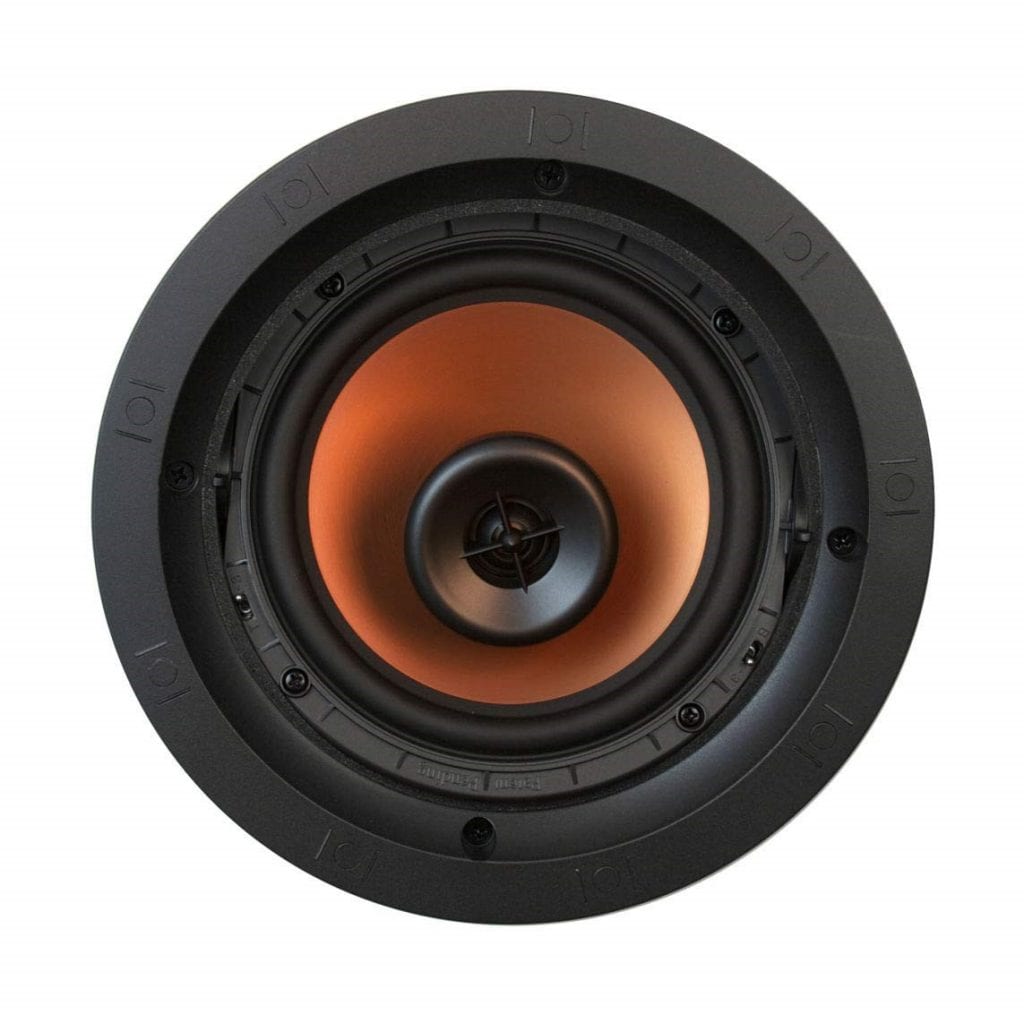 This in-ceiling speakers feature 1-inch titanium tweeters, combined with a 6.5-inch pivoting cerametallic woofer. As such, it promises to offer amazing audio quality. On top of that, thanks to its horn-loaded and Controlled Dispersion Technology, the sound produced is dispersed in the room without any delay.
To ensure that you achieve the level of experience that you are looking for, the manufacturer also used treble and midbass attenuation switches. With these features, you can easily switch from movie to gaming settings without having to do much.
These speakers can also be used in a wide variety of settings, from stereo designs, and a 7.1 system with an accompanying Dolby Atmos woofer. Its movable tweeters further improve the Atmos 3D effect.
With its removable magnetic grille, these speakers can easily be hidden in the ceiling. The grille can also be painted over to match the look of your space, while still having full access to the speakers.
6. Bose 742898-0200 Virtually Invisible 591 In-Ceiling Speaker
Best Overall Design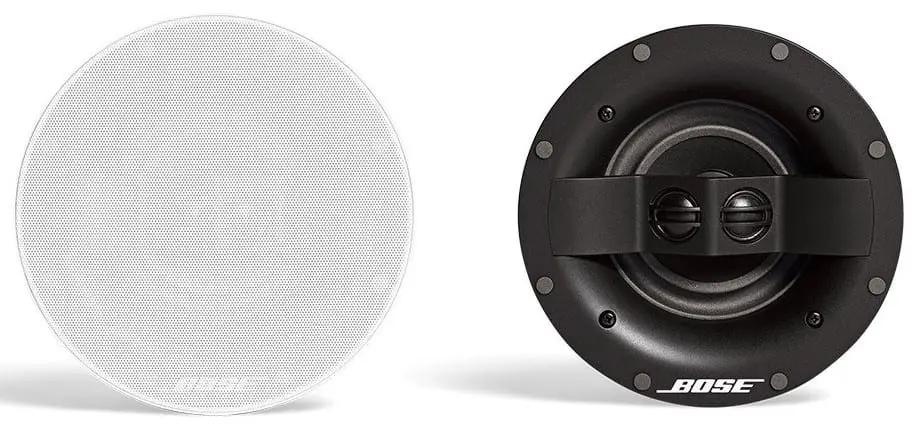 As expected, Bose does not disappoint with these beautifully designed in-ceiling speakers. It features a 5-inch woofer, along with two 3/4 –inch tweeters. This results in a system that introduces a full range of sound that is delivered loud and omnidirectionally, without any drop-off or disturbances.
The quality of sound that is produced by these speakers is matched by the durability of its build. The speaker comes with an almost bezel-less construction. This only means that it can easily fit into any kind of interior design, simply because the grille can easily be painted over. Without any bezel that marks the spot, this speaker is almost in harmony with the ceiling.
The installation of these speakers is very easy because of its standard dogleg clamps. These clamps can be used alongside other basic tools. If your budget allows for it, they can also be used in a variety of combinations, allowing you to create a real audio gaming or home theater experience.
7. Acoustic Audio R191 In-Ceiling/In-Wall Speaker
Best for Theater Use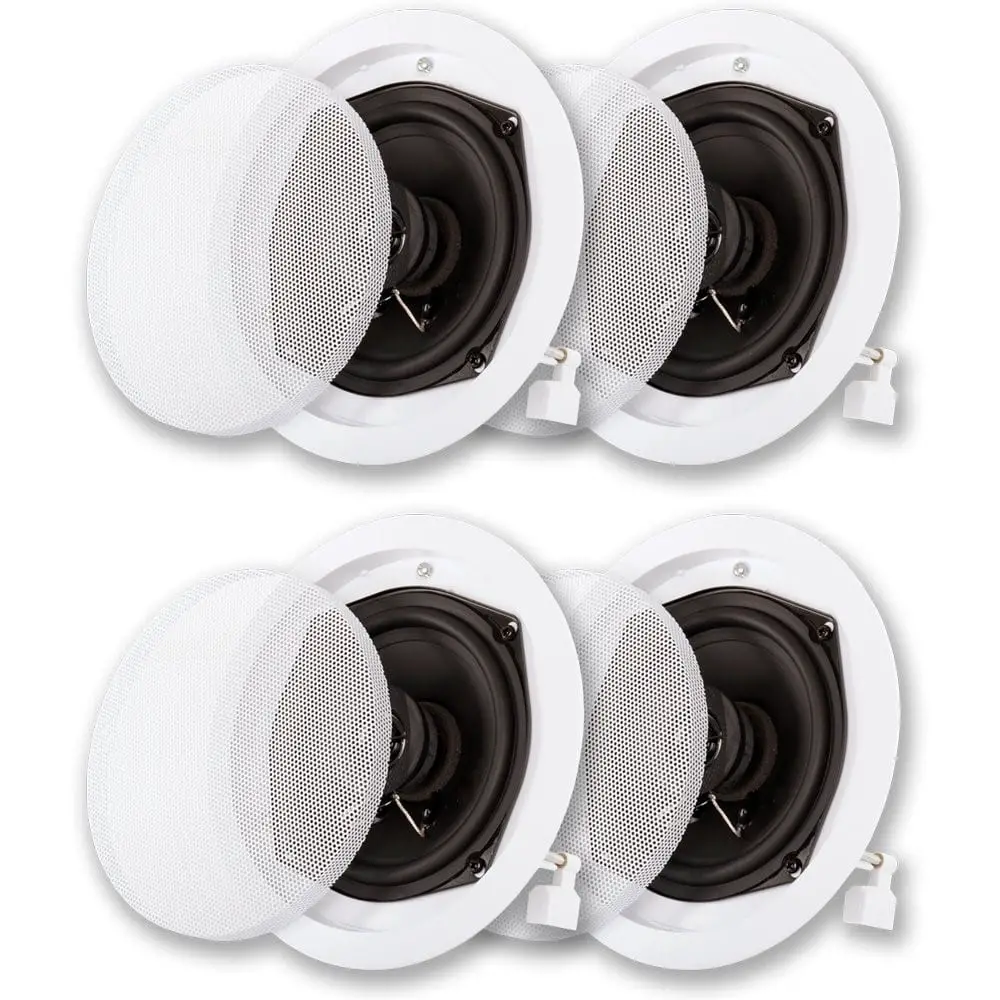 The Acoustic Audio R191 2-way speakers introduce a frequency response of 45Hz – 22 kHz, 8-ohm impedance, and a 95dB efficiency. This results in the delivery of high-level sound quality, which is found to be highly useful for background music, home theater, or gaming surround systems.
These speakers also come with 5.25-inch woofers together with extended throw assembly and high rigidity polypropylene cones. This allows them to execute real durability while delivering sound across the entire room without any lags.
They also feature 12mm soft dome tweeters that help in balancing the mids and highs without any troubles and distortions.
These R191 speakers also have a low profile, with paintable grilles and frames, making them great for both wall and ceiling mounting. Many users praise its easy installation, and very easy to make even when using basic tools.
With power between 20 to 200 watts for every speaker, these units offer a versatile set that can take your home theater experience to a new level. As a bonus, it also features an all-weather design that works well for both indoor and outdoor installations.
8. Polk Audio RC6s In-Ceiling Stereo Speaker
Smart Looking Speaker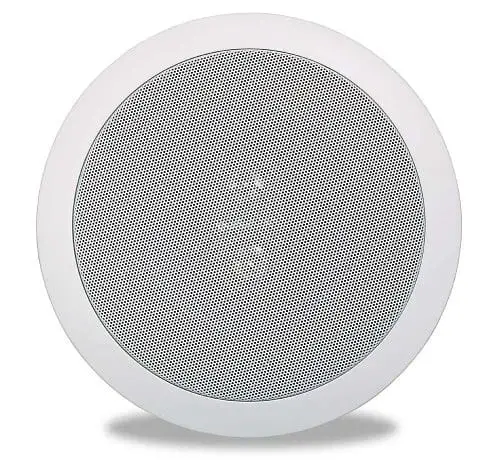 The Polk Audio RC6s in-ceiling speaker is a stereo speaker that comes in a single piece that can play both sound channels. Just like other speakers created by the brand Polk, this piece is smart looking. It is similar to the TC80i in appearance, which is round and very easy to install. Its grille features a white finish, and paintable to harmonize with the room details.
The grille of this speakers comes with a moisture-resistant exterior, which is why it is an ideal option for kitchens and washrooms. It has an exposed back, carrying spring-loaded push post connectors that can be used to attach the wires of the speaker. Since it is designed as a stereo speaker, it requires four wires to play the left and right channels.
This in-ceiling speaker features a 6.5-inch dynamic speaker balance. Rather than the usual cheap foam surrounds used in other speakers that tear away in a short period of time, this speaker utilizes rubber surrounds in the interior of the cone for amazing durability. It also introduces dual 0.75-inch dome tweeters that can be slightly swiveled to direct sound.
The RC6s speakers play in a 40 -20,000 Hz range of frequency. As a stereo speaker, it sounds good with a lot of punchy basses, without any distortion or boominess.
9. MartinLogan Installer Series ML-601
Ideal for Musical Background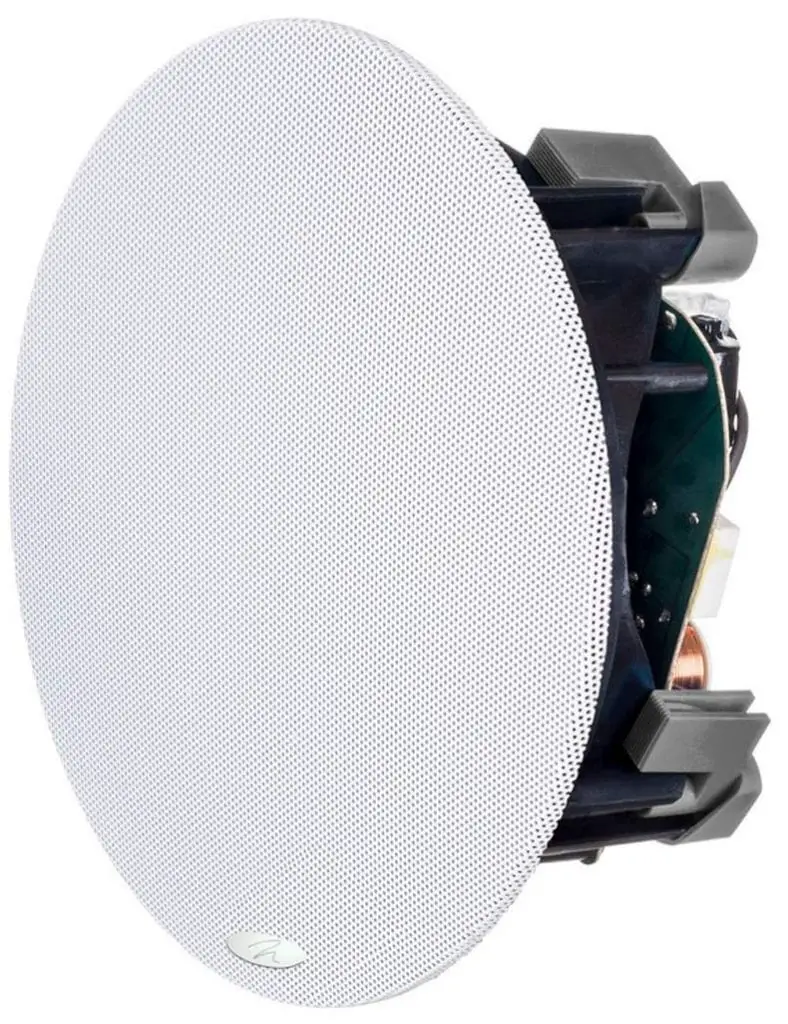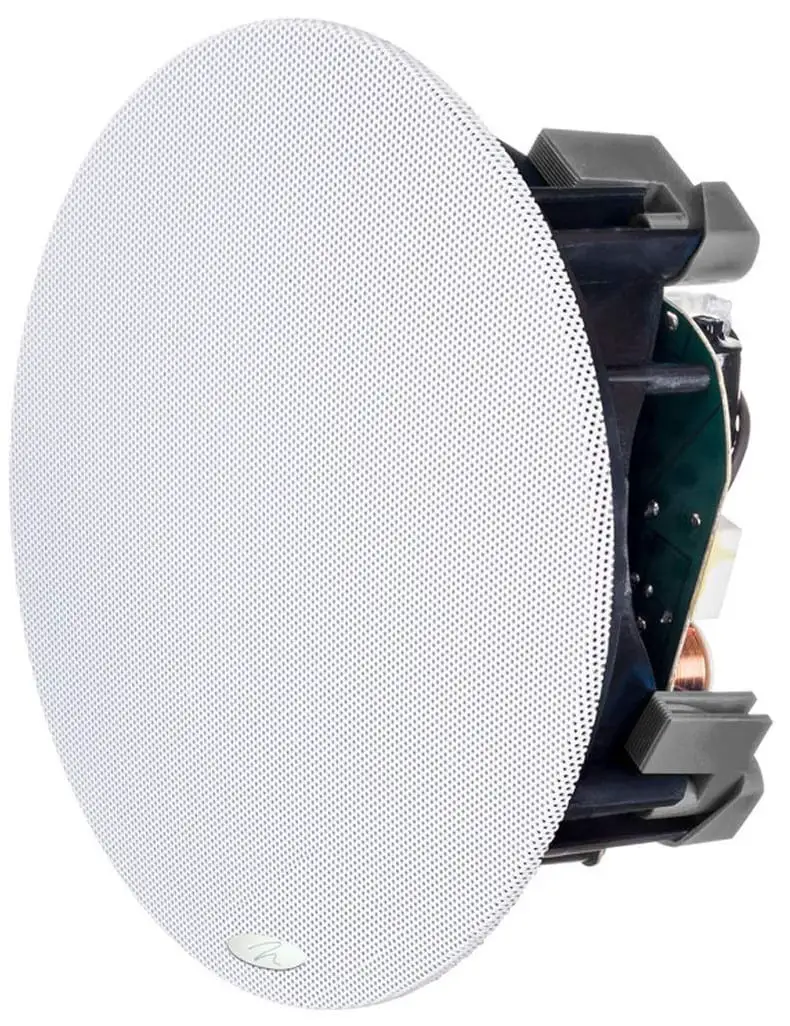 This in-ceiling speakers from MartinLogan can easily be installed in a wide variety of settings. It comes with a titanium dome tweeter combined with a low-profile bezel-free grille, which is also paintable. Though the speakers develop only 50 watts of output power, they are still loud, without any distortions passing through.
The great mids and crisp highs produced by these speakers make them one of the best options out there for the music. They deliver real Atmos quality without worrying about glitches.
Even though they may be very easy to install, they do not come with a back cover. This means that if you install them into a ceiling with insulation, this aspect has to be considered first.
Because the grille of these speakers is paintable, they can easily disappear into the ceiling and match the décor of your room.
10. JBL 8128 Full-Range In-Ceiling Loudspeaker
Ideal for Bars, Restaurants, and Cafes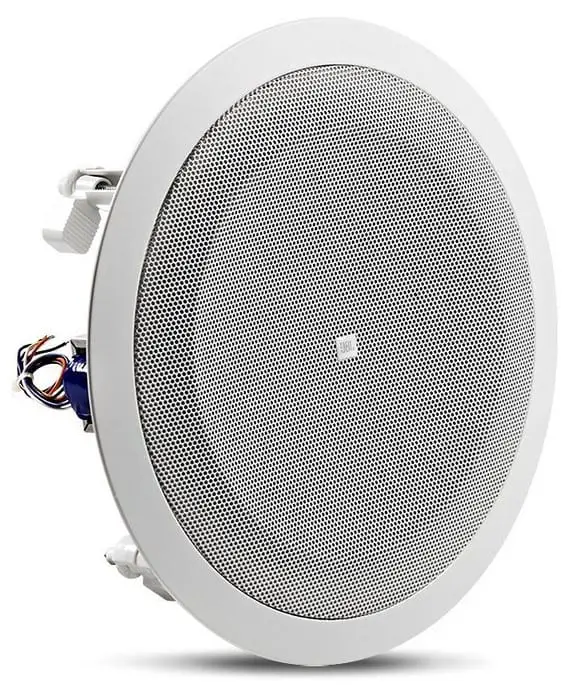 JBL is a respected brand in the audio market. This is why the 8128 in-ceiling speakers have become popular for different commercial applications. These speakers come in a size of 8-inch, while still being able to deliver a full-range of loud sound, combined with crisp mids and highs, along with deep bass.
The drivers of these speakers work on a frequency range of 50 Hz to 16 kHz, covering a 90 degrees area, thus resulting in omnidirectional sound experience.
These in-ceiling speakers introduce an open-back design, which means that the back ends with bare wires as well as dog-ears that are used in bling mount installations. This design makes them ideal for installing in areas that do not need a back can.
The grille of these speakers is modern, looking great in all types of interior designs and settings.
Buyer's Guide: How to Choose the Best In-Ceiling Speakers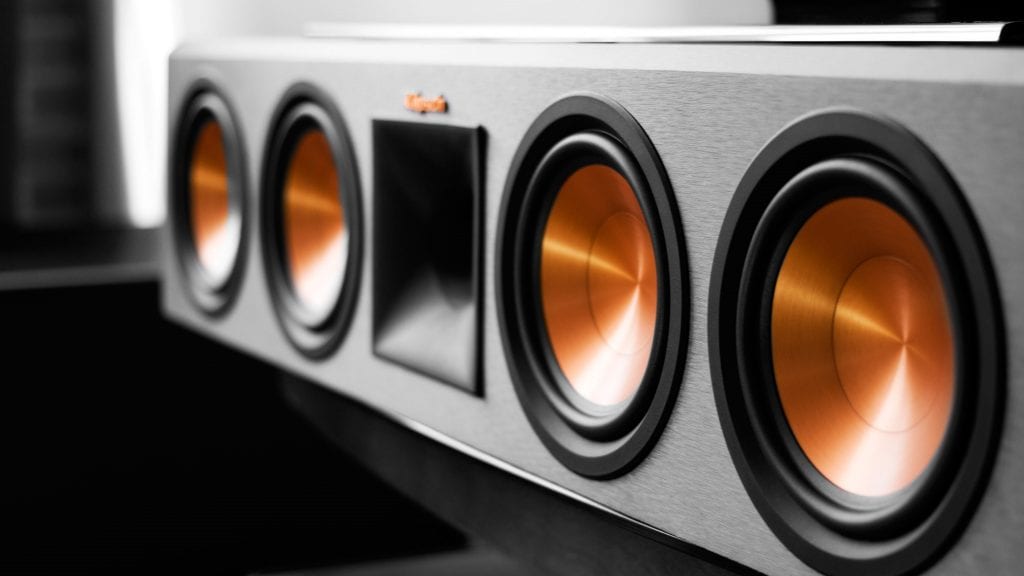 Sound Quality
Sound quality is very important because this is the very reason why you decided to purchase a speaker. As such, the speakers need to be able to deliver the high-end quality of sound. It is a good thing that most modern models of in-ceiling speakers that are manufactured by famous brands are able to provide crystal clear sound.
Stereo Speakers
A lot of people need to deal with issues related to space and smaller rooms, which do not have enough space for two in-ceiling speakers. Still, this can be solved right away by using a speaker who can provide stereo sound on its own.
It is also recommended for the in-ceiling speaker to feature at least a 2-way design in order to make sure that the sound quality is at decent levels even with just a single speaker in the room. If you are interested in getting one that is high-end, there are also other options, such as 3-way and 4-way designs out there these days.
Size, Weight, Mounting Options
These factors are very important because they can tell you where the speakers can be mounted, and if it is possible to install it in the kind of ceiling that you have. It will also determine if the speaker comes with a back can since it could mean that it is somewhat higher compared to other standard designs.
Most models of speakers already come with their own system for mounting, typically in the form of dog-ears or clamps. This means that there is no need to worry about it. Others, still, may need extra elements that need to be separately purchased, which is why it is essential to know the installation sequence before buying.
Moisture Resistant Speakers
Whether or not to get moisture-resistant speakers highly depend on where you are planning to use them. For example, if you are using it in a room with high levels of moisture, such as inside a bathroom, then having moisture-resistant speakers is a good option to consider.
There are some speakers that use heavy-duty materials, all of which are selected to hold better humidity across different environments. They are ideal for withstanding steam inside the kitchen or in a bathroom. They can also be used in the ceiling of a covered porch for outdoor music.
Other Features
After understanding the most important features, such as the sound quality and the mounting system, you may also want to check out other features that are offered by a certain model. Among these features include resistance to humidity, small bezels, low-profile grilles that can be painted, and others.
Budget
While your choice of in-ceiling speakers may be guided by your budget, your actual decision should be influenced by the listening experience that you want to achieve in every room. Speakers that are moderately priced do well for background listening.
However, if you are really passionate about music and sound quality, you may want to have a system that you can easily jam to. Higher-quality speakers will do the trick, delivering you that live concert experience. You can then match your performance goal to your budget before making a decision.
FAQs
How many speakers do I need in the ceiling?
It is generally recommended to have a pair of ceiling speakers for spaces or rooms which are bigger than 3 x 3-meter speakers. For those that are bigger than 5 x 5 meters, two pairs of speakers in the ceiling will provide a more balanced sound.
How do you remove ceiling speakers?
In order to remove in-ceiling speakers easily, you can use a flat-head screwdriver in order to disengage the retention clips that secure the speaker assembly to the ceiling's mounting system. Pull the speaker carefully out of the ceiling. Then, you may unplug the audio cables out of the back of the speaker, completely removing the speaker from the ceiling.
How do you install sonance ceiling speakers?
Here are the steps in installing sonance ceiling speakers.
Step 1: Identify the location where to place your speaker.
Step 2: Make sure that there are no studs, pipes, conduit, air returns, or heating ducts which may interfere with the placement of the speaker.
Step 3: Prepare at least 5 3/16 inches (132mm) in depth within the wall or ceiling cavity for the speaker.
Step 4: Prepare the cutout template that goes with the packaging. Position it to a place where the speaker is to place and trace an outline using a pencil on the ceiling or wall.
Step 5: Cut the hole with a drywall saw, running the speaker wires.
Step 6: Remove the plug of the paint from the speaker, then connect the wires to the terminals at the back of the speaker.
Step 7: Ensure that the RotoLock clamps are in a complete clockwise position so that they are safely tucked within the border of the cutout. Afterward, insert the speaker on the hole in the ceiling.
Step 8: Tighten the screws (four pieces) on the front of the speaker baffle. The clamps will rotate into position automatically, and start to clamp the speaker.
Conclusion
Based on our reviews, it is easy to see that there are some manufacturers who really knows what they are doing. Polk is one of them. The rest in this list have stepped up their game as well. Indeed, there are a lot of options on the best in-ceiling speakers, regardless of your budget. They come in a wide range of builds, shapes, and quality, which is why you have the assurance that it is possible for you to find one that will fit your needs and requirements.