Some use it; some don't; a guitar pick is one of the most common accessories, whether you're playing an acoustic guitar or an electric guitar. We recommend that you always use one, especially when you're just learning how to play. It's best to learn how to use a pick before you proceed to fingerstyle later. So how do you hold a guitar pick? Is there a proper way to do it?
What is a Guitar Pick?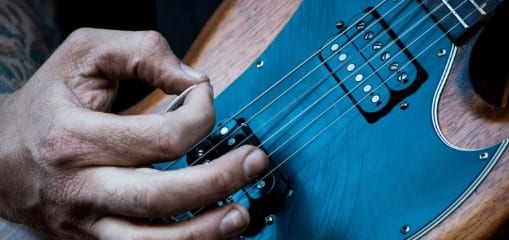 Before some lessons, let's first find out what a pick is and why it's really used. As defined online, a guitar pick is a tiny flat tool used in string instruments such as a guitar and a ukulele. It is made from one type of material such as hard plastic, wood, glass, stone, rubber, tortoiseshell, or tagua. Picks come in different shapes, but the most common is a tool shaped like an acute isosceles triangle but with two rounded corners while the third one is longer and less rounded.
The shape of the pick allows you to hold it from the two rounded corners with your thumb and index finger as you use the third less-rounded corner to strum on the guitar.
Benefits of Guitar Pick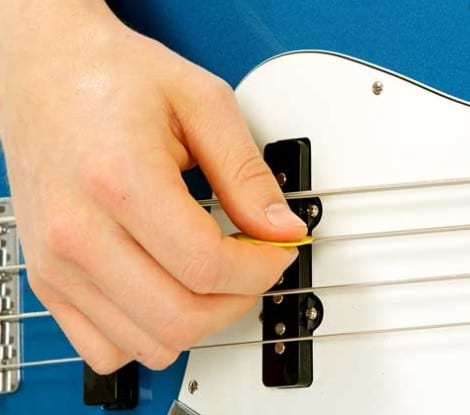 A beginner guitar player will benefit a lot from using a guitar pick. The most obvious reason why beginners use a pick is to protect their fingers. It can hurt a lot when learning how to play the guitar for the first time, and a pick will protect your fingertips and nails from scouring and developing cuts and callouses over many hours of playing.
When it comes to sound, a pick creates a brighter sound compared to plucking the strings with your fingertips. It provides better contrast in tone from varying plucking locations; for instance, plucking near the bridge and near the neck is greater compared to using a pick than a fingertip.
The pick can create a huge variety of tones when playing a fingerstyle guitar, flamenco guitar, classical guitar, and slapping compared to simply using the fingertips.
A heavier pick creates a darker, bolder sound compared to a sound made by a lighter pick. Of all the parts of the pick, the tip has the most effects on sound. With a pointed tip, a brighter and more distinct sound is produced than a pick with a rounded tip, which creates a less-defined sound.
Almost all manufacturers print the pick thickness according to millimeters. Meanwhile, some use a letter system to indicate the thickness such as Ex Lite for extra light or thin and XH for extra heavy or thick.
Is There a Proper Way to Hold a Guitar Pick?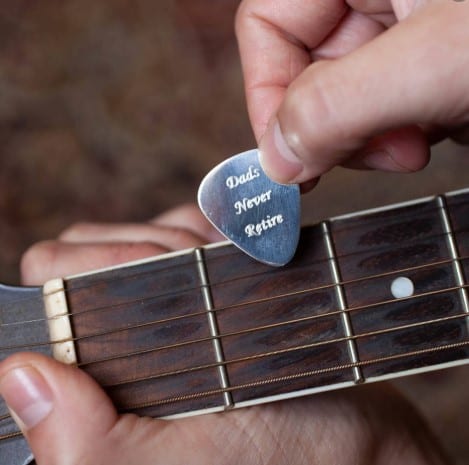 A guitar pick is gripped by the thumb and the index finger. The pointed end of the pick strikes the strings, but if you look at the styles of different musicians, this is actually a matter of preference. Many popular guitarists use a variety of grips, for instance, Eddie Van Halen secures his pick with his thumb and his middle finger. His index finger is free to create his famous tapping techniques.
Other famous musicians like Jeff Hanneman and James Hetfield hold their picks using three fingers: the thumb, index finger, and the middle finger all together. Famed jazz guitarist Pat Metheny and the lead guitarist for the British band U2 The Edge use the three-finger technique but prefer to use the rounded edge rather than the pointed tip. Meanwhile, Stevie Ray Vaughan, a blues guitar player, also used the pick's rounded edge and said that this allows him to attack the strings better than a pointed tip. Vaughan would wear and destroy picks due to his aggressive style and has even created a groove on his Fender Stratocaster.
How to Hold a Pick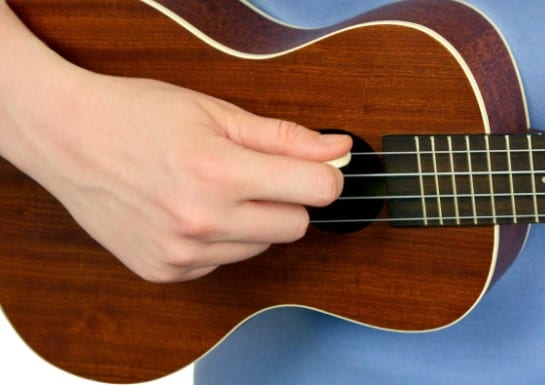 We will categorize the ways to hold a pick to two techniques: holding the pick with your thumb and index finger and the other one holding it with your thumb and middle finger. To learn about these techniques, we recommend you start with the most common pick shape with two rounded corners and one pointed tip. Once you master how to hold a traditional pick, you may proceed with other types of picks.
Thumb and index finger
Place the pick at the tip of the index finger with the pointed tip pointing at the direction of the finger.
Place the thumb along the top of the pick. The pointed tip of the pick should be coming out of the side of the thumb. With the tip just slightly coming out of the side of the thumb, you can better hold on to the wider part of the pick and hit the strings efficiently.
Relax the rest of your hand. The wrist and the forearm must be relaxed so the pick can strum or strike the strings much better.
Thumb and middle finger
Place the pick at the top of the middle finger with its pointed tip pointing downwards, at the direction of the finger.
Cover the larger, curved part of the pick with your thumb; allow the pointed tip to come out of the side of the thumb.
You relaxed your hand, wrist, and forearm so you can strike the strings better.
Aside from how the pick is held, the way the pick is moved against the string is also a matter of personal preference. Jazz guitarist George Benson and Dave Mustaine from Megadeth hold their picks in a very stiff manner using the thumb and the index finger. This locks the thumb joint as they strike the string with the surface of the tool in a nearly parallel manner creating a consistent tone.
A technique called circle picking was developed by some guitarists, and this involves the thumb joint bending as the pick creates a downstroke and then straightening on the upstroke. The pick moves in a fluid circular manner. 
There are two techniques for fast picking: alternate picking and economy picking. In alternate picking, the player alternates between downstrokes and upstrokes even if the strings are changed. In economy style picking, the player employs an economic stroke to express each note. For instance, he strikes the first note on the 5th string while the next is along with the 4th, a downstroke on the 5th, continues in a similar direction to create a downstroke on the 4th. Some guitarists learn to pick using an economy style followed by alternate picking.
What are pick grips?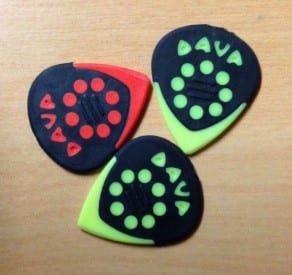 Pick grips are sticky or rough, depending on the material it is made from. This is placed on either side of the pick so you can grip it better. A popular brand called Monster Grips makes grips from soft silicone; therefore, it's very grippy but not sticky, very thin, and will also stay clean.
A pick grip will enhance your grip, improve articulation, reduce finger and hand fatigue, and will also increase your speed. Grips may also be used on drumsticks, brass instruments, woodwind instruments, microphones, and many more.
Top 5 Best Guitar Picks
1. Fender Premium Picks Sampler – 24 Pack with Thin, Medium and Heavy Gauges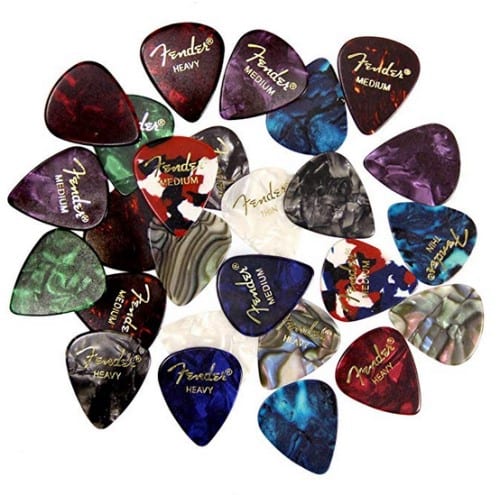 Fender is one of the most iconic brands in guitars and guitar picks, and this product is a sampler with 24 different colors and designs to choose from. But if you don't need all 24 picks, you can downgrade to their 12-pack sampler.
These lovely picks are made from celluloid, a firm, the lasting and perfect material for making picks. Guitar picks made from celluloid are known to last for a long time despite aggressive guitar playing. Use any of these colorful picks, and you'll produce a warm and round tone. It is perfect for all types of guitars, from acoustic guitars to electric guitars and also for playing other string instruments.
The Fender sampler comes in thin, medium, and heavy gauge; you can tell by checking the surface of the pick. The name Fender, as well as the gauge, is embossed on the body of the pick, and thus these are impossible to remove even when you use the pick daily.
These picks are standard picks with no grooves or handles, so you must learn how to hold them very well. The picks have a traditional shape too. The different colors and styles let you change your pick depending on your playing style, personal preference, and mood.
Aside from the 12 and 24 pack, you can also buy the Fender pick sampler in a 48-pack
Pros
Good variety pick sampler
Allows you to experiment on different gauges to create different tones
You can use these picks on an acoustic or an electric guitar
With different colors and styles to fit your mood and your playing style
Will last for a long time because it's made from durable celluloid material
Creates a warm and solid tone
With a traditional shape
Cons
Too expensive
With no grooves or grips
2. Dunlop PVP101 Pick Variety Pack, Assorted Light/Medium 12/Player's Pack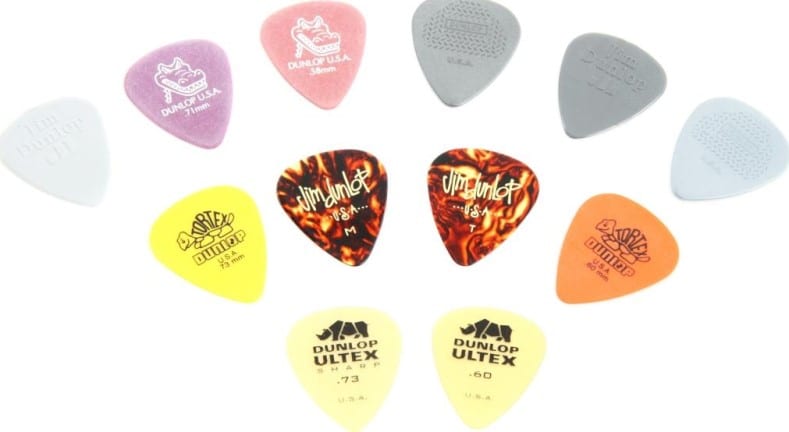 Another good name in guitar picks is Dunlop. The manufacturer claims that it is the industry leader in manufacturing quality and innovative picks. This is a 12-pack sampler with picks having a variety of textures, materials, and shapes. This pack is perfect for all kinds of guitar players, from novice players to experienced artists. You can choose from a pack with thin to medium or with a medium to heavy pick, each pack containing 12 picks.
Dunlop picks are available in different materials from nylon to the popular Tortex and Ultex. Dunlop has more than 50 types of picks in varying textures, materials, shapes, colors, and artwork. You can also take advantage of Dunlop's custom imprint program so you can have your own band logo or personal logo on your picks.
This is a sampler that contains Dunlop's most popular picks of all time in the traditional shape with different textures and variety. The LT and MD pack has the .60, .73 Nylon Standard pick; .60, .73 Nylon Max Grip pick; .60, .73 Tortex pick; .60, .73 Ultex pick; .58, .71 Gator Grip pick; Thin and Medium Celluloid pick. All these are made in the USA, and thus you can guarantee good quality and craftsmanship.
Pros
This is a sampler pack of all the popular and standard Dunlop picks
Made from different materials including nylon, Tortex, Ultex and many more
Available in different gauges from thin/medium to medium/heavy gauges
You'll get a dozen picks of different styles, colors, and designs
Picks are available in standard size and shape
Made in the USA which means these come with the best quality
Cons
No pick grips
Pack only contains 12 sampler picks
3. D'Addario Assorted Pearl Celluloid Guitar Picks 10 Pack Medium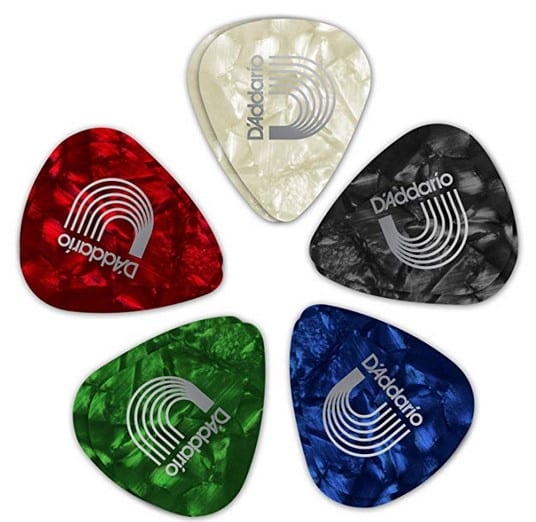 The D'Addario celluloid guitar picks pack is a package containing ten picks, all in medium gauge. This package is also available in 25 picks per pack and the very generous 100-pack. You'll get to enjoy high quality celluloid picks that feel natural to your fingers, creating a warm and flat tone.
This pack is a medium gauge with 70mm that will work best for articulate picking and strumming. With the picks made from celluloid material, these are tough, durable and will resist vigorous strumming and picking even when you use the pick for a long time. Many agree that D'Addario picks are very strong and remain scratch-free even when used vigorously. And because these picks come in standard shapes, you'll find it easy and comfortable to use. You can use these picks for acoustic guitar or electric guitar playing as well as playing the ukulele and other string instruments.
These picks are available in various colors red, blue, green, black, and pearl with the classic dazzle. You can choose from any color of pick that will match your style or your mood for the day.
Aside from this pack containing medium gauge picks, you may also purchase packs with light with .50 mm gauge, Heavy with 1.0 mm gauge, and Extra Heavy with 1.25 mm gauge. These classic and pearl celluloid picks are one of the most popular and were used as a substitute for natural tortoiseshell material. And aside from these, D'Addario also comes in Duralin, a strong, stiff, low-friction, and fatigue resistant material. With a Duralin pick, you'll hear a classic click when the pick hits the strings, something that soloist prefer for clearer note passages. Other materials include Cortex, strong, durable, and heat-resistant material, and Nylpro, a nylon pick with two-sided grips. 
Pros
Available in medium, light, heavy, extra heavy and assorted packs
Made of a strong celluloid material that offers a warm and flat tone
Ideal for strumming and articulate style of picking
With a standard shape for easy and comfortable playing
Available in different cool colors with a lovely shimmer
Available in 10, 25 and 100-pack sampler packs
Cons
Hard to tell what the gauge is
With no grips
4. Fender 351 Shape Premium Picks (12 Pack) for Electric Guitar, Acoustic Guitar, Mandolin and Bass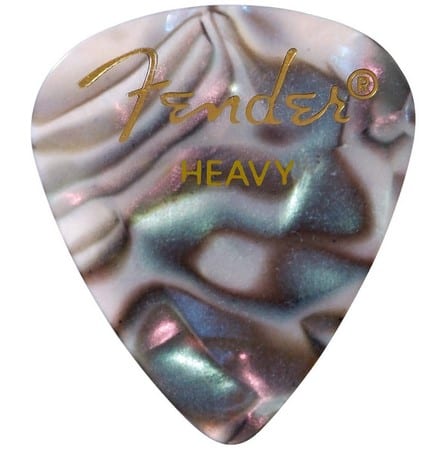 The Fender 351 is said to remain true to the Fender's tradition of experimentation. This is the Tortuga pick ideal for both beginners and experienced guitar players. This is a pack with 12 different picks ideal for playing acoustic guitar, electric guitars, and even ukuleles.
Made from Ultem, a combination of quality materials to create a warm tone, these picks create a warmer tone than the regular Ultem products. Each pick is super-responsive with a cool colorful tortoiseshell pattern all because of Fender's natural extrusion process. This is available in varying shapes, sizes, and gauges.
The 351 offers a comfortable shape and a warm feel. It has been the favorite of many musicians over many years. The celluloid material is responsible for this traditional and natural feel that creates a smooth and warm tone with the ability to attack quickly and ferociously.
Whether you're into cool and relaxed playing or you want to heat up some cords, the Fender 351 offers a better playing experience. The picks are available in standard shapes, which allows you to play the strings with ease and your own kind of playing style.
This pack contains assorted picks from thin, medium and heavy gauges. Colors range from white to Moto black, from Moto red to turquoise ocean colors.  
Pros
Available in various gauges, thin, medium, and heavy gauges according to your playing style and preference.
Made from very durable celluloid material that will resist warping, bending and cracking
Available in a traditional pick shape and style
Creates a warm tone, capable of a smooth and vicious attack
Comfortable to hold with a large rounded edge and made from a flexible material
With a printed gauge size so you won't make a mistake
Available in fun colors and styles
Can be used on all types of guitars and string instruments
Cons
No pick grips
Gold embossed brand and gauge size is easily removed
5. ChromaCast CC-Sample Sampler Guitar Picks (12 counts)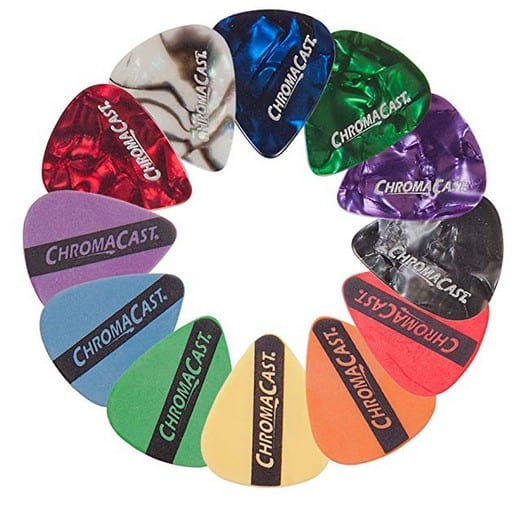 Similar to other pick sampler packs in our list, the ChromaCast allows users to select the pick that matches their style and their level of playing. The ChromaCast sampler allows you to choose from celluloid and DuraPicks, all in standard guitar pick shape and size.
These picks come with the classic rounded body, but instead of a sharp tip, you'll also get a rounded tip. The result is a warm but flat tone. This generous sampler also comes with a wide variety of gauges with the DuraPicks ExtraThin, Thin/Medium, Thin, Medium, Medium/Heavy, and the Heavy gauges.
The DuraPicks ChromaCast picks come in varying colors, including red, yellow, green, orange, blue, and purple colors. Celluloid picks are available in abalone, blue, red, green, purple, and black, all available in different gauges.
The Celluloid picks are made from one of the most popular materials and come in varying thicknesses and colors. These picks deliver a natural feel and warmth. Meanwhile, DuraPicks are made from Delrin and Acetyl materials that are strong, stiff, and offer low friction and high fatigue resistance. DuraPicks offers a bright and clicking sound when playing acoustic guitars or rhythm guitars 
Pros
Available in celluloid and DuraPicks materials
With a classic, comfortable pick shape ideal for long hours of play.
With varying sizes and materials from the extra thin at .50 mm, thin at .60mm, thin/medium at .73 mm, medium at .88 mm, medium/heavy at 1 mm and heavy at 1.14 mm
Celluloid creates a rich and fat sound and DuraPicks with a bright, clicking sound
Available in many fun and exciting colors
Easy to hold and to use
Cons
Aside from these classic picks and picks purchased from music stores and online stores, you may also improvise using various materials and stuff you can find at home. For instance, do you know that you can make guitar picks out of old credit cards? This material is stiff, strong, and will produce a rich sound. And even if you destroy this DIY pick, you can always cut another one from an old card anytime!
In fact, old credit cards are what David Persons, a session guitarist during the 80s. He would cut credit cards to the correct size and shape and use these without making any kind of tip. But what if you don't want to use a pick? This is entirely up to you. Some musicians make good music without a pick because they think that this is too loud. Also, using the tip of the thumb can create a smoother sound as the string blends better.
Don't use coins, thick pieces of wood, or stiff materials as an alternative to a real pick because these can damage your strings and can even break your strings! Also, there is a risk that these things may fly from your hand and injure others. As much as possible, use standard picks and master using a regular-shaped pick before you use picks with different shapes and designs.