If you are a musician who is fond of electric violins, you certainly would want to make sure that your performance is applauded by those who listen to it. Whether you are simply rehearsing at a studio or your home, you need to make sure that you can also personally hear the music that you are practicing.
With this in mind, you need to have the best amp that works well with your electric violin. After all, they are designed to affect your performance greatly. Thus, early on, making a wise decision when it comes to purchasing the best amp is a must.
As a wise musician, you may already know that it is very important to take into consideration the right model that is based on your needs and preferences. Since there are just a lot of options out there, you may find it challenging to get the best one. To help you out, we have rounded up the 10 best amps for electric violins.
A Few Words About Electric Violins
When we trace the books of musical history, electric violins have been present in society since the 1920s. They were used primarily for jazz. Later on, they were praised for their performances in the rock and roll genre. Stuff Smith, a blues and jazz musician receives the credit for using the first ever electric violin.
Most models of electric violins feature a solid body rather than the usual hollow body style that is common with acoustic violins. An electric violin also produces a raw sound, which is generally preferred for jazz, rock, and other similar genres.
Electric violins that are solidly manufactured typically feature a minimalistic style and design. The purpose is to keep the overall weight of the instrument in control. These days, many models of electric violins are constructed using different types of materials, most durable and lightweight. Carbon fiber, for example, is one of the most favored materials.
Note that electric violins are not necessarily dependent on amplifiers. In fact, in certain cases, violins come with their amplifier. Experts in this field, however, agree that to achieve rich and full tones, having an outside amp is essential. There is a wide range of options when it comes to amplifiers. Factors also need to be taken into consideration.
Reviews of the Best Amps for the Electric Violin
1) Wood Violins Amplifier for Electric Violin – Ideal for Practices and Performances
Editor's Rating: 4.5
This amplifier from Wood Violins is one of the favorites among musicians who love electric violins. It is dedicated and designed for use on electric violins. As such, these amps are developed and customized for ideal performances and practice sessions.
This custom amplifier comes with a two-band equalizer which comes with bass and treble control, a headphone output, distortion channel, level control, and a variable delay.
The Wood Violins electric violin amplifier packs a complete punch and is the perfect companion for musicians like you. With the features that it offers, you can be assured that you have an amazing amplifier to use.
The compact size of this amplifier makes it perfect even for an area or a venue with limited space.
It offers the needed features from both lower end and the higher-end models, such as a large equalizer and better controls for enhanced sound control.
Pros
Compact size
Dedicated amplifier
2-band equalizer
Bass and treble controls
Better control
Cons
2) Vox Gutar Combo VT20PLUS Amplifier– Guitar Combo Amplifier
Editor's Rating: 4.5
The Vox VT20PLUS amplifier comes with a tube-driven reactor circuit that utilizes a 12 AX7 vacuum tube in a 3-tube tone.
This amplifier features 8 different user programs that allow you to easily save your preferred custom settings.
This amp also provides gain, volume, and master volume. The equalizer of this model comes with treble, middle, and bass.
It also features quite a unique control for power level, limiting an outage of the power amp. This results in a distinct power amp distortion at any level for listening.
Even though this amp is listed as a guitar amp, it works wonderfully with electric violins at the same. It even has an automatic, built-in guitar tuner, making it easy and convenient to use this amp.
Pros
Works both as electric guitar and electric violin amp
Tube driven amplifier
Different options on the equalizer
8 user programs
Customizable settings
Cons
3) Fishman Loudbox 60W Mini Acoustic Amp – Best Mini Acoustic Amplifier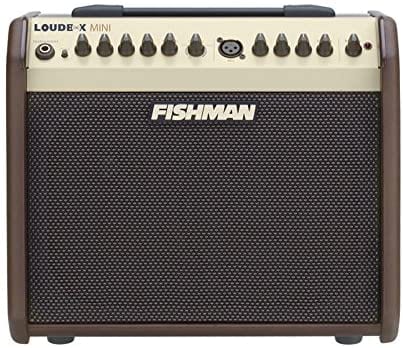 Editor's Rating: 4.5
This amplifier is recognized as one of the most portable and lightest amplifiers created by the manufacturer, Fishman. Despite its portability, it could amazingly deliver a unique total quality which makes this brand known for creating a remarkable and stunning sound.
It features a 60-watts power, and a master volume. It comes with two channels: the microphone and the instrument. This option allows you to amplify, not just your electric violin, but also the microphone at the same time.
It comes in basic design, with black and white as its colors. This amp features one woofer and one tweeter.
This mini acoustic amplifier offers a balance in XLR output, with a feedback fighting switch. At the same time, it also provides a 3-band equalizer, ideal for low, mid, and high tone control.
This amp also received positive ratings from customers across selling platforms.
Pros
Bi-amplified acoustic power
2 versatile channels
3-band EQ feedback controls
Several echo effects
Footswitch input
Cons
Some issue with the cover peeling  
4) Peavey VIP 2 Vypyr Guitar Amp – Modern Features Included
 Editor's Rating: 4.5
This modeling instrument amplifier from Peavey is an amazing option for an electric violin. It can be used for rehearsals, recordings, or stage performances.
It features a channel that is designed for your electric violin. It can also be used for other types of instruments including acoustic guitars, bass guitars, and electric guitars.
This amplifier also comes with USB ports just in case you want to further amplify your music. It even comes with a looper built-in to it.
This amp also combines with very powerful, floating-point, 32-bit SHARC processors. The effects that are produced by this amplifier feature controls that are accessible using the amplifier itself.
VYPYR uses a USB bi-directional data with an audio port that makes it easy to record and connect during practice sessions, making it easy to connect to your computer.
Pros
40-watts amplifier
Uses patented TransTube technology
Custom voiced modeling speaker
10 instrument models
Revolutionary features included
Cons
5) Bunnel Violin Amp – Excellent Practice Amplifier
Editor's Rating: 4.5
Another option that you can take into consideration when selecting the best electric violin amplifier is the Bunnel amplifier. It features 10 watts, offering you with a power that may impact your performance.
This amplifier comes with several features, which include an equalizer for treble, middle and bass.
It features a master volume, an audio output, and a distortion channel. With the features included in this amplifier, it is an ideal option to consider.
This amp has chorus and distortion effects, along with a ¼" cables which connect the effects to the amp and the violin. The case comes in good quality and is padded for safety.
Appearance-wise, this Bunnel amplifier is attractive enough to look at, with volume and tone on the top, making it easier to adjust while playing.
Pros
All-in-one package
Attractive looking
Padded case included
Small amplifier
Well-designed features
Cons
6) Danelectro N-10 Honeytone Guitar Mini Amplifier – Portable and Convenient Amplifier
Editor's Rating: 4.5
The Danelectro Honeytone mini amplifier is very easy to use. All you need to do is to turn it on using the off volume knob, dialing in everything quite easily.
This amplifier features controls that are located right at the upper part of the amp, closer to your fingertips, when it is attached to your belt using an integrated clip.
Whether you are listening using the built-in speaker of this amplifier, or your favorite headphones, the result is inspiring and responsive.
In terms of aesthetic appeal, this mini amp comes with a leather handle that makes it eye-catching, thanks to its retro look.
Overall portability is what this electric violin offers. For one, it comes with an integrated clip for the belt, as well as a leather handle for easier transport.
Pros
Guitar combo amplifier
Complete portability
Integrated clip included
Attractive retro look
Leather handle for easier transport
Cons
7) Rogue 10W G10 Guitar Combo Amplifier– Ideal for Beginners
Editor's Rating: 5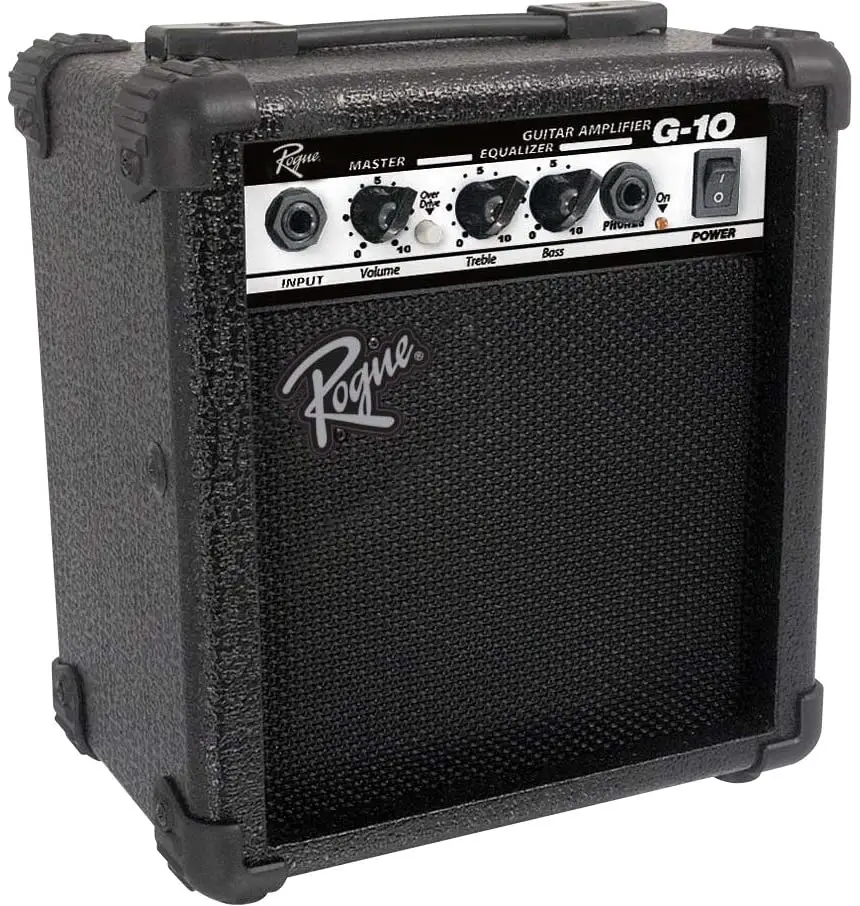 This amplifier is a compact amplifier that is ideal for beginners, as well as those who practice using their electric violins. Despite its compact size, the Rogue G-10 amp produces a wide range of tones.
It also features a master volume, along with an overdrive switch that goes from clean to overdriven sounds. It is also a 2-band equalizer that is very easy to use, allowing for easy adjusting of the amp, matching your playing style.
The headphone jack that is used with this amp switches automatically from its internal speaker. As such, it is an amazing starter amp which continues to serve as a great tool for practice.
Overall, this amplifier is very versatile. The size does not stop it from producing great sound whether it is kept at a low volume or cranked up.
Pros
Compact size
Easy switch between clean and overdriven sound
2-band tone control
Comes with ¼" headphone output
2-band tone control
Cons
 Some issue with sound quality 
8) Pyle – Pro PVAMP30 Accessory – Great Control Sound
Editor's Rating: 5
The PVAMP30 vamp series amp is a great choice for musicians who are looking for a good partner to their electric violin. This unit comes with a 6-inch speaker. It also features two channels, clean and overdrive, thus producing a powerful and crunchy sound.
If you are interested in rehearsing silently, you can use your headphones using its ¼-inch jack. This output jack can also be used in connecting to external speakers.
This amp also gains better control for its overdrive feature. It also features a 3-band equalizer, offering you the chance to have better control whether it is for bass, middle or treble ranges.
Pros
6-inch speaker
Two channels featured
Control for overdrive
3-band EQ
Powerful sound
Cons
Some issues with volume crackling
9) Tech21 TM-30 Combo/Direct Recording Amplifier– Large Yet Portable
Editor's Rating: 5
If you are looking for an amplifier that is portable enough to be carried around conveniently, the Tech 21 trademark 30 amplifier might just be the option that you can take into consideration. While it is large in terms of size, it is portable enough to be carried around to any venue.
This amplifier offers up to 30 watts of power while featuring a single, huge speaker. It also has a speaker extension output.
Included in the features of this amplifier is a 3-band active controller. It uses the Accutronics 3 spring reverb which is known for its superb professional-quality performance.  
This amplifier also features character selection which works in mixing and matching individual components of amplifiers, while allowing for an architectural creation of your custom rig.
Pros
100% analog amplifier
Professional quality Accutronics 3-spring reverb
Active tone controls
Portable and lightweight
Headphone output
Cons
Does not have a footswitch  
10) Marshall MB15 Bass Combo Amplifier–Practice Sessions at Home
Editor's Rating: 5
The Marshall MB15 bass combo amplifier is a smaller amp that is a perfect option for at-home practice sessions. It features a total output of 15 watts, with 2 channels, alongside a variable compressor.
If you are searching for an affordable option on a good amplifier for your electric violin, this is a good option that you can take into consideration. It does not mean, however, that just because it is affordable, it already trails behind in terms of quality. It offers amazing sound quality.
This amplifier is very portable, making it recommended for students to bring with them during their practice sessions.
Pros
Portable and lightweight
Affordable
15 watts power
2 channel features
Variable compressor
Cons
Buyer's Guide – How to Choose the Best Amps for the Electric Violin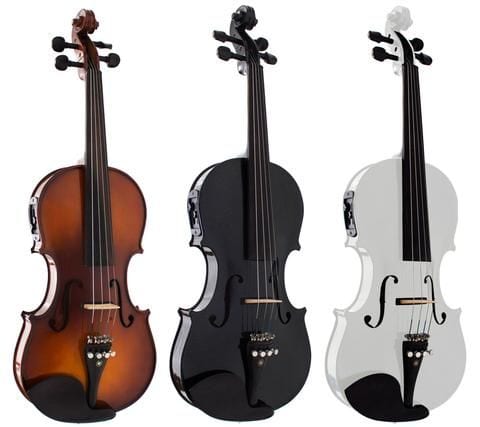 When looking for an amp for your electric violin, certain factors need to be taken into consideration. This means that you need to identify the specific features that are included in a model. In this way, you can make sure that you will a quality musical instrument that will serve as our partner for performances or practices. Here are some of them:
• Crosstalk
This is no doubt one of the most important features that you need to take into consideration when buying an electric violin amp. Crosstalk refers to a phenomenon where a signal that is transmitted by a channel impacts the signal produced in another channel.
As a suggestion, you can search for a model that features less crosstalk. The higher the crosstalk, the more your stereo separation is affected. If you can find one with low crosstalk, then you can expect that you have a good amplifier at hand.
• Power
Power is another thing that you need to consider. A good amp for electric violin is one that can offer you equal to twice the overall power rate of a speaker. In its absence, it would not be possible for you to produce the ideal specifications of the amp, which may later have an impact on its performance when used with the electric violin.
• Pickup
The type of pickup used on an amplifier is another thing. This refers to the specific element which allows the vibrations that are produced by the strings that will then be transcribed to electrical signals. A model may have one or several sensors.
At the same time, there are also different types of sensors with their features. For instance, for electric guitars, magnetic sensors are common. On the other hand, electric guitars have piezoelectric sensors. The type of sensor used will determine the instrument's impedance.
• Impedance
Impedance refers to the resistance of a device (or electrical circuit) towards the current that flows right through it. All devices and musical instruments feature different values on the input and output of their impedance.
Note that generally, electric violins have higher impedance compared with electric guitars. As such, it is vital to search for an amp that can handle higher impedance. If you are not familiar with this, you may want to seek the advance of experts and other violinists.
• Output Volume
It is a common fact that musicians play under varying conditions in their performances. At times, it is important to push less or more with the output volume. Still, it should be kept in mind that the overall sound quality of an amplifier ultimately depends on the output volume. The sound will be saturated more if it is pushed some more.
When playing your electric guitar at home, a 20 to 30-watt amp is already enough, even more. On the other hand, if you play on stage, with the amp as the monitor, your performance will depend on the volume overall, as well as the monitors used by other musicians.
• Budget and Manufacturer
It is a common belief among consumers that if they pay more, they get better features. However, this is not the case every time. You may only end up paying more just because the manufacturer is charging more.
A manufacturer's reputation should also be taken into consideration. One that is established will most likely be balanced in their claims, and not afraid to present real reviews from their customers.
FAQs
1) What is the best amp for the electric violin?
Identifying the best still depends on your personal needs and preferences. However, based on our review, the model that tops our list is the.
2) Can electric violin use guitar amp?
Here's the deal – just like acoustic violins, there is a notable difference with the way either an electric violin or an electric guitar feels. For one, electric guitars are designed to use magnetic pickups.
These pickups are different from the piezo pickups that are commonly used on electric violins. This means that if you plug an electric violin into an amp that is used and designed for an electric guitar, the sound produced may become shrill and hollow.
3) Who invented electric violin amp?
Reality dictates that the manufacturer of electric violin amps depends on the company behind it. One of the most notable makers of violin amp is Mark Wood of Wood Violins.
3) Can electric violin play be played acoustically?
Note that by design, an electric violin does not come with a soundbox. On the other hand, an acoustic violin is noticed right away the one it is played. This means that an electric violin that does not use an amp will not be audible to the audience.
Conclusion
There is no doubt that an electric violin is an amazing musical instrument for you to explore and master. With the best amp to use with your electric violin, you can expect to get a sound that will certainly please and be loved by your audience. Take into consideration all of these amps listed on the list above, as all of them are potentially good options. Reaching the final decision highly depends on your needs and preferences. Having the best one at hand will ensure that you will enjoy an amazing playing experience while making sure that your audience will also love the music they are listening to.