The banjolele brings together the sound and acoustic architecture of banjo with the playing style and scale of the ukulele. This leads to an instrument that is played just like the ukulele. However, it creates sounds and volumes that are the same as the banjo.
Banjolele is a unique kind of ukulele that exhibits a drum-like body. It is an engaging musical instrument that has four strings, a ukulele neck, and a body of the banjo. It has a unique manner of bringing together the approach of the ukulele with the sound and built of a banjo. Furthermore, it also creates a richer volume compared to the ukulele. 
Nowadays, you will encounter many kinds of banjoleles in the market. It might interest you to find the 10 best banjoleles in 2020. 
Types of Banjoleles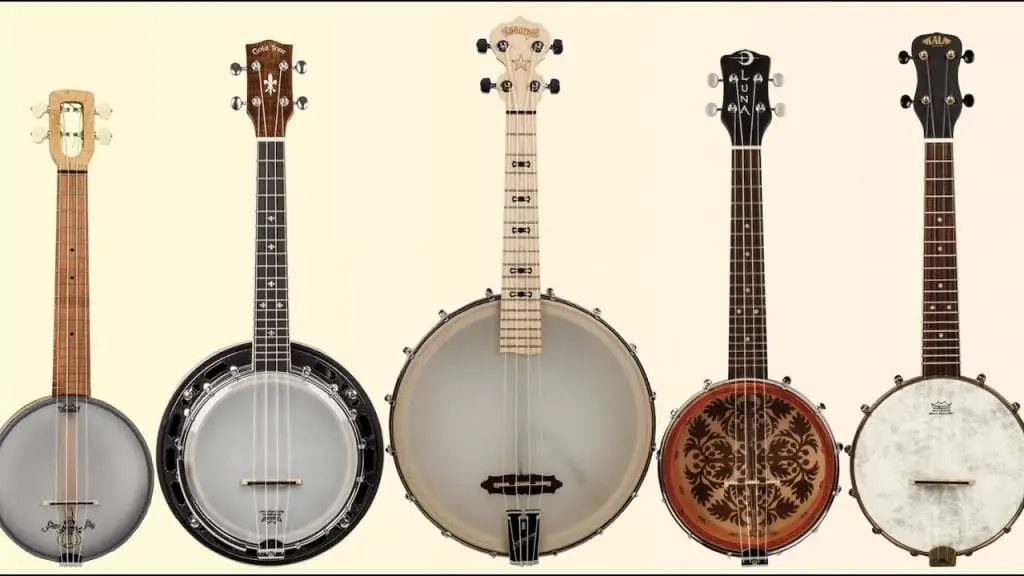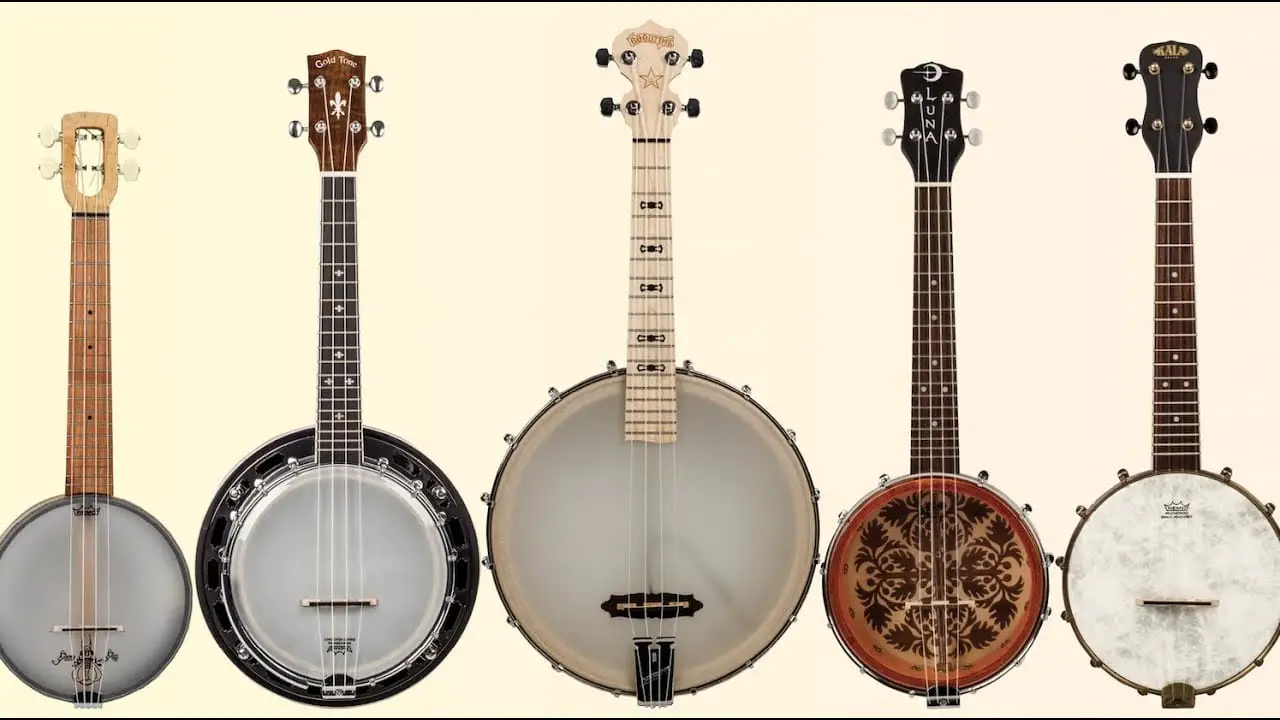 There are four types of banjoleles – baritone, tenor, concert, and soprano. We are discussing sizes when we talk about the types of banjoleles. What makes one different from the others is the number of frets, the scale length, and the full length. 
The baritone banjolele has a full-length of around 30 inches. Its scale length is 19 inches, and the frets will not go lower than nineteen. The tenor has a full-length of around 26 inches. Its scale length is 17 inches, and the frets are around fifteen to twenty. The concert banjolele is also in full-length at 23 inches. The scale length is 15 inches, and around 15 to 20 frets. Lastly, the soprano banjolele is around 21 inches in full-length. The scale length is 13 inches, and around 12 to 15 frets.
Understanding their distinction is essential since different banjoleles are adjusted differently. The concert and soprano banjoleles have to be tuned to GCEA, while the baritone and tenor are adjusted to DGBE.
List of 10 Best Banjoleles
There are several options for banjoleles in the market. Some of you are still clueless on which to buy and may even think that all available items are the same. However, you should know that there can be some distinction between these banjoleles in the market.
In this review, we will be featuring the 10 best banjoleles in 2020 meant to help you get the best banjolele that suits your requirements and budget.
1) Deering Goodtime Banjo Ukulele – Best Overall
Well-made
Sealed, adjusted tuners
Superior clarity and thorough, cheerful sound
Handcrafted in America
Deering is recognized for its banjos, and that can be a major reason why its banjolele is also a success. The banjolele is made from a 3-ply violin maple in a beautiful light color. It exhibits a maple neck, and it is outfitted with a whole-size 11-inch rim that reinforces a Remo Head. The tailpiece is Deering, while the strings are made from Aquila Super Nylgut.
It has a wooden saddle and saddle mount, and the protracted fingerboard glides over rather than just being fastened. The bridge plate improves sustain and maintains the overall sound rich, fresh, and not excessively bass-ey. It offers a lot of volumes, and while you are fingerpicking, you will see that the sound is completely fascinating. 
The Deering Goodtime Banjo Ukulele is an open-back banjolele having no choice to place a resonator. When it comes to the finish, Deering Goodtime is exquisite. It has 17 frets that are perfectly finished, and the general feel is incredible. 
The bow-tie carved position markers contribute to its quality, as does the full-figured, conventional Deering headstock. It has a black synthetic nut, while the tuning machines are in a nice silver finish.
Editor's Rating: 4.5
2) Oscar Schmidt OUB1 Ukulele – Best Resonator
Smooth banjo sound 
A lot of volume and projection
Easy to play
The Oscar Schmidt OUB1 Ukulele is an entertaining instrument that features capacity and playability that is unparalleled. Assembling this instrument can be done easily as it only comprises few steps. It produces great sounds – not to mention that the instrument itself is well-built. It is delivered to be well packed to ensure maximum protection.
This instrument is a 4-string banjolele with a strong combination of ukulele's chafed concert sized neck and the body structure of banjo. The instrument brings together the unique sound attribute of the banjo with the tuning and playing method of the ukulele. It uses the G – C – E – A definitive ukulele tuning. 
Positioning the bridge is very simple when you purchase it. The instrument is amusing to play, and you will never encounter boredom while playing it. It comes with interesting features like the Flame maple veneer resonator, Remo Head, bound rosewood fingerboard, Mahogany Resonator, and Uke Banjo. While putting into consideration the exceptional features of this instrument, it is believed to be worth the purchase, and it can also be purchased as a gift to someone who is an aficionado.
Editor's Rating: 4
3) Banjouke Sidekick Tenor Strap BANJOUKE Tattoo Mural – Best Design
Amazing design
Heavy and intense sound
Average weight
The Banjouke Sidekick Tenor Strap BANJOUKE Tattoo Mural is another interesting instrument to play. It is a banjolele that exhibits impressive quality, amazing design, and beautiful tattoo design. It is patterned to create a heavy and intense sound.
Individuals who own this instrument are playing it every day with ultimate contentment. It can be given as a present to a friend and relative. The instrument exhibits many features that make it perfect for purchasing.
Primarily, the Banjouke Sidekick Tenor Strap is durable and has an average weight. The fretboard is built from rosewood together with the mother of pearl inlay. The neck is built from durable mahogany, while the drum is composed of birch in seven layers. The string is built from Aquila supernylgut, and the drum head is built from high blow polyvinyl. 
The drum head can either be polyester tattoo designed or plain patterned. Other attributes of this instrument are entirely adjustable shoulder, completely padded gig bag, Naomi electronic pattern, drum tensioner, Allen head adjuster, and tuning peg tightener. 
     Editor's Rating: 4
4) SanDona Banjolele – Best Fret Position Indicator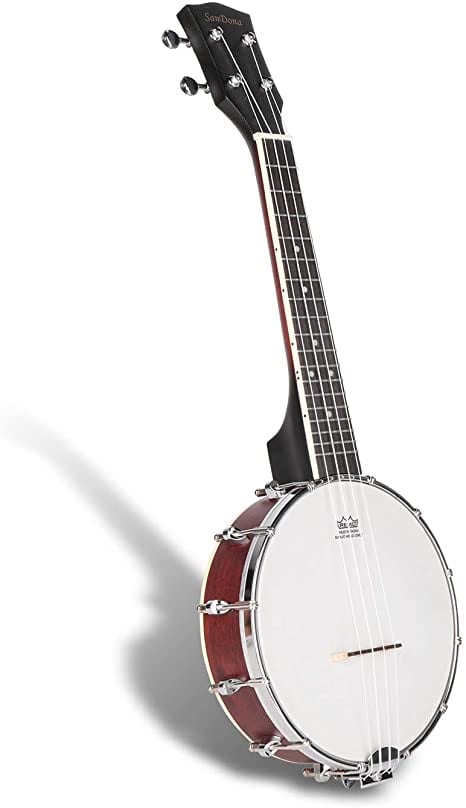 Excellent quality strings
Excellent oxbone nut
Utilizes excellent materials
SanDona represents happiness, passion, and vigor that the company actualizes by introducing the SanDona Banjolele. SanDona's innovation integrates excellent ukulele artistry with a banjo body structure, letting this instrument to acquire more volume while preserving the unique banjo sound. 
SanDona Banjolele was designed with Maple for the fingerboard, headstock, back, and rim. It exhibits excellent quality strings as well as a Remo drum head that is connected to the body with twelve head brackets to ensure that it is properly secured. The brackets can be modified in tension through the incorporated hardware to thoroughly match your tonal requirements. It exhibits an excellent oxbone nut.
The utilization of these excellent materials guarantees that the instrument creates an intense, moving sound with impressive projection. The fingerboard has 18 beautifully refined frets with corresponding position markers in the fifth, seventh, tenth, twelfth, and fifteenth frets. It serves as your indicator so you can easily identify the position of the frets.
Another remarkable feature of SanDona is that it offers a 100 percent satisfaction Money-Back Guarantee. Hence, one can feel no uncertainty at all when buying this item. If, for any reason, you find yourself not happy with the SanDona Banjolele, simply bring it back to the seller.
     Editor's Rating: 4
5) Gold-Tone Little Gem Ukes – Best in Show
Cool and fashionable
Available in four fashionable colors
All-round infiltrating tone
The Gold Tone Little Gem Ukes is quite different when it comes to its appearance and style. It exhibits a non-contemporary banjolele design. It is both cool and fashionable without a trace of conventional styling. 
The instrument exhibits an intricate transparent 8-inch acrylic rim and resonator. It is available in the market in four fashionable colors – Amethyst (purple), Diamond (clear), Sapphire (blue), and Ruby (red). It is a 15-inch concert scale banjolele and exhibits a sleek maple neck with secured guitar-style tuners. It creates an all-round infiltrating tone.  
It comes with a nice gig bag with one shoulder strap. It is a first-rate instrument for individuals who want to excel, and the colors are very suitable for children of different ages. Naturally, if a child adores his or her instrument, he or she is likely to engage in regular practice and work on it swiftly. 
     Editor's Rating: 4
6) MUKE Concert Banjolele – Best Open-Back Banjolele
Affordable banjolele
Easily muted open back
Excellent components
The MUKE Concert Banjolele has an open back that is easily muted when required. It exhibits a beautiful maple neck and headstock, together with the maple sides that reinforce a wonderful 8.5-inch Remo Weatherking head. Both the fretboard and the bridge are coated with rosewood. 
Exhibiting 18 frets, the MUKE Concert Banjolele possesses six conventional dot-patterned fret position markers. The nylon strings feel comfortable on the fingers. They are toughened through open bronze-tinge vintage-design tuners. The finish is nicely colored in dark mahogany that provides this instrument an appealing, conventional look, and the sound has a lot of banjo-stimulated energy.
If you want to get a banjolele that has a fair combination of rich sound and affordable pricing, then the MUKE Concert Banjolele could be the best for you.
 Editor's Rating: 3
7) Vangoa Banjolele – Most Affordable Banjolele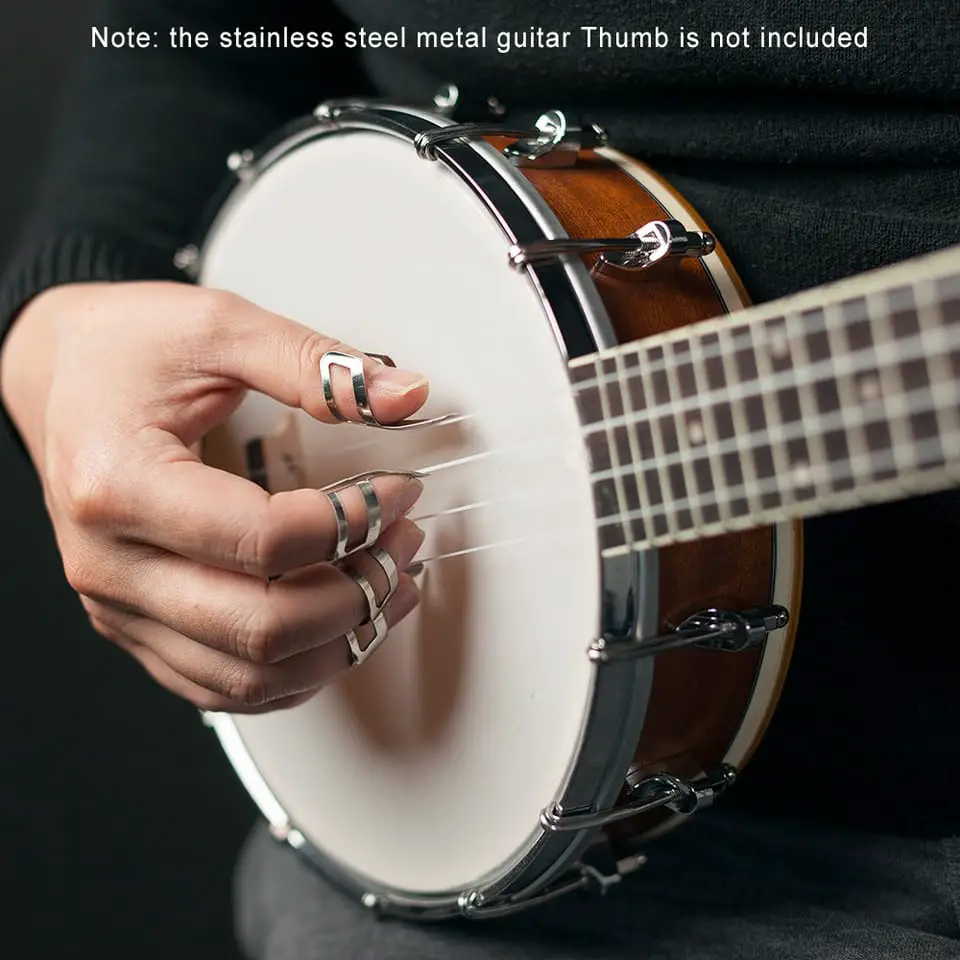 Offers plenty of extras
Versatile
Regulated tuners
If you are searching for an interesting banjolele kit, but you somehow feel blameworthy for treating yourself, then you may like to try the Vangoa Banjolele. It is a captivating instrument that is built along with nice components. It also comes as a piece of a starter pack that comprises a neck strap, picks, clip-on tuner, wrench for turning the head, a carry bag, and a pickup. 
This instrument exhibits Sapele back, and sides, a walnut fingerboard, and eighteen copper fret wires, with a bonus of six fret markers. There are also Aquila strings included. Its back portion comes off, so you will have the option to play it with or with no resonator. 
It produces a very loud and unloading sound. The moment the strings have positioned in the closed, the regulated tuners do an excellent job of keeping this instrument in tune.
 Editor's Rating: 3
8) Kmise Banjolele Starter Kit – Best for Beginners
Satisfactory sound
Offers extras 
Well-built and durable
If you cannot tell yet whether the banjolele is an instrument that would fit you, but you also want to try it to see if for yourself while Kit while constraining on your expenses, then probably you might like to try the Kmise Banjolele Starter. This instrument comes at an affordable price while it also offers a satisfactory quality. 
The sound it produces is justly crisp. You can hear the banjo as you are fingerpicking. Strumming creates a sound that is fairly the same as the ukulele. Despite its entry-level price point, this instrument possesses quite several things.
It comes with components in great quality, including a real bone nut and saddle, Sapele wood body, closed gear tuners, sleekly filed frets, and a separable resonator so you will have the option to play with an open or closed back.
The fingerboard has six dot-pattern fret markers, and it is built from rosewood. There are also Aquila strings included. It also features a clip-on tuner, and a comfortable carrying bag offers protection against scratches and specks of dust.
 Editor's Rating: 3
9) Kala Concert Banjolele – Best Combination of Uke and Banjo
Detachable plate
Excellent design
Impressive features
The Kala Concert Banjolele effectively brings together the superior characteristics of a Uke and a Banjo. This instrument provides an impressive sound, and it is relatively easy to play too. 
If you have an interest in Uke and want to it to your collection items, the Kala Concert Banjolele will make an ideal addition to your collection. This instrument comes in excellent quality, and it produces a great sound. It has a detachable plate – detaching the case makes it an open back. 
It creates a sound that is surely heard. It is a sufficiently-sized Ukulele featuring a Remo Weather King Banjo Head. It bestowed with attributes you require when you operate among plenty of instruments. Its excellent design lets you play it like any of your chosen Ukulele.
The Kala Concert Banjolele offers features that include a Remo Weather King Banjo Head, concert scale length, top-of-the-line stain back finish, and more.
 Editor's Rating: 3
10) Rally Walnut Concert Banjo Ukulele – Best Chrome Surface
Solid case
Value for money
More bonuses
The Rally Walnut Concert Banjo Ukulele is a captivating instrument. It comes with a solid case, along with other interesting attributes and bonuses. It will make a great present for your child and a special someone.
This instrument is particularly adored by many people, especially the kids who had the chance to try it at one time. It comes with plenty of remarkable attributes that make the item special. Its neck and resonator are both built from walnut plywood. The fingerboard, on the other hand, is built from rosewood.
The Rally is concert-sized and is seen to be distinct. Some of its attributes are excellent quality walnut wood, chrome-coated surface, shiny finish, protective casing, and more. Evaluating it based on its unique features, you can tell that this instrument is worthy of purchasing. 
You do not only get the value of your money, but it also makes a dandy instrument which you can use for practicing and learning. With this instrument, your kids can have a great time when exposed early to a musical instrument. It will allow them to establish their future profession as an instrumentalist, music instructor, musician, and more. 
 Editor's Rating: 3
Buying Guide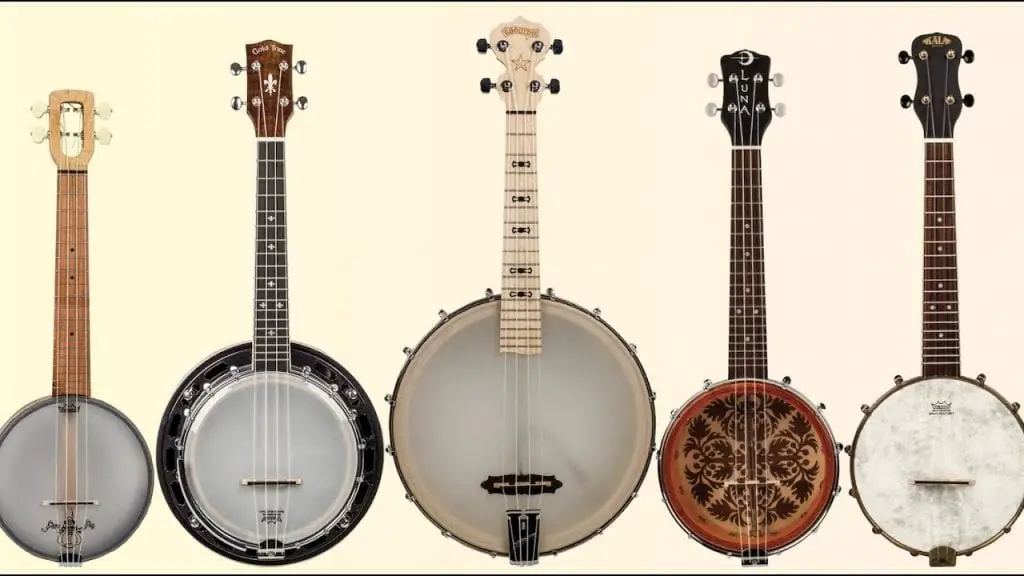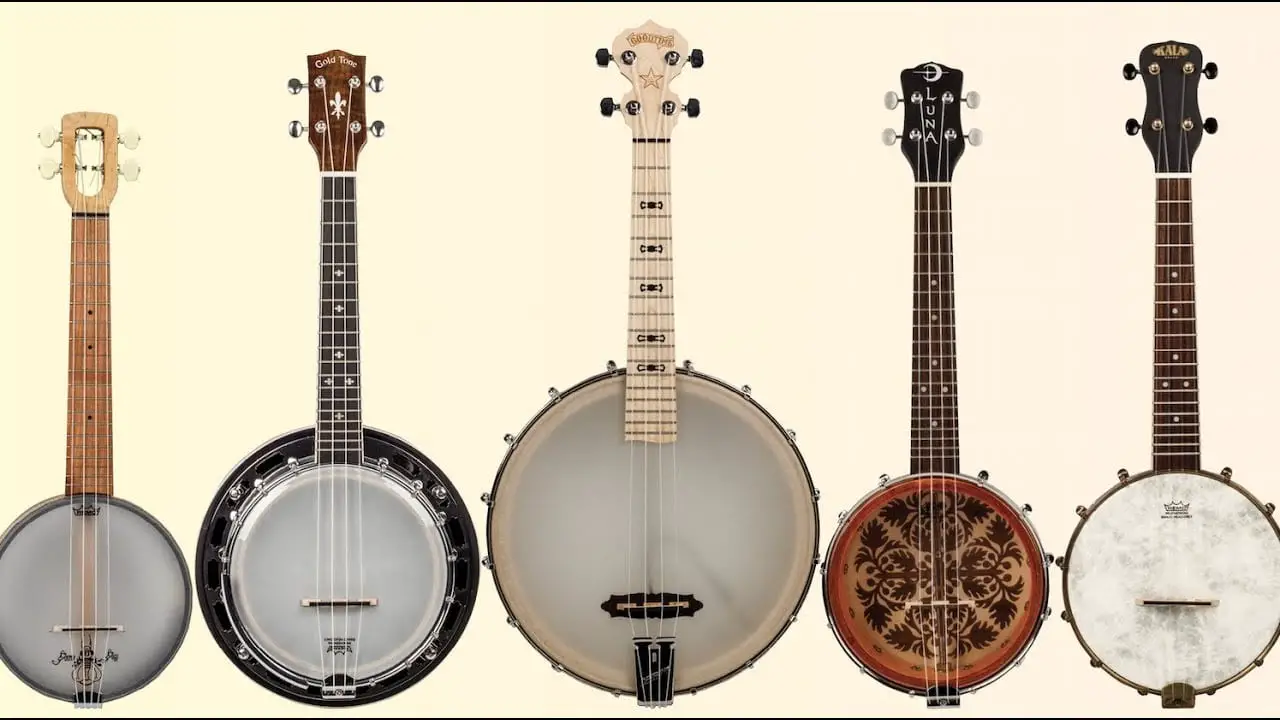 Are you set to get a banjolele and begin playing? Before you finalize your decision on which item to buy, you should know first the common things that you should check to ensure your satisfaction with your purchase:
• Size
Similar to ukuleles, the banjoleles are available in Concert, Soprano, Baritone, and Tenor sizes. The most popular ones are Concert banjoleles. They provide a unique sound and are easily grasped by most players.
Children and adults with smaller hands may like the smaller-sized soprano, although they may also notice that the instrument creates a weak sound as compared to the bigger instrument. If you are bigger, you may want to get the baritone or tenor size. Remember that there is a limited number of these from which to select. However, those feasible are likely to be of excellent quality. 
• New or Old?
If you want to get a sophisticated banjolele, you may do well by choosing an old or used instrument. Remember to test the performance of the instrument or request a Skype conference with the seller so he or she can show the playability. Make sure that you secure a guarantee in the form of writing if you are getting it shipped, specifically if it is a custom item.
However, if you are searching for a perfect beginner or intermediate banjolele, and you would like to get greater determination and assurance of quality, then you should consider buying a new banjolele from a reputable seller. If you know a local music shop that offers banjoleles, then you should check your item there and try it first before you agree to buy it.
Whether you opt for a new or old one, make sure that you review the warranty as well as the return information. 
• Back Style
Players are likely impressed by how the resonators appear, but these can alter the sound a bit. Similar to the closed wooden backs, they inhibit you from effectively muting the banjolele head. It can do well if you are performing for an audience and if you intend the sound to recuperate quickly to your listeners. However, it can probably not work well if you are still in the process of learning.
Fortunately, you can find banjoleles with detachable resonators. It offers you the best options – you can intensely play when you can, and mute the instrument with your body or some fabric if you are in the mood for silent playing.
• Style and Materials
Style is a matter of preference. You may wish to get something that is simple – one that looks similar to a mini banjo with four strings. Or you may want an instrument with an appealing color or a distinct style. Practically speaking, banjolele styles are not as numerous as the ukuleles.
Remember that extravagant details do not always contribute to an impressive sound. From there, you evaluate what is more necessary. 
• Excellent Strings
Conventional banjolele strings were built from the gut. However, most modern banjoleles are equipped with nylon strings. A lot promote wound third strings. Remember that just like the ukuleles as well as the other instruments that exhibit nylon strings, there is a corresponding settling-in time that starts the first time you play and operate your banjolele. You will have to repeatedly tune it until such time that the strings are done with the stretching. 
Superior quality strings are all seen in the list of banjoleles tackled above. If your instrument does not have quality strings such as the Aquila, then you should consider replacing it. And, since the strings are likely to break, it is always recommended to have an additional pair or two so you can continue with your play in case the string breaks.
FAQs
How do I choose a Banjolele?
Choosing a banjolele will likely depend on personal tastes. There are some considerations when you get a banjolele. You have to decide about the style, materials, strings, size, and price. You should get a banjolele that would suit your requirement.
Does a Banjolele sound like a banjo?
Yes, a banjolele creates a sound that is pretty much the same with a banjo. The main thing is the sound originates from the body. Since a banjolele and a banjo exhibit the same body, they create a sound that is nearly the same. Utilizing different types of strings may slightly modify the overall sound – although it cannot be enough to create a big difference. 
How many strings does a Banjolele have?
Because banjolele exhibits a body that is similar to a banjo, it also uses the same number of string that is four.
How do you set up a ukulele banjo?
A ukulele banjo has many adjustable parts. It implies that it will often require a little twisting once they are out of the box. The method of adjusting a ukulele banjo to get the best sound and playability is called "setting up" the instrument. Once it plays right and sounds appropriate, people would say that it has an excellent setup. The position of the bridge of important, so you should always make sure you get it right.
What we recommend, and why?
We recommend the Deering Goodtime Banjo Ukulele as the best banjoleles. It possesses the best of everything – materials, sound, and even the manner of handcrafting. 
What is the difference between banjo and ukulele?
A ukulele is a guitar-like instrument that comes in a smaller size. The banjo, on the other hand, is a bigger instrument, with strings extended across the drum.
Conclusion
Banjoleles are instruments that trigger interests. We have reviewed the ten best banjoleles in 2020 that are available in the market today. All items promise good value and rich sounds. Nevertheless, they do not come in the same quality and the same features.
After evaluating the features and limitations of these instruments, we then conclude that the best in the list is the Deering Goodtime Banjo Ukulele. It uses quality materials, the tone is well-balanced, and it is made in America, too. Next in the rank is the Oscar Schmidt OUB1 Ukulele.
Choosing the best banjoleles will always depend on personal tastes. You must first clarify your needs and preferences before you proceed with purchasing.