If you love making your beats or smashing two beats to create a cool mix, then you must have used a music maker software before. And over the years, many notable music maker programs stayed and faded away, but one remained with new and updated versions; this is the Magix Music Maker. Let's find out why it's so popular and why it has left most music makers in the dust with this Magix Music Maker review.
Overview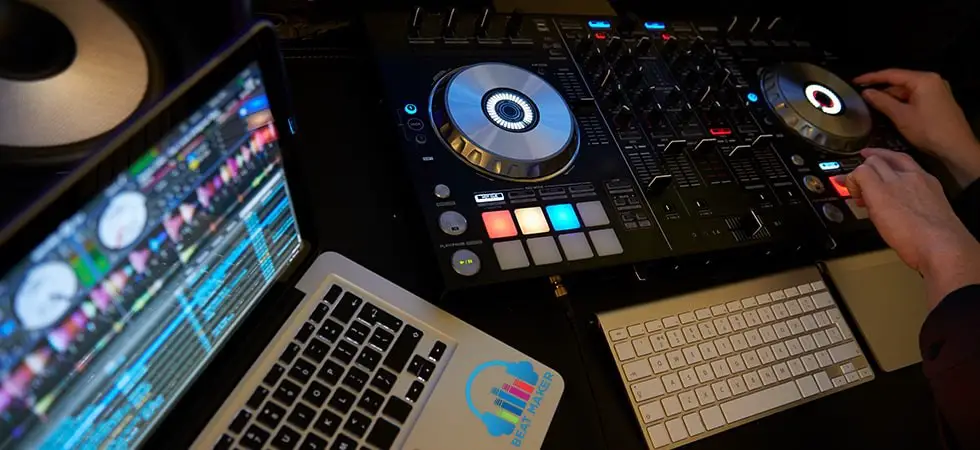 Before we head to the review, let's first describe how Magix Music Maker stole the spotlight from other notable programs. It was 1994 when the first version of Magix Music Maker was introduced. This was designed by Magix, and immediately after it's released, it sold more than a million copies. Magix Music Maker became Europe's most popular and most successful editing software. Many agreed that it became such a hit because it was user-friendly that even someone who has no music experience can use it.
A CD of Magix Music Maker was released for PlayStation 2 in 2003, and this was followed by a Deluxe Edition CD copy on DVD two years after. Music Maker Jam was released in 2013 in the Windows 8 Store. This was ready for download and use on the operating system. Finally, an Android version of Magix Music Maker was released after a year.
Things to consider before buying the Magix Music Maker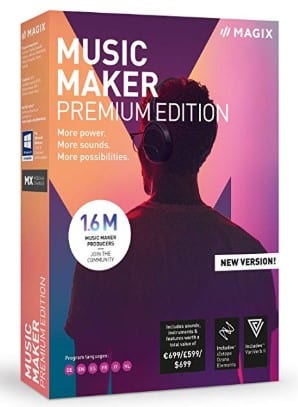 Check the sound/loop library – if your goal in using a music maker software is to create unique sounds and loops, then you must consider a program with more loops and sounds from its library. Some software may ask you to sign up for an online account to receive more free sounds and loops; don't immediately take this offer. You might end up paying for an add-on service that you don't need.
Must be easy to use – If you're new to making beats and using a music maker program, then find one that's easy to use. Check out how it's used online, how the interface looks like, how beats are created, and how files are saved. First-time users don't hesitate to ask questions and check videos. It's better to get to know the program first and find out if this fits your needs and experience level rather than buy something that you won't end up using.  
More instruments – we prefer a music maker with tons of instruments available for FREE. Check if it offers the sounds you are likely to use, like analog synths, drums, and other percussion instruments. 
Ability to include live instruments – always look for a music maker that gives you the freedom to add your instruments. Choose one that lets you add unlimited audio tracks and live instrumentation. Also, adding instruments and other audio must not be too complicated.
System requirement – If you have an Apple, then this music maker should be compatible with your system. Music-making software is mostly available in Windows and Apple O.S.S. and with minimal system requirements. The need to register to a site may be considered, but otherwise, you need to receive updates for the program and to receive other freebies. A program with a one-time registration would be better. Finally, the music maker should be ready to use even if you're not connected to the web.
Features and Benefits
I have used several music programs before, but I never knew that I was missing a lot after using Magix Music Maker. It is not as perfect as you may think, but it is better than other programs that I have tried over the years. I will describe how Magix Music Maker is better with the following features and benefits.
First impression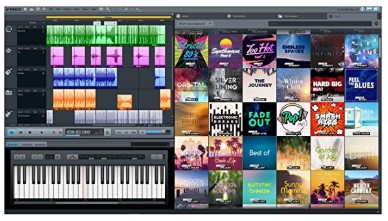 I was not skeptical when I tried Magix Music Maker, and in fact, I was looking forward to it seeing all the positive reviews and feedbacks online. The very first thing that I noticed after running the program was that the interface was so colorful, and it almost had everything you need. It was too overwhelming, but what I did was to concentrate on each panel, clicked here and there, and eventually, I was able to get acquainted with all the "basic" functions. I knew it had more to give.
I also liked the sound pools. These were displayed like different Netflix movies and shows on one side of the panel. I just can't wait to try these out, and I must say; this is the most exciting part of using the newest Magix Music Maker. I decided to try them once I got the hang of the basic controls and functions.
Ease of use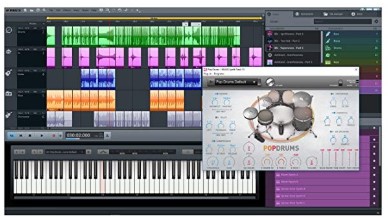 I started fiddling with the keys using my P.C.C. keyboard and took some beats here and combined it with some synths and percussion and was satisfied with the first try. It was hard to keep up with so many sounds and synths that you can use a la carte or mix and match these freely.
With any instrument you add to your creation, the kind of instrument shows on the main screen and their placement in your song/file. Every instrument is assigned a color on the interface, and this helps you see where they start and stop and where else you can place them on the board.
If you're not into mixing or you swear you will learn this later, you can use preset packages from the software. You can select from a soundpool collection, 3 sound pools, a complete bundle, or 8 instruments included in the software. If you prefer the Creative Suite, you will get 3 preset packages and nine feature packages.
So how easy is it to use Magix Music Maker? First, combine your sounds and loops from a wide library of music genres with an easy drag and drop function. Next, play the file and record; once you're satisfied with the beats, you can add more oomph with your drum grooves, melodies, and even your vocals. You can also play from the virtual instrument and then record the vocal parts. Add a MIDI keyboard or connect a microphone to sing.
Finally, create your unique sound. Add personal touches and drag and drop to include effects on your creation. The finished sound has chart-level quality.
Installation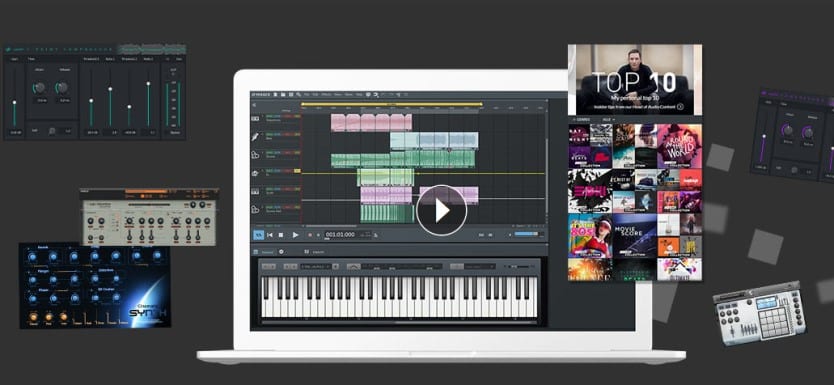 Installation is quick and easy using an installation CD, or you may purchase the Magix Music Maker directly from their official site to get an instant download right after payment. Consider the minimum system requirements for Magix Music Maker such as Microsoft Windows 7, 8 or 10, at least 2 GHz processor and 2 GB RAM, an internal soundcard, monitor resolution of 1280 x 768, and at least 700 GB or higher to complete the software installation. 
You need to have an internet connection the first time you use the program so you can register and validate the program and to use other functions related to the program. You only need to register one time before you can use it.
Some music software programs have grown outdated that updates have become rarer and rarer, but Magix Music Maker is different. It offers free lifetime updates so you can download all the latest updates, patches needed for bug fixes, and all the new features at any time. As long as Musix continues to develop this program, you'll be getting updates all for free.
And you'll have almost all the things you need to start making music right away. Music also promises more instruments, features, sound pools, and updates available in the future.
More sounds and loops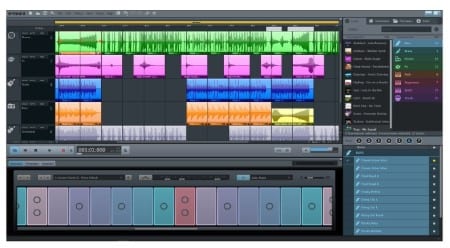 Create unique sounds from Magix Music Maker's wide library of sounds and loops. You can select your favorite Sound Pools and Sound Pool collections according to a wide range of genres from the Music Maker Store. It's easy to pick the sound you want because you can listen to a preview first before adding them.
And if it doesn't sound good or you decide to change, just drag the sound back to the pool and choose another one. The drag and drop function makes this easier to do. And all these sounds are available in seven different pitches so you can tweak these sound files to get a new sound.
Just a few of the loops that I've tried are Strictly 80s, Endless Space, L.A. Chillout Radio, and Pop! Take note, all of these sounds are for free!
More instruments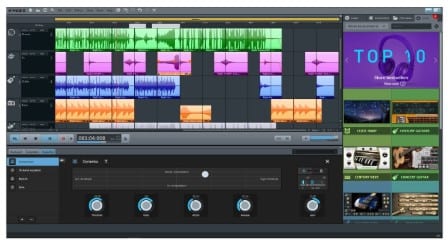 If you play other instruments, then you can count on Magix Music Maker to add your unique music to your beats. But if you want to use preset instruments, then there's no problem. You can choose from classic string instruments, analog synthesizers, keyboards, trumpets, sax, and many more.
You can also use the large library of sound effects and place these on different parts of your music. Use 70 presets created for various genres and different applications with the iZotope Ozone Elements feature.
Just a few of the notable virtual instruments to check out when you use Magix Music Maker include the String Ensemble with presets from classic, historical, and electronic strings, the Drum Engine with drum beats from electronic snares, kicks, hi-hats, toms, and cymbals. The Bass Machine lets you add crisp bass lines while the Power Guitar lets you use presets with electric guitars, heavy metal guitar, and reggae guitar, to name a few. Meanwhile, an Orchestral Ensemble lets you create a masterpiece with the help of a full orchestra consisting of percussion, brass, and woodwind instruments. These are amazing for adding beats to dance tracks, pop music, and making film sound effects. Finally, add choral arrangements that will provide support in a classical orchestra. 
Better audio engine and multi-core performance
The latest edition of Magix Music Maker comes with the sound engine from Samplitude. With the different sounds available in W.A.V. format. Your music will get rich, high-quality sounds in a completely smooth and easy to use format.
Magix Music Maker offers better performance with its multi-core support. Your computer will be able to take advantage of all its cores, which is important for the Magix program to run more efficiently.
Cool music maker features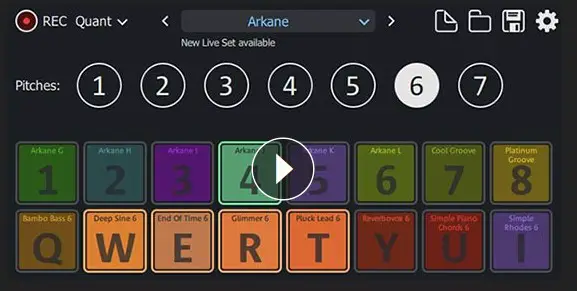 Get set to use the Jam in Live Pad. This is found in Premium Edition Magix Music Maker or higher. It features all the beats you use in a colorful pad. This is a 16 pad application that lets you easily access drum breaks, vocals, and all other effects and loops. It's fun to use, and you don't need to look for what you want to use all over the program. Everything you need is under your fingertips.
Expect more features when you take the Premium Magix Music Maker edition like free audio effects to improve your tracks with the chorus, echoes, flangers, and wah-wahs. You'll get a free guitar amplifier from Vandal S.EE. It will distort sound without affecting audio quality. You can finish quickly with Auto Mastering to optimize your music no matter what genre you are. And finally, the Mastering Suite is here to enhance your music with professional features, including tools like Stereo F.X.X. Sounds, parametric E.Q.Q. And a limiter.
Connect to the Magix Music Maker Store


The last thing that I checked out was the Music Maker Store, where you can select from a wide variety of sounds. You'll get cool new sounds, instruments, loops and many more. And within the Magix Music Maker Store, you can also visit the official site of Magix to check for enhancements that are available only for Premium Edition and higher users.
The first on the menu is the iZotope Ozone 8 Elements that will add more bass and more dynamics. You can complete your mix using the Mastering Wizard, 8 bands E.Q.Q. And the Ozone maximizer to integrate into the Music Maker through V.S.T.
The coreFX adds professional sound enhancements to your music. This is a bundle with 5 mastering and 3 delays. This gives you an added creative option when you use the Music Maker as you can modify sounds, instruments, loops, and vocals. 
The Sound Forge Audio Studio 12 is a professional way to edit your music, and it is the best companion when you use Music Maker. With eth Sound Forge Audio Studio 12, you can easily edit by cutting and pasting sounds, audio tracks, and samples. You can include crossfades for an easy and seamless transition from one part of your music to another.
Another must-have, once you're in too deep with Music Maker, is the Vintage F.X.X. Suite. This reproduces traditional vintage sounds using reproduced plugins such as Corvex, Ecox, and Filtox. These plugins are perfect as they represent true reproductions of the rich analog effects.
The VariVerb II gives you depth, gloss, texture, and space with impressive reverbs. You'll get one-of-a-kind sounds and make your own reverbs as well. Finally, the Analogue Modelling Suite offers more options for professional mastering. Tools like AM|MUNITION, AM|PHIBIA, AM|PULSE, and AM|TRACK are a must-have for anyone who makes unique music.
Get the right Magix Music Maker edition for your needs
Still unsure if the Magix Music Maker is for you? You can always get the free version that will let you experience some features. And aside from the 2020 FREE version, you can also check out other Magix Music Maker versions available for first-time users and experienced music-makers. 
Magix Music Maker 2020 Free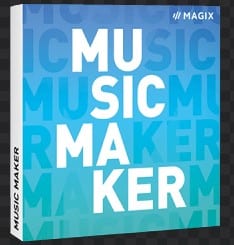 This is the simplest version of the program. This version is free, and you can download this at any time. This free version includes: 
425 free sounds and loops
4 additional free sound pools
3 free electronic instruments
8 free effects
Multi-core compatibility
8 tracks
Magix Music Maker 2020 Plus Edition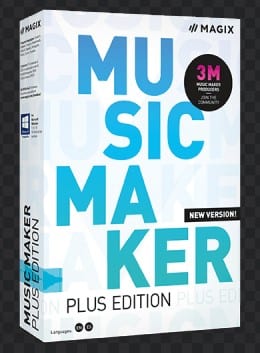 The Plus Edition is the newest edition of the Magix Music Maker, and this increases your choice of beats, loops, and sounds to improve the quality of your songs. This version includes the following features:
All free Music Maker content  such as sounds, features and many types of instruments
1 sound pool collection and 1 sound pool of your choice
3 instruments and 1 tiny instrument of your choice
4 feature packs with 2 freely-selectable
Magix Music Maker 2020 Premium Edition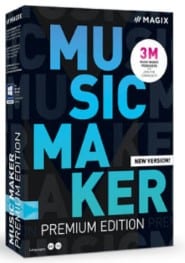 If you're not contented with the 2020 edition, you can always use the Premium Edition to take your music-creation to the next level. You'll get free additional plugins that increase the program's capabilities. You will get the following from the Premium edition:  
All the free Music Maker content such as sounds, features, and instruments 
1 sound pool collection and 3 sound pools of your choice
6 instruments plus 2 tiny instruments of your choice 
9 feature packs with 6 already freely-selectable
With  iZotope Ozone 8 Elements, 2 coreFX Bundles  and the SOUND FORGE Audio Studio 12
These Magix Music Maker plans are available online from the Magix official site. Here, you can buy any number of extras for the program, including more loops, sounds, plugins, instruments, and a whole range of extras that improve the user experience and improve the user's experience.
Conclusion
Magix Music Maker is for beginners and expert music artists. It has impressive features, cool add-ons, and a great line-up of sound pools. It has an easy to use interface with cool instruments and special effects, plus the ability to add vocals and recorded music/instruments are great features.
I recommend the Magix Music Maker to anyone who would like to create his or her music. I also recommend getting the free Magix Music Maker version if you're still unsure if this program is for you.