Guitars are amazing musical instruments. Many of today's artists and musicians of the past have learned to create a beautiful melody with the help of guitars. Some of the most iconic musicians of the century, such as Elvis Presley and The Beatles, are often associated with the guitar. As people try to emulate the success of these artists or simply mimic their musicality, learning the basics of the guitar has never been more important.
Learning guitar on your own is never easy. Some might immediately get the grasp of the basics of playing the guitar, but they might be previously exposed to the instrument. For those who have never played the guitar, learning how to play, it will always be a challenge. There are easy songs for you to start picking up to learn the basics of guitar playing, but that does not instantly mean that you can really play the guitar. This is why learning from other musicians or professional guitarists helps to make the learning process much better and easier. It is much more rewarding to learn from the best in the business instead of striving to learn from your own.
In this age where technology has made some impossible things possible, there is no better way to learn how to play guitar than finding the right courses on the internet. While there are many online guides of basics of playing the guitar along with its advanced techniques, there is nothing comparable to Guitar Tricks.
When we talk about online guitar lessons, you will often encounter Guitar Tricks. Guitar Tricks is a popular online hub that caters to teaching people to play the guitar. It is easily one of the best online courses suited for beginners of the instrument. However, it also does not alienate its experienced players through their advanced classes. Here we talk about the many facets of the website that will help determine why Guitar Tricks is perfect as the easiest way to learn the guitar.
Membership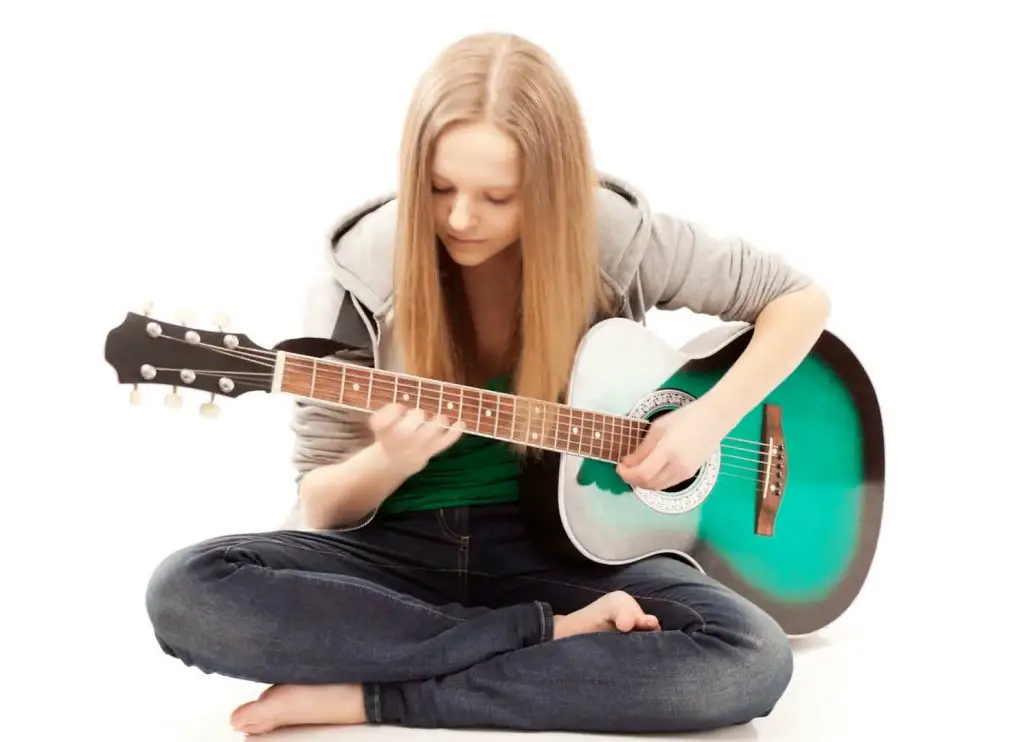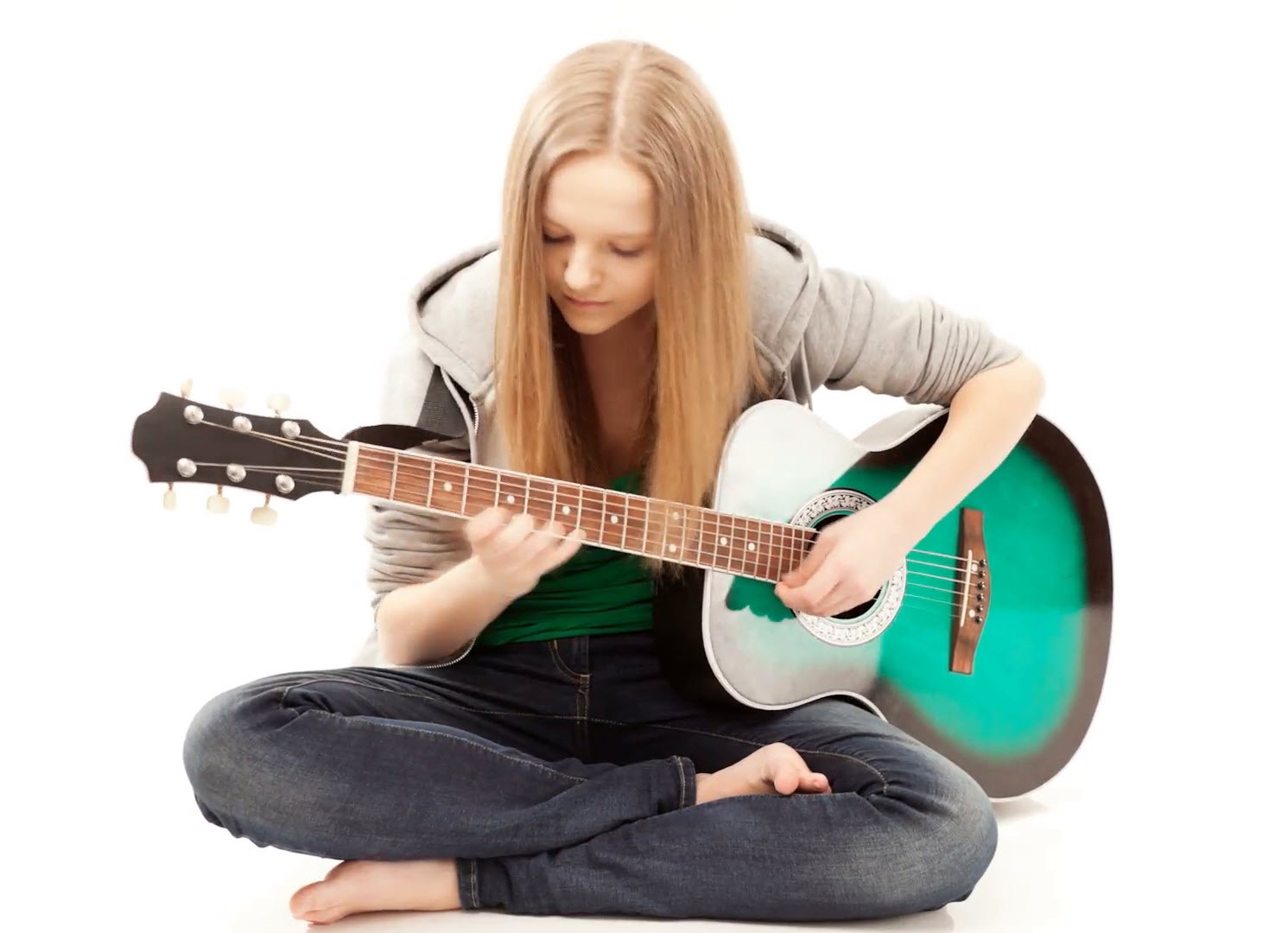 Guitar Tricks offers two different payment options for students who want to enroll in the classes. One can choose the monthly payment or the annual one. Although it does come a bit pricey for some, it is still one of the most affordable online classes available that aims to hone your guitar skills.
If you are still in doubt, you can sign up for the basic access, but the full access option allows you to choose from 45 different instructions with over 11,000 lessons to choose from and over 700 song lessons that you can try. Aside from its long list of lessons, you also gain access to advanced techniques, which are highly recommended once you are done with the basic course. Come to think of it, going for the full access is a far better investment if you are in it for the long run.
There are two different payment methods. The first option is to pay for the membership after the free trial. The free trial will need you to sign up with your credit card and email address. It automatically charges your credit card once the free trial is done. The second option is to dive right into the membership. Once you have signed up, the membership will be automatically renewed unless you choose to cancel your membership. Not to worry, though, as you can still continue to use the membership up until the last day of your paid period.
Refunds can be done by canceling your account through email support. Users can get a full refund if they cancel the account within 60 days after the first charge, whether it is by a monthly or yearly membership. Refunds are processed after a few business days, and the account would then be reverted to a free membership account.
Nevertheless, Guitar Tricks is known to provide promo codes and discounts to its members. They do offer these codes and special deals throughout the year. They also have promotions that lower the price of membership from time to time. You can check it out at their Special Offers page.
Interface Clarity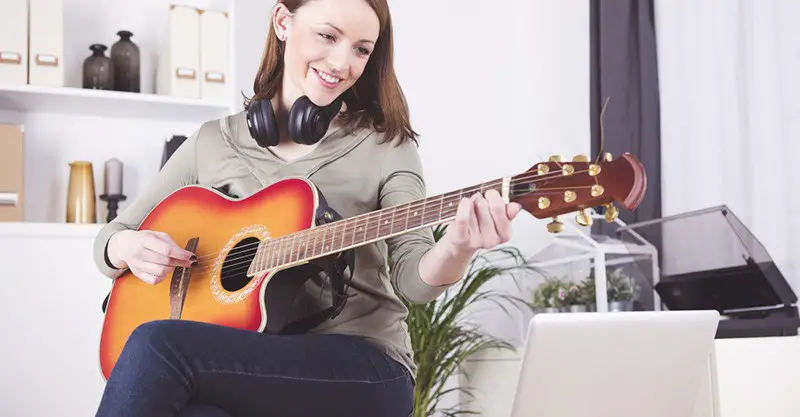 Learning something new is always a daunting and challenging task. It can be made easy with the help of proper navigation of tools and knowledge bases that will reduce anxiety from the learner. At school, no one wants to read a book with chapters that are not arranged properly by the concept. Guitar Tricks avoids that mistake. The website has a step by step system that allows you to follow the lessons very clearly. The lessons are interconnected, and as you progress through each lesson, you also have a clear and definite path towards your goal. The interface presents an easy navigation system with options that are clear and concise.
Upon choosing a lesson, you get a video that demonstrates the items that you need to learn, and you can watch as you play along during the discussion. The Next button allows you to go to the next lesson and makes it easier to transition from one lesson to another. The video lessons provide different camera angles and guitar tabs so you can keep track of the lesson.
No one wants a littered interface filled with buttons and options that led to unrelated items from your goal. Guitar Tricks have a very easy to understand navigation tools so that you will not feel lost and help you focus more on the lessons at hand. The homepage has a lot of detailed information that will provide you with the basics of the program. It also contains an introduction to the site with all the goals in hand.
Overall, Guitar Tricks has a well-organized system and easy to use navigating tools is an indicator that this is an efficient online learning tool for beginners.
Skill Progression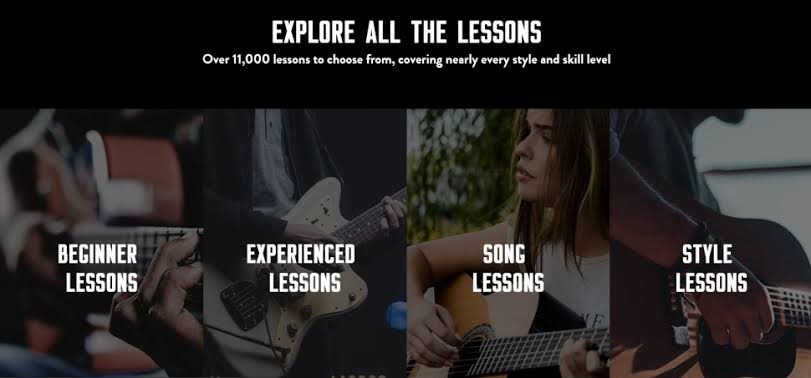 One of the many facets of online learning tools is content. Even if the interface is easily navigated or the options are clear and concise, yet the content and the concepts that surround the lesson are indiscernible, then it destroys the entire objective of the lesson. Many websites try to pack a lot within a lesson, but Guitar Tricks successfully segregates each lesson into a sequence.
Guitar Tricks has a difficulty progression or a course that challenges its students. It is very important for an online course to have a sequence where students can follow thoroughly and religiously. Music has a very steep learning curve in that it takes a while before the student is able to learn the subject, however, with a good sequence, students can learn to progress slowly but surely towards their goal.
Beginners are highly recommended to start with fundamental courses that will give you an introduction to guitars. With basic steps, these fundamental concepts allow students to get a grasp of what the instrument is about. The Core Learning System offers introductory concepts that beginners can easily grasp. It is currently taught by the site's most famous instructor.
One can then proceed to the next level once students are able to gain momentum. Those with previous guitar experience are also welcome to try the more advanced lessons. As you progress to the intermediate and experienced lessons, students will gain access to far more advanced lessons with different categories such as styles, techniques, and many other items.
Speaking of skill progression, the website allows a more fluid learning experience for its students due to its added content. The Toolbox offers different apps or tools that will help fuel your learning experience. Tools such as Scale Finder, Fretboard Trainer, and Reference Tuner are key to the learning experience of the student, especially with the fretboard trainer, as it acts as a method to gauge the student's learning.
There is a reason why Guitar Tricks have earned valuable awards for being the top online course as it prides itself on a good skill progression for its users.
Content Variety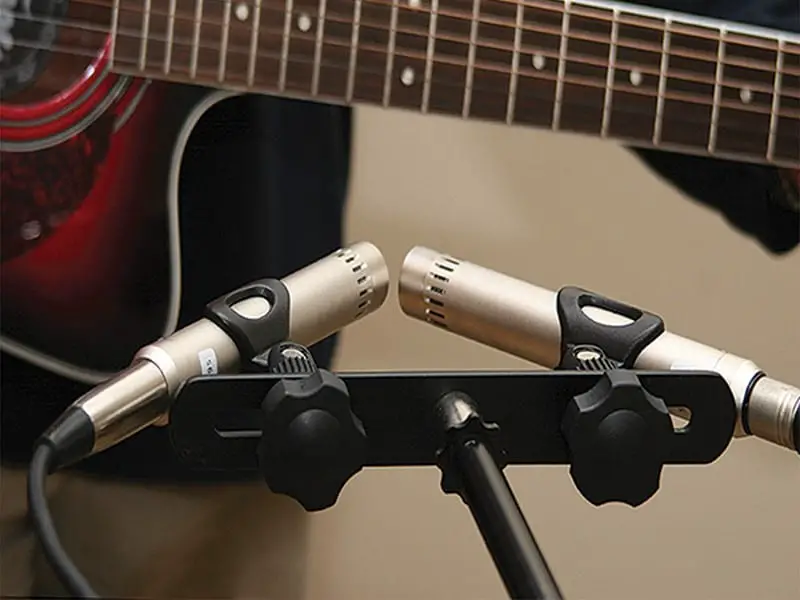 The guitar is played in different genres of music and therefore create a large variety of aspiring musicians who want to learn more about its different genre. Guitar Tricks offer different options for different styles of playing the guitar. One can choose from a wide array of styles to choose from, ranging from blues to rock. Additionally, each style also breaks down into a subcategory where its users can start from a simple course and work their way towards a more advanced course.
Users can choose different songs that they can practice and are indicated with a guitar icon to point the level of difficulty for each song. Songs are sorted by artist, style, difficulty, title, or by popularity, and all are fully licensed. This section of the lessons alone is more than worth the membership as it fully categorizes and breaks down the songs into the different genres of music.
Users or students can toggle an option to adjust the video quality. The video player also has a looping system that helps students focus on certain key areas of the video that they need to practice. This is highly useful for learning more difficult songs or styles. Students can even slow down the speed of the video to fully get the technique or the lesson being discussed.
Along with its intuitive interface and content variety, the lessons are equipped with information and lyrics that will help give an outlook on what the lesson is about. Do note that each lesson has varying lengths, so it is best to check them out one at a time.
Community-based Learning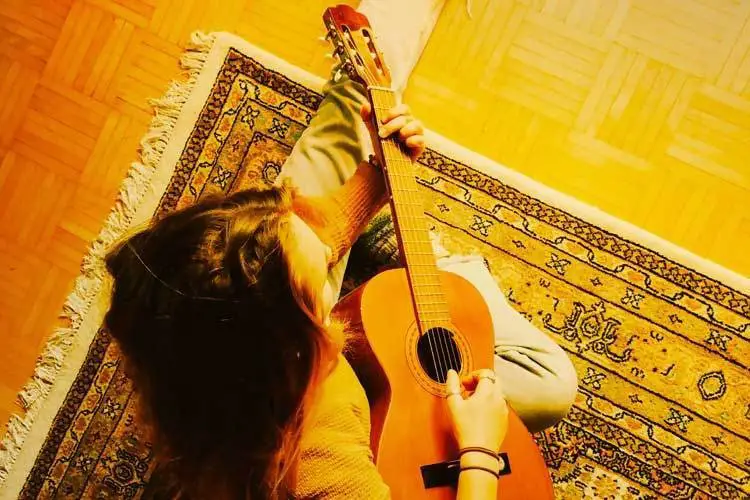 Guitar Tricks showcase instructors that are highly qualified and skilled for the students to learn from. They are equally responsive to inquiries, and each has their own unique personality and teaching techniques. The instructors are some of the most knowledgeable in the industry and come off as confident during the lessons, which makes the course much more professional.

While the website does offer lessons for students to fully immerse themselves with, the downside to this is that the forum is divided into two parts – one for free access while the other is exclusive for members.

Students can learn from each other or learn from other members who have gone through the course or even from experts themselves. Students can even seek guidance from these experts through the Q and A forum. Currently, there is no feedback option for instructors. The forum also has a specific area for song requests to be turned to lessons. While it may take time due to licensing, the forum is quite responsive to its community.
Cross Platform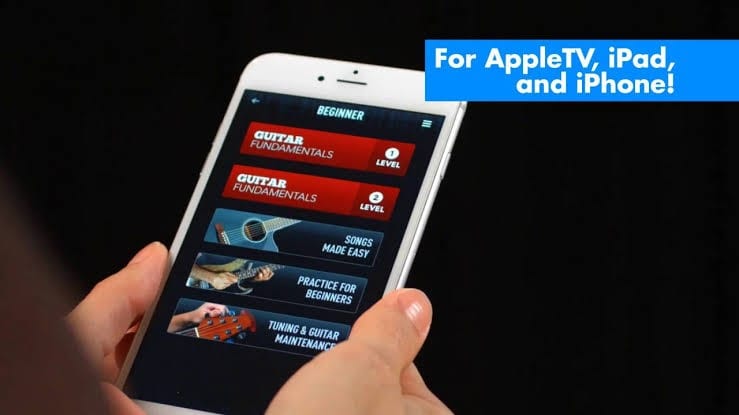 While most of the lessons are done over the website using a computer, students who are on the go will be able to continue with their lessons now that the platform is available on Android and iOS devices. Those who have free membership can still continue with their lessons, while those with full membership can gain full access to the features also found on the desktop version of the website.
Conclusion
Guitar Tricks clearly have their own strengths and weaknesses against their competitors. One of the strongest areas is its large library of online guitar courses that are suited for beginners. The layout of the interface is highly commendable as novice-friendly. The content is clearly geared towards beginners who are most likely enticed to take the membership. Guitar Tricks is at its best by delivering intro level guitar courses without sequestering the more advanced and experienced students. The well-organized lessons and advancement in skill, as well as the added side features, help the learning experience to be both comfortable and conducive.

Aside from its price tag and its automatic enrollment to membership, there is not much downside to the website. Those who are looking for a deeper and more specific subject matter about guitar and musicality will be disappointed with the website as its aim is focused more on the beginners.

Having survived more than 20 years in the business, Guitar Tricks is the clear frontrunner in the online guitar learning platform with its seasoned instructors, friendly community, varied contents, easy-to-use interface, and an affordable price tag.