The company, Electro-Harmonix, started back in 1968 as a startup business that sold guitar pedals. At that time, guitar pedals were so popular thanks to The Rolling Stones and Jimi Hendrix. It was not until 1978 when it started manufacturing Hot Tubes, which is Electro-Harmonix's first and most iconic tube-amp distortion simulator. Since then, it has become one of the most popular pedals for musicians all over the world and has become a classic in the music industry to the point that it has reached collectible status today.
In some cases, guitarists still use the classic version of the Hot Tubes because it never really did go out of style in terms of its performance, especially when it comes to its ability to give you that throwback kind of sound quality and distortion.
Since it is difficult for hardcore musicians to sell their Hot Tubes due to sentimental reasons and because prices for these collectibles were soaring up, Electro-Harmonix decided to bring it back to the market as demands were soaring and increasing. The Electro-Harmonix Hot Tubes Nano Overdrive Pedal is the answer to the demands as this tube amplifier has some of the great qualities of the original one released in 1978 but also stands on its own as a unique product.
If you want to know more about the Electro-Harmonix Hot Tubes Nano Overdrive, you may want to stay with us as we go deeper into its specifics while also assessing how well it performs in today's generation.
Pros
Design is smaller and makes it more compact
Easy to use even for beginners
Comes with the nostalgia of a classic tube amplifier
Just as versatile as the original but also has its own unique tones
Cons
Does not feel very durable and long-lasting
Is not the best choice for heavier pedal setups
Might not be suited for guitarists who would like to have a wider range of control over the signal of their sound
Things to Consider Before Buying an Overdrive Pedal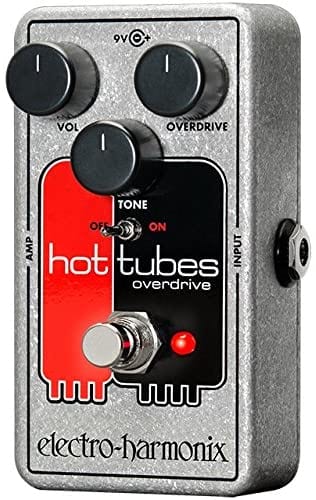 When choosing an overdrive pedal, the problem that most people encounter is that they do not know what to look for one. Think of an overdrive pedal as a controller that processes the audio signal coming from your electric guitar. You have to make sure that it covers everything you need from a good controller while making sure that it is quite easy to use in the hands of any guitarist. As such, here are the things you might want to consider when choosing an overdrive pedal:
Simplicity
When it comes to overdrive pedals, simplicity is always the key. It does not have to have complex controls that can be difficult to use on the fly or on the spot. Instead, it should be easy and simple enough for anyone to understand how to use it.
Controls
When choosing an overdrive pedal, it has to have controls that allow you to adjust the three main categories: gain, volume, and equalization. When you are talking about gain, this is where the drive or the overdrive comes in as it regulates the amount of overdrive that is in the signal. Volume, of course, regulates how loud the signal is. Meanwhile, equalization controls the tone of the signal.
Affordability
When choosing an overdrive pedal that is best for you, you do have to consider its overall affordability relative to its performance. The more expensive ones tend to have more focused controls that allow you a wider range of control over the quality of the signal. Meanwhile, the cheaper ones still offer the type of good sound you are looking for but are not as pinpointed as the more expensive options in terms of how you are able to control the signal.
Features and Benefits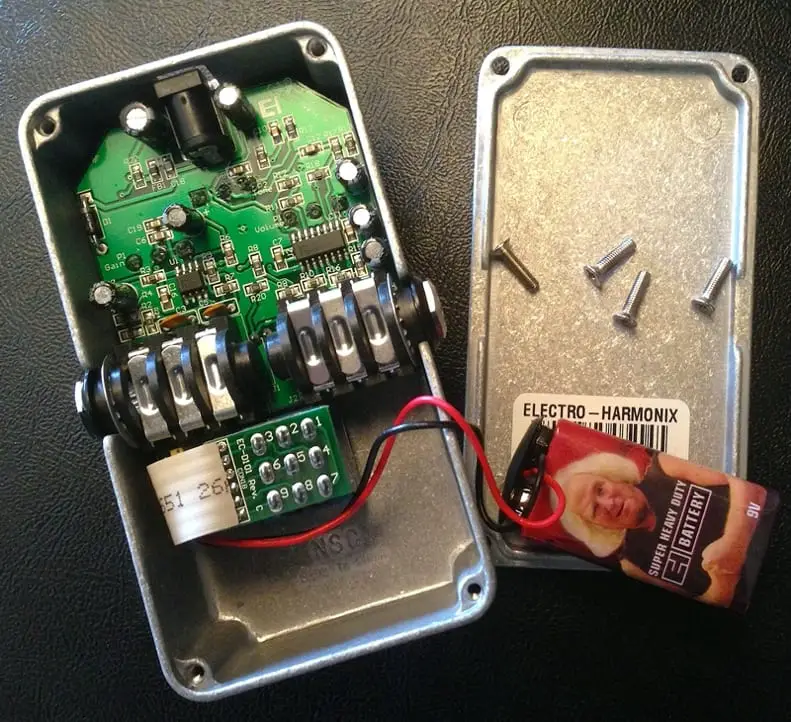 esign and Construction
The one thing that really jumps out of the box when it comes to the Electro-Harmonix Hot Tubes Nano Overdrive Pedal is that it looks like a complete replica of the original one released in 1978 but comes in a smaller and more compact design thanks to how modern technology was able to incorporate smaller and lighter components into it. Like the original, it has an aluminum body that was meant for it to last long, although it does feel a bit flimsy compared to the original thanks to how much compact and lighter it is.
The components inside the Hot Tubes Nano are all surface-mounted to dispense the need for more rigorous ways of putting the components together. And because of how compact its design is, it can easily find its place on an overcrowded pedalboard.
Controls
Unlike other modern overdrive pedals, the Hot Tubes Nano makes things simple as it goes back to its roots. It only has a toggle switch and three knobs that respectively control the gain, volume, and equalization of the sound signal coming from your guitar. This means that it is quite simple to use as using the knobs tends to be straightforward because of how it does not have the more focused controls that modern overdrive pedals have.
The overdrive knob controls the intensity of the distortion coming from the guitar. The volume knob controls the output and allows you to sync it together with the rest of the ensemble. Meanwhile, the tone knob modifies the warmth and color of the effects of the sound. Finally, the toggle switch is there for you to choose whether you want to eliminate the entire tone control from the pedal so that the sound of the guitar changes dramatically for you to have a wider range of options if you wish for it.
As easy and as simple as the Hot Tubes Nano is to use when compared to the more modern options available in the market, it seems more fit for the classic kind of guitarist who prefers to stay traditional as it will not take up a lot of time for you to modify the different parameters of the sound signal coming from their guitar.
Sound Performance
In terms of its sound quality, the Hot Tubes Nano certainly packs quite a punch as this tiny and compact pedal actually has a lot of versatility in it despite the fact that it is small and that it only has a few knobs you can work with to change your sound quality. The Hot Tube Nano's overdrive is great at making the electric guitar's overall tone sound bigger than it really is, which makes it a standout.
Meanwhile, adjusting the tone knob opens a wide array of choices for you. A simple adjustment allows you to darken the overdrive while also adding more volume to the sound even without adjusting the volume knob. The volume boost is significant and the range of textures you can choose from seeming endless as you can go for a crisp kind of sound quality to a type of distortion that tends to overwhelm and stand out
And what makes everything surprising about the sound quality that comes with the Hot Tubes Nano is that you are only actually using tone and the overdrive knobs to create what is seemingly an endless array of choices in a package that is as small and as compact as an overdrive pedal can be.
Conclusion
Wrapping things up, the Electro-Harmonix Hot Tubes Nano is the answer for those who are looking for an overdrive pedal that has all of the basics that a guitarist needs if he prefers playing and relishing in the sound of his guitar rather than tweaking and experimenting with different sounds. That is because it is simple, straightforward, and does not require a lot of effort on the part of the guitarist for it to dish out awesome sounds.
In terms of versatility, the Hot Tubes Nano does not disappoint. You can get decent or even high-quality tones and dark face-melting distortions by using only two knobs. And the best part about this entire product is that it comes with the classic, re-issued, and traditional feel of the original Hot Tubes but in a package that fits overcrowded pedalboards. It might not have the depth of control and power that other modern overdrive pedals have, but it surely gives you more than you need, especially if you factor in how affordable it is.