Have you considered playing the ukulele? This is one of the most common string instruments that's easy to learn, and in fact, you can even learn to play all by yourself. Possibly the very first thing to consider when learning this instrument is to get a decent one. Here are ten of the best ukuleles we recommend, especially for beginner players.
Quickly Review
1. Tenor Ukulele Instrument Kit Starter Pack
Overall Best Value For The Money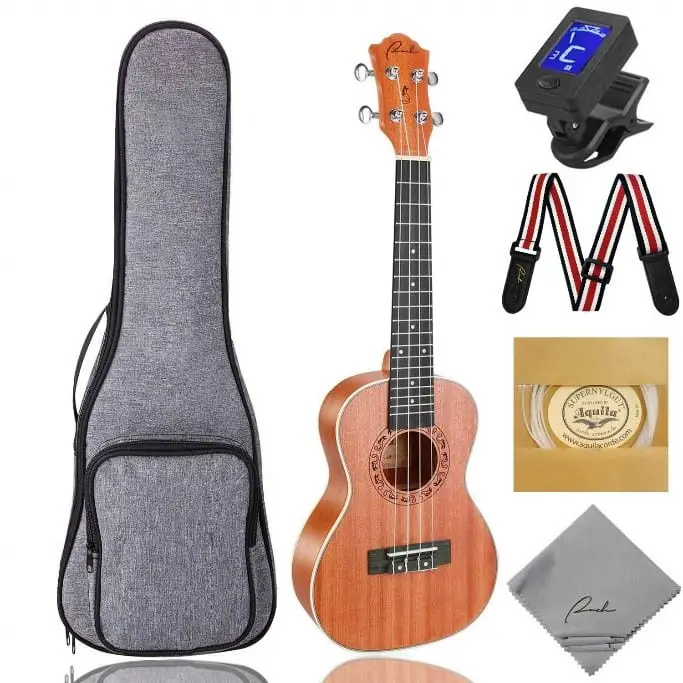 The Ranch Tenor Ukulele is a 26-inch wooden ukulele instrument kit. It comes with all the things you need to start playing right away, including a gig bag, tuner, strings set, and strap.
This tenor ukulele comes with a good, full sound, and it is because of its arched back. This design helps sustain those fuller, warmer, and deeper tones. The strings are made by Aquila, and it helps improve the sound, making it sweeter and clearer.
Well-crafted, piece of art
This 26″ instrument is a work of art. It is made from smooth Sapele wood with a polished neck and body. This wood creates a warmer and deeper sound compared to ukuleles made from laminate wood. It is lightweight, so it's easy to hold.  
It is bigger than a concert but comes with improved sound and frets with wider spaces. This ukulele is for adults, beginners, and intermediate players.
It comes with durable chrome die-cast tuners that keep the instrument in tune. It also comes with a digital tuner so you can easily tune it and play.
Specs
26″ tenor guitar
Sapele wood body and mahogany neck
Chrome die-cast tuners
With Aquila strings
Comes with complete set (with gig bag, strap, strings, cleaning cloth and tuner)
2. Everjoys Soprano Ukulele Beginner Pack-21 Inch with Gig Bag
Best Ukulele Set for Beginners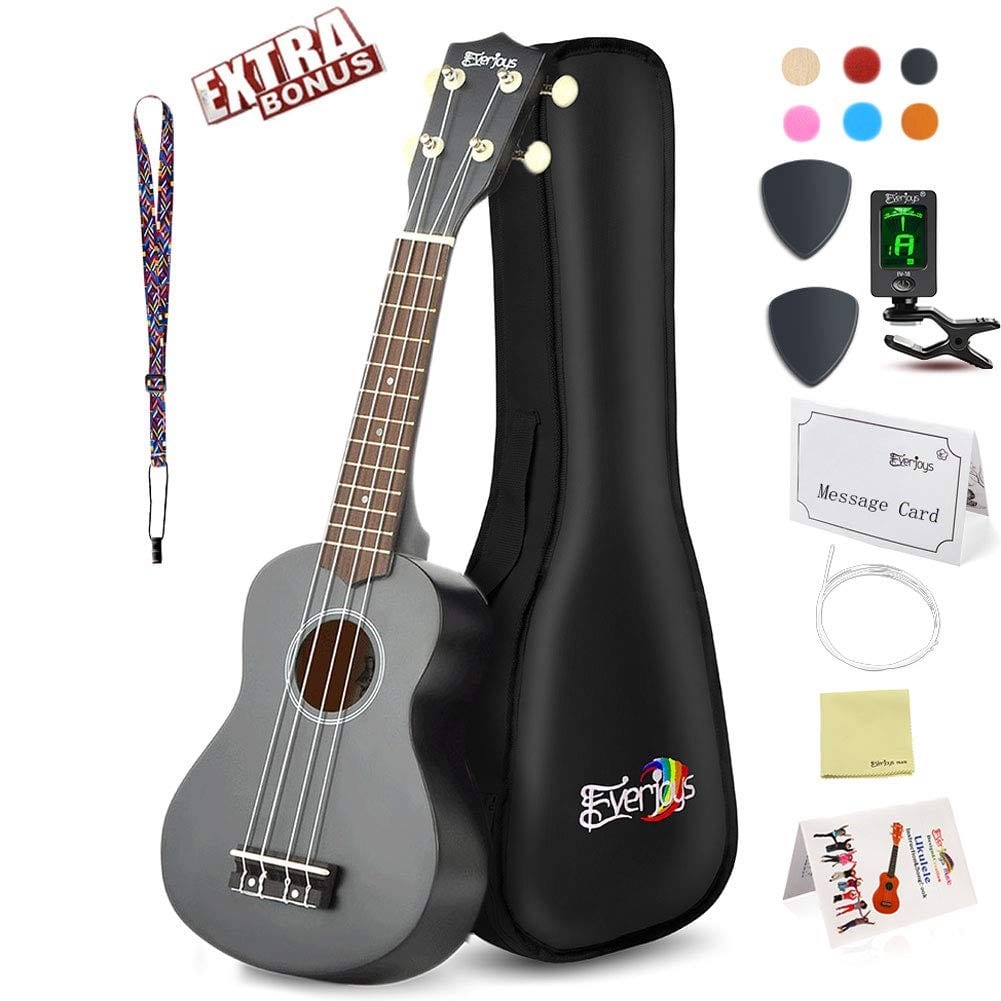 The Everjoys Soprano Ukulele is a beginner instrument that comes with all the accessories a student needs to learn how to play. It is an all-in-one kit that you can take anywhere you want to perform or just play some cool tunes.
This is an all-inclusive pack ideal for students and beginner players. Included in this set is a 21″ soprano ukulele, a hard case, extra strings, picks, a digital tuner, microfiber cloth, printed box with a message card, ukulele strap and a songbook.
High-quality craftsmanship
This soprano ukulele has a body made from high-quality basswood, a solid wooden neck, and a blackwood fretboard and bridge. Overall, it looks elegant and professional, ideal for people who want to become a skilled pro.
The frets are made from nickel silver with fret posts on the 5th, 7th, and 10th fret. It has a nylon string for easy tuning and adjustment. It comes with untuned strings, but with the digital tuner, you'll easily adjust it in no time and have fun playing it in no time as well.
Learn to play on your own
This beginner's set will help you learn how to play on your own or teach your child how to play the ukulele at home. The how to play songbook is easy to follow and made, especially for people with no prior experience with this instrument.
Available in various colors
This Everjoys ukulele is available in nine different colors with blue and pink as the most popular.
Specs
21″ soprano ukulele
Comes in a complete beginner's set
Brasswood body, solid wooden neck and blackwood fretboard, and bridge
With nickel silver frets
With nylon strings
3. Ranch Soprano Ukulele Ranch 21 Inch Professional Wooden Ukulele Instrument Kit
Best Value Soprano Ukulele in a Complete Set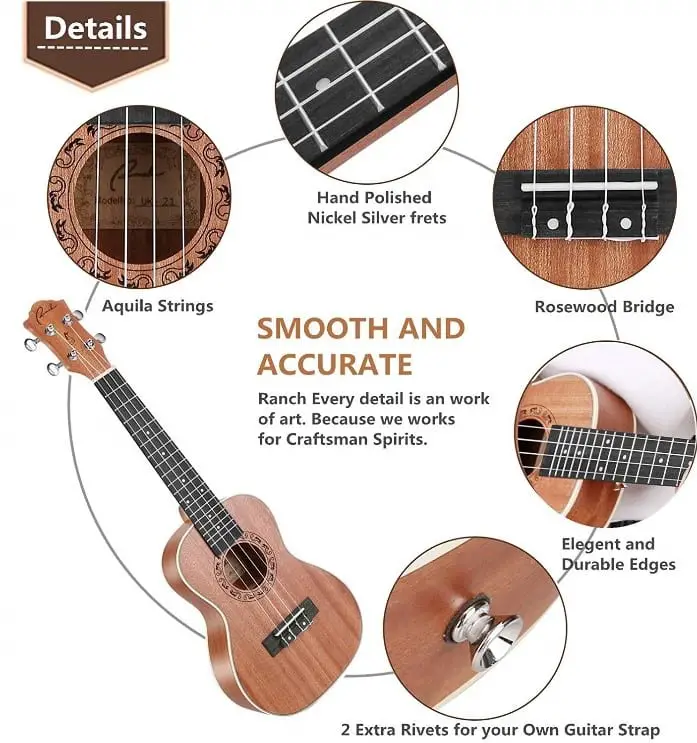 The Ranch Soprano Ukulele is a 21″ professional wooden instrument that comes with free accessories and free online lessons. It's also for beginners, young and old alike because it is easy to play due to its size.
This Ranch soprano has a warmer, fuller, and sustaining sound that's really great to listen to. This is from the ukulele's quality construction and its smooth Aquila strings. Beginner and expert players will find this instrument easy to handle and take anywhere.
Unique stunning work of art
Every Ranch ukulele is a work of art. It is made from lovely Sapele wood. This type of wood creates that smooth and polished look. This material looks feels and sounds better than laminate wood.
Because of its 21″ body, it is easier to play and to handle compared to toy ukuleles. The sound produced is better with wider frets and thus ideal for adults, children, first-time players, and intermediate players as well. And with your purchase, you'll also get free online lessons.
This Ranch ukulele is also easier to tune as it comes with chrome die-cast pegs, not wood or plastic. This will keep the instrument in tune for a long time and even when you play constantly.
Specs
21″ soprano ukulele
With Sapele wood body and mahogany neck
Wider spaced frets
With chrome die-cast tuners
With generous money-back or return policy
4. AKLOT Ukulele Solid Mahogany 23 Inch Concert Uke
Best Concert Uke Beginner Starter Kit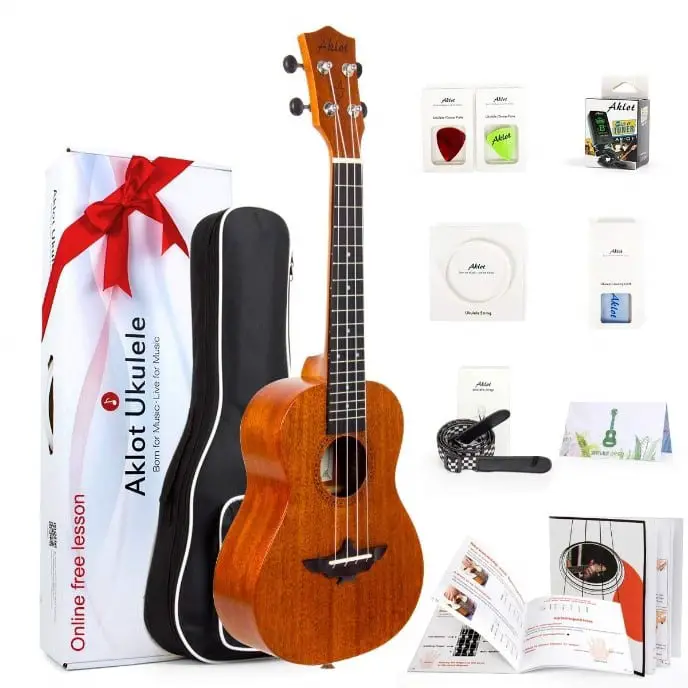 The AKLOT ukulele is made from solid mahogany; this is why it sounds better than other ukes with a laminate body. This concert ukulele is a part of a starter kit complete with all the accessories you need to play. This brand is also available in a 26″ tenor ukulele.
The great sound is due to its solid mahogany body, which can sustain sound longer compared to laminated instruments. The sound it creates is warmer and purer. You will notice a different tone, warmer and better, as you use this ukulele day after day.
This ukulele will always stay in tune with the help of a tuner machine (comes with the set). The tuners are pure copper, and the strings are heavy-duty good quality Aquila strings. And unlike other ukuleles, this will come pre-tuned so you can play as soon as you can.
This concert ukulele has a rounded edge for easy playing, and an embedded rib to improve the neck and height control to improve tone and ease of playing. The neck is sanded to avoid scratches.
Aside from the ukulele, you will also get a tuner, picks, strap, extra strings, and a durable gig bag. You're ready to play as long as you have this instrument anywhere.
AKLOT offers a free 45-day money-back guarantee. You can always contact customer service for any questions or concerns about this ukulele.
Specs
23″ concert ukulele
With a solid mahogany body, sanded neck, and copper tuners
With Aquila strings
With a rounded edge design
With a generous 45-day money-back guarantee
5. Kala KA-15S Mahogany Soprano Ukulele
Best Quality Mahogany Ukulele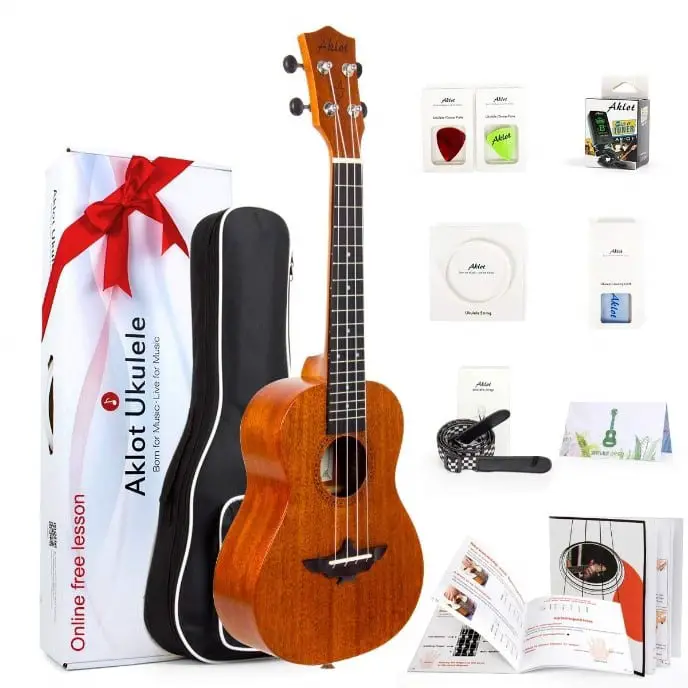 The Kala KA-15S has been around since 2005, and it has remained one of the most affordable soprano ukes with great-quality features and good construction. This ukulele is also popular, played by renowned players all over.
High-quality and affordable
The KA-15S is a level-entry ukulele that has remained unsurpassed in its class. It is made from strong and natural materials. The fingerboard and bridge are made from walnut; the neck is mahogany, the frets are made of solid brass and have GraphTech NuBone plus Aquila Super Nylgut strings. The front is graced with an etched Polynesian shark-teeth rosette.
This ukulele is ideal for personal use, for an acoustic performance and also for students to use for practice. According to Kala, more beginners learn to play using a Kala ukulele.
Soprano ukulele trusted by artists
Another reason to trust a Kala is that it's also trusted by renowned artists like Vance Joy, EatMyUke, Dodie, The Ukulele Teacher, Twenty One Pilots, and Zac Brown.
Specs
Classic soprano ukulele
Mahogany body and neck, walnut fingerboard and bridge, brass frets
Quality GraphTech NuBone and Aquila Super Nylgut strings
Smallest size ukulele with short scale length and tight spacing
6. Lohanu Ukulele Concert Size Bundle
Best Concert Ukulele Bundle Deal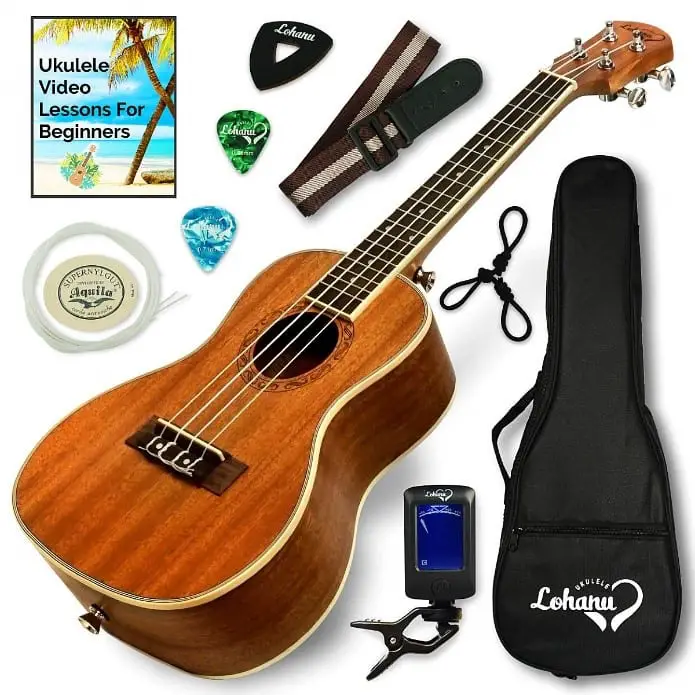 A concert-size ukulele is suitable for beginners and also for experienced players. It comes with complete accessories and free video lessons for beginners. Lohanu ukuleles also come in soprano and tenor models as well.
This soprano 21″ ukulele is ideal for kids and adults with small hands. Meanwhile, concert 24″ ukuleles are the most popular because this comes with wider spaced frets. Meanwhile, the tenor 26″ ukulele is ideal for people who have large hands.
This ukulele has a deeper, longer, and louder sound compared to a cheap and solid wooden ukulele. The body is Sapele wood, with white bindings around the neck and body. The tuning gears are chrome, so the ukulele will stay in tune. It comes with Super Aquila Nylgut strings.
With complete accessories
You'll get a complete kit with 15+ video lessons, digital songbook, ukulele case, picks, strap, digital tuner, and extra strings.
Generous lifetime warranty
Get a satisfaction guarantee or your money back. You'll also enjoy an unconditional lifetime warranty. This is a Canadian product.
Specs
Available in soprano, concert and tenor models
With an arched back, Sapele wood body, white bindings in the body and neck
With chrome tuning gears
With Super Aquila Nylgut strings
With complete accessories
With free digital lessons
Comes with a lifetime warranty
7. Ranch Concert Ukulele Ranch 23 inch Professional Wooden Ukulele Instrument Kit
Best Concert Ukulele With Professional Accessories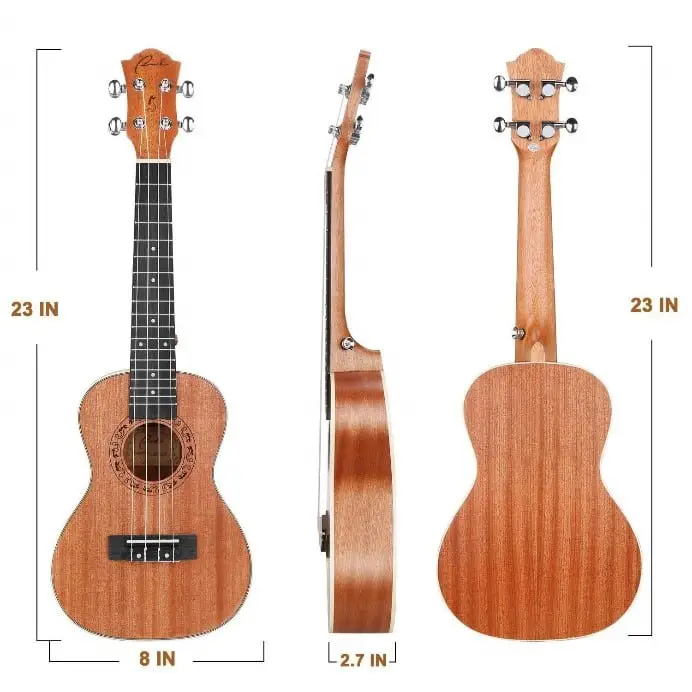 This is a complete Ranch concert ukulele set with all the things you need to play or learn to play. It is a professional and a beginner's ukulele made from durable and beautiful materials that are also responsible for good sound.
Your 23″ concert ukulele will come with all the accessories you need. You will get free online lessons consisting of 12 different ukulele lessons, a ukulele bag, a digital tuner with a battery, a strap, extra strings, and cleaning/polishing cloth.  
This has a Sapele wood top, sides, and back. This wood is luxurious and produces a warm, pleasant, and darker sound. This ukulele is affordable but sounds like a pricey model.
This concert ukulele is great for beginners but also for someone who wants to collect ukes. It is for adults and children as well as for expert ukulele players.
Specs
23″ concert ukulele
Body made from Sapele wood
With Aquila strings
With complete accessories including a bag, extra strings, strap, digital tuner, polishing cloth and batteries for the tuner
8. Kala Official Learn to Play Ukulele Soprano Starter Kit
Best Official Kala Learn To Play Starter Kit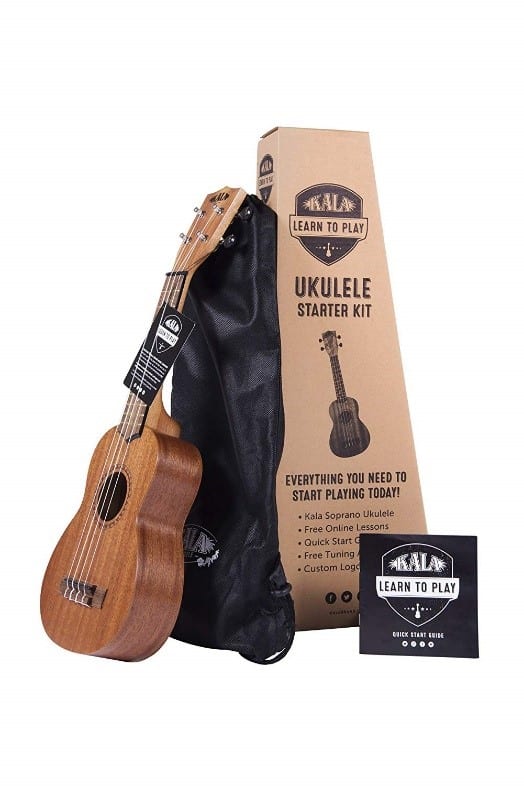 The Kala Ukulele Starter Kit contains all you need to start playing this instrument today. And now, not only does this kit have all the accessories you need, but it also comes with free online lessons from the Kala Brand Music site.
Most popular ukulele brand
It's great to trust only the best when it comes to ukuleles. Kala is one of the most trusted ukulele makers, and you can see these instruments in schools. The manufacturer claims that more students learn how to play using Kala.
This starter set has a tote bag, a startup guide, a tuner app, a gig bag, and more. The free lessons are from the Kala official site. Just register as soon as you receive your Kala soprano starter kit.
Good quality soprano ukulele
This ukulele has a classic style with Mahogany body, traditional Polynesian shark teeth rosette, open-gear tuners, Aquila strings, and GraphTech NuBone nut and saddle. This soprano ukulele is the smallest with tight fret spacing. Other Kala models have a Hawaiian Island, Hawaiian Tattoo, and Spruce top in concert and tenor ukulele configurations.
Specs
Soprano ukulele
Comes with a complete kit with a tote bag, startup guide, tuner
With Mahogany body, laser-etched Polynesian shark teeth rosette
With Aquila strings
GraphTec NuBone nut and saddle
Tight fret spacing
9. Martin Smith UK-222-A Soprano Ukulele Natural
Best Natural Soprano Ukulele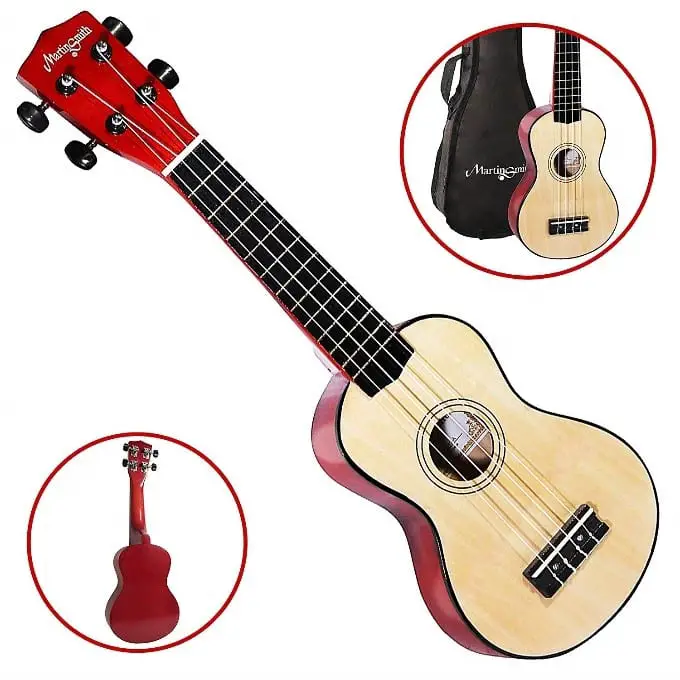 Looking very different from other ukuleles in our list is the Martin Smith Ukulele. It is small, with a smoother, easier learning curve, and comes with a high-gloss spruce top.
With a lovely high-gloss finish
It stands out from all ukuleles with its high gloss finish. This is just the right size for first-time players and also for people who are just starting to play in school. 
This has metal gear heads, and thus, you can expect your instrument to remain properly tuned for a long time. It uses nylon strings, which may take time to settle but are softer on the fingers, especially for first-time players.
Available in different colors and styles
This is just what modern ukulele players want. The Martin Smith UK-222-A soprano ukulele comes in five different colors with pink and red ukes. This is also available at beginner and intermediate levels.
Specs
Soprano ukulele
Available in different colors and different levels
In high-gloss finish
With metal tuning gears
With nylon strings
Comes with gig bag
10. Hola! Music HM-21MG Soprano Ukulele Bundle
Best Multi-Colored Soprano Ukulele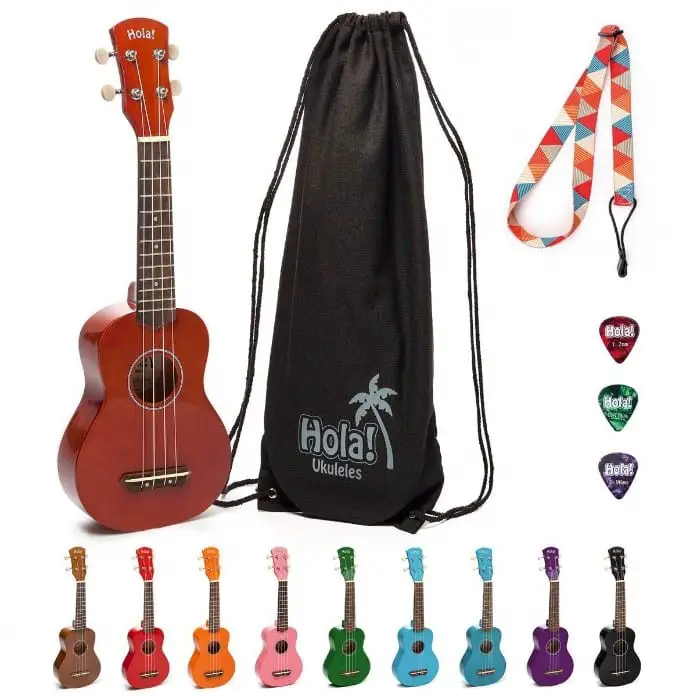 One of the most colorful ukuleles is the Hola! This is a soprano ukulele that comes with a lot of stuff that you need to start playing right away. And probably the best thing about this instrument is that it comes in nine lovely colors with light blue, red and pink as the most popular.
This ukulele has a maple top, sides, and back and painted with different lovely colors. It also has a walnut fingerboard and bridge, nickel frets, and white nylon strings and silver tuners. These durable tuners will remain tight, and the ukulele tuned to perfection for a long time.
Lovely warm and pitch-perfect
The tone created by this ukulele is warm and perfect with rich Hawaiian harmonies. It is good for people learning to play and those who just want to play the ukulele at home or for performance. 
This is a starter kit with a ukulele strap, picks, gig bag, and nylon bag. You can take the ukulele along with its accessories anywhere you want to go.
Specs
21″ soprano ukulele
Maple top, back, and sides
With walnut fingerboard and bridge
With white nylon strings and silver tuners with gears
With nickel frets
Comes with complete accessories
Comes in nine different colors
FAQs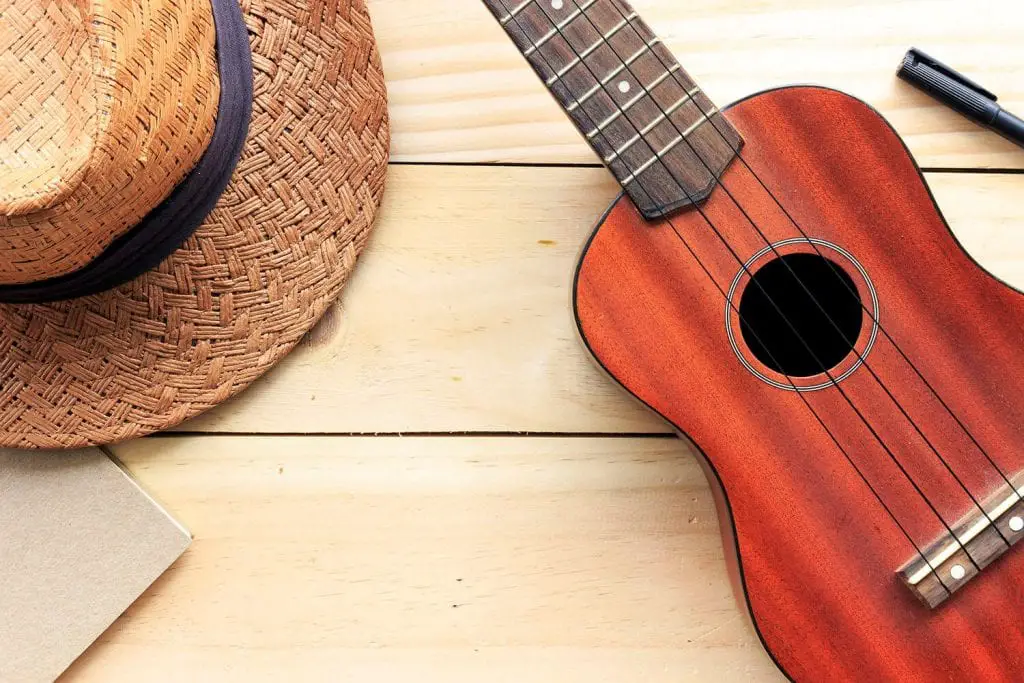 What are the types of ukuleles?
There are three types of ukuleles based on size: the soprano ukulele which measures 21″, the concert ukulele which measures 23″ and a tenor ukulele which measures 26″. The most common is the soprano while the most popular for beginners is the concert. Ukuleles are also classified as beginner and intermediate.
Is it easy to learn to play the ukulele?
Yes, it only has four strings, and because it's small, you can learn lessons anywhere. Ukulele lessons are also available online, or you can take lessons from a ukulele instructor or school near you.
Are all ukuleles arrive tuned?
No. Some ukuleles arrive with loose strings to prevent being ruined while being shipped. You will need to tune it by yourself, which is why this kind of ukulele will come with a digital tuner. Some ukuleles like the Martin Smith will have a tuned instrument ready to play once you open the box.
How to choose the best ukulele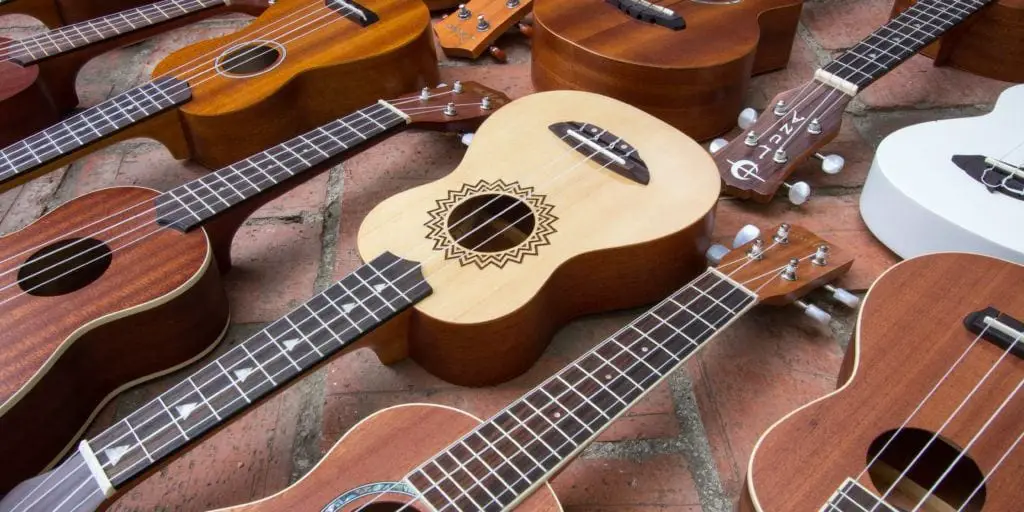 Remember the following before you buy just any kind of ukulele
Consider your expertise level
Just like any other musical instrument, there are beginner ukuleles, best suited for students and novice players because of their size, shape, and weight. There are also intermediate ukuleles and thus made for people who are more than first-time players.
Consider well-constructed instruments
You must never buy laminated ukuleles because these won't sound as full and warm as those made of quality wood. We recommend ukuleles made from Mahogany, Sapele, Walnut, and Maple for the best quality sound. The neck, fretboard, and head should be solid, and the tuning gears must be made of metal and never plastic or wood. Metal tuning pegs will keep the instrument tuned for a long time.
Consider quality brands
Please consider only the best brands. This is one way to preserve the truly warm and full Hawaiian sounds that ukuleles are known for. Cheap knockoffs are not a good choice if you want to learn how to play this instrument.
Take note of the price
Most quality ukes are very affordable, but if you still have qualms about the price, better settle with a second-hand quality brand than a cheap alternative. There are many second-hand musical instruments online. Just make sure to inspect the product closely and to talk to the seller and get a guarantee. 
Conclusion
The Ranch Tenor Ukulele is our top ukulele, and this is because of its many impressive features and its great playability. This is a lovely 26-inch wooden ukulele that comes in an instrument kit. It comes with all the things you need to start playing right away. It has a good, full sound and it is because of good construction and quality materials. It is easy to tune and easy to play too.
The Everjoys Soprano Ukulele and the Ranch Soprano Ukulele are our runner ups. These also come with excellent quality, fine sound, and good materials, but we rank the Ranch Tenor as the top because of its impressive playability and good value.