A musician can perform different types of music, but to be able to truly shine as a musician, one must be able to perform and control the speed and tempo of the music. For many years or centuries even, musicians all over the world have been aided by a single device that allows them to control their tempo, which is known as a metronome.
What Is A Metronome?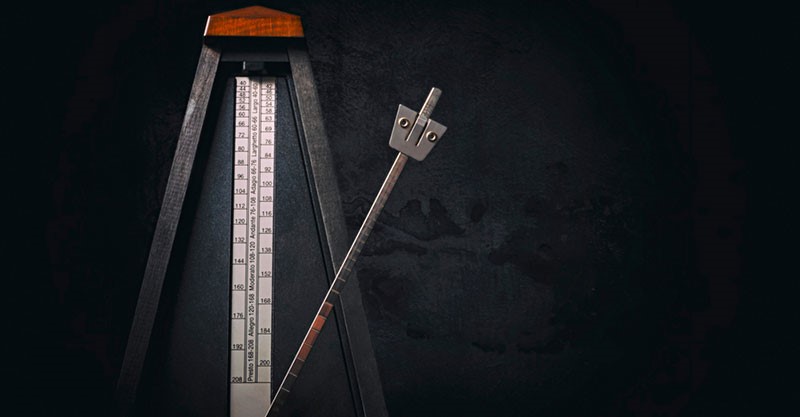 A metronome is a device that produces a clicking sound at a certain interval. The device used to have a pendulum that swings back and forth that is commonly seen in mainstream media as a way to hypnotize people; however, the metronome has been around for several centuries and has been used as a tool for musicians all over the world. Today, there are different types of metronomes, and some of them include the usual mechanical metronome and a metronome app that you can install on your phone.
Music is made of different harmony, rhythm, and melody. The rhythm is specifically tied to a drummer or percussionist. This is because the drummer would determine the beat or tempo of the song. However, other musicians play without any accompaniment and would want to retain their tempo even without the use of a drummer. This is where metronomes are used to help develop your sense of tempo. Musicians should develop this skill to play their instrument well, and their performances are precise. Most musicians today refer to it as a click track.
Aside from it is used as a practice tool so you can gauge your tempo, it is also a tool used in recording film scores where the music must be in sync to the actors on screen. This is also vital to creating music. If you have plans on recording music, you should get used to playing with a metronome. The use of a metronome is also very essential, especially for live shows where musicians need to sync up with the clips playing behind them, much like in films.
If you are in a band, it is highly suggested that you work your sense of rhythm by using a metronome. Even highly seasoned musicians work on their timing with the help of this device.
How to Use A Metronome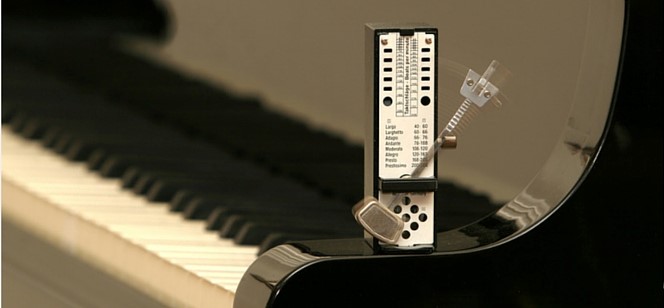 To fully understand how to use a metronome, it is highly advised that you start slow. A slow beat would help you improve your timing, and as you gain your rhythm, you can slowly increase your speed and, later on, develop precision. The technique will soon follow once you can have sharp precision. While it can be monotonous to practice with a metronome, it is a very important skill that you will surely appreciate later on.
Here's how you can use a metronome to sharpen your skills:
Choose a specific type of metronome. It can be a mechanical metronome or an electronic one, or you can even download an app over the internet.
Next, choose the units of measure that you want.
Play a piece together with the metronome at a certain tempo. Note that the best way to start is to use a slower speed then work your way up to a faster speed once you have the rhythm.
It is very important to practice at a slow speed at first, especially when you are still learning a new piece. Slow it down so you can play everything. Avoid practicing the easy parts with a fast tempo and the difficult parts in a slower tempo. Always keep everything at the same speed, no matter how easy or difficult the parts are. This way, you have a steady rhythm, and learning to speed things up once you get the hang of it is much easier. Lastly, take your time. Do not be in a hurry to learn to master a new piece. Practice will always produce a good result.
Now that we are all acquainted with what is a metronome and what it does, here are some of the best metronomes for 2020.
Benefits of Using A Metronome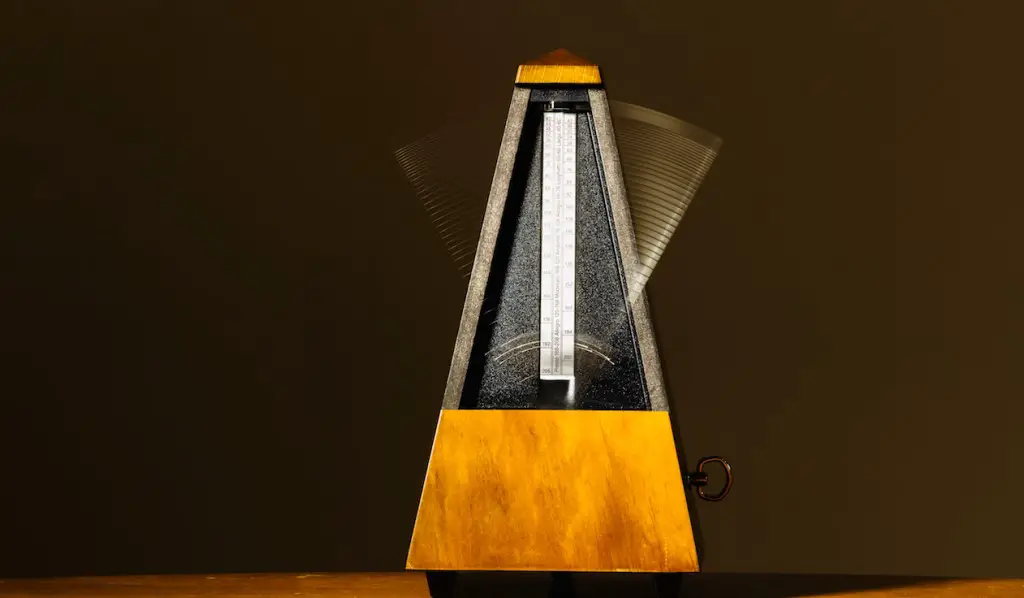 Using a metronome is not only a standard when learning how to play and be in sync with your instrument and music, but there are also a lot of benefits you get when you practice using a metronome.
It will improve your timing. One of the most obvious benefits you get and probably the ultimate purpose of using a metronome is to improve your timing. Most beginners do not have the innate skill to know where the beat is and how the beats are divided. A metronome would greatly help develop a sense of beat and how each beat is divided into smaller parts. Consistent practice with a metronome will help you focus your attention on where the beat is and how the notes fit into the beat. While this can be very difficult at first, it will be worth it in the end.
It helps you build up speed or slow down. To eventually play at a faster speed, you would need to practice doing it slowly at first and work on practicing the notes. It will take days, weeks, or even months to accomplish, but you will be able to build up speed later on. The same goes for slowing down. If you find yourself speeding up especially at complicated rhythm, a metronome will help you tone down your speed so you can accurately hit the rhythm and then, later on, begin to speed things up again now that you have the precision.
A metronome is an indicator of your progress, especially when you are practicing. When using a metronome, you always start slow and gradually work your way up to a faster speed now that you can accurately hit the rhythm. This device helps indicate your progress and rate of improvement. Seeing that you have gradually increased your speed only indicates that your practice sessions with a metronome are helping you improve.
1. Boss DB-90 Metronome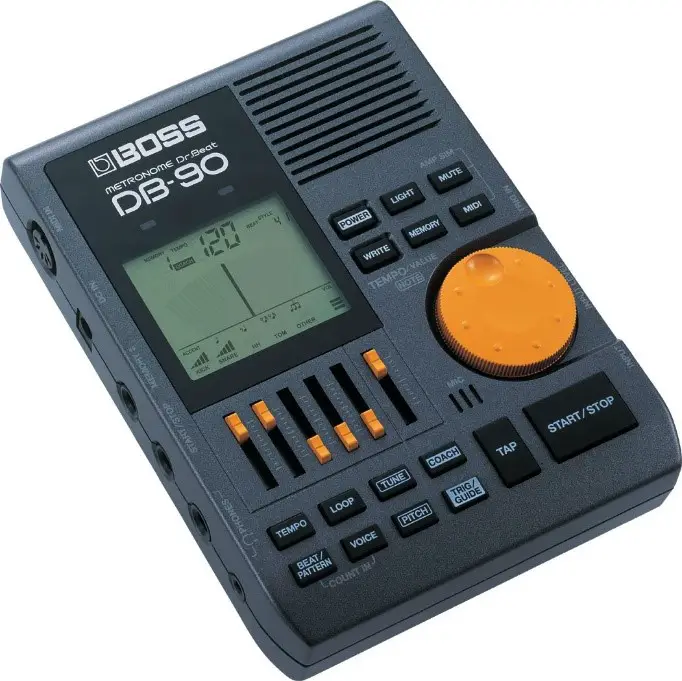 There is a reason why everyone is picking this metronome as part of their list for top metronomes for 2020. It offers advanced and unique features that are suitable for different types of musicians, including guitarists and drummers. Four distinct clicking sounds help you stay within your tempo.
The best part of this digital metronome is its ability to connect to a drum machine and controller keyboard. Weighing only around a pound, one of its best features is the Rhythm Coach, who helps beginners with using the metronome.
Our Conclusion: If you are looking for an affordable digital metronome that can do it all, then this should be on top of your list. This advanced gadget boasts a wide array of tools that is useful for any musician.
Pros:
Intuitive controls
Affordable
Very versatile
Cons:
Instructions can make a bit of improvement
Not that durable
2. Wittner Tuner 813M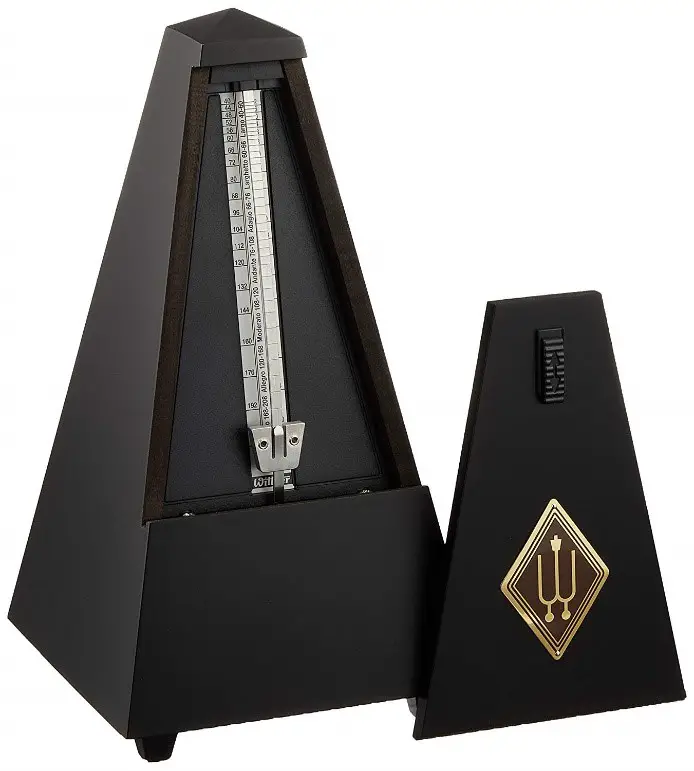 The Wittner Tuner 813M is a perfect example of a popular brand that knows how to upgrade. This is a good reiteration from its predecessors while still retaining what makes the original good. This current model has a bell which previous models do not have. The 813M also boasts of a high volume, so you should be able to hear a wide range of tempo.
The classic design of the 813M is simple yet elegant. With just weighing over a pound, this traditional mechanical metronome is portable enough so you can carry it around with you. While it is a good upgrade from its previous model, it is still restricted for being a mechanical metronome. There are certain key features that are not available that digital metronomes are known for.
Our Conclusion: An upgraded version of a classic mechanical metronome. Its basic functions are still intact, while certain upgrades make this model a decent mechanical metronome to use for newbies
Pros:
Lightweight
Made of high-quality materials
Durable
The bell is a great upgrade
Cons:
Restricted by its mechanical built
Lots of internal parts
3. YAMAHA MP-90BK Black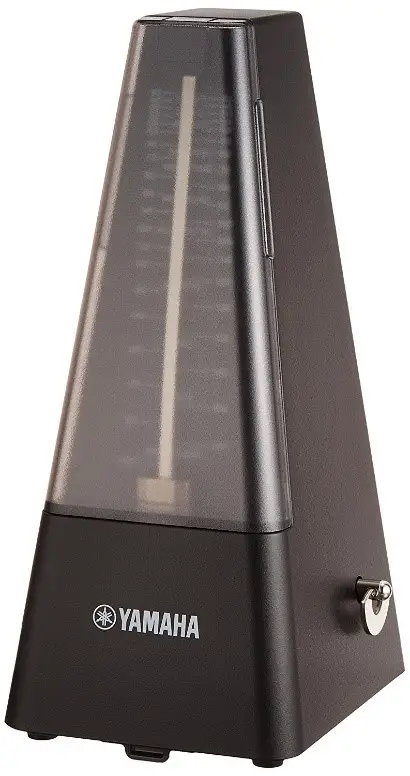 Yamaha always prides themselves as builders of high-quality equipment, and the MP-90BK is no different. Weighing up to 14.2 ounces, this metronome is lighter compared to many mechanical metronomes in the market. This unit has a built-in bell that marks boundaries that can be turned off if you want to.
The sound level is perfect for those who want it loud and clear. However, this may pose a problem for those who do not want to disturb others. The plastic component might turn off some users; however, knowing Yamaha, the high-quality material used to make this metronome is one that you might expect from such a prestigious company.
Our Conclusion: A good quality metronome suited for beginners and teachers. A portable device that is reasonably priced and a great instrument to study music. It is a perfect recommendation for music teachers.
Pros:
Very affordable for its quality
Accurate timing with a loud beat
Has bell chime
Sturdy and durable
Easy to set beats
Cons:
Not a fan of the three legs that serve as the base for the instrument
The loud sound might turn off some users
4. Matrix Tuner (MR600)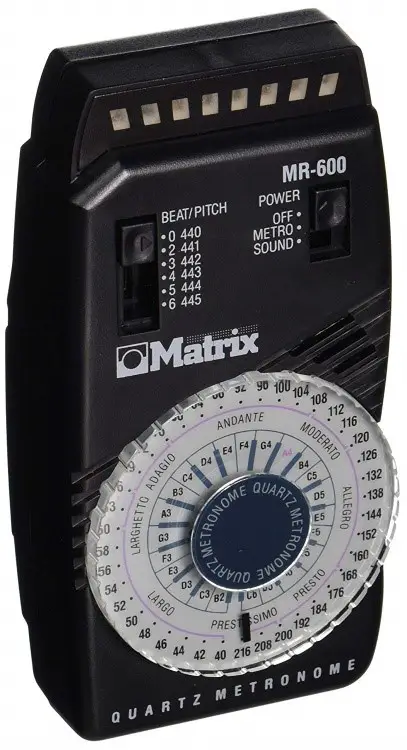 The Matrix Tuner is a battery-operated metronome that comes with an A440 reference pitch. It has a pendulum LED display and only weighs 4 ounces. It is small enough that it would fit in your hand. The unit has a fold-out metal stand that should prop the device up as you play.
It also has a 40 to 216 BPM with an adjustable downbeat; however, this metronome's features are restricted to being a simple metronome. There are no added features that are often found in other types, such as a digital metronome.
Our Conclusion: If you are looking for an affordable metronome to use for its basic purpose, then the MR600 should be enough for you to both enjoy and learn from.
Pros:
Simple to use
Affordable
Adjustable downbeat
Rotating dial makes for easy selection for tempo
Wide variation for volume
Cons:
Limited tempo selection
Slide switches need improvement
5. Korg Tuner TM60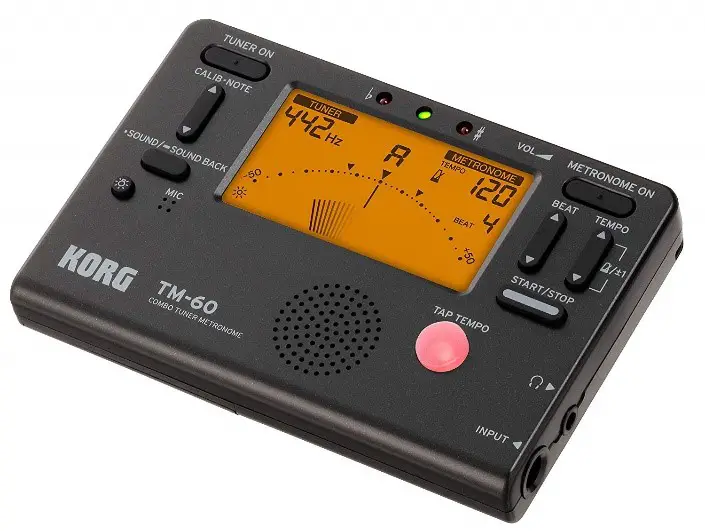 The Korg Tuner TM60 is an old school tuner and metronome with modern features. While it is quite small – even smaller than a phone, it has a large display screen with backlights that makes reading very easy. The metronome covers a wide range from 30 to 252 BPM and offers a good number of beat variations. The unit also has an odd meter, so you won't have to skip a beat ever again.
Another feature from this metronome is that it has a memory backup function with automatic power-off so you can save on batteries. Additionally, the volume can be adjusted to your desired level.
Our Conclusion: A simple metronome with modern features – the TM60 also acts as a tuner which can be used in conjunction with the metronome. In totality, you get to buy two devices put in a single unit for a well-deserved price.
Pros:
Adjustable volume
Large display screen
Simple to use menu and options
Cons:
High pitched sound can be annoying
6. Korg KDM-2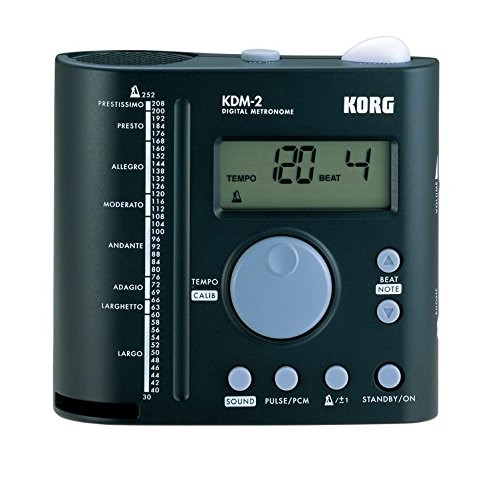 Korg KDM-2 is probably one of the loudest digital metronomes in the market. However, you can easily plug a 3.5mm earphone to it if you need it. The adjustable volume will help turn down the volume. The cylindrical resonator helps offer powerful sounds. If you want to practice without the use of sound, then the Start/Stop Switch should make for a visual indication for your tempo.
This dynamic metronome offers a tempo range from 30 to 252 with a whopping 19 beat patterns and Tap Tempo controls. Its large LCD screen makes for better viewing and has efficient battery life that can last up to 120 uses.
Our Conclusion: A highly recommendable metronome that offers the basic function but with great convenience, especially with the volume. The clear large display is a definite plus, and the loud volume will always make sure that you are hitting the right tempo. The KDM-2 is an amazing versatile metronome that every musician should own.
Pros:
Great beat indicators
Large LCD
Headphones for privacy
Adjustable volume
Cons:
No automatic off feature
Adjusting the tempo might pose some difficulties
7. KLIQ MetroPitch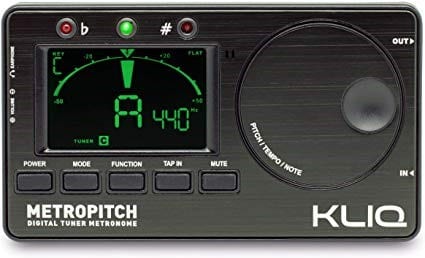 Probably one of the most recommended tuners and metronome is the KLIQ MetroPitch. The tuning modes support both guitar and bass, as well as acoustic guitars. The practice is a lot easier with the built-in tap tempo and its wide variety of rhythm patterns. However, the device can only produce one rhythm at a time.
The large digital screen makes viewing very easy, and you would know the options you have chosen. The best part about this product is its warranty that lasts up to 3 years.
Our Conclusion: If you want a tuner, metronome and tone generator all in one device then the KLIQ MetroPitch should be your ultimate choice.
Pros:
Different settings for specific instruments
Accurate
It has a good volume range
Cons:
Batteries drain rather quickly
No option to turn the unit off
8. Boss DB-30C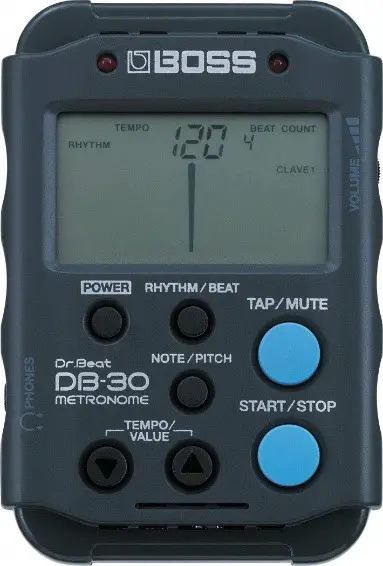 The sleek design makes the Boss DB-30C easy to use, and the lightweight makes it a compact and portable unit. The unit offers 24 beat variations and 9 different rhythm patterns. The large LCD also makes for easy viewing.
The Boss DB-30C has individual volume controls for different subdivisions of the beat. This makes customizing possible and a lot easier to do. The memory feature adds great functionality to the unit for practicing music in different sections with a different tempo.
Our Conclusion: This lightweight metronome offers functional features that are suitable for those who want to improve their musicality. An easy to use the unit with good volumes, this metronome answers all of your basic needs and some.
Pros:
Very easy to use
Versatility
The memory feature is a great addition
Good volume control
Cons:
Battery life needs improvement
It only has a 90-day warranty
9. Mugig Metronome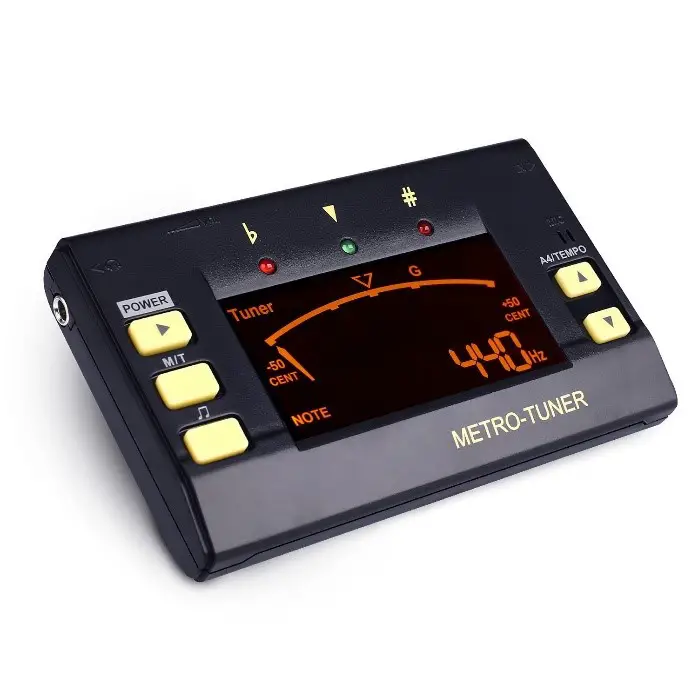 Music students or those who simply want to learn more about music should employ the features of the Mugig Metronome. This unit functions as a metronome, tuner, and tone generator altogether and does it very well. The powerful LCD offers clear visuals.
The unit comes with a 3.5mm audio port for your headphones for privacy. It also includes 8 rhythms that will help you improve your skills. This multifunctional device offers a broad range of 30 to 250 beats per minute and supports a wide range from A0 to C8 with different tuning modes.
Our Conclusion: This multifunctional device should be on your list if you want to have a metronome, a tuner, and a tone generator rolled into one. An extremely easy to use the device with high precision. This is a great tool for music students.
Pros:
Accurate
Very versatile
Packed with features
Cons:
Clunky interface
The volume needs to be louder.
10. Neewer NW-707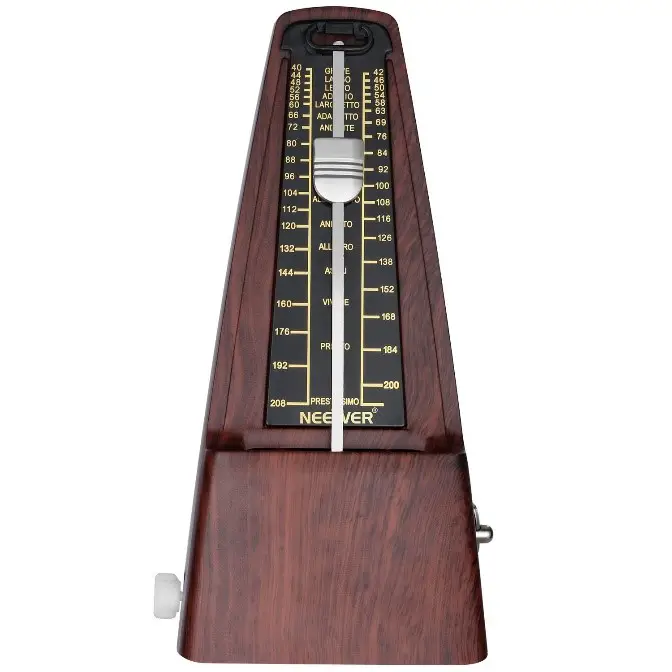 This mechanical metronome is exactly what beginners should be looking for. This is a perfect practice tool that helps improves your sense of tempo. You won't be batteries for this unit as it is already mechanical. The clear sounds are loud enough that you will be able to notice it even by practicing using the piano, drums, and other loud instruments.
The unit is designed to help you pace properly, and with its accurate timing, learning your sense of rhythm will become easy. This easy to use mechanical metronome has an adjustable weight that will help you adjust the speed. One can choose from a wide range of beats per minute, ranging from 40 to 208.
Our Conclusion: A basic mechanical metronome for students who want to learn and improve. This unit offers a wide range of beats and accuracy.
Pros:
Very basic functions
Easy to use, especially for children and beginners
Affordable
Cons:
Made of plastic
The loud sound may not be for everyone
Buying Guide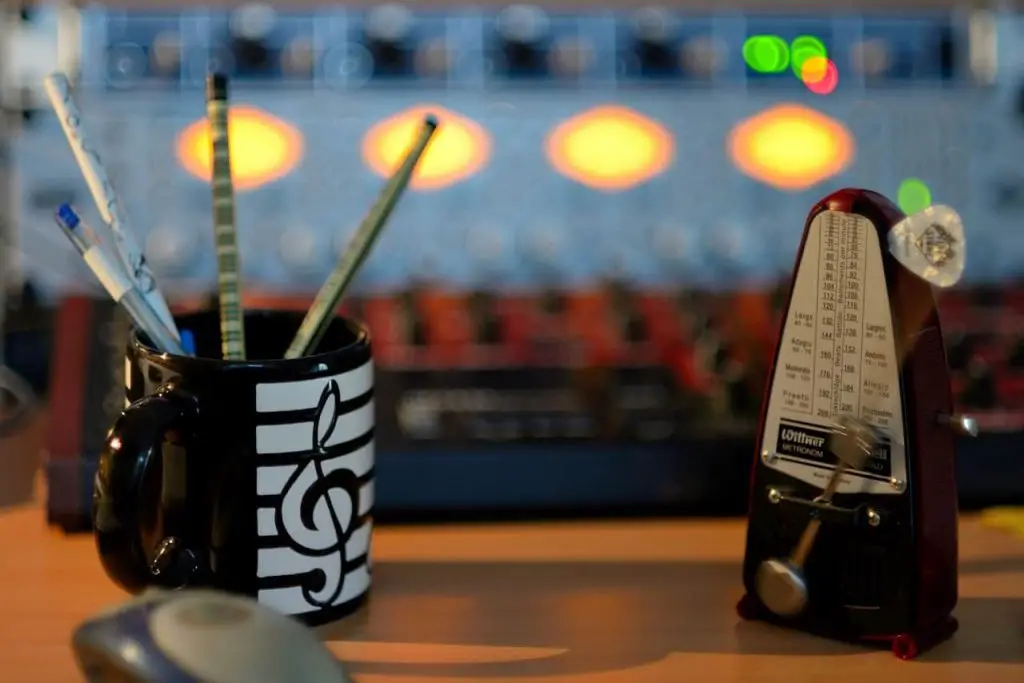 Before buying a metronome, there are still factors that you will need to consider so that you can get the right quality for your money. Here are the things you have to check first:
Controls
One of the major factors to consider before buying a metronome is the controls and how easy it is to operate the instrument. While there are a lot of classic metronomes that can be used easily, digital metronomes are a different thing. Check the controls and display first and see if they can show what the metronome can do and how you can manage the settings of the device. If you find it convenient then, go ahead and purchase it.
Size and Shape
Another factor that you need to think about is the size and shape of the device. Most classic metronomes are large and bulky, while others are small. If you have limited space in your home or your music room, then you would need to have a smaller metronome that has all the functions. On the other hand, if you have enough space and you want to show off your metronome, then a large one with different features would help you do just that.
Features
Today, there are countless other integrations with a digital metronome. Make sure that when you try to purchase a new metronome that it is loaded with other features at the right price so you can also use the device for other purposes, but do not forget that the focus is for you to use the metronome.
FAQs
What is the top Metronome for Guitar?
As for the best metronome to use for guitar, the best that we can recommend will still be the Boss DB-90. No other metronome comes close to the features that this unit has. You can plug in your headphones so you can hear everything without disturbing your neighbors. The Rhythm Coach is the major feature that elevates this metronome to another level as it allows you to slowly build on your accuracy and speed just as what we have advised. The massive memory also allows you to store up to 50 different metronomes. It also has a Note Mixing function that lets you create different beats and even adjust their levels.
How to use a Metronome for Guitar?
Playing with your metronome can help improve your technique. However, using a metronome for guitar is no different than any other instrument. All you need to do is to use a metronome and listen to the click as you use a specific beat and follow through with your guitar. The best part with some of the metronomes listed above is that they have features that will allow you to plug in your guitar and let you listen through your headphones.
Final Conclusion
We highly recommend two very different metronomes for different types of musicians. If you are the classical musician, it would be best to go for the Wittner Tuner 813M as it offers the basic features of the metronome. If you find yourself always on the road and you want to fine-tune your skills as a musician or an artist, the Boss DB-90 is one of the best in the market today. Loaded with features and very portable, this digital metronome is the go-to device for modern musicians.
As a musician or a music teacher, you want to sharpen your skill when it comes to music. A metronome is one of the many instruments that can help you do that. Understandably, precision is key to having a great performance, and with the help of a metronome, that can be achieved.