In learning to play the guitar, one of the essential aspects to know and understand is how to tune your guitar. A guitar that is slightly out of tune can have a ripple effect on your performance. First, an out of tune guitar immediately destroys the song, and you end up having to deal with a bad performance. You wonder what happened and, later on, find out that the guitar has been out of tune for quite a while. This is why learning how to tune your guitar is key to starting strong with your performance. And what better way to help you tune your guitar than a guitar tuner.
A guitar tuner is an important device that you should have in case you do not know how to tune a guitar by ear. It measures the frequencies produced by your acoustic guitar. If the frequency matches a certain note, then the tuner would display the note of that sample tune on the screen so you would know that you are perfectly in sync with the guitar.
Many old school guitar players learn how to tune their guitar by ear and constant exposure. Most beginners do not have the time to develop the skill; hence they rely on guitar tuners to tune your guitar in a precise manner. A well-tuned guitar will sound better, and you will find yourself enjoying playing the guitar. This will truly help you accurately play the guitar and make your performance better.
There are two common types of guitar tuners, and they are used with different types of guitars.
Pedal Tuners are guitar tuners that receive signals from the guitar via an audio cable. Most pedal tuners are used together with an electric guitar.
Clip-on Tuners are usually found at the guitar's headstock and measure the vibration when the strings are played. Clip-on tuners are used in most guitars; however, they work well with acoustic guitars.
Acoustic guitar players use clip-on tuners because they do not need any audio cable and are usually battery operated. Clip-on tuners are also very accurate as they measure the vibrations coming from the wood of the guitar. With that, here are the ten most recommended acoustic guitar tuners today.
1. KLIQ UberTuner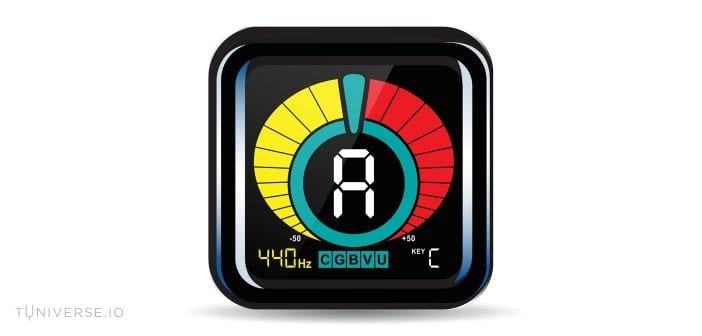 The UberTuner offers fast and reliable tuning for your acoustic guitar. This clip-on tuner has a high-sensitive piezo that works with the design of the clip. The design allows the tuner to capture vibrations from the surface of the guitar.
Monitoring is also a lot better with the full-color display. It is a very versatile clip-on tuner that works well with other string instruments such as violin, mandolin, and ukelele, among others. The UberTuner runs on a lithium battery; hence it is guaranteed to have a long life.
Our Conclusion: UberTuner is a small yet effective acoustic guitar tuner packed with features and a design that makes the accurate reading of your guitar.
Pros:
Sensitive and accurate.
The bright colored display makes for better viewing.
Versatile.
Cons:
Made of plastic.
Very fragile.
2. TC Electronic PolyTune 3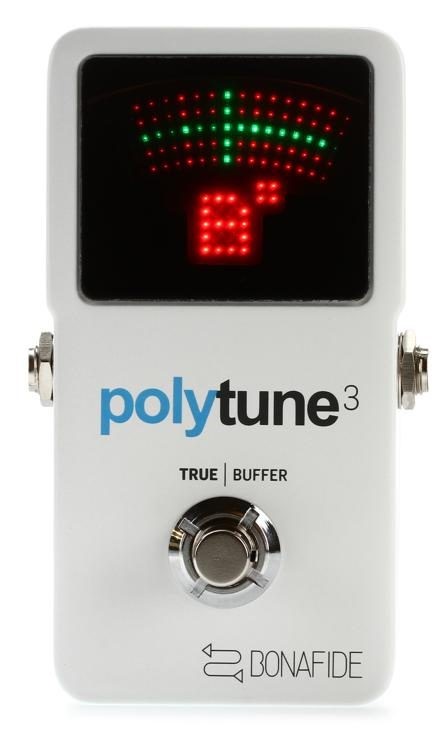 This polyphonic guitar tuner pedal comes with a buffer and is very compact. Tuning with this pedal allows accurate results due to its chromatic, strobe tuning modes. This third iteration of the PolyTune is praised by many professional acoustic guitar players due to its accuracy.
Instead of plucking each string to tell which one is out of tune, this guitar tuner pedal lets you strum the strings and immediately tells you which one is sharp or flat. This makes the PolyTune 3 are a much faster option for guitarists who need quick tuning for their guitars.
Our Conclusion: Quick and accurate, PolyTune 3 follows what TC Electronic has set out to do. Well-suited for experts and seasoned guitarists, this tuner should be your go-to tuner for every gig.
Pros:
Buffers are switchable.
Highly accurate.
Bonafide Buffer is a great addition.
Polyphonic tuning.
Cons:
Quite expensive.
The display needs to be brighter.
3. Boss TU-12EX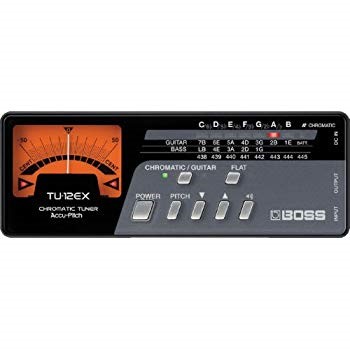 A fine upgrade from the TU-12, the Boss TU-12EX delivers a reliable reading that has been the source of information for many seasoned guitarists. The upgrade offers the addition of input and output jacks for electric and acoustic-electric guitars. While the meter display may put off many users, it still displays a very accurate reading of the guitar.
The Boss TU-12EX is a good, updated version of its predecessor. The previous version was quite affordable, and this one is seemingly on the high end of the price range. Nevertheless, the price you pay is still worth the quality you get from this tuner.
Our Conclusion: If you don't mind the price tag, this guitar tuner has all that you need for tuning your guitar. Durable and accurate, it is still considered as one of the best in the market.
Pros:
Accurate and reliable results.
A decent upgrade from its previous version.
Added features are also a plus.
Cons:
Expensive.
Metered display takes up space.
4. NS Micro Sound Hole Tuner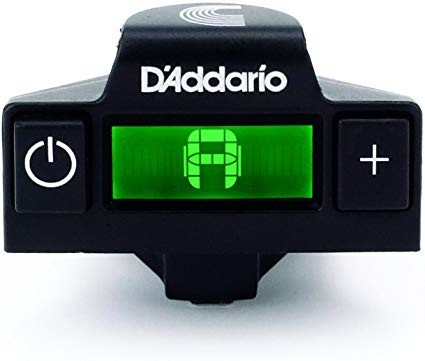 This bite-size guitar tuner is perfect for acoustic guitar players who are up close and personal with their audience. The size is small enough to hide it from your audience while still maintaining the accuracy and quality that is needed from a guitar tuner. It is also by far the most non-intrusive tuner that can be hidden in your guitar's soundhole.
This tuner boasts of a very sensitive piezo transducer that detects vibrations from the surface of the guitar in an instant for fast and accurate results. The bright screen displays the result and can be viewed with just a glance.
Our Conclusion: Small yet very accurate and effective acoustic guitar tuner, the Micro Sound Hole Tuner is designed for acoustic guitars who want immediate response for better tuning.
Pros:
Small size.
Very quick response.
It can be easily hidden from the audience.
Cons:
Limited to acoustic guitars.
5. KLIQ MetroPitch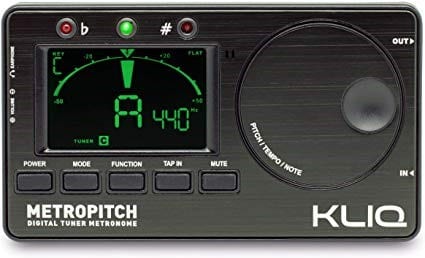 The KLIQ MetroPitch offers three features for the price of one with its pitch generator, metronome, and guitar tuner capabilities. Switching through different modes allow you to fine-tune different instruments. This guitar tuner also behaves like a pedal tuner, which makes it usable for many instrumentalists.
This smart guitar tuner allows the conservation of battery life by ensuring that only the favorable results light up the screen. The metronome is another added feature that works well with the device. The intuitive dial allows you to adjust the modes to your preference.
Our Conclusion: A definite device for those who need to have a metronome, pitch generator, and guitar tuner. Instrumentalists who have a whole line of instruments to play aside from the acoustic guitar will find this device to be helpful.
Pros:
Very versatile.
Accurate results.
Smart and intuitive interface.
Cons:
Very fragile.
Needs to be taken care of.
Others might find this device complicated.
6. Korg AW-OTGPOLY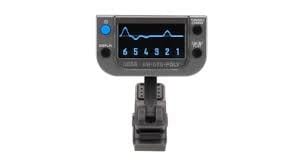 The Korg AW-OTGPOLY features a clip and a platform that allows for better viewing. The polyphonic function ensures that you always play the right tune. Accuracy is at an all-time high, and the strobe feature enhances it further.
The best part about this tuner is its battery life that lasts up to 18 hours of usage in just a single AAA battery. The fun animations make it appealing for kids and new learners of the tool. Another feature called Chord Finder displays the chords you are playing makes learning even more fun.
Our Conclusion: If you are looking for a guitar tuner that also helps you learn along the way, then the AW-OTGPOLY should be your partner.
Pros:
Long battery life.
Fun animation screen display.
Chord Finder is a great feature.
Cons:
No chromatic tuning.
Fragile.
7. Korg Pitchblack Chromatic Tuner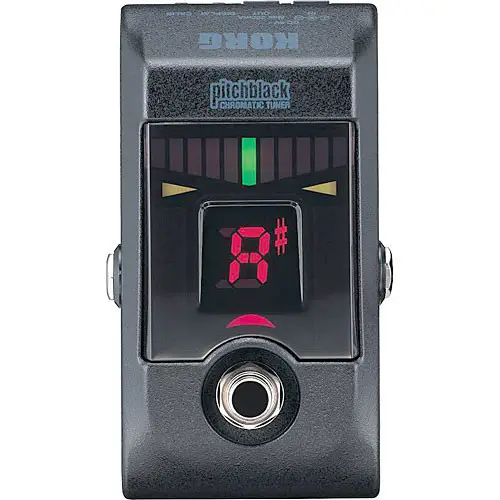 The Pitchblack Chromatic Tuner offers three controls – the footswitch, display button, and calibration button. This guitar tuner has two ways to power. You can choose the battery for easy portability or a 9 VDC power supply for when you get on stage.
The simple display allows for better reading at a simple glance. When you play a note, the result is almost instantaneous and accurate. The main housing is made of aluminum material making it one of the better and durable housing for your tuner.
Our Conclusion: If you need an easy to use chromatic tuner that can withstand extensive pressure while maintaining its readability and ease of use, then the Pitchblack Tuner should be your pick.
Pros:
Durable.
Convenient display.
Easy to use.
Versatile use of power.
Cons:
8. Fender Clip-On Tuner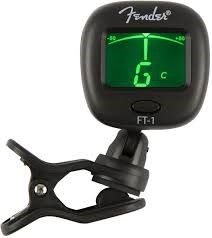 Fender certainly knows how to create small yet impressive acoustic guitar tuners. The clip-on version of the classic FT-004 us further enhanced due to its small and compact size. This versatile tuner can detect vibrations from the guitar's surface. The device also offers tuning modes that include the guitar, bass, and even ukelele.
This small-sized tuner is great at smaller gigs where you need to hide your tuner from your audience. The black color also helps with that.
Our Conclusion: Small in size but loaded with features. This basic guitar tuner has everything you need.
Pros:
Small compact size.
Accurate reading.
Very affordable.
Cons:
Dim display.
Very fragile.
9. Peterson StroboClip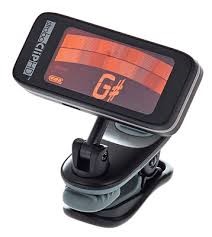 This solid and accurate tuner offers precise readings of up to 0.1 cents tuning accuracy. If that does not impress you, then the high definition screen and its clear display should. It is clean and clear and backed by blinking lights, so you will know if something is up.
The added 50 presets for different instruments is a great feature for those who play other instruments. This way, you can fine-tune all the instruments that you own and improve their sound.
Our Conclusion: Peterson Tuners brought out the big guns with the StroboClip. Accurate and packed with features, this guitar tuner does not disappoint.
Pros:
Precise tuning.
Very versatile.
Very affordable.
Easy to use.
Cons:
Made up of plastic.
Low battery life.
10. Donner DT-2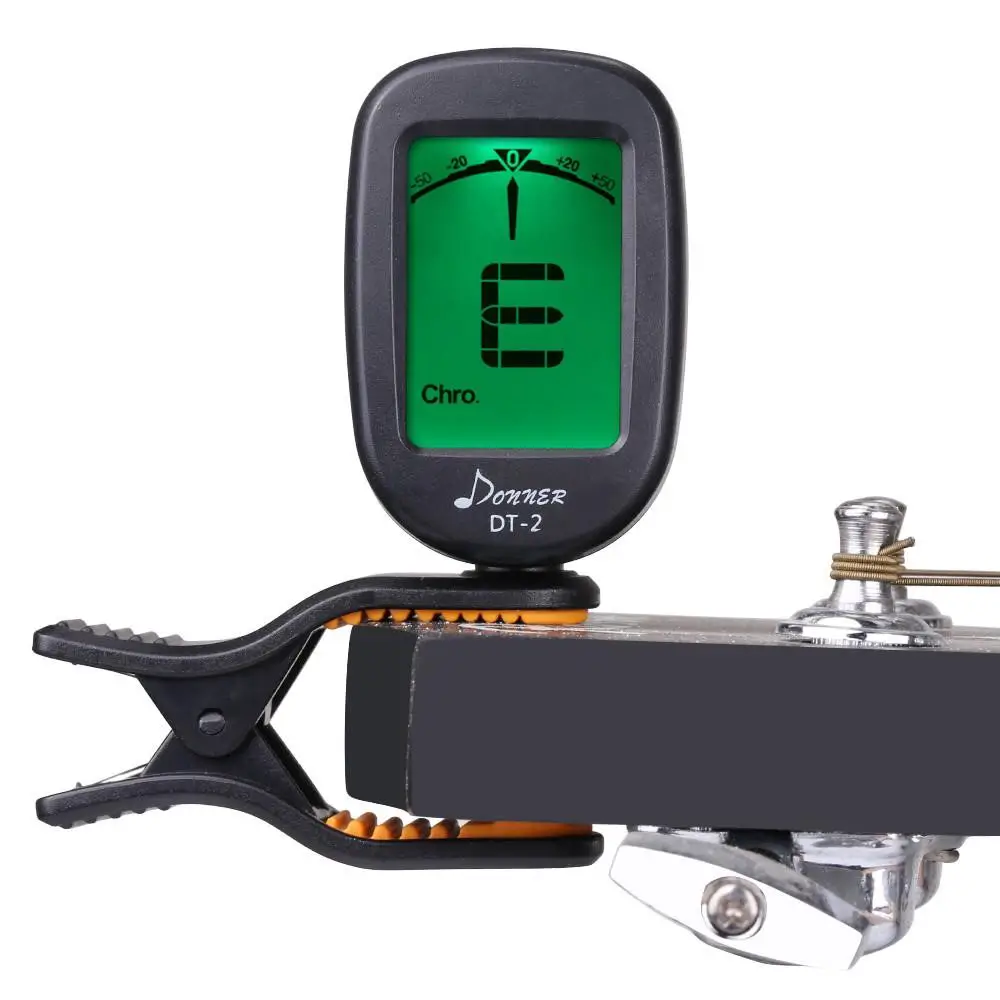 The Donner DT-2 is a small and very affordable acoustic guitar tuner especially made for getting accurate results from your instrument. The display rotates, and the display is bright for proper visibility. This also makes the display viewable at different angles.
This accurate tuner is very sensitive to vibrations and is one of the most responsive tuners in the market. It can also accommodate different instruments making it a very versatile tuner. The best part is its one-year warranty, so you are guaranteed of its quality.
Our Conclusion: Looking for a compact yet responsive acoustic guitar tuner that also offers more than just looks? The Donner DT-2 is our recommendation.
Pros:
Accurate.
Small size.
Rotating display makes for good viewing.
Cons:
Plastic build.
Struggles with the low register.
Buyer's Guide: Things to Consider Before Buying Acoustic Guitar Tuners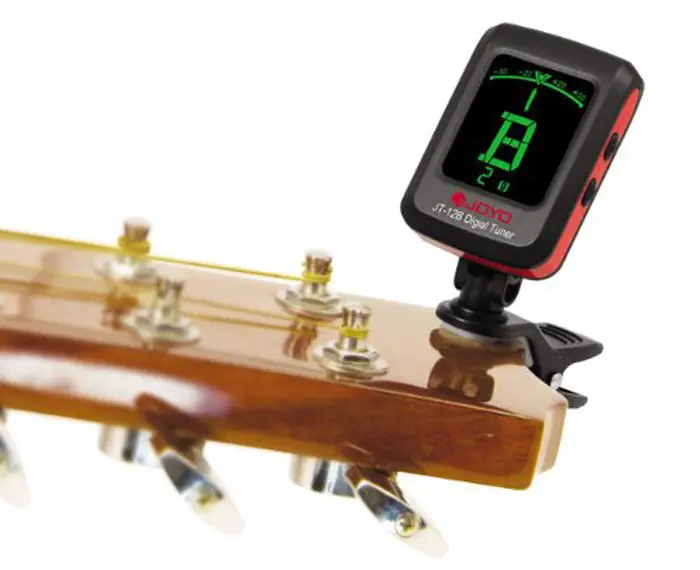 One of the major factors that you need to consider before buying an acoustic guitar tuner is the venue. The venue plays a huge role as it is highly dependent on the equipment you surround yourself with.
For acoustic guitar players who perform on a smaller stage where you are much closer to the audience, tuning can be a bit difficult, especially if you are already in front of them. You can't mute the sounds that the acoustic guitar makes; hence you will need an acoustic guitar tuner that can provide you with information without having to be as loud as strumming your guitar on stage. Make sure to pick clip-on tuners as it works well for any stage performers.
Bigger venues tend to have more control over the sound on stage; hence there won't be any problems with tuning a guitar on stage. Pedal tuners are often recommended for these types of venues. However, clip-on tuners can still do well in this situation.
Price is another factor that you should consider in choosing the right acoustic guitar tuner for you. Beginners should get the basic guitar tuner with the least cost as you will need to learn the basics of tuning your guitar first. Some guitar tuners can be expensive, but they are also made for expert guitar players. There are also tuner apps available for download, and some are free, but they are also very unreliable. If you want to shell out a few bucks for a more accurate tuner app, feel free to do so.
Conclusion
After a thorough review of the list, we highly recommend having the Boss TU-12EX for its accurate and reliable results, and its responsive interface and the PolyTune 3's smooth and simple interface really caught our attention.
Whether you are playing the acoustic guitar by yourself or in front of a large audience, learning how to tune your guitar is a vital skill that every guitarist should know. With the help of acoustic guitar tuners, learning this skill is more convenient.