Are you searching for the best headphones for electronic drums? No wonder you have reached this page. After all, having high-quality headphones is worth your investment if you are into the music produced by electronic drums. Having one will allow you to practice your passion without the need to annoy your housemates and neighbors.
Electronic drums have become a trend for quite some time now. These musical instruments have been described as smart devices that employ the latest advancements in technology, allowing music lovers to unleash their real drumming skills. As such, they are usually used at home, studios, and even on-stage.
However, in order to achieve the best performance possible, whether it is a live one or a practice session, it is very important to be in contact with the actual sound that you produce. This is where you can take advantage of the features of the best headphones for electronic drums. Despite the fact that they may look like ordinary headphones set, the features that they carry can pull that sound from the kicks and the hi-hats, entering right into your ears.
Product Reviews: 10 Best Headphones for Electronic Drums in 2020
1. Direct Sound EX- 29 – Designed Specifically For Drummers
Rating: 4.5
The Direct Sound EX-29 is considered as among the most popular options on headphones because they are comfortable to wear, durable, offering amazing sound and reliable isolation. These headphones are also designed specifically for drummers, thus the features.
For one, it features an extra-long cable, which is helpful in easily positioning drum modules and amps even at a distance. With long cables, there is no need to be tied up with short cables as you try to play your drums.
The EX-29 drivers also produce a rich, nice sound. It may also be used together with a headphone amp in order to achieve the best results. It comes with large drivers at 40mm, working at 32 Ohms impedance. It also features a broad frequency response, at a range between 20 Hz and 20 KHz.
These headphones are quite versatile, as they are also ideal for using together with both electronic and acoustic drums. Its model has the name '29', referring to the 29 dB sound attenuation provided by this model.
It also does a good job of eliminating noise outside. There is no worry in dealing with annoying drum pad or stick noise as you play with these headphones on.
Pros
Large size for the ear cups
Durable
Long connecting cable
Replaceable parts
Real flat sound for mixing 
Cons 
2. Audio-Technica ATH-M20x Professional Headphones – Versatile and Powerful
Rating: 4.5
Two words that describe this pair of headphones is versatile and powerful. They are tuned right in to offer improved low-frequency performance, which gives a great punch when used in collaboration with electronic drums.
It comes with features that ensure a crystal clear and comfortable listening experience. They are engineered and designed for use inside a recording studio setting, offering amazing sound detailing levels.
These headphones also feature 40 drivers, with some unique neodymium magnets that offer a combination of sharp highs and impressive lows that intensify the sound produced by electronic drums. Kick drums are punch and full-bodied, while the cymbals are expressive and clear.
In terms of design and durability, these headphones are well-built and rugged. They are not just amazing for electronic drums but are also versatile for use as regular headphones, and reference monitors in studios.
They are indeed engineered to produce the best sounds, which will further improve the overall drumming experience.
Pros
Amazing build
Durably designed
Crystal clear sound detail
Amazing dynamic range
Great highs and lows 
Cons 
Some reported issues on quality
3. Beyerdynamic DT 770 Pro Headphones – Superior Sound Quality
Rating: 4.5
One thing that you will immediately notice about these pair of headphones is that they come in several specifications. This gives you the freedom to select out of different impedance options, along with a variety of colors. They are stunning and sleek in terms of design, giving them a luxurious look.
Among the options available include 32 Ohms, 80 Ohms, and 250 Ohms. You can choose according to your setup requirements. As a general rule of thumb, the smaller the number on the Ohms, the more power you can expect from the headphones.
If you plan to use these for both your electronic drums and for other uses, such as a smartphone or other devices, you may want to get an option with a larger Ohm. For recording studio use and together with other professional-grade tools, the 32 Ohms model is definitely the best option.
They are also quite comfortable to wear even for extended periods. They offer great sound, offering durability, along with slick, appealing aesthetics.
Pros
Different color options
Comfortable even for long use
Aesthetic appeal
Different options on impedance
Highly rated 
Cons 
4. Sennheiser HD 280 PRO – Robust and Dynamic
Rating: 4.5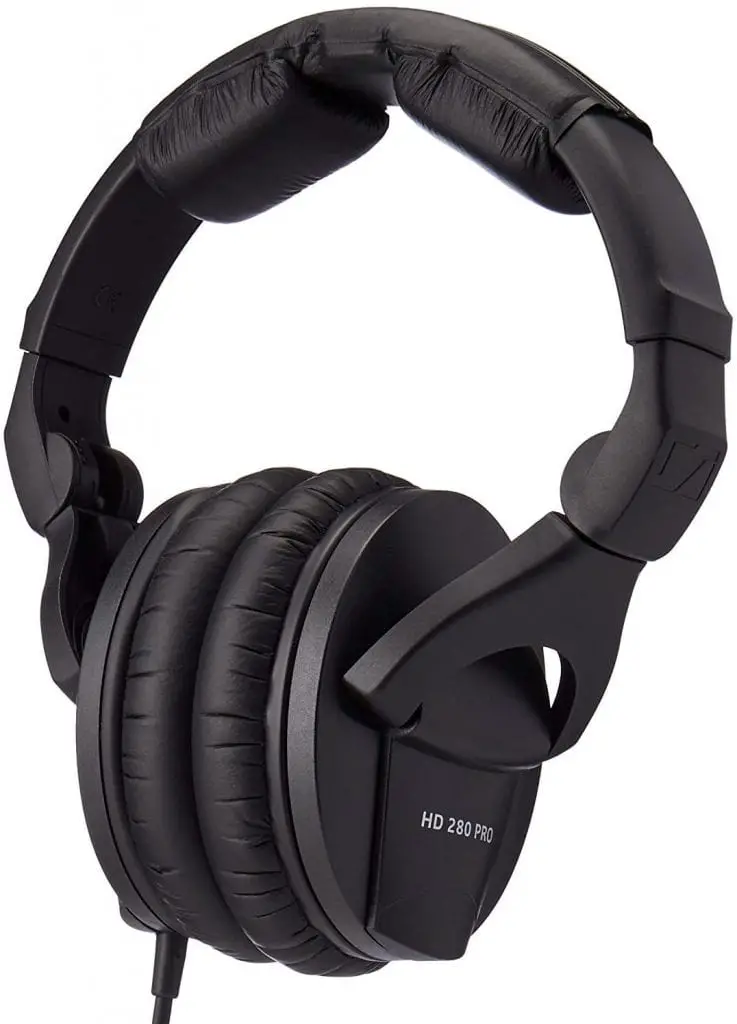 These pair of headphones are quite inexpensive compared with some items on this list. Despite the price, you are assured of a dynamically designed, closed-ear pair of headphones. They are built and robust enough to sustain the wear and tear of everyday use.
These headphones offer a nominal impedance of 64 Ohms, along with a 113 dB sound pressure level.
In terms of sound, this pair of headphones do really well with their featured extended frequency range at 8 Hz to 25 kHz. This allows for these headphones to work well with electronic drums as they boost the crisp trebles with the low-end bass.
There are also replaceable parts for these headphones, including the ear cups, audio cord, and headband. This means that if any of these parts are not working well, you can do the repair work yourself.
Pros
Replaceable parts
Extended frequency range
Lightweight
Cons 
Ear cups quite small for some
5. Alesis DRP100 Electronic Drum Headphones – Best for Electronic Drum Reference Monitoring
Rating: 4.5
The Alesis DRP100 headphones are voiced and designed specifically for reference monitoring of electronic drums. This only means that they provide powerful and accurate sounds, ideal for electronic drums, bringing the sound they produce to live.
They feature full-range, 40mm drivers that offer crisp highs and deep low ends, making sure that each part of your drum is clearly heard.
It also features an over-ear design that offers amazing sound isolation, along with great comfort, which means that you can work on practicing your music without distractions from the outside.
The sound isolation that it offers is quite effective, doing a great job in blocking out outside noise as you play.
It also offers a full sound range along with effective isolation of noise. They are built with the purpose of capturing the dynamics and nuances of electronic drums.
Pros
Designed for electronic drums
Amazing noise isolation
40mm drivers 
Cons 
May not be comfortable after extended playing period
6. Blue Satellite Headphones – Classic and Elegant
Rating: 4.0
One thing that can be immediately noticed with these headphones is the price. However, there simply is a reason behind it. It simply shouts of elegance and style, durable and functional, while being wireless – all at the same time.
Getting a pair of Blue Satellite headphones is beneficial as it offers twice as many drivers compared with regular headphones. In fact, in every ear cup, there are two drivers. It also features an ANC amplification that is compatible with any type of wireless system.
ANC amplification is a very effective technology for the noise canceling, removing any noise from the outside, with the use of sound phasing. There is an option to listen via Bluetooth, either with or without the amp that is built-in to the headphones.
These headphones are completely rechargeable. A usual charge can provide you with up to 24 hours of Bluetooth usage, and up to 8 hours on ANC.
Pros
Wireless headphones technology
Dual drivers in every ear
Noise-canceling feature
Built-in amp
Portable and foldable 
Cons 
Quite expensive than others in this list
7. Sony MDR7506 Professional Headphones – Amazing Sound Detailing
Rating: 4.0
What these pairs of headphones promise is a set of professional features that offer outstanding performance and amazing sound detailing. They are ideal for use with electronic drums, delivering clear and high-quality reproduction of sound.
These are also ideal for accurate monitoring as they make it possible to produce clear highs, crisp mids, and deep low. These features make it possible to play expressively on electronic drums.
These stereo headphones are also recommended for use for all types of sound monitoring, especially those that are done inside professional studios. This is also a reason why they are popular among musicians and professionals, thanks to their powerful 40mm drivers and rugged design.
For what is worth its price, these headphones provide unbeatable sound quality, with clear and crisp detailing. With its closed-ear design, you can expect a reasonable level of sound reduction coming from outside noise and comfort at the same time.
Pros
Amazing performance for its price
Lightweight and comfortable to use
Versatile design 
Cons 
Some issues with durability
8. JBL Synchros S500 Powered Over-Ear Stereo Headphones – Premium and Multi-Color Design
Rating: 4.0
These headphones answer the need of modern people for something unique and different. It features the shape of a uniquely classy headphone, along with its multi-color design.
The prices vary depending on the color. This means that if you are on a budget, you can go for the basic white-colored unit. It also has a durable and lightweight profile and a soft-touch. The earpads used for these headphones feature premium quality cushions, making them very comfortable even for prolonged use.
For an incomparable audio output, these headphones feature an exclusive 50mm driver that does not just produce crystal clear output, yet also offers nice and pure bass performance.
These headphones offer a well-balanced audio experience with richness and clarity in the sound. These units also use the Proprietary Live Stage signal processing technology, which offers a realistic listening experience.
The cable can be detached easily, and may also be replaced using the universal remote and microphone cable that also comes with the purchase.
Pros
Live Stage signal processing technology
Pure bass sound
Rich and clear sound
50mm driver for an amazing audio experience
Multi-color premium design
Cons 
Some issues with late shipment
9. Roland RH5 Electronic Drum Headphones – Rich Premium Sounds
Rating: 4.0
A good pair of Roland RH5 headphones is a product coming from a well-reputed brand in the music industry. These headphones feature high-performance 40mm drivers, making them deliver premium and rich sounds.
They are also comfortable to wear and are lightweight. They offer a flat, natural playing response, which is also balanced throughout the frequency spectrum. The dynamic range is also good, especially across the frequencies, thus allowing you to complete everything here.
The manufacturer of these headphones is known for their reputation of being an experienced manufacturer in this field. Their headphones have been designed especially for use with electronic drum sets.
The best part about these headphones is that premium and rich sounds can be expected without unnecessarily breaking the bank.
Pros
Designed especially for electronic instruments
Natural and premium sounds
Lightweight design
Large scale base
Reliable manufacturer 
Cons 
Lacking advanced features
10. AmazonBasics MHP-1190-01A – Best Affordable Option
Rating: 4.0
The AmazonBasics headphones are the most affordable option in this list. For one, they have been produced by Amazon, a giant in the online retail business. What you can expect from these headphones are basic features.
You have a good pair of headphones, with a basic design. It features 40mm drivers that are cased in black cups. The black cups also swivel to ensure comfort while allowing for one-ear use.
Its adjustable ear cups are connected to a flexible and padded headband. This headband may be extended on either of the sides, thus suiting different sizes of heads.
The package also includes a detachable cable that connects the system to electronic drums. This cable is lengthy enough, almost 10 feet with a 6.3 mm plug.
Pros
Comes with a 1-year warranty
Inexpensive
Non-complicated features 
Cons 
Not so comfortable for long use
How to Choose Good Headphones for Electronic Drums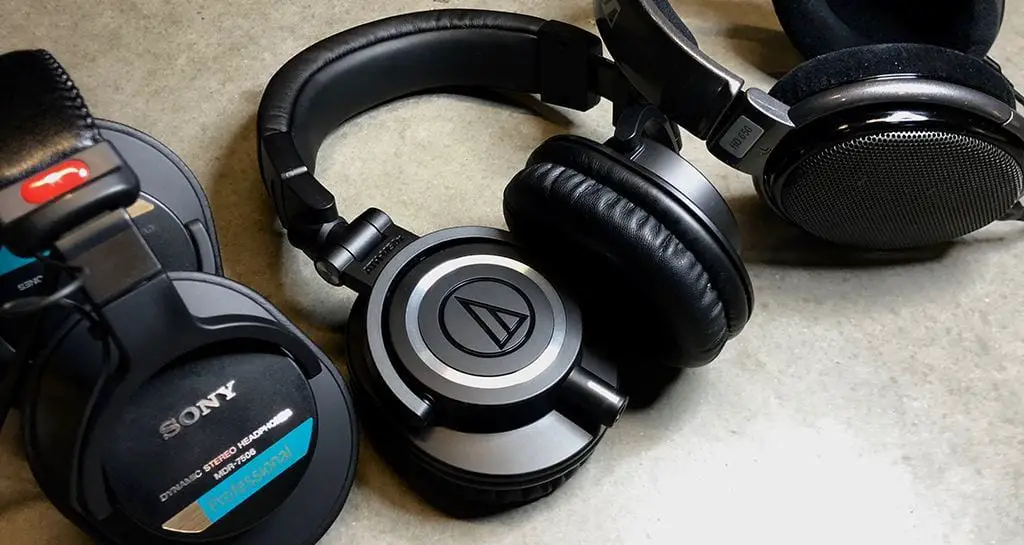 Image URL: https://images.equipboard.com/uploads/post/image/1/xl_best-studio-headphones-for-music-production.jpg
• Features to Look For
Whether you are using a tiny remote control that is located on the audio cable of the headphones, or through its buttons, it is convenient if the headphones come with features that will allow you to control the music easily. This includes buttons to turn on/off the music, listen (play or pause), adjust volume, move from a track to the next one (previous or next), or communicate as you pick up/accept calls.
As a general rule of thumb, it is best to select a pair of headphones that come with a removable cable, usually with a jack connector that is located at every end. This type of connection has the tendency to bend and twist as you use it. When damaged, you simply need to replace this cable, instead of the need for a repair.
• Foldable Headphones
There are a number of advantages to using a foldable pair of headphones. For one, it is easy to limit encumbrance. When the headphones are folded, the bulk and size is less, thus allowing it to be transported and stored pretty much easily. These mechanisms are used to make sure that this happens to depend according to the manufacturer.
Some models of headphones feature a carrying case, with a size that is adapted to the shape and size of headphones. The purpose of these cases is to provide protection against shock that results from accidental falls and bumps. This element is very important to consider, especially if you had to pay a huge amount for it.
Foldable headphones typically come with ear cushions that are made out of foam, covered with either synthetic material, fabric, or leather. The bearings can become dirty through time, which means that they are susceptible to wear and tear. A pair of headphones that come with removable pads make it easier for you to replace them easily.
Goo headphones usually come with multiple pairs of differently sized ear tips. This is to make sure there is one that will fit your ears. You may also have the option to purchase tips separately, with the goal of optimizing comfort and sound insulation.
• Better Wired Sound
For most users and experts in this aspect, the wired sound is often superior to the sound that is produced by wireless, Bluetooth connected headphones. Wireless models cannot come up with a "Hi-Res" signal, thus being vulnerable to interference. This means that if you see the "Hi-Res" description on the label of headphones, most likely it is not Bluetooth at all.
• Sound Fidelity
Most of the time, price is the determining factor when making a selection. However, it is advisable not just to focus on it, since there are other features that need to be given attention to. For example, it is best to get an earpiece which ensures that the sound is accurate and high quality.
Regardless of your location, whether you are on the subway, on the bus, or on a bike enjoying a ride, you definitely need a good pair of headphones that will reproduce sounds that are accurately represented, most particularly treble and bass sounds.
Taking this into consideration, it is often best to choose in-ear headphones that produce a low-pitched sound. The design of these models fits right into the ear canal, thus blocking external noise effectively. It also offers the impression of having your own world, not worrying about any noise from the outside world.
• Ability to Make Calls with Headphones
With the advancements of technology, particularly with mobile phones, it is now possible for you to listen to music using your smartphone. It is best to check whether or not it is possible to make calls using your headphones. Otherwise, it would be very burdensome to always remove the headphones every time you need to receive a call, and plug again to continue with your enjoyment.
FAQs to Cover
1. Are electronic drums quiet?
They are not necessarily quiet because they are designed to produce sounds. However, their pads are quieter, though it still depends on the kit that you are playing. Some models, such as the ones from Roland, are the quietest available these days.
2. What are the best headphones for drummers?
Determining the best headphones for drummers depend on some factors, including the budget and preferences. The ones listed above are basically the best options out there.
3. What are the best isolating headphones?
From the list above, there is a lot of noise-isolating headphones to choose from. Among the most popular options include the Beyerdynamic DT 770M 80 Ohms headphones.
4. Can you hear electronic drums without headphones?
Yes, you can. However, you will only be able to appreciate the real quality of the sound by using headphones.
Conclusion
The list mentioned above contains some of the options on the best headphones for electronic drums. When it comes to using electric drums, it is very important that you get a pair of headphones that are not just convenient, but also comfortable. After all, drumming is a physical activity, which means that you may be prone to sweating. It could become uncomfortable for you if the headphones are poorly constructed and designed, as they may become uncomfortable. As a general rule, it is best to ensure that the cups entirely cover your ears, as it becomes easier to wear and comfortable even if you have to be wearing them for a long period of time as you play your drums.