Source: YouTube.com
The best thing about playing with the ukulele is that it can do what other instruments can't. With this little stuff, it can instantly change the vibe in the room. People prefer ukulele because they feel at ease when stressed and they can simply play it when feeling down without playing it loud.
You only have to know a few basic chords to enjoy these benefits with the ukulele. But you should also know that enhancing your ukulele skills can be quite challenging. You need to spend more time if you want to learn it well. However, there are simple chords you can use as a guide to playing some good songs, especially for beginners. 
Here is a simple list and guide of the best chords ukulele songs of 2020:
1. All of Me by John Legend
One of the popular songs that may be in a list of people at different age levels is All of Me by John Legend. He is not only known for his amazing singing voice, but he is also great at arranging and writing songs.
This song may not be the best for beginners in learning chords for ukulele songs. However, the technique is to appreciate its verse and pay attention to the decent progression of the chords. Then, you will find yourself playing it well.
Aim to learn the first chorus. Then, you will get into strumming patterns, giving this song a great energy boost. Try to hit its notes correctly, so that you will not have problems with the vocals. When it comes to the chorus, it may not be too easy since there are high notes. On the other hand, you do not have to sing these high notes. Just sing them in lower notes if these work better.
2. I'm Yours by Jason Mraz
If you prefer a modern piece, the song 'I'm Yours' sung by Jason Mraz can be one of your favorites. This song is quite simple and it will show that you do not have to be one of the technical prodigies to play a good song on the ukulele.
The singer himself, Jason Mraz, wants to keep things basic and that reflects on this song that uses mainstream standards. Yet, it still has some special vibes to it. The song's chord progression resembles some modern pop songs.
Another great thing about Jason Mraz's 'I'm Yours' is that it is perfect for a sing-along. If you want to enhance your singing skills while learning ukulele at the same time, it is one of the best songs to achieve your goal.
3. The A-Team by Ed Sheeran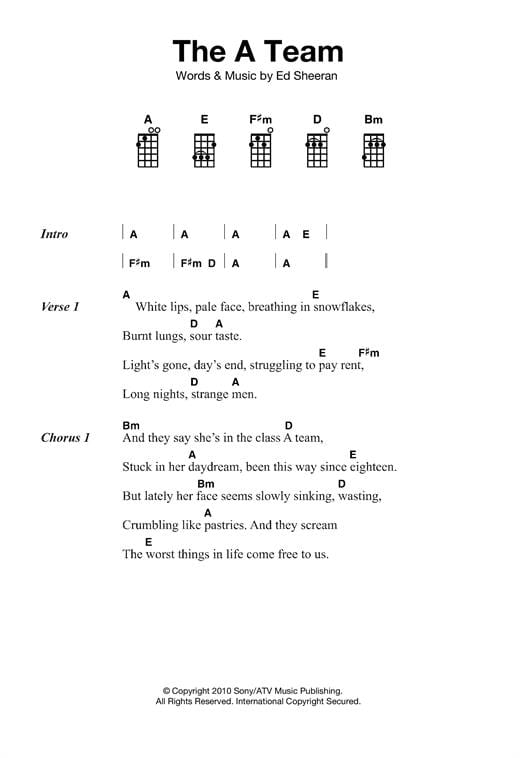 Source: Score Exchange
Ed Sheeran is one of the most renowned artists in the century.  He shares his powerful stories to millions of people across the globe. His song 'The A-Team' has more chords compared with other typical songs. This may be scary for beginners but surely not when they start working on the chords.
The good part of learning the chords of the song The A-Team is that it is easy to control. You can make it simple or complicated if you want to. It is perfect for those who love freestyle. With this song, you can spice up the strumming pattern. If you want to keep it simple, you may stick with the standard strumming patterns of the ukulele.
4. Hey, Soul Sister by Train
Learn to play a happy song with your ukulele instrument with 'Hey, Soul Sister' by Train. It is also one of the most played songs on the ukulele. You do not need to have special skills to play this song well since it has a basic strumming pattern.
Furthermore, the chords and progressions are both easy. The only challenging part is when singing the tune while strumming the ukulele. Originally, the lyrics have high tones but it is not the same when playing it with this instrument. You can play with the chords and stay focused on making a good tune.
5. Blank Space by Taylor Swift
Who would have thought that the song Blank Space by the famous singer Taylor Swift will be popular in the ukulele's best song? Indeed, Taylor Swift will always be the best one to turn a simple chord progression into an awesome catchy song.
Blank Space is perfect to play on ukulele for beginners. Nowadays, it is one of the most played songs among the young ones. It also has a happy tune making it is often chosen to play alone or with a group. However, your way of singing this song will determine if you want a cool vibe or a bit blue. Whatever emotion you want to infuse in this song, you will surely produce great sounds. If you want to play around a bit, you can focus on the strumming patterns.
Many people who cover 'Blank Space' by playing the ukulele instrument have used the standard strumming patterns. Some say that this song is like a blank canvass where you can make your artwork.
6. Creep by RadioHead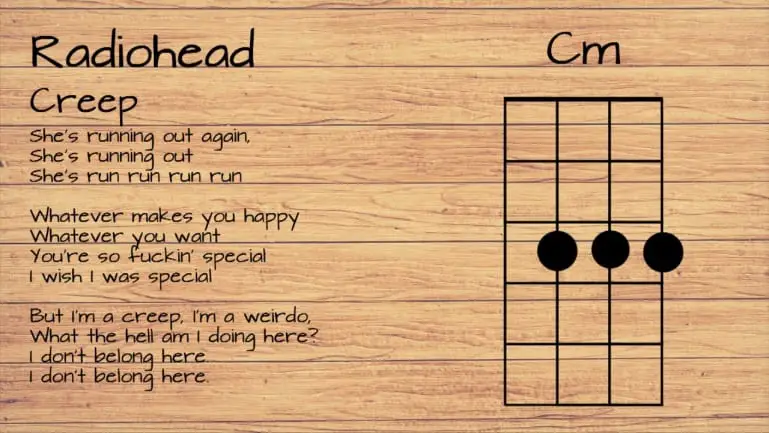 Source: YouTube.com
From the time you hear this song play for the first time, you will think that this is perfect for ukulele. Although it has a bit tricky chord progression and quite challenging to sing along to, you will surely fall for this song.
Creep by Radiohead lets you make your tune when played in the ukulele. There may be a specific pattern to follow, but you do not need to if you do not want to do so. Make this song a big livelier by raising the tonality. Take this song to the next level by working on its intro chords.
7. Hello by Adele
This song is one of the greatest hits from the time it has been heard by millions all over the world. And soon enough, it has been a favorite choice among ukulele lovers. 'Hello' by Adele never let them down as they get impressive results when played in their little ukulele instruments.
Adele's powerful vocals give this song its momentum and power. Thus, it can be played on different instruments including ukuleles. Moreover, this has straightforward strumming patterns making it so easy to learn.
You can figure out how you are going to accentuate its strumming. Others prefer it faster to achieve a pop feel, while some want it slowly to produce nice ballad music. What most people love about this song is that they still obtain great sound regardless of how they sing it.
Whether it is your first time or you played it for a couple of times, you can still come up with an amazing tune. Just take it slowly and learn the basic chord progression for the best results.
8. Can't Help Falling in Love by Elvis Presley
If you want to try a classic music, you can go for Elvis Presley's 'Can't Help Falling in Love'. This song perfectly suits those who love challenges when learning to play the ukulele. There are various ways to play this song on ukulele making it so interesting.
You can just play the basics of chord progression. You may also spice it up by adding subtle details for a beautiful mix. Another good thing about this Elvis Presley song is that there are several ways to learn with it.
Some experts recommend starting with its chords and choosing simple strumming patterns. Once you are comfortable with the rhythm and chord progression, you can make slight changes in the strumming pattern.
You can practice singing along while dropping in some licks as a final step. This piece is an ideal tune to play around a campfire. This song never gets old.
9. Hallelujah by Leonard Cohen
It does not matter whether you are regularly going to church or not. You can still listen to a wonderful religious song by playing this in your ukulele instrument. This is another classic song known by many people worldwide. Over the years, there have been several covers or versions made. Still, 'Hallelujah' original song stands out.
Some people consider playing this song on the ukulele that it can take away the meaning and true energy of the song. However, this belief is wrong. For most ukulele enthusiasts, they agree that this song can give a vibe that you will not be able to mimic with other musical instruments.
The sound produced by ukulele when playing 'Hallelujah' can make the song itself so angelic. This touches the soul that not all instruments can do, especially when paired with awesome vocals. It will certainly make Leonard Cohen's fans appreciate you.
As a beginner, you can focus on two things – the song rhythm and accentuating the chords. The first part of this song is too soft and slow. However, it intensifies as you progress to other parts of this song.
Some beginners find it a bit tricky to rehearse because the volume follows a linear fashion. This makes 'Hallelujah' unique and soothing. It is not easy to raise the volume in a linear style. You need to spend time practicing the chords to get this right.
You might hesitate or doubt when you do it for the first time. You must be patient with learning and practicing the chords and strumming patterns. Gradually, you will realize where you must increase the intensity or stay low.
Never be discouraged. Keep practicing until you develop this skill. The best part of it is that once you have learned how to play 'Hallelujah' by Leonard Cohen on your ukulele, it will be easier to learn other chords that have tricky patterns.
10. Trouble by Never Shout Never
If you are looking for the easiest and simplest song to practice playing the ukulele, this is what you need. Trouble by Never Shout Never is made of simple strumming patterns and chords you can ever play.
Being too easy to play does not mean that there is nothing so interesting to know about playing this song on the ukulele. What makes it challenging is on the part of playing and singing at the same time.
There will be many changes in this piece that can surprise you if you are not prepared for them. One of these changes is on the tempo which does not usually go with its rhythm. It is indeed difficult to keep up with such changes while you sing and play. However, it will be so gratifying as soon as you figure out how to do so.
Get the best results by starting it slow. Stick with the fundamentals and do not ignore the smallest details just because you know it has simple patterns and chords. The intro part is one chord that is played 4 times for each bar. In the latter part of this song, single chords will become more sophisticated considering the strumming patterns.
Ukulele experts suggest focusing on perfecting the song rhythm first. Then, you can begin singing. Prepare yourself for a learning period that may take up to a couple of weeks. You should also know that it will test your vocal capability.
Do not underestimate this song simply because it is said to have simple chords and easy strumming patterns. You must pay attention to the smallest parts because they will make you learn this song play on the ukulele perfectly.
Final Thoughts
This time, you can practice playing ukulele with these songs as they work well with beginners and experienced. This list presents a combination of modern and some old school classics. The goal is to offer you a great mix of the new and the old. At the same time, you will realize what may be possible with this little powerful instrument. Play these songs on the ukulele while coming out of your comfort zone. You will soon discover how you progress in learning this skill. Continue to look for more tips from experts before you start with your ukulele playing lesson.