If you had lived in the age when metal was at its peak, then you would have encountered the likes of Metallica, Black Sabbath, Megadeth, and Iron Maiden. Many of these rock bands have access to great guitars with high-quality strings that give them their signature metal sound. The sheer heaviness of the music is what differentiates heavy metal from the rest of the genre. This is in part due to the way electric guitars are being played as well as its components. The guitar work in rock is the use of a few chords that are being played over and over, while metal is usually more about the riffs than the chords.
Apart from its signature focus on war, violence, and death, heavy metal music features heavy use of the electric guitar. The electric guitar offers a lot more playability as well as enables the guitarist to deliver blazing solos. This is why getting a good metal guitar is very important.
A good electric guitar for heavy metal is one of the most significant aspects of performance. Nevertheless, it is also equally important to have the highest quality of guitar strings for your metal guitar. The reasons are pretty obvious, knowing that there is heavy use of the electric guitar when playing heavy metal music. If you do not have the right set of guitar strings, then you might end up either getting a bad performance or worse, breaking the strings.
It is very important to note that choosing the right guitar strings depends on the quality of the string itself. Old strings cause tuning problems, and low-quality strings can further deteriorate the integrity of the strings.
Here are the top 5 highly recommended guitar strings for metal: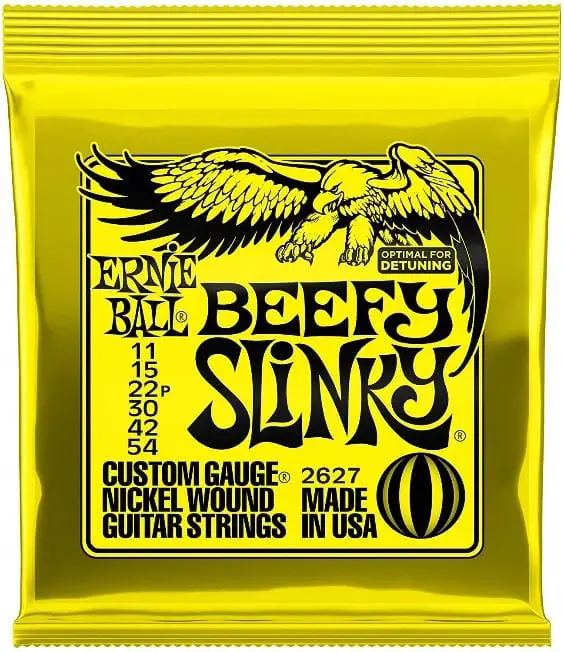 Since 1962, Ernie Ball has been a staple when it comes to making guitar strings. World-famous musicians such as The Rolling Stones, Slash, and Eric Clapton use Ernie Ball. The Beefy Slunk set consists of nickel-plated steel covered in tin-plated carbon steel core that offers a more balanced tone. This is highly complementary to different types of guitars, as well as a different genre.
The .011-.054 gauge is a favorite amongst many guitarists due to the chunky rhythm and sound that it produces. While it remains to be one of the most challenging strings to play, imagine how satisfying it must feel to be able to rise to the challenge. This extremely well built set of strings may be thick, but the nickel winding produces high-quality sounds that enhance the dark sounds from playing metal. You will surely be spending the next few weeks and months enjoying the challenge of these strings.
Our Conclusion:
These strings are highly recommended for those who want to play heavy rhythm or those who play the lead guitar. The quality materials that make up the strings have become a standard making Ernie Ball one of the pioneers of the industry when it comes to producing good strings for metal.
Pros:
A good set of strings with great quality
Perfect for beginners
Balanced sounds
Cons:
Seasoned users might feel the strings are too thin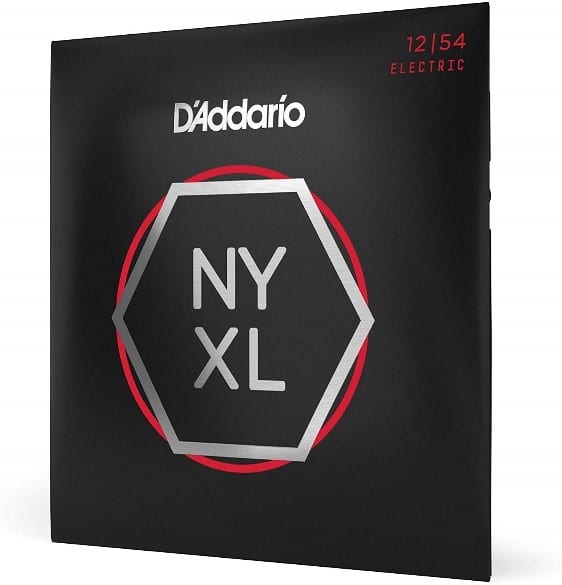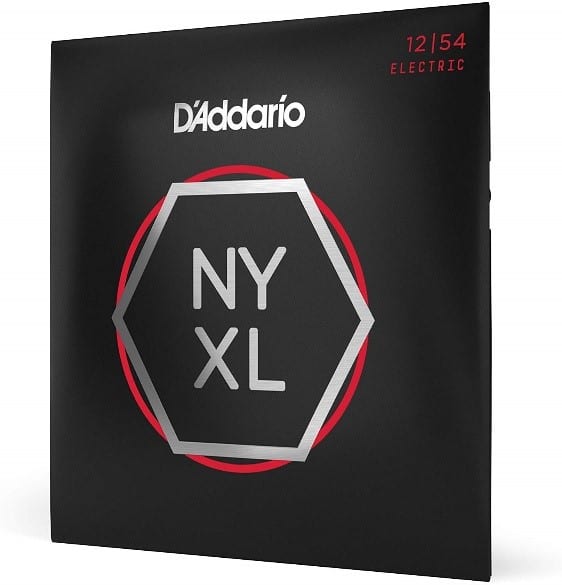 One of the oldest string manufacturers in the world, D'Addario, has had an impressive track record in creating the finest guitar strings suited for a different genre. One of the best that is specifically geared towards metal is the D'Addario NYXL1254. This heavy gauge set has beefy strings. These heavy-duty strings produce high-quality sounds.
The strings are made of high-carbon steel core and plain steel alloy. You can expect to be always in tune with the improve tuning stability that these strings were made for.
One of the best reasons why you should be picking the D'Addario NYXL1254 out of anything else is its durability. Moisture can do a lot of damage to guitar strings; however, corrosion can be delayed with the help of high-quality material. The corrosion-resistant packaging also helps keep the quality of the strings intact. While the strings may be a bit on the higher price range, it is worth noting that the high quality sounds that these strings bring is still topnotch.
Our Conclusion:
Looking for heavy-duty strings that you can rely on? Then the D'Addario NYXL1254 should be your top choice.
Pros:
Durable
Heavy Duty
Made of quality materials
Cons: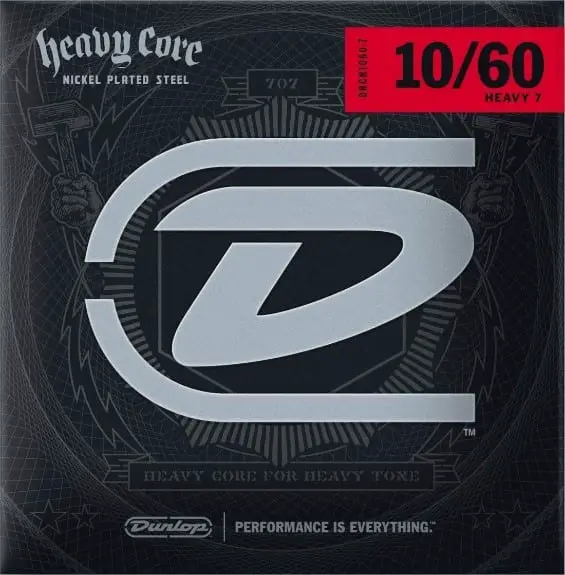 Jim Dunlop is one of the few engineers that we can perfect the creation of guitar strings specifically made for metal music. Dunlop was founded in 1965 and became one of the leading brands that developed guitar strings that are still beloved by many musicians up to this day.
All 7 strings within this set are made with quality materials, thus enabling the production of good sound. The Heavy Core strings have a much smoother feel; thus, it is much easier to produce the quality sound. While the quality of the sound is something to brag about, guitarists should learn how to take good care of these strings as they are quite fragile, and they easily lose their tone. If you are an aggressive player, you might want to find another set of strings.
Our Conclusion:
If you want smooth strings with good sound quality, these are the absolute choice barring that you do not mind changing the strings ever so often.
Pros:
Very affordable
Smoother feel
High-quality sound
Cons:
Aggressive play can degrade the strings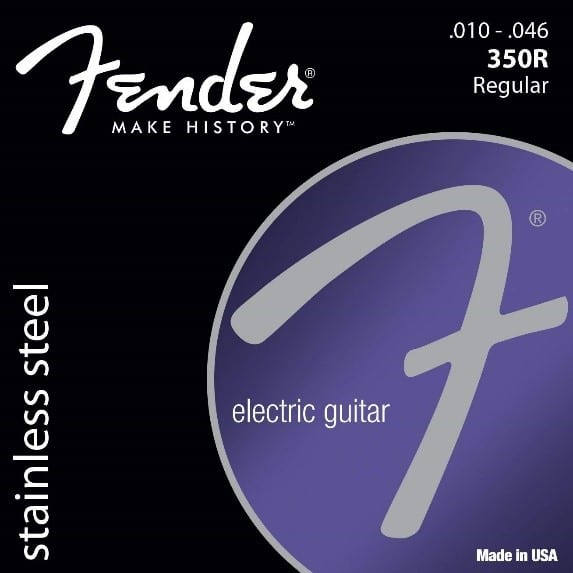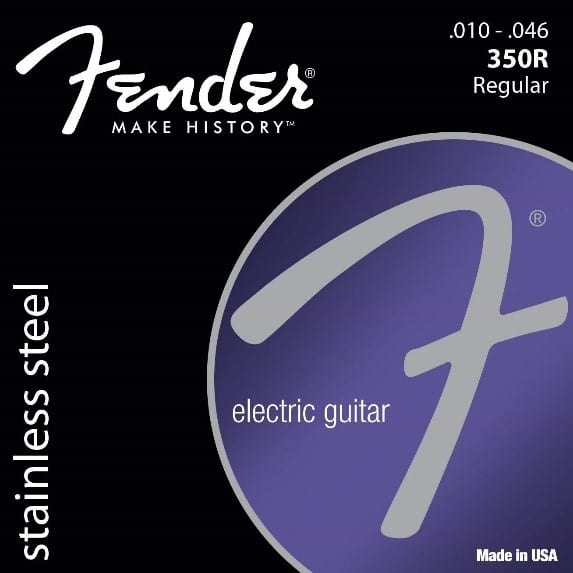 Fender goes way back to 1946 and has been the go-to producer of great instrumentals for world-class musicians. For heavier styles of music such as metal, the Fender Stainless Steel 350's is a great choice. The pure stainless steel wrap makes for great resistance to moisture, sweat, and acid for a long time.
The strings are highly compatible with dark sounding wood like mahogany. The thicker gauge allows for a more low-end frequency response and a richer tone. It is worth noting string tension has a lot of effect on how the guitar is tuned. Thankfully, the strings offer a balanced tension that is not light enough to cause stability issues while it is not tense enough to create issues with the notes.
Our Conclusion:
If you want a smoother feel for your strings without having to deal with tension, the Fender Stainless Steel 350's is a great set to choose. It sounds great and plays well.
Pros:
Great sounding strings
Made of high-quality materials
Easy on the fingers
Great packaging
Cons:
It does not last long
Gets stale after some time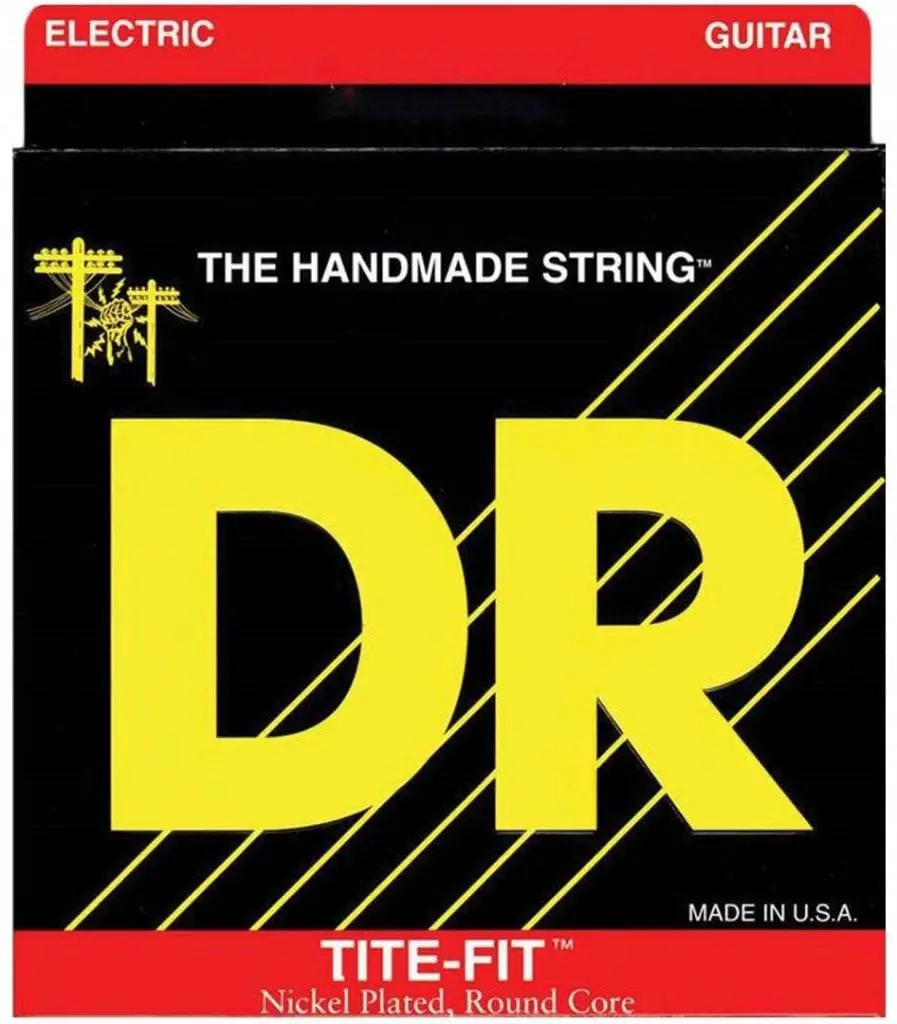 DR Strings is fairly new to the competition; however, it has already provided us with an impressive number of sets that have also been used by many big named metal bands and guitarists all over the world. The company has always been committed to creating visually appealing strings, whether they are neon-colored or black coated strings.
The 11-50 is a great addition to this list of highly recommended guitar strings. While it is not thicker as the ones on this list, it compensates by having full sounds that are rare in this range. Another great feature is its durability. The heavy-duty strings last twice as long as other strings in this list.
Our Conclusion:
An affordable set of strings that is recommended for beginners due to its medium-range gauge. The flexibility also allows guitarists to explore different genres outside of metal.
Pros:
Very durable, long-lasting
Affordable
Flexible
Cons:
The brightness of the strings might not be for everyone
Buying Guide: Choosing The Right Metal Guitar Strings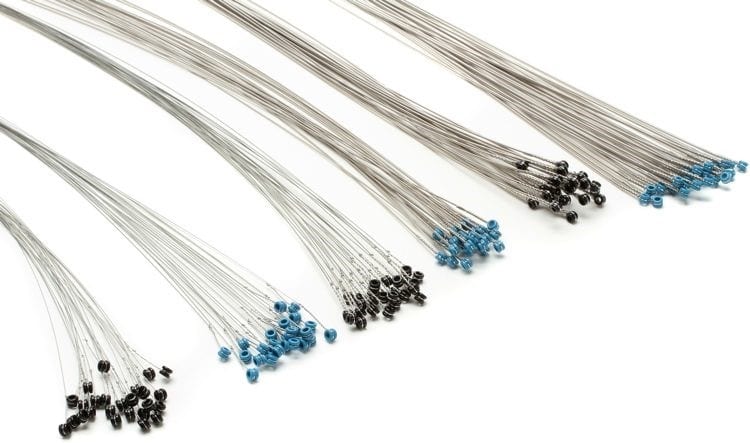 When you think about metal guitar, you would need to have durable guitar strings so that you won't have to worry about your performance. There are a lot of different types of guitar strings, but only a few are considered the right ones for your metal guitar.
Out of the gate, you would want to have heavy strings. The thickness of these strings allow for a more excellent volume and sustain. They are also very durable, and they make playing aggressively a lot easier. However, there is still a downside to having heavy strings. They are typically difficult to play with, as it takes a lot of effort and pressure just to fret the note or strum the guitar.
Choosing to have heavy strings can also be detrimental, especially if you are just a beginner. This is the reason why hybrid strings are usually chosen for both beginners and the more advanced guitarists. You can leave the heavy strings for the superstars. Hybrid strings have a varied gauge; thus, it makes soloing very easy.
The combination of heavy bass strings and lighter trebles allows for a more thicker low-end tone while still maintaining the ease of play for beginners. The best way to introduce playing a metal guitar to a beginner to have hybrid strings so that it would be much easier to play.
Another key factor worth noting when purchasing for guitar strings for metal is the core. The usual guitar string core is made of steel. Round cores offer a balanced and flexible tone while hex cores, which are more common, give a more consistent sound. The materials that make up the strings should also be considered. Nickel/steel allows strings to have a more subtle sound, with steel having a brighter tone to it.
As part of your learning experience in playing the metal guitar, one should also learn when to change your strings. You will need to change your strings when the old strings begin to sound bad. You will notice if the strings are getting difficult to get in tune; hence this should be the right time to change your strings to new ones.
Moisture is the number one enemy of guitar strings. Moisture in guitar strings later develops into rust. Rust slowly erodes the strings; thus, they slowly lose their tone and become difficult to tune and play. Wiping your strings before and after you play the guitar can prevent moisture from your strings. Washing your hands and drying them before playing also prevents rust from forming, thereby prolonging the lifespan of the guitar strings.
Aside from taking care of your guitar strings, you would have to change strings once every 3 months, but if you are taking good care of your metal strings, then this can extend to several more months. This is the reason why taking care of your strings matter. Not only that, but choosing the best metal strings is also significant as it dictates the materials being used to make the strings.
Lastly, a factor that everyone should not overlook is the price. Many of us think that price should determine how we purchase a product, and the same principle is applied when purchasing guitar strings. Price is a determining factor, especially if the product is already known to have high quality. If you can come across a set that offers great features and has a very affordable price, then you might have hit a very good bargain. Those who are still in dilemma whether the price should trump quality, it still depends if you are willing to shell out of a few bucks for a quality product that you can always find in some other brand. Needless to say, it still all boils down to preference.
Conclusion
Now that you know what to do in choosing the best guitar strings for metal, it is now up to you which of the highly recommended brands we have presented works best for you. It will still depend on the gauge, material, and coatings, as well as your playstyle. It is always best to try an experiment to see which one fits well into your playstyle. Soon, you will find the best string that will help you reach the perfect performance.
If you are a beginner and you want to learn more about guitar strings, then this guide should help you make a sound decision without compromising quality and your money.