Say you want to learn to play the guitar and bought yourself one. The store attendant would instantly say that you will also need a capo, but you do not know what it is and what it is for. You ask yourself why would you ever need a capo when playing the guitar is only done by strumming your fingers on the instrument. Little did you know that capo plays a significant part in playing the guitar.
A capo is a device that holds down the fingerboards on a specific part or fret of the guitar. Capo is used to increase the pitch or change the key of the guitar to make it suitable for your voice.
Most singers or musicians often rely on capos if they want to cover or sing a song that is usually a key above or below their voice. This is especially significant for male musicians who want to cover a song sang by a female. This also helps change the key without having to learn new chords as what you would do if you want to cover a song from another artist.
Other times, the capo is used to enhance the tone of the guitar. The brighter sound it makes elevates the sound that the guitar produces. For example, if you have two guitarists playing the same song, one would play without a capo, and the other can play one using the device. The stark difference in timbre between the two guitars is noticeable and enhances the overall tone of the song.
How To Choose a Good Guitar Capo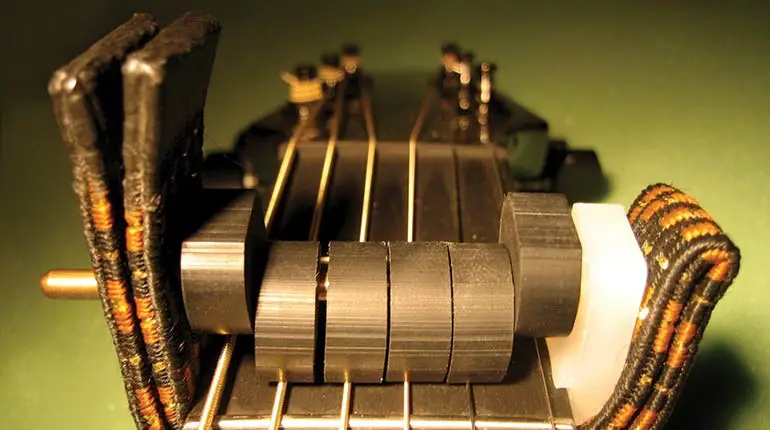 A capo must be able to properly distribute pressure along the chosen great. This prevents any strings from playing out of tune. In choosing a good guitar capo, it is best to take the guitar with you when shopping. You can experiment with different tunes with the capo, so you will know which ones fit for you.
There are different types of capos, but before choosing one, you should know if your fretboard is either flat or round. Picking the right guitar capo will depend on the shape of your fretboard. Picking a capo that fits both flat and curve-shaped fretboards so that it can clamp down the necessary strings evenly. Most modern capos today include:
Clutch – This capo simply clamps onto the fret. It is one of the most common types of guitar capo. They can be easily adjusted with one hand, and adjustments are made in tiny increments. However, they tend to be expensive than other types.
Lever – This type of capo uses a spring mechanism to hold the strings in place. The device can be easily removed in one hand; however, too much pressure in the spring mechanism may put too much strength and may induce the strings to be out of tune.
Partial Capo – Partial capos are capos designed to cover a portion of the strings. This allows the guitar player to play with some strings open while others are being clamped. One can even add another partial capo on another fret to enhance the sound.
A good guitar capo will not bend the strings when it clamps the fret. Always make sure to tune your guitar after putting the capo on to make sure that it gets the right key. A good capo also does not touch the rest of the guitar, aside from the strings unless you want your guitar to be scratched.
Now that you know the different types of guitar capos and how it works, here are some of our top recommendations:
1. GUITARX X3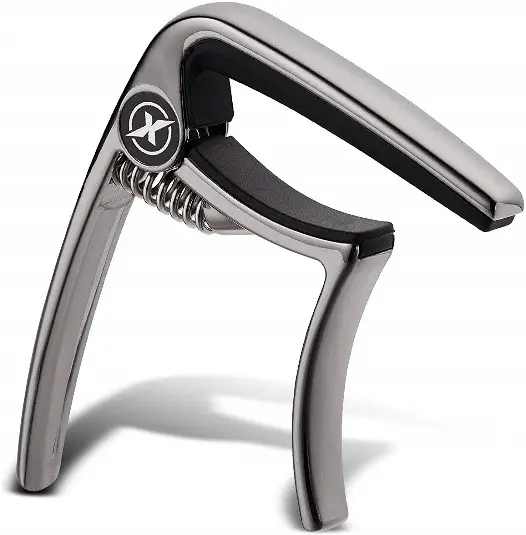 One of the most highly recommended guitar capo today is GuitarX X3. This guitar capo is made of zinc alloy that makes it lightweight. The chrome finish fits well with the fretboard making sleek to look at. This guitar capo also falls under the affordable side, making it a very popular choice for guitarists everywhere.
The steel spring has an internal memory that provides a good amount of tension to put pressure on the strings. The memory steel spring is the star of this capo as it will remain on such grip unless you change it; therefore, you will not have to worry about it suddenly changing its grip.
Our Conclusion: One of the most popular and sought after guitar capo due to its reputation for being affordable and durable at the same time. No wonder it remains the topmost recommended guitar capos today.
Pros:
Affordable
Memory steel spring has a tight grip
Made of durable zinc alloy
Lightweight
Cons:
Not suitable for thick fretboards
2. Nordic Essentials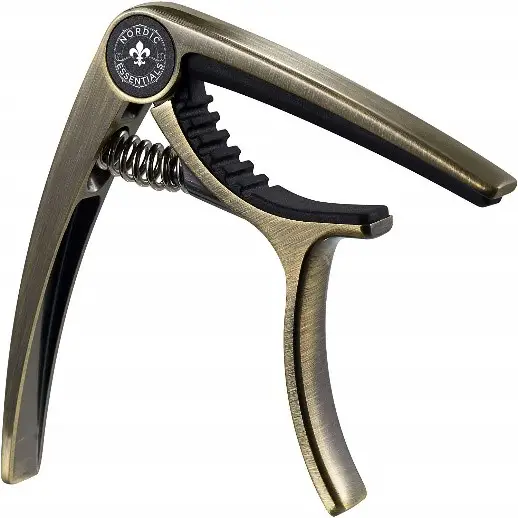 The Nordic Essentials capo is a very versatile device. It can be used on acoustic guitars, electric guitars, bass guitars, and even the mandolin. It also offers different colors that will suit the color of your guitar. Made of durable high-grade zinc alloy, the capo excels as one of the long-lasting guitar capos in the market.
The package comes with a guitar capo, a carry pouch, and an instruction manual for beginners. The best part with the Nordic Essentials is its lifetime warranty. The small capo fits easily in any side pouch of your bag that is perfect for storage while you are on the road or tour.
Our Conclusion: If you play more than one string instrument, then this should be your go-to capo for all instruments. Tough, sturdy, and stylish all at the same time.
Pros:
Durable
Very versatile
Lifetime warranty
Cons:
3. Kyser Quick-Change Capo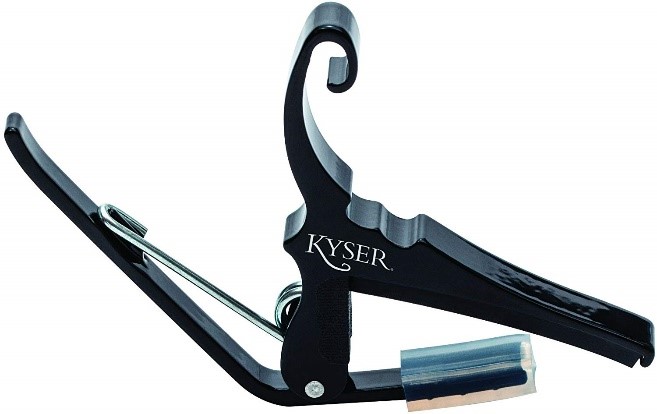 The Kyser Quick-Change Capo is a handmade product that is made from high-quality materials such as lightweight aluminum. The tight pressure of the steel spring ensures that no string is out of tune. It is currently available with a wide variety of colors and is being with a lifetime warranty.
Kyser prides itself on this product being able to transpose guitars in a matter of seconds without even using another hand. The simplicity that this capo offers while having a sleek design is unparalleled. Unlike other capos, this one can be parked at the headstock when it is not being used. This way, you can simply grab it when it's time to use the capo.
Our Conclusion: One glance, and you already know that this is a high standard and classy guitar capo made for convenience and elegance.
Pros:
Easy to use
Lightweight
Very convenient
Cons:
A bit expensive than most capos on this list
4. Shubb Deluxe Series GC-30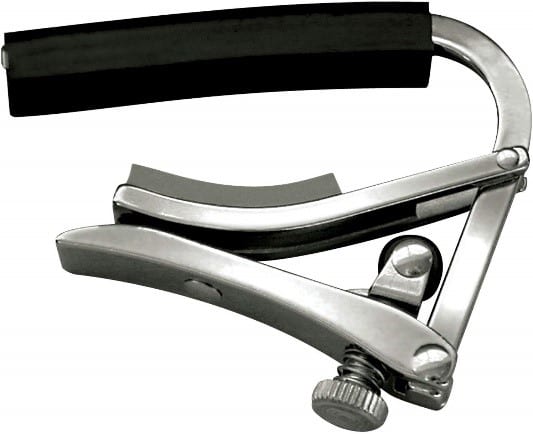 Shubb Delux GC-30 is one of the most distinct guitar capos in the market. The unique design is one of its trademarks and brings a very ergonomic approach to playing the guitar. You will never have to worry about the capo interfering with how you play. The custom-made rubber provides equal amounts of pressure to the strings, so you will never be out of tune.
Using the capo is very simple as well. All you need to do is lock and unlock for quick release. The durable material makes it a decent guitar capo, and the thin design makes it almost invisible to the player.
Our Conclusion: A unique design makes this capo very recognizable and marketable; however, it is its durable material and how it can hold down the strings with equal pressure that makes this product a cut above the rest.
Pros:
Made of durable material
Unique design
Adjustable tension
Cons:
Not good for a quick change
Certain types of guitars will not fit
5. Original 6-String Acoustic Capo by Paige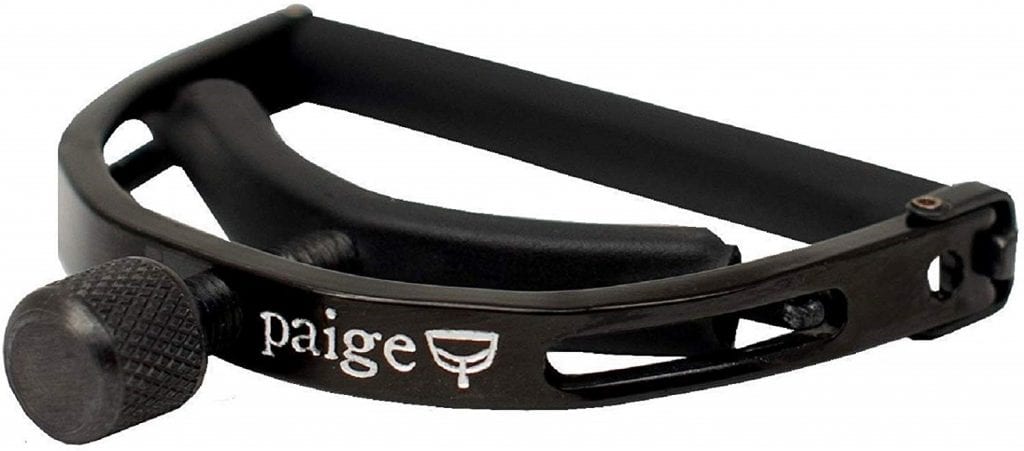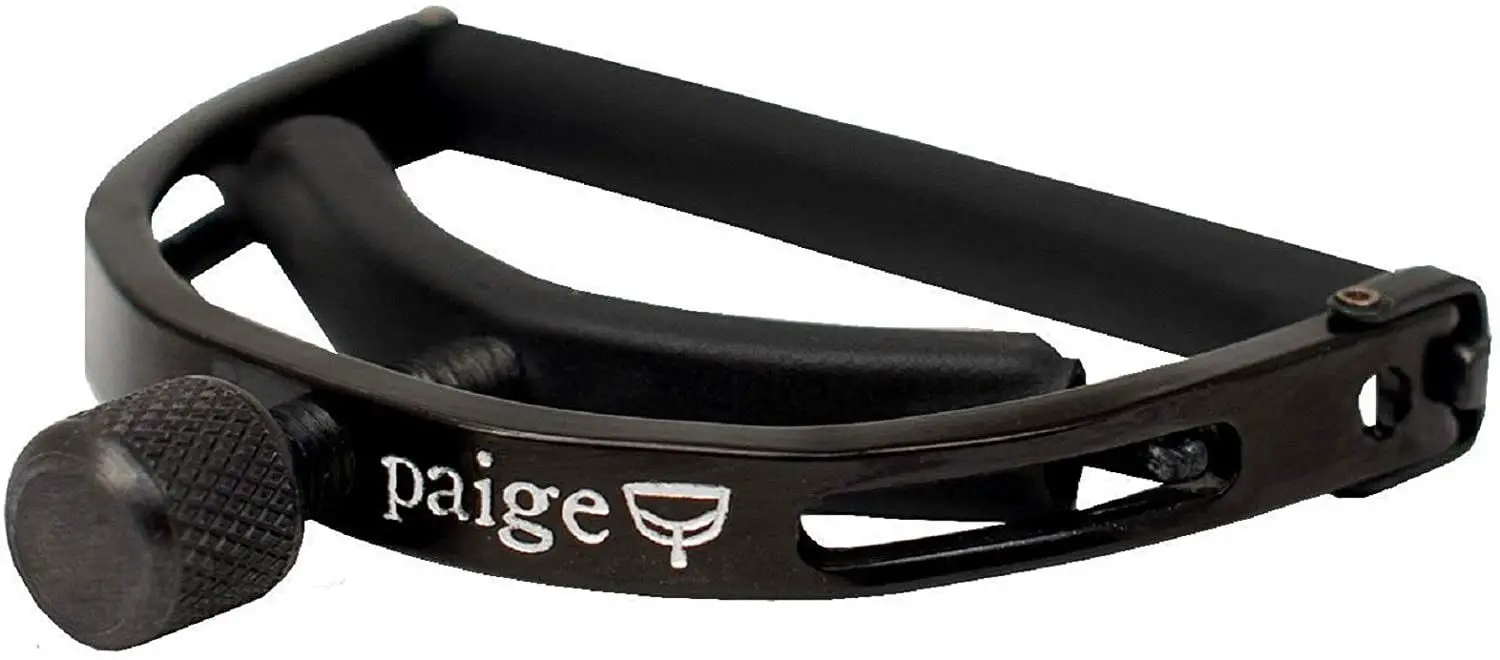 Looks can be deceiving with this guitar capo. While it may look intimidating at first as if it is some kind of contraption, the P6E offers good design and control over the fret. The adjustable screw located at the center ensures that the strings have evenly distributed pressure. This way, you will never experience any tuning issues.
The 90-degree orientation of this capo means that you will always have a buzz-free play with your guitar. The only downside is that this capo might be for every guitar, and they do take a bit more time to install.
Our Conclusion: By setting the right amount of pressure with the help of the P6E Guitar capo, you are assured that your strings are always in tune. No more buzz.
Pros:
Made of high-grade materials
Lightweight
Even distribution of pressure
Good design
Cons:
Not versatile enough
It takes time to install
6. Dealgrinder GP004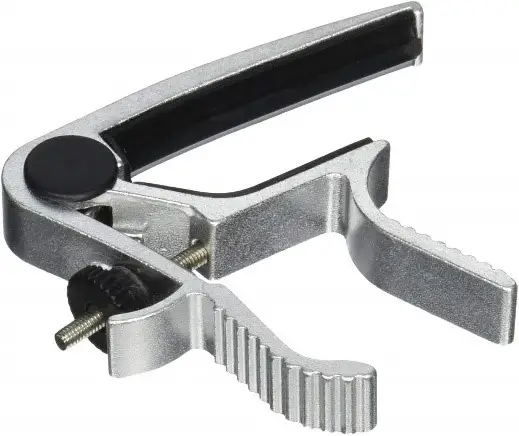 If you are looking for a cheap and quick replacement for your broken capo, then the GP004 from Dealgrinder should do the job well. The device is commonly used for acoustic and electric guitar. The capo also has a spring-action grip that allows for quick changes.
The padding ensures that all the strings have evenly distributed pressure and avoid slipping from your fretboard. It holds the strings very well, considering the price tag. The solid metal build is quite sturdy, and the silver finish makes it an admirable capo even for its very low price.
Our Conclusion: Commonly offered as a quick fix for those who have broken capos, this cheap device is not to be underestimated.
Pros:
Very affordable
Durable
Versatile
Cons:
People might think that due to its price tag, the quality is also cheap
7. Donner DC-2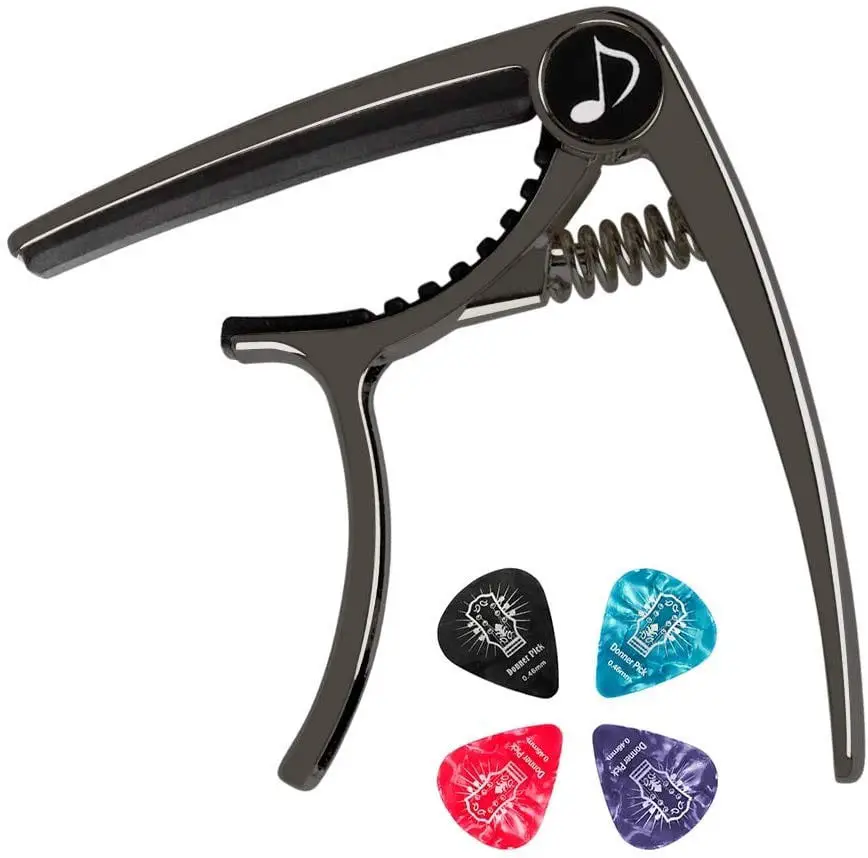 Another affordable guitar capo that fills the checklist when it comes to quality, price, and purpose. The capo is built with lightweight aircraft grade zinc alloy. It fits in almost all types of string instruments, including the popular electric and acoustic guitars. The high-quality silicone pad protects the instrument from scratches and holds it in place.
Once you place it on hold, the capo positions tightly around the fretboard. You will never have to worry about any buzz or any string that is out of tune. The memory steel spring also provides resistance and provides enough pressure for each type of guitar.
Our Conclusion: This affordable guitar capo does everything well, making the Donner DC-2 a well-rounded device.
Pros:
High functionality considering its price
Affordable
Sturdy material
Cons:
Color easily deteriorates over time
No lifetime warranty
8. KLIQ Guitar Capo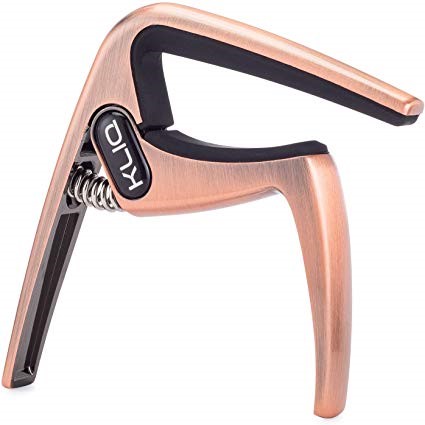 KLIQ offers a very sleek and smooth design with its guitar capos. You have three color options, which are black chrome, satin silver, and brushed bronze. The capo was created with convenience in mind as it allows for faster key changes while on stage. The clamping action also makes it very easy to move with just one hand. You can also place it on the headstock if you are not using it.
The spring is calibrated to put the exact pressure for each string, which means that there will be no fret buzz, and players should expect everything to be in good tune. Made up of aircraft grade zinc alloy, this guitar capo also offers a lifetime warranty. The capo comes with a case for storage, so you won't have to worry about losing it.
Our Conclusion: The unique and sleek design makes KLIQ a one of a kind capo.
Pros:
Well-rounded design
Calibrated spring
Smooth clamping
Lifetime warranty
Cons:
A bit heavy for the guitar
An inconsistent performance, especially around the 6th fret
9. Dunlop 83CB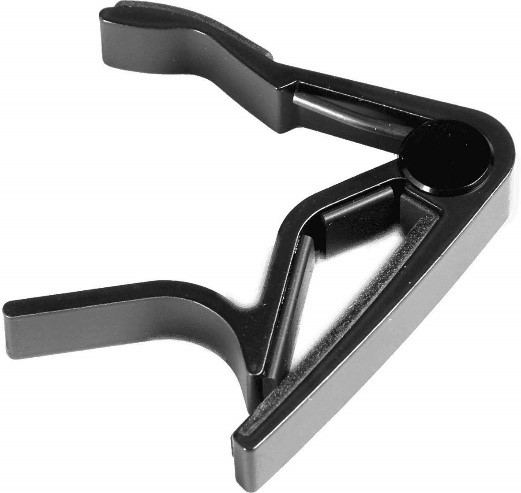 With five colors to choose from, the Dunlop 83CB is ergonomically shaped for proper fret positioning. It is made of high-grade aluminum, making it one of the lightest in the market. It is specially made to accommodate different types of guitar but fits well with 6 and 12 string guitars.
Changing keys is easy to do with just a simple squeeze. The clamp keeps the capo in place while you play without having to worry about interference from the device. The capo has special padding that makes it resistant to scratches.
Our Conclusion: If you are constantly in need of changing the key while you play, then the Dunlop 83CB should be your partner. The simplicity and convenience it brings are unrivaled.
Pros:
Lightweight
Padding keeps things tight
Simple to use
Cons:
10. Planet Waves NS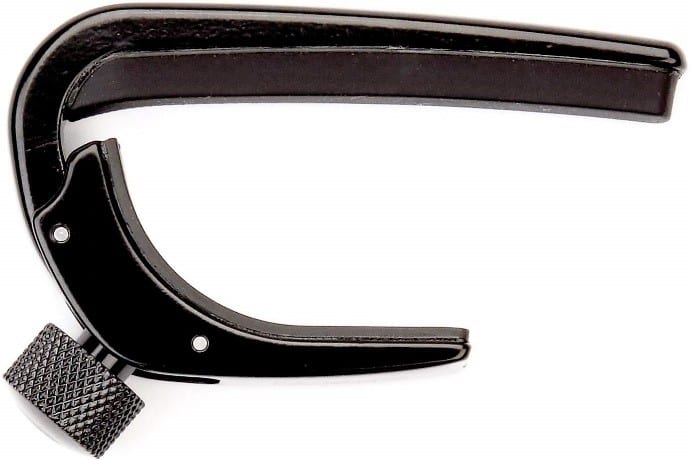 Most guitar capos overcompensate their product by putting tight pressure on the strings. The Planet Waves NS Capo, however, has the micrometer tension adjustment feature that is designed to let the player choose the amount of pressure and tension applied to the strings. This allows the player to have more options when playing and increase the longevity of the fretboard.
The capo is made of aircraft-grade aluminum and offers single-hand operation. It is also versatile enough that it can be used in electric and acoustic guitars.
Our Conclusion: The micrometer tension adjustment feature alone makes this guitar capo worth purchasing.
Pros:
Affordable
Made of durable material
Tension adjustment feature
Cons:
It takes time to find the right tension
Moving the capo is time-consuming
Things to Consider Before Buying a Guitar Capo
Knowing why you need a guitar capo is not enough when you want to buy one. You should also consider a lot of different things first, so you will know that you are getting the right quality for the price you are willing to go for. While a guitar capo is a simple device, you can end up having a bad one if you do not consider these factors first.
Material
Always check the type of material that the capo is made from. Zinc alloy, stainless steel, and aluminum are good quality materials that make the capo lightweight. Some good capos are made from wood and can clamp the strings properly. It is always best to avoid plastic made capos as they are not durable and strong enough to hold the strings together.
Tension Adjustment
Guitar capos only work when they can hold the strings together. Tension is needed to ensure that there is a firm grip over the strings. Steel springs are highly advised for those who want an overall good grip over the strings. These springs also distribute the pressure evenly across a certain fret.
Grip
Aside from tension, you will also need your guitar capo to have a good grip over the instrument. Most capos have rubber grips, but a silicone made grip is highly advised since it offers superior grip without causing any changes in the tuning of the guitar. Clamps should also have padding on both of the inner sides to protect the guitar from scratches.
Final Conclusion
At first, guitar capos might be a very intimidating device to play with your guitar; however, these devices are meant to enhance the tune of the instrument and even help musicians with their technique. Hopefully, the list above will help you get the best guitar capos with quality in mind.