Despite the obvious fact that traditional violins are sleek and classy, electric violins also offer a unique beauty of their own. They offer cool sounds and overall appealing design. They are also favored by many modern musicians because of their capacity to provide a better progressive sound that can be used in different contemporary types of music.
An extra advantage of using an electric violin is that it is also referred to as silent violins. This means that you can practice your music without unnecessarily disturbing other people. This is possible with the use of headphones, rather than an amp so that you can simply practice anytime you want.
However, with the options that are currently available these days, choosing one can be challenging. To help you out, we have created this guide to introduce you further into the world of electric violins. We have included some recommendations on the 10 best electric violins in 2020, along with some guides and tips in choosing the best one.
What is An Electric Violin?
An electric violin is a modern musical instrument that produces an electronic output for its sound. This term also refers appropriately to a type of instrument that is purposely designed to be electrified using built-in pickups. It may also refer to a type of violin that is fitted with a certain type of electric pickup.
Types of Violins
To the eyes and ears of untrained ones, when we think of violin, we only think about that piece of musical equipment that is used in concerts and orchestras. However, there are several types of violins. Taking into consideration the subtlety of the variations existing among these types, knowing that there are different types can be common. Here are the different types of violins:
• Baroque Violin
These violins refer to those that existed in the 1500s. This era of the society features violins that had a lot of differences with the modern ones, one of which is a shorter fingerboard, a smaller bridge, and a shallower neck angle.
• Classical Violin
The classical violin is pretty much the same as the ones that we have now, and they were introduced around the 1700s. Aside from having higher string tension, combined with a thinner neck, this type of violin would, later on, come equipped with a chin rest.
• Electric Violin
These types of violins were introduced around the 1930s. Just like electric guitars, these electric violins come with a solid body. In contrast with traditional violins, they do not come with f-holes that broadcast sound, but they come with built-in pickups that work by detecting and transmitting vibrations, which are broadcast afterward through an amplifier. Aside from being able to project a clear sound, this also makes it possible to use effects, such as phasing and distortion.
• Semi-Electric Violin
If you want to enjoy the best of both worlds, you can also opt for an electric-acoustic, or semi-electric violin. This refers to a traditional violin that comes with f-holes and a sound box, along with a detachable pickup. Some of the removable pickups may be added easily to classical violins, though others may need some tweaking to make an opening to insert the pickup. A semi-electric violin will produce a sound that produces sound leaning to the acoustic side.
• Five Strings Violin
Classical Violins typically feature four strings that are tuned to G, D, A, and E. A violin with 5 strings comes with an extra C string. These types of violins are not usually used for classical music, but for musicians who love improvising with an extra pitch. As such, a five strings violin is perfect for country, bluegrass, jazz, Western, and other modern genres.
Reviews of the Best Electric Violins in 2020
1. Yamaha YEV105NT 5-String Electric Violin – Best for Modern Music
Editor's Rating: 3.5
Yamaha is a company that is well-respected in the music industry. They are known as among the best makers of contemporary violins, earning them a reputation of being a household name.
This instrument is a testament to the philosophy of the company of their commitment towards creating cultural inspiration and worldwide excitement for making music.
If you are searching for an electric violin which may be used for the new wave of modern music, this is a good choice in this. Even though it may be quite pricey for others, the reputation of the manufacturer is a guarantee of its overall quality.
Appearance-wise, this violin is attractive, which means that you can expect to receive compliments when you play it.
In terms of construction, it is made out of 6 different types of solid wood which does not just look nice, but also produces better sound. With 5 violin strings, you can also play lower notes.
Pros
5-string electric violin
Made out of 6 solid types of wood
Produces wonderful sound
Amazing design
Aesthetically appealing
Cons
2. D Z Strad E201 4- String Electric Violin – Appealing Look
Editor's Rating: 3.5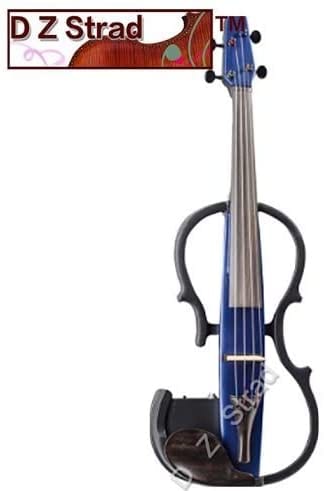 This cool-to-look-at electric violin comes in both 4 and 5 string options, which is an idea if you want to go lower than a regular violin. While you may need some time to get used to it, but you will love it for sure!
In terms of looks, this electric violin features a dark blue color, looking like a normal violin, in a violin-shaped outline. It also features a carbon fiber for a tailpiece, with ebony fingerboard and ebony pegs.
This high-quality violin does not just look good, but also sounds amazing. Al the things that you need are already included to have you started.
Pros
4 or 5 string options
Cool appearance
Clear sound
High-quality violin
Everything needed is included
Cons
3. Yamaha SV-130SBL Silent Violent – Ideal for Concerts
Editor's Rating: 3.5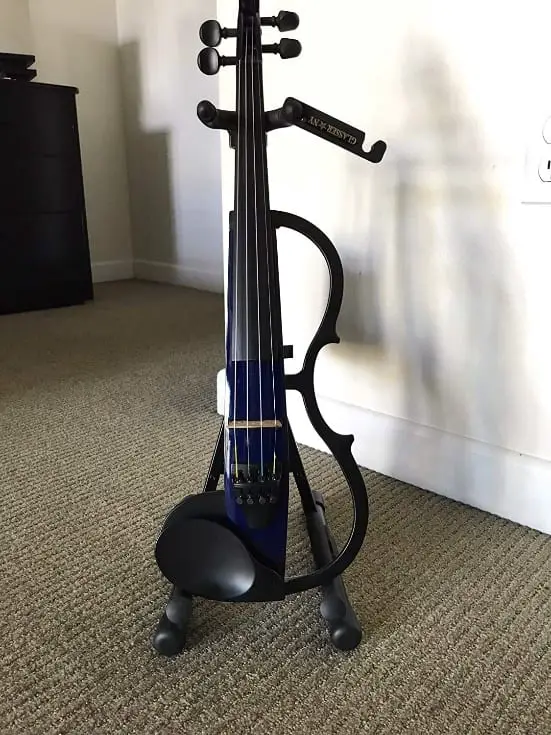 This electric violin is the recommended option for violinists who are looking for an instrument that they can use for recordings and concerts. As a model produced by Yamaha, there is a guarantee of quality with the Yamaha SV130 model.
One of the interesting features of this electric violin is its built-in reverb that can be adjusted at the back of the violin, together with the volume control feature.
This violin easily makes a statement with its cool look. It works pretty well with any type of genre since it is a combination of rock and classical musical instruments.
There are several options on colors available, including brown, red, blue, and black.
The body is manufactured out of spruce, the pegs and fingerboard are made out of ebony, while the neck is made out of spruce.
Pros
Good sound quality
Aesthetic appearance
Adjustable reverb
Reliable manufacturer
Cons
4. Wood Violins Stingray SV Series – Perfect for Heavy Genres
Editor's Rating: 3.5

The manufacturer of this electric violin has a good reputation, being a company that specializes in making a high-quality electric violin. They have been in this business for more than 25 years already, which makes them among the very first companies to do so.
This model falls under the Stingray SV series, which means that they are ideal if you are looking for a violin with the looks of an ax. It comes in both 4 and 5 string options, with red and black color choices.
This series under this brand features an amazing tone. This means that even professionals can use this musical instrument quite easily, though they are not designed for professional use.
Overall, this electric violin model is a combination of a unique and cool electric violin which works quite ideally for metal, hard work, as well as other heavy genres. This is a musical instrument that will earn you praise whenever you use it for playing.
Pros
Rock appearance
4 and 5 string options
Amazing sound quality
Lightweight construction
Cons
5. Cecilio 4/4 CEVN – 2BK Silent Violin – Ideal for Beginners
 Editor's Rating: 3.5
If you are in the lookout for a silent electric violin and are not that picky when it comes to features, this is a good option that you can take into consideration. As such, it is an amazing choice for beginners.
While it may lack some features, it offers the basic requirements needed to play your favorite music. It does what they describe it to do, and is playable. Beginners will love the fact that it can give you the sound that you want, without investing a lot of money into something that they are still trying out.
Looks-wise, this electric violin looks amazingly nice and is available in different color options, including white, blue, yellow, and mahogany. It uses maple wood for its body, and ebony for its pegs, fingerboard, chin rest, as well as a tailpiece. The latter also comes with an inlay of mother of pearl, making it more classic.
Pros
Affordable
1-year manufacturer's warranty
Appealing in appearance
Sturdy construction
Colored solid wood
Cons
6. Cremona Premier Student SV-180E Electric Violin – Remarkable Playability
Editor's Rating: 4


Another award-winning manufacturer in the world of music is Cremona. It was founded back in 1989 and is popular for making high-quality violins. The SV-180E model is known for its amazing playability while being available at a price that is reasonable enough.
The looks of this model are very elegant, with quality and perfection that makes it ideal for different levels of violinists.
This electric violin is an affordable choice for beginners who simply want to see if playing an electric violin is ideal for them. It is also ideal for students who are ready to experiment with this musical instrument.
This model is not just about looks. In terms of features, this model comes with a standard headphone jack, the line-in jack, and a 1/8 inch mini line-out. All the details of this electric violin are designed to meet standards.
Pros
Ideal for beginners
Quality wood used
Several playing options
Elegant design
Cons
Does not have any accessories
7. Barcus Berry BAR-AEBK 4-String Electric Violin – Great and Clear Sound
Editor's Rating: 4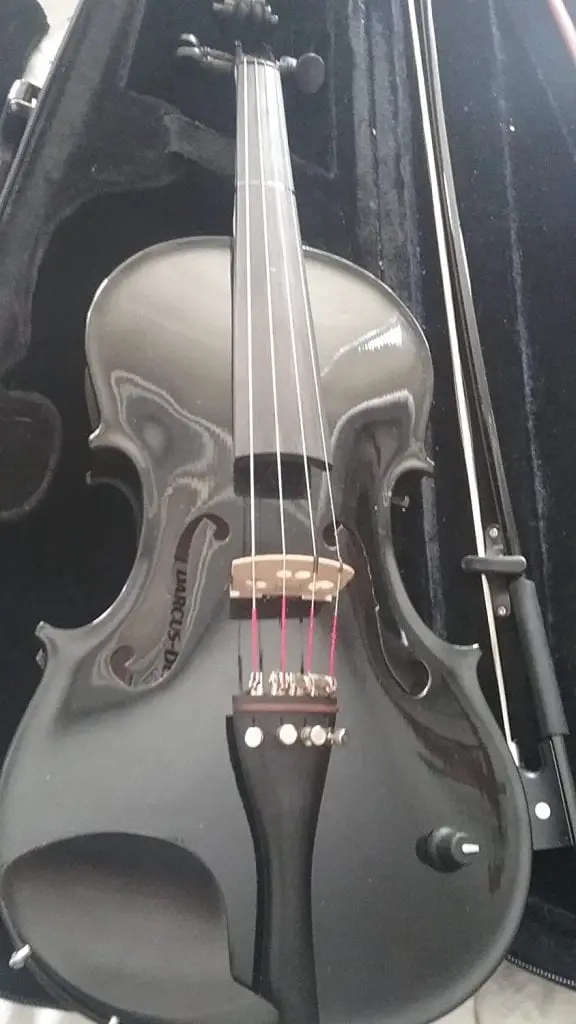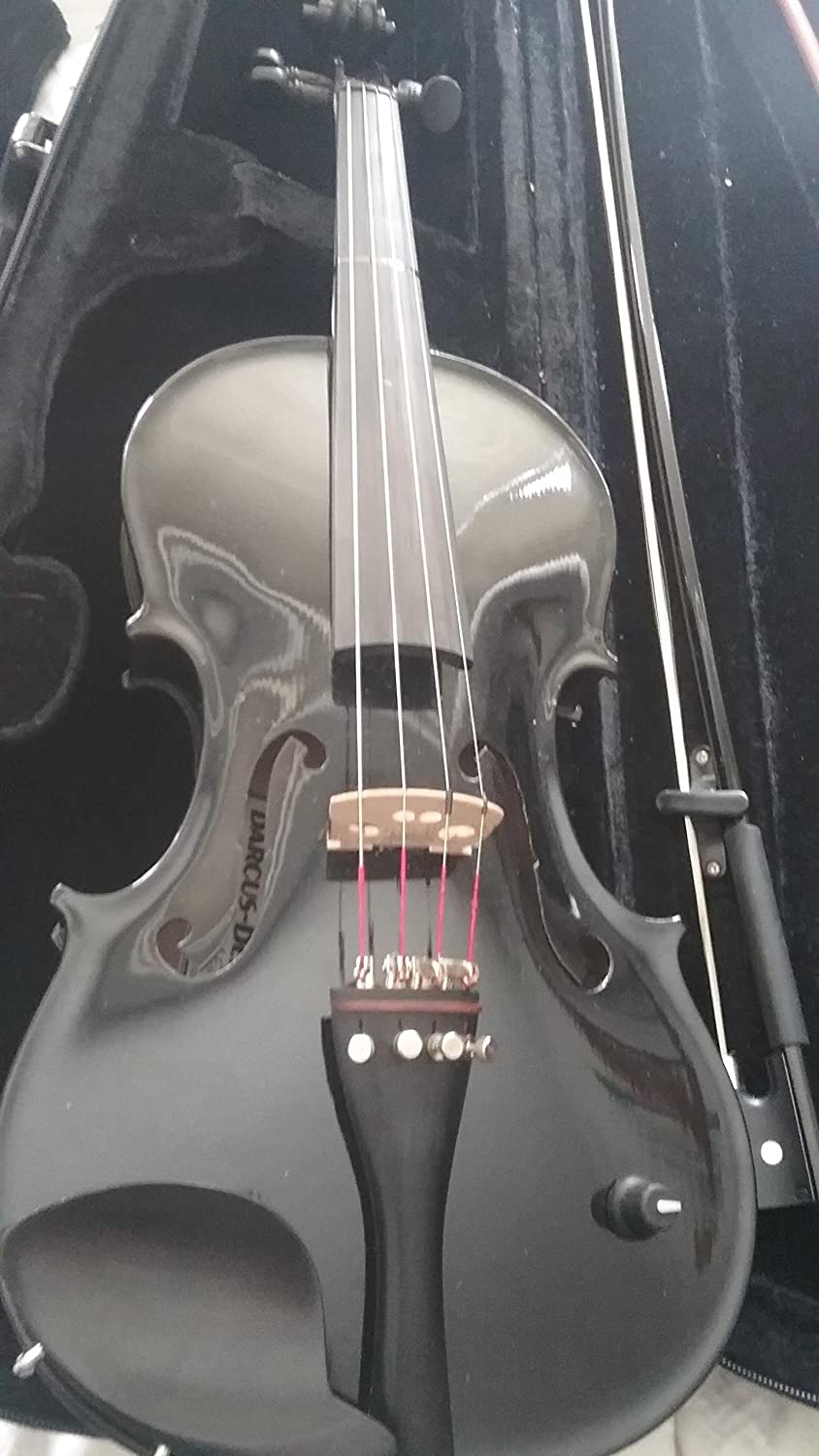 The brand was established in 1963, where the founders created the first piexo-crystal pickup for musical instruments. Through the years, the same company creates preamplifiers and pickups for different instruments.
Instruments produced by this company are well-reputed for their positive name in terms of providing reliable and quality instruments. They do not just offer style, but also quality instruments.
This electric violin is a 4-string option. It is the only one in this list that serves as a replica of a real violin. This means that it does not come with weird angles or open sides.
The BAR-AEG violin stands out from the pack. While it appears like a regular violin, it comes with four different color options to choose from. It is made out of quality maple and spruce woods.
If you are interested in having an instrument that can be used either as an acoustic or electric violin, or you just want to have a radical, flashy-looking electric-acoustic electric violin for gigs, this is a good option to take into consideration.
Pros
Quality acoustic-electric violin
Several color options
Handmade to perfection
Fiberglass bow included
Cons
8. Kennedy Violins Bunnel Edge Electric Violin – All In One Package
Editor's Rating: 4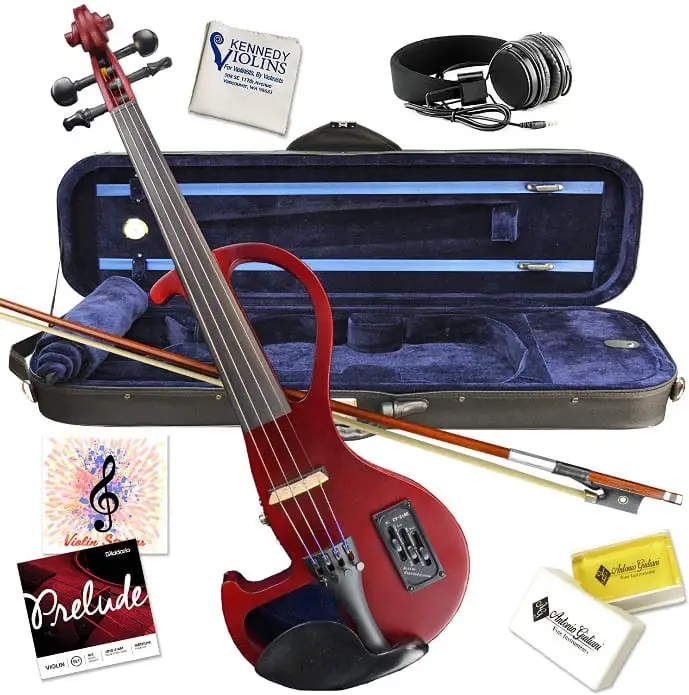 This electric violin is an ideal option for those who want to get all the features that they want to have in a single violin set. This means that with just a single purchase, there is a lot of stuff included while making sure that the quality of sound produced is superb.
Appearance-wise, it looks like a normal electric violin. Even though there is nothing particularly noteworthy about it, it is not unpleasant at all.
This electric violin comes in red, black, and blue color options. It is made out of maple for its solid body, with ebony fittings.
The package includes a mini-map, headphones, case, instrument cable, rosin, Brazilwood bow, polishing cloth, and D'Addario Prelude violin strings.
Pros
A lot of stuff in one set
Lifetime warranty
Great sound quality
Dependable durability
Cons
9. Crescent EV-WT 4/4 Electric Violin – Affordable Electric Violin
Editor's Rating: 4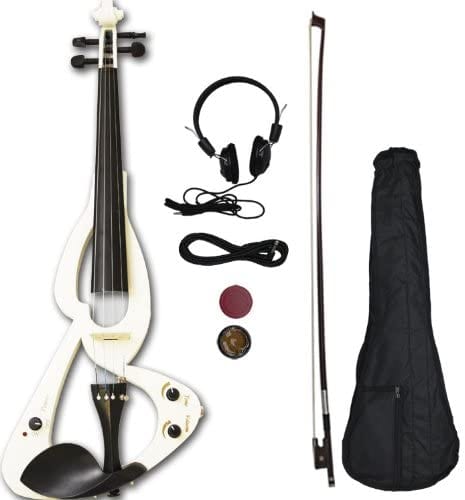 Another good electric violin that fits the needs of beginners is the Crescent EV electric violin. This is ideal for those who are still starting and are searching for an affordable option. This electric violin is priced below 100.
This model is also an amazing option for kids. It is an amazing starter for an electric violin for musicians who are interested in learning how to play this instrument.
If you want to explore the world of electric violins but are not sure whether it is the right path for you, the Crescent EV is an amazing option. With its price, there is not much to worry about.
Pros
Comes with 4 fine tuners
Multiple color options to choose from
Comes with 2-band EQ and volume
High quality option for starters
Comes in a complete set
Cons
Some issues with the quality
10. AW Full Size 4/4 Electric Violin – Robust Yet Affordable
Editor's Rating: 4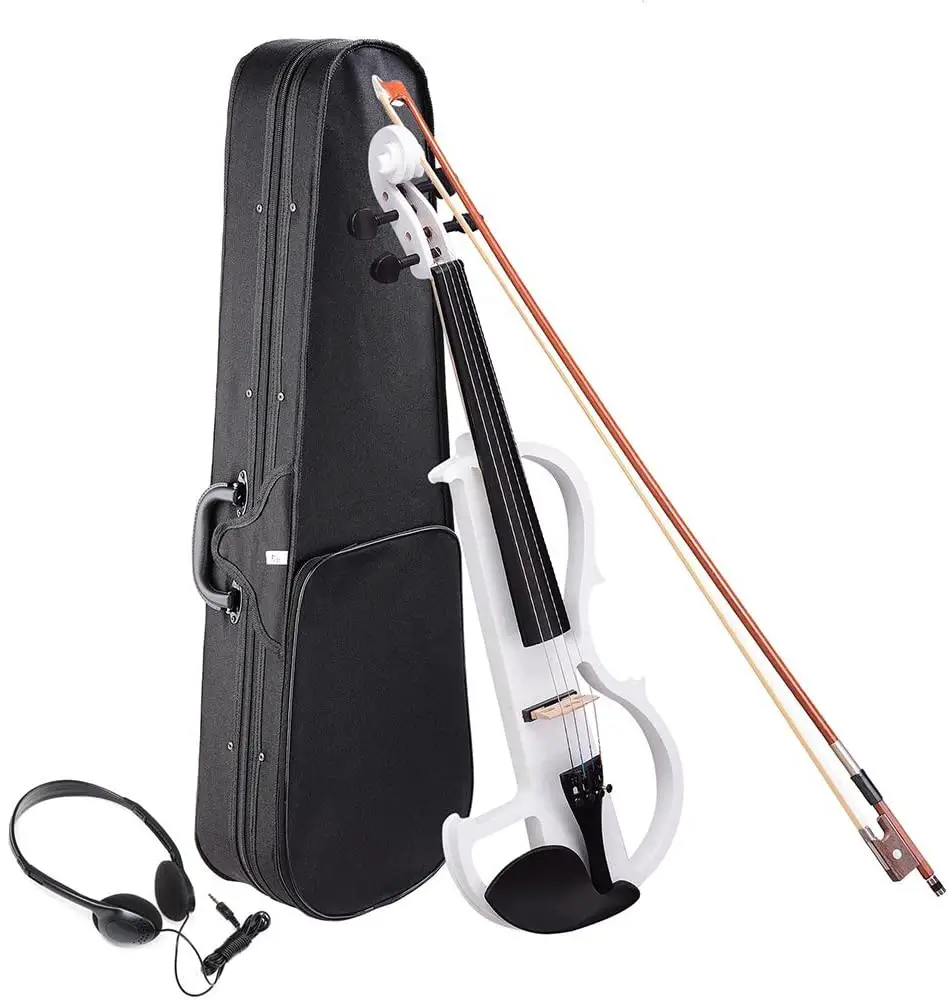 This electric violin from AW is not just an affordable option, but it also slays in terms of the features that it offers. It features aluminum alloy strings, which are highly regarded as better in terms of robustness than nylon.
This electric violin is recommended for starters and newbies in this musical instrument, especially those who want to skip the hassle with an instrument that is high quality.
Construction-wise, this model features a full-size basswood pearl paint. Its use of aluminum alloy strings means that the sound that is produced by this violin is bright and of good quality.
The complete set also includes headphones, rosin, battery, and aux cable. A carrying case is also included, making it easy to carry, while giving the instrument good protection inside.
Pros
1/8" output jack included
Comes with volume control
Comes with a violin carrying case
Multiple options on colors
Cons
May need tuning occasionally
Buyer's Guide – How to Choose the Best Electric Violin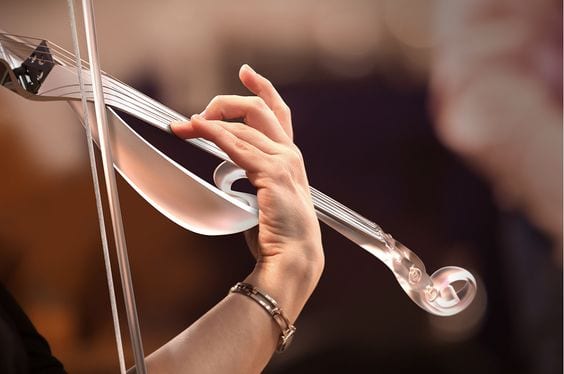 In order to get the best electric violin that will fit your specific needs and preferences, certain factors need to be taken into consideration. Here are some of them:
The budget is unquestionably one of the most important considerations that you may have. Reality is that, if you have a smaller budget, you may have an electric violin, but some may features may be lacking. Some who settle with low-budget models often end up getting disappointed with the sound produced, the generated white noise, cracking paint, and others. This does not mean, however, that it is impossible to buy a decent electric violin at a low budget. You just need to do your homework and search very well.
Even though the details of this factor may seem obvious and simple, several parameters need to be taken into consideration. What are you planning to do with your electric violin? Depending on your purpose of use, you can choose a specific model of the electric violin that will meet your needs.
For example, if you want to silently play at home using a headset for the reason that a classic violin mute is not that capable of attenuating the sound well enough, or maybe you want to try out using an electric violin just to know if it fits you or not, then some products are recommended for beginners.
It is important to understand early on that an electric violin would never be able to produce the same sound like that of a classical violin. This is because the construction of these violins is different, thus the difference in sound. The tone that an electric violin produces depends on the type of wood or material that is used in making the bridge and the body of the electric violin. 
The type of pickup technology used also matters, whether it is magnetic, piezoelectric, or others. The number of sensors will also matter, as well as the type of strings that are used and your hearing.
You may have a design in mind for this one. After all, the visual appeal of an electric violin defines your style. Among the design, possibilities include types, colors, shapes, types of wood used, materials, and others. When it comes to design, there are no rules that will inhibit you. You can choose whatever is appealing to you. However, it is very important to make sure that you are comfortable while playing. A design that is poorly studied may make using one a bit uncomfortable.
FAQs
1. What is a Great Violin Amp?
The thing is, there is no need to use an amp that is designed specifically for violins. This means that you can use any guitar amp for this purpose. Among the most famous brands of amps include Fender, Marshall, and others. You may also want to get an electric violin that comes with an amp.
2. What Electric Violin for Beginners?
There are several options out there, but among the ones we have in our list, the Cecilio CEVN electric violin is ideal for beginners.
Conclusion
Aside from electric guitars, you can consider electric violins as among the most common modern instruments that you can find. Several brands belong to this category. While this is good news, it can also become a disadvantage, as it can get quite confusing choosing the model that is considered as the best. From this article, you were able to get some tips on how to choose the best electric violin suits the purpose well and is right for your needs.