If you have a fascination with African music, you may be familiar with the African percussion, a finger piano called Kalimba. This instrument is a part of the Lamellophone family, which is consists of instruments containing a series of plates that can be depressed and released to create sounds. It is enjoyed by many music players globally. Though this may not be the first instrument that you will have in mind, its popularity is growing as more and more influential musicians are using it. Its origin can be traced as early as 1000 BC. According to archeologists were handmade by artisans in Kenya.
What is Kalimba?
A Kalimba is a percussion instrument that originated in Africa. This instrument goes by many names: finger piano, sanza, among others. African tribes have a particular name for this instrument. The Kalimba is consists of hallow resonator, which is made from calabash guards, wood, or metal tin. Also known as the "thumb piano", Kalimba is made of a wooden board with metal or wooden tines that are attached to a bar that serves as a bridge. It is categorized as a "tongue instrument" or lamellophone because of its tines. This instrument is somewhat similar to a xylophone only that it is smaller and produces higher pitch and sweet melodious tones. 
Primary features of a Kalimba
At a glance, you will see that a Kalimba is made of wood and metal tins. Here are the primary features of a kalimba:
Sound holes – the sound holes are responsible for realizing the sound and modulating it. This is possible by covering the holes with your fingers or thumbs moving them and back and away, resulting in the modulation of the notes.
Resonator Frames – gives the resonance and produces the "wah wah" effects of the Kalimba.
Tuning – There two aspects of tuning. The first tuning is vital as you may go out of tune as you use it. Second tuning is just experimental to produce more sounds. For most kalimba brands, a tuning hammer comes with the package, so it is easy for you to tune in your instrument and helps transfer your notes from your tablature to the instrument.
Tine Color – The colors of the tines do not affect the sound quality of your Kalimba, but they help as they serve as your point of reference while playing. Aesthetically, they would enhance the appearance of the instrument.
Wood Type – the type of wood in which your Kalimba is made of matters the most. It would determine how sturdy your Kalimba is. Most kalimbas are made of very good and they are made to last. The top wood choice for Kalimba is the African hardwood Kiaat which comes in different styles and colors. Sapwoods and other kinds of solid woods with interesting grain patterns can be used in making kalimbas that can last for a long time. 
What Does A Kalimba Sound Like?
The nearest description of how a kalimba sounds like is a "xylophone" only that it produces high pitch and melodic tunes. The sound is clearer, just like pianos. It produces a fluid percussive sound that can be very melodious, chanting, and tranquil. It can produce rhythmic and harmonic effects that can be done by plucking up and down its keys.
What is the Best Electric Kalimba of 2020?
From being used for traditional African ceremonies to recording the recent song being played on the radio, the popularity of these thumb pianos has spread all over the world like wildfire. The shift of the use of kalimbas from religious purposes to entertainment purposes started in Western Culture. Currently, there is a variety of Kalimba to choose from manufactured under different brands, designed for all types of musicians. Here is a list of the top 10 electric kalimbas available in the music market.
1) Moozica 17-Key EQ Kalimba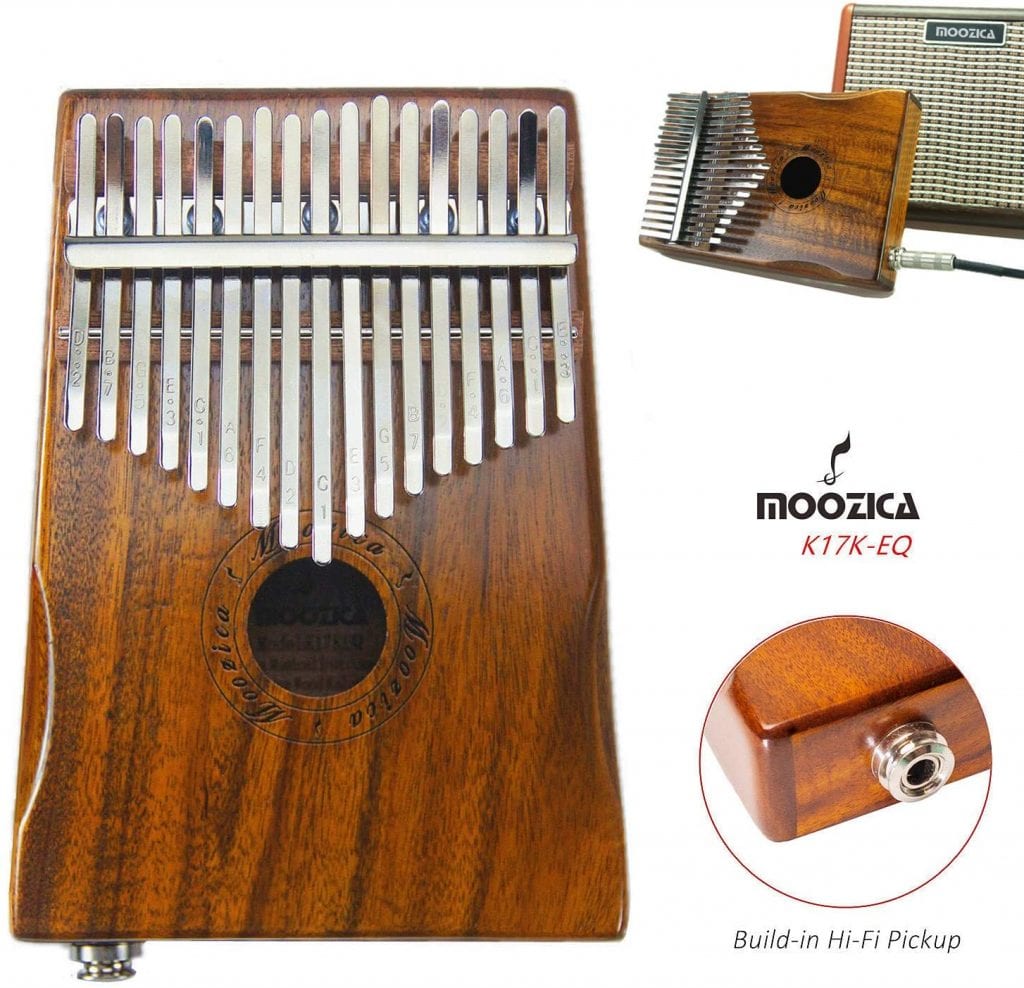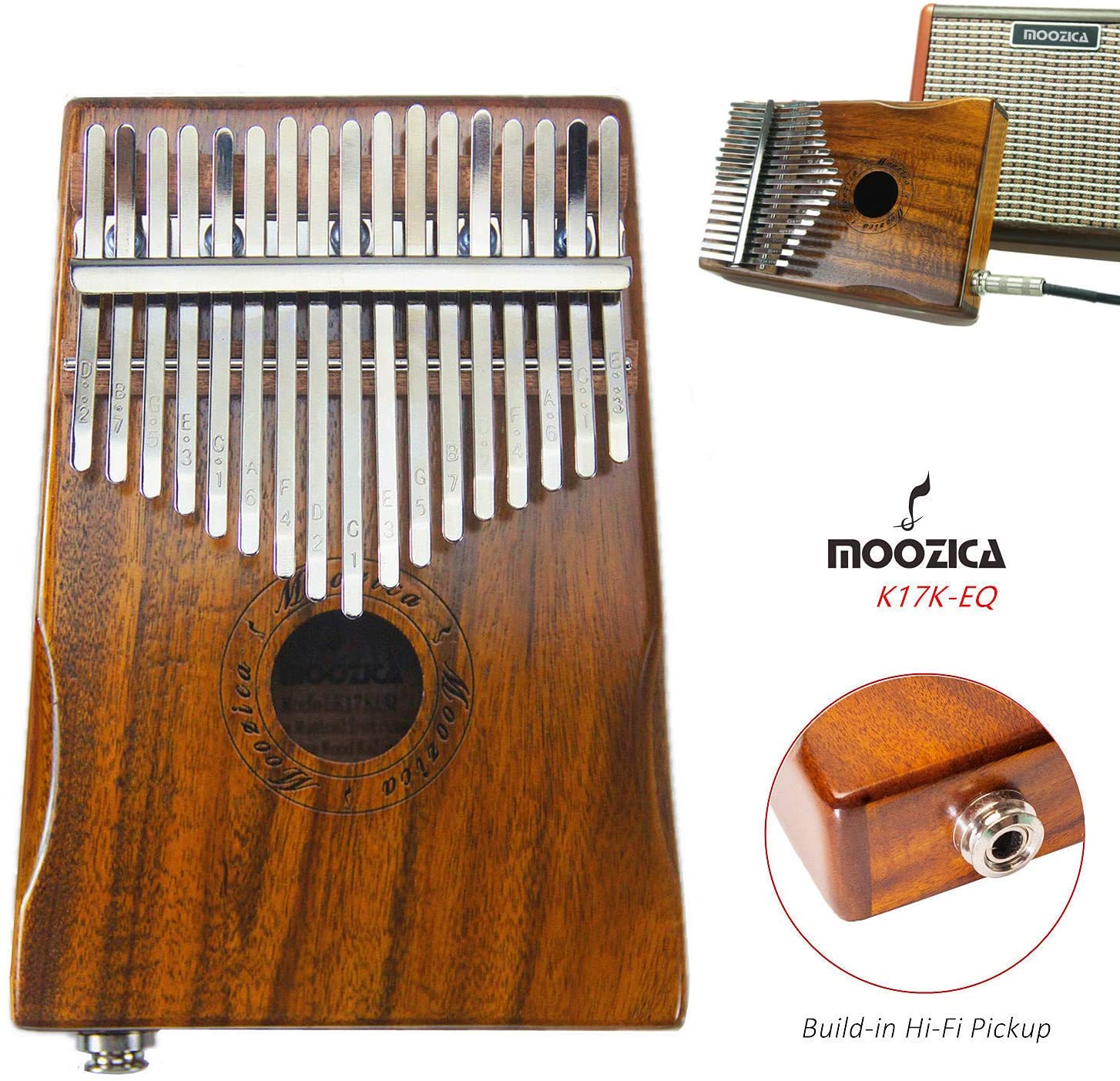 Beautiful sound quality with good, echo, and delay effects. 
Made of high-grade wood material (solid acacia to be able to make resonance sound).
17 key feature and built-in pickup
Made of stylish grain material and wood patterns.
An be connected to an amplifier or effect pedal.
It can be unplugged to be acoustic.
The package includes Moozica K17K (EQ), a case and a kalimba bag, audio cable, tune hammer, change-over plug, learning instructions, and music scale stickers.
Created by using o the sturdiest wood Acacia Koa and carbon steel, Moozica 17-Key EQ Kalimba is made to last. It has a very beautiful aesthetic with intricate details and great pattern work. It has a 17-key feature that goes together with a 6.35mm connection interface and a built-in pickup. The Moozica 17-Key EQ Kalimba can be connected to an amplifier or a piece of recording equipment. It can be used on stage or recording music in a recording studio. This Kalimba can be played by all types of music players, amateurs, and professionals alike. Though Moozica 17-Key EQ Kalimba is for professional music players, it is also very useful to beginner music players because it comes with clearly marked keys.
Editor's Rating:

2) GECKO Kalimba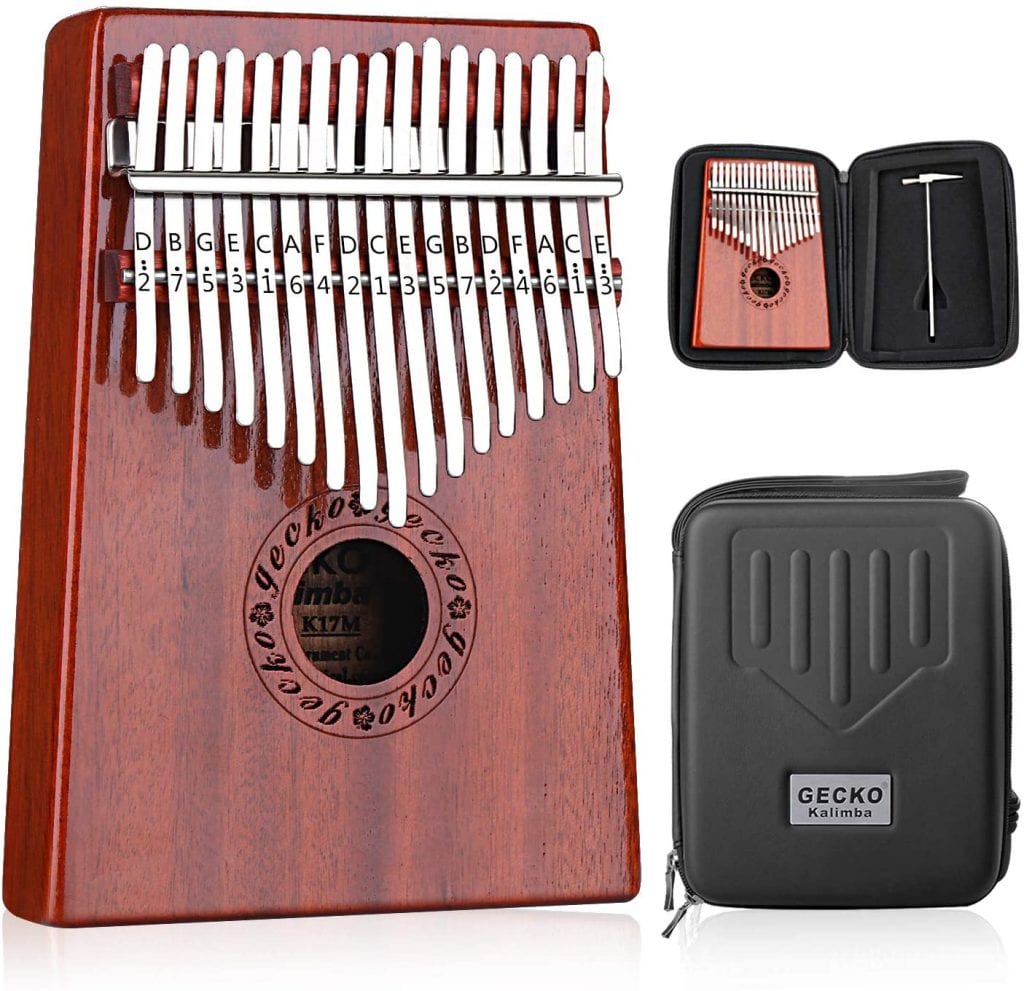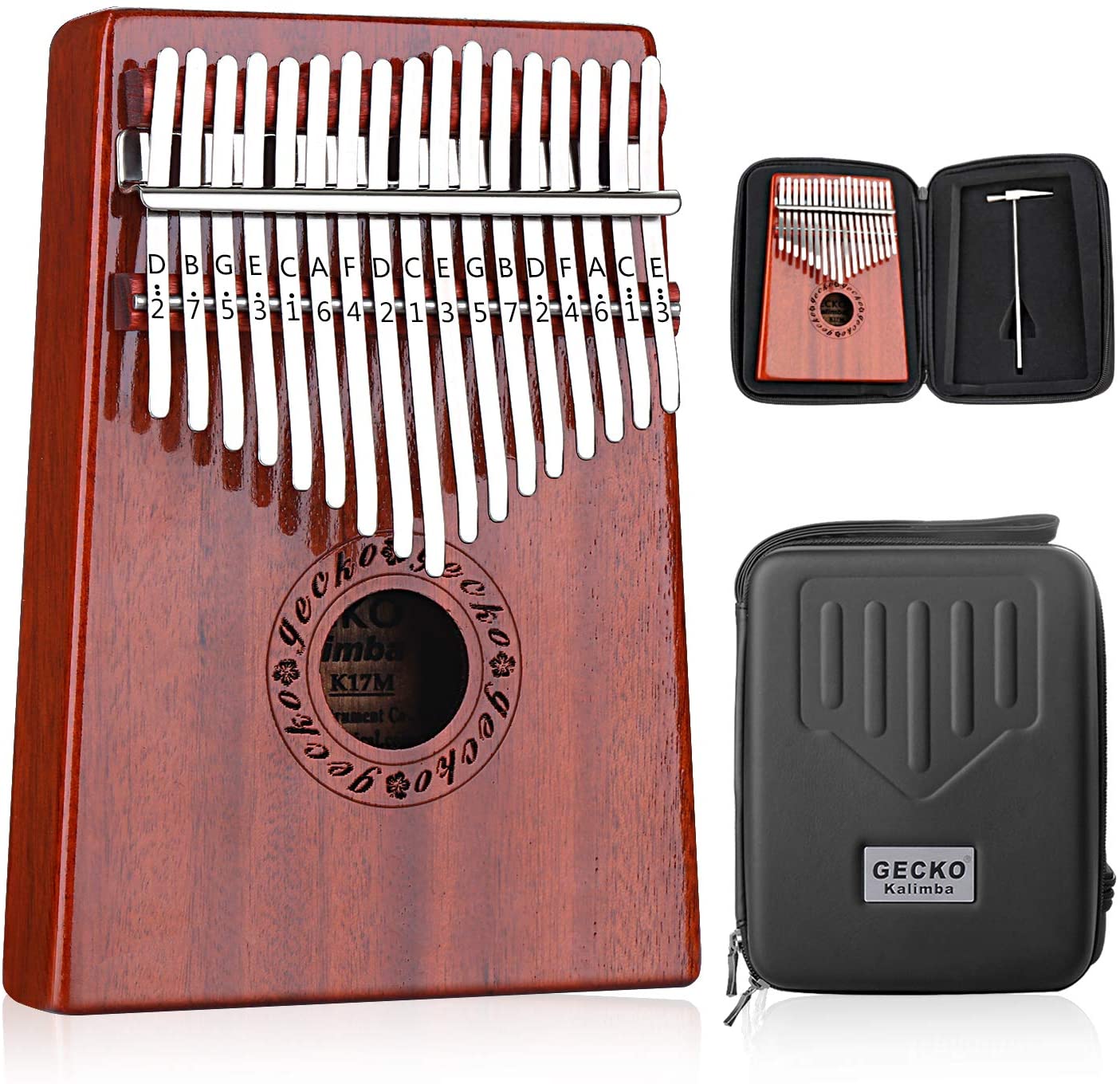 Handmade with top quality mahogany materials and steel bars for better sound quality and to last long.
It provides a crisp and wonderful sound.
It comes with a detailed kalimba learning booklet with the use of a detailed performance method.
It comes with EAV kalimba boxes, which are used to protect the Kalimba, preventing moisture, scratches, oxidation falling, water, and it is easy to carry.
GECKO Kalimba comes with a 1-year warranty period and a 90-day return guarantee period.
GECKO Kalimba comes very, especially as it is handmade from the best quality mahogany wood and ore steel bars. The combination of the mahogany and the ore steel bars ensures that this Kalimba can produce quality sound. This Kalimba I very popular in the US because of its design and sound quality. 
It also has well-placed expression holes that add special effects when you play your music. The GECKO Kalimba is pre-tuned, and they are shipped with a tuning hammer, detailed instructional manual, cleaning clothe, kalimba box, and tune stickers. It also has a handy QR code enclosed that is linked to the instructional video. Though this Kalimba is designed for professional users, it can also be used by learners and novice users, making it an ideal choice and is worth its price.
Editor's Rating:

3) JDR Kalimba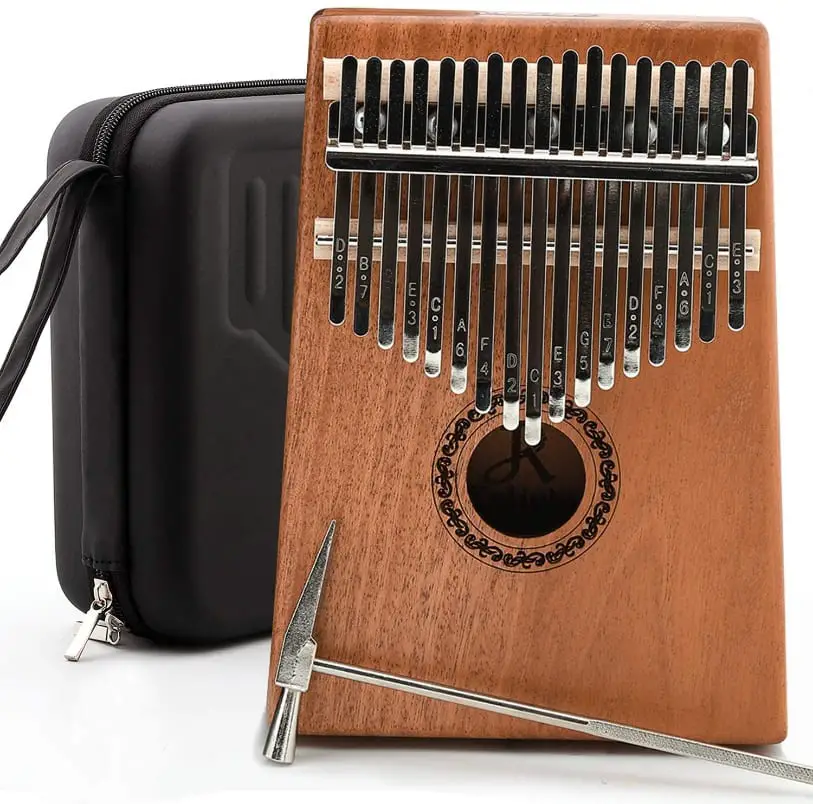 It is handcrafted of solid mahogany and adamant ore metal keys to produce quality clear and warm good quality sound. 
Sturdy and built to last.
Easy to use for beginner users.
Has well-labeled keys.
Security protection: EVA waterproof kalimba case for easy storage and carrying. And moisture-proof, scratch-proof, oxidation, scratches, and falling.
It comes with a clothe bag, EVA case, tuning hammer, musical score, letter and number stickers. 
180 days' replacement.
The JDR Kalimba is made of a good quality solid mahogany and ore metal keys, not just flexibility but also to create good quality sound. It goes with a sleek design that makes it easy to hold, easy on the fingers making it easy to play as well. This Kalimba can have embossed letters and notes that make it unique. The JDR Kalimba is also affordable and has good user reviews. This 17-key Kalimba comes with a waterproof case, a music book, number stickers, tuning hammer, dust bag, and red and green stickers. This Kalimba can be connected to an amplifier and is also perfect for acoustic use. The JDR Kalimba is designed for professional users, but it is also beginner-friendly with its ease of access that is designed for all types of kalimba players. Overall, the JDR Kalimba is an impressive instrument for all types of musical players.
Editor's Rating:

4) UNOKKI Kalimba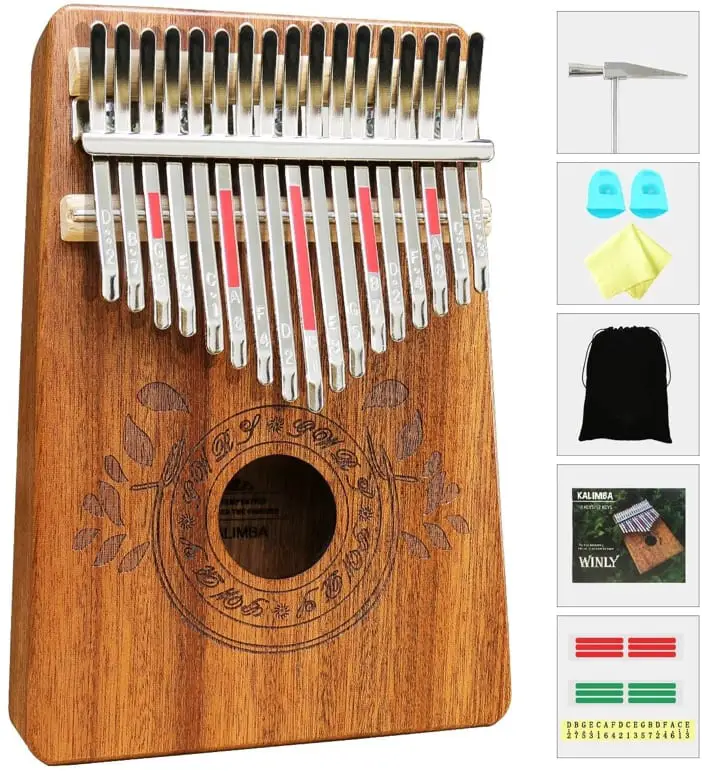 Handmade with top-quality mahogany and ore-steel bars 
17-key kalimba instrument.
Crisp, nice sound and curved notes
Keys engraves with note and letters
Wide use and easy to play 
International standard: C tune and portable 17- keys/ notes.
The UNOKKI Kalimba is handmade from good quality mahogany, built with solid Okome that gives it either a solid brown or reddish color. It uses tine metals for the keys which are engraved with notes. The embossed keys are very beneficial for beginner players as it is easy to use. The keys are slightly bent down for increased to the thumb and fingers. It is designed to ensure comfort and easy access.
The UNOKKI Kalimba comes with a cloth bag, red and green stickers, an instructional manual, and a polishing cloth.
Editor's Rating:

5) Apelila Kalimba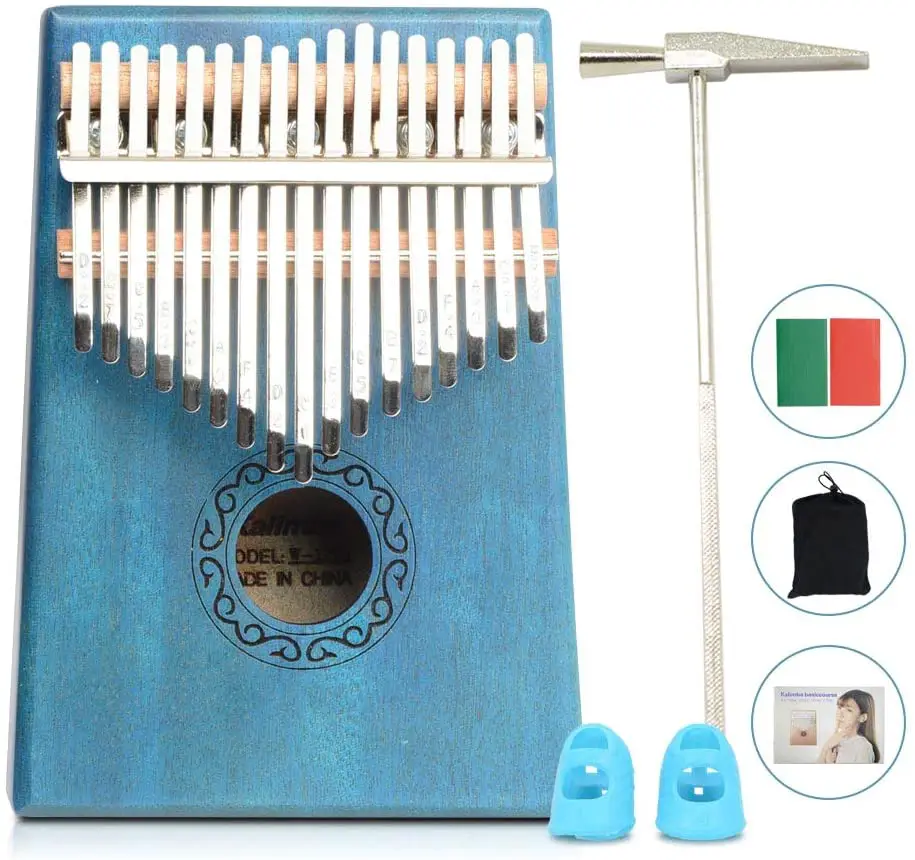 Made of good-quality mahogany wood
International standard C tone
Very good soundhole design
Small and is easy to carry
Easy to use and compact
Notes on the keyboard are carved.
The Apelila Kalimba is made of mahogany wood, but it comes in different colors that come very stylish. The design has intricate details, the colors are calming, and the sound is of great quality. This Kalimba is made of carbon steel keys, so it is durable and lasts for a long time. This small Kalimba is perfect for learners and beginner kalimba users. It comes with a very good instructional manual that you can use as you take this instrument out of the box and start learning. It also comes with a tuning hammer, a velvet bag, two-finger picks and stickers Apelila Kalimba is one of the most affordable Kalimba sold commercially yet it has a good quality and performs better than other kalimbas. 
Editor's Rating:

6) Donner 17 Key Kalimba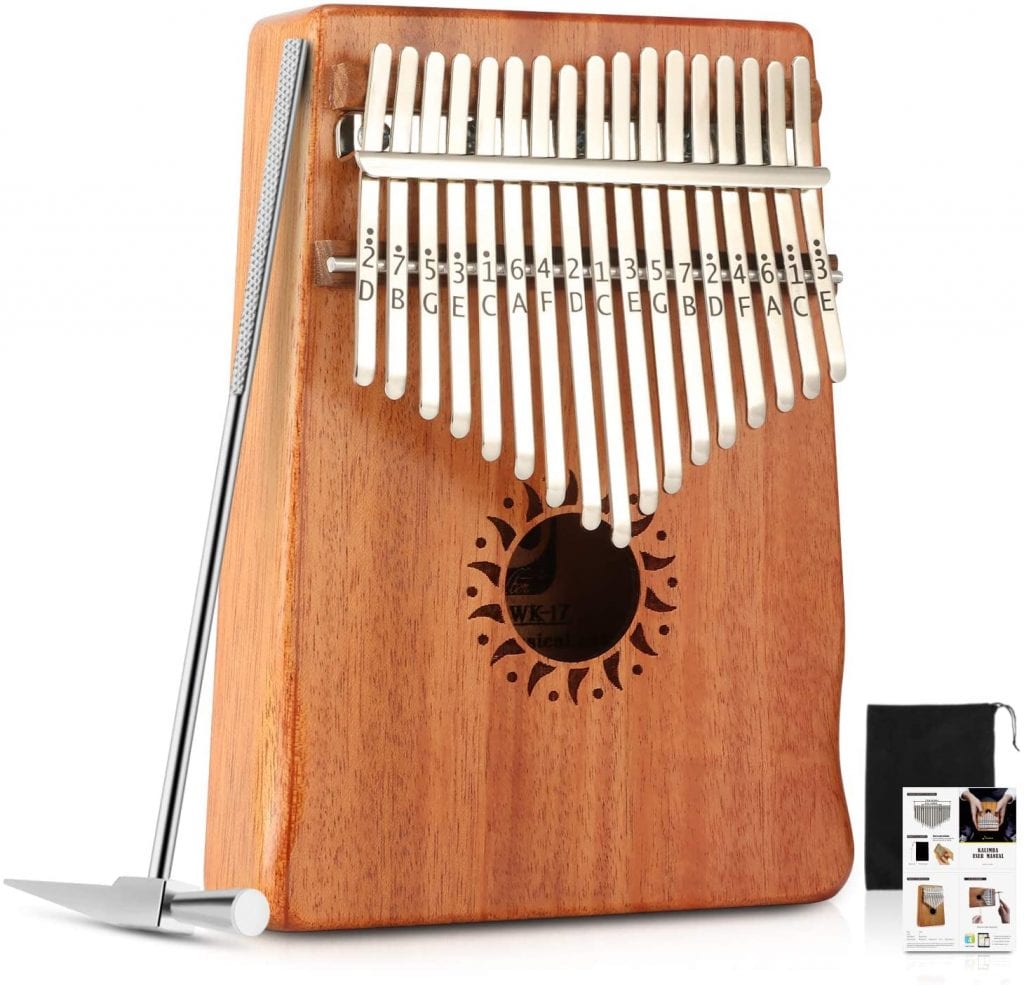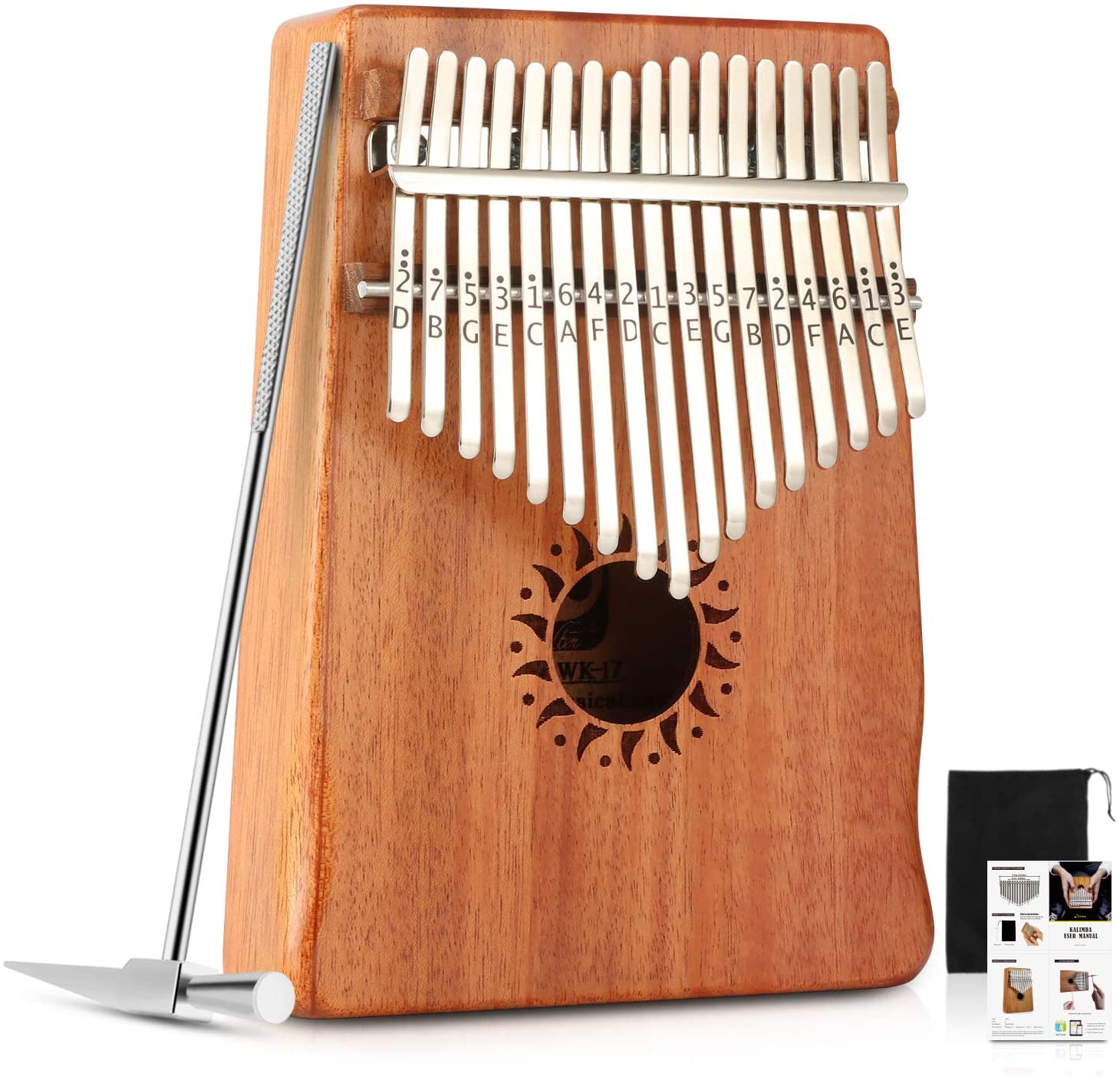 Made of mahogany and carbon steel case
Easy to use 
Compact and portable
Comes perfectly tuned
The Donner 17 key kalimba is made out of good quality wood and steel case, which ensures that it will last a lifetime and also produce good quality sound. It is small and compact, that is why it is very light and portable. The Donner 17 key kalimba is affordable but comes with great features. It is easy to use and great for beginners and learners as it easy to use and gives you great access. It comes with 17-keys and gives great sound and resonance. It is very playable and while you are learning the instrument. With great access, features, and designs, the Donner 17 key kalimba is a good buy.
Editor's Rating:

7) CXhome Kalimba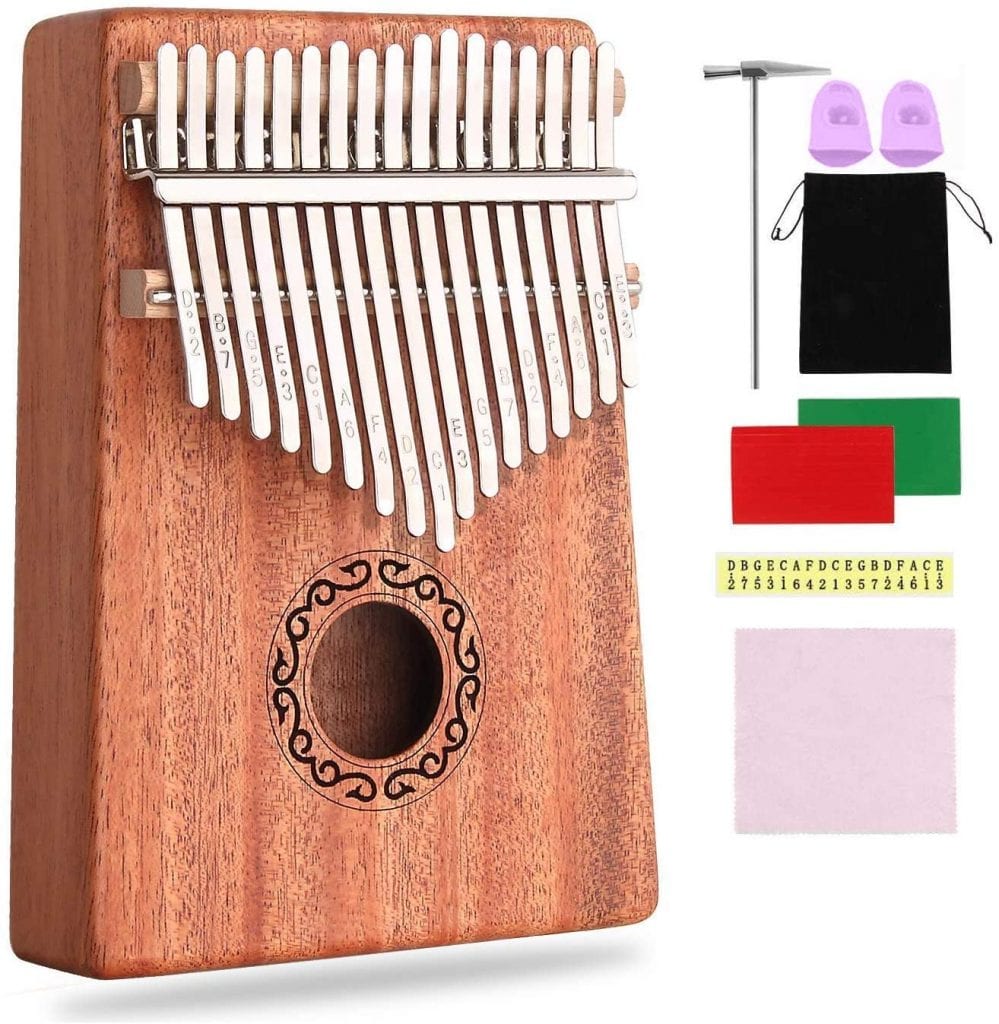 Made of best quality mahogany wood and metal steel
Easy to tune
Produces clear and crisp sounds
Suitable for all types of musicians
Comes with finger guards
The CXhime Kalimba is made of top quality materials to produce better sounds. It is made of high-class mahogany and steel not just for durability but also to produce better sounds. The keys are made of metal; that is why they are strong and tough but does not cause discomfort to your fingers. It comes with rubber finger guards, which allows you to play the instrument without worrying about any pain in your thumb. The CXhime Kalimba is perfect for beginners and professional music players. It has carved tines which are clean to be seen. It makes it easier for beginners to learn.
Editor's Rating:

8) Mugig Kalimba 17 keys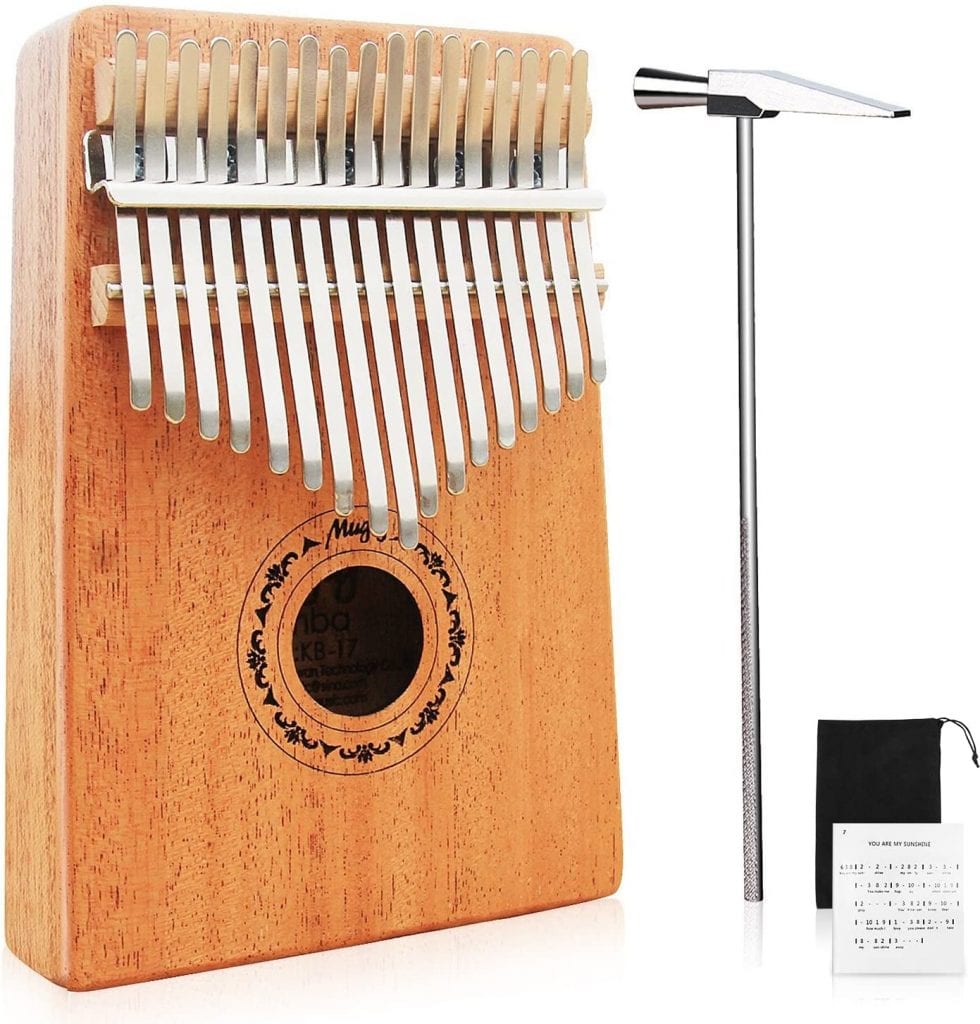 Made of best quality mahogany and Ore Metal tines 
Produces soft-tone 
Comfortable keys
Package includes music book, cloth bag, tune hammer, letter, red and green stickers, and number stickers.
The Mugig Kalimba 17-Keys is made of top-quality mahogany and Ore Metal to durability, sustainability and produce better sounds that would appeal to the emotions. It produces a soft tone that is similar to a harp. The mahogany gives this Kalimba its solid build. The tines are made of tine metals which makes it durable and is a perfect choice to pair with the mahogany wood. It will allow you to enjoy playing this instrument without feeling any discomfort on your fingers. It is light and compact and is easy to carry. Though it is made for professional musicians, this Kalimba is also good for beginners as the keys are labeled accordingly, and it comes with a user-friendly manual and songbook. It also comes with a resonating chamber that will let you enjoy a deep resonating sound.
Editor's Rating:

9) Ammon 17 Key Kalimba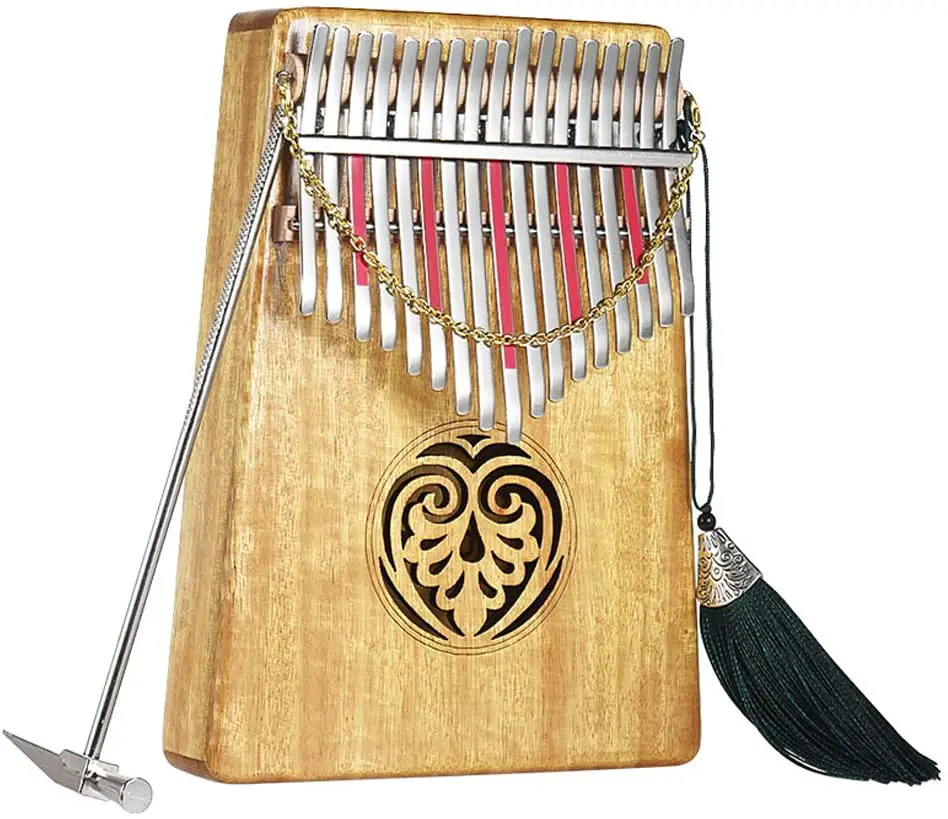 Small, compact, lightweight and very portable
Made of high- quality African piano wood
Easy to play
International standard C tune 
Sleek and beautiful design 
The Ammon 17 Key Kalimba is made of a good quality African piano wood, which ensures that this Kalimba would is long-lasting. Coming from a trusted brand when it comes to creating musical instruments, you are ensured that you are holding a kalimba that is not only durable but also produces quality music. It has three sound holes to create a rich resonant sound. It is made of intricate details with and the design is beautiful that adds up to its appeal. The Ammon 17 Key Kalimba has carbon steel tines that provide its nice clear sound. All in all, this Kalimba is very portable, durable, provides perfect sounds, and can be used by all types of music players.
Editor's Rating:

10) EastRock Kalimba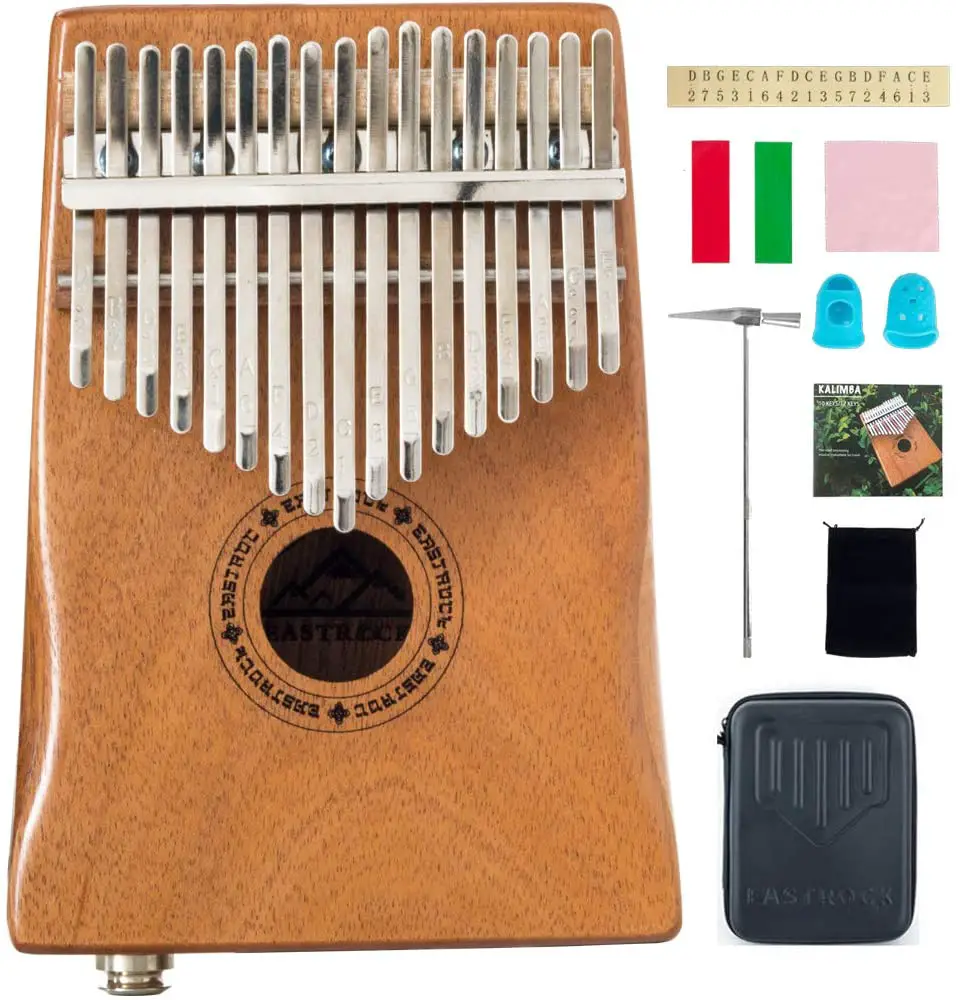 Made of top-quality mahogany and carbon steel
Comes with a hand-rest curve design
Easy to use 
Comes with a built-in pickup and speakers
Build to last 
The EastRock Kalimba is made of the best-quality mahogany and carbon steel, which means that this Kalimba is durable and can produce a good and clear resonance. It is unique among other kalimbas as the design is sleek and hand-rest curve to provide more comfort and ease when you play the instrument. It does not bring discomfort to the fingers when you play it. This Kalimba is easy to use and can be used by all types of players. It comes with an easy to understand manual so you can easily use it. The best thing about the EastRock Kalimba is it comes with a built-in Hi-Fi pickup and a 6.35 mm that can be connected to an amplifier that is perfect for recording studios and stage performances.
Editor's Rating:

Buying Guides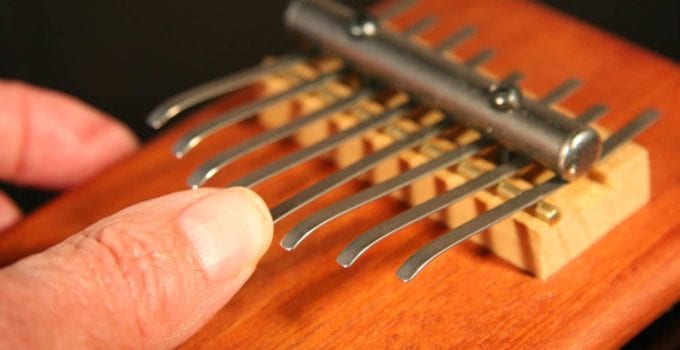 So you are planning to buy your won Kalimba? Here are some important things that you may want to consider before spending your money on this wonderful musical instrument.
Tuning: The first thing that you have to check and look for a good quality Kalimba is the tune. The tuning is very crucial, not just in a kalimba but for any other instruments for that matter. Most kalimbas come pre-tuned to it is easier for you to check that. Also, they come with tuning hammer just in case you need to tune it in the future. As music lovers, we would want to have our songs beautifully, so make sure that your instrument has the right tuning.
Tines: these are the metal strips that you can find on your Kalimba, and they produce the sound. Most tines are made of steel or metal. The tines have the greatest impact on the kalimbas sound. Kalimbas cannot produce any sound without the tines. Make sure that the tines not very hard and are just comfortable on your fingers; do that; you will be comfortable when playing the instrument.
Built – most kalimbas are made of top-quality wood like mahogany, African wood, rosewood, sandalwood, acacia, and walnut, among others. These woods are very durable, and they can last a lifetime. The tines of a kalimba are also made of durable yet light steel, so it can last a long time.
Budget – one of the most important things that you need to take into consideration in buying a kalimba is your budget. Remember that there is a wide variety to choose from. Most kalimbas can be played by all types of music players so you can choose any which your budget allows. 
Specs – most kalimbas have similar specs, so this won't be a problem. If you are a beginner, just make sure that the Kalimba that you'd be getting is just right for you, and if you are a professional music player, there are also kalimbas that come with high-end specifications that are usually used for music recording or performing on stage.
Frequently Asked Questions
The good news is, though the Kalimba is quiet rare for newbies, it is one of the easiest instruments to play. You can play it without actually knowing much about the instrument. You just have to remember several rules of thumb for you to start playing. Know the octaves as it is very important in playing to produce the harmonies. Learn which notes are paired and use the octaves in playing. For starters, you can refer to your key charts that outline the notes which also corresponds to the tines. Most kalimbas have tines with notes engrave to it. The tines are like the keys in the piano. In playing the Kalimba, hold it with your two hands. Make sure not to cover the hole. To create the sound, flick the tine with your thumbnail—alternate both thumbnails in creating the sound. 
What is the best brand of Kalimba?
Currently, the best brands that create the best Kalimbas are Moozica and Donner. These companies are known to have created the best kalimbas that are available in the market.
What is the difference between a kalimba and a mbira?
The Kalimba is not a Mbira though they are often mistaken as the same instruments. The Kalimba is a smaller version of a mbira. The Kalimba and the mbira differ as the mbira has a double row key while the Kalimba has a single row of keys. Also, a kalimba has a seven-note diatonic scale, which is different from the mbira. 
The Kalimba has a different percussive characteristic compared to the mbira's buzzers. A regular kalimba has two holes at the bottom of the soundboard, which is not present to the mbira.
Like any other musical instrument, a kalimba can be tuned. Most product coms with tuning hampers and guides on tuning just in care you need to tune it in after playing it.
Is the Kalimba easy to play?
Kalimba may sound like a rare instrument, but it is one of the easiest to use. New kalimbas come with a detailed manual that will teach you how to use it; the times are properly labeled, so you just have to follow the instructions. If it comes with a songbook, play a song after reading the manual, and then you are good to go.
Conclusion
Kalimbas has been used and has been around for a long time now. It has been used for religious practices in as early as 1000 BC. It has been a source of melody to ancient people, and it is not a surprise that this mini instrument's popularity is growing. Famous music artists have now found a way to include kalimbas in creating a song, and the influence is being passed into other music enthusiasts who want to immerse in an enchanting melody using kalimbas.