A drum machine is a device used in creating an electronic rhythm. It comes with features that offer live performance and productions the ease of not requiring any live drums. It is a machine preferred by producers and solo performers all over the world.
There are different types of drum machines that are currently out in the market. They offer different features, with some having built-in patterns. Some also allow for pattern creating, creating samples, and accepting samples that are externally created.
If you are planning to have one, which type will prove to be the best for you? This is a valid question since there are currently several options that are available. While this is good news, it can also prove to be very daunting when making a choice.
This review is created to help you make the best choice. Aside from the reviews of the actual models available, you will also learn about some important factors that you can take into consideration before making an actual purchase.
1. Arturia DrumBrute Analog Drum Machine
Ideal for Analog Sound Lovers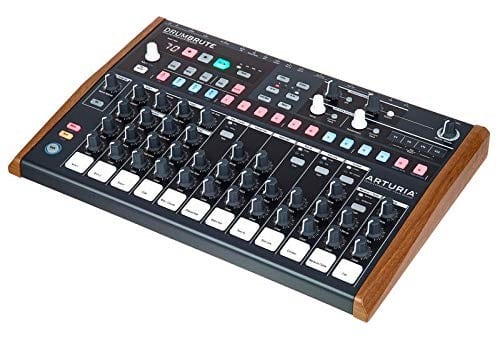 The Arturia DrumBrute Analog Drum machine is ideal for those who love the analog sound. It features 17 analog percussion and drum sounds. The best part is that they are the real deal, thanks to their superior audio specs with its low noise floor. As claimed by the manufacturer, this machine offers integral, organic sound creation.
One of its important features includes an intuitive sequencer that enables you to be extremely creative, making it easy to make exciting beats. This means that you can either create a new beat coming from an existing one or create from scratch, using in-depth editing features. This model is also user-friendly.
There are also limitless options for the performer, as this drum machine comes with an impressive 64 pattern and 64 step sequencing capabilities. Its efficient and effective performance controls are also impressive.
This drum machine also leaves classic analog drum sounds in your control. It even goes beyond what is expected of it, giving you some tools that you can play around using the sounds, allowing you to create just about any pattern or style that you can think of.
2. Teenage Engineering PO-32 Tonic
Best Small Budget Drum Machine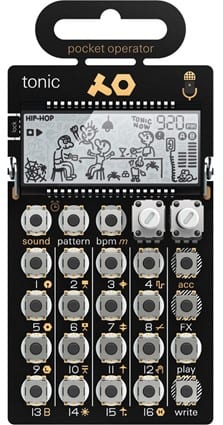 If you are looking for flexible sound makers who offer you the needed features without robbing your pocket, the Teenage Engineering's Pocket Operators are the best options that can be taken into consideration. The PO-32 Tonic model is the best among the three drums/percussion products in its range for a number of reasons.
One reason is that this drum machine allows you to import sounds coming from the Sonic Charge's MicroTonic drum synth plugin, enabling you to alter and overwrite the sonic palette completely.
This means that you can create a complete song using its onboard 64 patterns and pattern chaining, while also synching the Pocket Operators with other gears. One thing that can be noticed about this drum machine is that it may be quite fiddly to use, but they offer great fun, and they sound great, given its highly affordable price.
The loading of sounds is possible with the presence of a small microphone that is attached to the PO hardware. The information is transferred from the plugin to the hardware, as sound synonymously signals using old dial-up internet connectivity.
3. Alesis SR-16 Classic 24-Bit Stereo Electronic Drum Machine
Best for Live Performance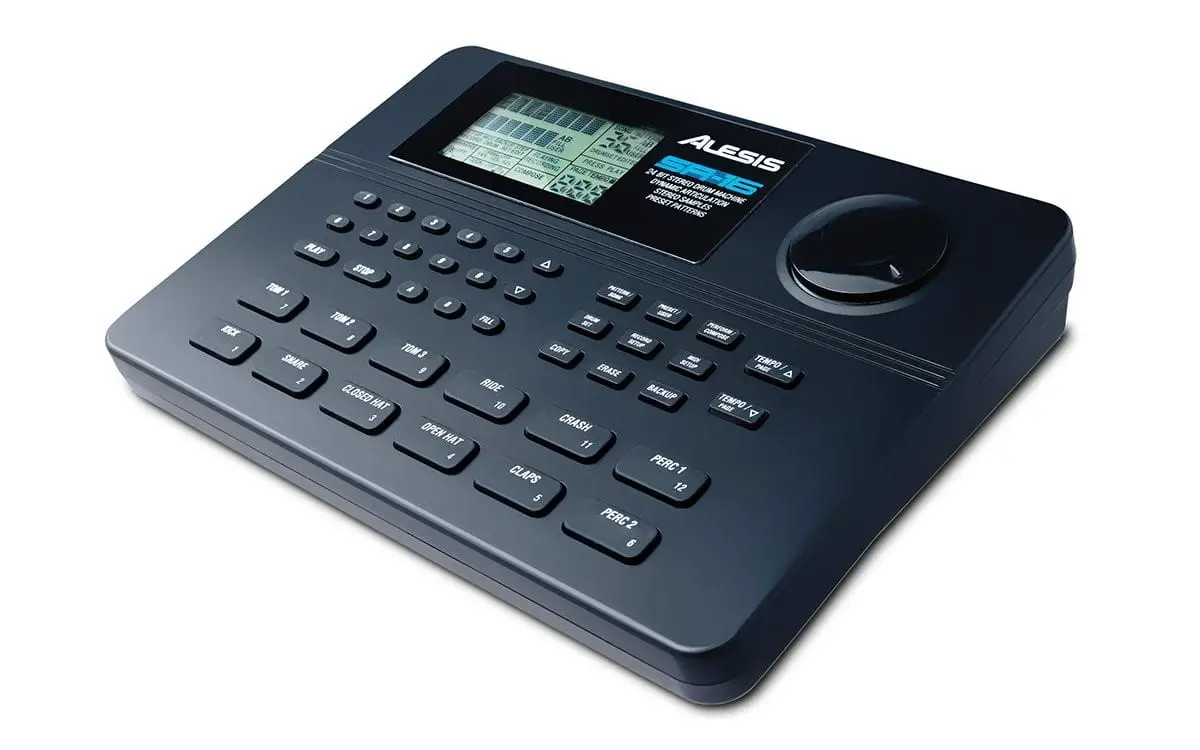 This drum machine is considered as one of the oldest stereo electronic drum machines that are out on the market these days. In terms of ease of use, this model is praised for being user-friendly. It is also easy to learn as it offers a lot of versatility in creating complex stuff.
This machine features 12 velocity-sensitive finger pads, MIDI implementation, as well as a footswitch input. It also has an LCD screen which helps in navigating the menu, along with four different outputs.
The Alesis SR-16 also introduces recordings of 50 drum kits that you can select from, together with 233 other professional sounds. This type of dynamic articulation technology even makes it sound like an actual drum set.
The sounds produced by this machine are very realistic, which is why it is often praised because of its audio quality. As a bonus, it also comes with a lightweight design and a compact size, making it really easy to move around and carry.
Overall, this drum machine is recommended for individuals who are looking for new drum machines to experiment on, as it can satisfy even the most demanding musicians, despite being among the oldest 24-bit models.
4. Akai Professional XR20 Beat Production Station
Best Portable Drum Machine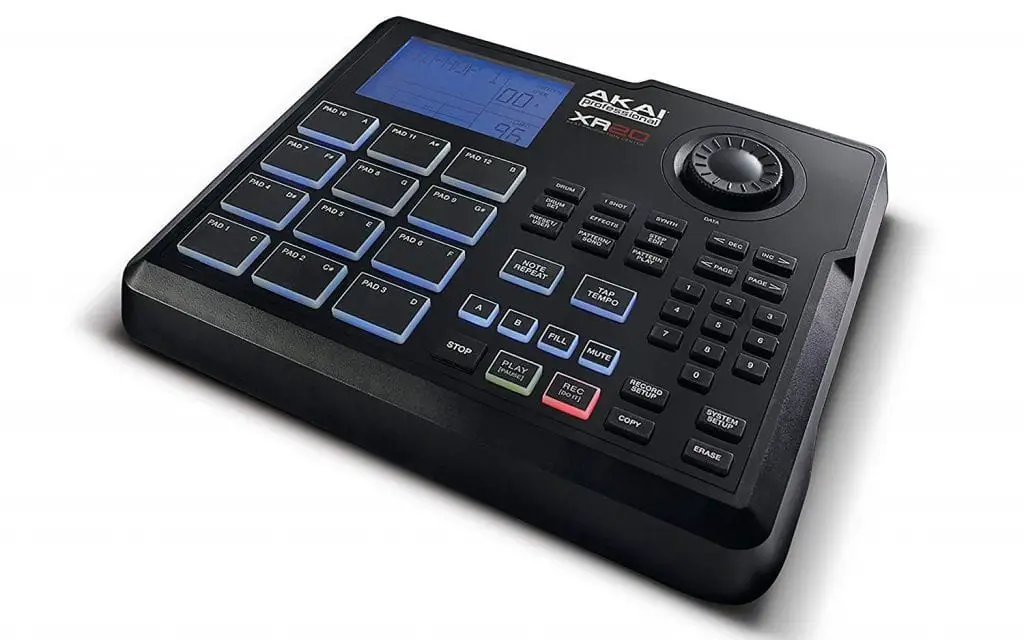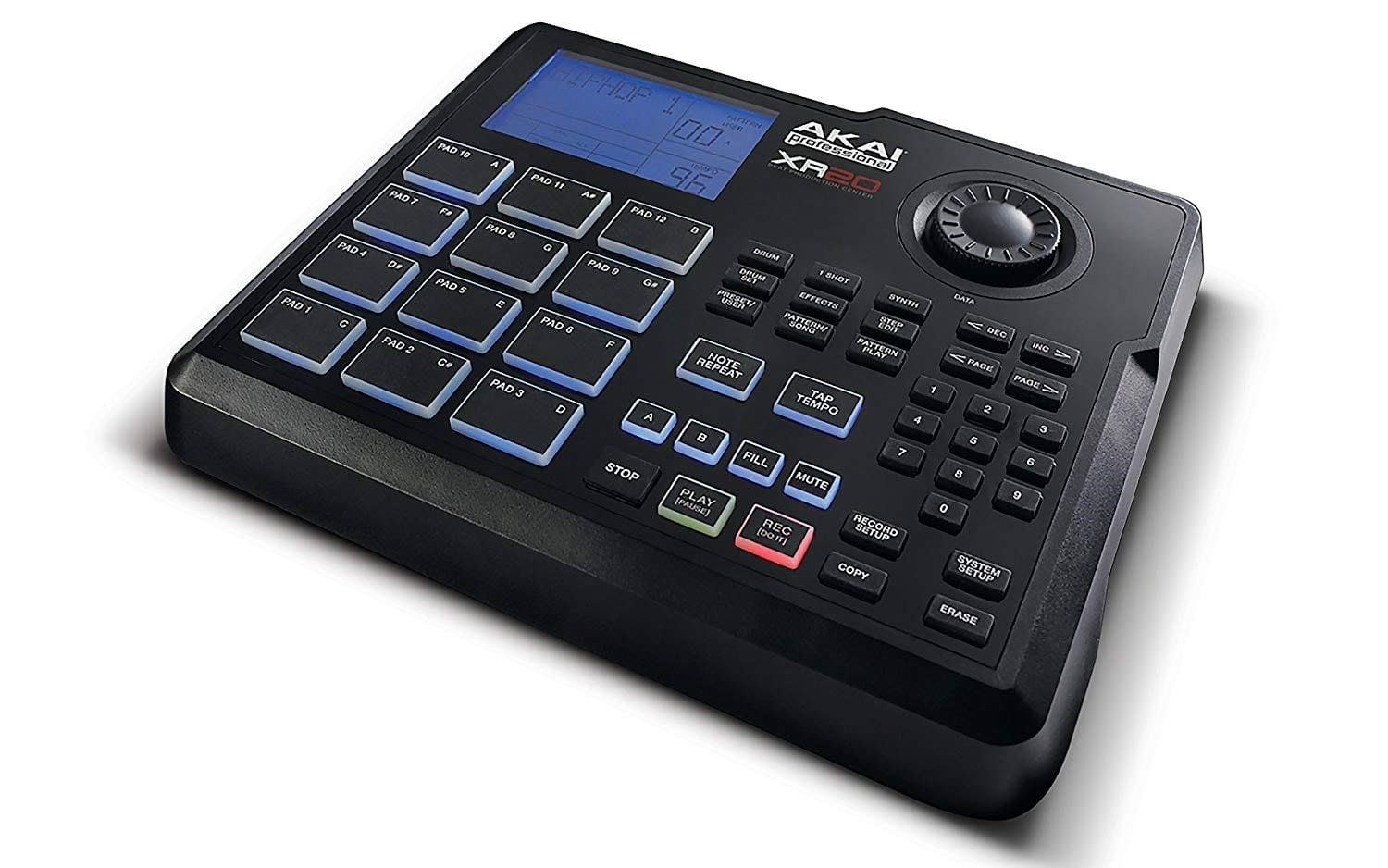 This model is also included among the best drum machines list, featuring loads of specifications and features with a slick design. It also features 700 sounds. This only means that you can play any music genre on it. Whether you are looking for a soft tonal song or one for a hardcore metal track, this model can play them all.
This portable drum machine comes with a combination of percussion, drum, vocal, sound effects, bass, synth, and a lot of instrument hit sounds. It even features a total of over 700 pre-loaded sounds worth of memory, together with an integrated effects engine that helps in adding amazing touches such as compression, EQ, and reverb.
If you are interested in adding vocals to your sound mix, the microphone input of this model will do the job for you. The 12 MPC-like pads of this drum machine are all backlit, offering precision as you play. There are also in-built sounds and effects which eliminate the need to load any external sources.
All of the pre-loaded sounds in the system are top-notch and of industrial grade. The best part is that it features sounds that are of electronic and standard drums, bass, single hits, and synth. All of these will allow you to come up with a maximum mix in a shorter period of time.
5. Roland Drum Machine (TR-8S)
Killer Box of Features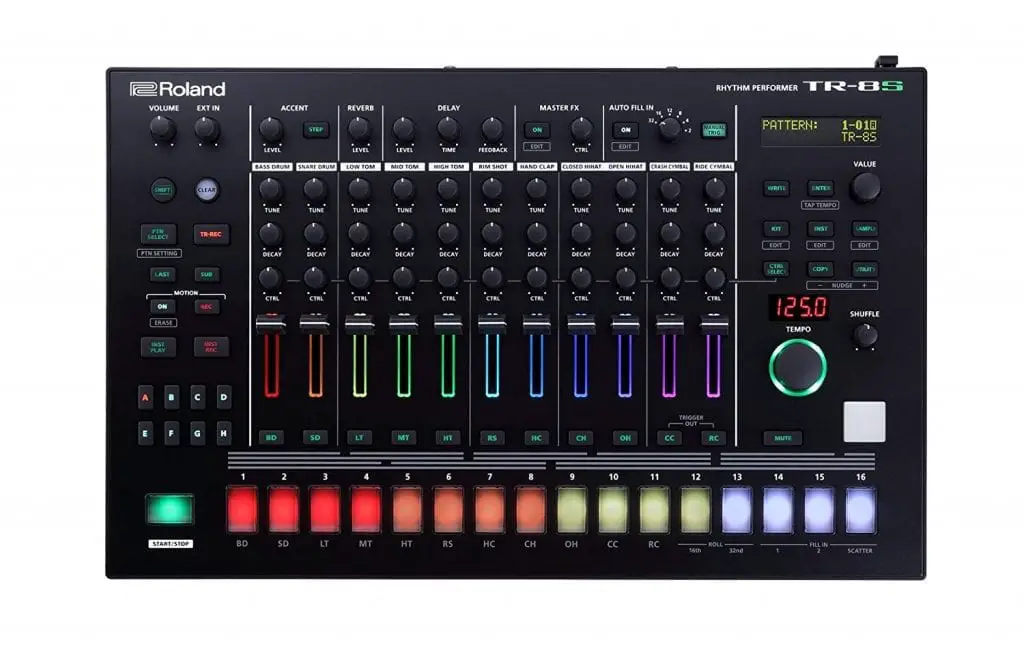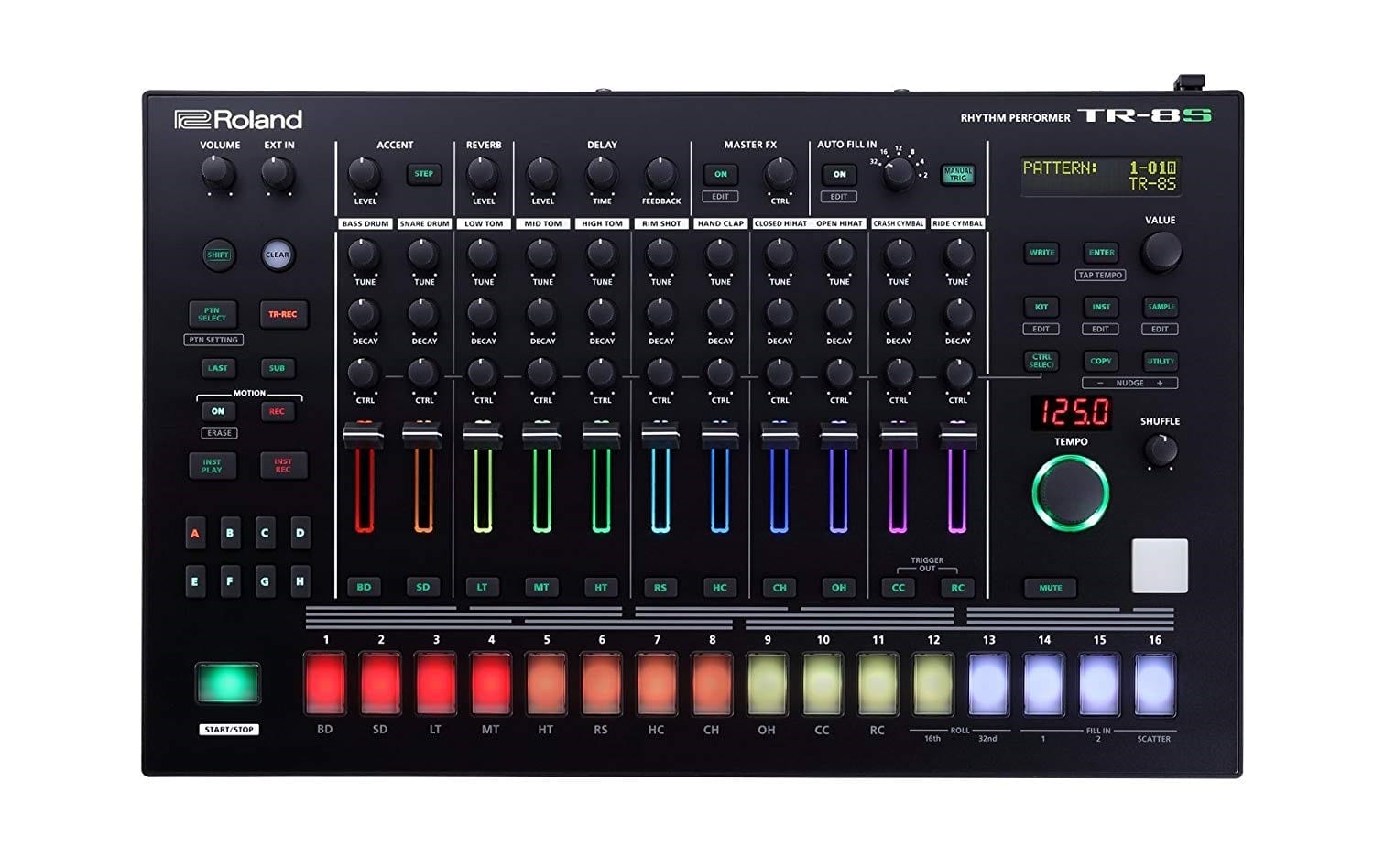 There is no doubt that the Roland TR-8S is one of the finest and best drum machines currently available on the market these days. Even though it may be on the higher price end, but it is known to be a killer box of features. This model was released in 2014 and went through improvements along the way.
This model offers amazing control while making your beats sound more professional and realistic. Compared with its earlier versions, this model introduces additional keys, along with increased pattern memory.
This model also allows you to upload your own samples. It also allows you to press several buttons at a single time. On top of that, it will also play all selected sequences smartly in alphabetical order. If you love trying out new patterns, doing so on the TR-85 is a good option to consider.
If you have a pattern list, you can jump back and forth easily from one section of the song to another, which is quite impressive. There are also six additional parts, enabling you to easily push a button to go to a different section of the composition.
6. Elektron Analog Rytm MkII
Best High-End Drum Machine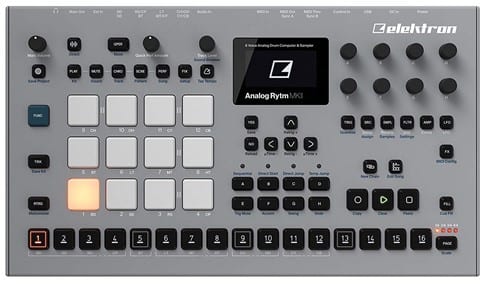 The Analog Rytm MKII drum machine from Elektron is a high-end model, both in price and in function. It shares similar features with that of its predecessor, but it has upgraded its velocity-sensitive drum pads. For one, they are far more responsive and larger. These new pads make this model more suitable for finger drumming.
This machine works by assigning a synth engine/machine to every pad or track, with nine unique available machines. Every machine has the capacity to build a certain drum sound, which is tweaked further when assigned to a pad or track.
This model offers more than just nice, clean, low-end, and punchy mids and highs cutting perfectly through. One of the most amazing things offered by this drum machine is the clarity in its mid-range, while not getting lost in a mix.
As a high-end machine, however, the learning curve may be somewhat steep for beginners. It comes equipped with CV connectivity, allowing it to integrate with other modular gear.
7. Korg Volca Beats Analogue Drum Machine Bundle
Most Travel-Friendly Option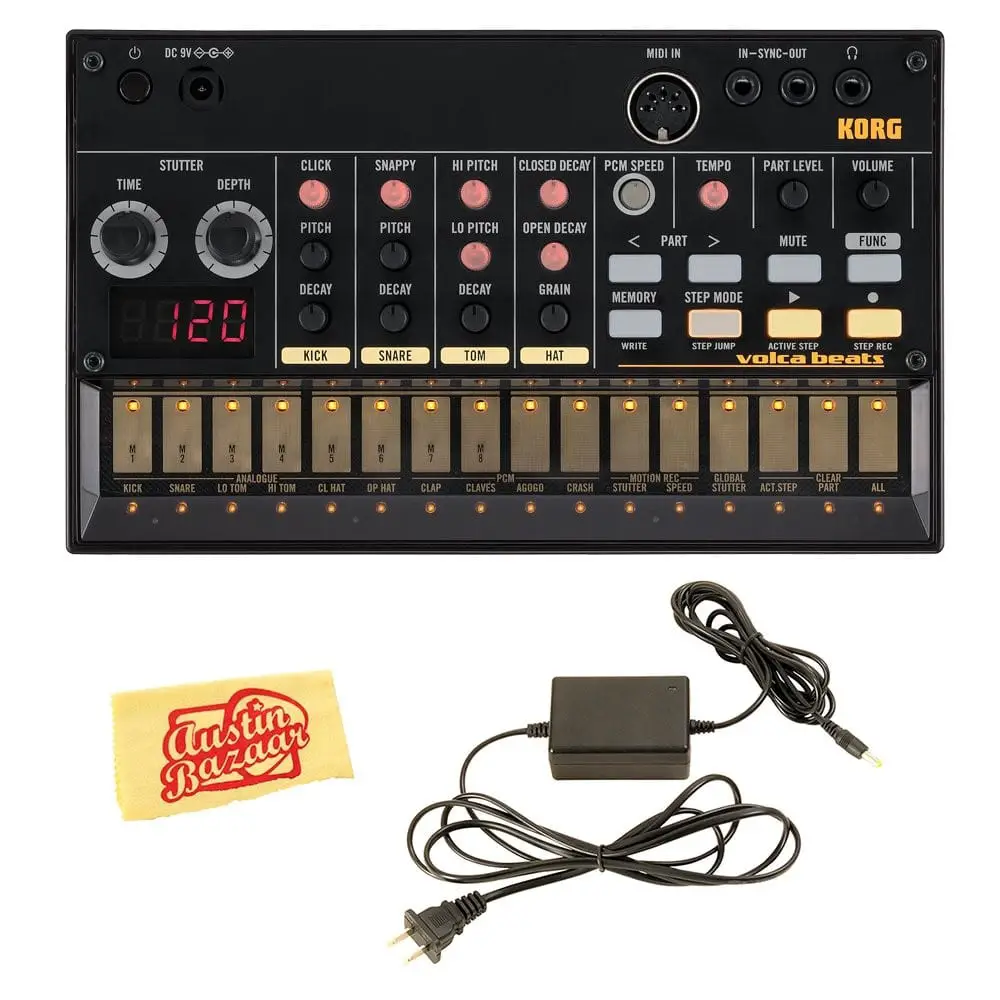 This drum machine might feature a lot of capabilities; the fact remains that it is one of the most travel-friendly choices out there. It focuses on classic sounds specifically, which means that there are enough customization and editing for any user to enjoy.
It also features a 16-step sequencer that can be fully used, with 8 memory banks that are more than enough. It also comes with a user-friendly touch panel, which is perfect for individuals who want to get the most out of this machine. Aside from the fact that it works really well, it is also quite sensitive to touch.
Another selling point of this machine is its size. In fact, it is designed to be carried anywhere. The best part about this machine is that it features the best speakers. As such, it makes it very easy to hear at an actual performance. Even though some are designed to be used together with headphones, you can use it without one if you wish to.
8. Dave Smith Instruments Tempest
Best in Offering Amazing User Controls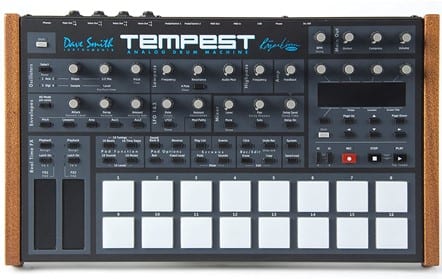 The Tempest drum machine is a powerful sound generator which is equipped with an operating system that is performance-oriented and highly innovative. As such, it offers amazing controls for the user across all aspects of its operation.
With this drum machine, you can record your drum beat quite easily in real-time. You can also switch to another drumbeat easily, recording it using the lit pads using step programming. On top of that, you can also switch to another drum beat, while recording keyboard parts.
This drum machine also allows you to have some amazing control options, which will enable you to sculpt and edit any of the sounds according to your liking. This also includes tweaking your analog effects and drum mix. After finishing, you can arrange your beats while playing and recording live performances as a song.
9. Arturia DrumBrute Impact
Ideal for Compact All-Analogue Beat Making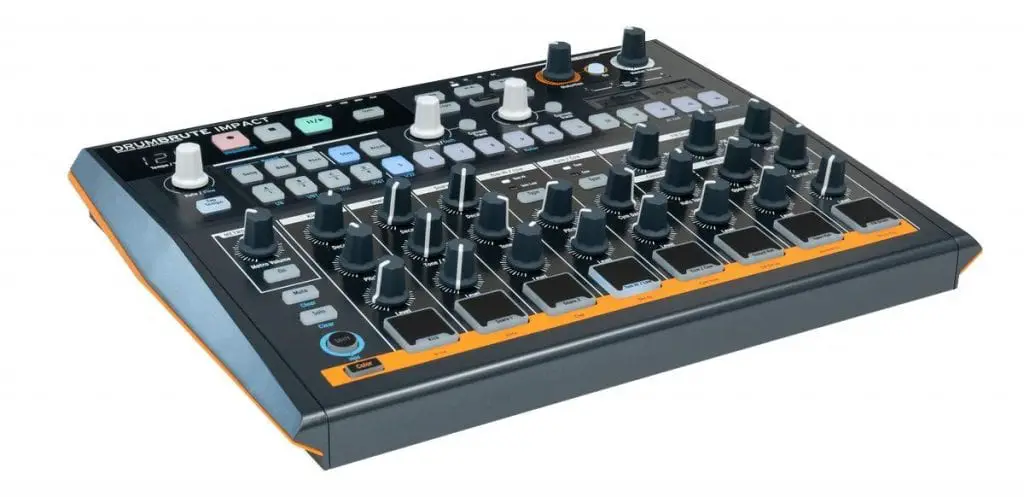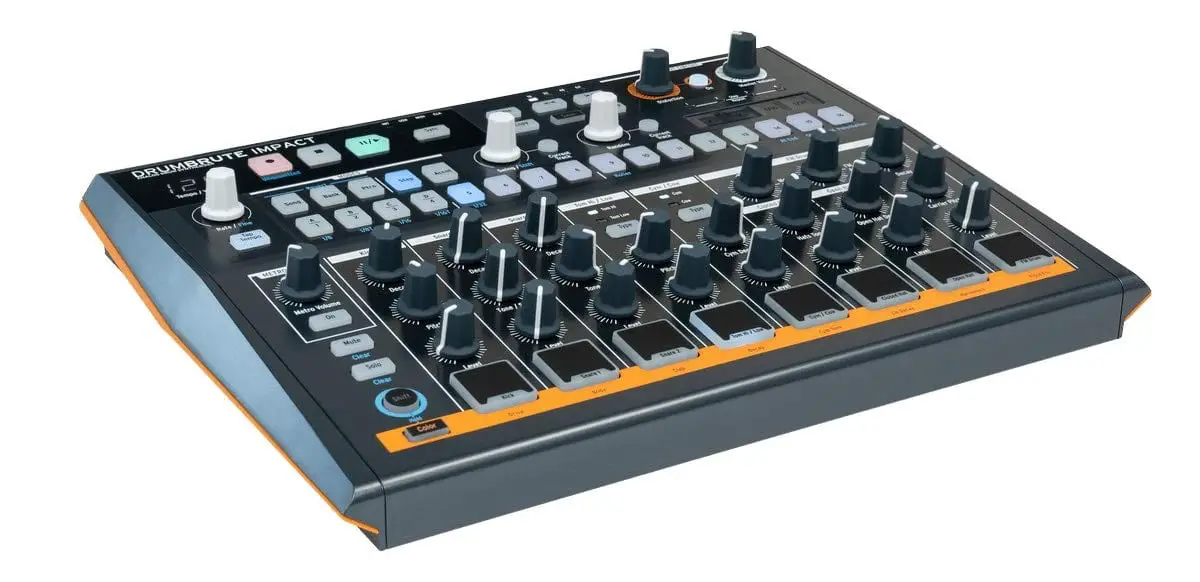 Similar to its larger sibling, the Impact drum machine model couples its sequencer along with with an all-analog drum synth engine, as well as a really flexible pattern, saving and song mode features.
In terms of appearance, the impact model is similar to its predecessor, placed inside a solid, navy blue chassis that is common among the models in the Brute range of this brand.
Even though the number of instruments is fewer, it is not a cutdown version of the bigger predecessor. Much of its sound engine has been overhauled, with the filter switched out to achieve a beefy distortion effect.
As a bonus, it also features pressure and velocity-sensitive pads, with a sequencer Roller and Beat repeat tools that are handy for spicing up turnarounds and fills.
10. Native Instruments Maschine Mikro MK2
High Quality Digital Drum Machine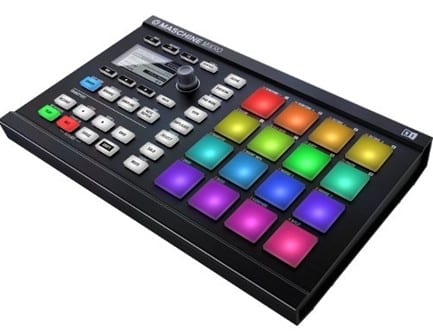 This drum machine is a high-quality digital drum machine that is ideal for travelers. Its lightweight design and small size make it relatively easy to carry around for playing wherever you may be.
Despite the small size, it is packed with features, such as an 8 GB sound library that introduces 11 different instruments, as well as a selection of a total of 25 effects.
It also brings together 388 multi-sampled instruments, lots of patterns, over 400 drum kits, as well as loops and samples that offer you many sounds to choose from.
The machine interface is sleek and beginner-friendly, with touch-sensitive and colored pads, as well as a monochrome screen. This machine can be used as a software plugin for your preferred audio program, or turn it into a controller a DAW.
Benefits of Drum Machines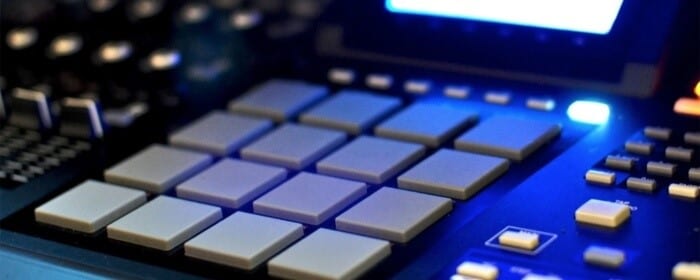 There are a number of benefits to using a drum machine. Here are some of them:
Popular Across Different Genres
Most modern models of drum machines have become popular across different types of genres, from psychedelic folk music, and others, for several reasons. It can be used directly, or experimental, with no rules whatsoever.
A Lot of Built-in Sounds Available
Since the modern versions of drum machines have been introduced since the 1970s, they come with more built-in sounds available. It is filled with synthesized beats, mixing seamlessly with tracks and patterns.
Programmable Machines
The best part about modern drum machines is that they are programmable. This means freedom in creating sound, and incorporating additional beats to actual production.
How do I Choose the Best Drum Machine?

Drum machines are known to create a huge difference in any live performance or studio music production sessions. As you create the beats, you add some spice to your everyday life. Whether you are planning to get a drum machine for recreational purposes or for professional reasons, you will no doubt need to consider some factors before making a purchase.
The best way to identify what is best for you is by determining exactly which features of a drum machine will prove useful to you and which ones can probably be skipped.
Size
Despite the fact that size may not actually be something to be extremely concerned about, it may still be a factor to consider. If you are interested in having a device that can be easily carried around, you would be more concerned about this factor than with someone who needs a machine for studio use.
Analog vs. Digital
You would definitely want to determine whether you will get an analog or digital drum machine. To put the difference in a simple way, an analog drum machine works by synthesizing its sound using its own hardware. On the other hand, a digital machine uses the hardware of your computer.
To make choosing simpler, if you require a realistic sound output, a digital drum machine is a perfect choice. They offer better integration and more flexibility with your system. Otherwise, an analog setup will give you the authentic sound of a drum machine.
Pads
The pads of a drum machine are where most of the action occurs. Most pads are sensitive to velocity, allowing you to create a variety of beats. Therefore, this feature should be present in your option.
The size of the pads also matters. If they are too small for convenience, you may find them limited in use. Check out for something that is easy to sequence on.
Sample Uploads
If you already have created your own samples that you want to upload to your drum machine, the sample upload features should not be taken for granted. Note that not all models support this, so make sure that you choose one that has this feature.
Memory
The memory available is highly important if you perform in live performances. To make sure of smooth performances, choose a drum machine that comes with enough support for user pattern and song mode that allows combining all these patterns together.
Editing, Programming Features, and Controls
These features play the main role in your drum machine. They determine the level of freedom that you will have in creating sound. Thus, check out for a machine that comes with easy to use and initiative controls.
The better editing features offered by a drum machine, the more creative you can get. Check out the specifications for sure.
Stand Alone
Some machines work on their own, while other models require a computer. This is a very important factor to take into consideration. Make sure whether the drum machine that you plan to have is a standalone model or needs a computer.
Built-In Effects
The built-in effects add spice and color to your music production. Check the onboard effects before choosing a drum machine.
Extra Features
Drum machine models offer different extra features. Some can double as audio interfaces, and some have really nice features. Even though the main features are not your primary concern, having them can turn out to be a good idea.
FAQs
What is the best drum machine for live performance?
This model is one of the oldest stereo electronic drum machines and is highly popular among live performers. It is easy to learn, with some user-friendly features. It comes with a compact size and an overall lightweight design, which makes it quite easy for carrying around.
What are drum machines used for?
Drum machines are electronic musical instruments that create percussion sounds, patterns, and drum beats. These machines may also imitate other percussion instruments and drum kits, producing unique sounds, including synthesized electronic tones. Most machines also allow users to incorporate their own beats and rhythms.
What drum machine did Michael Jackson use?
Michael Jackson was reported to use the Linn LM-1, especially for his Thriller album. Any expert would agree that it offers amazing drum work.
When did drum machines come out?
Even though commercial models of drum machines have been made available in different forms back in the 1950s, they only became famous among professionals during the latter part of the 1970s when the company Roland released the first programmable rhythm box in the world the CompuRhythm CR-78.
Conclusion
This review highlighted some of the best drum machines out there in the market. We have also covered some important points that should be noted when buying. These points will be able to help you in understanding what you really need in a drum machine, thus making the selection process easier.