Learning how to play guitar like Ed Sheeran may look simple enough, as many have already done it. But although it looks easy enough, many think that there's more to his style and his technique. According to some pros online, Sheeran's style is quite deceptive as it may look simple when checking the chords, but he also uses right-hand techniques to enhance his music style. Here, we will learn the practical ways you can play guitar like Ed Sheeran and hopefully perform like him on stage as well.
1. Study Ed Sheeran's style

As with all musical performers and masters, to study their performances is one way to play like them. Therefore, to play like Ed Sheeran, you must study Ed. This is very important so you can clearly check his guitar styles, the technique he uses for different songs, and performances.
Ed Sheeran is actually a multi-talented artist capable of playing several musical instruments. From his videos or at least music videos and performance videos of him posted online, you can clearly hear his playing and get a good eye on his guitar playing.
If you followed Ed Sheeran's music, you could clearly say that most of his earlier works were quite easy to play. Songs like The A-Team and Lego House are quite easy to follow through, but as time goes by, his technique greatly improved, and some of his songs became upbeat and may be more complicated to an average player. So, to study Ed Sheeran, start with his earlier works. Just some recommendation is his Boat Sessions videos available on YouTube.
Sheeran writes his own songs
Another thing spectacular about Ed Sheeran is that aside from being a good guitar player is that he is also a fantastic writer. He is also a popular songwriter for other singers and artists. He is also a fan of using the alternate tuning and uses these to give some of his songs more flair and edge.
Take a look at his playing; he uses a different fingerstyle combination and strumming, and these are already noticeable in the introduction to his many songs.
Some writers think that Ed Sheeran's level of play is only average; however, this is not true as he has an excellent talent to play live, and he is an expert in keeping a steady and smooth rhythm. Just check out some of his live performances online. You could easily tell an expert from a beginner or an average musician. Ed Sheeran also has the stage presence but is not extravagant or flamboyant. He can easily entertain a theater full of people, even from the simple songs he is playing.
2. Study Ed Sheeran's technique
According to most guitar players, there's nothing special in Ed Sheeran's strumming or his right-hand technique. He may have become a household name after his many hits, but he is not really a groundbreaking artist when it comes to finger styles.
What sets his playing apart from other basic strumming techniques is his love of syncopated R&B and hip-hop rhythms. Many agree that Ed thinks like a drummer when he plays his guitar as he accents the 2nd and 4th beats where a snare's hits would be present, and he also plays rhythms in the middle of these main beats that consider the patterns in hi-hat cymbals. If you know how to beat-box, try playing one of his songs this way, and you'll see what this is all about.
Some techniques to check out
Ed Sheeran's techniques have been studied by many musicians. There are many variations, but here is a way to get that rhythmic chord playing that Sheeran is passionate about.  
First is to combine two important things: a steady 16th note with a regular strumming pattern using your right hand. You must count 1-e and a-2 and a 3-e and a 4-e and a… as you strum with a regular down, up, down, up manner.
Practice this pattern very well, by using your fretting hand or use your left hand if you are right-handed to mute all of the strings. Just strum up and down using your picking hand. And after you are okay with the basic strumming, miss out some of the strokes through raising your picking hand away from the strings. Always keep to a steady down, up, down, up strumming manner.

Now, you must practice your fretting hand as well. You can fret a chord or release your hold on the strings to create muted percussion sounds with no pitch. You may also strike a chord then mute it to create short and syncopated chords, which are clearly audible at the start of Ed Sheeran's "Sing."
Practice a lot, and once you've got the hang of these easy techniques, you can use the two together to achieve muting and picking hand hits and misses and to make all the rhythmic parts that Ed Sheeran is popular for.
3. Use quality instruments
Ed Sheeran loves to keep his instruments simple. For instance, he prefers Martin acoustic guitars rather than more high-end brands. He specifically uses his own model and the LXE1 and the Stratocaster, which he only uses occasionally.
Martin Guitar has the Martin Custom model, the Ed Sheeran ÷ Signature Edition. This was based on the singer's love of playing the LX1E Little Martin and is a part of the trilogy of guitars with the cover art for Sheeran's "Ed Sheeran 3."
Aside from the guitar, you must also learn a few chords or so on the piano as Sheeran creates music through playing the piano as well. Ed is unlike other popular, heavy metal singers that are too harsh with their instruments. He takes excellent care of his guitars as well as other instruments he owns. He knows the value, and this is reflected in the gentle manner that he plays.
But nonetheless, you can still learn to play like Ed Sheeran with your own musical instruments at home. Just follow his style and focus on his fingering and his regular strumming techniques.
4. Learn how to play confidently on stage
Although Ed Sheeran was initially shy to be in front of a large crowd, he was able to overcome this by playing more and more for people. And until today, Ed Sheeran continues to look like a shy little boy on stage, but once he opens his songs with his cool melodies, then you'll see that he's more than equipped.
Start by playing for a special someone, your girlfriend, your mom, or your sibling. Don't just play sitting down, play with gusto, and interact with your audience. Soon, you can expand your talents and skills by playing for more people.
Try playing in front of your family during dinner or volunteer in a school or in the community. This will enhance your style and your manner of playing as well as improve your stage presence altogether. Sometimes, having a good stage presence makes up for a poor guitar playing technique! But you can't fool your audience by playing poorly, so practice and practice until you get Ed Sheeran's technique.  
5. Don't forget to place a passion in your work
What does Ed Sheeran have that other artists don't? Ed has been passionate about music even when he was just a very young child. When he was in high school, he was voted as the most likely to be famous by his class because of his amazing talent and his deep passion for songwriting and performing.
Follow Ed Sheeran's life and career, and you'll see how every song that he has created in the early in his career was inspired by his life experiences. For instance, his former girlfriend, Nina Nesbitt, who was a Scottish singer and songwriter, was his inspiration for Nina and Photograph. Nesbitt also used Sheeran as inspiration for her song Peroxide.
Another one of his former girlfriend Athina Andrelos was also the subject of Sheeran's song Thinking Out Loud. And his former girlfriend and former high school classmate Cherry Seaborn was his inspiration for the song Perfect.
6. Collaborate with people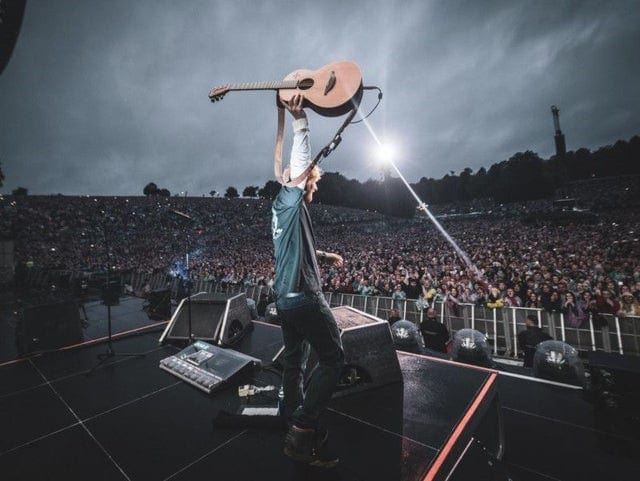 Ed Sheeran is known as a serious collaborator, and if you want to play like him, you should also learn how to work with talented people too. One of his most popular collaborations was with Taylor Swift as the two wrote songs for her albums Reputation and Red. He was the opening act for The Rolling Stones' Zip Code Tour in Kansas City, at Snow Patrol's Fallen Empires Tour in North America in 2012 and also with Taylor Swift's The Red Tour in all North American dates in 2013.
Ed Sheeran also collaborated with his long-time inspiration Eric Clapton in 2016. He appeared in Clapton's I Will Be There. He also performed with the artist on stage.
7. Follow Ed Sheeran's Inspirations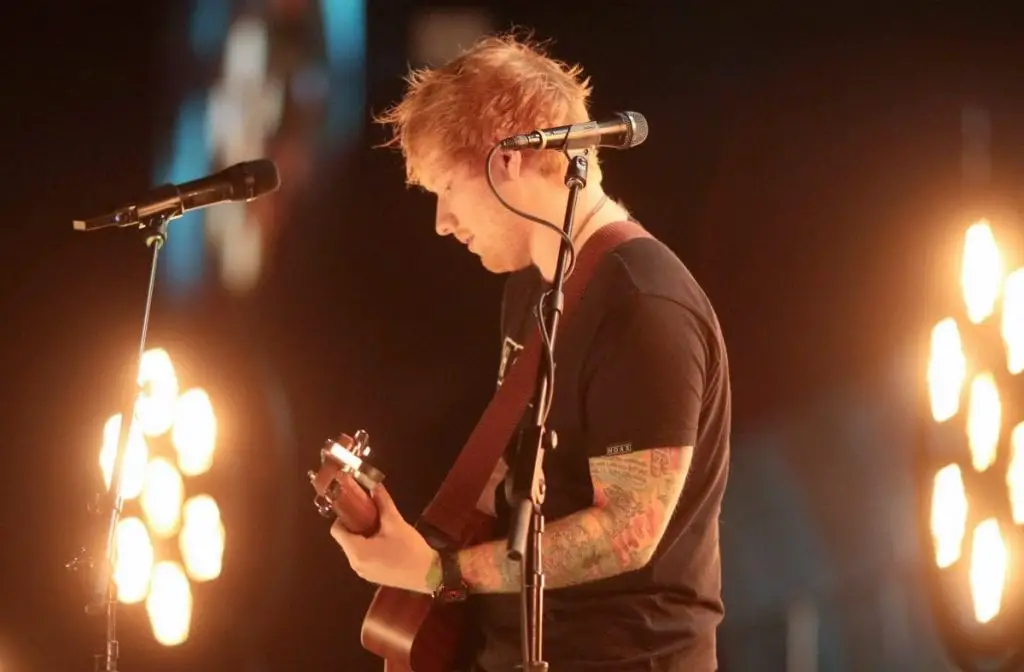 To play guitar like Ed Sheeran, you must also take from his influences. His first influencers were Joni Mitchell, Elton John, and Bob Dylan. Sheeran said that Van Morrison's Irish Heartbeat introduced him to playing and loving music.
When he was young, his father accompanied him to live concerts, and these would become his musical foundations. He saw Eric Clapton at the Royal Albert Hall, Bob Dylan, and Paul McCartney in Birmingham.
Sheeran said that Eric Clapton was the reason why he pursued guitar playing. He specifically liked Party at the Palace in one of his performances in the Buckingham Palace grounds. He also lovingly remembered Eric Clapton play Layla, and two days after the concert, he brought a copy of a black Stratocaster that came with a free amp. Sheeran said that all he did the following month was to learn how to play Layla.
Other influencers that he cited many times were The Beatles, Eminem, and Nizlopi. He claimed that when he was younger, he had a stutter in his speech, and what cured him was rapping along with Eminem in The Marshall Mathers LP.
He also loved Damien Rice from Cannonball in 2002. Sheeran stated that he saw him play live in a pub in Ireland. He said that Rice was very cool and thus when he got home, he wrote some songs. He stated that he wouldn't have the inspiration to write songs if Rice did not act nice towards him.
Westlife and their Greatest hits album were also one of Sheeran's inspirations. He said that he loved Westlife since he was ten. All these impressive artists were Sheeran's inspiration all his life. If you even have one of these artists as your inspiration, then you'll probably on the right track.