Bass Synth Pedal or bass synthesizer pedal help change and improve the overall sound by emulating the sound of a synthesizer. Upon activation through the pedal, the signal is manipulated by the pedal, and the overall sound is changed, and most of the time, improved for the performance. Bass synth pedals are more commonly used on stage and in recording studios. The difference between this and the bass compression pedals is that it can emulate the synthesized sounds that recording studios can process; hence it is more commonly used nowadays.

While most pedals can give off a unique synth sound, they are not able to copy the sound from other instruments. If you think that you can make your bass sound like a cello, then you might be in for a world of disappointment. There are still limitations to what the pedal can do, and this means that there is a whole world of creativity for the artist to play with. The best part about the products listed below is that most of these synth pedals can also be used as guitar synth pedals.

Here are the best bass synth pedals on the market today:
1. Zoom B1on Bass Effects Pedal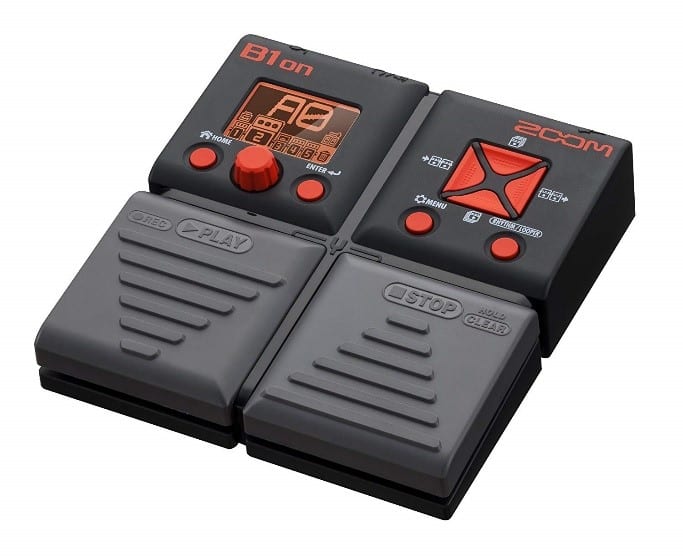 The Zoom B1on is probably one of the most affordable bass synth pedals on this list; however, cheap does not always mean low quality. This pedal has more features than most of the pedals out in the market, and yet it produces high-quality results. With around 100 onboard DSP effects such as octaver, pitch shift, chorus, compressor, and many more, the pedal can even produce up to 5 effects altogether.
If there is one thing that really stands out with this pedal is its plastic construction. Durability is key when it comes to pedals, and it might be off-putting for many musicians.
Our Conclusion: If you find yourself on a tight budget and you want to have the value for your money, then the Zoom B1on should suit your needs. The first thing that you would need to do is always get the first-hand experience with the pedal first before purchasing it online, where it is far more affordable than in a store.
Pros:
Very affordable
High quality results
Very easy to use
Cons:
Plastic material
Issues with durability.
2. Boss ME-50B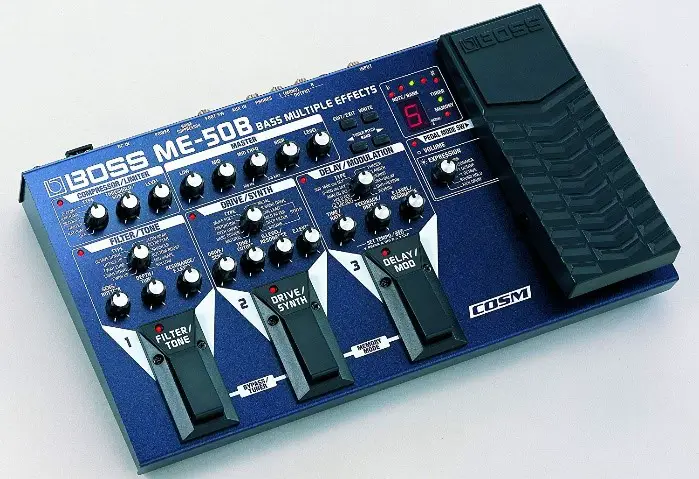 The Boss ME-50B comes with easy to use controls that are specialized for each effect. The pedal also has a durable casing that protects it from impact. Artists, musicians, and performers who want to be in control would certainly love the fact that this pedal has all the things you need right at your fingertips. It boasts a wide variety of effect pedals to capture an array of effects while playing your bass guitar.
With just three pedals, you have total control over the effects that you want. This allows ergonomic placement of your leg, thus preventing any leg pain at the end of your performance. The pedal also comes with presets that you can tweak as you go along. Other features that come to mind are the hi-band effect and the sound on a sound feature that lets you overlay or record different parts of music. Now, this is a pedal that you would want to have as a performing artist.
Our Conclusion: Playing your guitar has never been easy with this pedal, and you would not need to worry about a thing with your performance as you already have the Boss ME-50B that makes things easier for you.
Pros:
Solid build
Practical effects
Great sound results
Cons:
A bit pricey
Sounds have little dynamics
3. Electro-Harmonix Bass MicroSynth Effects Pedal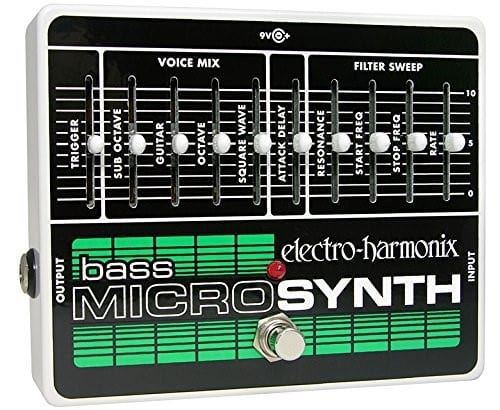 Many bass synth pedals on this list give off a modern vibe or are filled with modern features for the contemporary musician. However, Electro-Harmonix Bass MicroSynth gives that old school vibe for the more classic and retro style. The pedal can give off synth tones that were popular in the year's past. The 10 different sliders will let you travel back in time where analog synths were popular.
The good thing about this pedal is that it goes full-on retro through its use of analog circuits that are designed specifically for a bass guitar. The four different voice settings will let you create vintage tones that you love starting from sub-octave. New users might feel left out with this pedal, though, as almost everything comes off rather manual for them.
Our Conclusion: Geared towards retro and classic users, this synth pedal is a great modern take of a classic pedal that is good for seasoned players.
Pros:
Old school vibe
Wide variety of options
Durable build
Cons:
Not newbie-friendly
On the higher spectrum of costs
4. Boss SYB-5 Bass Synthesizer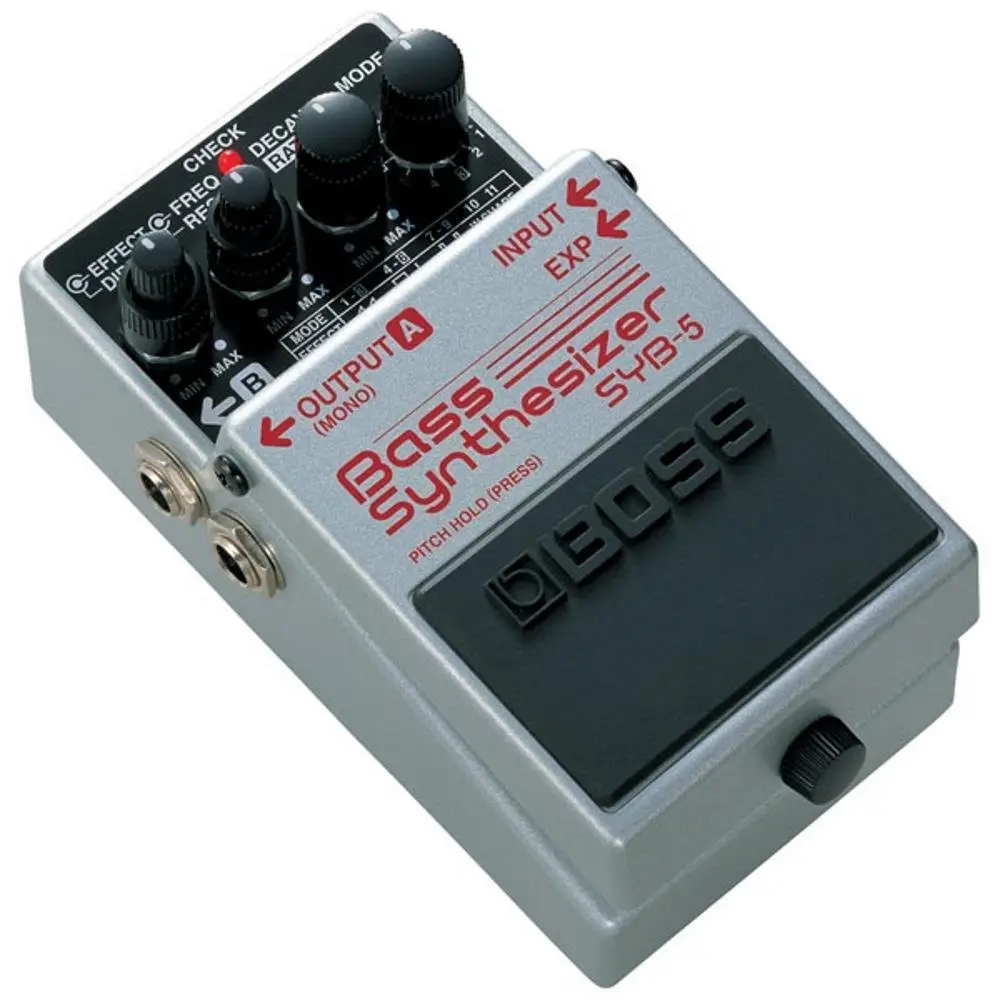 Coming off the heels of SYB-3, which is one of the most popular bass synths of all time, Boss SYB-5 Bass Synthesizer is built to top its sibling. Quality was in mind when this synthesizer was created. The four knobs will let you modify the unit as you please.
Many of its features include the ability to play different sounds such as robots and weird sounds that may come to play at your performance. The Boss SYB-5 Bass Synthesizer enables the user to create sound; however, you wish with its clean, processed signals.
Our Conclusion: The Boss SYB-5 Bass Synthesizer leaves a lot of opportunities for you to experiment and try something new. With this unit, you can create solid and unique sounds that will keep you above the pack.
Pros:
Easy to use
Good quality sound
Great playability
Cons:
A bit dated
Has some note latency
5. Markbass Super Synth Bass Pedal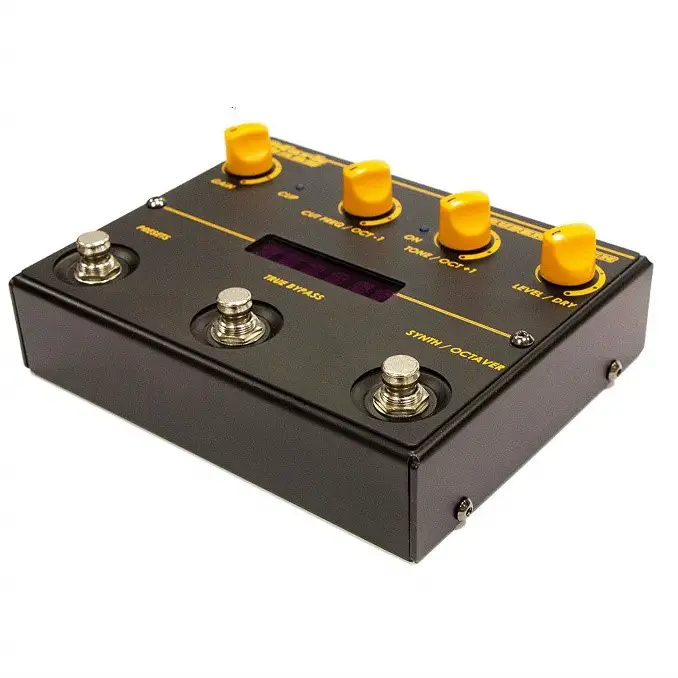 Markbass Super Synth is a synthesizer through and through. Much like a keyboardist who would use a keyboard to control and play a synthesizer, this pedal does exactly what it would do. This is an ideal bass pedal for old school sounds of the 70s or electronic music of the 80s. The footswitch enables you to scroll around the different presets which come in hand, especially if you are already on stage.
The good thing about this pedal is that you can create and modify your own presets, which you can then sync with the pedal through a USB. This allows a great sense of flexibility to the musician and avoids having generic sounds that many other presets often have.
Our Conclusion: With its high-class sound quality, excellent effects, and durable build, the Markbass Super Synth gives a lot of quality to your money. This pedal might be one if not the best in the market for 2020.
Pros:
Easy to use
Very versatile
Great compatibility
Cons:
6. Source Audio One Series C4 Bass Synth Pedal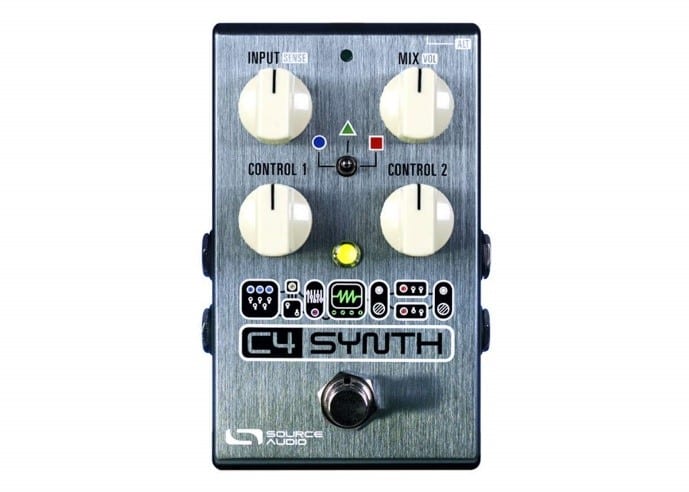 Many would immediately dismiss the C4 Synth Pedal due to its small size and lack of many features, however, with closer inspection, do not let the small size fool you as the pedal is packed with features. While it only has small 4 knobs for the Input, Mix, Control 1, and 2, this pedal is also supported by the Neuro Desktop Editor or its mobile app counterpart to produce different waveforms, filters, pitch-shifting, and many other features.
It also comes with around 128 MIDI presets and has a three-way switch that you can toggle with three presets that have been saved locally. With the slew of sounds created with the help of the desktop editor, this pedal opens up a lot of potentials for you to mix and play. However, the downside is that many would also like their sounds modified into the pedal instead of a desktop editor.
Our Conclusion: If you want to experiment on different sounds, then Source Audio has the answer for you. This pedal has everything that you need, even at its small size.
Pros:
Great compatibility
Very versatile
Wide variety of options
Cons:
Other cheaper pedals also do the job well
7. Earthquaker Devices Bit Commander V2 Bass Pedal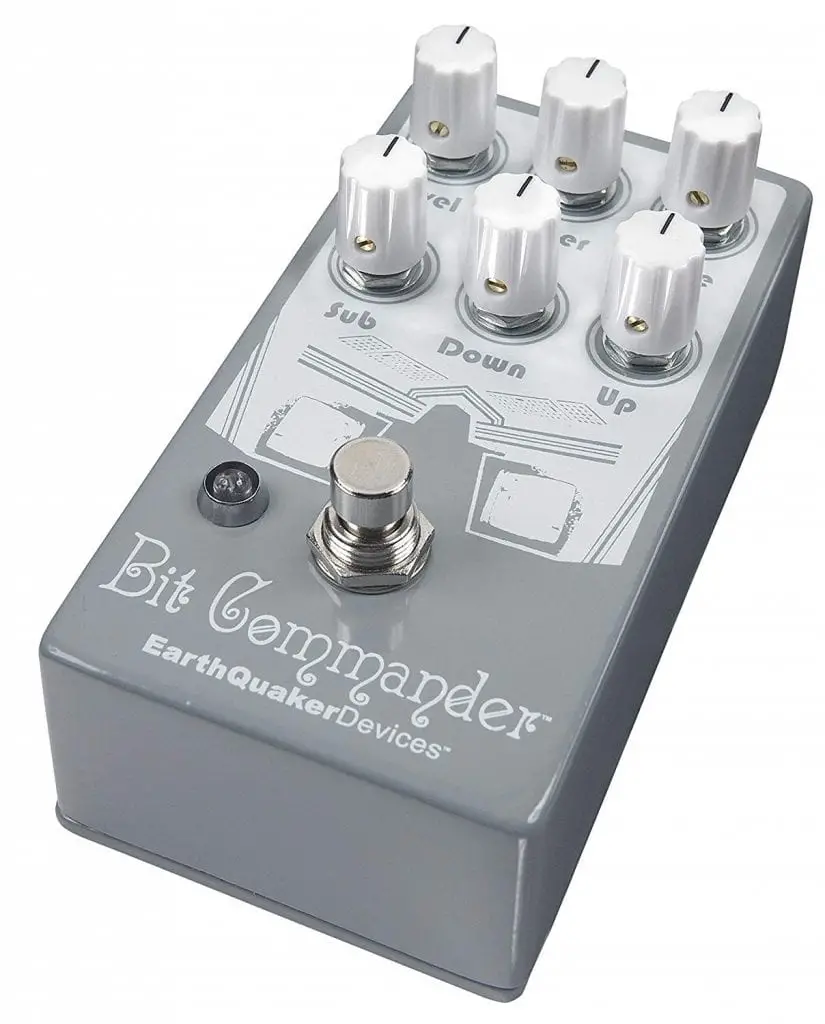 Many bass synth pedals on this list are packed with features that truly set them apart from the rest. Features that make you appreciate being unique and features that let you create synth tones that are a cut above the rest. However, there is also the Bit Commander V2 from Earthquaker Devices that is equally unique in its own right not because of its overloaded features; it comes off unique due to how basic yet efficient it is with its simplicity.
The pedal helps you create synth tones through its very simple square wave modulation through the 4-octave range, which is up 1, down 1, sub, and base. This allows the unit to have a wider range of sounds and allows the control for each level. The simplicity of Bit Commander V2 makes it a very decent and a class of its own.
Our Conclusion: If you are looking to play some funky music with the help of a responsive pedal, then this should be your choice.
Pros:
Simple controls
Great sound quality
Simple circuitry
Cons:
Quite pricey for a single purpose.
8. Tech 21 RIP Red Ripper Bass Distortion Effect Pedal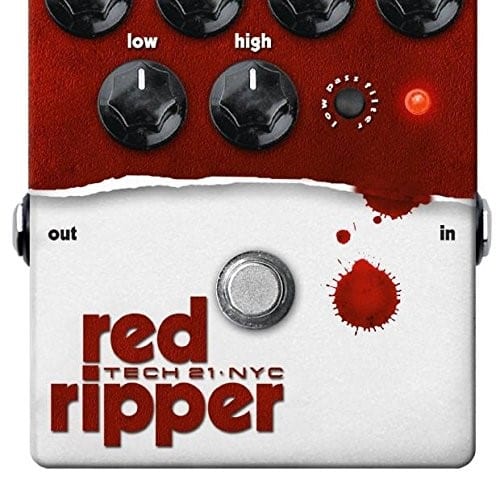 This pedal provides a wide variety of sound options. The pedal has seven controls; however, their functions go further than their descriptions. Low, mid, and high are definitely what the description says, but altering the different settings of each control and the sounds change dramatically. This means that careful control and a lot of imagination and creativity is needed for this device to fully reach its potential.
The endless option is what makes this pedal a cut above the rest. The only downside to this is that it can be quite pricey for a lot of people.
Our Conclusion: While the controls might seemingly be basic to look at, they have a deeper function that many would not dream of. It offers a wide variety of tones and sounds that should keep you invested for many hours.
Pros:
Wide variety of sounds
Easy to use controls
Lots of options and settings
Cons:
9. MXR M85 Bass Distortion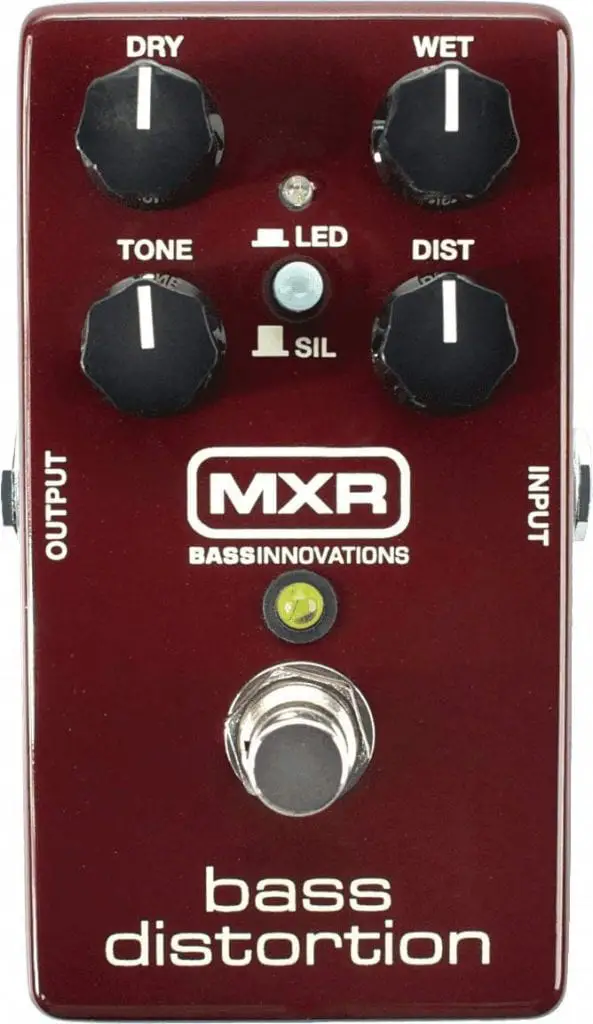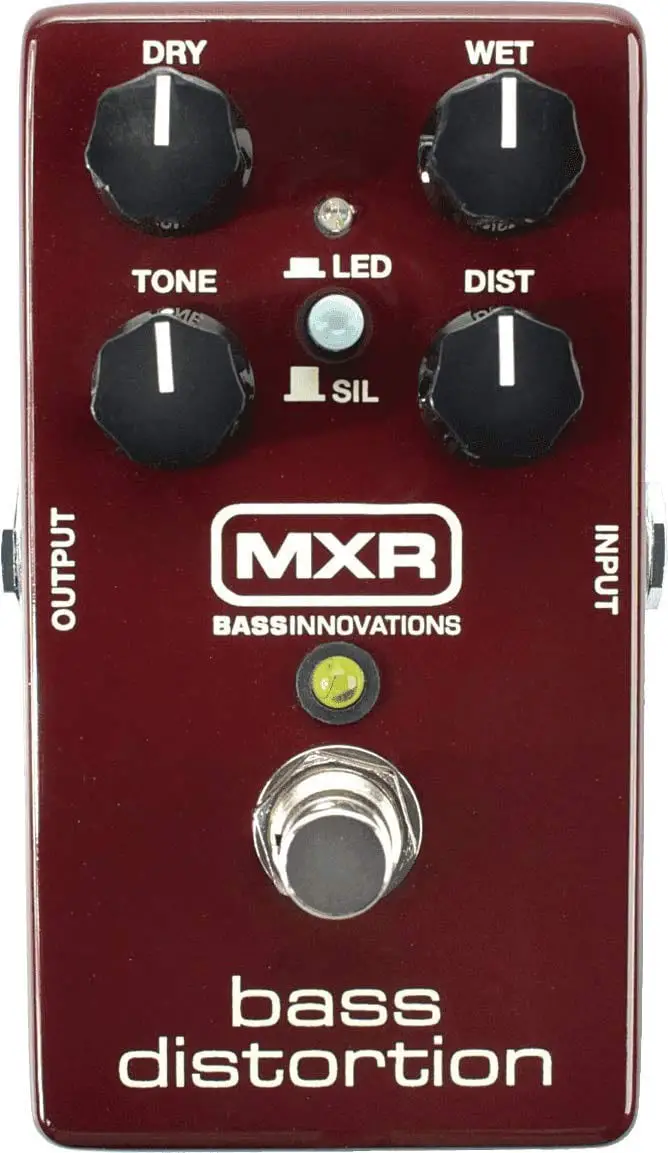 The M85 brings a lot of features that provide a decent amount of sound options. It is well-designed to give bass players controls that give different options. While many of its sounds can be quite distorted, it will be very easy for the user to take it far enough that it can be difficult to control the sounds.
The controls are quite sensitive and will need careful handling to retain a topnotch sound. If you are looking for gentle sounds, then the M85 might not be the one for you. The M85 does bring the distortion to the forefront.
Our Conclusion: A solid and well-built pedal that is perfect for mixing.
Pros:
It offers great sound
Easy to use controls
Well-designed
Cons:
Sensitivity can be improved
10. Behringer Bass Overdrive BOD400 Authentic Tube-Sound Overdrive Effects Pedal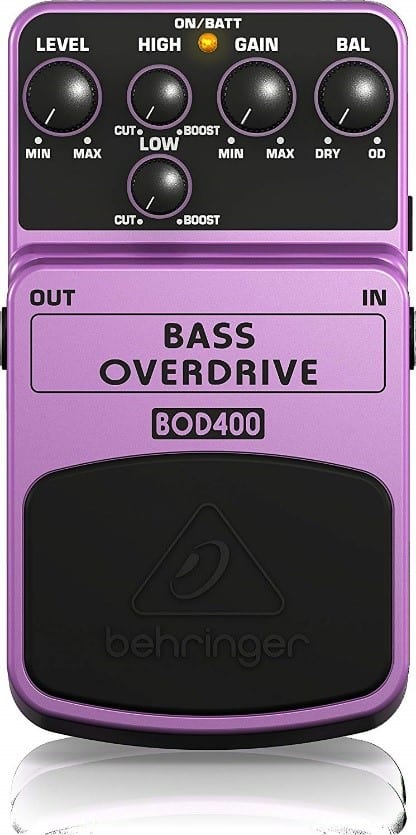 Behringer is known worldwide to produce high-quality pedals and is more popular due to its cost-effective units. One of which is the Bass Overdrive and Behringer put a good amount of work into this unit as it packs a lot of options. Designed for bass guitars, this unit will let you take control using its two-band EQ

While it does not offer a lot of modern-day or even innovative features, what it does is deliver a good product that everyone can rely on. It also has an LED to determine the battery status of the unit. The unit is made of plastic, and it can pose a problem for heavy users, but the price makes up for that.
Our Conclusion: This budget-friendly pedal produces good quality effects, and you certainly would not need to spend a lot of cash for such a decent product.
Pros:
It offers great sound
Basic controls
Great design with excellent features
Cons:
Buyer's Guide: Things to Consider Before Buying Bass Synth Pedal
Many products today often market as top-notch and high quality, and when consumers get their product, it tends to come off as cheap and low in quality. Here are some of the categories or requirements you need to know first before choosing the right pedal for you.
Price
It will always come down to the pricing of the pedal. There is a lot of bass synth pedal that is high on the price list and offer less than the feature while others have low prices but overload the pedal with features that are seemingly promising at first but falter later on. Make sure to check out the pricing and balance all the features first before making a decision.
Features
Speaking of features, always look out for features such as accessible foot-switches, connectivity to PC, overdrive effects, EQ effects, presets, and many more. Learning a thing for two about the features of a certain pedal will help you decide which one is the best for you.
Durability
A lot of time, you will be using the pedal, and it can get pretty stressful. Make sure to pick a bass synth pedal that allows you to have all the effects you need at one go or with simple steps to make your performance easier on your leg.
Usage
There are different things that the product is used for. Some would use it for its overdrive or distortion, and while this can be interchanged, different pedals produce different sounds. By trying out different pedals, you will get to know which sound you want and will help you determine which pedal is appropriate for the sound you want to produce. This decision ultimately comes down to what you want from the unit itself, and knowing this makes a difference with your decision.
Final Conclusion
We highly suggest the Electro-Harmonix Bass MicroSynth Effects Pedal as the top choice with its full-retro feel and wide array of options. The Tech 21 RIP Red Ripper Bass Distortion Effect Pedal is another bass pedal that is on our list that is highly valuable due to its sound control. However, the others are still quite strong contenders to give these two a run for their money
Even if you do not play the bass guitar, a bass synth pedal can still offer a lot of effects to other instruments. The pedals listed above are highly versatile. It is worth noting that the pedals bring inspiration and creativity as an artist. Go ahead and pick the best one for you.