With the way that it is designed, an acoustic guitar produces a sound that can be described as tinny, unbalanced, or even lifeless. A good balance in sound either the dominance or subordination of certain frequencies across the sound spectrum.
This is not a hopeless case, however.
You can improve the quality of the sound of your acoustic guitar effectively with the use of a quality acoustic guitar pedal. They are added in between the console and the instrument. Generally, acoustic pedals come in pedal form, though they may also be available in effect processors form. Different pedals produce different effects.
The good news is that there are several options on guitar pedals that are out on the market these days. However, not all of them will flawlessly function with your acoustic guitar. To help you make sure that you have the best one at hand, we have rounded up the 10 best acoustic guitar pedals for your choice.
Reviews on the Best Acoustic Guitar Pedals
1) Boss AD-10 Acoustic Guitar Pedal – Ideal for Use During Acoustic Gigs
Editor's Rating: 4.5
This amazing pedal from Boss is a recommended choice for acoustic gigs, especially if you need to plug right into the PA system. It is designed to offer a consistent tone. Unlike standard guitar pedals, this pedal allows for plugging into two guitars simultaneously. This feature comes in handy if you have 2 different guitars with different tunings.
This pedal also features some built-in effects, which include delay, chorus, as well as onboard ambiance with multiple sound types and adjustable parameters.
This advanced unit will produce that expressive, organic vibe that plays a huge role in a beautiful overall acoustic experience as it restores the string resonances that are typically lost when using pickup systems.
Pros
Highly durable construction
Resourceful features included
Two guitars can be connected at once
Brings back string resonance
Cons
Old-school user interface 
2) Line 6 Helix HT Multi-Effects Pedals –Recommended for Professional Guitarists
Editor's Rating: 4.5
This rugged-looking, large floor pedal boasts a massive number of 1,024 preset locations that are built-in and organized into 8 setlists. With all of its presets and other features, it can create high quality sound.
The manufacturer of this pedal has also introduced an easy editing system, which means that this package includes a touch sensitive footswitches and joystick. The footswitches also offer a shortcut to the parameter adjustment feature.
An advantage that is offered by this model is its comprehensive input/output as well as its signal routing capability, facilitating any guitar-related onstage or studio task there is.
Pros
Comprehensive connectivity features
Innovative features for visual display
Quality sound from amp effects and models
Cons
Overkill in connectivity features
3) LR Baggs Align Series Equalizer EQ Pedal – Multi-Instrumentalist Pedals
Editor's Rating: 4.5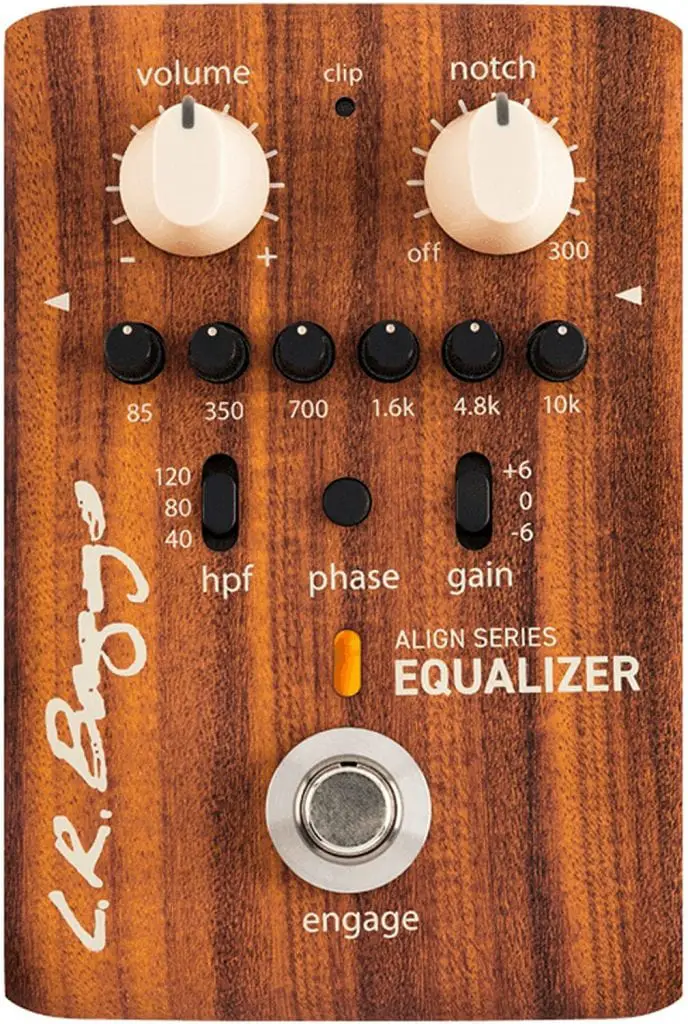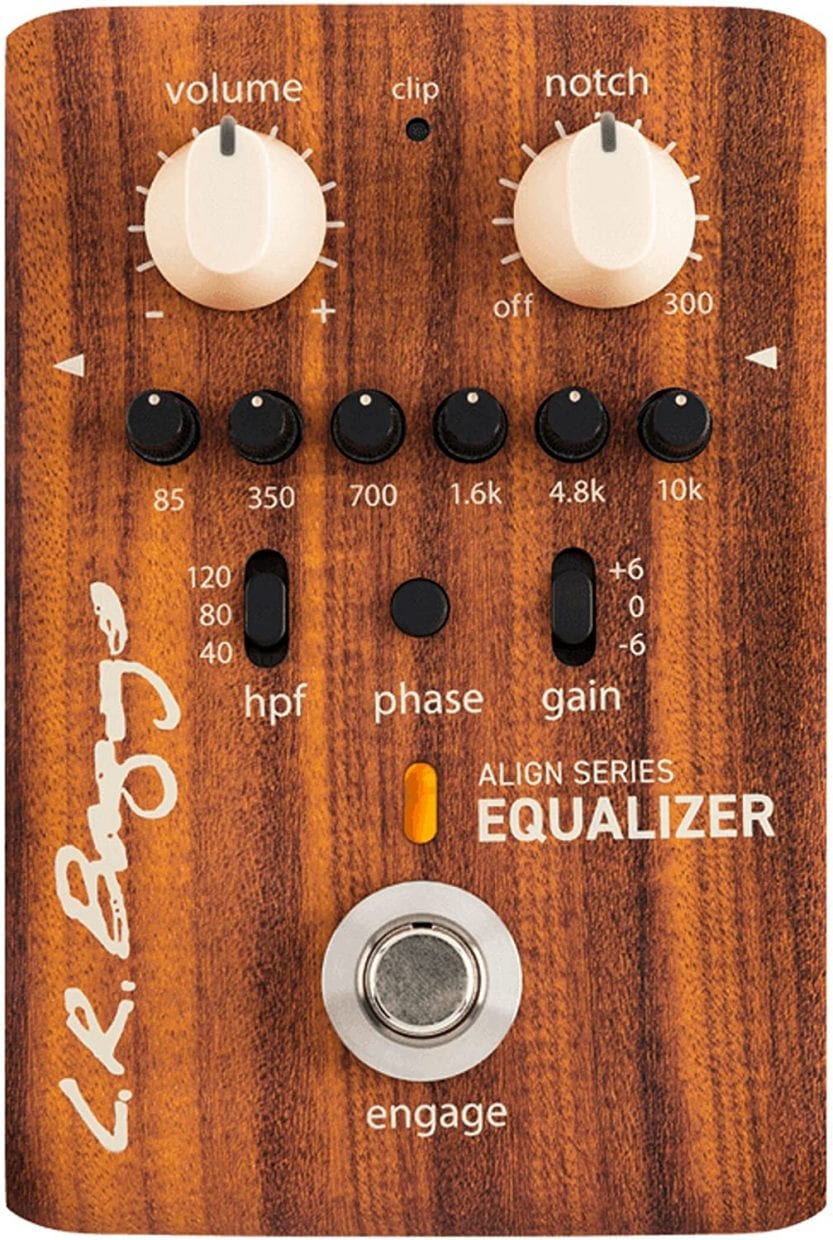 This pedal is sure enough to help you whether you are playing your fave tracks, practicing, or playing on stage. It is designed to achieve the best tones from your acoustic guitar. If you play different instruments, this is also a resourceful tool to play with.
With this unit, you can easily use dedicated EQ pedals to level match effectively on several instruments. This will allow you to customize a specific EQ for every instrument.
It also combines FET gain along with a high quality EQ and tone shaping, thus instilling richness and balance to the acoustic pickup signal.
Pros
6-band EQ
Tames resonate feedback
Phase inversion for pickups
Easy level control
Cons
 Some issues with integrating dedicated EQ pedals
4) Mooer Multi-Effects GE200 Pedal– Price and Performance Wonders
Editor's Rating: 4.5
Mooer is a Chinese brand that is slowly picking up in building its reputation. What they offer is an amazing balance between performance and price.
They used to offer low-cost versions of more popular brands, but now they have created their lineup at the low to mid-range.
This pedal offers a range of models, effects, and tools that match well to its claim. It features 70 effects which all sound amazing. Among the favorites are the capacity to load impulse responses, fine-tuning the speaker outputs. Overall, the GE200 model is worth your attention.
Pros
Easy to use
Produces great sounds
Offers support for 3rd party IRs
Cons
Some issues with unit durability
5) TC Electronic BodyRez Acoustic Pickup Enhancer Pedal– Refined Resonance for Your Guitar
Editor's Rating: 4.5
This pedal from TC Electronic adds some spice to your music as it introduces an acoustic guitar tone. This means that you can finally say goodbye to dealing with a one-dimensional, flat tone.
It further adds a natural ambiance to your guitar tone, made possible with the use of pre-configured filters with compression. All you need to do is to turn the knob right to the setting that you want.
This pedal is also designed to restore the appropriate level of acoustic resonance of your guitar when using under-saddle pickups.
Pros
Impressive bypass feature
Refined resonance
Adds natural ambiance to guitar tone
Cons
Does not serve as an equalizer 
6) HeadRush Pedalboard– Impressive Touchscreen Feature
Editor's Rating: 5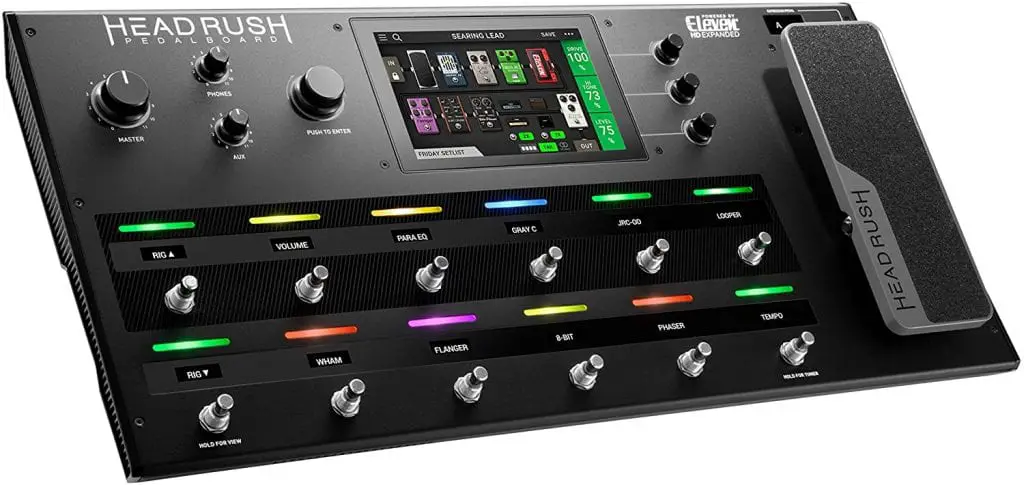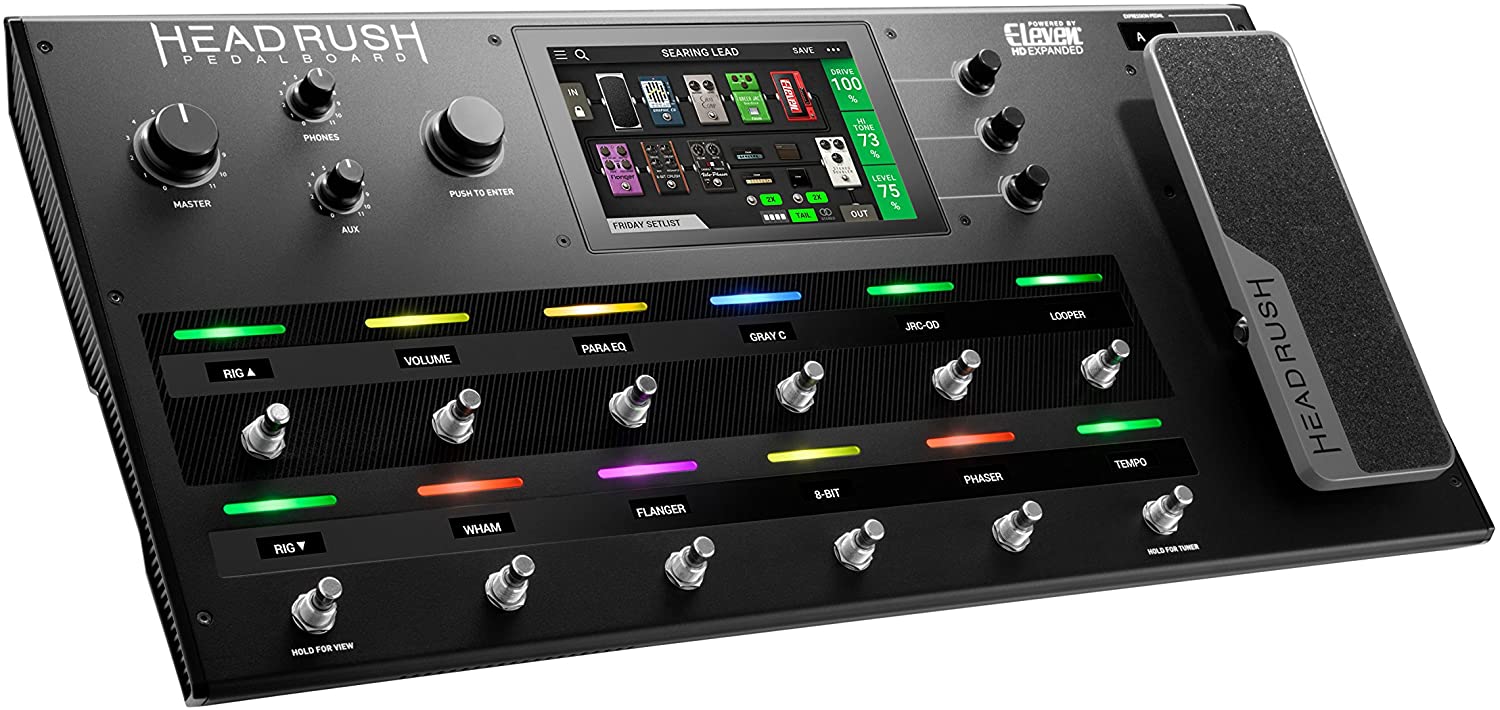 If you are interested in having a dependable multi-effects pedal that is packed with features, this is the option that you can consider. It features a quad-core DSP platform (processor-powered), allowing for a faster and friendlier user interface.
One of its standout features is the 7-inch touchscreen, which can be used in editing patches and creating new ones.
In terms of appearance, its pedalboard looks similar to that of the Helix model from Line 6, in the way that it comes with a treadle, along with 12 footswitches and scribble strips that shows each of the function of the switches, with color-coded LED for each function.
Pros
Touchscreen features
Excellent amp model
Audio interface function
Cons
limited options on routing/models 
7) NUX Floor Stageman Acoustic Preamp + DI – Natural Sound Quality in Compact Size
Editor's Rating: 5
This acoustic guitar pedal is considered as a high performing one. It features a looper function alongside digital effects. As such, you can expect a natural quality of sound in such a compact design of a pedal.
It is a simple model, featuring a ¼ inch input and output. It also comes with a switch at the front, allowing you to choose the voicing for either a piezo or magnetic pickup.
This pedal also comes with chorus and reverb effects which are controlled individually using a single knob. These effects can be adjusted by simply tweaking their knobs from 0 to 10.
Pros
Collection of useful features
Compact design
Individually controlled reverb
Cons
8) Eventide Harmonizer Pedal (H9)– Studio Worthy Effects
Rating: 5
This pedal is designed to run all of the stompbox effects of Eventide. All the effect algorithms can be purchased separately, though several are built-in. These algorithms are also updated regularly.
The H9 pedal offers both wired (USB) and wireless (Bluetooth) connections for its librarian software and H9 Control editor. These can be used for creating, editing, and managing presets.
This pedal is also created to work brilliantly, especially on an iOs iPad where only a few swipes can power the pedal to produce immediate results.
Pros
Classy effects
Produces flexible sounds
App-based editing
Cons
Only runs specific effects at a given time 
9) Fishman Aura Spectrum Acoustic Pedal– Unique and Attractive Design
Editor's Rating: 5
This acoustic pedal is a standout because of its unique design. It produces a quality of sound that is similar to a studio mic when plugged into an acoustic guitar. It uses imaging technology that enables you to accurately and easily produce the sound of your instrument.
It also utilizes digital algorithms developed in the audio labs to come up with an image of the actual sound that is captured by the microphones in professional studios.
This pedal is the recommended tone solution for musicians who prefer acoustic guitars. With its built-in chromatic tuner with bypass and phase switch, it is effective in fighting feedback.
The image can be played through an amplifier, mixture, or even a PA system, blending in quite well with the guitar pickups. As a result, you can expect a high quality amplified sound.
Pros
State-of-the-art imaging technology
128 pre-loaded images
USB interface included
Cons
Does not work with phantom power 
10) Zoom G5n Guitar Processor – A New Generation FX Veteran Offer
Editor's Rating: 5
The Zoom pedal is one of the popular options in the 90s, with the classic 505 unit being a standout option. With its new generation offers, Zoom introduced an affordable multi-effects unit, the Zoom G5n.
It features 68 built-in digital effects, cabinet emulators, 10 amp, and stereo looper with 80 seconds of looping time max. As such, it is a worthy choice even for beginners, or those who simply want to further expand potential options. It also features a USB audio interface, which is a unique addition.
For recording purposes, you can use USB audio connectivity direct into your computer, while onstage you can connect it directly into the PA system. With its 200 memory locations across 50 banks of 4, you can enjoy up to 9 effects simultaneously per patch.
Pros
Wide range of effects
Amazing value
Ideal even for beginners
Cons
 Not so good with MIDI connectivity
Buyer's Guide – How to Choose the Best Acoustic Guitar Pedals
As mentioned, not all guitar pedals may work well with your instrument. For this reason, it is important to consider note of certain factors. Our goal here is to make sure that you make a wise purchasing decision at the end of the day.
Even though some musicians go to the extremes when it comes to using effects, most apply them in a certain way that only improves the natural tone of the music, rather than its color. High quality pedals come in various packages. Some are multi-effects, while others come in individual floor pedal forms.
At the same time, many mixing boards and amps also have their guitar effects built-in in their designs. Among all of these, individual foot pedals are the easiest to use and set up. Even though the difference in terms of quality used to play a huge role before, modern advancements in digital technology have stepped the game up.
• Setup Techniques
Guitar pedals are generally setup in two ways: inline or using an effects loop.
If your guitar pedal comes in an inline setup, all you need to do is to plug your guitar right into the input of your pedal. For a loop setup, you just need to patch the unit to the ins and outs of the loop. This will allow you to keep the signal of the guitar directly to the amp without worrying about interference in the preamp or amp. An effects loop oftentimes result in achieving a cleaner signal, with less clutter on cables.
Note, however, that before you select a technique, make sure that you determine whether your acoustic guitar pedals are also created either for line level or instrument inputs.
• Single Effects vs. Multi-Effects Pedals
Generally, there are two types of guitar pedals that you will find – single and multi-effects. Let's learn about the unique benefits that they offer:
• Single Effects
A single effects pedal is highly recommended if achieving the right tone is of priority to you. A pedal that is dedicated offers real sound and music dynamics than a multi-effects instrument.
A single or dedicated effects pedal can also be individually adjusted, and you can choose the exact power supply. You may also choose the best pedal that fits your application. Expect that there are some disadvantages, however. For one, they are relatively more expensive as they need to be purchased separately. The pedalboard is also a separate cost to be anticipated.
• Multi-Effects
If you love pushing the sound of your acoustic guitar to the boundaries, using a multi-effects unit may just be the right option for you. It allows for a whole lot of experimenting possibilities.
Most models of multi-effects are built-in with several effects in a single unit. Higher-end pedals, on the other hand, will also allow you to twist, tweak, and change the sound using different techniques.
These units also come with several built-in features, allowing you to complete program patches. When compared with certain single effects units, they may be less expensive overall.
Some shortcomings may also be anticipated, including the fact that you cannot choose individual effects. At the same time, the footswitches may not be readily be positioned based on your preference.
• Suitable Effects
Several effects can take the sound of your guitar to a higher level. This includes EQ, reverb, delay, chorus, buffer, boost, and distortion, among several others. Among the most commonly used ones are EQ, reverb, delay, and compression. It is always recommended to look for a multi-effects pedal that comes with reverb as a feature.
Reverb works by simulating the sound that is played, especially in a large room. Most processors also come with settings that enable you to simulate sound regardless of the size of the room.
FAQs
1) What are the best effects pedals for acoustic guitar?
Acoustic guitar pedals, especially those of the multi-effects variety, usually comes with several effects. Among the most useful ones are reverb, chorus, delay, boost, EQ, distortion, and buffer. Higher-end models may even offer more. However, these are the most commonly used among musicians.
2) What is the best preamp for acoustic guitar?
The list is long with the best preamp for acoustic guitars. Choosing the best one still boils down to several factors, including actual needs and personal preferences as a musician. However, several good options are currently available in the market. Among them are the Fire Eye Red Eye, LR Baggs Para DI, and the Tech 21 SansAmp Para Driver V2.
3) What does an acoustic simulator pedal do?
Despite the number of options on acoustic simulator pedals out there, they do one thing in common. They are designed to enhance the sound of a basic electric guitar, turning it into the sound of an acoustic-electric guitar.
Conclusion
When choosing high quality acoustic guitar pedals, we have realized that several things need to be given particular attention. This includes the type of effects that are built-in with the pedals. These effects play a huge role in the quality of these pedals, particularly when choosing a dedicated unit. Some popular single effects are delay, reverb, EQ, and chorus. On the other hand, when selecting a multi-effects pedal, you need to look for a model that will offer you the effects that you like. Among the most useful ones are EQ, delay, reverb, chorus, as well as compression.