The Neutron is a synthesizer from popular music equipment brand Behringer. This is a semi-modular synthesizer that boasts of a Eurorack design. This synthesizer is more than looks as it also provides top-quality dual analog 3340 oscillators. This instrument may be used paraphonically and with five different waveforms to select from.
With the Behringer Neutron Synthesizer, you get to use oscillators with individual pulse width settings and tone modulation. To further satisfy your craving for a unique and powerful sound, Behringer has two analog ADSR generators, one for VCF and the other for VCA. It also comes with an LFO with five separate forms to experiment with.
As a beginner, you will enjoy using its preset patch routes. You can use these in a standalone manner. Or, you can check out their large patch bay, which you can enjoy hands-on, or you can tweak it according to your needs. This has the most inputs and outputs possible with a total of 56 total patch inputs-outputs, all of which are voltage controlled. Behringer Neutron is priced competitively and maybe a good first-time synthesizer for budget-conscious users.
Things to consider before buying the Behringer Neutron Synthesizer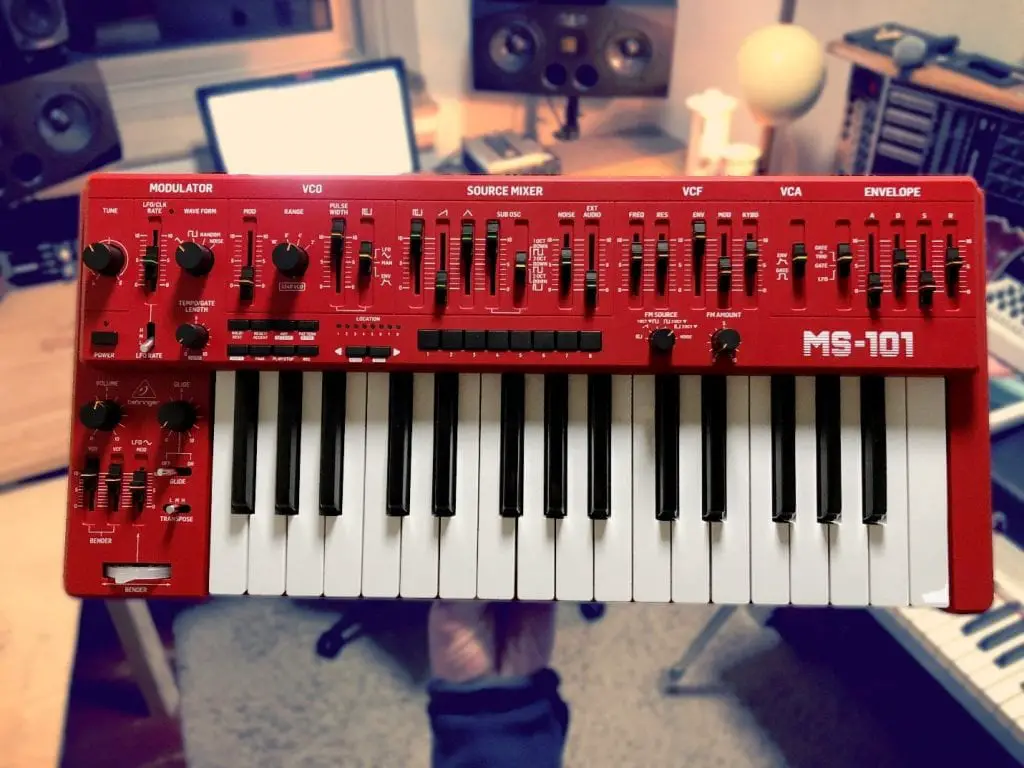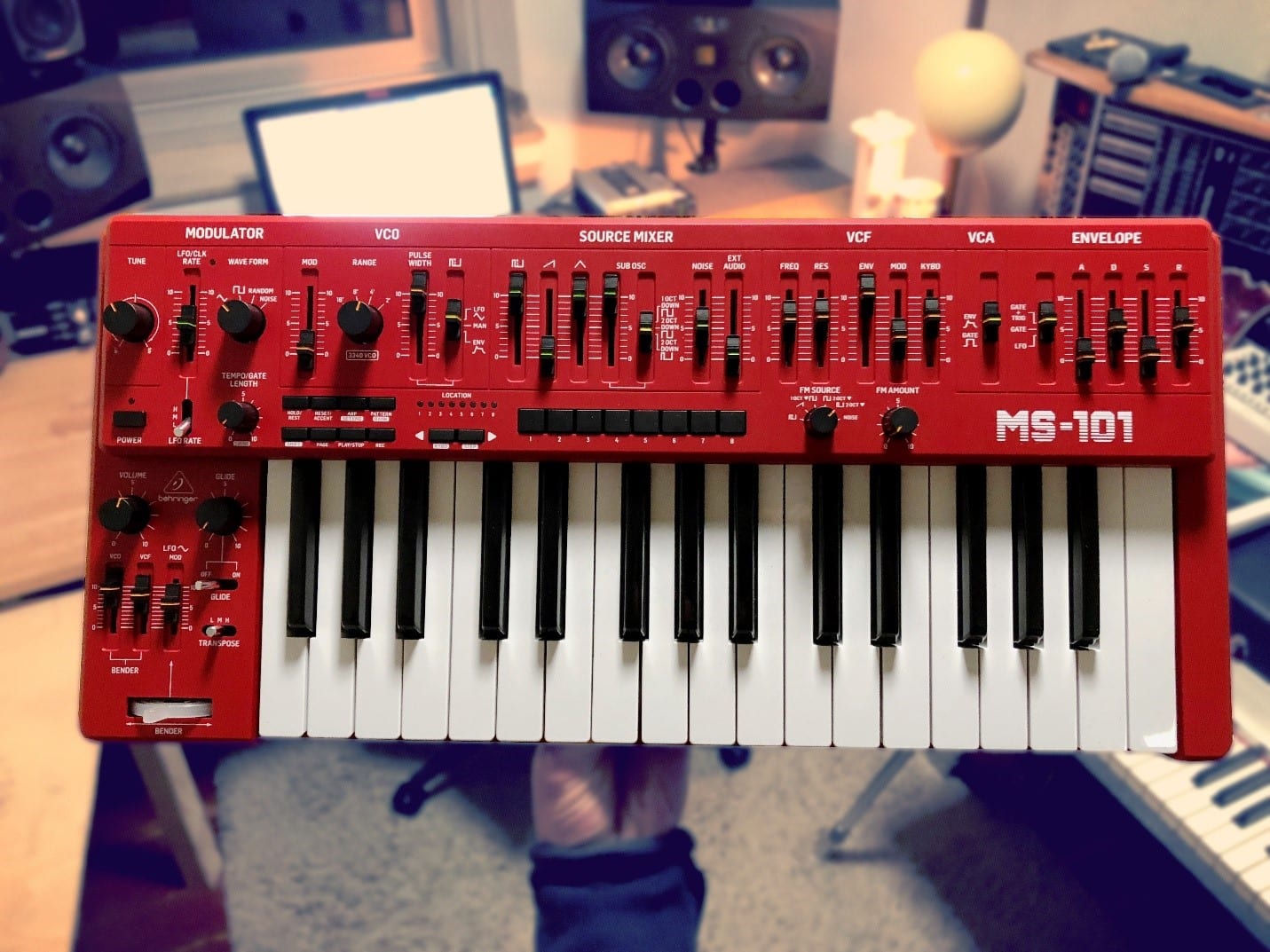 Still a newbie? Don't pay too much on an expensive synth
If you're new to using a synth, then it would be best to settle for a mid-range synth instead of a high-end one. Take note that the more expensive the synthesizer, it is likely that it will have more functions. If you are a novice user, then you'll probably spend many hours reading a user's manual instead of using the synth to make music. For now, consider an affordable, simple synth in the $50 to $200 range. This will give you an idea of where to go after this model.
But if you're already experienced with synthesizer software, then you may be looking for a better way to make music. But still, there's no point paying for a synth that costs more than $500. Just a few names to check out that have powerful yet affordable synths are Arturia and Korg. These synths are also great to have around, even if you have upgraded to a more expensive model.
A synth with a sequencer is better
If you're shopping for your first-time synthesizer, then your keyboard ability may be limited or even non-existent. This is why you must choose a synth with a sequencer so you can start creating music despite your lack of skills in the keyboard. A sequencer will let you create a melody or bassline to onboard memory. You'll be free to check out stuff like resonance, cutoff, and add different effects.
Consider the size
No doubt that large synths make you look cool and professional, but if you find it hard to access the entire board, then you will never be able to optimize your purchase. And if you live in a small space, then you may be better off with a compact synth rather than a huge piece of equipment. With a small or a mid-range synth, it is likely easier to set up and to keep away. Small synths will also fit inside your bag so you can take your piece of equipment no matter where you want to make music.
Should you go for an analog or digital synthesizer?
Should you buy an analog or a digital synth? Many users think that analog synths are "warmer" compared to digital; however, some say that they can't tell the difference. As your first synthesizer, the way it sounds is not as important for now.
Selecting between an analog and digital remains as an important consideration because the kind of synthesis used by the instrument may affect the outcome of your sounds, whether you can make your own sounds or just rely on any pre-settings.
And if you are starting out on using synthesizers, you should also consider subtractive synthesis, which is the most common in analog synths. No doubt, this is the easiest and most logical kind of synth, so use for beginners also for professional users. Digital FM synthesizers are quite confusing, even for the most experienced. Therefore, use a subtractive synth that has efficient controls and proper labels for the oscillators, envelopes, and filters. With this kind of synth, you'll be work with all kinds of tunes in no time.
Features and Benefits
The Behringer Neutron at first glance
As far as performance is concerned, synthesizers from Behringer, including the Neutron, are very popular, and it's all about the cool features that users have come to love. This is classified as a semi-modular synth with diversified onboard controls that is comparable with other semi-modular analog synthesizers.
The Behringer Neutron is well built with a slim and low profile. It is not the most compact synthesizer, but it is not the largest either. And because of its Euro-rack style, it will be compatible with most of the racks and music equipment that you want to connect to it.
Completely analog synthesizer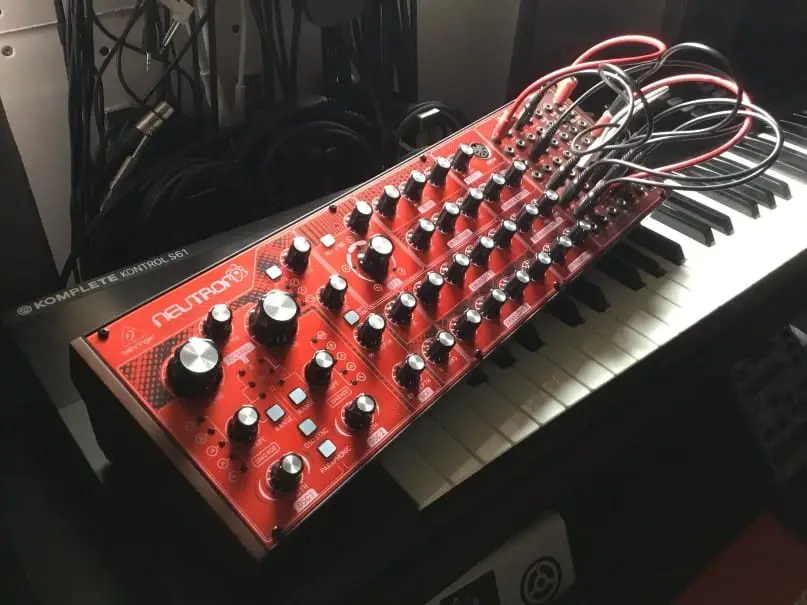 The Behringer Neutron is completely analog that comes with updated and efficient technology within. It provides the most important tools that are expected of an authentic analog synthesizer. Analog signals are known to be smoother and can move better due to the fluidity of this type of waveform. And when compared to a digital signal, the latter is more jittery, as this is created from finite numbers in a sequential manner. And no matter how this is superbly programmed, there will still be steps that won't be as perfect and as fluid as analog waveforms.
With a simple interface


The Neutron synth comes with an easy to use, basic synth layout. Count them; you'll get 36 rotaries, seven buttons with two core oscillators that are paraphonic. It can give you 56 patch points; therefore, it is one of the most flexible than other synths. You also get preset patching; however, you can change this according to your needs.
Therefore, you will get 32 inputs and 24 outputs. The Neutron can be used straight out of the box using the default routes, or you can override routes and use your own patches if you think that this is fit for your music.
The Neutron oscillators are 2 CEM 3340's, with 3 octaves. You'll be able to set the frequency from a fixed one or use the tuner accordingly. You can set this to pulse, square, saw a triangle, and sine waveforms. You can choose the one that fits your needs, or you can get mix adjacent wave types. You can use a second oscillator as a sub as well.
Sound quality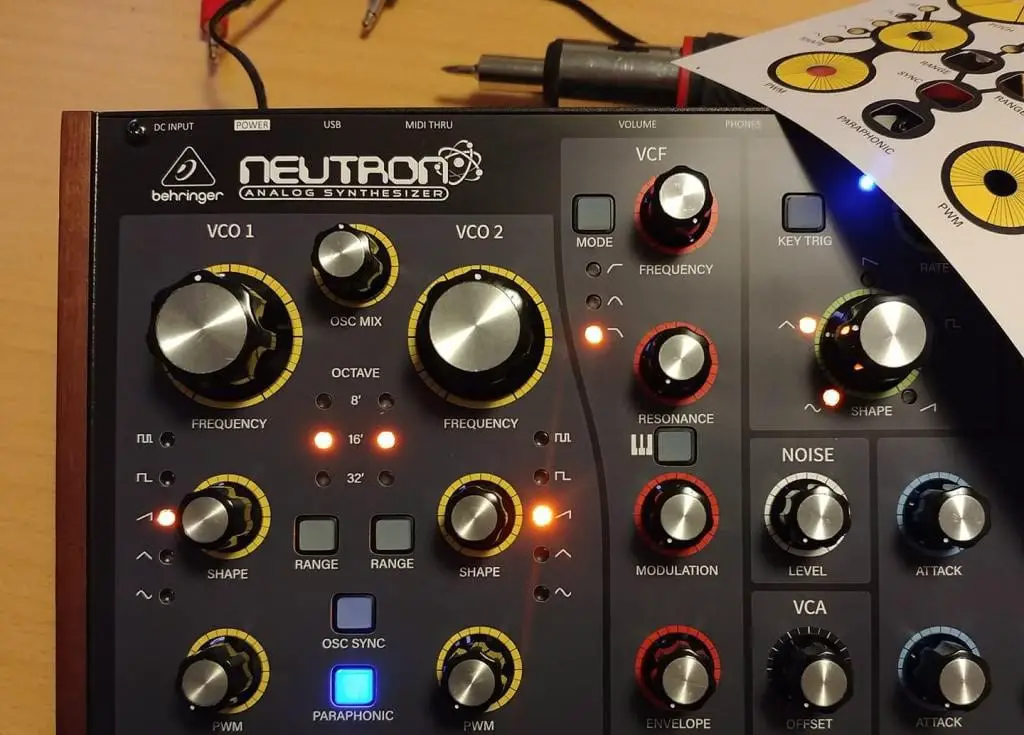 Because this synthesizer has a paraphonic nature, you may allow the pitch of the oscillator to divide and share their elements. You can control the pitches separately or a duo, or through polyphonic synth; however, the notes are shared in a structural manner.
The two oscillators create a punchy sound, but these may be modified. Input and output patch points in this synth are voltage-controlled, so you can modify this according to your own preference. This comes with a multiple mode filter that has a low-pass and high-pass VCF, two ASDR amp envelopes and LFO that may be tweaked from slow to mid-point.
You have the option to increase the width of the signals or enhance the envelope depth with the modulation and resonance. You also have driven tone and level dials, and you have the option to play with the attack rate as well as the glide.
If you love bass tunes, then you can create nice Moog-sounding bass tunes. Time settings have a good scope, and you can boost the tempo using the slew and portamento dials. With these features, you can slide into notes with enhanced fluidity.
Another impressive thing about the Behringer Neutron is that the knobs are all top-quality; however, these can be knocked out of place, so be sure to keep the synth in a safe and secure location when in use.  You will admire the MIDI in and MIDI through jacks, USB/MIDI, which makes music sampling easier and more convenient.
The Pros of Owning a Behringer Neutron Synthesizer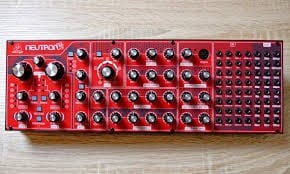 The Behringer Neutron Synthesizer is a paraphonic dual oscillator semi-modular synthesizer with an all-analog circuitry and components. It comes with an 80HP Eurorack design, and upon the first impression is very durable and well-made.
You'll get five waveforms, 2 ASDR envelopes capable of high and low pass filtering. This synth has an active noise generator and an overdrive circuit with multiple-stage analog delay. At your disposal is a 32 input and 24 output patch bays. You also get a MIDI in and Thru as well as USB/MIDI connections to sample all kinds of media.
Some flaws of the Behringer Neutron Synthesizer
The Behringer Neutron Synthesizer has no complimentary patch cables, so you need to purchase one before you can use this system. Another common thing that users have experienced is that the delays are still noticeable even at zero, and this is expected of analog circuitry.
Alternatives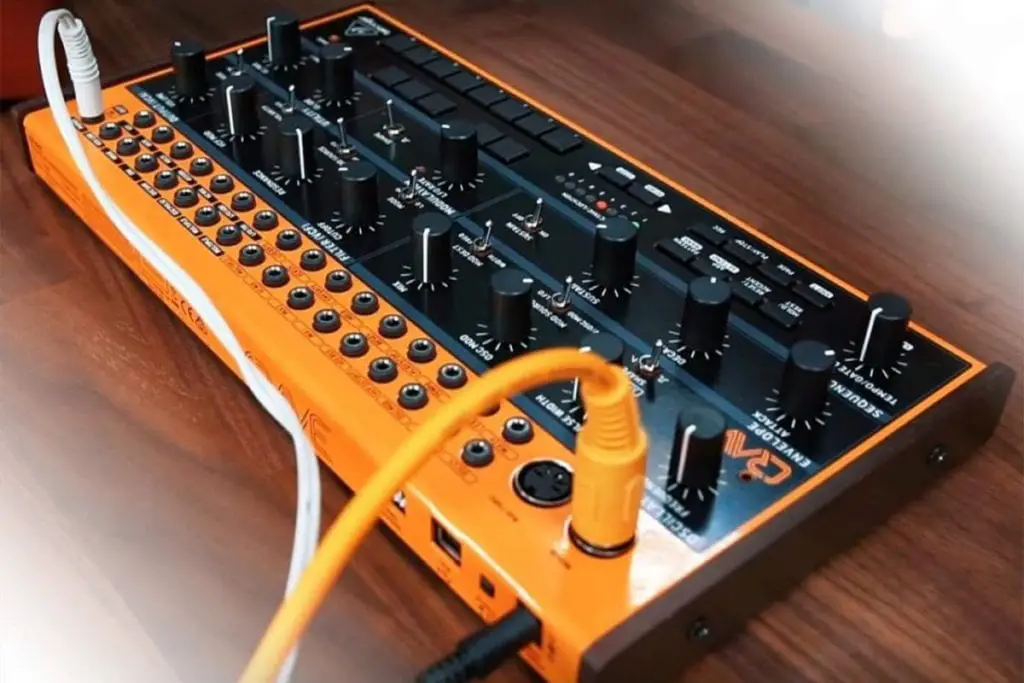 If you think that the Behringer Neutron is not for you, check out the following alternative synthesizers.
Korg LittleBits
Korg's littleBits is a synth kit if you want to learn more about the different knobs and switches, and you're looking for more. Developed from the littleBits' kids home science lab, this is music-focused equipment that collaborates with the Korg. It is made of tiny components that will cover all the basic parts of a synthesizer. You will get to play with oscillators, sequencer, envelope, keyboard, filter, mixer, delay, and speakers.
Compared to other DIY synth kits, this Korg kit does not need soldering. Korg and littleBits' have created a synth that snaps together using magnets. It has a complete instruction booklet to help you get to know how the synth works and how this can help you create music. This kit is great for beginners as it provides you with the building blocks of synthesizer use. And with some light modification, its packaging may also be converted to a rack.
Teenage Engineering PO-20 Arcade
The Teenage Engineering's PO-20 Arcade spells fun because this was developed for kids and teens. It is small and thus will fit your bag or pouch. The PO-20 is a master for creating 8-bit tunes and melodies, and it comes with an LCD screen that displays your status through an animated character. When it comes to sound quality, you can expect lo-fi just what you can expect from a synth that's built from a small circuit board.
The PO-20 comes with several features that may be too advanced for its size. It has a sequencer, 16 effects, and 16 patterns, which is enough to start creating detailed loops and records into the software. But if you're not into retro video game music, then you should use this with a  PO-12 drum machine, PO-14 bass synthesizer, and a PO-16 lead synthesizer.
Novation Circuit
Novation's Circuit is more than just a synthesizer. It is also your drum machine, a digital sampler, and a portable sequencer. This could be the very first synthesizer for anyone who wants more than just making melodies but does not need the kind of distraction when using a laptop music machine. The Novation Circuit synth is for people who want to think out of the box and those who want to learn more.
The Circuit is a powerful synthesizer tool for its price and great size. This is not an analog synthesizer, but it is equipped with two digital polyphonic synths, which can be used to create basslines and ambient pads or lead sounds as well as preset effects and software so you can upload your own samples to the synth's drum tracks. It does not have any controls to shape sounds, but if you're happy with improving presets, then the Circuit may be the one you're looking for.
Arturia MicroBrute
Some users prefer a synth to create different sounds and weird noises, and there is absolutely nothing wrong with it. And probably the best synth for this job is the Arturia MicroBrute. It's all analog and has all the features of a large synth in a small body. It has controls to teach you the most important parts of synthesis. You can store eight patterns with 64 steps each, and this is more than what some manufacturers can give.
MicroBrute has many cool features that make it better and bolder than other synths such as an "ultra-saw" wave for that raw and ripping sound, a "metallizer" to create out of this world harmonics and a "modulation matrix," to let you patch cables like a modular synth with LFO (low-frequency oscillator) that modulates the filter. MicroBrute is perfect if you want more out of a modular DIY synthesizer.
Roland TB-03
The Roland TB-303 is very popular because of its distinct sound. The sound that you would typically hear in the club. It is something that you will feel as people dance and groove to the familiar beat. It may not be an all-natural distinct sound, but it has the power to command people to move. Vintage units are tricky to use, but Roland TB-03 comes with the same program. This is not a real analog reissue, but it is close to the original. This reissue has additional features that are not seen in the LCD ds
Roland's reissue even adds a few features that you won't find on the TB-303 like a convenient LCD display for enhanced editing, a MIDI connection, and a USB port, overdrive and delay features and a shuffle for adding tones and vibrations. And simply add a drum machine, and you're on the road to making music on your machine.
Korg Minilogue
If you are a fan of complicated synths, then the Korg Minilogue, which is a complete synth that's rich in features and has an impressive lineup of pros that you'll surely need. If you're an experienced user of Ableton Live to move to a new synth, Korg's Minilogue should fill up the void. 
Just like other synths in the same price range, the Minilogue has smaller mini keys; however, you only use these for sequencing, so the size is not important. You can also connect the Minilogue with the  Volga gear. This can communicate with the Volca using the company's sync connector.
Moog Mother -32
Moog is a synthesizer brand that's a bit pricey but makes sure that you enjoy using and listening to it. The Mother-32 comes with the legendary Moog sound. At $600, this can still be recognized as a midrange synth when it comes to function and price.
This is semi-modular, as you can use it as a standalone musical component. It can also work well with a modular model. It is advanced for beginners, but you have all you need to help him. And this has all you need to get  started especially the Eurorack modular system: it's got everything you need to get started, like a sequencer
Conclusion
The Behringer Neutron is a great piece of tech and loves the retro Bucket Brigade Delays and overdrive settings. With an extensive patch bay, you'll stay ahead with the competition. And as semi-modular synths are very popular, the Neutron certainly gives you updated features.
It can cope with top competitors and as this. It has three filter modes and is featured in a user-friendly manner. With this synthesizer, you can go never go wrong no matter how loud or how thrilling your music could be. This synthesizer is the best for first-time users and for people who want to improve their innate skills.
We recommend the Behringer Neutron, and if you think that this is the synthesizer for you, check this out from this link.