Owning an excellent kind of guitar is the desire of almost all beginners who want to improve their skills and become the expert guitarist that they want. Nowadays, guitars are made available for beginners, and they are mostly offered in the market in a different price range of different brand names. Rogue, in particular, have considered itself in delivering affordable price acoustic guitars.
The History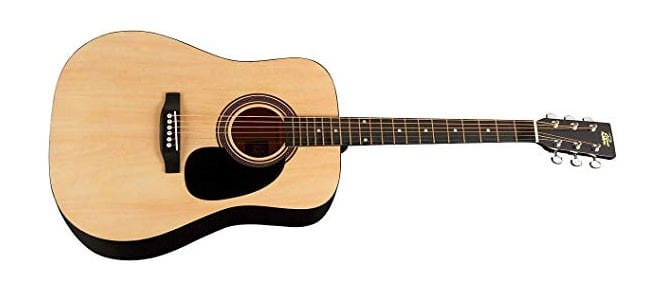 Rogue guitars have been existing for decades already. Thus, it would be unnecessary to be leery about their credibility in the field of guitar designing. It is housed to an array of affordable guitar lines brought in the market in the mid-1990s. It originated from a company named as Musician's Friend – an institution that focuses on music distribution.
Rogue is situated close to the Rogue River located in the Rogue Valley of Medford, Oregon. The name of the river has given the inspiration in the creation of the guitar line. Later, Rogue broadened its creation and developed other stringed instruments such as basses and mandolins. It also exhibits in designing keyboards and amplifiers.
In 2010, Rogue guitars farther started their creation of acoustic and electric guitars in huge price ranges. Their guitars were manufactured by the Sunbo Industrial, which is located in South Korea. Musician's Friend is the one responsible for distribution being the primary supplier.
The Rogue guitar line is popular because of its affordable prices, which is suitable for many starters. Nevertheless, despite the affordability of the bass, acoustic, and electric guitars, Rogue has never falter when it comes to the quality of their products. Although their affordable-line guitars are not made from an exceptional class of wood, they still manage to give reasonable quality, which is good for the money.
Rogue Guitars
1. Rogue RA-090 – Quality Design despite Affordability
It will be inconclusive that you can find a very affordable guitar that will not wear out after a week of playing. The world of cheap acoustic guitars is very small, where you can discover a massive number of defective items advertised to perform like a gem. Luckily, the Rogue RA-090 is a credible one. Despite its affordable price, this acoustic guitar for beginners is dependable when it comes to quality and playability.
Structure
The dreadnought acoustic appears more admirable over its cost.  It is worthy to note that dreadnought acoustic guitars are exceptionally bigger guitars, and they produce more vibrant sounds.
Somehow, the money becomes visible with the kind of material used in designing the neck and the body. The body appears very simple in a laminated whitewood. Nevertheless, the smooth finish is available with color selections that are either natural, sunburst, or black. The neck, on the other hand, is C-shape and is made from tough nato and features 20 frets, which are viable to compelling tone. Its length is 25 3/8 inches, with an evident blend at the fourteenth fret. It is a decent structure and strong enough in this category. Its endurance permits a conclusive external string change as well as tuning.
Hardware
RA-090 does not feature any electronics. Rather, the turners and nicker hardware have satisfied the mean of coiling the pitch of the tone of the guitar. Its extended fretboard and paint maple bridge permit clarity in every note. It exhibits a black pickguard to prevent rasping while it is at times not accessible in higher-range instruments. Its headstock caters 6 metal string lines and covered turners. Discomfort when performing in steel strings unavoidable.
Sound
When we talk about sound, it is already anticipated that the guitar is not going to be like in a concert hall performance, but despite the stock strings, the sound is still impressive. The guitar produces a sound that is relatively balanced and clear in tone. With the enhancement in strings, you may even see much convenient playability, and the sound can round out to a complete, dynamic resonance. You will see every note on the shining side blended with the effective volume that perfectly suits for starting a practice.
Generally, tone modulation, balance, and clarity with a punch is the anticipated sound performance of this guitar.
Pros:
Affordable price
Reasonable sound
Durable
Full-sized
User-friendly
Cons:
Needs regular tuning
Concerns in quality control
2. Rogue Starter Acoustic Guitar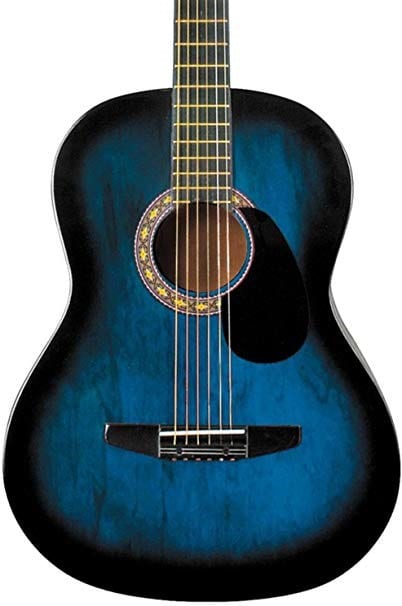 This design is an ideal guitar designed by Rogue under the category of kids' guitar.
Structure
To discuss firstly, the Rogue Starter Acoustic Guitar is at a 7/8 scale, which makes it an ideal instrument for children. It features a rosewood fretboard with the maple neck entirely matching with Martin string to create the best possible tone. It utilizes a body that is ¾ mahogany, which is integrated with more costly instruments.
The quality of construction is tough, and while certain fret sound is occurring and resonance is not specified at the top level, it is good to know that the price is considered in the creation of this guitar. Moreover, the neck is not only tough and less susceptible to curving because of the maple structure, but also relatively comfortable and more accessible to play.
Also, in the creative section – that black to blue sunburst finish is simply beautiful.
Hardware
The guitar has 6 elementary string tuning machines polished in reasonable quality. These machines perform an impressive performance in keeping tune the guitar within a good amount of time.  It may be relatively inflexible during the first time of its use, but it is expected to loosen up after a while.
May seem unusual, this guitar features a pinless bridge in which strings are interwoven through the bridge instead of being held in position by pins. This mixture obtains appropriate modulation and tension.
Sound and Playability
The greatest question here now is, how about the sound? We cannot tell that this instrument can rock; however, what is seen to be the essential element is that it produces usable sounds. For a relatively small guitar, the sound produced is in higher pitch in comparison to the one that is full-sized. This is common in return of the portable traits it provides.
The sensory approach of this guitar is sufficient enough for most beginners, providing the player a practical illustration of what to anticipate from an acoustic guitar. However, to acquire more details, the outstanding trait of the sound is more powerful middles and a more impacting vibe compelled by clean trebles and considerably warm basses collecting the groove. Its mahogany body guarantees a comparably more of a roaring and punch-inspired sound, which is always desired with slender small-sized guitars.
Pros:
Affordable
Impressive sound and playability
Various finish options
Flexible uses
Pinless bridge
Cons:
No definite information about the body woods
Plastic tuning hardware is sometimes out of tune
Buying Guide
To get what you desire, you have to determine and understand what you are searching for. The kind of music you like to play, the features that you are looking for, as well as your budget, will assist you in finding the best one. The best guitar for you should feel appropriate in your hands and should sound pleasing to your ears. It all boils down to personal preferences.
Although it is quite difficult to withstand the temptation of immediately buying the first acoustic guitar that you will see in the market, one must understand how crucial it is to buy an instrument that can last long-term. You should always consider the idea that a beginner guitar that is supported with a strong quality can keep up with you as you develop your skills and become more skilled.
When buying a guitar, you must consider several things. This will help you narrow down your selection so you won't be too confused about making a decision.
Budget and your Purpose for Purchase
Before you consider buying a Rogue guitar or other brands, you should first determine the purpose of your purchase. Aside from that, you must also check your budget so you can determine how much amount you can shell out for a specific guitar. If you have a limited budget, you can always find affordable models that do not necessarily compromise quality. You must look for a credible company that offers guitars at low prices.
Level of Skill
If you categorize yourself as a beginner who is searching for a good instrument that will help you learn in your guitar, then it will not be practical yet to invest in expensive acoustic guitars. Because of the sophisticated manufacturing technologies, we now have a huge array of selection when it comes to affordable guitars with good structures and impressive sounding.
If you are an expert player, and you think that you are up to use an upgraded guitar, it is necessary to learn the distinction between different tonewoods as well as how the soundboard influences resonance.
Structure
The moment you get a better understanding of the basics of acoustic guitar structures, you may be able to figure out and hear slight distinctions that will assist you in choosing the best guitar instrument that would fit your needs.
Sound and Style
Although most acoustic guitars have similar construction and employ the same design elements, you should know that there are significant distinctions that influence the playability and the sound. You should consider some factors such as the body styles, tops, width and length of the neck, steel or nylon strings, and tonewood. Broadening your comprehension of these options will help you come up with the best decision as you buy your acoustic guitar.
String Type
There are two major types of acoustic guitars – nylon string and steel string. Steel strings are made from steel and are bronze alloy-plated. They are also harder to push down, which implies that kids, commonly below the age of 7, do not have enough strength to push down these strings. Nylon strings, on the other hand, are built from nylon. They are essentially more accessible to push down compared to steel strings. Nevertheless, they do not feel like steel strings.
A lot of the guitarists prefer to use a guitar that employs steel strings. Hence, if you still decide to buy a guitar with a nylon string, you should make yourself aware that you are most likely to upgrade your guitar in the future.
Body Type
Guitars are available in various body types. It would be smart to know that the dreadnought body is mostly applicable to adult players. To give you the idea about the body styles of guitars, below is the label from smallest to the biggest:
Parlor
00
Classical
000
Grand Orchestra
Slope-shoulder dreadnought
Dreadnought
Jumbo
You should first determine the most applicable body type for you. Know the body type of the guitar before you decide to use it.
Helpful Tips when Practicing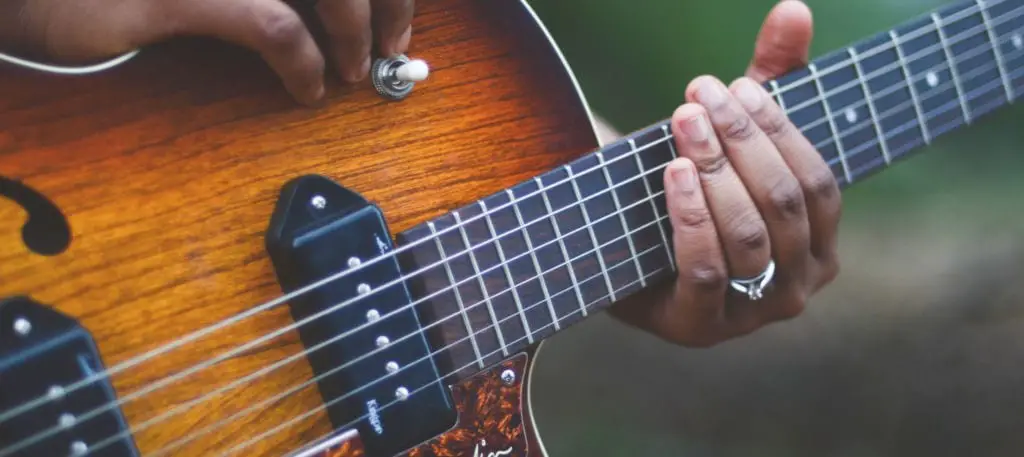 Every guitarist can learn differently. Hence, it is difficult to recommend a one-size-suits-all method for practicing playing the guitar. The essential thing to consider is that learning to play the guitar is a process. You cannot expect a beginner to be instantly awesome during the first time of practice. Many musicians had to face difficult times for quite a while before they finally learn to play effectively. So even if the process of practice becomes very demanding, you should never give up.
Frequently Asked Questions
Does this Rogue Guitar Require Batteries to Amplify?
Rogue guitars do not have electric components necessary for plugging in. Thus, they do not require batteries to amplify.
Does the Rogue RA-090 Acoustic Guitar available with Accessories?
The RA-090 acoustic guitar has no other added accessories except for the pre-strung steel strings, as well as the tools necessary to accustom the truss rod if needed. You can buy a gig bag or a case if you want to get something for its storage.
Is the RA-090 a Good Guitar for a Child to Learn to Play?
The RA-090 is not an appropriate guitar for a child to play. Considering the full-sized dreadnought, the guitar will be a complicated instrument for a child to learn to play. It is much ideal if you begin with a kid-size or nylon-string guitar if you intend to offer it to a kid.
Is Rogue's RA-090 Guitar a Beginner Size Guitar?
The RA-090 is a full-sized guitar that is designed for the use of adult players as well as older children. It features a scale length of 3/8 inches. The dreadnought architecture is meant for full-size play.
Does the RA-090 Acoustic Guitar come Pre-tuned?
The RA-090 acoustic guitar is not pre-tuned. Although the guitar is designed to be pre-strung, it is still required to tune the instrument during first-time playing. It would be best to buy a tuner to help you with the tuning because Rogue is likely to be out of tune repeatedly.
How is Rogue's RA-090 Guitar Packaged for Shipping?
The packaging of RA-090 during shipping could differ based on how the seller would opt to do it. However, the guitar is commonly packaged in such a way that it is double-boxed and then stuffed with papers to somehow protect the item during the entire process of shipment.
Does the RA-090 Acoustic Guitar available with Pre-installed Straplocks?
The RA-090 acoustic guitar does not come with pre-installed strap locks. You may see a strap pin positioned on the backend of the guitar; however, there is no alternating one adjacent to the neck of the guitar.
Where is Rogue Guitars made?
Rogue is the name of the brand referring to the guitar lines manufactured by Sungbo, which is based in Korea. These low-priced category guitars are commonly made in China.
Conclusion
Affordable guitars are always considered to be a beginner and entry-level instruments. It does not directly mean that inexpensive guitars are poor quality; it just implies that you do not have to be scared of creating starter inaccuracies, which will be unavoidable. The best benefit from purchasing the Rogue guitars is their good feeling, despite the idea that they are made from affordable materials, their construction is strong and therefore in durable quality.
Rogue guitars are pleasing to play, and that is what purchasing an affordable guitar all is– its accessibility and capability to be employed and abused if needed at any given activity. Bringing these perks along with a great sound and an affordable price, you are sure to have a street-like music success.
If you are a beginner guitarist who wants to improve your skills, Rogue guitars can give you the best assistance. They are the ideal guitar not just because they are affordable, but also because they can cope up with the abuse that is unavoidable during travel, and its stuffing sound can transform you into an expert over time.
Preserving a hobby is not that simple. Likewise, as a starter to continue playing guitar is more asserting while you have no experience at all in guitar playing. You may end up getting the inappropriate guitar and loses some of your earnings. But with Rogue guitars, you know you are the best instrument to start with.