Wireless microphones are beginning to take the entertainment world by storm as it has a lot of advantages compared to the wired one. This type of microphone requires no physical cable connection and is mainly battery-operated.
The best microphones in today's standard will give you an abundance of benefits. One ultimate advantage of having wireless microphones as it doesn't get you entangled on stage as you can move freely, offering you great freedom of moving around without fearing getting tripped off, or just plainly having a great performance, presentation, or speech.
There are many models and brands out in the market that there are a plethora of outstanding wireless microphones to choose from. Luckily for you, we've listed down some of the best wireless microphones for the year 2020. Here's the list of the best 2020 Wireless microphones you can choose from!
How a Wireless Microphone Works
Wireless microphones and wired microphones function nearly the same. The only part where they differ is the "wired part". The wired microphone relies on the XLR output connection to fully carry the signal to the mic's input. On the other hand, the wireless microphone has relied on its built-in radio transmitter to communicate its output signal to a receiver and down to the mic input. Usually, wired microphones are much cheaper when compared to a wireless one.
Wireless Microphone Setup Basics
Setting up wireless microphones to its receiver may not be as simple as plugging a wired microphone. Usually, setting up a wireless microphone setup is best instructed in the manual. The following is a standard guide on how you set up a wireless microphone system.
In most wireless setup system, there's an option that automatically assigns itself to a frequency. Usually, you press this button. Make sure that the transmitter is still off.
Next, almost all wireless transmitters have a specific button that sends signals to the receiver and will synchronize with it. Press that button.
Third, to make sure that both types of equipment are working properly without any distortion, make sure to check the signal levels of both the transmitter and receiver. So, if the sound quality is too low, the volume on the transmitter might be too low. And if you are getting loud noises and sounds are distorted, the volume on the transmitter might be too high.
Make sure that the antennas on the transmitter aren't covered. This is to avoid any signal jams that might result in a poor connection that leads to distortion and low audibility.
Once a stable connection is achieved, make sure to have extra batteries to avoid signal disconnection.
Top 10 Wireless Microphones in 2020
If you are looking for a wireless microphone, we give you our top-picks microphone that you might want to consider. Learn about its features and understand how it works and what separates them from others.
1) Shure BLX14R/MX53 Wireless Microphone System with MX153 Earset Mic, Rack Mount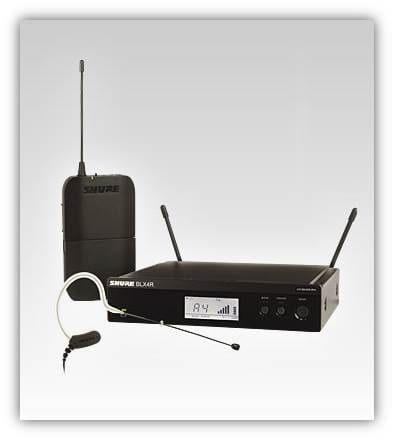 Editor's Rating: 4/5
Shure has been the staple name for wireless quality phone makers. They easily provide some of the best wireless microphones that do a little bit of everything. From its premium quality to durability, the Shure BLX14R/MX53 is no exception to that.
This product is sure to light up your voice as it has a one-touch quick scan feature that detects frequency. In short, you won't have a hard time looking for signals. Although some wireless microphones do pose a challenge, the Shure brand made it known that their products are truly one of the best. They are specifically made to have a more user-friendly approach than most microphones have.
Omnidirectional Earset microphones- this ensures that this wireless microphone provides an outstanding clarity of voice with it's over the ear design.
Compact and Lightweight- Thanks to its user-friendly nature, this wireless microphone can function at distances of up to 100 meters.
The battery provided- This wireless microphone is provided with two AA batteries that can last up to 14 hours; however, extra batteries will always come in handy as usage varies from different kinds of circumstances.
One-touch Quick Scan technology- this simplifies the frequency selection making it easier to locate signals.
Specs:
Contains ¼ Waive Antennas
Has 12 Compatible systems every frequency band
Microprocessor controlled
QuickScan frequency is one-touch
2) Innopow 80-Channel Dual UHF Wireless Microphone System, M (WM-333)
Editor's Rating: 4.4/5
Karaoke nights are here to stay! It is essential for a wireless microphone to work for you on long stretches and can be recharged every time. Innopow has provided some high-quality batteries that can last up to 17 hours! Yup, you read that right! 17 long hours of fun, enjoyment, or just plainly presenting.
We put this microphone in this list because it has one of the most efficient wireless microphones out in the market today, reliable enough to have 40 selectable frequencies in respective channels. Thanks to this, it can support up to 10 microphones that can work simultaneously. This product comes in 2 mics that are known to be highly versatile.
All-around wireless microphone- it can be used for presentations, karaoke, church, meetings, worship, just to name a few.
Battery-operated- this means it is portable enough to be carried wherever and whenever you want it.
Dual Antenna- this feature makes it one of the most outstanding wireless mics on this list as it can operate up to 240ft.
6.35mm output- this feature makes it compatible with other devices that will provide for a much better sound system.
Quick Manual Frequency Pairing- connectivity will never be an issue.
Specs
10 microphones can work together at the same time
Manual Frequency is quick
Microphone kit is made of metal
14-17 hours battery life
3) Audio-Technica System 10 ATW-1102 Wireless Handheld Microphone System
Editor's Rating: 4.6/5
Audio Technica has been around for several years; they are popular for building some of the best cost-effective techs over the years. One factor why this wireless microphone is on the list is because it is a handheld mic system, meaning the mic is the transmitter too.
Having a 24-bit operation do wonders too, this advance engineering made it possible to be completely free of TV and DTV intrusion. While this microphone is a stand-alone, it makes up for with its range; it has a very outstanding range that can manage distances of up to 200 meters.
This product also boasts exceptional performance; it doesn't produce interferences and usually suffers from dropouts or signal loss. Plus, this wireless microphone also has a wide range of user applications that include worships, live events, parties, gatherings, just to name a few.
Easy setup- searching frequencies are never quite this good! It has a feature called automatic frequency selection that ensures having no interference throughout the usage.
User-friendly- it has a very minimalistic design that is a "plug and plays" mic, and then you are off to go! It also has easy to read LCD that gives proper readings, status, and readings of the mic.
Power-efficient- this wireless microphone, although battery operated, uses power efficiently. However, providing a few ones won't be as bad either.
Sleek and Sturdy materials- it has the premium feel that most wireless mics don't provide. Although it is made of plastic, it has a very nice feel to it.
Specs
Can operate in 2.4 ghz range
Ultra-compact receiver size
Output jacks with level control
12-hour battery life
The headphone port is separated
4) Sennheiser Pro Audio Ew 100 Portable Wireless Microphone System, A1, (ew 135P G4-G) 
Editor's Rating: 4.5/5
One of the most reputable brands that produce top of the line microphones, the Sennheiser has created an ultra-portable wireless mic that is on the go any time of the day. This product is very easy to use and covers a wide distance of up to 300 feet. While it can cover a wide distance, it does not compromise the sound quality and is even good enough for broadcasting. 
The usage of microphones isn't always for rock bands and stuff, as these microphones offer a ton of uses, especially if they are wireless and super portable. Syncing of signals will not be a problem, as the form of connectivity is through Infrared interface, a feature wherein almost all audio components in this generation have.
Battery-operated with Indicators- keeps you informed about the status of the mic.
Outdoors ready- this wireless can cover a wide distance and is suitable for delivering live-broadcast without fearing any interference or loss of signal.
Easy to Use- Like most wireless microphones, this comes handy and sturdy enough to be carried whenever or wherever. Provides some of the crispest voice reproduction when taken outdoors
High quality- This microphone is made up of finest and high-quality materials, that is why it doesn't get broken easily.
Specs
Functions up to 100 meters or 330 feet
Operation time is up to 8 hours
Produces quality sound
Fast set up a time
5) AKG Pro Audio Wireless Microphone System (3251H00010) 
Editor's Rating: 3.5/5
If you are looking for a cheaper wireless microphone that does the job well without any compromises, the AKG Pro Audio Wireless Microphone might be the one you are after. AKG has been producing high-quality microphones without even breaking the bank.
Although this product is at the lower end of their spectrum, it pays to sometimes look at its outstanding features rather than its price alone. This is an analog system that provides high performance combined with an exceptional sound.
It's easy to use feature includes a well-rounded microphone that has a cardioid pattern, that will give you an abundance of gain without gaining any feedback and also serves as a transmitter.
Although it comes at a lower price, sound reproduction is great and provides plenty of clarity. So, if you are a person looking for the best bang for the buck kind of deals, then this product is worth considering!
Quality sound – The sound is a little bit clearer than the previous AKG Microphones
Rechargeable – Batteries are rechargeable, and you can change it easily when old battery is up
Affordable – The price is low but provides high-quality voice reproduction
Safe to use- this microphone is safe to use and will not cause electrocuting
Specs
Sleek and durable design provides longer hours of usage.
Great for smaller venues and events
Steel wire mesh grill for added protection
On/Off feature that also serves as a mute function.
6) Kithouse K380S UHF Rechargeable Wireless Microphone
Editor's Rating: 4.3/5
One thing about wireless microphones is that they are quite very handy, and on the other hand, they have rechargeable features that enable for longer usage. Plus, the addition of 6.35mm jack makes it compatible with almost all types of outputs. This microphone also comes with a rechargeable battery that could last for long stretches.
This also means that whenever you don't use the mic, you could just charge it anytime. 
Its 1500mah is more than enough to last long during events such as a wedding, live band, recording, or just plain karaoke nights. More so, the addition of 2 handheld mics are more comfortable enough to be held even for people with little hands
Another part why this wireless mic is on this list is because it is built with premium quality materials; this only means that it is a great choice for long-term usage. The Kithouse k380s also has a dynamic range capable of working through 100ft. Also, they produce very crisp sound quality that makes them suitable for use in events, recitals, presentations, and a whole lot more. Plus, this one is the cheapest one on our list! 
Easy to carry – This microphone is not that heavy compared to other microphones. It will not cause any stress to your hands
High-quality materials – The materials were proven made of high-standards, that's why it doesn't break right away
Long-lasting battery life – You don't need to worry about using it for many hours in front of the crowd for the battery is enough.
Excellent sound – This microphone is guaranteed to produce high-quality sound: no echoes and distracting background.
Specs
Rechargeable battery with 1500mah
Works within 100feet range
Universal compatibility
Comes with two handheld mics
Dual USB charging ports for 2 mics.
7) Wireless Microphone, Fifine Handheld Dynamic Microphone Wireless mic System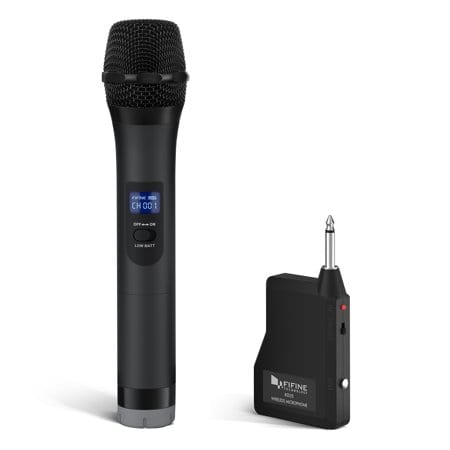 Editor's Rating: 4.1/5
A wireless microphone that has a professional approach to it, Fifine Tech never fails to make exceptional products for the price that is hard to resist. This wireless mic gives freedom like never before; it gives you mobility and dynamic range that covers a wider area.
Plus, this mic comes with a cardioid pattern that is quickly gaining popularity due to its comfy-ness and gives a firm hold that avoids slippage. The mic also comes with rechargeable batteries that could last for 8 hours! That means you are geared towards a longer time of use.
UHF wireless capability ensures that a clearer communication and signal, minimizes interference, dropouts. Works within the range of 80 feet. More so, the mic also has battery indicators to keep you updated on the status of your mic.
With 20 selectable frequencies, this makes a pretty convenient pick to have. Lastly, it has a 6.35mm output that is reliable enough to produce high-quality sound audibility.
Covers wide area- It could reach and still sound good within the range of 80 fee
Easy to hold – This microphone is also comfortable to use to people with small hands.
Wireless capability – It could detect Wi-Fi and connect to it
Durable – This microphone is proven to be sturdy and durable even after years of using
Specs
Cardioid patterned wireless microphone
Very durable and high quality built
Wide application
Works within 80ft of range
With 20 selectable frequencies
User-friendly, Plug, and play.
8) Pyle Channel Microphone System
Editor's Rating: 3.8/5
A wireless microphone that provides a stable signal in ranges between 174 to 216mhz, this ensures it covers a multitude of areas that are suitable enough for big audiences. Also, this product comes with two wireless microphones that are built with high-quality materials that ensure long-term usage and durability.
The Pyle Channel Mic also a super convenient power switch, both the receiver and mic have independent on/off configuration. You'll never have to worry when turning the other mic off.
A stable signal brings a crisper sound quality, which offers excellent audibility. The best part about this product is that it is versatile enough to be used for DJs wanting to ramp up the party for church mass, presentation, and a whole lot more. With its independent mic volume regulator, you can freely adjust and regulate the sound of the unit to make it clearer. Lastly, it also has an on/off switch.
Stable signal – It maintains a steady signal that covers wide areas
Power switch- It comes with a convenient on and off switch that is easy to access and press
Flexible – This microphone can easily adjust to the sound you ought to have
Excellent sound – This could be used and easily adjusts to silent events or even loud events
Specs
Long-lasting built-in battery.
Lightweight and compact design
LED status signal
Dynamic frequency range
Comes with two handheld wireless mic
9) Tonor Wireless Microphone with Metal Handheld
Editor's Rating: 4.6/5
The Tonor TW820 offers some well-rounded features that are great enough to be listed. This product has a great combination of different technologies that are well-adept in today's standards, from its intuitive display that allows a more user-friendly approach that provides some valuable information as to how the product should be used.
This wireless mic also offers advanced engineering wherein it filters different kinds of noises and interference, leading to clearer and crisper sound quality. And so, this makes a great option for any occasion and is versatile enough to be carried around anywhere you go. 
Aside from its overwhelming features, it also has a superior range capable of still producing a clear voice in a wide area. More so, the product is covered with high-quality premium materials that can resist corrosion and rust. The necessary information can be shown on a large screen that can maximize your overall usage of this wireless mic. This user-friendly product is specially made for all users.
Comes with different kinds of noises – It has an innovative filter that makes you choose to what type of sound you desire
Easy to operate – There's no need to spend more time learning on how to operate because you only need to turn it on and it will match automatically
Great value for money – The quality is worth more than the price you paid.
Smoothness – The sound it produces is very pleasant to the ears
Specs
Impact proof design
High-quality signals and provides signal stability
Crisp and exceptional sound quality.
Filters all annoying sounds
Lightweight and compact design
10) Bietrun Wireless Microphone UHF Voice Amplifier
Editor's Rating: 4.4/5
A very simplistic that simply does everything, the Bietrun Wireless Mic offers a great way for recording to aspiring singers and professionals as well. This wireless mic is packed with the latest advanced technologies that will keep you using it. To ensure durability, this mic is covered with premium quality materials that assure you of long-term usage. 
The package comes with very simple instructions and isn't hard to follow. Bietrun Mic also is portable enough to be carried around, any time on any given occasion. Signals can be delivered instantly without any hiccups and offer clear and without any noise disturbances. This product includes everything you need in a wireless mic setup. Overall, this product aims to provide portability, quality, and overall performance without compromising the price. 
Clear instructions – The manual or instruction book is very easy to understand. It provides simple steps and advice to the buyers
Built-in battery – It doesn't come with any detachable batteries because it has built-in batteries that are rechargeable that could last for 6 hours\
Convenience – It gives ease as this microphone is handy or easy to carry
Clearer audio – the audio is very transparent, and it provides a full response to the frequency
Specs
A wide array of applications
Premium and High-quality materials
Crisp and clear audio
User-friendly, can be used by all.
Ergonomic and minimalistic design
Buyer's Guide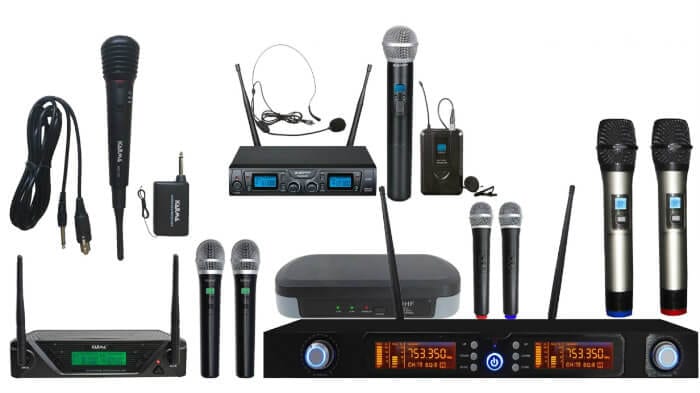 In this buyer's guide, we'll teach you different kinds of things to consider where purchasing wireless microphone systems. This list contains 5 of the most important factors when buying wireless microphones. Here's the list below:
• Frequency
For many years, the 400MHZ up is the standard frequency for wireless microphones, as this range typically gives the best and strongest performance. This means that the higher the frequency is, the greater the performance it can deliver. However, wireless frequencies may vary from place to place. Be sure to properly read the manual to see the amount of frequency the system can handle.
• Functioning Range
Always choose a wireless microphone setup that has a greater range that operates through 1000 feet or more. This ensures that the microphone will work even though the longest distance. However, wireless microphones are usually used in areas where there is a small area. In big areas, however, it shouldn't even surpass a thousand feet.
• Sound Quality
Before buying a product, the rule of thumb is to always try it and see if the indicated specification truly resonates when you try it. When choosing a wireless mic system, always choose the product that uses digital signals, as they provide a more stable and consistent signal when compared to an analog system. Digital signals provide a dynamic range that is incomparable to an analog system. They offer a more natural sound, crisper voice, and are even more affordable to this day. The Analog system's days are gone.
• Wireless Microphone Features
One of the most sought after feature of a wireless microphone is having a separate mute and power options. When both of them are sending signals with each other, they are locked-in into that frequency. 
During this event, nothing can interfere with the system unless independent systems are working on the same frequency. However, when your transmitter is off and the receiver is on, chances are it will likely pick up different signals. That's why it is important to have separate on/off function to avoid destroying a performance.
The addition of the separate on/off feature also helps whenever a user doesn't want to be heard; they can just easily turn off the mic. While the transmitter can still be left powered, this will only help avoid interfering signals.  
FAQs
• What are the best wireless microphones for singers?
In this article, we consider the Bietrun Wireless Microphone UHF Voice Amplifier to be the best option for singers as this product is sleek enough to provide whatever the singer needs. It must have a clear and crisp sound performance and superb materials.
• Do wireless microphones need speakers?
Yes, usually the transmitter sends signals to the receiver then and convert it into live audio that you hear from the speakers. Technically, wireless microphones don't work if they don't have speakers.
• How can I boost my wireless microphone signal?
To boost wireless microphone signals, antennas should be mounted high above the crowd or the platform to avoid any interference or noise disturbance. Also, separating both the transmitters and receivers is most-likely recommended to increase wireless performance.
• Does a wireless microphone need an amplifier?
It depends on the user. If they want to produce high-intensity sounds, then they must use amplifiers. Most likely, wireless microphones don't need amplifiers. Just simply plug them in, and the receiver handles the signal down to the speakers.
Final words
To conclude this article, the clear winner is truly the Bietrun Wireless Microphone UHF Voice Amplifier. Compared to others, this mic offers the best of its abilities, and for the price, it is respectable to be the clear cut winner. Simplistic and elegant design, combined with top of the line premium materials. You couldn't ask for more. Finding the best isn't always may not always resulting in a good way. But finding the right one may be the right idea. We hope in this article, we've helped you in some way in choosing the right wireless microphone for you!