Vocal harmonizers can put extra flavor into your tone. These are amazing tools that entirely alter the idea of your song. Because of its convenience for use, vocal harmonizers have been a popular tool for many guitarists from all over the world.
We recognize the fact that singers and guitarists can be greatly demanding when it comes to the quality of their vocal sounds, specifically for a solo singer who cannot manage the chance of covering behind a lead guitar role. These vocal harmonizer pedals grant these singers that additional vocal advantage, contributing to the general quality of the live performance.
What is a Vocal Harmonizer?
Vocal Harmonizer is appropriate for bands and solo singers, where either, backing singers are not available, or one member in the band cannot sing. Vocal Harmonizer Pedals are largely utilized by many music industry artists who are finding a way to reinvent their studio-recording sound during their live performances.
Why Buy a Vocal Harmonizer?
A vocal harmonizer may not be the first thing that you would consider buying for a home studio; however, it plays a significant role in the production of music. A harmonizer registers your guitar chords or your voice and attunes while you are singing.
Benefits of Vocal Harmonizer
Vocal harmonizers have many benefits to offer. They allow users to hear the starting melody and generates numerous harmonies simultaneously. They can also impose additional effects on numerous instruments, making new sound effects, and contribute to your general sound.
List of Best Vocal Harmonizer Pedals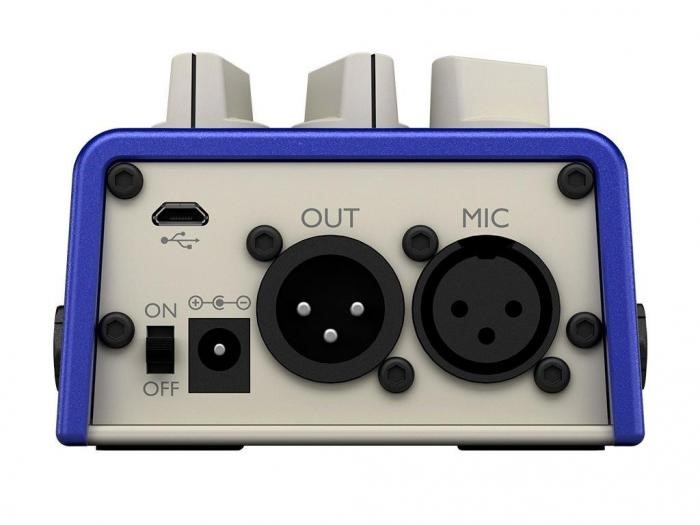 It cannot be denied that there are plenty of models coming out right now to help you with your songs and maintaining the harmony of your music. Now, vocal harmonizer pedals are widely used but remain that you cannot simply pick your choice without really knowing the product.
Different brands may come to you, giving you all the assurances. Unfortunately, you cannot just rely on them. You have to do your part in studying your options. To help you with your decision, we have gathered the best vocal harmonizer pedals:
Best Overall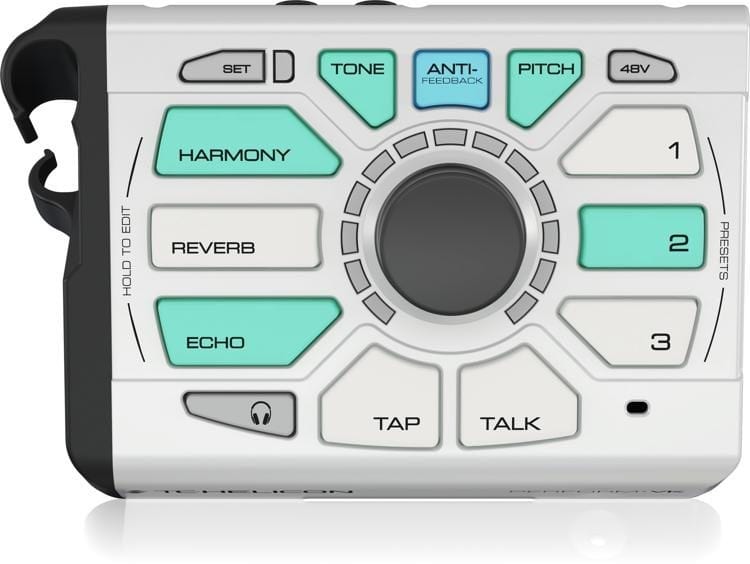 User-friendly
Works with a keyboard
Offers plenty of presets
Delivers EQ, de-ess-ing, compression controls, and gating to smoothen sound
TC Helicon Perform – VK is a vocal harmonizer pedal and a vocal processor that provides quality voice reproduction. It is firmly fixed and user-friendly. It is also designed to function with a keyboard and exhibits in and out ports. This pedal offers plenty of presets to fit your kind of music and has a scope of effects – delay, and reverb- which lets you make specifically the vocal sound you need. It also employs the facility of pitch controller.
Now, since this pedal is designed to be compatible with a keyboard, it takes the representation from the keyboard to create a maximum of 2 actual-time harmonies. If you like to develop vocals that are comprised of more intricate sound, this can be achievable through the MIDI note driven harmony, which can make 8 actual-time harmony lines.
It delivers EQ, de-ess-ing, compression controls, and gating to smoothen the vocal sound. It is feasible to maximize this in a studio-atmosphere, although it is seemingly the effects are already accessible. Nonetheless, they are handy and shall deliver new sound and life to your stage plays.
Product Rating: 4.5/5
Best in EQ Processing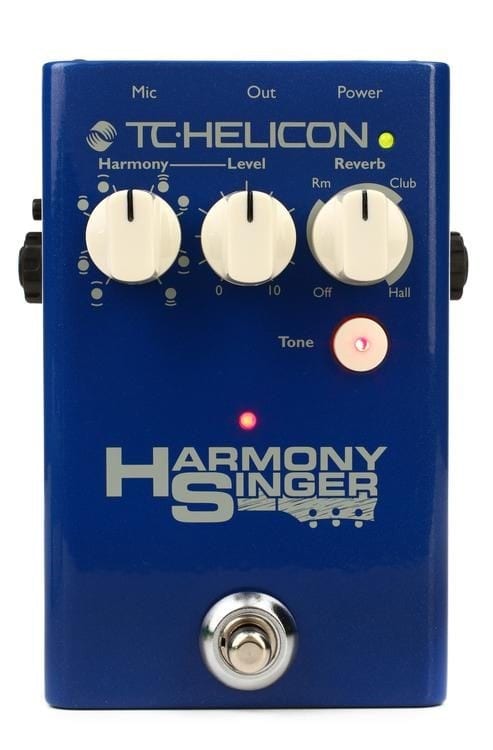 Easy-to-use
Can produce a maximum of 2 harmonic voices
Uses the TC Helicon AdaptiveTone
TC Helicon Harmony Singer 2 is easy-to-use and can produce a maximum of 2 harmonic voices to serve as a support to the vocal. The notation is derived from the guitar, which is plugged into the device.
This vocal harmonizer pedal exhibits the common exciting variety of Helicon sound effects to assist you in creating specifically the sound you need, including a 3-option reverb. It also uses the TC Helicon AdaptiveTone to secure excellent EQ processing and compression and also delivers de-ess-ing as well as gating.
Harmony Singer 2 is battery-powered. It uses 4 batteries (AA), although there is an available 9V mains adaptor for users who would opt to use them instead and an on/off switch for the harmonies to give you the access of bringing them in when needed for utmost impact.
It will integrate with a Windows or Mac computer to receive the newest updates and lets you save your preferred settings. The innovative process with vocals is developed with the choice of 8 harmony approaches that will let you select the most appropriate for the song. The thirds and fifths, either over or under, will develop the groundwork of the harmony formation, although other alternatives are also available.
Product Rating: 4/5
Best Handy Vocal Harmonizer Pedal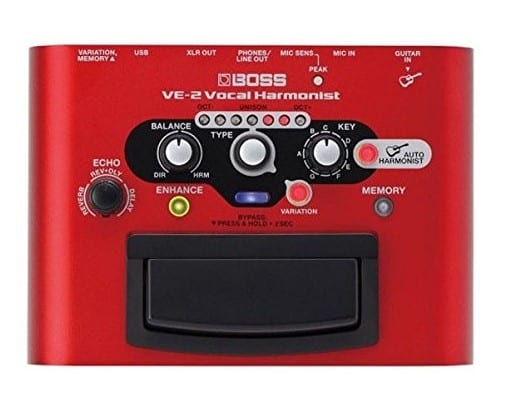 Impressive sounding
User-friendly
Auto-harmony function
Battery-powered
The Boss VE-2 Vocal Harmonist Pedal is very handy and can be easily stored. It is comparably small and only weighs 600 grams. Other than the physical features of this pedal, which makes it a perfect selection because of its flexibility, this vocal harmonizer pedal is also adept on battery power.
The stompbox is battery-driven, which is particularly useful in the live show atmosphere. Whether you are playing music in the corner of the street to get donations, or doing a staged play, mains plug sockets may be rare to find, commonly kept by the enormous volume of pedals used by the bassists and lead guitarists.
This instrument exhibits two primary pitch settings that work to maintain the tunes coordinated with the lead vocal. The instrument naturally adapts to the chords that you are playing through your keyboard or guitar, and users can also manually designate it to a particular key. Bringing these two features together, Boss VE-2 guarantees the most stable outputs.
However, if you are playing a song that comprises a change in key, it is recommended that you do not set the particular key. Boss VE-2 uses the Auto-Harmony function, so you don't have to worry about the technicalities.
Product Rating: 4/5
Best Value for Money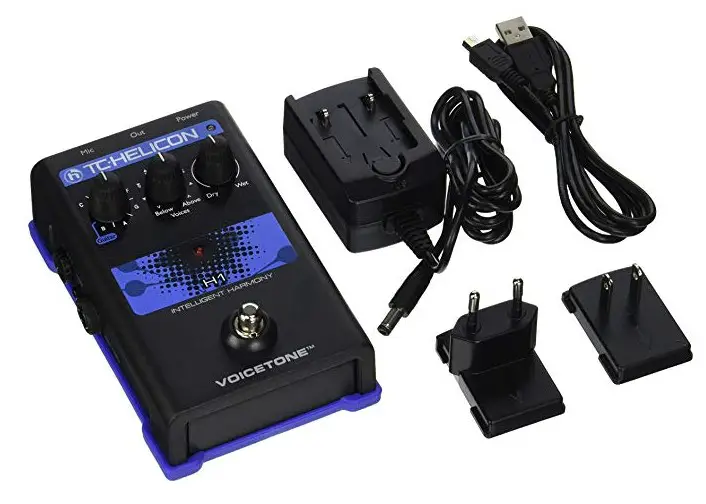 2 key controls
Uses a maximum of 2 harmony voices
Do not require an instrument to use
The VoiceTone H1 – Vocal Harmony is one of the most affordable vocal harmonizer pedals. Nevertheless, just because it is being labeled as being affordable does not mean that it serves a poor quality. On the contrary, VoiceTone H1 provides some impressive-sounding vocal tunes.
Users are given entry to 3 movable knobs, providing the capacity to select the musical key of the song for the instrument to use, together with the accurate vocal layoff for the supporting harmony attributes. The last knob regulates the level of the volume of which the attributing harmonies may be heard, comparative to the lead vocals.
Artists such as singers and guitarists can take the benefit of VoiceTone H1's exceptional guitar-sensing capacity to hold the blending in tune. For non-guitarists, this instrument features a key selector so they can dial-in tunes that are perfect to plenty of songs.
Also, VoiceTone H1 features a new and patent-pending Mic Control circuit, which is assembled into every VoiceTone single pedal. This lets the thumb switch of MP-75 Modern Performance Vocal microphone to turn on and off the effect of VoiceTone single.
Product Rating: 4/5
Best for Looped Recording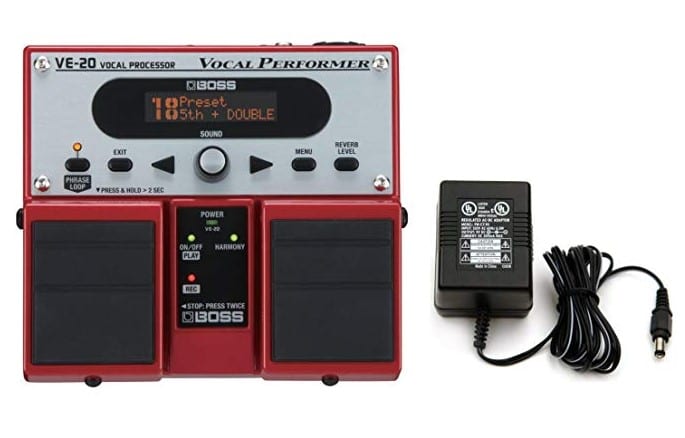 Includes more layers of vocal harmonies
Includes innovative vocal effects like radio effect, strobe, and distortion
Easy-to-use
Features an actual-time pitch-correction
The Boss VE-20 is not mainly a vocal harmonizer, rather a substantially packaged stompbox. With its weight that is 1.6 kg, you would have the idea that it is not the lightweight type of a pedal but happens to demonstrate a very impressive performance. It can include more layers of vocal harmonies and include innovative vocal effects like radio effect, strobe, and distortion.
This pedal is superior in quality and is strongly built. The two large effects processor pedals have initiated an easy-to-use feature so you will not have to be troubled about leaving behind the processor pedal through your foot.
This vocal harmonizer pedal allows the singers to further use an actual-time pitch-correction, which is very significant to ensure that the vocal harmonies are symphonic with the lead vocal. Also, it exhibits another feature being a wonderful auto-tune pedal for vocals.
It also allows 38 seconds of looped recording (mono), which is beneficial for songwriters-singers searching for a prolific, contemporary manner to establish the instrumentation. The pedal comprises the Phantom Power; hence, it is compatible with power condenser microphones.
Product Rating: 4/5
Best in Doubling Control Facility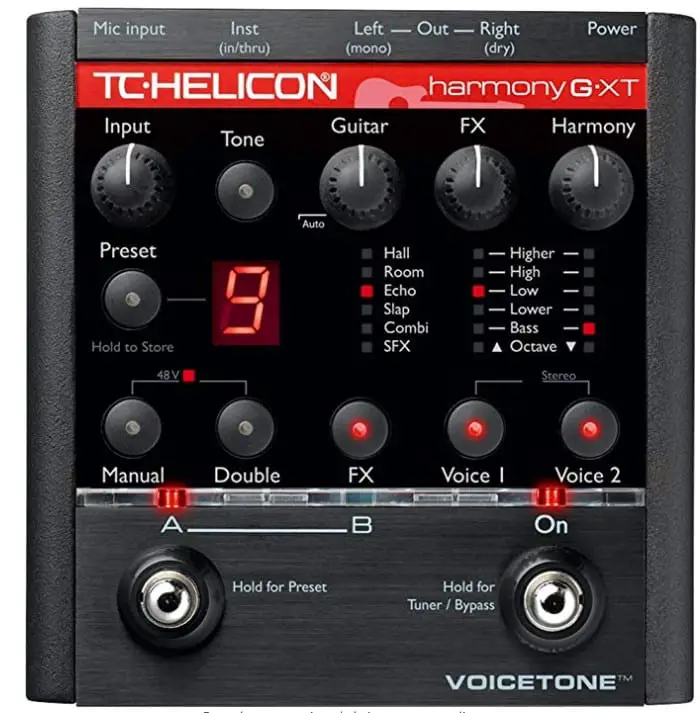 Has the pitch-correction function
Easy-to-use controls
Modifiable settings while standing
Uses doubling control facility
The TC Helicon Voice Tone Harmony is an excellent package. It offers various harmony selections as well as superior effects that will provide a remarkable sound to the vocal performance.
Depending on the kind of settings you will use, the GXT will designate which lines would suit the vocal. Selections include thirds and fifths over and under and octaves as well. Onboard is one of the great effects to additionally form the sound, including delay and reverb. It also has the pitch-correction function to guarantee that you are always in tune.
Its controls are easy-to-use and useful, and the settings may be modified easily while standing. It has a preamp that in incorporated with phantom power as well as an XLR input for the microphone.
A remarkable addition to GXT is doubling control. This facility provides the option to use a double track to the vocal in different phases to fit the song style – from compact with the lead vocal to a sloppier feel. This efficiency may be used to the harmonies, too.
This vocal effects processor will also do any essential alterations to the EQ and confining in an actual-time situation. It also handles the de-ess-ing and gaiting.
Product Rating: 3/5
Best Pedal with Vocoder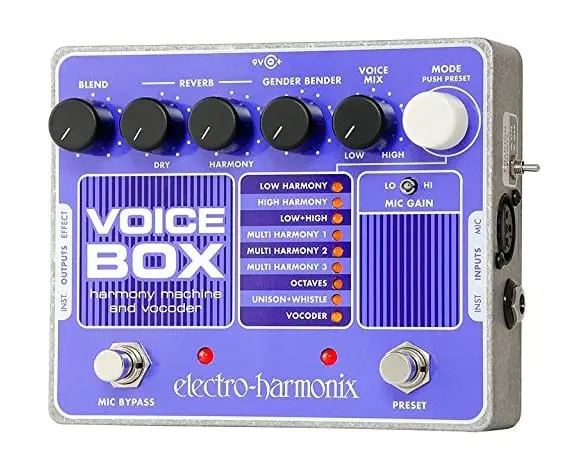 Comes with a Vocoder
Generates a maximum of 4-part harmonies
Features a Multi-Harmony mode
Electro-Harmonix has created a modern piece of kit through this kind of pedal. Its Voice Box Harmony Machine comprises a Vocoder – a voice box that interprets the human speech for an array of reasons. Melodiously, it has existed for quite a while.
The Electro-Harmonix Voice Box Harmony Machine and Vocoder will track the chords from the used instrument and the notes from a song, to generate a maximum of 4-part harmonies. It comprises the capacity to drift from one note to another while the established harmony lines are sustained.
This vocal harmonizer pedal is a skillful piece of kit. Some might dispute and takes the vocal harmonizing to a new level. It will create a studio-quality performance the moment you have the grasps on what exactly this pedal provides. And if you thoroughly learn its potentials, you will know that it provides a lot.
It produces tunes of the third and the fifth either over or under the note, but may also be modified through the Multi-Harmony mode to create one tune third or fifth over and another under. Another great feature of this pedal is the Voice Mix.
Product Rating: 3/5
Best Pedal for Beginners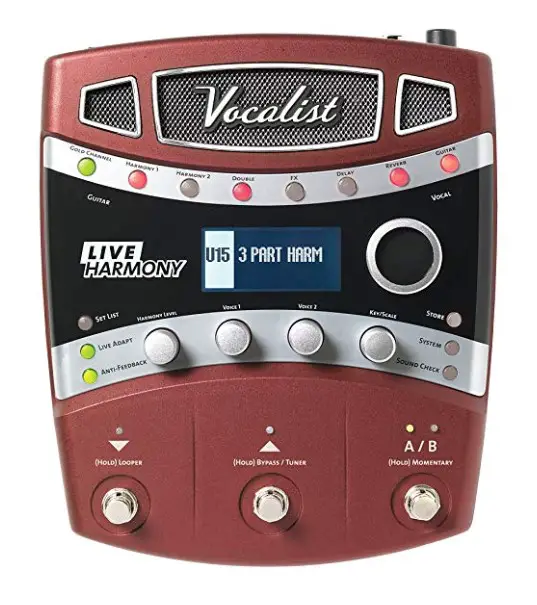 Precise tracking
Various in-built features
Uses Live Adapt Technology
DigiTech Vocalist Live Harmony (VLHM) illustrates what is defensibly the best mixture of features and components for budget customers. This vocal harmonizer pedal is remarkably competent, with an analytically precise tracking and a firm processor to back up all that. Nevertheless, that is not entirely this pedal has to give.
It exhibits various in-built features that are all integrated to ensure great results. It facilitates different modes of operation as well as different effects. For beginners, the pedal has the Live Adapt technology, which regularly checks the admission for the key, tempo, and other rhythmic. By utilizing this technology, you are given the assurance that it can do actual-time alterations to the performance.
This pedal is a standard-guitar operated harmonizer, yet one that is also capable of offering automatic adjustment of the tone. This characteristic is commonly seen on much more costly pedals in the market.
DigiTech has substantially made a great adversary for a range of vying models, although it is relatively more affordable. Hence, if you are working on a tight budget and want to get a decent pedal, DigiTech VLHM could make a great choice.
Product Rating: 3/5
Best Architecture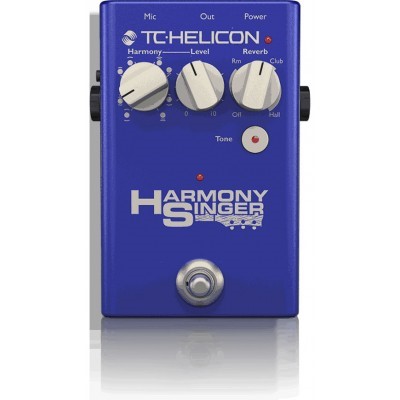 Solid architecture
Durable
Easy-to-use controls
The Harmony Singer of TC Helicon is so far one of the most captivating harmonizer pedals today. It binds all the necessary features and simultaneously being beautifully compact. It exhibits a very solid architecture with impressive manufacturing quality and impressive layout. Its solid body can endure usage on and off the stage smoothly.
The controls are perceptive and easy-to-use. They are found at the top portion of the pedal. The front and sides are where the I/O ports are positioned. The left and right panels mark the instrument input as well as the instrument thru.
The input of the mic and the XLR out are placed at the front. What is even more fascinating is that this pedal provides a USB port too. This facilitates easy hooking of the pedal to the computer and getting the newest versions for the software.
What is highly remarkable about this kind of pedal is the precise tracking. The pedal resonates naturally in comparison to the other models in the market and lets the user accustom the harmonizer effect to ultimately suit the requirements of the track.
Product Rating: 3/5
Best in Signal Transmission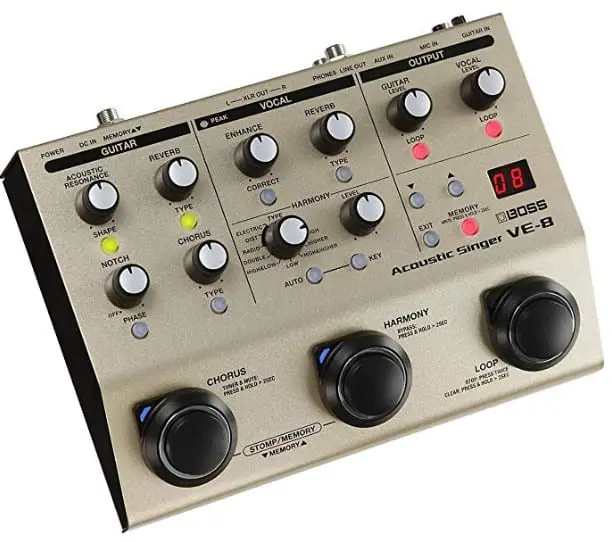 80-second looper
Uses Onboard-Pitch Correction
Highly-competent
The BOSS VE-8 Acoustic Singer is equipped with all the refining power necessary for your vocal and guitar. This pedal provides a highly competent harmonizer effect, and also a looper, chorus, and more. The instrument is steered at acoustic singers who like to stimulate their tone a bit – and that is something this pedal does exceptionally well.
Although the pedal may be a bit heavy, it would be essential to know just how smooth the outline of controls is. You don't have to consume long hours trying to learn what each of the knobs does because BOSS employs no-trash labels for everything.
You can bounce the beats and execute over them through the 80-second looper, incorporate smart vocal harmonies in an instant, and dial-in new textures – such as guitar concaves and vocal distortion – for lively stage plays. It also has the Onboard-Pitch Correction, which helps you attain those risky notes.
You may then transmit independent or pre-mixed signals to the acoustic amp and PA through two bundles of stereo outputs. And although this pedal is being demonstrated with a simple layout that makes it ideal for the stage, the direct DAW recording through the USB and an auxiliary audio input for the mobile device make this vocal harmonizer pedal a standard for your practice or studio space.
Product Rating: 3/5
Buying Guide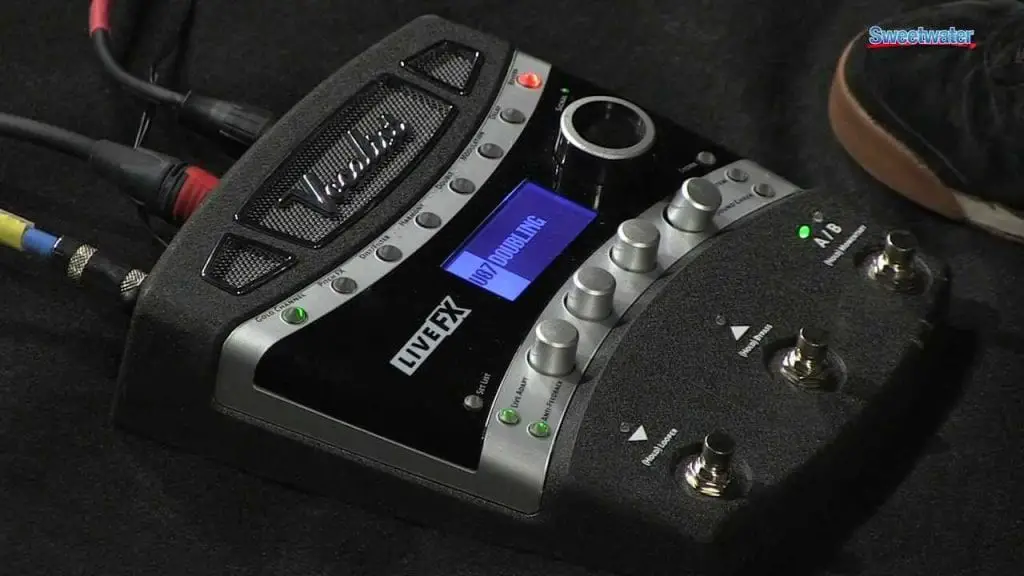 Just like other products, buying the best vocal harmonizer pedal should not be done without a thorough evaluation. Some things are to be considered to make sure that you don't waste your money on the wrong investment.
The main concern with vocal harmonizer pedals is the price. If you are planning to buy an excellent unit, not counting more comprehensive processors, you should be ready to shell amount a relatively large amount of money. Yes, the first thing to do in choosing the best pedal is to figure out your budget, but more essentially, identify the intended application for the pedal.
If you manage not to have the additional features, there is a possibility that you can find some quite attainable brands. However, if you think that these additional features are crucial to your application, then that will lead you to more spending.
You would also have to remember the kind of harmonies provided. Each brand would attempt to exhibit their take on this harmonic effect; however, they are commonly comprised of neutral harmony modes.
The key to remember here is to get a model whose distinct harmonies that are perfect for you. You should expect more research to do this. If you dedicate your time and execute everything properly, all your efforts shall be rewarded because you are likely to get the best one for you.
What Do You Need the Pedal to Do?
If you are merely looking for a pedal that can give you an easy harmony line to the vocal, then any on the list would be sufficient. Although it is also possible that you will require more. Perhaps 2 harmonies of supporting vocals to establish prominent vocals. To a particular extent, it may rely on the kind of music.
Harder rock songs normally only need larger vocals on the chorus lines. Whereas, a more melodious approach may benefit from the selection of scattering harmony lines all through the song at significant moments.
Frequently Asked Questions
How to use a vocal harmonizer?
The first thing to ensure when using a vocal harmonizer is to position it in the best spot of the guitar pedal signal path. There is a compelling order for the guitar pedals according to what develops in nature. Harmony is a kind of pitch alteration and comes very near to the front portion of the signal chain.
Conclusion
Vocal harmonizer pedals are one of those pedals that exclusively works in certain conditions, but possesses the authority to entirely alter your tone. If you are performing with a limited setup, using the best vocal harmonizer pedal may help you in adding some tremendous expansion to your music.
Evaluating the different features and abilities of the vocal harmonizer pedals listed above, we conclude that the best one is the TC Helicon Perform – VK considering its numerous and highly-beneficial features. Ranking second is the TC Helicon Harmony Singer 2.
Sure, you have your concept of what comprises the best vocal harmonizer pedal. After all, the final say will be coming from you. You have to carefully evaluate your preferences and, most importantly, your needs. Then you check the list above and see whether any of them can suit your requirements.