When listening to your favorite songs in your car, a good audio system makes your stereo experience a lot better. This is the reason why people install subwoofer speakers in their cars to produce low-frequency bass. While every car stereo systems have their built-in subwoofers, they are too small to produce or handle these low-frequency sounds. It is still possible for you to upgrade your car's sound system to improve your stereo experience.
An underseat sub is a small subwoofer that has a built-in amplifier within the unit. This compact device has everything under its hood, making it very convenient for many people. It also makes installing in your car a lot easier. Underseat subwoofers are typically installed in cars that have a limited amount of space.
Most of the time, these underseat subs are installed underneath the driver's seat or the passenger seat. Sometimes, they are also installed in the trunk. Underseat car subwoofers are powerful enough to fill the interior of a small or mid-size car with bass. They usually work well with stereos, and they are often recommended to those who want to improve their stereo experience without changing anything else.
With that said, here are the top underseat subwoofers that would suit your needs:
1. Sound Ordnance B-8PTD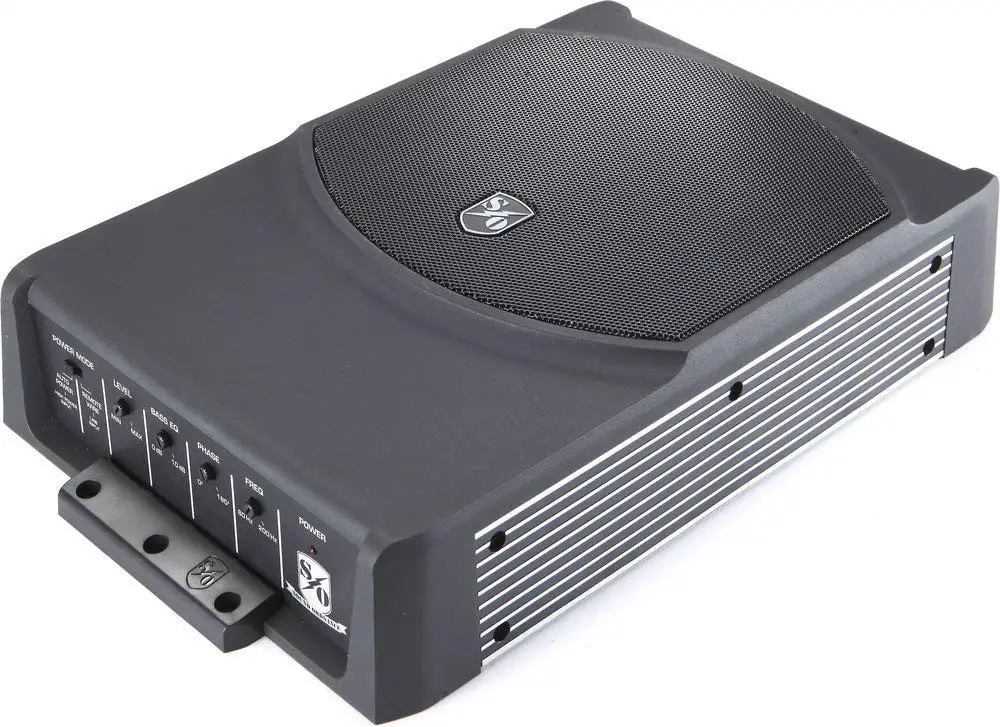 The latest underseat subwoofer from Sound Ordnance offers more from its predecessors. The 125-watt amp and 8 inches subwoofer are small and compact, which fits right under your car seat. The ABS plastic enclosure protects it from external pressure while also able to withstand the internal pressure from the buzz and reverb.
The B-8PTD has all the controls on one side while the wires are on the other side. The controls can be reached easily by hand, so you make any adjustments to the controls.
Our Conclusion: An all-in-one unit that allows you to save space and simplify all of your wiring requirements. This small underseat subwoofer is bound to impress you with its bass and its ease in controls.
Pros:
Durable enclosure
3-year warranty
Fits perfectly under the passenger seat
Easy to install
Cons:
Bass control needs improvement
The wired remote is a letdown
2. Rockford Fosgate P300-12 Punch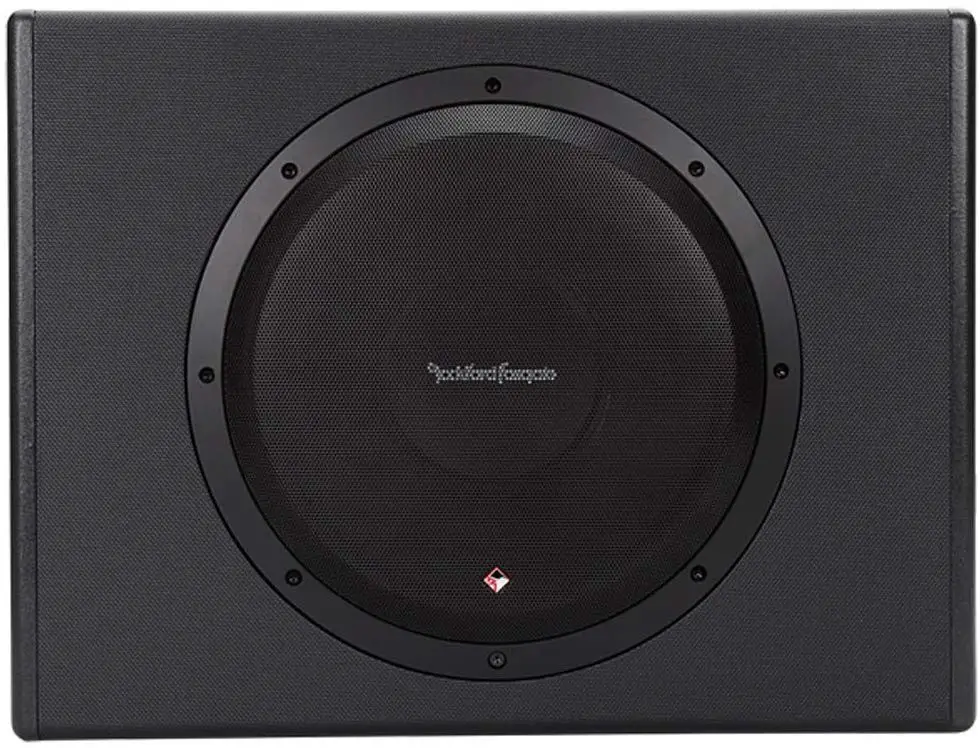 By comparison, this subwoofer comes at a decent rate than many subwoofers in its class. The P300-12 offers a built-in 300-watt amplifier so you can simply hook it directly to the car stereo. Other features include a detachable power connector and an intelligent automatic off function that should help you save power. A decent 35Hz frequency is good enough for those who want a deep bass.
The remote control is also available, so you won't have to stick your fingers just to adjust the tone. You can do so in the comfort of your seat.
Our Conclusion: If you do not want to spend a lot on an amplifier and a subwoofer, then this sub should do fine considering it has all the built-in features needed for your underseat sub. The only downside is its gigantic size.
Pros:
Overall good performance
Intelligent automatic on and off function
Cons:
Large size – 12"
Distortions at high volume
3. Rockville RW10CA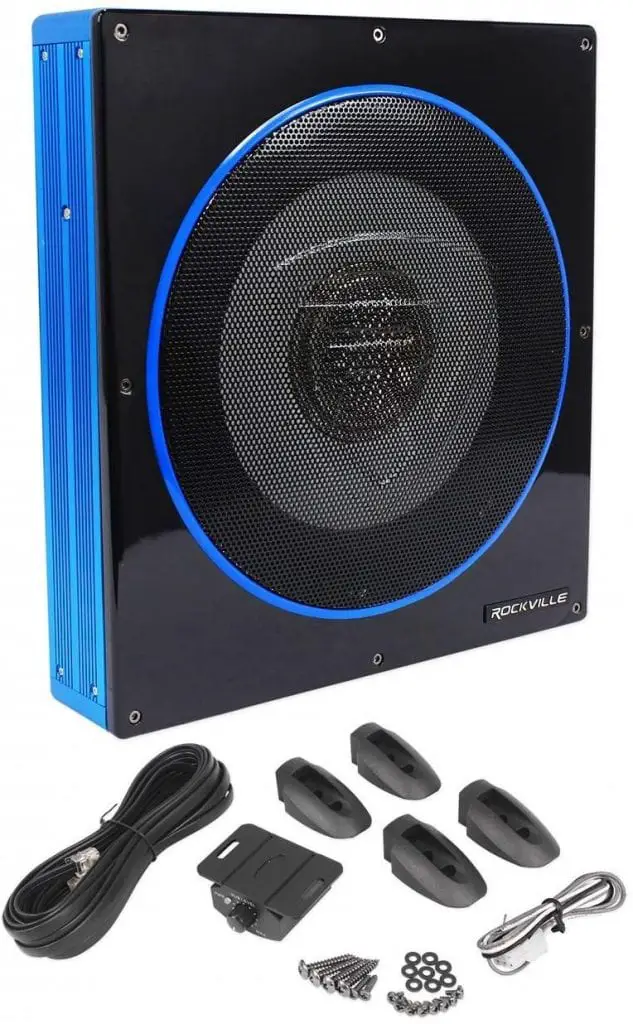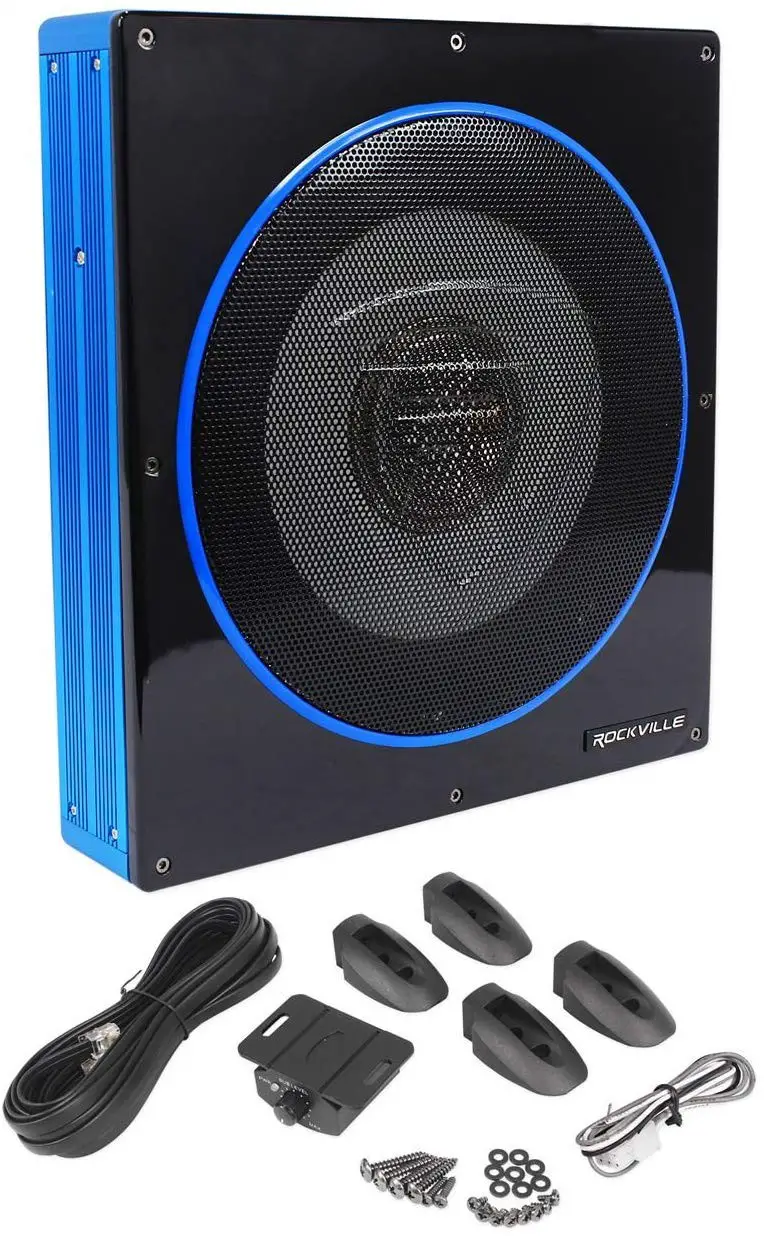 This 10-inch subwoofer fits right underneath your car seat. The Rockville RW10CA is the perfect model that performs at 800 Watts of peak power. The subwoofer provides a ton of bass in your car without taking too much space. The enclosure is only 2.7 inches thick and is one of the easiest to install.
The sub delivers a clean and solid bass. It also has an automatic on and off feature that turns itself off when it does not receive any signals from your stereo. This greatly conserves power from your car.
Our Conclusion: A sub that offers good sound and quality that gives plenty of basses. With a decent amp setting at a very affordable rate, this is a solid sub for its price range.
Pros:
Affordable
Good sound quality
Easy to install
Automatic On/Off feature
Cons:
Sub must be installed in a well-ventilated space
4. Kenwood KSC-SW11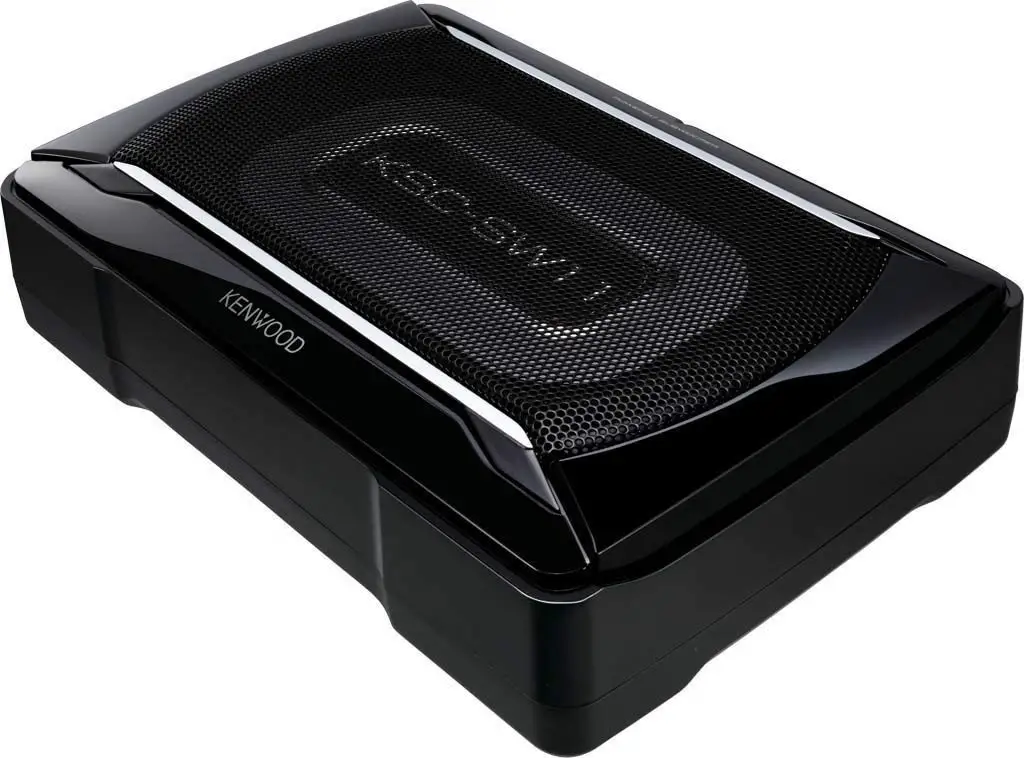 What makes Kenwood KSC-SW11 different from everything on this list is its size and quality. The tiny size makes for easy installation and fits under the seat of most smaller cars. It produces a low-frequency bass reaching to 35Hz.
It is encased in an aluminum enclosure that vibrates and can contain the unit. The built-in amplifier has 75 watts of RMS power that can reach up to 150 watts at maximum. The enclosure also prevents the sub from overheating during extended usage.
Our Conclusion: The Kenwood KSC-SW11 might be small but sure packs a punch with its bass. The excellent quality extends to the materials that make up the sub.
Pros:
Small size
Enclosure prevents overheating
Built-in amplifier
Cons:
Bass volume needs improvement
Distortions at a higher volume
Limited customization
5. Pioneer TS-SWX2502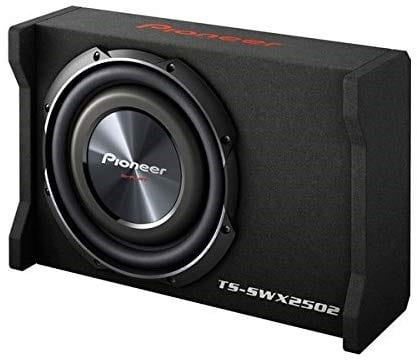 This Pioneer subwoofer offers flawless performance that uses advanced technology to provide accurate and deep bass. At almost 10 inches and only weighing 20 pounds, this small yet powerful subwoofer has a carpeted enclosure that makes it scratch-resistant and durable. It also bodes well with space within the luggage area or underneath the car seat.
This subwoofer offers sensitivity levels of up to 93bB and support to your car stereo through its loud bass. Operating at a maximum 1,200 watts, this unit push terminals are angled perfectly, so it is very easy to connect to the speaker.
Our Conclusion: The Pioneer TS-SWX2502 is a great addition to your car's audio system that improves the stereo experience to an excellent level. This sub offers a deep bass without the intention of taking too much space.
Pros:
Small and versatile.
Fits perfectly well in most cars
Carpeted enclosure for protection against slippage and scratches
Affordable
Built-in amp
Cons:
The range needs to improve
Output deteriorates over time
6. Kicker 11HS8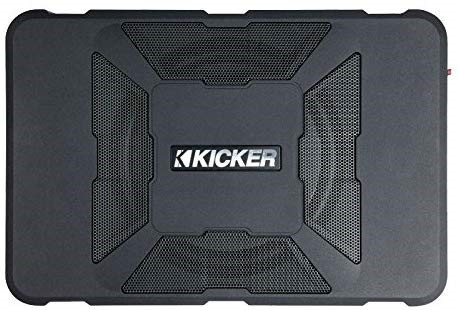 The 11HS8 is the latest unit from a long line of subwoofers from Kicker. Despite its small dimensions, it has an RMS power of 150 watts. The low-end frequency response reaches to 120Hz. It also features an automatic high and low converter so you can always get the output that you want.
The subwoofer has a detailed manual that makes installation very easy. The Nylon straps with Velcro fasteners help mount the sub and installing it becomes a breeze. The remote control allows you to adjust the bass level.
Our Conclusion: Many underestimate this subwoofer due to its small size, but with its high-quality sound and features, this subwoofer should be on top of your list. If you have a passion for consistent bass, then this might just be the subwoofer for you.
Pros:
Quick and easy installation
Great sound output
Remote control
Small size fits in almost all vehicles
Cons:
No RCA inputs
Frequency and RMS ratings might not be for everyone
A bit expensive
7. JBL BassPro SL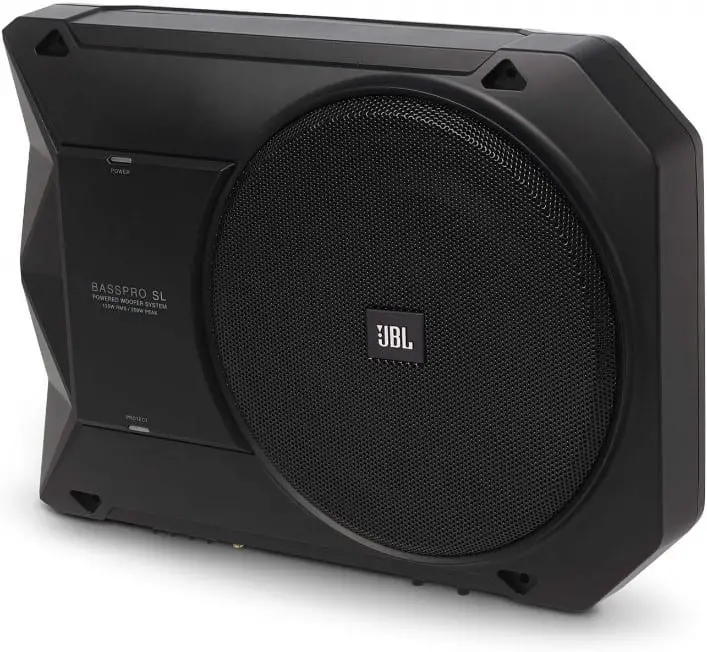 As cars become smaller each year, you will need a more compact underseat sub that can deliver all the amazing features without hurting your pocket and compromising quality. This is where the JBL BassPro SL comes into play. The sub delivers a surprisingly impressive bass coming from a low-profile enclosure that should fit under the driver or passenger seat in a lot of vehicles today.
The JBL BassPro SL offers 125 watts RMS to the sub without having to worry about overheating. The internal amplifier is a Class D, and with its many outputs found at the back, this should bring more customization to the sound and bass.
Our Conclusion: Those who find themselves short on spaces for a decent subwoofer should invest in the JBL BassPro SL instead. This small-sized sub is good without tipping the scale.
Pros:
Small size
Easy to install
High quality build
Cons:
8. Alpine PWE-S8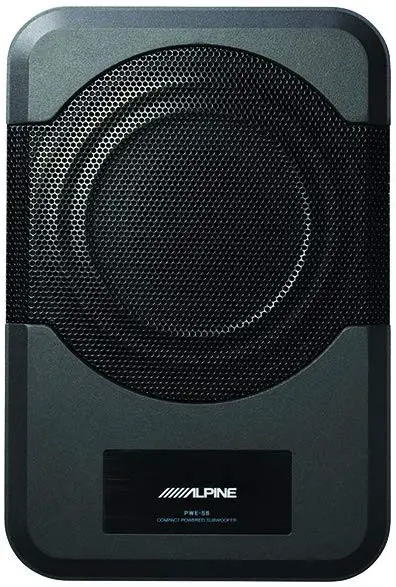 This 8-inch subwoofer with a 120-watt amplifier is built inside an aluminum enclosure that prevents overheating. The compact size of the sub slips perfectly under or behind the seat. The Alpine PWE-S8 offers a decent 32Hz-150Hz frequency response.
The Alpine PWE-S8 is very easy to install and delivers a very crisp and clear sound. You can also connect it directly to your sound system through the input found at the side panel.
Our Conclusion: A pretty straightforward subwoofer that is easily integrated into your sound system. While it has less wattage than other subwoofers on this list, the 120-watt is decent enough.
Pros:
Compact size fits well when tucked behind the seat
Surprisingly clear sound quality
High-quality material
Cons:
9. Cerwin-Vega VPAS10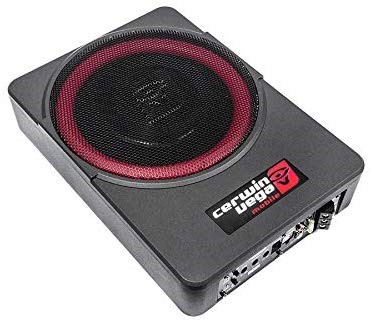 Cerwin-Vega is a long time producer of high-quality car audio products. The Cerwin-Vega VPAS10 is a good example of a wide variety of impressive products that they offer. The unit is encased in an aluminum frame that allows heat to escape freely and avoid overheating.
Slim in size, this subwoofer can be easily installed under the seats or behind it. However, no one should underestimate the size at which it is still able to produce a loud bass. Other features include an adjustable input sensitivity, RCA inputs, and delayed turn on that protects the ears from shock.
Our Conclusion: Quality is a promise that Cerwin-Vega always delivers. While some might be discouraged for the higher price but no one should compromise quality as it should be an important factor when buying this subwoofer.
Pros:
Small and compact with the right amount of bass
Simple and straightforward installation
Heat dissipation mechanism to prevent overheating
Cons:
One of the more expensive subs
10. MTX TN8MS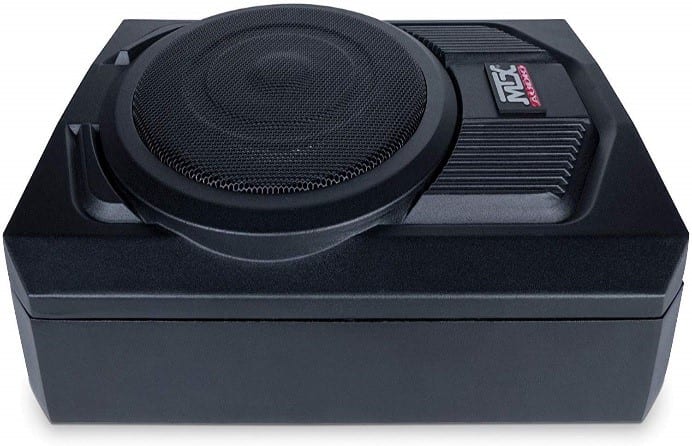 The MTX TN8MS was designed to deliver high-quality bass that would fit in a small enclosure within your vehicle. At only 3 inches high, it would fit almost all types of seats. The built-in amp reaches 135 watts RMS that gives off a rich bass at all levels.
This unit is packed with features including a bass boost and low pass crossover that should help you customize the sound on your music. The remote bass knob connects to the amplifier using a 3.5mm cable that is included in the packaging. This will allow you to adjust the bass level as well.
Our Conclusion: Never let size dictate the quality of sound that this subwoofer delivers. Even the most die-hard fans of underseat subwoofers surprisingly gravitate toward this unit. An impressive feat that is uncommon to many devices today.
Pros:
Price is on par with other subwoofers
Fits nicely in small spaces
Easy installation
Cons:
Should You Buy an Underseat Car Subwoofer?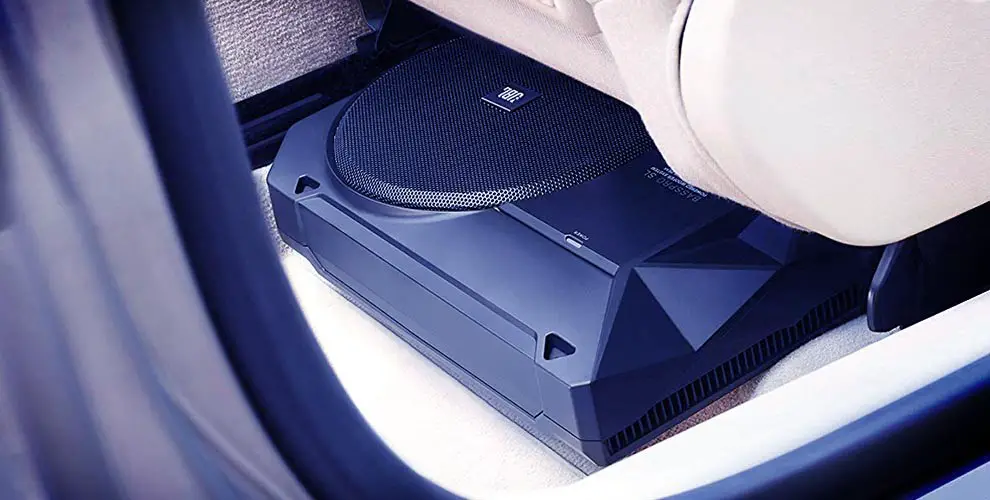 If you are looking for the best bass and sound for your car, then it is best to get an underseat sub. Underseat subs feature powerful subwoofers; hence there is no need for any additional installation of amplifiers. This also makes buying an underseat sub to be cost-efficient than any other subwoofers out there.
Aside from being affordable, underseat subs are already compact and have all the features that you need so you can just install them underneath the seats, and you are already done.
The biggest downside to using an underseat sub is that it may be uncomfortable for some passengers, especially if you have a sub that is too large for your seat. It can extend the height of the seat and can lead to awkward positioning, especially if it is installed under the driver's seat. It also poses a problem for those who are sitting at the back as it may take up a lot of space.
Underseat Subwoofer vs. Boot Subwoofer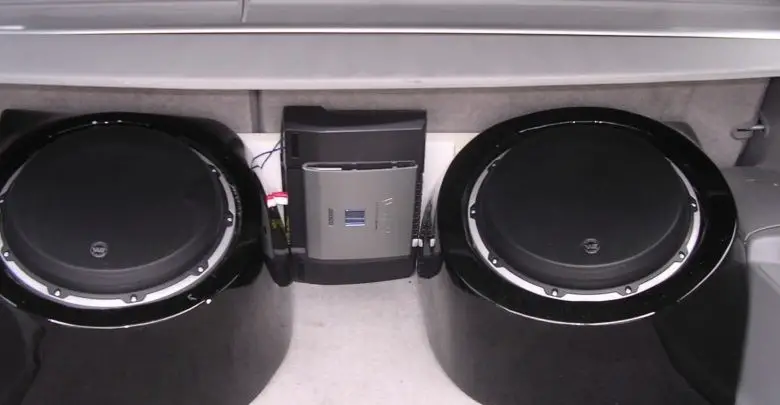 Underseat subs are generally favored for those who are trying to save space inside their car. Most subwoofers today, especially the underseat subs, are designed to produce low-frequency bass; hence they can provide the same quality, and they are also built smaller to fit in the smaller compartments inside the car.
Boot subwoofers generally sacrifice space for a higher quality of sound. While boot subwoofers are installed in the car boot to generate louder sounds, they just take up too much space in the car. Generally, most people would prefer to go with boot subwoofers, but if you want to have storage space, then getting the underseat sub would be the optimal choice.
Buyer's Guide: Things to Consider Before Buying Underseat Subwoofers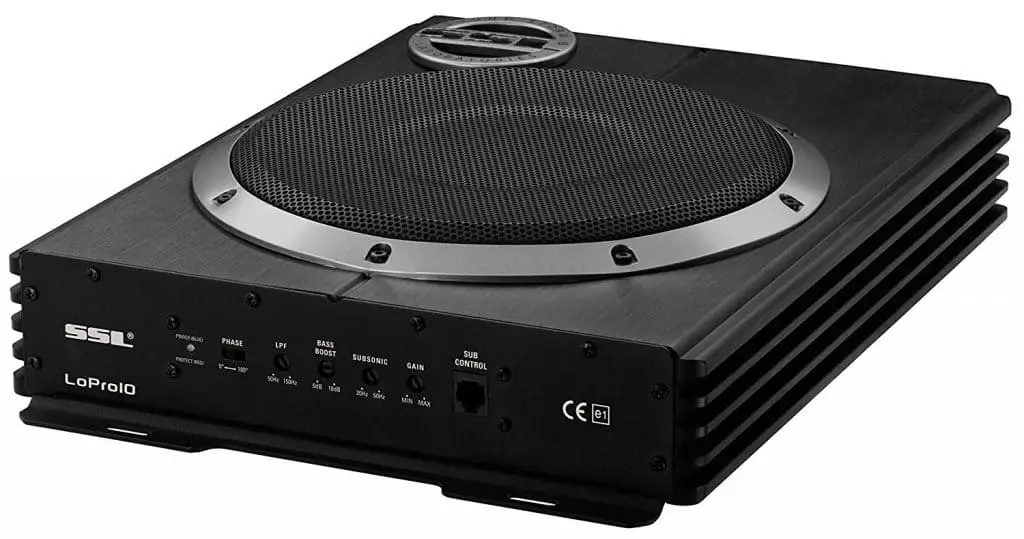 Now that you have decided that what you needed is an underseat sub, it should not be a difficult task to choose which one is best for your car. There are a lot of factors that come into play when it comes to deciding which underseat sub you should purchase. Here are some factors that you should consider before buying one:
Size
Size plays a huge role in deciding which one you should be purchasing. Before buying one, you should know the exact measurement of the underseat sub that you want. Most small subwoofers are a lot more responsive than bigger ones. They also fit perfectly well underneath your seat. Smaller sized subwoofers are easier to install; however, you should also remember that not all small-sized subwoofers produce high-quality music.
You can choose from a range between 8 inches to 12-inch subwoofers to produce good bass. Anything larger than that will pose a problem when it comes to installation.
Power
When it comes to choosing subwoofers, you will need to focus on RMS power ratings. RMS power rating will measure the power that courses through your subwoofer without damaging it. The more you want the bass to be more pronounced, you would rather want to buy a more powerful subwoofer, but if you only need the standard bass, then the power rating should not matter.
Installation
This would go hand in hand with the size of your subwoofer. If you are working under a tight space, then you should be choosing a speaker that is both small and easy to install. The anatomy of the subwoofer should also factor in as both speaker and power input must be accessible so you won't have to struggle to position your subwoofer during installation.
Control
Most subwoofers offer remote control. If, in any case, you would have to use the onboard controls, find a subwoofer that you can easily toggle the controls to and can be positioned in a way that is easily reached after installation.
Final Conclusion
Most car owners would want to have the best sound experience. Bass is an important factor in choosing the right underseat subwoofer. Getting the right amount of bass while driving and listening to music is the best stereo experience. When you have limited space, an underseat subwoofer should be your ultimate choice, as they are specifically designed to fit the smaller space within your car. With the help of this guide, you should be able to reach a sound decision for your underseat sub needs.