If you are ever wondering why the music in the digital age was so great? Well, one reason for that is the use and access to different techniques and tools. In the early days of composing music, if you want a string section, you should hire a professional string player. It can double the task or even your budget. Also, if you love drumming but weren't on the beat, you need to record it until you perfectly got it. Furthermore, if you don't know how to play musical instruments at all, it will make the music like a battlefield.
As time progresses, newer music equipment has storm the market. Most of the issues for making a recording are no longer a problem for them. Well, it is all thanks to a wonderful invention of the so-called MIDI or the Musical Instrument Digital Interface.
With this article, we will talk about the overview of the MIDI, its uses, how it works, as well as the 10 best MIDI interfaces of 2020.
What is a MIDI Interface?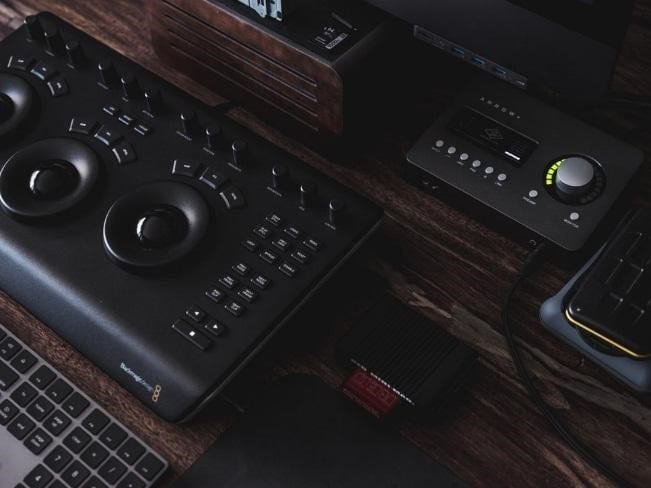 MIDI Interface is a device in which it allows the MIDI equipment to connect or work with a computer. Through the years, this device has many different shapes, capabilities, sizes, as well as price ranges. The simple form of the interface has only one MIDI input and one MIDI output. It provides the simplest way of getting the MIDI instruments to connect within a computer.
Today, modern and new designs of the MIDI interface have different discrete inputs, outputs, and ports. It is for the synchronization of mobile device management or MDM, and other technologies.
There is some device that can resolve the MIDI data to video sync, word clock, or LTC. Some can have Super clock capabilities. Few MIDI interfaces can provide MIDI patch bay, routing, and MIDI processing functions. Although most modern and new models do without these features. It is due to modern software can be sophisticated with those kinds of tasks.
Early MIDI Interface models need to be built precisely for each type of device, including MAC and PC. Although recently, the appearance of standards such as USB, most of MIDI Interface is now cross-platform and can work properly on PC or MAC.
How do MIDI Interfaces Work?
The primary function of the MIDI Interface is to match the clock speed between the computer and the MIDI device. There are some computer sound cards may include a standard MIDI connector in which others can connect by different means. It may consist of USB, Ethernet, propriety connection, or DA-15 game ports.
As mentioned earlier, the appearance of USB in the early 2000s has steered the availability of the MIDI-to-USB data interface. It can now transfer MIDI channels to computers equipped with USB ports. Moreover, there are types of MIDI interfaces such as keyboard controllers that can be equipped with USB jacks. Through this, it can now be plugged through computers and can run music software.
MIDI's serial transmission can lead to problems in timing. For example, a three-byte MIDI message only requires a one millisecond for transmission. It is because MIDI is a serial in which it can only send a single event one at a time. If a possible event is sent to 2 channels at once, the event in higher channels can't transfer as far as the first event is finished. For those reasons, it is delayed by one millisecond.
If an event were sent at the same time in all channels, the transmission of the higher channel would be delayed by 16 milliseconds. It also contributes to the rise of interfaces with multiple in and out ports due to the improved timing. It is when the events are spread through various ports in contrast with multiple channels in the same port. There is a term MIDI slop in which refers to the timing errors of audio that are the result if the MIDI transmissions are delayed.
Difference Between A MIDI Interface and An Audio Interface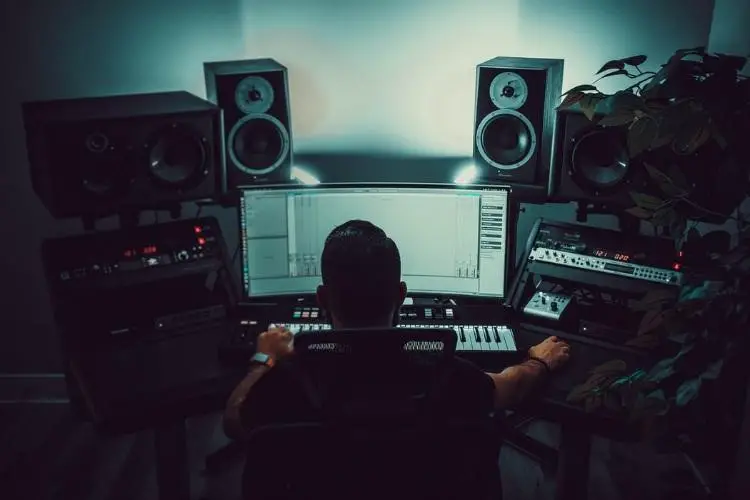 MIDI interface and Audio interface have many differences, not only in there uses but also in the way they work. MIDI interface, as said earlier, is a device that provides MIDI In/Out to MIDI-equipped hardware or computer. It can be connected through a standard 5-pin MIDI jack. Standalone MIDI Interfaces are virtually connected through a computer with the use of USB. It can also be integrated into audio interfaces, control surfaces, keyboards, and pad controllers. With this, it can provide various options in configuring studio or live rig.
While the audio interface is a hardware that can be connected through microphones and audio gears to the computer, a normal audio interface can convert analog signals to digital audio information that the computer can process. It will send the digital audio through the computer by the use of different connections. It may include FireWire, USB, Thunderbolt, or special PCI/PCIe card. It also performs the process in reverse by receiving the digital audio information in the computer and converting it to an analog signal. It sound can be heard through headphones or studio monitors.
Different types of audio interfaces may include line-level analog inputs and outputs. It may also include microphone preamplifiers and digital inputs and outputs, including ADAT, AES, or S/PDIF.
Most of the individuals may think that an audio interface is a go-to road to the music, as many disregards the MIDI interfaces. Well, it can be a mistake for those individuals that are confused as they thought that they are the same.
As we all know, MIDI interfaces can record the performance visually, like when they play them, notes played, and how loud it is. Contrarily to audio interfaces, it records the sound of the different instrument by itself. For a better meaning, the MIDI interface carries the codes with the audio interface carries the music.
MIDI interface and Audio interface also works differently in the computer. MIDI interface doesn't come up in the audio waveform, but in solid data per note, and are compiled in a format of bytes. However, the audio interface comes up through the screen of the computer with a traditional format of sound waves.
How Do They Behave Differently?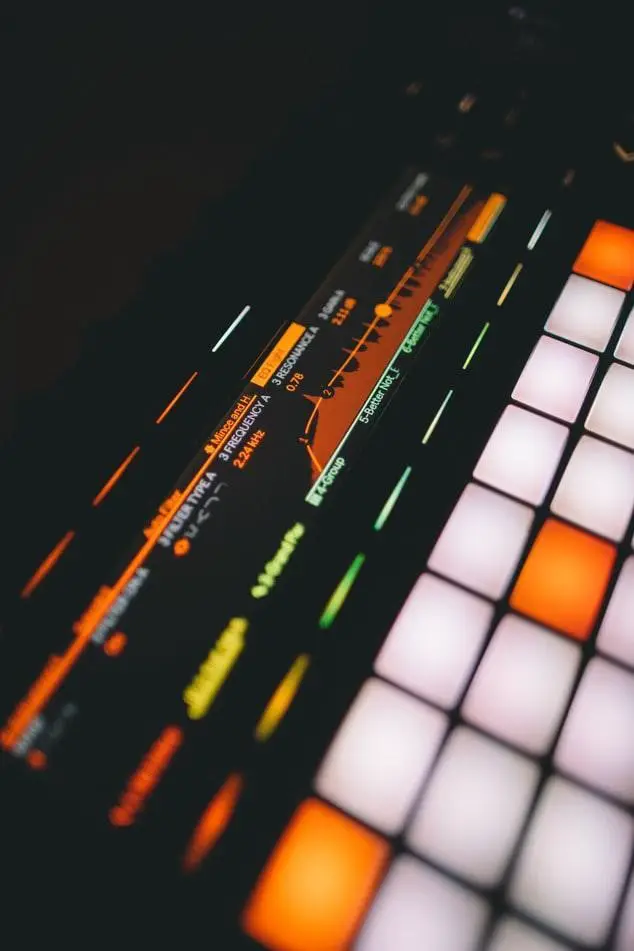 Both the MIDI interface and audio interface do behave differently, yet MIDI is more versatile rather than the audio. Since MIDI turns up as information on how it is played, there are many more to play around with. They can manipulate virtual instruments that can play the exact notes with the correct tension. However, audio has limited actions or options.
In audio, if they held for too long or hit the wrong note, the audio interface will record it all. If the sound was transmitted in to sound waves, it could be challenging to change, and you will record it once again. What's great about the MIDI is they don't have to repeat the whole process. Rather, once it was recorded through the computer or device, it can be edited.
Why Do I Need a MIDI Interface?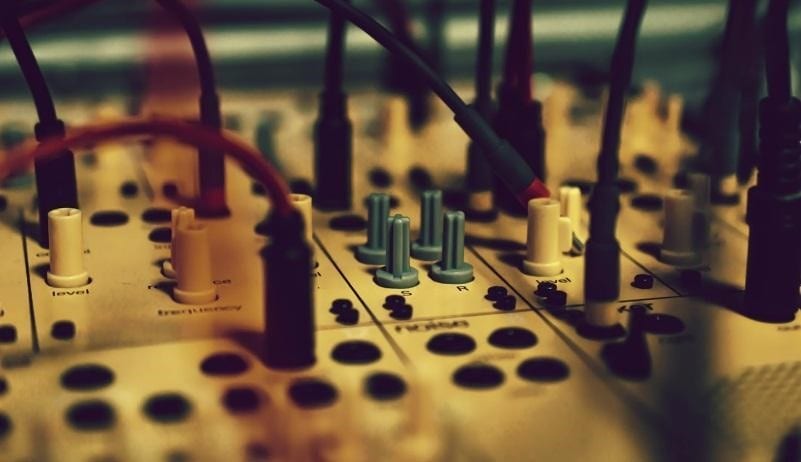 There are many reasons as well as uses for this type of device. The most common reason why most individuals need a MIDI interface is to connect the module or keyboard to the computer. The MIDI interface can help send the note controls and information. It tells the sampler to play the sound that has been selected that is based on the notation that MIDI sent. For those reasons, they can play a piano keyboard composition, but it will transfer it through the sampler, thus making it sound like an organ.
Hence, one reason is syncing the gear through the computer. MIDI can organize everything in the DAW software. If they have composition, previous record track, or sequence, they can synchronize it with the computer by using a MIDI Interface.
It can also connect through different alternative devices. If they have keyboards that they want to link in their new iPhone or iPad, they can use sampling apps or synth from it. They don't need to waste money on buying new keyboards for getting the job done. All they need is a USB MIDI interface, and they're good to go.
Connecting through multiple MIDI devices is also a reason why they need MIDI interfaces. If they have audio interfaces with MIDI connections, they might consider getting more gears or expanding their studio. Although, the more equipment means it needs more channels or ports. It only means that they need to get more MIDI interfaces for supplying enough ports for all their gears.
One of the less common usages of MIDI interfaces is backing up data. Well, yes, they can back up data. Almost all modern MIDI equipment and synths can backup data by a bulk dump called the System Exclusive or SysEx. The information that has been sent in the MIDI output can be recorded. Therefore, if the equipment might crash, they can still restore it.
Number of MIDI Ports (Input/Output/Thru)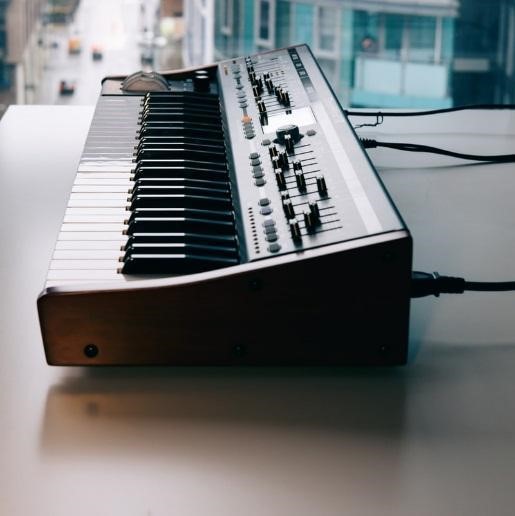 It will all depend on how many MIDI modules that they have. If they had a single keyboard that they want to plug in the computer, they need a 1×1 port. However, if they are looking for multiple modules, the best idea is to look for a MIDI interface with many ports as their gear needs. The ports are available includes 2×2 with 32 MIDI channels, 4×4 with 64 MIDI channels, and 8×8 with 128 MIDI channels. There are also ports like 1×1, 3×3, or 10×10, but it is more not common in the market.
List of the Best Midi Interface
Here are some of the best and popular MIDI interfaces of 2020. It can be used through MIDI keyboards or digital pianos with DAW music production software, tablets, or computers.
1.  MIDI 2×2 USB MIDI Interface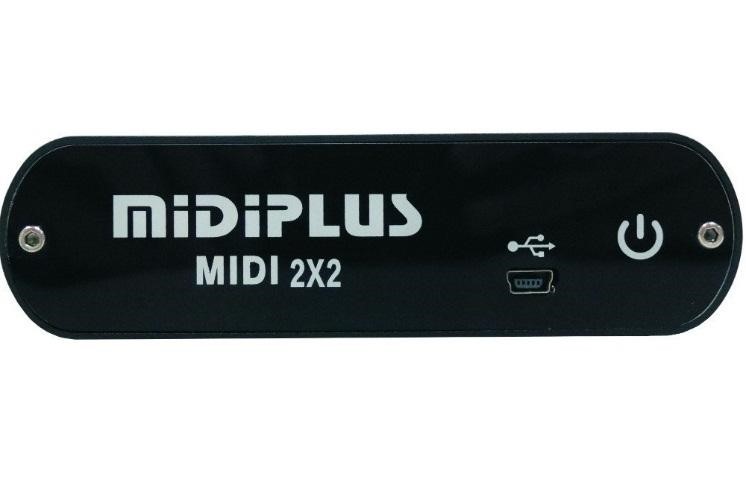 This type of MIDI interface is suitable for different operating systems and has 2 MIDI inputs and outputs. With this MIDI interface, customers can add multiple MIDI ports through the computer system. It can connect 2 MIDI hardware or MIDI keyboards in the computer. It has 32 channels for input and output that is useful if multiple controllers or keyboards need to connect in the software program. Moreover, each of the input and output has signaling LED lights that indicate which ports are active.
Features:
In can easily connected through a computer with USB 1, 2 or 3
It can work with Vista 32/64 Bit, Windows XP SP3, Windows 7, 8, 10 with 32/64 Bit, and MAC OS X.
LED for power
With 4 LEDs for MIDI Input and Output activities
USB powered
Pros:
Good value for money
Doesn't need any external power
Can operate with different systems
No drivers needed to be installed
Easy to install
Cons:
Doesn't work all the time in different systems
2.  MIDI 4×4 USB MIDI Interface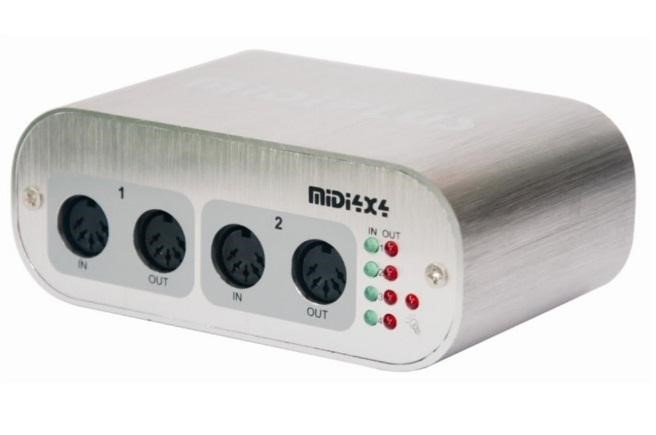 The MIDI 4×4 can easily add multiple MIDI ports to the computer system. It can connect up to 4 MIDI hardware or MIDI keyboards in the computer. It has 64 MIDI channels that can be quickly and clearly to work with.
Features:
In can easily connected through a computer with USB 1, 2 or 3
It can work with Vista 32/64 Bit, Windows XP SP3, Windows 7, 8, 10 with 32/64 Bit, and MAC OS X.
LED for power
With 8 LEDs for MIDI Input and Output activities
USB powered
Pros:
Affordable
High-speed USB connection
No drivers needed to be installed
No external power supply required
Works perfectly in most systems
Cons:
Some reported issues that it doesn't work properly
3.  M-Audio M-Track 2X2M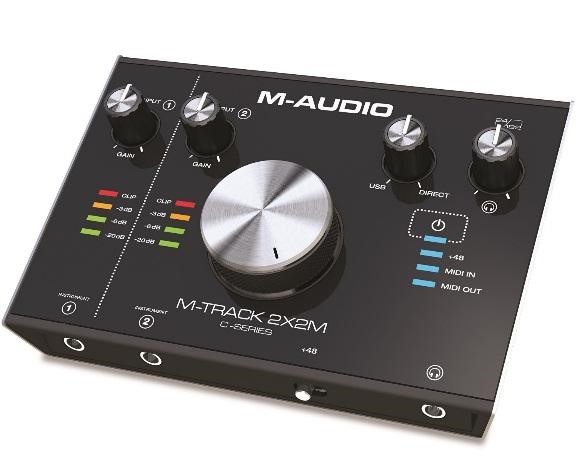 A USB interface with two 24bit/192kHz digital audio conversion channels, MIDI In/Out in a metal chassis, and zero-latency direct monitoring. Hence, it let the customers hear themselves as they record in real-time. It also included software bundles with AIR's Creative FX Collection and Pro Tools First. The large central monitor knob can of M-Track provide an easy and quick dial in studio monitor levels while they are mixing.
Features:
With quality 2-channel USB interface
Can captures recordings in 24/192 hi-fi
XLR/TRS combo input for both microphone and keyboard
Preamps are acoustically neutral, clean, and low noise
Dedicated 1/4″ TS instrument input for both guitar and bass
Avid Pro Tools First can easily edit and records multi-track audio
AIR Strike drum arranger that can provide big backbeat with a human feel
AIR Mini Grand virtual instrument adds color in arrangements
AIR Creative FX Collection with 20 quality plugins
MIDI in/out ports for your controllers and electronic instruments
Pros:
High-speed USB connection
Accommodates all types of microphones
Rugged metal chassis, making it durable and more extended usage
Solid build quality
Great loop packs and VST's
Cons:
Sound volume issues
Driver issues
4.  MIDIPLUS 8X8 USB 3.0 MIDI Interface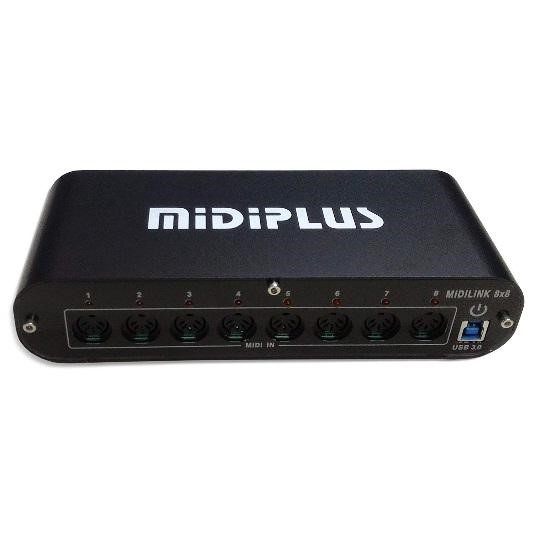 The MIDIPLUS 8X8 can easily connect up to 8 MIDI hardware or MIDI keyboards through the computer system. It provides up to 128 MIDI channels that can easily arrange work with. It also supports USB 3.0 if they use Windows 10 and doesn't need a driver.
Features:
In can easily connected through a computer with USB 1, 2 or 3
It can work with Vista 32/64 Bit, Windows XP SP3, Windows 7, 8, 10 with 32/64 Bit, and MAC OS X.
LED for power
With 16 LEDs for MIDI Input and Output activities
USB powered
Pros:
Total of 128 channels
No drivers needed
No external power source needed
Can connect with multiple devices
Cons:
5.  Behringer U-Phoria UMC22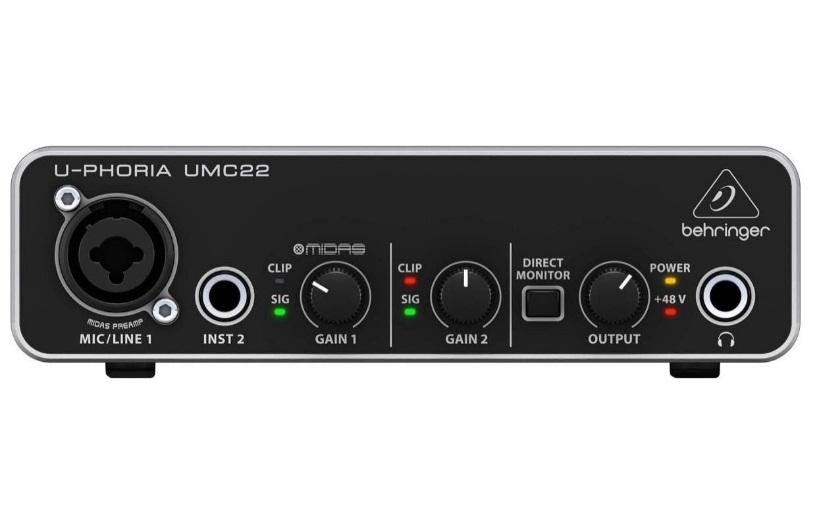 It is a versatile and compact USB recording interface that features one input channel studio-grade 48 kHz converter. Also, it has MIDAS designed preamps and zero-latency direct monitoring while they are recording. The input jacks of this MIDI interface consist of the combination XLR/1/4″ TRS jacks for line, mic, and instrument signals and 1/4″ jack for the instrument. The XLR input provides +48 volts of phantom power. Each of the input jacks may include Gain control for each. It also includes headphone output, which is a direct monitor switch. When this switch is engaged, it allows them to hear the direct sound against the recorded sound.
Features:
USB powered with USB 2.0 port
1/4″ headphone output
1/4″ direct instrument input
With left and right 1/4″ TRS balanced line outputs
Has direct monitoring mode for latency-free recording
With a combination of XLR/TRS mic/line input
One microphone preamp which is designed by MIDAS
Can support Windows and MAC operating system
Can support 16-bit/48kHz recording
Has bundled software that includes Tracktion DAW and effects plugins
Can support 16-bit/48kHz recording
Computer audio interface with two input and two output channels
Pros:
Great value for money
High-quality and good sound quality
Durable
Easy to use
Compact
Cons:
6.  iConnectivity Mio2 2X2 MIDI Interface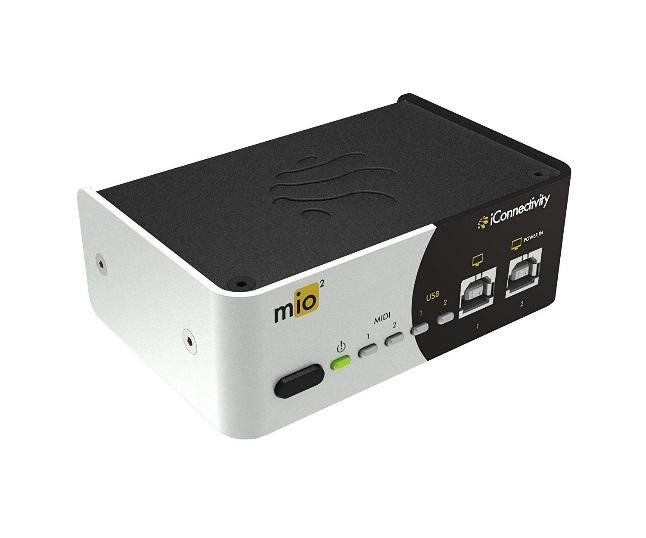 Although it looks like a simple 2X2 USB MIDI interface, it can deliver the flexibility that makes it an invaluable tool in the live stage or studio. The iConnectivity Mio2 can let them connect with two computers by the use of USB. For that reason, it can create complex virtual instrument setups and sequencing. It includes onboard MIDI filtering, merging, and routing. They can also configure by the universally compatible editing software. Once they configure it, they can use it in standalone mode, and they can just leave their computer at home.
Features:
Has standard 5-pin MIDI connections which are universal compatibility
With dual USB connections for connecting two computers at once
USB bus-powered
Can retain all configuration settings for standalone mode
Plug-and-play compatibility with Windows and MAC
Can set up routing, filtering, and merging by the configuration software
Pros:
Works well in Windows 8.1 and MAC OS
Supports networked MIDI and controller hosting
Plug-and-play
Sophisticated high-end interface
Affordable for a USB-to-MIDI standalone solution
Cons:
App to configure is not intuitive
7.  MOTU Microlite USB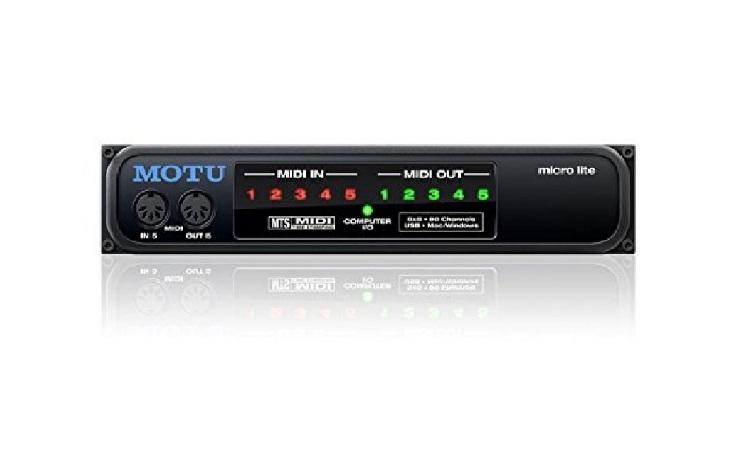 It is a professional MIDI interface that can provide a compact, plug-and-play connective through Windows and MAC. It provides 5 MIDI IN, 5 MIDI OUT, and 80 MIDI channels in both Windows and MAC software. It has a large front-panel LED that illuminates when there is a MIDI activity. It also takes advantage of USB that can give a fast and high- speed MIDI throughput, support for "how-swapping." It also includes sub-millisecond timing accuracy as well as plug-and-play expansion.
Features:
USB bus-powered
Can work with different software that includes Windows Vista, 7, 8, 10, and MAC OS X
With 5 MIDI inputs and outputs that provide 80 MIDI channels.
Rack ears attached rack-mountable, which can fit 1/2 of a 19-inch rack at 1U high (standard).
The excluding rack ears have chassis dimensions of 9.5 x 7 x 1.75 inches.
Pros:
Good MIDI Interface for the price
Can link older MIDI gear with current software platforms
High-speed USB Connection
Simple expansion by plugging in multiple units
Durable
Cons:
Not compatible with MAC OSX Catalina
8.  Roland MIDI Cable (UM-ONE-MK2)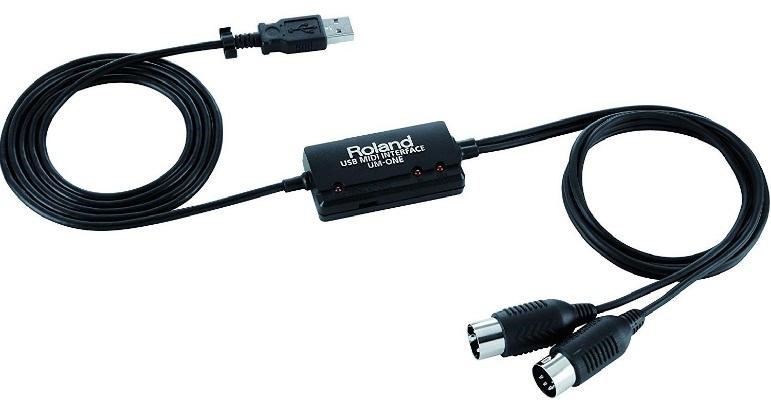 It is a convenient, fast, and compact that can boast high-performance FPT processing for tight timing and low latency. It is also compatible with PCs and MACs due to the bus-powered MIDI interface. Moreover, it can also be compatible with the iPad and via the Apple iPad camera conversion kit.
Features:
USB bus-powered
Has data indicators for MIDI input and output
Has integrated MIDI and USB cables
One-in/one-out MIDI interface with FPT Processing
Compatible with iPad, PC, and MAC
Pros:
High-performance FPT processing
Affordable
Compatible with Windows and MAC operating systems
Works for updating other MIDI gear including Roland V-Drum modules
Ultra-fast and ultra-reliable 1-port MIDI Interface
Cons:
Sometimes doesn't work as it describes
9.  iConnectivity Mio 1-in 1-out USB to MIDI Interface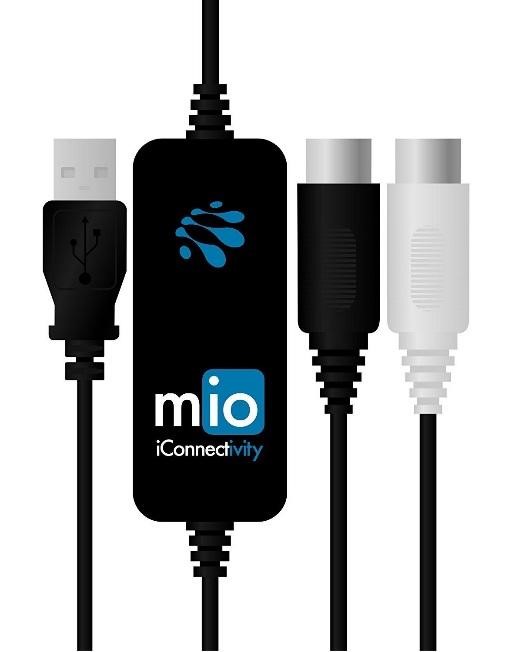 The iConnectivity is a 1 in 1 out USB with a 16 channel MIDI interface that can be connected through the computer. It may include MIDI-compatible synthesizer, controller, drum machine, or keyboard to the computer. It is also USB bus-powered as well as plug and plays compatible with Windows and Mac software.
Features:
USB bus-powered
Compatible in Mac and Windows software
It supports 16 channels of MIDI In/Out
One in and one outset of MIDI DIN ports
Plug and play and doesn't need drivers
USB MIDI Class Compliant
5 feet USB to MIDI DIN cable
Pros:
Affordable
Performance optimized
Stellar MIDI management
Plug and play, no drivers needed and easy to install
Immaculate electrical design
Cons:
Some reviews said that it doesn't last long
Doesn't work with some devices
10. Scarlett 2i4 (2nd Gen Focusrite) USB Audio Interface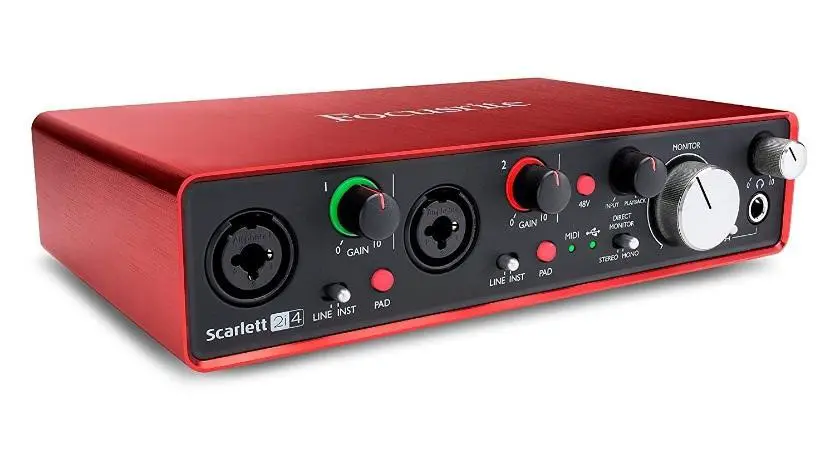 It is a functional, all-purpose USB-powered audio interface that is ideal for cue mix in recording or performing. It is flexible and compact with two mic preamps ("Scarlett" natural-sounding). It also has super-low latency, sound quality (class-leading), MIDI In/Out, four analog outputs, and digital conversion. It can connect by a single USB cable, plug two instruments straight in or microphones, and easily record studio-quality audio. It can be perfect for partnering with Pro Tools and compatible with all DAWS on PC or Mac.
Features:
USB powered
Class-leading conversion
Has 2 Scarlett mic preamps (natural-sounding)
With two instrument input (newly-designed)
Up to 192 kHz/ 24 bit Sample rates
One Gain control headphones output
With 4 analog outputs cue mix switching
MIDI I/O connectivity that is ideal for receiving and MIDI notes from a Stage Piano
Includes – Ableton Live Lite Focusrite and Creative Pack
Super-low latency that can be used for plugins (real-time without the need of DSP)
Pros:
Includes Pro Tools
Good for plug and play
High-quality and good sound quality
Compatible with different operating systems
Can connect with different instruments
Cons:
Buyer's Guide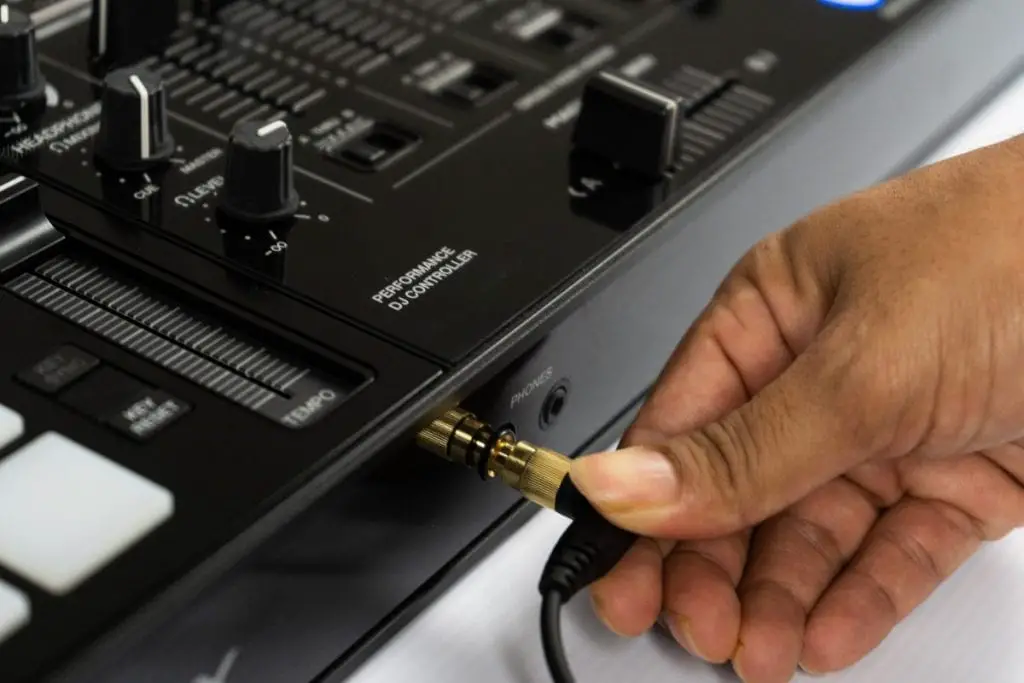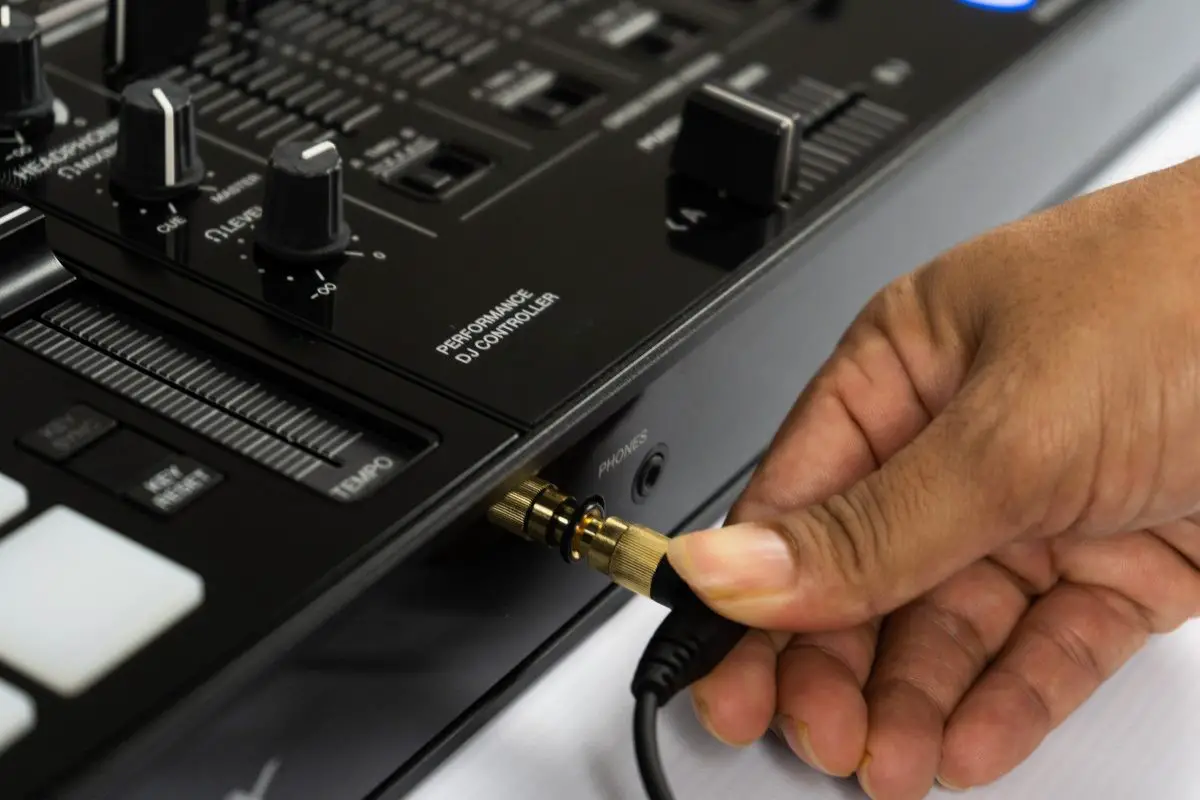 Choosing the right MIDI interface for the music recording arsenal can be difficult. They might not also be sure about where to start or what is the best to buy. Well, it is given that the MIDI interface is an excellent tool for musicians that are wanting to experiment with different instruments. There are a wide range and tons of MIDI products that are available in the market, yet may vary in product density and pricing.
It might be tricky to pick out the best or the right MIDI interface for both homes and recording studios. They might not even know in which MIDI interfaces can be compatible with their computer or how many ports that are needed.
Most digital pianos, keyboards, and controllers with USB comes with a MIDI interface built-in. If they plant a simple setup or don't use legacy gears, they should probably don't need a MIDI interface. These devices are suitable if they plan to use DAW for controlling MIDI-equipped hardware that is not connected to the computer.
The number of MIDI gear will also determine how many ports are needed. If they only have a single keyboard controller that they might use with a virtual setup in a laptop, they only need a 1×1 MIDI interface. Although, if there connecting a full synth module, they should need as many ports for minimizing the latency.
If they only plan on performing or sequencing, they will need an expandable MIDI interface. If they work with video or digital multi-track recorders, they will need an interface that can offer appropriate sync options. A USB (bus-powered) interface is also an option if they use mobile setups, as it doesn't require AC power cables.
Final Conclusion
Well, all the mentioned products above are good quality MIDI interfaces. Although, if we have to choose the best, we prefer Behringer U-Phoria UMC22 and 2nd Gen Focusrite Scarlett 2i4 USB Audio Interface. These two MIDI interfaces are superior to others mentioned above. Both of the two MIDI interfaces have different features to offer and have good ratings and reviews on Amazon. If you genuinely want a MIDI interface, you better choose the Behringer U-Phoria UMC22 and 2nd Gen Focusrite Scarlett 2i4 USB Audio Interface.