Introduction
There is no doubt that the concerts are nice. However, if you are a musician who always needs to expose yourself to booming sounds during concerts, you may also worry about your ears. Indeed, it is very important to protect your ears, especially during concerts. The good news is that there several options that you can take into consideration, one of which is the use of earplugs.
Earplugs come in compact sizes, which means that they offer the best form of protection for your hearing. They are also portable, lightweight, with relatively a few numbers of parts. This means that they are not just durable, but they are designed to last a long time.
If you are looking for a solution that will protect your ears, you will be happy to know that there are tons of earplugs out there in the market. However, choosing one can also be daunting, especially if you have not tried using one yet, with no comparison whatsoever.
In this article, we have provided a guide that will help you make a wise purchasing decision at the end of the day. We have taken a look at the 10 best earplugs for concerts right now. Checking out on these options will allow you to focus on the more important things – enjoying music while spending less time browsing around.
Reviews on the 10 Best Earplugs for Concerts
1) ER20XS Etymotic Research High-Fidelity Earplugs
Rating: 4.5
These earplugs are among the most recommended in the music industry. The reason? It is made by a respected manufacturer, Etymotic. Superior sound quality is an edge of these earplugs compared with other models.
It offers almost a flat response. This means that all ranges of frequency are equally turned down. A high-quality musician's earplugs do this thing exactly. It also can block off up to 20dB of sound.
In terms of comfort and design, these earplugs are available in both regular and large sizes. The silicone ear tips also come in 3 different sizes, with a 3-flange design.
Pros
Amazing noise reduction
Superior sound quality
3 sizes for the ear tips
Affordable
Case and neck cord included
                Cons
Some issues with irritability and tight fit  
2) Eargasm High Fidelity Earplugs
Rating: 4.5
These earplugs are commonly offered at music festivals. It offers an amazing noise reduction level at 21 decibels.
The earplugs are constructed using hypoallergenic, durable silicone, along with a waterproof layer, making it sweat-proof. It also features 2 sizes of ear tips, with an extra waterproof aluminum case.
Since these earplugs are colorless, they do not attract unnecessary attention. It also comes with a pull tab attached to the outside part, making it easy to pull as necessary.
Pros
Smoother level of high frequencies
High-fidelity noise reduction
Low profile, colorless design
2 sizes of ear tips
Waterproof aluminum case included
                Cons
3) Earasers Musician Earplugs
Rating: 4.5
These earplugs feature silicone oval tips that fit and adapt to the unique shape of the ear canal. This means that comfort is not an issue when wearing these earplugs.
They also offer a balanced quality of sound, combined with an adequate level of noise reduction.
These plugs also feature different sound filters, specifically 19, 26, and 31 decibels. Note, however, that they do not come in a pack, which means that you need to make sure which one you are getting.
Pros
Compact design
Comfortable to wear
Oval-shaped style
High-fidelity features
Great noise reduction
                Cons
4) EarDial HiFi Earplugs
Rating: 4.5
These earplugs are made out of clear silicone. As an invisible pair, it offers protection for loud sound environments while still maintaining a low profile of sound. As such, it is favored among musicians across different music genres.
Since they are high-fidelity in design, they feature a filter that reduces noise while still retaining clear conversation and music. The plugs are hypoallergenic, ideal for sensitive ears.
It also comes with an accompanying mobile iOS app, detecting and warning you of high levels of noises in the surroundings. It then offers calculations on how long you can wear your plugs for protection to avoid damage.
Pros
High fidelity filter
Low profile, transparent design
Hypoallergenic silicone
Companion app included
                Cons
5) Rave Ear Plugs High-Fidelity
Rating: 4.5
If you are looking for a set that offers a double pack of earplugs, these high fidelity earplugs from Rave is a good option. The transparent filter set features a noise reduction level at 19db, while the white one is at 25db.
This means that you can use the right earplugs for a given situation. It also comes with different silicone-made stem sizes, allowing you to identify which one is which.
These plugs offer the needed protection that you need from loud music, while still retaining high-quality listening. As a bonus, it comes with a handy, small pouch for storage.
Pros
Enough levels of fidelity and noise reduction
2 different filters included
2 stem sizes included
Affordable price
Pouch included  
                Cons
Not so sophisticated design
6) LIVEMUS!C HearSafe Earplugs
Rating: 4.5
These HearSafe earplugs offer amazing decibel reduction. This means that their strength lies in their capacity to muffle instruments which may be too loud without unnecessary distorting the sound.
It features a 3-flange design. The difference, however, is that it comes in a conical shape, thus fitting it better inside the ear canal. It is also made out of hypoallergenic material for the ear tips.
It offers two choices of two filters, one is green (filtering at 23 decibels), and the other is white (filtering at 29 decibels).
Pros
Amazing noise reduction
2 different level of filters
Ergonomic fit
Hypoallergenic silicone
                Cons
Not so sophisticated sound quality  
7) Alpine Hearing Protection MusicSafe Pro
Rating: 4
These earplugs from Alpine are designed to feature layers of filters, thus reducing volume, making it ideal for live shows. This means that these earplugs are designed especially for musicians.
The noise reduction also comes in handy, combined with amazing sound quality. At the same time, the earplugs' soft material offers comfort.
The set features 3 interchangeable filters that offer different reduction levels. The highest is reducing up to 27 decibels. It also features an insertion device that is designed for pushing the earplugs well right into the ear canals.
Pros
 Amazing noise reduction
3 different levels of filters
Comfortable design
                Cons
   A tendency to cut low and high frequencies a lot
8) EarPeace HD Concert Earplugs
Rating: 4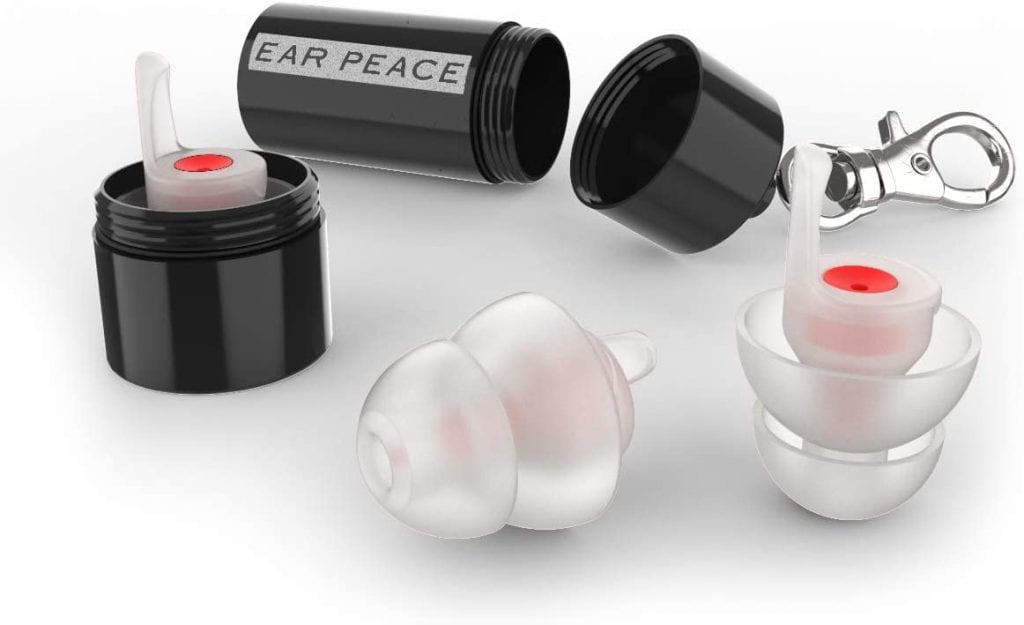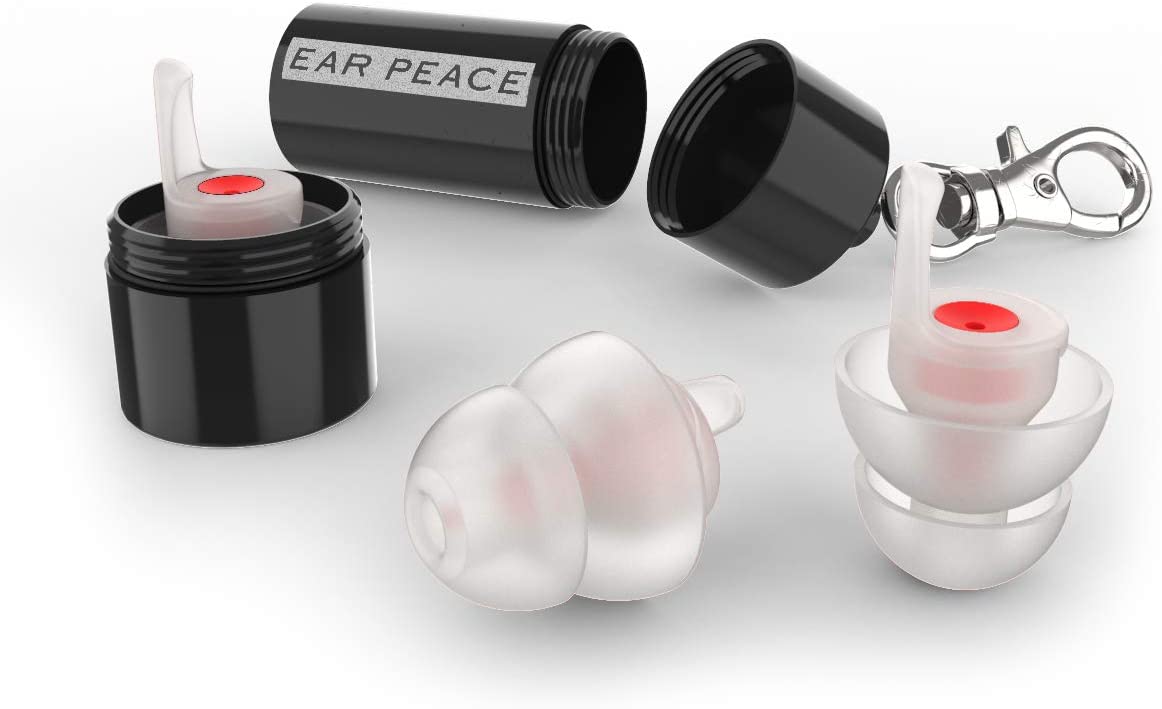 These earplugs are designed especially for live concert fans and musicians. The HD model of earplugs features 3 noise attenuation filters, allowing users to regulate the reduction of volume.
As it offers amazing retention of sound quality, these earplugs adapt easily to different types of setups, from a crowded club or a live acoustic venue. It also features an effective sealing mechanism, to cover the ear, and keep the plugs in place despite movement.
Other features offered by these earplugs include replaceable ear tips. As a bonus, it also comes in an aluminum case. They are available in either a standard or petite size.
Pros
 Amazing sound quality
3 levels of attenuation filters
Quite affordable
Hypoallergenic silicone
                Cons
 A tendency to loosen a little at high frequencies
9) Westone TRU WM16 Pro Earplugs
Rating: 4
If you are looking for a pair of earplugs that are known for quality, getting a pair from Westone is a good choice. The TRU WM16 earplugs, for example, offers quality filters, at a lower price.
The filters for noise attenuation is at 16 decibels, allowing for a roll-off at high frequencies. As such, it is ideal for those who are quite sensitive to high frequencies. Instead, it offers smooth sound without feeling the thrill.
The complete set also features replaceable ear tips which are available in both medium and large sizes. It also has a small tab which makes pulling out the earplugs easier.
Pros
Low profile design
2 sizes of ear tips
Smooth frequency response
Carrying pouch included
                Cons
Loses much on high frequencies  
10) Vibes High-Fidelity Earplugs
Rating: 4
The Vibes name is popular among musicians, concert fans, and those who simply hate too much noise. It is a good option, thanks to its 22-decibel attenuation filter, making it ideal for dealing with loud music, as well as for daily use.
Its filtering is also recommended for those who do not want to compromise sound quality. Its design is low profile, made out of hypoallergenic material for discretion and comfort.
Other features of these earplugs include having 3 different sizes of ear tips included in the set, which means that you can select the right fit for any event. As a bonus, it also comes with an elegant carrying case.
Pros
High fidelity filters for noise
3 sizes of ear tips in the package
Low profile design
Hypoallergenic materials
                Cons
   Does not come with a good sealing mechanism
Types of Plugs for Concert
These days, there is a wide range of earplug options out there. Choosing the right one may differ from one person to another, as different factors need to be taken into consideration. For one, the needs and preferences may differ.
At the same time, while some of them may be used for concerts, not all of them can provide the maximum benefits that can be expected: Here are some of the types of plugs that can be used during concerts.
• Foam Earplugs
It was in the 1970s when the use of foam earplugs became common. Foam became the material preferred for blocking noise while working amidst a busy setup, sleeping, or for reading or studying. A reason for this is because foam can allow only a little sound to enter through your ears.
This means that while it is effective in blocking outside noise, you can still hear alerts to alarms, or potentially dangerous situations. They can also muffle loud noises so that you are not distracted by them. If you want to ensure hygiene in your ears, choosing disposable foam earplugs might just be the best way to go.
• Wax Earplugs
While they may sound ancient, wax earplugs are still available and are bound to stay. One interesting feature with wax earplugs is that they conform well to the ear canal. There may be some drawbacks, such as hygienic reasons, but choosing whether or not to have one is completely up to you.
• Flanged Earplugs
These types of earplugs offer several rims or lips that come in a cone shape. These features offer a universal fit on the ear canal. A benefit that can be expected with flanged earplugs is that they are fool-proof, provided that they are inserted at an appropriate depth right into the ear. A downside, however, is that they may not be comfortable to wear, especially for an extended period.
• Silicone Earplugs
Perhaps silicone earplugs are the most modern type of earplugs out there these days. They are beneficial as they are designed to resist the growth of bacteria. They are also designed to last for a long time and are naturally pliable and soft. This means that a pair of silicone earplugs will be very comfortable to wear in your ear, even for a long period.
These types of earplugs are usually recommended for concerts. Newer silicone materials evenly distribute sound while canceling unnecessary sound so that your eardrums are protected. This results in the capacity to hear musical nuances at safe levels.
• Musicians/High-Fidelity Earplugs
High-fidelity earplugs are created and designed with performers and musicians in mind. Unlike normal earplugs which can distort and muffle sound, the quality of the sound produced by high-fidelity earplugs stay clear, with the volume attenuated only to a lower level.
The output is achieved using an especially designed acoustic filter which lowers levels of noise in a way that is uniform across the spectrum of audible sound. These high-fidelity earplugs are available in universal fi, reusable, and even custom-molded styles.
• Custom Earplugs
Most custom-molded earplugs use silicone in their primary construction. They are designed to fit right into the contours of the inner part of your ears. As such, they offer a perfect fit, with no pressure from the ear canal sides, as this is a cause of potential discomfort.
Custom earplugs can come in two main forms: pure silicone and high-fidelity earplugs. The latter utilizes attenuating filters, producing flat attenuation for clear, a natural sound that is safe for your ears.
What are the Best High Fidelity Ear Plugs?
Deciding to identify the best high fidelity earplugs depends on your personal needs and preferences. However, it is good news that there are some reliable options out there. For example, Etymotic Research was among the first companies to create high-fidelity musician earplugs, with their ER-20 model. Other models include the Eargasm and Earaser's high-fidelity earplugs.
What Kind of Earplugs Does Musicians Use?
Most musicians prefer the high-fidelity musician's earplugs as they are specially designed for them. They are not like the basic types of earplugs which tend to muffle the sound. Instead, these types of earplugs keep the quality of the sound, with the volume attenuated to a lower level.
Buyer's Guide – How to Choose the Best Earplugs for Concerts
To help you out, the following are some factors that you need to be familiar with, as well as reasons why you may want to select a specific type over another.
• Comfort
Comfort should be taken huge consideration when it comes to selecting the best earplugs that you can use during concerts. If you feel that your earplugs are struggling inside your ears, and if you feel pressure, you know that it is not comfortable at all.
To ensure comfort, it is recommended to look for comfortable materials, including the newest types of polyurethane foams. They are naturally non-scratchy, smooth, and ideal if you are sensitive. A shape may work differently from one user to another. You may want to try out several types so that you can decide which one works well for you.
• Design
By nature, the shape of a person's ear canal may differ with that of another. Make sure to search for earplugs that can be gently compressed or twisted to fit ideally into the ear, slightly expanding to adjust to the shape of your ear.
Making sure that the earplugs conform to the shape of your ear is not purely about comfort. However, it also creates a good seal against potentially intrusive noises and distractions. This factor will also make sure that the earplugs will not easily fall out as you tend to roll over.
• High-Fidelity Features
This factor is particularly applicable if you are a musician. What you need is a high-fidelity pair of earplugs that can easily attenuate with the prescribed Noise Reduction Ratio (NRR), which comes with decibels measurement. Among high-fidelity earplugs, those that are made out of silicone are the best options, as they are friendly to the ears.
• Type of Music that You Play
Another very important consideration that you can have when choosing the best earplugs is the type of music that you play. For example, musicians who love playing heavy rock music often go for earplugs that feature high decibel reduction. This particularly applies to drummers, as they are the ones that are mostly exposed to extreme loudness.
• Noise Reduction Rating (NRR)
This is a very important feature that you need to look at when buying earplugs. Depending on the setting that you are in, sound levels may reach up to 120 decibels. If you are attending a concert, this depends on how close you are to the performers on stage, as well as the speakers' direction.
The NRR on the earplugs determines the length of time in which you can spend in these environments safely without damaging your ears. As a rule of thumb, if the NRR is 10dB, you can expect protection for a maximum of two hours. This means that having a higher NRR rating will bring better protection.
FAQs
1) Do earplugs help at concerts?
Yes. If you are performing at a concert where the setting is much larger than your bedroom space, an earplug is necessary. The frequencies in which your ear can bear will start to decrease as a result of too much exposure to noise. If you are someone in the music industry, using a good pair of earplugs will allow you to protect your ears while allowing yourself to enjoy the music that you like.
2) How can I protect my ears at concerts?
Simply put, wearing earplugs at concerts can protect your ears. They are precautionary measures that you can implement to make sure that you don't harm your ears when listening to potentially damaging noise levels as a result of listening to entertainment.
3) Can a concert damage your ears?
Through the years, experts have discovered that extended exposure to sound levels that are 85 dB and up can already contribute to loss of hearing. Most clubs and concert venues are at 100dB, which means that you can be exposed to possible damage without even knowing about it.
Experts agree that 15 minutes is the maximum time with which one should only be exposed to these noise levels. If you find yourself often at concerts, nightclubs, or festivals for long times, it is important to take measures to protect your ears.
Conclusion
Choosing the right earplugs for your needs is surely a difficult task, one that incorporates science into it. However, with the help of our guide, you can skip that part. All you need to do is to make sure that you read through the features of the options mentioned, and you can start comparing them from there. When selecting the best earplugs for concerts, it is important to find one that combines quality and value. They are very important to achieve the output that you are looking for. Note that protecting your ears and your sense of hearing, as well as making sure that you enjoy music at the same time is very important. Thus, make sure that you choose wisely so that you can say that you are making the right investment.