When it comes to the real art made by DJs, it is undeniable that it is with the help of the best turntable they have. With all-pro DJs using a kind of technology nowadays, turntables can easily be addressed as an outlet of sound engineering that enables people to become creative and in a freestyle way. This is mainly because of the kind of nature associated with it. 
However, with the kind of technology we have nowadays, just like laptops or even USB drivers, some turntables were considered obsolete. However, the thing is, the past tells us that great things rarely go away, and it stays and being prospered by many. That is why there are still many DJs who make use of the turntables to go on their passion or talents. 
It doesn't matter if you are a beginner or a professional because if you are planning to invest or for whatever reasons about DJ Turntables, in this article, we have listed the 10 best picks of DJ TURNTABLES as of the year 2020. Learn more about its features and understand why it is useful. 
Turntables vs. Controllers
There has been an ongoing argument about the turntables and controllers in the DJ world. These two come in different features that make them unique, and it all depends on the user's preference and commitment as to what kind of craft they are going to choose. If you want to know first the difference between the two, this section will help you in deciding which option is better for you. 
Turntables
First, turntables are much complicated to operate compared to controllers, but once you already know the basics, then you realize that it is fulfilling and can add a kind of an expert touch to your DJ skills. Unlike the controllers, the turntables usually take skill, and if you are a starter, you can't just hit the play button and let the music come right the way you want it. 
DJs must be skillful as there is a winding effect whenever the platter slowly speeds up to tempo and start a song. You must have a desire as matching beats are mainly done by ear while you control the pitch and tempo manually. In other words, you must have a lot of patience as it takes time to master this kind of equipment. 
Another thing is that turntables have no loop features. You cannot just rely on a computer to get the job done, unlike the modern DJ set-up to depend on. However, once you can do it on your own and easily pull off a one of a kind vinyl set, then it is all worth the effort. One good thing is that there are some turntables with digital features that could also help you. 
Overall, when you love to make use of your skill that comes to a natural feel that the platter offers, and then you choose the turntables. This turntable is a kind of set up that would take time to master, and if you mastered it already, using an automatic set up is going to be easy. 
Controllers
Controllers are the most common set-up in the modern DJ world. These are comparatively easier to use, and it does not need a lot of skills and mastery to use it. DJ controllers are practical, and it can get the job done quickly. This set-up is truly the answer to your Serato Style as it can remix tracks even at the last minute, and it is not impossible to do so. 
It has 2 platters with a mixer in one built and paired with most software to make your desired beat, right after hitting the play button. Some professional DJs call it cheating, but in all sense, it just makes the work easier, and it gives time for you to discover a lot of mashups to make. You can just simply connect it to a laptop using a USB cable and experience the instant party you want. 
This is great for wedding DJs who want to beat mashup and make the set-up easier. It has many digital features like looping and pitch adjustment. However, remember that DJs do not only use this type of set-up for good nowadays because they also need to make an effort if they want their mixtures to be perfect. Using a controller allows the DJ to beat the mix. 
Despite all the convenience a controller gives, there are also some negative sides. Like if you are playing it live and it suddenly malfunctions, and then there nothing you can do about it, especially if you do not know how to mix it manually. You need to have at least some backup gear to fix everything. Another is that its sound quality, as it sometimes comes to be undesirable to the ears because of the sound wrecks or reduced music transitions. 
To top it all off, these two set-ups are unique, and all comes to your kind of style. You must weigh your option because not all controllers are bad, as this is just highly intended for DJs who want to use advance equipment with ease and quick set-up and mashup. In addition, not all turntables are hard to use because if you consider yourself skillful, then the turntable is for you. 
Automatic vs. Manual Turntables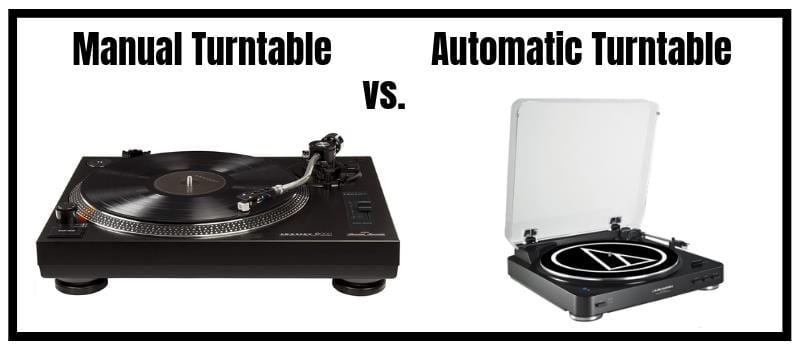 When you are planning to purchase your desired turntables, there may be many questions to ask before buying. One of the common questions being asked is about is the manual or automatic Turntables, and most importantly, their differences. To help you decide, let us discuss the difference that could help you decide. 
Manual Turntables 
We all know that things we do manually take a lot of work, and when it comes to Turntables, you have to manually do the things to come up with the best sound you like. Many vinyl lovers believe that manual turntable is the primary point of playing records. Manual turntables make the playing of music more carefully, and you do the lowering of the tonearm manually onto the record to play. Moreover, if the recording is done, you have to live the tonearm back into its position manually. 
When you use manual turntables, you will realize that you are playing records with a purpose. You will probably take a lot of your dedicated time out of your day to listen to your recording because you know to yourself that you are the one involved in the process from the very start.
Automatic Turntables
With automatic turntable on hand, it would make the work quickly and with ease. As simple as pressing the button, the recording will automatically start. It is considered to be slight automation with a very big effect as it makes your turntable a press and plays the machine. You do not have to worry about engaging a stylus or even missing the power of the record or inserting the stylus easily. 
But if you improperly use the automatic turntables, it can ruin the recording and make an awful sound in the course. Moreover, with automatic turntable, damaging of the stylus would be less likely as it features an automatic off that also lifts and returns the tonearm into its resting position. Having this will not make the recording fast and smooth. 
The bottom line is it all comes down to the kind of skill you have in terms of turntables. Regardless if it is manual or automatic, these turntables work accordingly into their use. It is a matter of mastery and getting used to it. 
10 Types of Turntables Quick Review
1) Great Portable Turntable for the Price-PT01 Scratch DJ Turntable for Portablists by Numark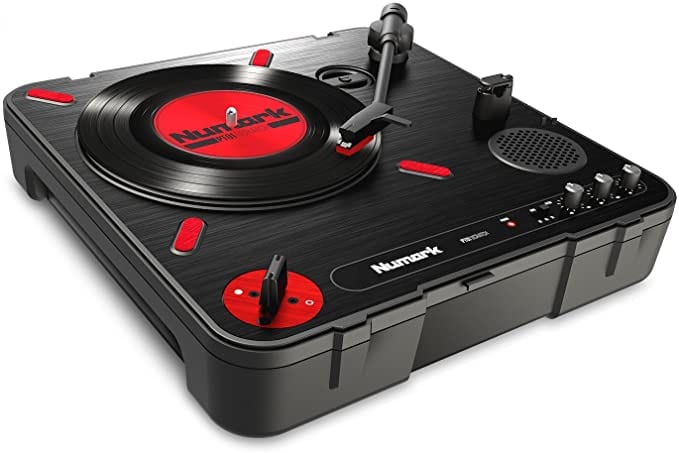 Editor's Rating: 4.4/5
If you are looking for the best portable turntable that can get any party started, then this PT01 Scratch DJ Turntable by Numark got it all for you. This turntable is the all-new era for DJs that is ideal for transferring from one place to another because it is made portable that allows you to scratch and cut anywhere you want. 
This turntable is built with the excellent adjustable scratch switch that allows you to get your most wanted record and perform one of a kind routine wherever you want. It is an amazing turntable as you can easily set up even if you are left or right-handed DJ. Just unscrew the scratch switch and adjust it to your desired style, making it built and designed for any DJ. 
This is also ideal for those who are looking for a very good pair of DJ headphones because this product comes into a pair of fresh designs. This headphone is built to last and light in weight to make it comfortable for you to wear. In addition, this turntable offers an impressive sound with some exciting light effects for any situation. 
Everything is just so perfect, from the quality to the sound and performance; you are just giving yourself a gift. Overall, you will never regret getting this turntable for DJs as this is long-lasting and will not bring you down because you will surely get the price you paid.
Ready to use out right out of the box– Right after purchasing it, you can use it right away since it is a pre-balanced tonearm. 
Can be used by any DJs –This turntable is designed and built to any DJs, whether they are right or left-handed. The scratch is made replaceable, so you can easily adjust it to whatever place and perform the best. 
Durable –Performing in front of the crowd would make you feel confident as this turntable is guaranteed to be long-lasting even after frequent use. All parts are modified, made of quality materials that are not damaged easily. 
Portable and easy to carry– This turntable is portable for the reason that you can have it plugged into a wall outlet. It can also be powered by batteries for any on-the-go DJ gigs. This portable turntable is safe inside a hard case as well as its red handle to make it easier for you to carry along anywhere. 
Specs
System requirement is minimum to PC and MAC like Windows 2000/XP/Vista and USB 1.1 port
With power adapter or battery 
User-Replaceable Scratch Switch
Three Speed RPM Selection and USB Connectivity 
Complete user guide 
Safety and warranty information 
2) Numark Party Mix | Beginners DJ Controller for Serato
Editor's rating: 4/5
Want to add some flare to your party? Then why not try the Numark Party Mix | Beginners DJ Controller for Serato. Partying never felt this good. This all-new Innovative creation by Numark makes partying a lot more enjoyable with this turntable. Numark's product has been the go-to turntables not only for professional DJ's but for aspiring DJ's too, as it has very configurable settings that are easy enough to understand and is compatible with PC and Mac computers. 
A plethora of vibrant colors will come in handy with this product as it sports built-in DJ lights that make the party level rise even higher. It syncs well with your music that makes the party go wild in an instant. Aside from its beautiful colors and rhythmic sounds, the connectivity of this turntable won't be an issue at all because it has all the standard interface needed. It includes a 1/8 inch main output and 1/8 output, too, for the connection of DJ mixers, speakers, and all the other components. 
Stunning Light Display– With a wide array of colorful lights, it will take your party to a whole new level with its built-in light shows that creates an atmosphere of just partying like wild animals.
Onboard Interface– setting up was never this easier. This turntable doesn't require tons of complications, 
Elegance Driven, Convenient– It has a sleek design that doesn't get any better than just being a turntable. Also, unique in a way that is convenient to use and easy to carry around.
Low Power Consumption– Unlike any other turntables, this turntables don't require too much power to produce and don't compromise with the performance. 
Specs
Complete DJ unit with w/ portable DJ controller
Complete DJ lights with built-in DJ lights
PC and Mac compatible
1/8 Inch headphone output and 1/8 inch main output
Windows 7 and up compatible for PC
Mac: OS x 10.8 to 10.13 compatible
3) Pioneer DJ, DJ Controller (DDJSB3)
Editor's Rating: 4.6 out of 5
The Pioneer brand has been the staple name for quality technology products over the years; their very own Pioneer DJ, DJ Controller (DDJSB3), has what it takes to take your party to new heights. This simple to use turntable dazzles up the dance floor easily with its top of the line quality. It has a very intuitive layout that is easy and can be understood with little to no knowledge at all. It is an ideal turntable for beginners wanting to improve and hone their skills as they aspire to be one of the best.
This 2-channel controller is easier to steer and feature a professional layout that turns beginners like modern-day professional DJ's in an instant. The addition of FX Fade feature made it seamlessly easy to transition between tracks, the addition of scratch effects made it even greater.
If you are skeptical about this product's architecture, we assure you that it is made with premium quality materials and audio circuitry that will provide you some of the best turntables for years. No wonder why this turntable is so popular, it has everything you need.
Natural layout– simpler design makes it clearer for beginners to understand. Keys, pads, jog wheels were designed to be where you need them, no innovative designs that make it hard for you to find which buttons to push.
Pad scratch– adds another dimension to your Dj-ing by seamlessly incorporating different styles and tempos. 
Smooth shifts– whether you're a professional or not, mixing between tracks and audios never felt this good! Thanks to its FX fade feature, it blends tracks seamlessly even with different genres. Also, there are 8 combinations to choose from.
Sleek design– its sleek and durable design is made to last for years and made with quality materials that deliver a professional feel to its users.
SPECS
USB Powered
On-board Serato sound card compatible with PC and Mac
Low Latency Jog wheels that provide accurate response and precision
Clear Audio
Durable Design
4) PIONEER PRO DJ DDJ200 PIONEER SMART DJ CONTROLLER
Editor's rating: 4.4 out of 5
Are you an aspiring DJ? Then try having the PIONEER PRO DJ DDJ200 as it was specifically made for beginners that will provide you some of the best professional experiences a DJ turntable can offer. With its lightweight and compact design, this turntable surely turns the party into a frenzy. This turntable has a very professional layout that can be understood easily and offers you a wide array of mixing buttons. 
This all-around turntable can be configured even though your android phone. Plus, with its lightweight designs, you won't be hard-pressed, bringing it to all the parties you indulge in. Put your own mixes that switch seamlessly and with ease. With its Tutorial and Pop-hint features, this will surely develop your DJing skills in an instant. Its functions are mainly to teach you the basics about DJing and all the terms needed. In short, it will help you cruise your way to your aspiring DJ goals!
They also added some key features that will deliver the best and smooth transitions, thanks to the FX transition, blend tracks and music was never made this easy!
Well-suited apps– compatibility will never be an issue with this product as it can handle most apps in rapid succession. 
Streaming Site compatible– Depending on what app you are using, this device is compatible with different kinds of music streaming sites such as Beat port, Spotify, and Deezer to name a few,
FX transition– transitioning between tracks has never been this easy. It makes amateur DJ's become a professional DJ with its unique track mix and effect styles.
Specs 
Low powered Wireless Bluetooth System
Mac and PC compatible
Split output for listeners and the DJ.
Phrase Sync feature
Compact and lightweight.
5) Numark Mixtrack 3 | All-In-One 2-Deck DJ Controller for Serato DJ 
Editor's rating: 4.1 out of 5
Numark has made its mark for producing some of the best tops of the line quality DJ turntables and controllers. A controller that offers a professional feel without costing too much. This best-seller has off the roof performance that sets its performance that isn't comparable to the conventional DJ controllers out in the market. With its no-frills attitude, this DJ controller only needs a pc or phone, an external audio interface, and you have everything you need to start mixing tracks.
Match hits by Ear– made an upgrade to the Mix track 2; this resulted in a wider, sleeker, and 100 mm pitch sliders that match the beat by your ear.
Unlimited Creativity– With its 16 Backlit RGB pads, this will take your DJ skills to a whole new level. High-performance knobs provided for each channel. 
Sturdy, reactive metal– Very responsive metal platters that are sensitive enough to glide your way through different tracks seamlessly.
SPECS
USB Powered
16 Multifunctional pads
High-performance Jog wheels
Numerous FX manipulation
Enthusiastic track browsing controls from your library.
Committed Filter knobs for respective channels
6) Hercules DJControl Compact
Editor's rating: 4.5/5
If you are looking for a turntable that is "on the go," then the Hercules DJ Control Compact might be the one you are looking for! One of the most complete and movable DJ controllers you could fin, the Hercules never fails to impress its customers. This turntable only measures around 13.4 in length and 3.9 widths. Carrying this controller should be a breeze. 
What makes this DJ controller so fascinating is that it has an ergonomic design that adapts seamlessly to your workstation and doesn't require too much space. It brings all the important ultra-portable design and functionality in its lightweight design. The power of this relies heavily on your fingertips alone, scratch it like your scratching a vinyl record and watch as the magic unfolds in your very own eyes. 
Intuitive design makes it suitable for beginners and expert DJs to navigate their way to different knobs and buttons in an instant. With its unrivaled feel of the pads, buttons, and jog wheels, this DJ controller will ease your way into stardom if you put in the effort. In addition, this DJ controller is compatible with Windows 7 and up for PC users and Mac OS 10.7 and up. 
Unlimited Features– All the essential features needed for you DJing is at your fingertips. You just have to navigate your way until the blend and mix kicks in!
DJ on the go– Lightweight and compact design capable of taking it everywhere without any hassle. You can even use it whenever you want, on a bus or train, from your room or desk, or any places that suit you!
Mixing and Blending at its finest– jog wheels are for pitch and navigation for tracks and perfecting different kinds of loops and mixes. 
SPECS:
Dual mixing Decks
PC and Mac compatible
Low power consumption
4 Modes(Loop, Cue, Sample, Fx)
10 control buttons
7) Audio-Technica ATLP1240USBXP Direct-Drive Professional DJ Turntable (USB & Analog)
Editor's rating: 4.6/5
Looking for a turntable that highlights the party? Then look no further as the Audio-Technica ATLP1240USBXP Direct-Drive Professional DJ Turntable brings fire to the dance floor! This product is superbly made with a professional quality that can withstand long hours of usage. As this product is user friendly, it can be used by a professional or just a simple human being that wants to mix different kinds of music in their home.
Its sleek and elegant design blends well into different kinds of the system such as stereo music, home entertainment. Truly a friendly DJ turntable that doesn't break the bank either, this kind of turntable will suit everyone. With its built-in switchable phono pre-amp, it can be used in a wide variety of receivers that are powered by speakers and components. In addition, this turntable also has a USB output that allows for a connection to a PC or Mac.
Made to offer some exceptional music reproduction that can withstand demanding usage of professional use, the Audio-Technica ATLP1240USBXP is powered by a direct-drive 16-pole with a three-phased motor to achieve an unrivaled speed of startup and stability to ensure easy back-cueing.
In addition to its friendly features, the Audio-Technica Also added a removable stylus target light for a faster cueing in low light areas. 
SPECS
Manually operated, 3-speed.
Direct-drive
Electronic brake
16-pole, 3-phase DC motor
8) Hercules DJControl Inpulse 300 | 2 Channel USB Controller
Editor's rating: 4.5/5
If you are an Aspiring DJ, chances are you would find the most user-friendly DJ controller out there. Lucky for you, we've got you covered! The Hercules DJControl Inpulse 300 will let you learn DJing quickly without any troubles. Its controllers have a private function such as Tempo and Beat align guides that will help you with everything that you need. 
One of its key features is its comprehensive deuced software that provides the fundamentals of DJing. Also, its interactive help and integrated tutorial videos will only fasten your master in a matter of weeks. Formulate your mixes quickly with its famous IMAM technology, the intelligent music assistant that will help and suggest using the hottest tracks to date.
Light guides– With just a single press, you can activate the Beat match guide to acquire how to mix. It is very user friendly and is well-versed, especially for beginners.
Adjustable BPM Tracks– this option helps to adjust the track's bpm fluidly.
Taking over the party ambiance– Fire up the party with its energy function. It has colored buttons that correspond to different party atmospheres, from blue(calm) to red(energetic), and chooses whatever suitable track for your mix!
SPECS
Integrated Audio Interface
2 Decks
Mixer controlled
Jog Wheel Touch Detection
Tempo Guide
Beat align guide
9) Crosley C200 Direct-Drive Turntable with S-Shaped Tone Arm, Black
Editor's rating: 4.4/5
Looking for a direct-drive turntable that offers a little bit of everything? Crosley C200 is the company's first direct-drive turntable motor that delivers records up to speed and smoothly without any hiccups. Party with this built-in pre-amp or offer you very own into the mix to provide the best mashups!
The Crosley C200 also has a built-in pre-amp that you can simply plug into powered speakers; then, you are off to go. However, if you also have an amp, you can bypass the built-in pre-amp too. This partying turntable will light up the party in no time. You can use this any time of the day with its exceptional features that can ease your way through blending and mixing different kinds of tracks.
Sleek and Stylish Design– Crosley has been one of the best turntable makers. With their stylistic design combined with premium materials, this ensures the longevity and durability of the product.
Easy to use– a turntable that is forgiving for both beginners and expert DJs, this turntable can be used immediately even if you don't have experience. Its elegant design makes it suitable for all audiences.
High Torque motor– turntable spins in two speeds, 33 1/3 and 45 rpm records. 
Manually Operated– You take full control of the turntable without any hindrance. It is also built with a start and stop controls
Low Powered- Only needing 10 watts to operate, this turntable doesn't wreak havoc on your electric bill.
SPECS
AC 120V
With built-in preamplifier
10 watts
Fully manual
S-shaped arm
Aluminum die-cast platter
10) Crosley DJ100 Direct Drive DJ Turntable
Editor's rating: 4.6/5
Turntables have been the cornerstone for most aspiring DJs; the Crosley DJ100 Direct Drive DJ Turntable is the best bang for the buck for people who don't have enough money to buy those expensive. Unlike other turntables, the Crosley DJ100 has two direct-drive motor turntables that record speed quick enough with reliable accuracy.
This product also has two start/stop buttons; this will only help you configure any mixes you want to blend in without having a hard time looking for these buttons. With its easy access controls, you can easily navigate speeds, adjust pitch, undo, or reverse the motor seamlessly. 
Ready to hit the ground running with RCA and USB outputs, with a built-in pre-amp. It also has removable lights to help you queue tracks in the dark.
Direct-Drive turntable– this will help you record at a faster pace without any hiccups, and delivers the reliability you would find in most turntables out in the market. 
Removable Headshell– the S-shaped tonearm features a flexible anti-skate configuration, a counter-weight, and a detachable headshell that allows for future cartridge upgrade to hone your DJ skills fully.
Portable Design with Queueing light– Very handy and can be held with a single hand. Ultra-lightweight and compatible in any kind of platform. Plus, it also has a removable view to further aide you whenever queueing in dark lights
SPECS:
With Built-in Preamplifier
8 watts of operational consumption
Fully Manual
Two-speed turntable, 33.3 reps, and 45 reps
S-shaped arm
Buyer's Guide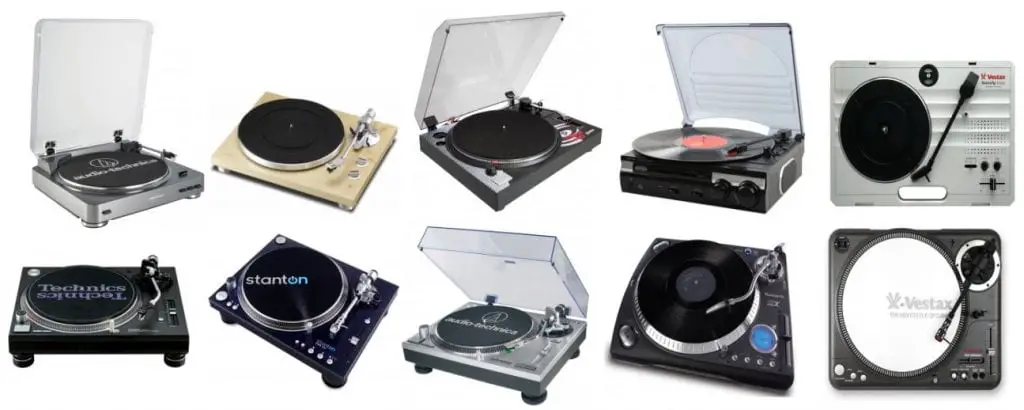 Putting up a turntable set-up is just a simple process. However, there are some points to consider before purchasing your kind of set-up. Here are some things you need to understand to have an ideal turntable set-up. 
• With reduced vibration
An ideal turntable must always deliver excellent sound. As much as possible, a quality sound with a reduced vibration is perfect. Since vibration is always present to tools that produce sound, so it is good and comfortable to use when the vibration is kept at a minimum level.
That is why there are turntables that are expensive and sound in high quality because engineers have gone thorough study to control and reduce vibrations. The only vibration is the vibration of the groove going to the stylus.
• Keeps on extracting
The main goal of an ideal turntable is its ability to extract as much information out of the record channels onto the cartridge and the stylus without having any intrusion. 
• Plinth must be perfect
Always choose a turntable that comes in an excellent plinth as the actual body of the turntable is the plinth. Plinths come in different shapes and materials, as well as the double plinth believed to be one of the best when it comes to isolating vibrations. The plinth materials can make an effect on the sound in terms of the resonation of materials, what frequency it resonates, and how quick or slow the vibrations could pass through. 
Moreover, the plinths also shield the main bearing that the spindle turns on. This is a kind of design designed carefully by engineers to create a very smooth and very high precision. Always consider this as this could be very helpful, especially during the recording. 
• Durability
Of course, we should buy products that are not only best when it comes to features, but also products that are sturdy and made of high-quality materials. Turntables must be durable because whenever you are playing it live, you will not get embarrassed. After all, it just turns off unwantedly. Get something that could last long even after how many uses, including rehearsals and live performances. 
From the outside features to the inside features, it must all be durable. The sound, vibrations, and even the stroking of the plate must be sturdy in all cases. Since turntable creators use heavy materials, you as a user should also take good care of it to guarantee that it would last long. 
• Easy to carry
In the world of music and DJs, so many people would perform from one place to another. Because of this, you should also see to it that the turntables are easy to carry since you need to transfer it from one place to another. It could give you convenience and the chance to perform well in front of the crowd. 
Choose direct drive than belt-drive
Avoid buying belt drive turntables, as this is not good. It creates a spongy feeling, and it may be hard to cue for music and challenging to scratch on. You will feel a tenth-rate than the direct drive. 
• With higher torque
The purpose of torque is to define how much power your turntable's motor could kick. With higher torque, it is easier to start the turntables sometimes. There will be more resistance from the engine when you try to slow it down using your hands. 
• Weight 
In as much as we wanted lighter turntables, but it is a lot better if it is heavy. Since turntables vibrate, which may be the cause of some problems like, unpleasant sound quality, horrible bass and skipping, these problems would not be possible if you have a heavier weight. 
The lighter the turntables, the more prone to unwanted problems. Go for a heavier one even if it is hard to install from one venue to another because heavy turntables are well built, especially if you want to use it for live gigs.
FAQs
Here are some of the inquiries that customers usually ask. Take a look at these as it could help you with your questions.
What type of turntables do DJs use?
DJs are very particular in choosing the type of turntables they want, regardless of the brand. It all comes down to the features, specs, and what that other turntable does not have. The possible features that DJs are looking after their desired turntable are first, the type of drive motor. DJs see to it that the drive motor maintains higher torque, as well as lower wow and flutter. 
Another feature is the torque. This is important in every DJs turntable as it helps in accelerating the platter into its proper speed or even faster right after pressing the Start button. Lastly, the kind of DJ deck as it works as a pitch control slider. This helps in making a quick response to adjustments. And some other feat
Do DJs still use turntables?
At some point, Yes. DJs still use turntables because they wanted to learn the basics. It makes a lot of sense of fulfillment if you happen to master it on your own. It might also be because of originality and their passion for the real and traditional vinyl scratching. They can also become progressive as they can improve fine-tune sets on their own since this is being operated manually. 
What is the best turntable for scratching?
The best turntables for scratching really depends on the user. As they have different kinds of sensitivity, they love.
Can you scratch records any turntable? 
Yes, scratching or scrubbing is one of the main features of a turntable. This involves the moving of vinyl record back and forth, and to create a rhythmic sound. It may be complex to scratch records because scratching takes time to practice and mastery of techniques. 
Conclusion
Turntables never go out of style no matter how many years have passed since it was introduced in the market. This turntable gives rise to a completely new type of sound, culture, and even skill. The reason why DJs cannot let go of this set-up because they find that satisfying feeling within themselves whenever they get to play the turntables. The only thing is that you should always know what the best turntables in the market are.  Always remember the important factors in choosing the best type. You should see to it that what you are buying has already made a reputation in the market and, most importantly, in the DJ world. With all the products mentioned above, you now have an idea about its features to prevent buying the wrong ones.