Source: weedandsex.com
Cannabis lovers have their compilation of the best songs that they listen to whenever they get high. Being in this state will not be complete without listening to great music. There are even artists who express their feelings toward weeds by creating songs in any genre.
THC lets the brain take a short break between neuron transmissions. As a result, it can make you experience highly unusual ideas, concepts, and patterns produced in your mind. Along with the extra dopamine secretion, responsible for making you feel euphoric and delighted, THC lets you hear and interpret songs differently.
From classic to high rock songs, you get an incredible collection that will make you feel good and relaxed. So, here is the list of the top 10 songs to listen to when high.
1. Mary Jane – Rick James
The song Mary Jane by Rick James, gives a beautiful name to weeds or marijuana. This is a form of personification, making this song catchy and interesting to cannabis enthusiasts.
A part of this piece mentions that 'Mary Jane' is the singer's mistress and expresses that he is in love with her. He says that his mistress makes him feel alright and that she is his main thing. He also says that it makes him feel delighted.
 From the time it has been released, different people have made their remix and cover versions of this song by Rick James. It remains a popular marijuana-themed song that has been recognized since the '90s.
2. The Great Gig In The Sky – Pink Floyd
If you are talking about a very influential band in the international music industry, you will surely hear about Pink Floyd. Most of the songs they produced gave a strong impact on a huge crowd of cannabis enthusiasts.
Many people who get high choose to play 'The Great Gig in the Sky' due to the special emotions brought by Clare Torry throughout the mix. However, there are more interesting things to know about this band and their songs.
If you have never heard much of Pink Floyd, you can search about their most popular masterpieces, aside from 'The Great Gig In The Sky'.
3. James Joint – Rihanna
You may be one of the fans or those who love Rihanna's unique personality in singing and presenting her songs. She is a world-famous R&B/rugged pop singer, who is also familiar with weed users.
James Joint is a piece written by James Fauntleroy for Rihanna. It only lasts for almost one minute, but this is still a reason to enjoy it. This is like a public way for the lady singer to confess her appreciation for weed. This is expressed on the line 'I would rather be seen smoking weed each time we breathe.'
Furthermore, it is a song talking about a man having a great history. The last part of the song says that the policemen are on their way, and there is paranoia. Nobody can tell what happened between Rihanna and her ex-boyfriend. However, a line from that short song implies a connection between dysfunction and love.
4. Comfortably Numb – Pink Floyd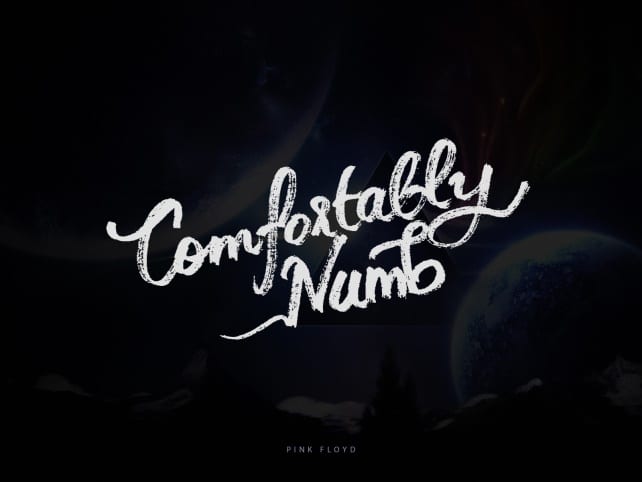 Source: Dribble.com
Here is another psychedelic rock song piece from Pink Floyd. Many people who smoke weeds love listening to this music because it is simply so epic. It was known in 1979 under a classic album title 'The Wall'. 
'Comfortably Numb' is perfect for guitar playing as it builds up in the bridge and verses. This is the reason why Pink Floyd is an ideal band to listen to when you are high. They have numerous songs to choose from the list. 
This song is also popular in the list simply because it paves the way to all incredible experiences when a person is blazed. Some marijuana enthusiasts agree that they are taken to wild mind journey. As a result, they get both exhaustion and satisfaction at the same time
.
5. Yes, I'm Changing – Tame Impala
Another renowned rock band known for a psychedelic touch of music is Tame Impala. It has a combination of John Lennon and Pink Floyd's sound that makes it so interesting. This bank also has several songs that you can listen to when high.
Tame Impala's 'Yes I'm Changing' can be your next favorite after listening to it for the first time. The beat of this song will take you to a great reflective journey about your relationships with other people and even yourself.
It is powerful enough to make you wonder about many things and envision your future. This piece will make you reflect on so many thoughts and ideas. 'Yes, I'm Changing' by Tame Impala will let you understand and accept the sorrow and the pain of your past.
You will also have the chance to realize how you are changing. You will realize how you survive life in a world you do not know what may happen in the future. If you prefer songs that are meaningful and deep, this song is an ideal choice.
6. Blunt After Blunt – Danny Brown
This song by Danny Brown came from the album entitled XXX. It is a track that features the most interesting opening lines. The opening line says, 'Kush got a negro high and feeling awesome…' which tells that this is an amazing weed song. It has been created as a marijuana love song.
The truth is that this song stands out among cannabis lovers during its time. However, it did not reach the top charts. By simply reading out the lyrics, you will surely wonder why this happens so. The lyrics say that it is about Ganja. The line in the chorus 'I smoke blunt after blunt, blunt after blunt…' tells everything.
7. Where is Da Bud – Three 6 Mafia
When it comes to making songs about marijuana, you will find the Three 6 Mafia in the top list. They are famous artists in their generation. If they are given a chance, they can release at least one album that talks about weed.
Two of their best songs – 'Bin Laden' and '1, 000' – are about motivating interested people to get on the street while getting some weed. However, these are not their real fire song. Instead, the song 'Where Is Da Bud' is their most interesting and most popular music.
Its beat and melody make numerous potheads appreciate weed even more. They become more passionate about marijuana and its benefits to them. What's more interesting about this piece is that it asks about a significant question. But more than this, this song has impeccable lyrical postulations contained to encourage the listeners not to resent or despise cannabis.
8. Cali Dro – Birdman and Lil Wayne
For several years, most cannabis lovers have switched to pop heroes base. In the rap music world, on the other hand, no one can surpass the charm of Lil Wayne. His song 'Cali Dro' with Birdman is another unforgettable cannabis anthem of all generations.
Lil Wayne talked about having his 'Kush' from California going to Arizona and even across the border. This is another reason why it has become another weed track.
9. Purple Haze – The Jimi Hendrix Experience
If your preference for music is more on a psychedelic rock with the sound of electric guitar, the song 'Purple Haze' by Jimi Hendrix will certainly blow your mind. Well, this piece is sober enough, but you will surely feel like Hendrix is talking directly to you using his electric guitar riffs.
This song was released in 1967. It never failed to impress and satisfy the marijuana enthusiasts making this as one of the greatest hits of Jimi Hendrix in his time.
10. Do You Realize – The Flaming Lips
Another amazing psychedelic rock band that has existed in the 1980s is The Flaming Lips. Even today, many cannabis smokers love listening to this song because of the incredible effect it brings to their mind and mood. They continue making cool songs in the music industry.
The song 'Do You Realize' was the group's most popular hit, which was released in 2002 under the track album 'Yoshimi Battles the Pink Robots'. The content of the lyrics is about letting adults discover and bring out their curiosity or inner child again.
'Do You Realize' by The Flaming Lips is filled with hypnotic sounds of acoustic guitars making every listener feel reflective. It makes you realize about having a positive outlook of yourself, your life, and everything in it. Thus, there is no doubt that it is one of the most favorite songs to listen to whenever a person is high.
11. Get High Tonight – Busta Rhymes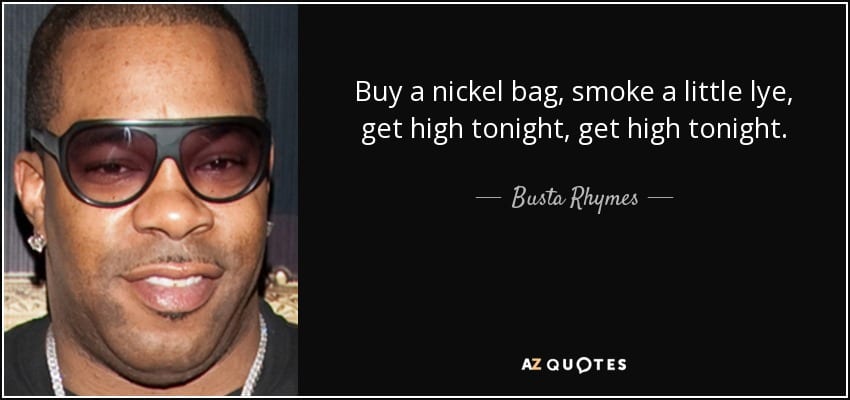 Source: AZQuotes.com
For music and artists that talk about Illuminati-controlling governments, the Matrix, the end of the world, X-files, and other related matters, marijuana has something to do with them.
In the track 'Get High Tonight' by Busta Rhymes, it is all about dope celebration. Busta Rhymes is a fast-faced rapper who reiterates his strong connection with weed. A part of the song also proclaims that smoking weed makes him move in slow motion, just like floating on a relaxing ocean.
For some critics, they agree that it may sound much better if Hype Williams, the director, showcased this part on a video version.
12. Crumbing Erb – Outkast
The duo members of Outkast are Andre 3000 and Big Boi. They are extremely popular among fans who never get tired of evergreen classics. Erb is the song that will make you relaxed after a stressful and long day.
This song is about different happenings that the world faces. It also shows how these things make people go crazy. Some believe that people can only do too little about them. But still, the song says it will reserve the ability to dictate and control how weed gets sucked into another joint.
13. Smoke Two Joints – Sublime
Every cannabis enthusiast passed through his 'sublime' state before mastering the courage and sense to puff those pots. This is the reason why Sublime is another band that cannabis consumers love. They know that this band creates and explores different mixes with perfect style.
Sublime is about hip hop and reggae. Its creativity remains in the memory of the listeners for a long time. Two of their popular songs for outdoor marijuana sessions are Garden Grove and 'Let's Go Get Stoned'. However, they still have one authentic weed anthem, and that is 'Smoke Two Joints'.
This track has a double purpose. It serves a cannabis ringer and as a dietary supplement instruction.
14. The Other Side of Paradise – Glass Animals
The Glass Animals is also a psychedelic band known for alternative rock songs. They are known for using unique music in their songs.
Aside from 'How to Be a Human Being' which was released in 2016, they also have the song entitled The Other Side of Paradise. This song comes with an awesome drop off as well as build up, especially at its last part.
15. Day and Night – Kid Cudi
For young adults who love weed, the song Day and Night by Kid Cudi is an inspiration. Its rhyme and tone is an ideal choice for those who are lonely cannabis enthusiasts. This is recommended for marijuana lovers who fight depression and looking for the predicament.
This song by Kid Cudi is a type of highly emotional and reflective music.
Final Thoughts
Most artists who love and appreciate marijuana are brave enough to talk about what they feel about them. They express them through music and their songs. If you are also interested in weeds, you can listen to these songs. These songs serve as marijuana songs or anthem. You can also pay respect to recreational or medical marijuana by listening to such songs. However, you need to pay attention to the rules of smoking cannabis.