Feeling stressed?
Think of how beautiful it is to be sitting on a beach near the ocean and hearing the waves rolling in.
Or perhaps it is winter and you are next to a fireplace watching warm and fuzzy embers slowly disappearing into the chimney.
You may have heard about the research on the effect of music on brain activity, heart rate, and blood pressure. Perhaps you have experienced how effective meditation music could be for enhancing your moods, stress control, and sleep quality.
Here are some examples of short music tracks that have been proven to help your meditation sessions.
This is what has worked for me. I hope this helps you as well.
Ambient and Classical Music:
Ambient relaxing instrumental music works wonders for meditation sessions. Some of our personal favorite ambient and classical tracks are mentioned below. Enjoy and let us know your favorites in the comments!
Planetary Unfolding by artist Michael Stearns, is just the right kind of support for your zen experience. The song's instrumental overtones open the mind and leave the ears on a peaceful, inviting, and soothing plane.
We'll skip right over the fact that this music is probably the most relaxing you'll hear this side of "waterfall music" and jump straight to the instrumental beauty of the waterfall song.
Possibly the best "mainstream" use of African music in ambient, the instrumental folk music is just that: a deep and meaningful sleep aid.
Distorted, chilling, and mood-enhancing, a new genre of music is Ambient scary.
This is a legitimately moving track that paints a picture of a graveyard populated by spirits, demons, and their fallen victims. Use your best judgment.
This YouTube Track features a chilling rendition of scary, creepy graveyard music. For some people, this might be an auditory nightmare. For others, it might be a welcome respite from their daily lives.
Who would guess that classical music could be one of the most tranquil and relaxing tunes for meditation?
These warm, dramatic tones from Nocturne is sure to put you in the mood for a tranquil night's sleep.
We're taking a big "wait, what?" stance on Bill Evans's Peace Piece. It sounds like modern classical music, but it sounds like it could also be experimental music, where the instruments would be taking you on a journey, instead of being a guiding presence.
If you've ever been in a situation and had a particularly upsetting mental breakdown, this is a good track for you.
"Weightless" by Marconi Union is an effective way to vent that aggression and anxiety.
Instrumental Water Element Meditation- Insight Timer
Water Chillout music in nature, like this amazing track by Wen Yi Ping, makes us wonder why there aren't more nature-based tracks that make you want to head outside and enjoy the sunshine.
The serene tones of Crystal Mountain evoke images of a serene mountain stream — as crystal clear as a rainbow. It helps one have a healing experience by balancing the Chakras. Why not just listen to the entire track?
"Sweeping the Floor" by Bob Dylan – This track is a high energy classic that is perfect for workouts and would also make for a perfect ending to a meditative session. So, make time to have a joyful experience.
Try to let go of the hardships and the problems in life that are not important to you in the end.
Don't just hear this track for the music — try to identify all the instruments playing in the background.
I cannot think of a better piece of music for an intro to meditation than the guitar riff and soft tunes.
It's full of energy and perfect for a relaxing meditation. This song is a catchy tune with catchy lyrics that remind us to enjoy life and live in the moment.
Feel a warm breeze across your face? If you're in a comfortable environment and there's enough ambient music going on, the faint breeze might actually have something to do with the track's overall vibrancy and soothing qualities.
The gentle tones of "May You Be Well" put you right into the experience of having a good night's rest, and the comforting violin part will make you feel at home.
The perfect melody for a nice easy meditation you might find it so perfect that you will want to use it as your mantra during your session.
Imagine the sound of flowing water with a guitar solo playing over it — that's what you'll hear in "River Flows in You".
This soft meditation track by Headspace will put you on a beautiful and calming trip while improving your concentration.
Not only does the ambient music make you feel comforted, but it also will put you in the mood for a good workout, or perhaps a jog through the park.
Listen to this track from Insight Timer, and you'll forget that you're even at your desk.
It will transport you to a place where the raindrops on your umbrella are in sync with the ambient music. The audio in this song will have you feeling like you're at the core of your self — which, let's face it, you probably are.
When we think of meditation music, we usually think of soft ambient instrumental music, but Headspace blends the two.
Near-instrumental music is a relaxing way to tune in to nature, while the background environment is what will make you feel safe and at ease.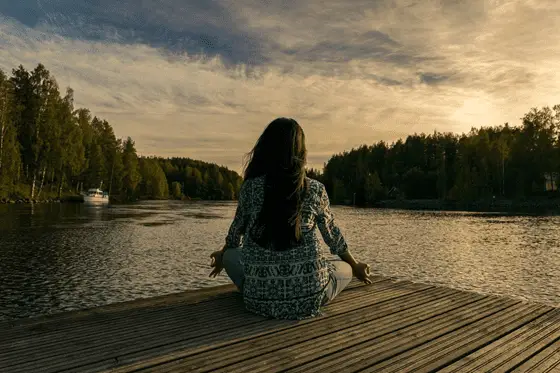 Yoga Music:
A yoga class is an exercise in mindfulness and focuses on how the body feels in a moment, rather than what is happening around you.
That's why it's so important that the music fits the theme of the yoga practice. Whether you need ambient music or like to add sound effects, there are several categories of music that work best for yoga classes, depending on their length and purpose.
Let us look at some instrumental yoga soulful music tracks below. Each piece is free to listen to on YouTube, so if you enjoy the music, simply click on the title to listen to it on YouTube.
The Art of Living offers a simple and ethereal track that was made for a yoga video. But for any music lover, the soothing tune is a great way to get the blood flowing for your practice.
Zephyr meditation was created as a meditation track specifically for yoga. It has been used for meditation by the Dalai Lama and is very calming. It is also great for developing self-awareness.
This is a relaxing track that blends traditional Tibetan instruments, electronics and percussion. This meditative track is perfect for tranquil breathing. It also has beautiful ambient sounds that can help you drift off.
Calm's deep breathing track "Breathe Bubble" will help you develop good posture and focus on your breath. With such a bubbly and uplifting beat, you'll be sure to get a deep breath on the mat.
There are plenty of lullaby tracks on YouTube – these soothing melodies are the perfect sounds to put you into a meditative state. The softer tone used in the lyrics adds a gentle effect and gets you to feel as if you are falling asleep.
Meditation music is good for the holistic development of mind, body and soul.
The truth is, in spite of its popularity, many people do not know what the sound of the music is supposed to be.
The only way to get a realization of the sound is to listen to it.
Most of the time, the sound is a result of the energy flowing through the human body. It gives you a sense of 'peacefulness' which helps you find the centre of the consciousness and allows you to feel a certain level of happiness.
Many people think that meditating is a 'luxury' that people with busy lifestyles can't afford. The fact is that there is no time like the present for meditation. In fact, if you want to reap the most benefits of the process, you need to practice it in the present. Meditation should be your own personal escape from the world and your current problems, so this is when the process becomes more authentic.