Stress. We have all been there. The intense pounding in our heads or the feeling of a nagging pressure in our cranium or (literally) the pain in our necks. Psychologists have studied the causes and remedies for stress for the better half of a century. Common reasons include overthinking, personal or professional pressure or uncertainty in life. It could also stem from something as insignificant as a minor injury. Stress is cured best when you do not actively fight it but let it flow away. Trying to battle it will intensify its grip on you. Just sit back and rationalize how you can solve the underlying problem.
The easiest and pocket friendly way to help you out with easing stress is to listen to songs that soothe your strained mind. For many years people have used songs as a crutch to get past their many and varied tensions. Songs can either be instrumental or vocal. The general rule of thumb is that soft instrumental tunes will calm your nerves. But some blessed artists can render a song just as placidly. It has also been proved that listening to mellow songs in a language you do not understand will help you let go and relax.
Here is a list of songs you can listen to when you are stressed:
The music in this song is widely recognized for being arranged in consultation with neuroscientists in the UK. Its rhythm starts at 60 beats per minute and steadily descends to about 50 beats per minute. It has been found to decrease the stress level by around 65%. It also was found to reduce human vitals by about 35%. Weightless is the go-to song to reduce stress and it is a no-brainer.
Electra has a steady tempo at about 60 to 65 beats per minute, the same as a relaxed human heart. It can almost readjust your racing heart to a comfortable pace. Feel free to listen to this track on a loop to reduce your stress levels.
Classical Chinese music is the definition of a soft tune. This music is played as the background track in movies to indicate a relaxed atmosphere. You can find many hour long tunes on YouTube. Kick back and you will be transported back by a couple of centuries.
Coldplay is known to create and play soulful music that tugs at your heart's strings. Though most famous for their record-breaking song "Something just like this", Strawberry Swing just hits different. Relaxing as can be, the lyrics resonate true to real life love and loss.
Adele holds the distinction of being a genius vocalist who has her audience in raptures. Among our generation's most talented singers, Adele pulls all the stops in this song. This masterpiece has been composed to bring the audience to their knees and drown them in emotions. But hey, maybe all you need is a good cry to let your pent-up stress out.
Instrumental flute music is indisputably the best soothing music. Though not a song per se, it drops your anxiety levels like nothing else can. Tune in to flute playlists on Spotify for hours of this music or choose a quick short stab of nothingness here.
Released in 1988, this song is composed of a beautiful and melodious piano track. It lives up to the expectation of music being able to convey what words cannot. This ridiculously symphonious song takes on the character of the emotion you are feeling when you listen to it. Perfect to just kick back and relinquish your stress.
Set to the tunes of Jack Jezzro, it cannot get anymore calming. Multiple songs of this artist are put together in their bare music form to help you get in touch with your inner self. Put a pizza on the side with some mozzarella cheese and feel yourself float away to Naples.
The Swedish composer Stefan Nilsson is known for his creativity when it comes to the piano. This delicate composition of a piano piece is considered among his best. This song just makes you want to be the most emotional version of your self, for good or bad.
Studies find that no one type of music works for everyone and that you can find your own stress busting music. The slow movements of J S Bach double violin concerto in D minor are a safe place for some people to land on. Its musical brilliance aside, this song is a different dose of calm for the classical soul.
Anouar Ibrahem is a Tunisian composer and a legend in his own right. He is known for his innovative composition technique of fusing Arab music with Jazz. This song is one of his calmest pieces and feels almost meditative in the placements of its motifs.
Barcelona is band based in Seattle that was started in 2005. They compose songs with piano based harmony and add some rock elements to it. This gives a distinct edge to their songs and draws you in. Please Don't Go is a song of desperate love and a guaranteed stress reliever.
Neha Kakkar is a legendary playback singer who is in a different league because of her distinctive husky-yet-sweet voice. She has delivered her most emotional rendering yet in this song of promising love. The soothing vocals take over the soft piano in intensity and will go almost unnoticed by you. It will calm you down in no time.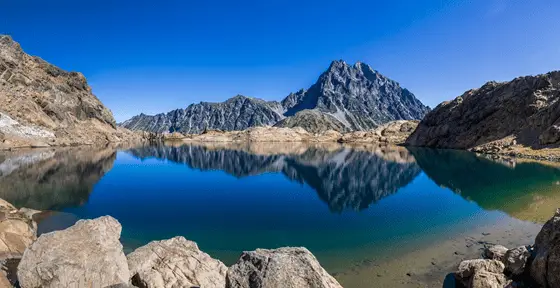 Rue du Soleil is a Spanish band that almost exclusively exist to create calming music. The melodies executed by their instruments is a distinction own its own. We Can Fly has a very serene feel to it and will not fail in bringing your heart rate down.
This song is most popular for appearing in the Leonardo Di Caprio movie The Beach. The first groovy song in this list, this song helps to be both relaxed and alert at the same time. This song's touching lyrics are not how they were supposed to be. The lyricist Shaznay Lewis lost the first lyrics and had to write something different all over again. A time well spent, you can argue.
Released in 2008 as a single track by Coldplay, it has a textbook style crescendo. This song begins with a looping string section with a piano and gradually builds up the tone by adding instruments one by one. The lyrics offer Christian references and Chris Martin has given it his best emotional voice. This song is assured to make you relax and let go.
A blockbuster hit of the decade, All Of Me will make you want to fall in love again. The complete absence of bass in this song seems to elevate the emotions spilled by it. The singer dedicated this song to his wife Chrissy Teigen. It went on to become the first single to be number one in the Billboard Hot 100. Unwind and let John Legend seduce your mind into tranquility.
Any song list to reduce your stress is incomplete without an Alicia Keys mention. She is known to put her God-gifted husky but honeyed voice to great use. She begins by starting low and then picks up the tone to an unbelievable high pitch in this track. New Day is a soul-touching song filled with hope. Make it yours on a stressful day.
Iconic for his incredibly smooth vocals, Gary Jules brings it on in this 2006 release. Another of his touching lyrics, this song is bound to bring old memories flooding back. Legend has it that he wrote Falling Awake to pull himself out of a rough patch in life. With an impressive guitar solo, this is just the type of music for your bad days.
This song that defined the decade of the 2010s and the childhood of an entire generation needs no introduction. If the lyrics of any song spoke to its listeners, it is this song. Idina Menzel outperformed herself with this soul ripping vocals. All you need to do on a rough day is to let it go.
This brings us to the end of this amazing list of songs that ooze placidity. Feel free to bookmark this page and come back here on those stressful days for a shot of peace. Do not shy away from treating your stress as a medical condition that it is. Relax and let go.
And did I forget to mention? This song therapy is free. So slow down and unwind. Happy listening!