Music is undoubtedly a great means of entertainment. But beyond that, it is a spiritual force capable of moving hearts, creating emotions, and planting ideas. Artists from around the world have made music, and they have transcended the hearts of music lovers. Some music released a century ago still lives on as if it came out yesterday. Such is the power of great music. In this article, we have compiled a list of the greatest musicians of all time.
1. Micheal Jackson
Micheal Jackson, born on August 29th,1958, and passed away on June 25th, 2009 was a true music legend. He left a legacy in not just music but in the hearts of people all around the world. Popularly described as 'Pop King', he grew to be one of the most influential figures in the world even after his time.
Unlike singers who confined themselves to singing, he excelled at compelling dance moves like the moonwalk. His influence reached far and wide, creating a new wave of fashion. His works were equally brilliant, and he went on to become the most awarded popular music artist in history.
His strongest influence on people was obviously music. But whenever he got a chance, he strived to bring the world together through music. By doing this, he envisioned a global culture and these attempts are visible in many of his creations too. He broke the traditional barriers and through his music, fought for weorld peace and harmony.
His music album and video 'Thriller' revolutionized the music industry and the world. It was the first time an African-American artist's video aired on American television. This was groundbreaking, to say the least. It tore the race barriers that existed strongly across the country and paved the way for new artists to carve their own paths in this industry.
Besides, he supported numerous humanitarian causes during his time. He offered a helping hand to organizations like the UNICEF, Martin Luther King Jr. Center for Social Change, American Cancer Society, and United Nations High Commission for Refugees. Further, he was a strong advocate of children's cause and vouched for youth worldwide.
2. John Lennon
John Lennon( 9th October 1940 to 8th December 1980) was an English singer and song lyricist. He was a part of the famed music band, the Beatles, where he was the rhythm guitarist and co-lead vocalist. He was also a strong advocate of world peace. Lennon left the band in 1970 after he formed a collaboration with his second wife, Yoko Ono in 1969. He carried on as a solo artist until the time of his death.
John Lennon was and remains a true influence because of his dedication to world peace. He and his wife Yoko Ono used their honeymoon in 1969 to spread the message of world peace. They allowed the press to visit and interview them throughout the day. During this, they gave hundreds of interviews and highlighted their peace message. He spent an entire week on this, showing how important his message was.
His most influential work remains to be his solo album, 'Imagine'. It created shock waves across the world during its release and remains one of the most powerful messages by any artist to humankind. It urges everyone to imagine a world without countries, possessions, and wars—where everyone would love each other and live as one.
The song has since become the subject of many more creations by famous artists like Lady Gaga, Stevie Wonder, Neil Young, and more. Besides, it has been played in the highest stages like the Concerts of Peace, the Olympics, Concerts for Hunger. Even the United Nations played the song during a ceremony in 1990. Not just that, the song stood as a symbol of peace during the Gulf War 1991 and the World Trade Center attack in 2001
Johnn Lennon's songs continue to spread radical ideas and urge humans to follow a path of peace and love.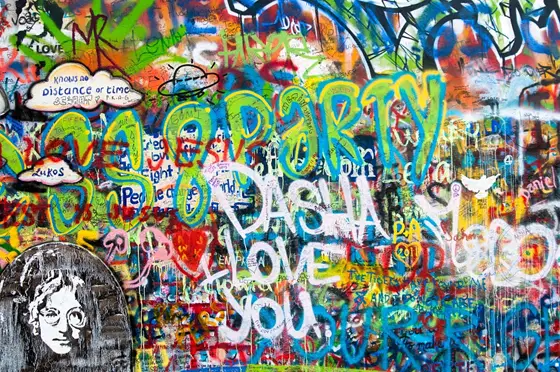 3. Bob Marley
Robert Nesta Marley, better known as Bob Marley(6th February 1945-11th May 1981) was a singer, musician, and songwriter from Jamaica. He was born in British Jamaica and kicked off his singing career with the formation of 'Bob Marley and the Wailers'. His first album was 'The Wailing Wailers'. Known for his different singing style, he usually combined elements of genres like reggae, rock steady, and ska.
Through his work, he went on to spread the philosophy of Rastafarianism across the world. It stopped being exclusive to just the people of Jamaica.
Bob Marley and his music is remembered and celebrated by youth even today. Being an activist himself, he was a strong advocate of world peace and freedom. Some of these qualities formed during his time in the troubled parts of Jamaica where he had to struggle to succeed as an artist.
As his songs traveled beyond shores, he used his voice to spread his message. He was a strong inspiration for the continent of Africa-a voice of the voiceless. Besides, he started a religious movement through his music-one that worshiped peace, unity, and love.
Marley and his music are so influential because of their relevance even today. His messages stood the test of time because they are truths that define human conditions. He was among the rare musicians who took their fight for the good into the open. And people remember him for that very reason. He spoke of sufferings in the World as well as unity and love among people. Some of his top songs include 'One Love', 'So Much Trouble in the World Burnin' and Lootin''.
4. Ela Fitzgerald
Ella Jane Fitzgerald(April 25th – June 5th, 1996) was an American Jaz singer. She was popularly known as Lady Ella or Queen of Jazz. She was a huge inspiration to women worldwide, as she became the first woman to publicly embrace Jazz music and succeed. She paved the way for many artists to follow her path. Ella was loved for the timing, tone, diction, phrasing, and the ability to bring a 'horn-like' feature into her songs. She continues to inspire and empower women worldwide.
Ella fought through a hard childhood and got her first song out at the Apollo theater back in 1934. He came through in an amateur contest, but once she started her journey, there was no stopping here. She went on to win 13 Grammy Awards, apart from selling over 40 million copies of her albums.
Her vocal quality was one of the main reasons behind her success. She went on to win the Presidential Medal of Freedom and National Medal of Arts during her lifetime. Ella continues to inspire modern women to take unconventional paths boldly. Her success stands as a symbol of female empowerment as it broke the stereotype that Jazz was not women's forte.
Ella Collaborated with many artists, and the most notable ones came with Louis Armstrong and Duke Ellington. She ventured into places where African-Americans feared to visit as there was a veil of racism gripping the Americas during the 1950s and 1960s. Eventually, she opened the doors of freedom to millions of women, to reach out and grab their dreams without fear.
5. Bob Dylan
Bob Dylan or Robert Allen Zimmerman, born on May 24th, 1941, is an American singer and a songwriter. He is listed among the best songwriters ever and is a great influence over the world. His most notable works came out in the 1960s.
Bob Dylan was one of the first mainstream musicians that openly took part in moral issues and movements. Some of Bob's top songs include 'Blowin in the Wind', 'The times they are changin'. Both these became symbols of national struggle for peace. They were commonly used in anti-war movements and the civil rights movements. His lyrics covered a wide range of human causes like philosophies, political ideas, and radical thoughts. He appealed to the masses through his pop music and touched their hearts.
Bob united people through his music, conveying his thoughts in a free and simple language that the masses understood. He endured a lot of struggles before he succeeded. He dropped out of college and went to New York to stay close to folk musician Woody Guthrie, who was his ideal.
Dylan took part in the 'March on Washington', being one of the few musicians who took part in it. It helped the movement gain traction. His presence inspird the youth to understand the moement's cause and to participate in it. He was highly vocal about civil rights and kept spreading his thoughts about the human conditions. Bob was an active participant of the Civil Rights Movement too. His songs continue to bring a spark of humanity to listeners even today.
Conclusion
Music has been and will be one o the most powerful uniting forces for mankind. The above artists and many more united people from all over the world through their songs and their ideas. These legends don't die as they live in the hearts of people through the art they made.