The Harmonica is one of the most popular Blues and Jazz musical instrument. It is also one of the easiest to learn.
It is this ease of use for beginners that makes harmonicas very sought after among beginners. All you need play the Harmonica is the instrument itself and some wind in your lungs. We will list down the top harmonica brands you should opt for. But first, let us look into harmonica's history and the type of harmonicas.
Harmonicas are also called "mouth organs" or "French harps". It is a wind instrument and contains a reed of varied length in each slot. As the user blows into the instrument the reed vibrates producing the sound. Depending on the position of the reed, they can double as draw reed or a blow reed.
History of the harmonica is long. The Chinese used a similar contraption made of bamboo and was called "Sheng". Europeans developed this further using metal instead of wood for better acoustics. But it was only Matthias Hohner started mass production and started exporting to the United States that the popularity of the instrument exploded.
Types of Harmonicas:
Diatonic harmonicas: These are ideal for playing blues music and every key, including the minor ones can be tuned. These are the most commonplace harmonicas.
Chromatic harmonicas: These require some knowledge of music because it allows a player to play even the semi notes.
Bass harmonicas: These are similar to Diatonic or Chromatic harmonicas but have a pitch register somewhere in the lower octaves.
Chord harmonicas: Allows for more control and the ability to play chords by blowing through only one of the holes. This too needs some level of musical knowledge.
Echo harmonica: It produces an organ like sound. This is done in a way that, an underlying rhythm is produced along with the melody. This is a complex instrument.
Tremolo harmonica: This plays a melody along with bass notes for additional harmony.
Things to consider while buying a harmonica:
Nowadays buying your harmonica is very easy. But choosing the correct harmonica is important. For that you need to know what your skill level is and what kind of music you intend to create.
The brands and the instruments will differ if you want the ringing tones from an echo harmonica or if you want simple melodies from a diatonic harmonica.
Again when you are learning the ropes of playing the harmonica as a beginner, a diatonic harmonica is the best choice. Because
Choosing a diatonic harmonica and learning to play with it will also enable players to progress to the more complicated echo and chromatic harmonicas.
The Blues harmonica enables players to bend the notes. While bending notes on any harmonica is possible, a diatonic harmonica does this with considerable ease.
If you are a professional looking for a harmonica which will augment your skills as a player then you might want to consider Chromatic harmonica. Chromatic harmonicas are significantly more difficult to play and master. They have a key on the side which allows players to play all 12 keys.
Top Harmonica brands:
1. Hohner:
One of the oldest and the most popular brands Hohner has been producing the best harmonicas in the world. They are known for their quality and their availability.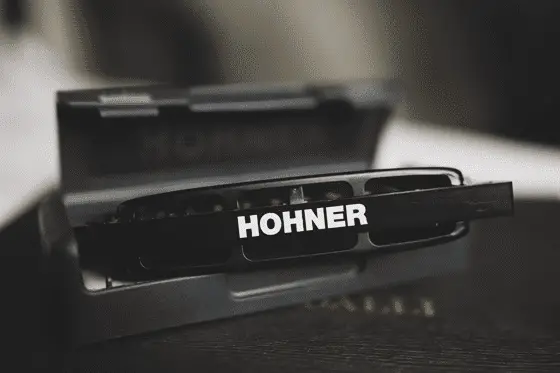 They offer an exceptional range of harmonicas for the beginners as well as for the professionals. This is also the most common harmonica in the world.
2. Fender:
Fender is a very popular Guitar manufacturer. They manufacture harmonicas that act as an accompaniment to guitars. This is very popular among blues players. They come with a holder where you can place the harmonica while playing the guitar.
Fender produces a very reasonable range of harmonicas and are very popular.
3. Swan:
This is another very popular brand known for producing quality harmonicas. This is an American brand, and they specialize in top harmonicas for the beginners.
4. Suzuki:
Started by Manji Suzuki in the 1940s in a small room. When learning harmonicas became compulsory in Japan, there was massive expansion of the company. They even ventured into keyboard based harmonicas in the 60s.
They are now a top harmonica brand. They also manufacture xylophones and pianos.
5. Lee Oskar:
Started by expert harmonica player Lee Oskar, this company now produces some of the best harmonicas in the world. Lee Oskar lends his immense experience and design ideas and allows Japan's Tombo to manufacture them.
Tombo has been manufacturing harmonicas since the early 20th century and is one of the leading names in the harmonica manufacturing industry. It is now a top harmonica brand.
Top Harmonicas in the world:
1. Suzuki HA-20-C:
This is undoubtedly one of the finest harmonicas that you can buy. The sound quality is unmatched. This instrument is generally used by professionals. It has mellow and deep tones and produces a rich smooth sound when you play it.
With this portable and compact harmonica you can play at a reduced volume and play quietly and yet powerfully with no reduction in clarity. Since this has an aluminum comb loud tones can be achieved with lower volume. There is no harmonica which provides better control and precision than the Suzuki HA-20-C.
If you are a professional looking for a new harmonica then this is where your search should end.
Pros and Cons:
Pros:
Superior build.
Compact and easy to carry and comes with a travel pouch.
Offers a wide playing range.
Tune while playing is consistent and remain that way throughout the playing time.
The reeds inside can be easily replaced. The standard reeds are also extremely durable.
Cons:
Not the easiest harmonica to learn and might take a few lessons to get used to.
2. The Lee Oskar
The flagship harmonica of the Lee Oskar company this is a harmonica which can be played by anyone of any level of mastery.
The harmonica itself is of solid construction. Even from a price point this will suit a beginner as well. But for the price this harmonica is brilliant and makes no compromises for the low price.
In terms of power the Lee Oskar is probably the best in the world. The sound is much higher than many others and the tone remains consistent. It is for this reason that it is favored by many country and rock musicians the world over and delivers crystal clear sound.
The Lee Oskar differentiates itself in its manufacturing. The slots are smaller and this means there is no air leakage and smooth sound is delivered every time. It is also very easy to maintain since it comes with three screws which can be used to change the reeds.
Pros and Cons:
Pros:
Wonderful projection of sound during play.
Has a long life since the mechanism to replace the reeds is very easy and simple.
This is an ideal beginner's harmonica and is very simple to learn.
The quality of play is very high.
Cons:
The sound is not very warm since the comb is made out of plastic over wood.
Might need frequent tuning.
3. Hohner Special 20
It stands to reason that when someone has been manufacturing harmonicas for around two centuries they are bound to be good at the art.
Hohner has been delivering high quality harmonicas since the 1800s. Their passion for quality and attention to detail has earned them the respect of musicians worldwide. Hohner is a top harmonica brand.
The Hohner Special 20 is a tad more expensive as compared to its competitors. But this is a professional's instrument and it's quality is top-notch.
The sound quality if deep and rich and when you play it you can hear the individual tones distinctly. Because of this clarity this harmonica allows players to play to any music genre.
And to top it off, Hohner also gives you free lessons for 30 days, delivered by professionals if you buy this product.
Pros and Cons:
Pros:
Brilliant sound and solid construction.
The reeds are made of brass for better acoustics.
Ideal for Blues players.
Free lessons for the novice players.
Cons:
The high cost means, not everyone can afford it.
4. Fender Blues Deville:
As the name signifies this is purpose built for blues players. But not only that it is also one of the best harmonicas for beginners. It is versatile and comes tuned to C for ease of use. The comb is made out of PVC and the reeds are made of brass.
The structure is very traditional and the shape allows for easy handling.
The harmonica itself has a very consistent sound and the tuning is very stable. It is covered with a Chrome plate which is very stylish and makes it look sleek. The holes are very distinctive and every breath gives off a smooth and classical sound.
Fender is no longer just a guitar manufacturer. It has now transitioned into a company capable of manufacturing quality instruments of any genre. It is now a top harmonica brand. This harmonica is a fantastic offering from Fender.
Pros and Cons:
Pros:
Design is very traditional.
PVC comb and brass reeds offer a classical tone and pitch.
The sound is crisp.
Cons:
Not as loud as compared to other vendors.
5. Anwenk Harmonica:
This one is a favorite among children. This is one of the best harmonicas for beginners in the market right now. This variant is made specifically for children and is smaller too for better fit.
The harmonica is diatonic which means learning the trade is easy even for kids. It is not very heavy and its weight is ideal for children to handle. Anwenk has done significant research into making this comfortable for children to play. The way the comb is built ensure the moisture absorption is minimal.
The reeds are made out of copper with a stainless steel cover which reduces air leakage.
The sound it produces is vibrant and crisp and is also very easy to tune.
Pros and Cons:
Pros:
An ideal fit for children.
Very affordable.
High quality sound with a rich tone.
Cons:
This is a very basic harmonium and it would not be a good fit for professionals.
We hope you find your ideal harmonium and enjoy playing this lovely instrument.