Lighting up a stage is needed. The use of stage lights proves to be necessary as they act as a powerful tool for events. These can increase the attention of people attending an event. These also highlight the stage backdrops, props, people, and many more. Emotion is also evoked by lighting using texture, color, and various amounts of light.
Below are other essential things to remember to light up your performance.
Types of Lighting You Will Need
Lighting equipment is complicated sometimes. But, it is good to know that lighting instruments are classified into families. It is advised to consider the types of lighting in terms of beam shape, beam quality, and beam size.
Focus Spots
The focus spots are a type of stage light that often includes the Fresnel. They are unique in their design. They are easily recognized by the concentric form of rings forming the lens' surface. They are a popular kind of lens utilized for stage lighting.
Profile Spots
In this type of stage lighting, the reflector and the lamp remain to be stationary. This is also the lens that stays movable. The movement of the lens controls the quality of the beam. The lenses produce a hard and precise edge softened by the lens tube and is progressively moved.
Floods
Floodlights are considered as the simplest form of theatre luminaries. They are comprised of little to more than a reflector and lamp in a box. They are positioned from one side to another. And they are also tilted in an upward and downward position.
The output facets are determined by the lamp type and the reflector. Floodlights are suited for cloths and lighting skies. They are not selective enough for the lighting actors. Moreover, they come in two varieties of asymmetric and symmetric.
Beam lights
Beam lights are known for utilizing a parabolic kind of reflector. This thereby creates a near kind of parallel beam. This is somehow more intense as compared to the lens spotlight following the same wattage.
Follow Spots
Follow spots are a profile spotlight having a more mechanical and optical design. They are well-balanced, allowing a smooth and continuous tilt and control of an operator. This is true to following an actor before the stage. The control of iris and focus fall within reaching the hands of the operator.
Lighting Positions
Below are the several lighting positions that you will need to learn more.
Lighting from the Front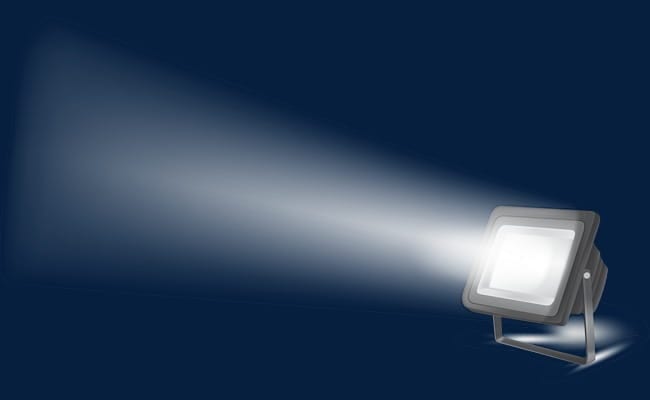 This lighting position makes the face of an actor visible. This is true to say the eyes of a person. Among the things to think about, including the body and the face to be flattened or modeled. The area of the stage to be selected is also considered. The same is considered when it comes to the direction and size of the cast on the scenery and the floor.
Lighting from the back and side
This is focused on lights coming from the side angles. The criteria for judging this lighting position include modeling, visibility, shadows, and selectivity. The source of light at the back of the actor will not light up the face. It still gives a certain depth at the stage. This is as the action is separated from the scenery. This is through the creation of a haze and the highlight of the shoulders and the head.
The light coming from the side of the actor will reach the mouth and the eyes on the side. The shadows cast, and the area lit continues to extend through the stage floor and the other side.
Finding for a Compromise
This is about lighting an actor to achieve maximum modeling and maximum visibility. An area as tight as it is possible is selected. And there are angles combined to compromise in an optimum manner.
Types of Fixtures
Here are the types of fixtures to consider for stage lights.
LED Fixtures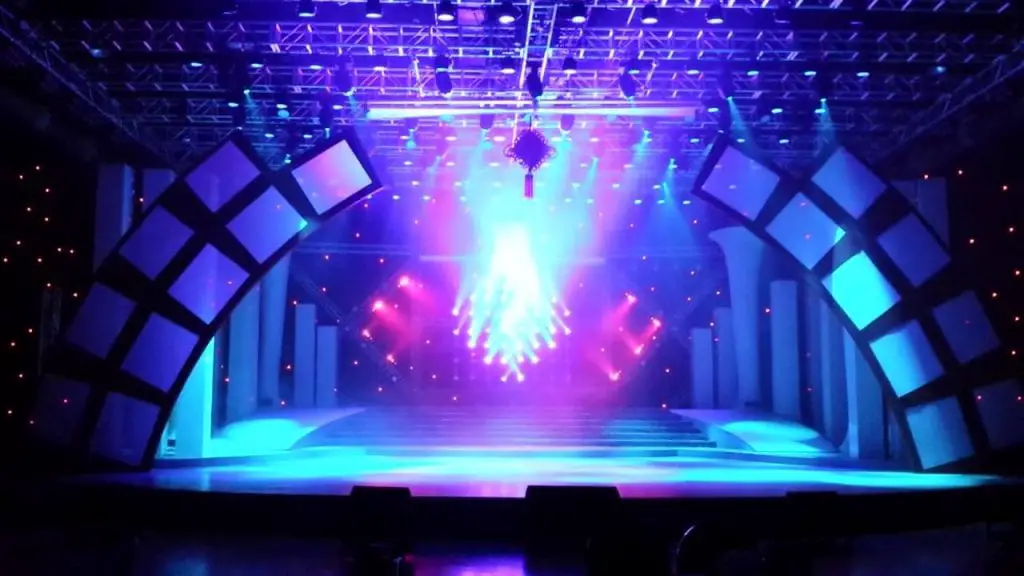 LED fixtures are the best representation of a new theatre form of technology. A designer can combine a conceivable color. This is still limited by a few factors like the lack of intensity and the purity of color.
These fixtures are also manufactured as "wall-wash", "wide-dispersal", and "controllable" instrument. They can project a hard-edged beam. They copy the performance of the ellipsoidal form of reflector spotlight.
Linnebach Projector
This system consists of a lensless projection. This comes with a transparent slide that is placed in the endmost part of the long body. This features a lamp at its other end. And this provides impressionistic and soft images. This is seldom used today. This is effective, provided it is used in the right position.
Other Floodlights and Scoops
Floodlights are a kind to provide a wide and soft field but with no lenses. The specialized floodlights combine 2 or even more compartments in a fixture. They are known as the cyc lights that light backdrops and cycloramas.
Striplights
These are a compartment kind of fixtures intended to be used for a wash of light. This is usually on backdrops or cycloramas. They are wired for 3 or 4 types of circuit operators. And they usually have multiple lamps for every circuit. The strip lights use both the glass and gel roundels.
Automated Fixtures
Automated fixtures consist of features to be manipulated for the creation of different effects. Among these fixtures include color, tilt, pan, zoom and iris, gobo, intensity, and shutter.
Followspots
These fixtures are designed to be operated manually. They allow an electrician to give light to a performer. This is by using a controlled and intense beam throughout the stage. They feature an iris to control the size of a dowser or a beam. They need to be bright enough to continue to the existing stage.
Svoboda
This consists of nine to ten lamps. This also produces a parallel and bright field. This is commonly seen in Europe and not in the United States.
PAR Fixture
This is as well classified to be self-contained. The parabolic reflector, the lens, and the lamp are mixed in a single unit. This is more as compared to a can that holds a lamp. The commonly known field sizes are narrow spot, very narrow spot, medium flood, and the wide flood.
Plano-Convex Spotlight
This uses a plano-convex kind of lens and a spherical reflector. Under this fixture are the PC spots and the Fresnel.
Ellipsoidal Reflector Spotlight
This mixes an ellipsoidal form of a reflector with a 2 plano-convex form of lenses or 1-step lenses. This is referred to as the Lekos in the United States. This is also referred to as the "profile spots" in the United Kingdom.
Controlling Your Lighting
In stage lighting, know that this area of illumination benefits from the latest advances in the technology. This may not seem a simple matter. But, this has essentially evolved to be an area of expertise in the industry. Below are several things that you must keep in mind.
Adjustable Lights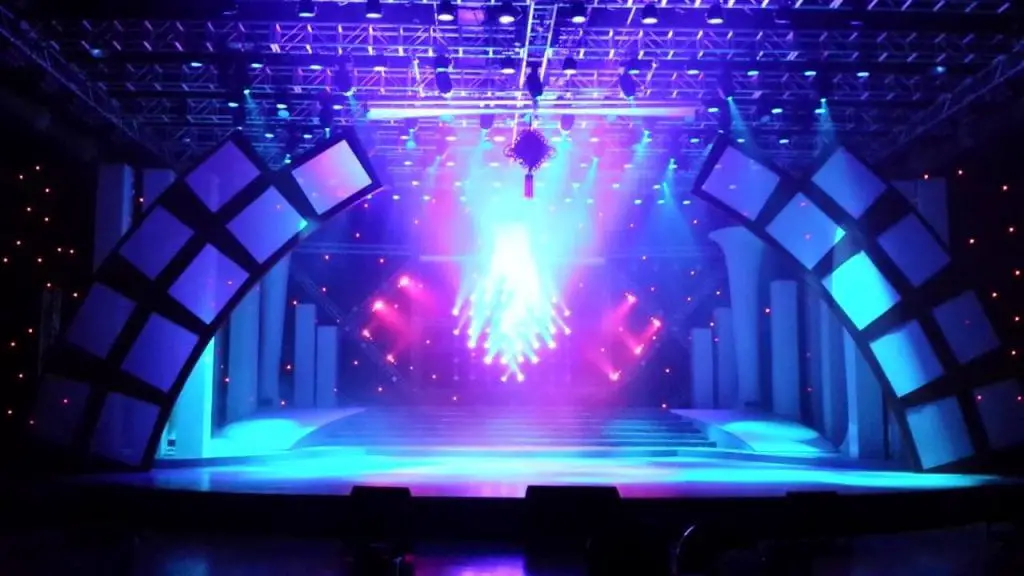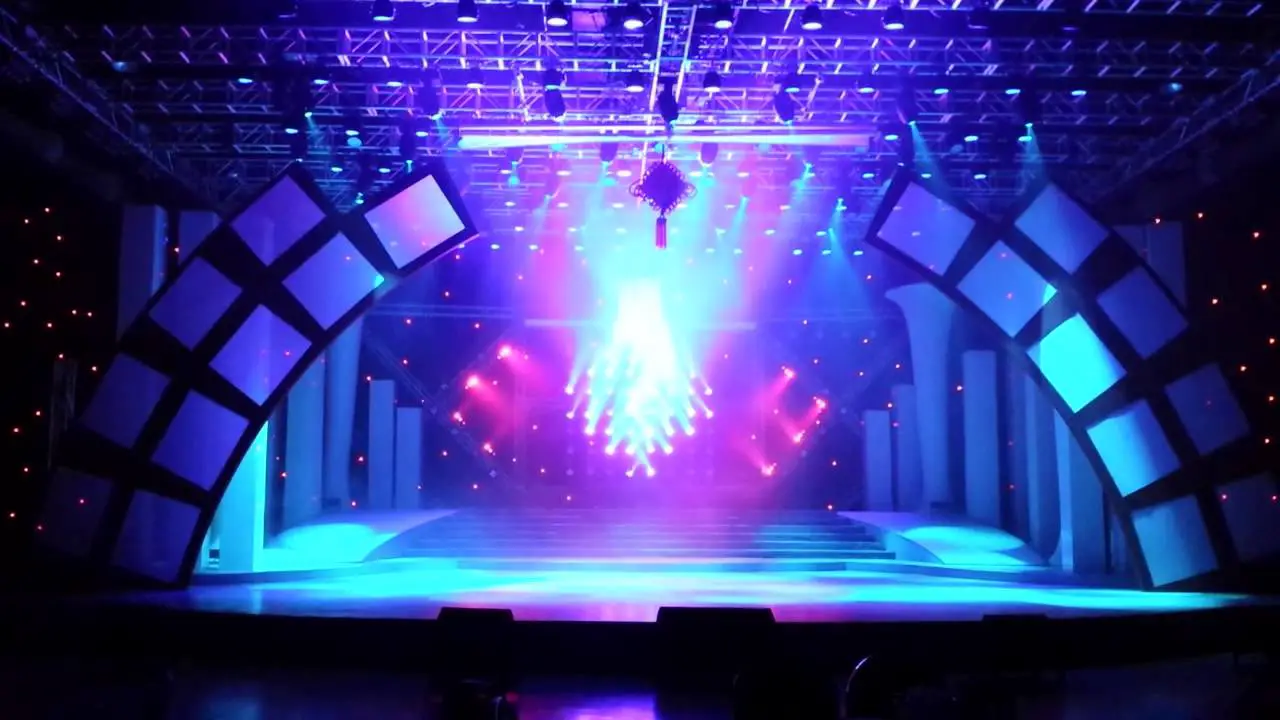 These lights give people the ability to be in control of the spread of light as it disperses. This is also true when change is needed. This can best achieve the form of versatility required for the stage lighting.
LED lights
These have already been known in stage lighting. These emphasize on the color. These are more versatile and more useful in the stage lighting. For one, these convey different colors with no reducing of the performance capabilities.
These truly have stayed in the world of stage lighting controls. These are a perfect option for the theatre settings. They can be managed without using a ballast component or a start-up time.
Dimmers
These are indeed a big step when it comes to achieving the right direction. There are so far many dimmable applications that complement theatre needs. A light operator can brighten or dim the stage lights as required. There is also no need to switch them off. This is by far less distracting to the performers and audiences.
For one, the fader lights are a true lighting technology utilized in the theatrical applications. The dimming lights are also essential in achieving a flicker effect. This is to say when the intermission is already ending. Or, this is when the performance is just starting.
Surrounding Area of Lights
These are as well as changing for the atmosphere. A lot of performing arts centers are larger. Expansive buildings also use state of the art lighting that is unmatched. Considering the guest and lobby areas, lighting has indeed meant more about appearance. It serves as the function to complement the needs of the facilities.
Common Lighting Effects
Make light possible to do more and not just to illuminate. Achieve different and possible effects reliably and easily. This is also achievable through not using complex digital techniques.
Projected Effects
A projector effects and an effect disc (moving) add up a polish layer to the production. The projector lantern is then fitted with a controllable type of glass disk. This is then painted with a wide range of effects.
Gobos
This is a glass disc or round metal having a shape or image etched in it. It is then projected by the gobo inserted into the profile lantern. It is effective once the levels of the light become low enough. This is for them to bring about a strong effect in the state of lighting.
The texture of the light evokes a kind of specific location or an emotion. Other than the metal designs available, glass gobos are also present. They each have a level of detail. The right gobo is to be used as it fit the profile lantern. There are so far many several of holders and gobo to choose from.
Water Effects
This type of controlling the light uses a linear form of a lamp. This lamp is then mounted at the back of the rotating type of metal tube. This does not have any cut- out slots. This works best for as long as it is placed through the floor. This is through the front of the backcloth or the piece of the set. This provides the light needed as reflected from the waves that lap against the side of the ship or pool.
Fire Effects
These consist of a small silk, a fan, or a light source. These can then be utilized for the flaming torches. And these are by far very safe and effective.
Top 6 Best Stage Lights
Now consider these top 6 best stage lights that will make the stage lighting setup a great one.
LaluceNatz Par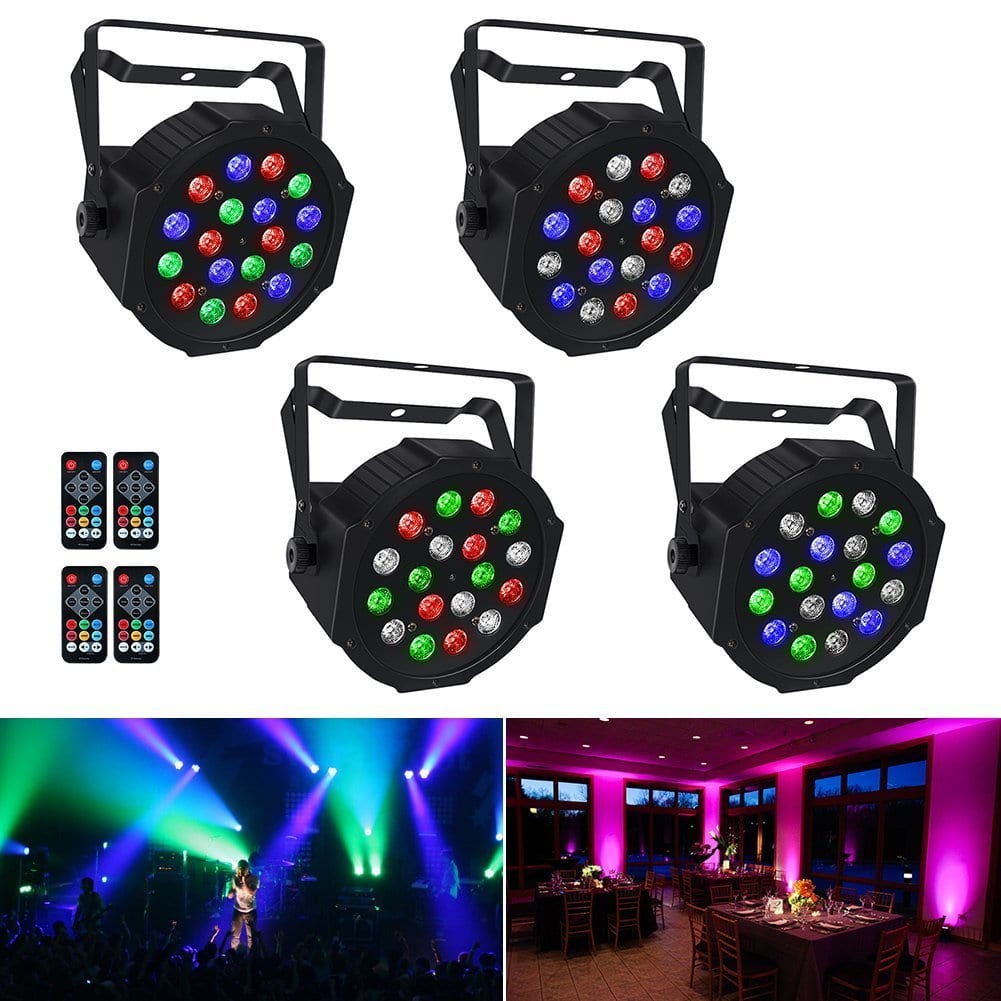 This is known for one factor of versatility. This enables you to create anything from the spotlight style, to the club-light show. It brings about a vivid and crisp clarity. The remote is useful in controlling the brightness of the lights. The colors are mixed for creating new effects and shades.
Litake Lights
These lights are controlled by the use of an individual remote. These enable you to get 3-sound activated kind of modes and 7-lighting modes. Adjust between the speeds and colors that will match the music or mood.
These are likable as they are sturdy and flexible. They enable you to put it on the floor. They can be affixed to the walls or ceiling, too. These also come with 2-remote controls, 2-crystal ball types of lights, 2 tripods, and instruction manual.
Lunsy Stage Lights
These LED lights can give you thirty-six LED light kinds of beads. They come in an aluminum and sturdy shell. These can already project more light without taking too much space on the stage.
The remote is used to change the colors, control the lights, and many more. This features 7-lighting effects that include strobe effects, fade mode, sound-activated mode, and many more.
The unit is propped through the ground or mounted to using the 2-handle brackets. This includes screws in the package. In addition to that, it includes the screws, mounting bracket, light, user manual, and remote control. This is easily set up and this is used right from opening the box.
Gohyo 9 LED
This stage light is safe to use. This is known to create the stunning atmospheres at the parties or gigs. This also works well with a fluorescent poster, painting displays, and ultraviolet body paint. This is easily and flexibly installed with the brackets on the T-bar.
Moreover, this product is controlled by an on and off switch and a high power and ultraviolet light. This appeals much to parties as a Christmas and Halloween glow. This is also mounted in a studio, gym, club, wedding, birthday party, churches, museums, and many more.
It also features a 360-degree adjustable bracket. This means to say easy positioning and easy set up on the floor and the wall.
Chauvet 4Bar
This lighting solution is perfect to use among mobile entertainers. This is designed to offer ultra-convenience. This features wireless footswitch, tripod, including carrying bags. This thereby allows you to tear it down and set it up in just a few minutes.
This promises versatility and ease that can reach up to higher levels. This provides a stage or a room with four individual and adjustable heads. A synchronized and large light show is then created by the fixtures in slave or master mode. This comes with built-in, easy-to-access, and automated programs. This also features static colors including automated programs.
Qoolife Submersible
This submersible light is used with the triple-A batteries. This is also battery-operated, submersible, and dimming. This comes with an IR kind of remote control and an on and off feature. This is super bright and builds in LED light. This turns a stage into an exciting and beautiful centerpiece.
Plus, this is valuable to use for event designs. This acts up to be multi-purpose. This is used by many for an event or party illumination, outdoor and indoor, accent lighting, and home accent lighting.
One more thing is that it is adjustable to sixteen kinds of colors of blue, green, red, purple, yellow, white, and many more colors. This best applies to disco, stage, jewelry stores, shopping malls, and many more.
Our Top 6 Products
Below are our top 6 stage lights that you might want to consider in mind.
Pros
Has its brighter and more vivid colors
Less expensive light
Works great
Cons
Editor's Rating: This received a rating of 4.5 out of 5 stars for the reason that it is a good choice of stage light in a package of seven-LEDs. It comes with excellent features like a wireless RF type of remote, menu and a digital display, and ease of installation.
Top Choice: 2. GBGS RGBW LED PAR Light
Pros
Perfect to use for DJ parties, weddings, birthdays, rock bands, church sanctuary, and more
Works well for any sort of application
Is bright and is well-built
Cons
Editor's Rating: This is rated as 3.5 out of 5 stars due to it being a nice addition as a LED Light. However, it just had received some negative feedback.
Top Choice: 3. Kebert Par Lights
Pros
Perfect to use for a man cave or a room
Awesome due to its cool and different settings
Amazing value
Cons
Editor's Rating: This is rated 4.5 out of 5 stars because of the super bright light that makes it perfect for church and wedding. This is also, all the more, perfect for Christmas party, DJ gigs, KTV dance, club, bar, and live show.
Top Choice: 4. Missyee Stage Light
Pros
Well-made and superior
Easy to install and carry
Easy to control by a DMX512 controller or IR remote
Cons
Editor's Rating: This is rated 4.6 out of 5 stars because of its excellent features of bright color, low-power kind of consumption, and high brightness. It brings about environmental protection, bigger coverage of lighting, and energy-saving.
Top Choice: 5. OPPSK LED Stage Light
Pros
Quality build
Cool Light
Light in multi-color
Cons
Editor's Rating: This is rated 4.8 out of 5 stars as it makes a perfect option for lighting a wedding church, DJ party, and more. It also comes with professional features like advanced optics, IR remote type of easy control, and powerful LED fixture. And it has none ever recorded negative feedback from a user.
Top Choice: 6. CO-Z LED Stage Lights
Pros
Easy to control
Creates Dynamic and Colorful Space
Comes in multiple modes
Cons
Fixture does not blend well the colors as for the red color
Editor's Rating: This is rated 4.0 out of 5 stars as it makes still a good option for stage lighting effect. This is great for club wedding, festival bar, home party, and church uplighting.
Conclusion
Follow these essential elements for good stage lighting. Keep them in mind so that you get the best performance from them.  Expect it further that unique experience is brought about in the stage. Also, understand stage lighting pursue more of the creative side of lighting. The information cited will essentially make you a great lighting designer. And, consider the top 6 stage lights that we have in store for you!