A bass guitar may not always be in the limelight all the time. Still, there is no question that it is one of the most important musical instruments out there. A bass guitar is likened to a glue which holds all instruments harmoniously, which means that having solid bass support makes a difference in the creation of a hit song, or that of an average one.
If you consider yourself a beginner and want to learn how to play bass guitar quite effectively, browsing through this comprehensive guide will help you. It will not be long until you see that you can finally create a steady groove. Before you realize it, you are on your way to unlocking a marvelous world of music and musical collaboration.
While it is relatively easy to learn the basics of playing bass guitar, commitment is still required to master it. It requires just as much work as with learning other types of instruments, and in learning other skills as well. This is one good reason why it is very important if you have a skilled and qualified teacher to guide you through the way.
Granted that there is no real substitute for actual lessons from a teacher, there are recognized fundamental aspects that can be learned on your own. In this guide, we will discuss these topics so that you can have stood on solid ground while learning to play bass guitar.
Top 5 Bass Guitars
1. Fender Classic Squier Vibe 60's
If you are not familiar with bass guitars and you are told to enter a music store and get the first model that you see, most likely you will consider one from a brand that is already known in the music industry – Fender.
Since this model features the Jazz Bass design, it is not just attractive and appealing, but functional at the same time. Even though it is a low budget option, it does not mean that it compromises the quality of its features. The entire instrument is well put-together quite amazingly. Its nickel-plated hardware is amazingly functional, working, and attached solidly as expected.
It also comes with a familiar offset body, featuring a finish of Daphne Blue glossy polyurethane, making it more striking. The body contours for both front and the rear part is as expected, offering a lower cutaway and easy access to the upper part of its fingerboard that is made out of 20-fret Indian laurel.
In terms of sound playability, it offers a rich, vibrant, and bouncy response that is expected out of a Jazz guitar. Even though it is not plugged into an amp, it still projects proudly and loudly, with a level of resonance and sustains that is expected out of a high-level bass.
When played in fingerstyle, it creates a lively unplugged tone. With a pick added into the formula, the attack and response become clearer.
Pros
Stunningly designed
Affordable price
Amazing playability
Sturdy construction
Cons
Some issues with finishing
2. G&L Tribute Series L-2000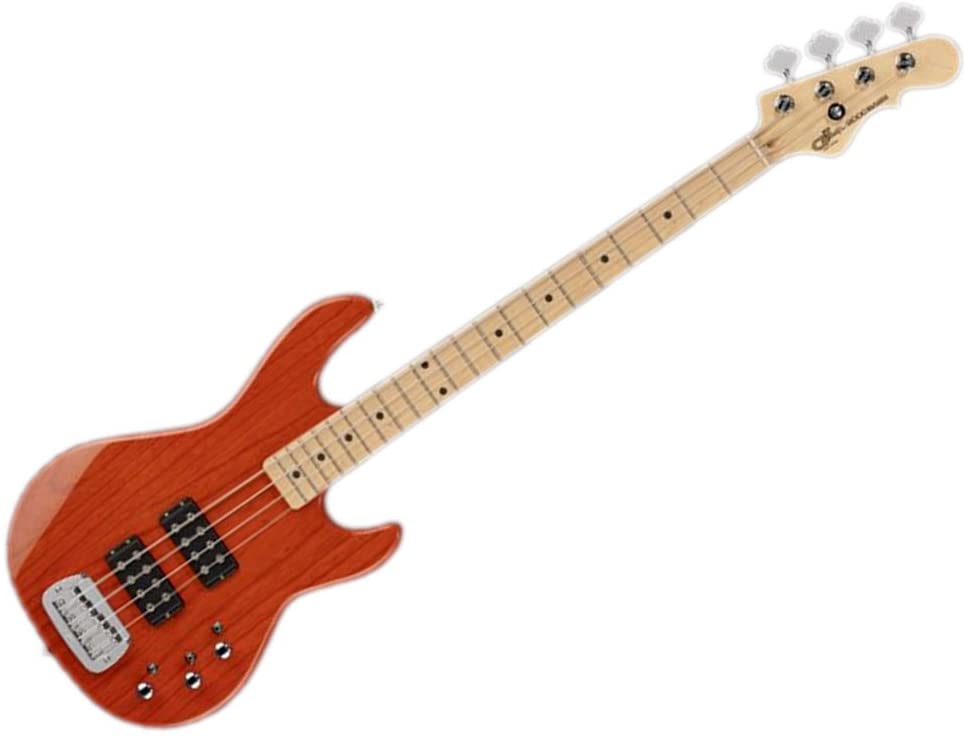 As suggested by the name, this Tribute L-2000 model is a replica of another product that carries the Leo Fender namesake. The first model was introduced in 1980. The L-2000 model, on the other hand, is known for keeping an amazing switching system.
It also features a knob trio, toggle switch trio, along with an interesting set of options in terms of tones. Toggling from one option to another is relatively easy, from active and passive modes, as well as between middle, neck, or both of the humbuckers, and into the parallel or series mode.
For some users, the EQ and switching controls can be challenging at first. Eventually, you can experience a fun and exciting time in looking for that unique, sweet spot. The overall performance of this affordable 4-string makes it well qualified to fall under the workhorse group.
In terms of hardware features, this model comes with interesting ones. For example, it has a saddle-lock bridge which is sturdy, neat, and solid. The tuners are also old-school and open-backed. One thing that will surely catch the attention with this model is the electronics and pickups.
The humbuckers are designed to be overwound using a ceramic core, making them powerful and durable. They also feature individual pole pieces that are adjustable. This is helpful just in case the EQ and switches do not offer enough options.
Pros
Solid and sturdy build
Understated and clean design
Wide tone ranges
Worth the value
Cons
May take some time adjust using the switches  
3. YAMAHA BB435 5-String BB-Series
The BB435 bass guitar from Yamaha exudes a combination of vintage and modern vibe. Just like the other quality musical instruments under this brand, it features a timeless quality, being able to stand on its own. This professional bass is a recommended choice, even though it can be quite pricey.
This is a great musical instrument that is fun and exciting to play, with its dynamic and hassle-free control system. With this instrument, a master tone provides both the needed pickup. You can also easily adjust balance using independent controls for volume.
Even though there are other more detailed options onboard EQ shaping, others are not as elegant as the one offered in this unit. It is a great choice for players who are looking for their entry-level 5-string. It has a tight low B string, with an exceptional overall build.
It features a bolt-on, though its 6 bolt miter neck joint is strong enough that it seems like it is a string-through instrument. This feature is attached to a 45-degree bridge (string-through) which helps in setting this model apart.
Pros
Great looking design
Amazing P/J tones
Great sustain on the lower 5th
Affordable value
Cons
You may want to have an active bass  
4. Fender JMJ Road Worn Mustang
Another Fender offering that made it to our list is the JMJ Road Worn Mustang bass guitar. It is recommended by a famous session player – Justin Meldal Johnsen, who also played with Garbage and Beck, Nine Inch Nails, and others.
What makes this model quite special is its 30-inch scale which makes it amazingly accessible for a little bass. For some, the overall size may be somewhat short, but if you are a beginner of bass guitars, or have just explored your options with this musical instrument, you will notice that it feels incredible.
In terms of sound quality, the Mustang sounds amazing too. There is tone and volume, though there is a lot of range on the tone pot. It also features a Seymour Duncan split-coil which is custom-wound, making it an all-rounder, adding spice to the tone. It also serves as that vintage voice that can hold its own amidst a band.
It also comes with a thumb rest which comes in handy, especially for those who prefer picking up on the neck. This capability makes it feel like using a neck pickup. Added to its features is an attractive black and faded Daphne blue hues in its body.
Pros
Cool bass overall
One quality pickup
Amazingly powerful
Easy to play
Endorsed by famous players
Cons
5. Ibanez SR2450W Premium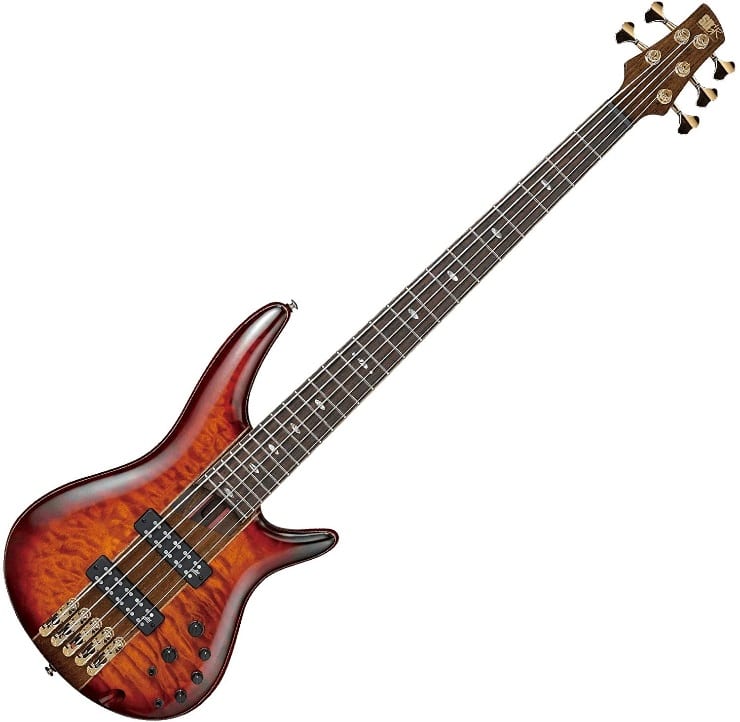 The SR240405W is nothing short of what is expected out of an SR Premium line. It comes in the form of a meticulous bass guitar which is ready to hit the stage as it comes out of the box. It is also complete with features that will allow you to maximize either your studio or stage time performing.
One thing that can be noticed with this bass is that it is playable. It features a whip-quick neck which is easy to play along. The profile of this bass also provides enough compensation for its 45mm nut width, thus being able to pave the way to the fifth string.
This model is an ideal option for any gigging bassist, particularly for those with a bit of an effervescent style. You will enjoy the funk-ready tones available, thanks to the presence of a 3-band EQ, along with a pickup pan that offers a platter of tone options.
Appearance-wise, some say that this bass guitar offers quite a luxurious finish. Some hide it away from local bars. It deserves that luxurious spot in a classy location. When comparing the way how this bass guitar looks with its price, it seems that it is too good to be true because the manufacturer seemed to be serious in packing this model with features that will make any bassist smile.
Pros
Exceptionally sturdy build
Fair price with a lot of basses
Easy to play
Amazing electronics and EQ
Can handle all styles
Cons
Quite heavy on the neck
Too fancy of a finish
How to Play Bass Guitar
There used to be a time when bass guitar was not yet in existence. Then lo and behold, we now see different variations of this very special musical instrument. If you are a learner, there are things that you need to keep in mind:
Each of the 4 strings on a bass guitar has its name AND number.
This means that you need to understand how the notes on each of the strings work. Each of the four strings is tuned similarly as that of the lower four strings found in a standard guitar.
1st string – is the thinnest string, tuned to G. As such, it is called the G string.
2nd string – is tuned to D, thus called the D string.
3rd string – is tuned to A, thus the A string,
4th string – is the thickest string, tuned to E. It is referred to as the low E string.
YouNeed to Understand the Role of the Bass Guitarist
The bass guitar that is part of a band is generally called "the bass line"
Rhythm guitars play chords around the mid area, while lead guitars work on the trebly stuff
A bass guitarist, on the other hand, fills out the lower end, giving that well-rounded quality of sound. Working with the drummer, the bass guitar will produce a rock-solid beat that offers the rhythm of a musical piece.
The person behind a bass guitar in a band often plays the most crucial role. Other players in the group depend on the subtle lead of the bassist. If either the saxophonist or the guitarist makes a mistake, not many will notice. However, if the bassist does, everybody in the band, including the audience will notice that a mistake happened.
Download our Lead Guitar Cheat-Sheet to Make Things Easier
Let's skip the hassle and download our lead guitar cheat-sheet. After all, it could be disorienting and confusing for you to understand which of the scales work for which guitar keys.
Our cheat sheet includes both a key and a scale finder to make things easier for you to start.
Bass Guitar for Beginners – Getting Started
Now let's get started! Let's delve into the basics first.
The very first thing that you have to learn is knowing what 'root notes' are. For one, if the rhythm guitarist says that they are working on G chord, the bass guitarist will match it with a G note. This is what a root note does.
There are two ways in which you can ensure that you are matching the right note for the chord that is given to you. A tip is counting "1 and 2 and 3 and 4, then back again, playing the G note at this pace.
Make sure that your counting is even, avoid slowing down or speeding up along the way. Timing is very important at this point.
There are other things that a beginner has to keep in mind as well to get started. Here are some of them:
• Choosing a Bass Guitar
If you are getting started on this journey, note that there is no need for you to spend a huge amount of money and break your bank just to get a quality instrument. It is often best, even recommended to begin with an entry-level bass guitar, eventually moving into a higher-end model as skills continue to progress.
As you start with your search, it is often best to set a budget first and have a good understanding of the important parts of your guitar. This is quite vital because you will be able to ask good questions upon purchase, and eventually make a wise purchasing decision.
• Neck
The neck of a bass guitar is composed of the fretboard, headstock, as well as an internal truss rod. The latter connects the neck to the body of the instrument.
• Fretboard
Freboards can be made out of different types of wood, including ebody, rosewood, and maple. They also vary in terms of quality. The best ones are easy and smooth to move over your fingers. In terms of design, they are typically arched slightly from one side to another, with the arch serving as the radius.
• Headstock
This part of the bass guitar is the wider portion of the neck where you can find the tuning pegs. These pegs work by adjusting the string tension, including how the pitch is changed to change the tune of the guitar.
• Frets
The frets are embedded right into the fretboard. They look like thin strips of metal. They also divide the neck part of the guitar into increments of half step, determining where every note will be played on the neck.
Even though some bass guitars do not have frets, they need higher-level skills from the player, which is why they are recommended only for players with intermediate to advanced skills. If you are still a beginner, you may want to get one with frets.
• Truss Rod
The truss rod of a bass guitar bridges the neck to the guitar body, thus keeping the neck against twisting. Since bass strings are naturally thicker compared with guitar strings, a lot of pressure is exerted on the neck. The truss rod is adjusted to straighten the neck if it becomes twisted or bowed. This part is also used in adjusting the height of the string.
Types of Beginner-Level Bass Guitars
Bass guitars are available in different variations. This includes a solid body and hollow body bass guitars. The pickups may either be humbucker or single-coil, while the electronics may also come in active or passive form. The basses come with options for 4, 5, or 6 strings.
These variations do not play a huge role in the overall playability of the bass guitar. Smaller basses that are scale length are ideal for younger ones since they are smaller in size.
The best way to choose the right bass guitar for you is to set your budget first, and then visiting a local store. Try playing the options available within your price range, and observe which one feels comfortable for you. Comfort is one of the most important factors that you need to take into consideration. Once you have one, spend time practicing as much as possible.
As you continue learning to play bass guitar, you may then upgrade to a higher-end instrument. For now, though, you may get one with enough electronics, ideally with four strings.
How to Play Bass Guitar: Arpeggios
Arpeggios, despite the fancy connotation attached to this word, simply means individually playing the notes of a chord. As a beginner, you may want to master both the minor and major arpeggios. These are very basic patters that are easy to learn.
The most common arpeggio is the G major.
Note that this pattern is something that you need to play over and over again across different pieces. As such, it would be best to spend time practicing this. As you do so, make sure that you try using all fingers.
Avoid hopping around with fingers that you consider as strong because it works even better if all your fingers are comfortable with the strings. Experts recommend starting with the middle finger right on the 3rd fret note, followed by the index finger on the 2nd fret note, ending with your pinky finger on the 5th fret note.
How to Play Bass Guitar – Exercise
To exercise what you have learned, you can try playing the bass line below. However, you can start altering the sequence by replacing 1 or more G root notes using a different note coming from the arpeggio (G major).
These are just samples from other skilled bass guitarists. You can also experiment and create your bass line. Explore your creative side and try out various ideas. The general rule of thumb, however, is staying in time, while changing the chord at the appropriate chord.
Things to Remember:
When considering the arpeggio pattern, note that this pattern is moveable.
It can be played anywhere and will always serve as a major arpeggio.
The arpeggio tonality will change depending on where you bring it.
Play the arpeggio pattern beginning at the D note. This will then become the D major. The same pattern may be played from the F note, thus the F major. This continues as you work with the other notes.
How to Play Bass Guitar: Slapping and Popping
As you improve your skills in playing bass guitar, you will learn that there are some advanced techniques that you need to learn. Slapping and popping are among them. However, they may be too difficult for a beginner to understand and learn.
Slapping – This technique happens when the string is whacked with the edge of your thumb.
Popping – This technique happens when a string is gripped and twanged from underneath.
Before getting to the actual slapping and popping techniques, it is vital to start with the basics of the bass guitar. This means that you need to be already comfortable with the exercises mentioned earlier before trying these advanced techniques out. Reality dictates that they usually take time to learn.
How to Play Bass Guitar – 3 Tips for Good Bass Playing
1. Try playing along with the song when practicing
One thing to keep in mind is that there is no better way of knowing whether or not you are in the right timing and in tune than actually playing blood together with the original recording. This means that you need to equally hear the bass and the record.
Avoid letting one drown while the other overwhelms the sound as it simply defeats the purpose of the musicality. Remember that playing bass guitar needs a lot of practice. Playing along is an amazing technique to get the most out of practice.
2. When you're not playing, be listening
Since you are finally learning how to play bass guitar, you can make it a practice to pay extra attention to the role that is being done by the bass guitar.
When you listen to music, notice how the bass guitar works harmoniously with other instruments. Is the instrument playing the very same rhythm all the time, or is it playing differently while complimenting the rhythm?
Take time to listen to the root notes, as well as other notes added to the arpeggio. Notice the style of the bassist. Are the bass lines busier than others? Do you notice various music features and bass line types? When you listen, you can even note if the bass guitar becomes more prominent and noticeable on some record compared with others.
A musical ear is what you need to develop if you want to be skilled in playing the bass guitar. When doing so, you can understand what the bass guitar's role is, thus helping you to realize what is expected from you as you continue learning.
3. Learn to read tab carefully and accurately
One of the things that you may be planning to do as you play bass guitar is doing a cover version of a specific song that you like. Reality is that you cannot be wrong in following a tab, provided that you are following the right tab.
For this, you can work on checking the ratings and feedback of tabs found on the internet. This will help in making sure that you are using a good one. If you notice that a sound is off as you play, check to see whether you are on the appropriate fret and string.
What Type of Guitarist Are You?
To learn what type of guitarist you are, spend a few minutes in taking this quiz.
FAQ's to Cover
1. Is bass easier than the guitar?
It is a common guess that since a bass guitar only comes with four strings, it is easier to master. However, this is not always the case. One factor that enters the picture is the musical genre that you want to explore. You also need to factor in the amount of effort that you can commit. This is true because both bass and an ordinary guitar can either be easy or hard, depending on your determination and commitment.
If you simply look at huge names in the bass guitar world, you can end up spending a lifetime practicing and still not be able to reach their standards. With the right expectations, on the other hand, you can have the right mind when learning.
For some beginners, the guitar is easier to play. This is because a bass guitar is generally larger, with thicker strings. Also, newbies generally find it challenging to correctly fret the notes.
Overall, there is no way of telling which one is easier over the other. It depends on your preference, motivation, and overall willingness to learn. 
2. How hard is it to play bass guitar?
Reality dictates that any musical instrument can require several years of hard work and dedication. Whether you are learning how to play bass guitar or a drum, you cannot master one without going through training and practice.
Even though it may seem that the bass guitar is easier to learn than guitar because of its 4 strings, the reality is far from it. Keep in mind that bass guitar serves as the track foundation. It is the leader of the group of instruments when talking about rhythm.
This means that you need to pay particular attention to rhythm to play the bass guitar successfully. Aside from these factors, a bass guitar can be easier to play compared to a regular guitar.
One reason for this is that you can simply lay low. Given that you are playing the right notes, you are doing your job well. You may also discover eventually that a bass guitar can be more challenging to physically play since it is bigger, not to mention having thicker strings. Still, learning is relatively easy. All you need to do is play a few notes and improve your technique gradually.
Conclusion
No doubt learning how to play a musical instrument can turn out to be a challenge. However, with commitment, dedication, and motivation, it can pay dividends that will last a lifetime. Even though it is highly possible to learn how to play bass guitar by yourself, it is still recommended to study with the help of a qualified teacher. Among the things that you can learn from one is avoiding bad habits, getting the needed inspiration, direction, and encouragement that will help you get through different challenges along the way.