Meet Virginia by Train: Lyrics Meaning and Interpretation
Meet Virginia is the second single from American Roots rock band Train's eponymous first album (Train). It was released in October 1999 and went on to reach the number 20 on the Hot 100 chart on Billboard in January 2000. It also attained the 15th spot on the Canadian RPM Top Singles list. The song is about a quirky and mysteriously attractive woman who has managed to capture the imagination of lead singer Pat Monahan. She doesn't fit the bill of a regular girl and her traits and style are but out of place. Yet she has an elegance and a panache that makes her truly unique. Read on to know more about meet Virginia lyrics meaning and interpretation.
Train was originally formed in San Francisco in 1993. It comprised lead singer Pat Monahan, guitarist Rob Hotchkiss, bassist Charlie Colin, drummer Scott Underwood, and guitarist Jimmy Stafford. During the initial years, the band struggled to take off and had to make do with small gigs that included playing in small venues. They had recorded their debut self-titled album in the year 1996. But since the band was unable to secure a deal with any major recording label, they released it independently.
During 1997, they performed opening acts for the American rock band Hootie & the Blowfish. In that same year, they also performed for the Canadian rock band Barenaked Ladies. These opening act performances garnered the attention of Columbia Records, and they re-arranged the tracklist and re-released it in 1998. It is notable that the band had entirely self-financed the recording of the album back in 1996. They had mentioned that it cost them about $25,000 to make. This goes on to show the great confidence that the band had with their debut work.
What does the title mean?
As mentioned earlier, the band frontman Monahan introduces us to an odd but appealing woman whom he wants us all to meet. The lady is named Virginia, and Monahan describes her personality and character traits in detail throughout the song. When asked whom the titular lady in the song meant, Monahan described her as a personification of many traits gathered from many real-life women he knew.
Monahan singled out one chief inspiration as the band's bassist Charlie Colin's girlfriend. It so happened that the band members were playing softball with another band one day. Colin's girlfriend was on her way back from a wedding shower, and she was still attired in a long dress and high heels from that occasion. But without thinking twice, she proceeded to help Pat's team by playing shortstop. This, Pat says inspired him to include a line in the song. What does meet Virginia lyrics meaning and interpretation really symbolize? Read further to learn more.
Verse 1 – What does it mean?
She doesn't own a dress, her hair is always a mess
If you catch her stealin' she won't confess
She's beautiful
Here, in the opening verse, Pat describes Virginia as not a girlish type at all. Girls are known to be excessively fond of dresses and fashion, but Virginia is totally the opposite of this. Regular girls are also very cautious and mindful about their hair and appearance. But, here again, Virginia doesn't conform to this standard at all. But this is what makes her attractive in Pat's eyes.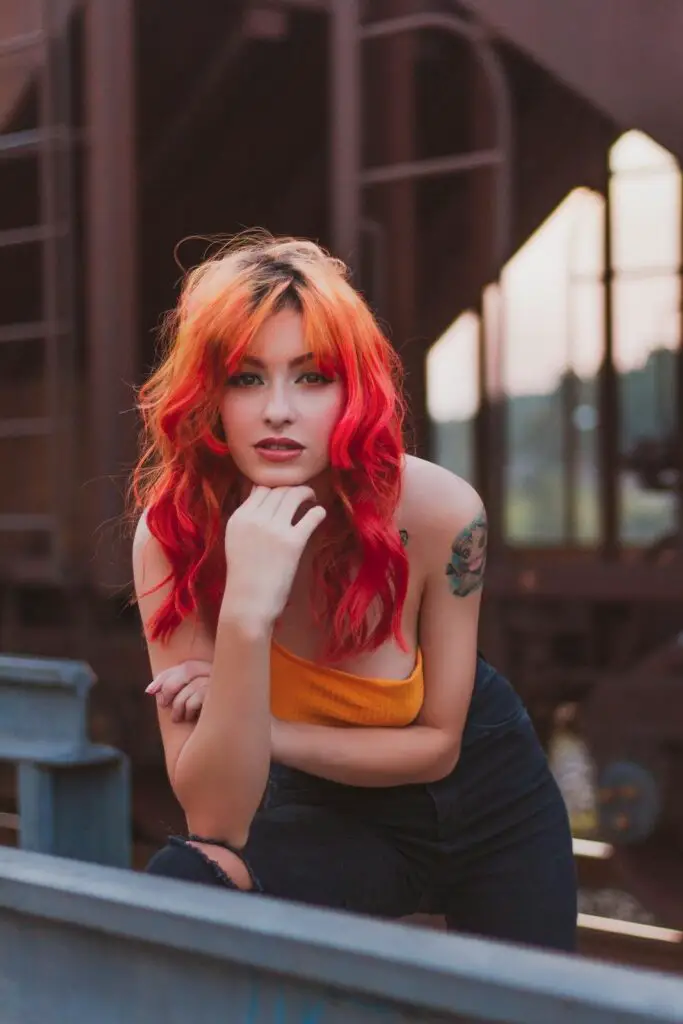 Verse 2 – What does it mean?
Smokes a pack a day, no wait, that's me, but anyway
She doesn't care a thing about that, hey
She thinks I'm beautiful
Meet Virginia
Pat initially declares that she is a smoker but then treads back remembering that it is him who is like that. Though being a non-smoker, she doesn't mind his own smoking in the least bit. And this is what makes him erroneously say that she is a smoker. She is non-judgmental and even approves of his habits, which makes her all the more endearing to him.
Verse 3 – What does it mean?
She never compromises, loves babies and surprises
Wears high heels when she exercises
Ain't that beautiful
Here in verse 3, Pat describes her stubborn nature. Virginia is not someone who will concede defeat if she believes in something. He also mentions her love for babies and life's little surprises. These qualities make her even more lovable. The second line emphasizes her quirky nature. Even while exercising, Virginia does it in style wearing high heels. This is the part where Monahan had been inspired by Colin's girlfriend who played softball wearing high heels.
What does chorus 1 mean?
Well she wants to be the Queen
Then she thinks about her scene
Pulls her hair back as she screams
"I don't really wanna be the Queen"
Being the confident and unique woman she is, Virginia initially thought she wanted to live life royalty-like, to lead a lifestyle that befits a queen. But, then she began picturing the details that ensued a royal lifestyle. She could not digest the mundane routines and conformity to standards and rules that would become inevitable. These were the polar opposites of her aspirations and personality.
She then affirmatively decides that she doesn't want to be like a queen, as she values her individual space and freedom the most.
Verse 4 – What does it mean?
When Daddy wrestles alligators
Mama works on carburetors
And brother is a fine mediator
For the President
In Verse 4, Pat shares an inkling about Virginia's background and upbringing that has made her what she is today. These descriptions of her family members seem to be a bit extreme in the normal sense. Her dad is mentioned as an alligator wrestler, and her mom is a mechanic. They can either be literally taken to be a fact or may serve to be mere metaphors for her unconventional upbringing.
Verse 5 – What does it mean?
And here she is again on the phone
Just like me hates to be alone
We just like to sit at home
And rip on the President
She connects with him on the phone very often whenever she is alone and talks endlessly, which is mostly banter that may involve trivial stuff. In this, she is very similar to the singer himself in not liking to be alone. One of the chat topics mentioned here is criticizing, presumably the President of the United States himself. This should be taken as a jest and not in the literal sense.
What does chorus 2 mean?
Well she wants to live her life
Then she thinks about her life
Pulls her hair back as she screams
"I don't really wanna live this life"
She continues to ponder over her life choices and aspirations. She is someone who really wants to live life to the fullest possible extent and therefore explores her options.
But she then realizes that she is not happy with her present lifestyle. She really wants to change for the better and thus screams she doesn't want to live like this.
What does post-chorus mean?
No mama
No mama
No mama
No mama
The post-chorus section just affirms her dissatisfaction with her current way of life.
Verse 6 – What does it mean?
She only drinks coffee at midnight
When the moment is not right
Her timing is quite
Unusual
Verse 5 again highlights her quirkiness. She is such an oddball who stays awake late and slumbers through the day. She sips coffee in the middle of the night which is a most unusual time for that. And the timings of most of her other activities too are just not normal. Here, her odd choices also emphasize her originality in character and strongly independent nature.
Verse 7 – What does it mean?
You see her confidence is tragic
But her intuition magic
And the shape of her body?
Unusual
Here, the singer declares that though her tastes and preferences are different, she has an instinctive feeling that is truly gifted. She trusts her gut feeling more than cold logic in guiding her life. He goes on to call her physique as one that is unusual and yet really interesting.
What does the bridge mean?
Well, meet Virginia
I can't wait to
Meet Virginia
Yeah yeah hey hey hey
In the bridge section, he expresses his eagerness to meet her again and spend time with her. All the above-mentioned qualities have only made her more attractive to the singer, and he thus desperately misses her presence.
What does the outro mean?
I, I don't really wanna be the queen
I, I don't really wanna be the queen
I, I don't really wanna live this
The singer ends the song with the affirmation in Virginia's mind; I don't want to be queen, I don't want to live like this. Having pondered about her fancied aspirations to live like a queen, Virginia concludes that she doesn't want to sacrifice her freedom and individuality. She is content with the way she is as a person and decides to spend more time and energy on fulfilling her personal aspirations.
Conclusion
So, what does meet Virginia lyrics meaning convey literally? The singer here is apparently in total awe of his interest Virginia. She may not be someone who is normal in the social sense of the word, and her tastes and traits might be literally off track. But it is these qualities that exactly make her endearing to the singer. And he only wants her all the more for it. Hope all your queries regarding meet Virginia lyrics meaning and interpretation are answered.