Do you like to master your ukulele, but you feel discouraged because you think your ability is not yet enough? You want to attend some learning sessions, but you cannot find a schedule that would suit your time? Well, the best sites for online ukulele lessons in 2020 can be very helpful for you.
Choosing the best site for ukulele lessons that can effectively teach you how to play ukulele swiftly can be daunting. Several online ukulele lessons provide impressive ukulele training courses and classes for both advanced and beginners.
The idea is to get a program that complements the manner of playing you intend to learn and offers the kind of lessons that are suitable for your style. Certain training sites provide self-contained videos, and some offer videos with chord sheets and tabs for you to learn along. 
That is the reason why we came up with this review. Whether it is your first time to learn ukulele or wanting to learn another song, there are best sites out there that can help you enhance your skills.
List of Best Sites for Online Ukulele Lessons 
So, you have bought your very first ukulele instrument, and you are excited to bring your playing into the next level. Regardless of your skill level – whether you are a beginner or someone with experience, the best online ukulele lessons are very reachable. These sites will allow you to grasp your learnings according to your desired pace, and they will certainly help you enhance your technique as you are doing a pleasant and productive practice session.
However, there are plenty of sites that offer online ukulele lessons. To give you an idea about the best sites to learn from, here are the best sites for online ukulele lessons in 2020:
1. Uke Like The Pros – Best Choice
Skillful instructor
Great video quality
Impressive course selection
The 'Uke Like the Pros' has been present in the industry for quite a while now. It encourages a vivid, accessible method of teaching and intended courses. Different from other related websites, the 'Uke Like the Pros' grants its students so much adaptability with their available courses. 
Terry Carter, the instructor of this site, is a skillful musician who happened to with some of the most popular and highly-recognized musicians and bands like Josh Groban and Weezer. His experience in teaching music can never be discounted as he has been teaching for more than 25 years already.
The lessons are demonstrated in great video quality. People who have tried getting a lesson on this site can tell that it carries the best online platform for ukulele lessons. The lessons are definite, to the point, and easy to understand. Individual lessons are conducted with a natural flow, which makes it more interesting for the students.
You have the option to either pay for only a particular course that interests you or pay an annual or monthly membership to become a premium member. The pricing it offers is relatively reasonable for what you acquire, and it helps students from different levels of expertise, by giving them the advantage of flexibility.
If you are new to the lesson, you can avail of an annual or monthly membership, or avail the 'Beginning Ukulele Bootcamp' course. However, if you consider yourself to be in advance level, it would be more practical that you only pay for certain courses that are tailor-made towards individuals with expertise that is similar to yours. You can search for committed courses on music reading, chord progressions, fingerstyle playing, and more. 
Editor's Rating: 4.5
2. Ukulele Tricks – Budget-friendly Lesson Packs
Free starter lessons
Plenty of free resources
Affordable lesson packs
Ukulele Tricks is impressive support for every individual. This site is considered to be one of the best sites for online ukulele lessons for beginners – thanks to the starter pack that comes for free. 
This site has been around for several years already. Brett McQueen founded it, and he is also the instructor. Nowadays, there is plenty of support available for both advanced and intermediate players, with designated lesson packs that disintegrate the concepts into particular areas like jazz, strumming, playing the blues, fingerpicking, bluegrass, and more.
Lessons here are displayed in HD. They have an area for discussion, printable worksheets that give prominence to charts, chords, and more. Once you have bought a lesson pack, you will enjoy lifetime access to it at any time. There is no corresponding expiration date.
Everyone gets an entry to the McQueen's blog, ukulele tuner, and the online chord library. 
 Editor's Rating: 4.0
3. Ukulele Buddy – Simplest Site to Navigate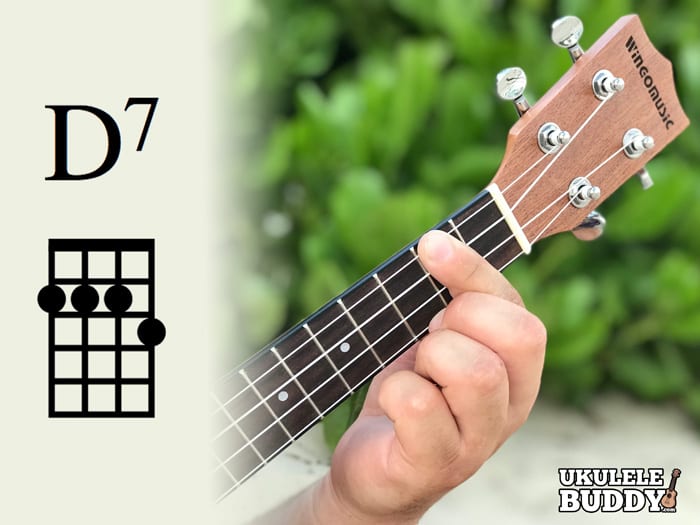 Beginner-friendly
Available offline and online materials
Impressive curriculum
Ukulele Buddy is the innovation of Mitch Chang and JP Allen, two skillful musicians that can teach individuals who are musically tested. The site is very friendly to visitors, and it is also easy to navigate. Simultaneously, simplicity continues to the substantive curriculum.
The site promotes itself to be "The Easy Way to Learn Ukulele". They say that its customers can anticipate (1) Fun, (2) To easily acquire the tricks of learning the songs they adore, and (3) Acquire the skills that will equip them to play with other skilled musicians.  
The site offers lessons that are friendly to beginners. These lessons are perfect for people who are trying their first encounter with ukulele and have no previous experiences on musical instruments. Some lessons are meant to last for 15 minutes. Nonetheless, even the lengthiest videos still offer on-point discussion and provide all-inclusive explanations of notes, chords, fingering strategies, strumming patterns, and more.
The guides are demonstrated in an interesting approach. Mitch Chang and JP Allen are both charismatic and have no difficulty in pointing out even the easiest concepts. The first several lessons are very elemental but demonstrated in a manner that delivers the information easy and fast to understand.
Keeping the interest of the students is a considerable point of priority of Ukulele Buddy. This is the reason why the site gets a lot of favorable reviews from its customers. The lessons library may not be as comprehensive as the more costly platforms. However, the excellent production quality and atmosphere are essential compositions.
 Editor's Rating: 4.0
4. ArtistWorks Ukulele Lessons – Best Musical Theory Workshop
Interactive instructors
Has more than 100 lessons
Available slow-motion on videos
Musical theory workshop
ArtistWorks Ukulele Lessons is one of the biggest online lesson sites. They do not only provide lessons for ukulele but also introduce lessons for voice, drums, guitars, and other instruments. That is one of the leading advantages of their program. Once you register, you get admission to plenty of various instrument lessons. 
While integrating some of the features and technology present in other sites, the lesson format of ArtistWorks is more conventional. Moreover, it densely depends on what can be labeled as the rite of personality. 
The lessons in this site are taught by renowned ukulele musicians and players. They deliver an impressive job of conspiring with skillful musicians to create teaching courses. The course for ukulele has more than 2,000 video lessons that comprised interspersed tabs, so you can easily follow along. They also offer more than 100 songs for you to get acquainted with. 
Another fundamental advantage of ArtistWorks is that they provide personal one on one lessons with the instructor. You may also maximize their online community to get ideas from other players coming from different skill levels. 
Ukulele lessons are broken into four categories – beginner, intermediate, advanced, and some duets made by the instructors Craig Chee and Sarah Maisel. All in all, there are 189 lessons available on the site. Lesson content happens to concentrate on elemental techniques as well as musical theory as it covers to particular songs. In that manner, ArtistWorks is considerably bounded as contrasted to other available courses that provide song-particular tutorials throughout many genres and permit students to swiftly learn and familiarize the songs they like.
The lessons on the site are highly recommended to all players. It educates you on the elemental parts, although it also has sufficient confronting instruction to keep the advanced and intermediate players developing.
 Editor's Rating: 4.0
5. Learning Ukulele with Curt – Most Organized Lesson Library
Plenty of resources
Very organized lesson library
Excellent, skillful instructor
Great priority on music theory
LearningUkulele.com was organized by Curt Sheller, a prominent author, teacher, and ukulele player. The lesson program is packed with teaching resources and special features that other sites do not offer.
One of the remarkable features is the daily chord. Each day, there is a recommended chord and leading lesson that aims to teach you how to play it and how to integrate it into songs. They also offer more than 230 comprehensive video lessons, play-along songs, and practice book downloads.
The instructors are skillful teachers and players who also provide private lessons if you like them. It is an impressive addition that not many other sites offer. Although it is quite hard to navigate, it is packed with brilliant resources and will guide you on how to play quickly and enhance your skills.
 Editor's Rating: 4.0
6. Rocket Ukulele Online Ukulele Lessons – Most Useful for Learning through Ear 
Huge community
Comprehensive song library
Software tools
Useful for learning through ear
Rocket Ukulele is described to be spontaneous, progressive, and fail-proof. The website brags that its students can gain an exemplary skill in just a matter of 30 days through their online program. And when they say exemplary skill, they mean it. 
Different from other ukulele courses, if the student has the fundamentals, the advanced lessons daringly switch concentration apart from grasping techniques to strum several basic chords or pull out some simple songs. Students are bolstered to become real ukulele musicians, with sufficient skill and aptitude to commence on a course as a musician once finishing the program.
The site promotes the utilization of specially-designed instructional techniques that dwindle the learning curve by around 10 percent. Its approach comprises making the students learn how to read and write some musical notation and knock into essential musical instincts while improving the ability to play with the ear.
The Rocket Ukulele system gives students the capability to learn based on their desired pace without sensing any pressure, ability to refrain the plague of committing mistakes, and performs away with dull, monotonous practice. Subscribers may also engage in a developing online community committed to ukulele enthusiasts where they can grasp and impart their experiences to widen the base of their knowledge.
 Editor's Rating: 3.0
7. Fender Play – Best Site for Beginners
Beginner-friendly
Has multiple instructors
Impressive production quality
Huge playlist
Fender Play can be accessed through an app or its site. It includes bass guitar, guitar, and ukulele. The ukulele concentrates more on assisting you to learn famous Ukulele songs rather than teaching the music theory. Although it has a somewhat new platform, Fender Play has rapidly turned to be one of the famous apps of its line. 
It purveys to a huge audience – mostly composed of individuals who do not have the time to look into the particulars of the instrument or intricate music theory. People who need to learn some basics and learn some pointers and teachings on how to play some interesting songs.
The videos have incredible production value. You have the option to watch, stop, and replay them whenever you like. But what makes them excel is acquiring access to many camera angles. It will let you view exactly how to strum, how to hold cords, how solid to pluck the strings, and how to execute everything in many ways.
With Fender Play, the content is gathered by many instructors. Each instructor has a style of teaching and level of expertise. It implies that you get the chance to learn from the skills of more instructors while also getting an avenue to a huge library of tracks and lessons. 
Fender Play can be availed on a monthly subscription plan. It gives you the chance to stop your subscription once you feel dissatisfied. The lessons are uniquely formed compared to those that are commonly seen in other sites. Although plenty of content is very convenient for beginners, you will have the option to personalize your lesson plans. Recommendations are given based on the level of your skills, along with other factors. However, you can carry out what you like and whenever you like for the most portion.
 Editor's Rating: 3.0
Things to Consider When Choosing Online Sites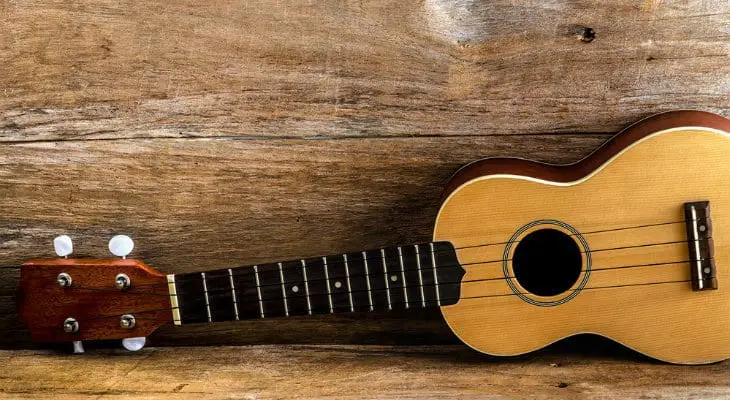 A player of any kind of instrument can only prosper under the best guidance and the most suitable learning environment. If the instructor is not available for a one-on-one session, then learning how to play ukulele will not happen swiftly.
When choosing the best sites for online ukulele lessons, here are some of the considerations that you need to assess.
• The commitment of the Instructor
There is an evident distinction between a free online ukulele lesson and those that need fees. Naturally, the paid sites are more devoted to your progress. There are more motivated to provide good content, to pick up things gradually, and to be detailed in their demonstrations of music technique and theory.
Similar to the other phases of your life, spending money for your ukulele lessons is similar to shelling out money to avail of a service. If someone becomes aware that he or she can earn money from providing you lessons, they will most likely do excellent work for it. Why is that? Because learning ukulele will take time and even require a more extensive period to master it. 
Committed instructors can reach thousands of learners. It encourages them to expand their lessons, develop appealing content that fascinates everyone. 
• Abundant Content
With a committed site for online ukulele lessons comes a very large media library. Paid sites commonly feature comprehensive lessons for learners of all levels. Free sites may sometimes offer you brief lessons demonstrated through a video that you may have to rewind, replay, and stop many times to comprehend and practice a fingering or strumming technique.
It can be relatively annoying and even disappointing for beginners, particularly the little ones. The benefit of paid sites is that these kinds of videos can be broken down into shorter progressive tutorials. Songs are likely to have an intro, bridge, rhythm, solo, chorus, and outro parts.
You may also look for features that modify the pace of the video or just play the backing track. You may notice that free sites try to refrain from offering tabs. Why is that? Because it requires time to gather the tabs, and practically speaking, no one likes to render service for free.
On paid sites, you do not only get video tutorials. You also get downloadable content like musical sheets, mp3 backing tracks, tabs, and more.
• Incentives
There are two common incentives available on paid sites. The first one is through the additional content that comes along in the online lessons. The second one is something not realized by many people. How devoted are you in grasping lessons from an unpaid Youtube channel compared to learning from a paid site for online ukulele lessons?
You will lose nothing if you suddenly opt to quit on your ukulele (except your investment of buying your instrument) after some weeks of learning song tutorials from Youtube. However, shifting to paid lessons urges you the determination to do more and try harder.
Frequently Asked Questions
Where can I learn ukulele online?
There is plenty of online ukulele lessons where you can learn. We have featured some of the best sites for online ukulele lessons. Find out what they offer and see whether any of them suits you best.
How easy is it to play ukulele for beginners?
Learning to play the ukulele for beginners may not be as easy and fast. Again, the process of learning this instrument may take time and may require a lot of patience. You need to equip yourself with the right ukulele and, at the same time, value the importance of practice. You may dedicate at least 10 to 15 minutes daily to intensify the calluses. 
If you only have a limited time to carry out those exercises, then utilize it. Your fingers will eventually grasp the movement associated with your ukulele.
Is the ukulele easy to learn?
Ukulele is not so complicated. Beginners may find it very challenging to grasp, but with dedication and constant practice, you will eventually learn it. Ukulele is not a usual instrument to play. Therefore, you should commit to discover and learn the basics of playing this instrument.
How much does a good ukulele cost?
There are plenty of popular ukulele brands in the market. Their cost may vary depending on their features and quality. Simply narrow down your choices and make sure you are picking a good ukulele. 
What kind of ukulele should I buy?
The best kind of ukulele for you relies on the level of your playing, the music you like to play, and the sound that you prefer. Hence, you should be definite about your preferences to make sure that your newly bought ukulele will give you your needs. 
Conclusion
Learning to play any musical instrument does not happen in an instant – the process will take time. The fascinating thing is that taking online ukulele lessons will help you grasp the process at your desired momentum. They say that time is somehow associated with money. Therefore, if you are doing the ukulele as a pleasurable pastime, grasping the strategies and songs will not happen fast and easy.
Adhering to the assembled lessons designed in the most appropriate online ukulele lessons for neophytes can create a progression from a beginner to a skilled student a lot more delightful and pleasant. It justifies the fact of the increasing streams of fascinated musicians coming out from nowhere.  Considering the features and restrictions of the sites that are featured above, it would be fair to tell that the Uke Like the Pros is the best site for online ukulele lessons in 2020. It has everything that you need – a skilled instructor, useful courses, and impressive video quality. Next on the rank is the Ukulele Tricks.