Musical instruments are fun to learn. Whether it is for leisure that you wish to learn one or to make it your profession, there are several choices of instruments. Knowing which instrument is right for you would be the first step.
Benefits of learning a musical instrument
Other than the evident potential of getting you a position in a band or letting you become a music teacher, here are a few benefits of learning an instrument. The best part is that it is never too early or too late to start an instrument. There are classes for people of all age groups.
Playing instruments stimulate your cognitive functions
Better social life – you get to meet new people and find a great band to play
Melt stress away
Gives you a confidence boost
Strengthens your memory
Improves your creativity
With enough said about why you should learn an instrument, where do you begin? Picking what works well for you would be the critical first step to learning music.
Based on the general deciding factors
1. Consider what makes you tick
Personal interest should be the ultimate driving factor. Only when you pick an instrument that you would really love to play, you would be ready to persevere in mastering it. There are some instruments that look fancy, but you might not really be thrilled by the sound of them. There could be other instruments that you have never seen for real but fallen in love with their sound. Start paying attention to the details of the music. This will help you find what you love.
2. Work based on the genre
If you still have your doubts, narrow down your choices based on your favorite music genre. Some people do not know anything about musical instruments and how to play them but still want to learn something new, and it is perfectly alright.
If you are a die-hard rock music fan, then drums and electric guitars are the instruments found predominantly in this genre. A bass guitar, harmonica, mandolin, and piano are some great choices for people who love blues. A folk music lover would be able to better appreciate classic choices like mandolin, banjo, accordion, viola, violin, or even a tin whistle.
For those who love versatility, the guitar makes a lovely start and so does a piano. These are instruments that offer a wide range of sounds. These are creatively integrated into various music genres.
3. What is popular vs. what is available
What drove you to the decision of learning an instrument now will also have a role to play. There might be some popular musical instrument that people around you have been talking about. Or you might have recently noticed a particular instrument being popularly used in various live concerts. If you would like to pick something that is among the most popular instruments in the world, then you could choose from –
Piano
Guitar
Drums
Flute
Violin
The benefit of choosing an instrument that is very popular is that there would be several bands and ensembles where you get to play in the future. This would be a particularly good choice for young learners aspiring to make a career in music. But with the popularity of these instruments comes the fact that there would be too many artists available. So, you would have to really shine to stand out and move ahead in your career.
Learning the less popular instruments gives you a chance to explore something new. There would be fewer people who already mastered the instruments in your area. This would put you in high demand in the local ensembles. But the downside is that it might be difficult to find good teachers for these less popular instruments.
Try before you decide
After a basic level of filtering, you would have a handful of instruments to consider. Visit a music store to try them. Some instruments sound better and make you feel better when you actually play them. You might also feel an instant connection with some instruments. If you are lucky you might also find music call-outs or trial classes nearby. You would then be able to try out the various instruments. This would help you be double sure that you would actually be able to handle the chosen instrument in the long run.
Delving deeper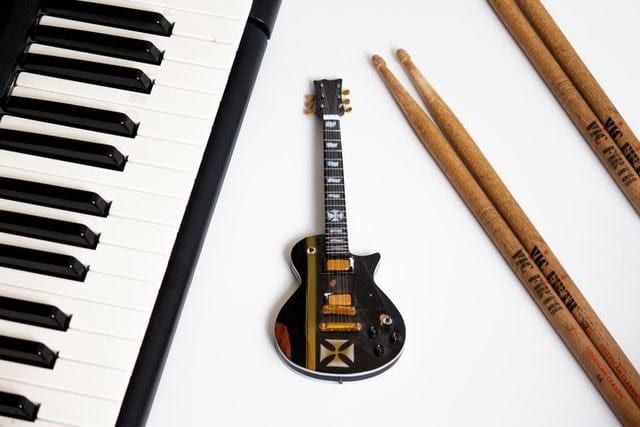 Once you have shortlisted all your options based on the above considerations, there are some technical details to pay attention to. These are based on the size of the instrument, the age of the player, and other aspects.
1. Age
While even the youngest kids could start learning musical instruments, there are some that are physically challenging for the smaller frames to handle. Bassoon, cello, double contrabass, and other such large instruments might be difficult for the little ones to handle. For the teens and beyond, size should not be a matter. But consider the physical strain involved and gauge whether you would be able to handle it.
2. Physical challenges
People who wear braces might find woodwind instruments to be challenging. Brass instruments like French horns might also be strenuous. Violin, for example, has to be held on the shoulder for an extended period of time. This requires good posture and stamina. Some instruments like guitar and drums can be played either sitting or standing. These are more versatile for seniors who are looking to learn an instrument. Consider the way the instrument is played and you can pick one that fits your physique.
Path less taken
For the adventure seekers who already know a couple of instruments, there are still some exotic ones worth trying.
Unique choices like the theremin, for example, are great to consider. This is considered to be one of the most complicated instruments to learn. This is one of its kind as you would make no physical contact with the instrument when you play it.
Jews Harp and Djembe are also not very common. Picking instruments like these would draw the crowd to you. You would be able to start classes in your locality, considering the rarity of these instruments. There are more such uncommon ones that were once popular in different regions but eventually forgotten. These would also be great choices for people who love to preserve the musical heritage of their region.
For leisure – portability
When it is for leisure that you are learning an instrument, portability is an added trait. If you can easily pack your instrument and carry it with you while you travel, it would be great. For this, you would need smaller instruments that are easy to pack. Drum kits, guitars, and other such instruments might be difficult to transport. This is where the smaller instruments like ukulele, kalimba, Boomwhackers, harmonica, and flute come in handy.
Budget considerations
Some instruments are more expensive than others, like the piano for example. You can get a keyboard synthesizer in its place. There is also the expense incurred in music classes or online music lessons. If you are considering a serious career, you should be clear about your budget.
You should be able to find a musical instrument that fits in your budget. From buying the instrument to taking care of repairs and maintenance later, there are other costs involved. The objective of choosing to learn a musical instrument would help you take a final call on the budget.
If you are unsure about how long you would be pursuing your music classes, you can choose rental instruments. Some music classes also allow you to rent instruments on the spot for the classes. You would not be able to take them home for practice but you would not be spending a huge sum of money upfront. Once you are confident that you would be able to continue learning that instrument you can seek the help of your music teacher to purchase the right one.
If nothing else, learn what is easy
For all those who find it overwhelming to make a decision, it would be better to stick with instruments that are considered to be easy to learn.
Recorder
Ukulele
Harmonica
Bongo
For those who simply want to learn instruments as a hobby, these would make great choices. Even if you do not have much time to spare you would be able to learn them. Taking very little time to learn, these come in handy when you have to play at a party.
A final word
Irrespective of the instrument you choose, make it a point to learn it with love. Even if you are planning to make a serious profession out of it, to be able to actually master it, you should learn to enjoy it. Find the right teacher to help you fall in love with the instrument. Not finding a music class nearby doesn't have to be an excuse anymore. There are virtual classrooms and various apps where you can obtain online tutorials. You can make use of all the online resources to fine-tune your musical instrument skills.