The circus is bright, fun, and entertaining. Aside from the acts, people come for engaging music. Have you ever thought about where circus songs come from? Who made these songs, and why are these perfect for the circus?
We have rounded up 17 of the best circus songs that you may or may have heard before. Some of these songs are popular pop songs or may have inspired by circus themes. Some of these will take you to a place you may have been before, where the smell of popcorn, candied apples, and peanuts are the norm.
1. "The Carny" by Nick Cave And The Bad Seeds (1987)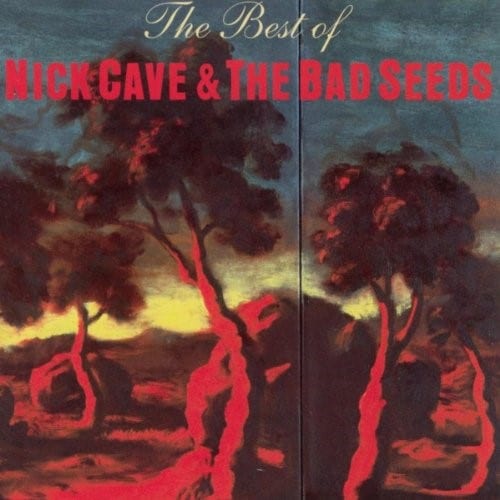 One of the most popular circus songs was "The Carny," composed by Nick Cave and the Bad Seeds as a part of their 1987 album called "Your Funeral, My Trial." This song is long at around eight minutes, and the story is very interesting enough to make a movie!
"The Carny" is all about a carnival worker that mysteriously disappears, and his coworkers were left to keep or dispose of his belongings. Also, the carny's horse named Sorrow met his fate at the end of the song. This simply means that behind the smile and the energy of circus performers is a life that's far from what we can imagine.  
2. "Being For The Benefit Of Mr. Kite!" by The Beatles (1967)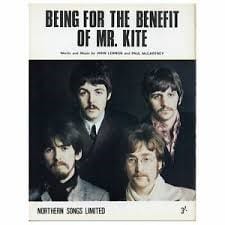 "Sgt. Pepper's Lonely Hearts Club Band" was another success for The Beatles. It was a collection of some of the most psychedelic and imaginative songs that the band has ever recorded. In the middle of this L.P. is the song "Being For The Benefit Of Mr. Kite!" a song that pays homage to the carnival atmosphere.
This song has lyrics that describe the atmosphere of a traveling carnival. You'll be entertained with trampolines and flying trapeze acts and a "hogshead of real fire."  This song is a vibrant musical depiction of "Mr. Kite" and allows you to create your version of the carny. What's "Mr. Kite's" version in your mind?
3. "Tears Of A Clown" by Smokey Robinson And The Miracles (1967)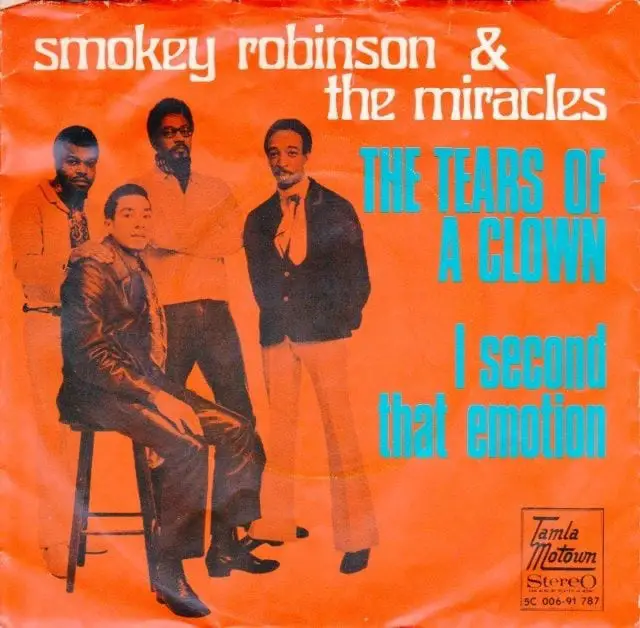 With lyrics like: "Ain't too much sadder than the tears of a clown," again, this song by Smokey Robinson and The Miracles reveals the true life of clowns. We see clowns smiling and performing, but in fact, they who laugh the most have very sad lives.
This song was co-written with Stevie Wonder and has become so popular for Motown after it reached the top of the charts in 1970. Just a few more lyrics like, "Don't let my glad expression give you the wrong impression," and "You're gone, and I'm hurting so bad / Like a clown I pretend to be glad." This was Robinson's ode to his ex-flame.
Also worth mentioning that there's a line in the song that describes the Italian opera Pagliacci, with an angry clown stabbing his wife and her lover as he catches them in the act. Another revelation that even non-clowns can relate to.
4. "Tears Of A Clown" by The (English) Beat (1979)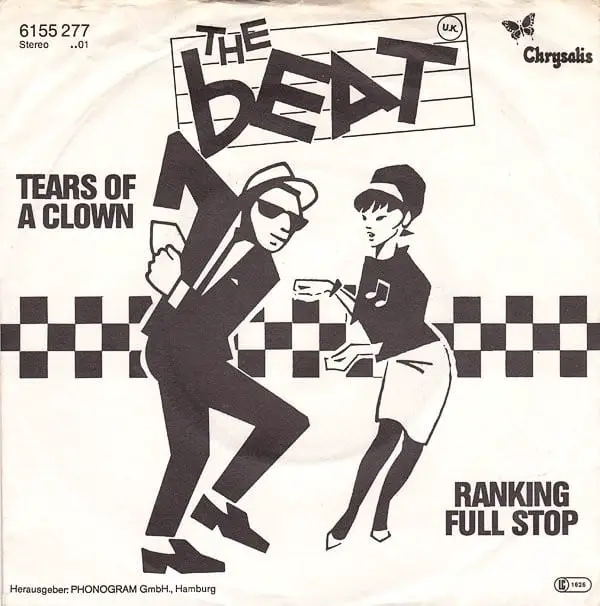 Remember that "Tears Of A Clown" was such a huge hit in the United States and Britain that it has been revised numerous times, and one of these is this very popular up-tempo by The (English) Beat in 1979. This song has that classic circus-like riff as well as space echo with a beat that you'll surely dance to. And still, this song is about understanding how carnies hide pain behind a happy exterior.
5. "The Show Must Go On" by Three Dog Night (1974)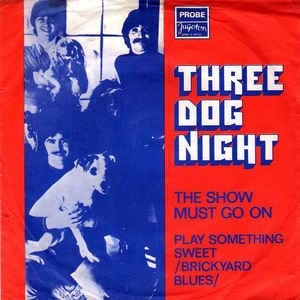 "The Show Must Go On" is a song by Three Dog Night in 1974, and it begins with a slow and sad version of the familiar circus music called "The Entry Of The Gladiators" by Julius Fučik. This circus song is also the setting for an emotional breakdown for the band, as they complain about the travails of life of a band on the road.
This song was often mistaken for "Must Let The Show Go On," because this line was repeatedly sung in the chorus, and this is where the controversy arises. This was once a Leo Sayer song, and he sang this song while dressed as Pierrot, who was the clown from Commedia Dell'Arte. And despite being eager to let the show proceed, the song ended with "I won't let the show go on." Sayer was not happy that Three Dog Night changed the last line to "I must let the show go on."
6. "Circus" by Britney Spears (2008)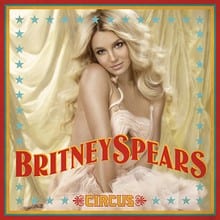 You won't expect a circus song sung by Britney Spears, right? After her publicized "breakdown" more than ten years ago, her 2008 album titled Circus has taken another meaning. From the music video, Britney plays an aggressive ringleader with lines that said: "When I crack that whip, everybody gon' trip just like a circus."
But it's not all wonderful in the life of a ringleader because other parts of the song showed her a little less confident than before. She sang: "Spotlight on me and I'm ready to break,"  which gives you a hint that Britney's circus is not exactly where you want to take your kids this weekend.
7. "Circus" by Tom Waits (2004)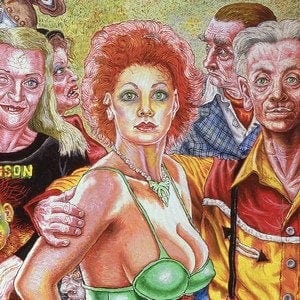 "Circus" by Tom Waits is another circus that you won't like getting lost in. This song was sung by the circus' one-man crazy clown, and he introduces his circus family, such as Horse-Face Ethel, The Queen of the Air, Yodeling Elaine, and Tripod, the orangutan.
Those who appreciate this song agreed with Waits when he described "Circus" like eating electric sugar. It's a song with no lyrics, and thus there's no singing here whatsoever. It's electric spun sugar, or cotton candy drizzled with LSD. And the only way to find out what we're talking about is to listen.
8. "Carnival Song" by Tim Buckley (1967) / "The Night The Carousel Burnt Down" by Todd Rundgren (1972)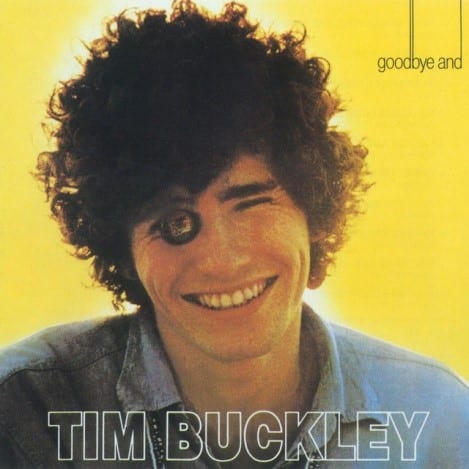 The song by Tim Buckley called "Carnival Song" and Todd Rundgren's "The Night The Carousel Burnt Down" is not about the circus. Each song conjures the circus grounds scene, which instantly transports the listener to an old-style carnival. There are rides, crowds, food, and sounds swirling above your head.
"Carnival Song" combines carnival sounds and melodies with weariness in the Buckley's voice. He sings:  "The circus burns in carnival flames, and for a while, you won't know my name at all."
On the other hand, Rundgren's song came out later but had a livelier tone. Rundgren paints his carnival environment with musical instruments and thus recreates a happier setting. Buckley and Rundgren's songs sound tippy and coincidentally, are in the same key. But no doubt, the two songs represent the real circus experience.
9. 'Entry of the Gladiators' by Julius Fucik (1897)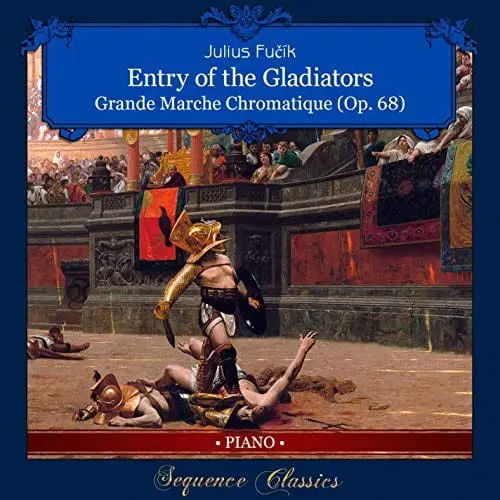 Now for a real circus song. The "Entry of the Gladiators" has been used in many circus opening acts around the world, but it seems no one knows the song's title. Weirdly, it's named this way, but it was composed of what ancient circuses looked like.
Ancient Romans considered circus a battle to the death. A circus was where brutal battles were held, and the loser is thrown in a lion's den. This song seems to work well with past and modern circuses as lions are a part of circuses past and present.
10. 'Powerhouse' by Raymond Scott (1937)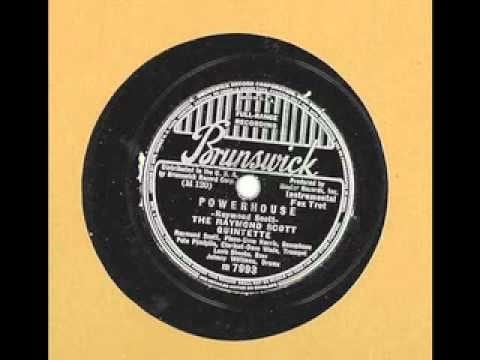 "Powerhouse" was created in 1937 and is an instrumental musical work by Raymond Scott. It is more commonly known as the "assembly line" music that's part of most animated cartoons.  This song premiered in the program called Saturday Night Swing Club in 1937. This song was first recorded by Scott's Quintette along with other song titles. It was commercially distributed along with another song by Scott called "The Toy Trumpet."
The very first-time "Powerhouse" was used in animation was in 1943 by Warner Bros in short by Looney Tunes called "Porky Pig's Feat." It was also featured in more than 40 Warner Bros cartoons with the most popular called "Baby Bottleneck." And the most recent use of "Powerhouse" was in 2017 by the Chapo Trap House with the piece called Call of Cthulhu Tabletop Games series.
11. 'Yakety Sax' by James Q. 'Spider' Rich and Homer 'Boots' Randolph III (1963)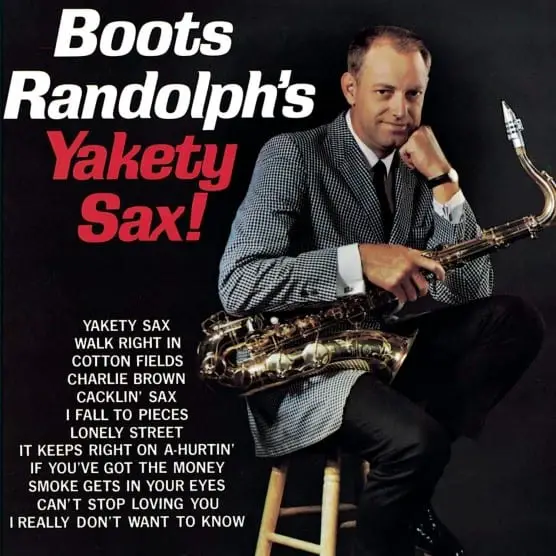 If you watched the classic Benny Hill, then you'll know where this song comes from. "Yakety Sax" is the "Benny Hill Theme," which is also called "Laughing at Others' Disgrace Song." This is known as a pop novelty instrumental, which was popularized in 1963, reaching number 35 in the charts. This happened even before comedian Benny Hill used it as his show's closing theme.
"Yakety Sax" was originally composed for a venue The Armory in Kentucky. In the piece were two bars of "The Girl I Left Behind" and "Entrance of the Gladiators." From the time it was recorded, "Yakety Sax" has been used to accompany humorous situations such as comedic sketches that are fast-paced, time-lapse, and silent chase skits. It's a part of many television shows and movies and continues as one of the more popular circus songs. 
12. 'The Streets of Cairo, or the Poor Little Country Maid' by Sol Bloom (1893)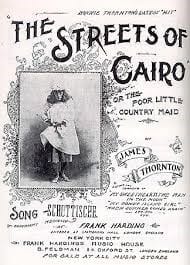 This song pops up whenever you want to refer to anything in the Middle East. Also known as "Arabian riff" or "the snake charmer song," this song has a well-known melody which was published many times during the 19th century.
"The Streets of Cairo" is mostly associated with the hoochie-coochie dance, a form of belly dance. Its original tune was based on an original Arab song, but it remains one of the best circus songs in the 20th century.
13. 'William Tell Overture' by Gioachino Rossini (1829)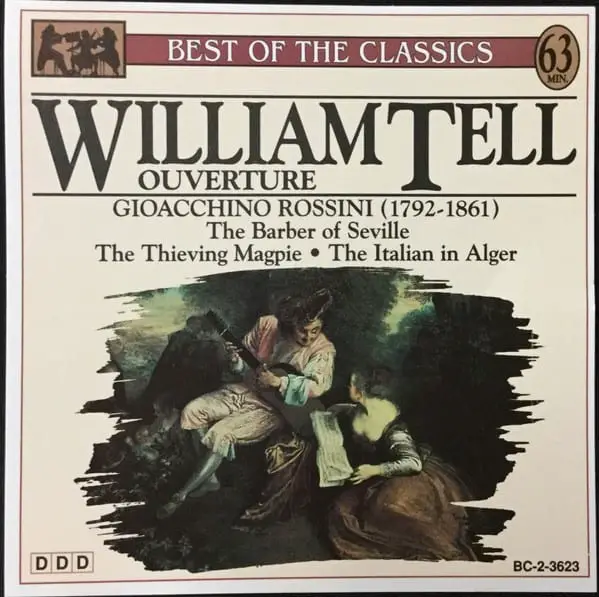 The William Tell Overture was originally called Guillaume Tell. Composed by Gioachino Rossini, this premiered in 1829 and considered one of the last songs in Rossini's operas. This song has been used or at least parts of its song, in classical as well as popular media.
This was the theme for The Lone Ranger in film, T.V., and radio. It is also the theme music for The Adventures of William Tell on British TV. It was also adapted as a part of The Lone Ranger in the U.K. and was rearranged as a march in the U.S.
The overture of the song lasts for 12 minutes and creates a picturesque life in the Swiss Alps. The song was played using an orchestra of instruments including a flute, oboe, bassoons, clarinets, piccolo, French horns, and trumpets, to name a few.
14. 'Morning Mood' by Edvard Grieg (1875)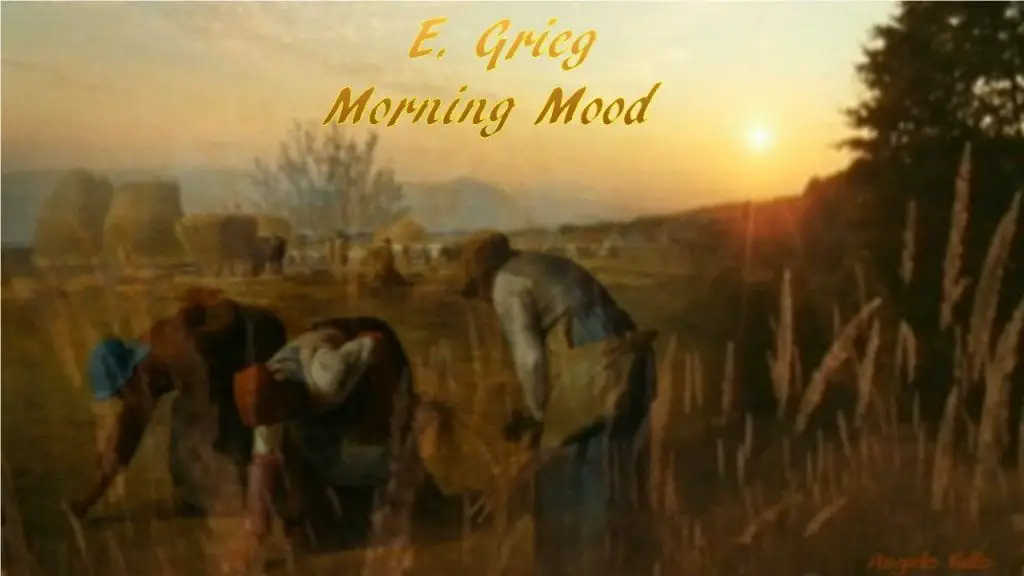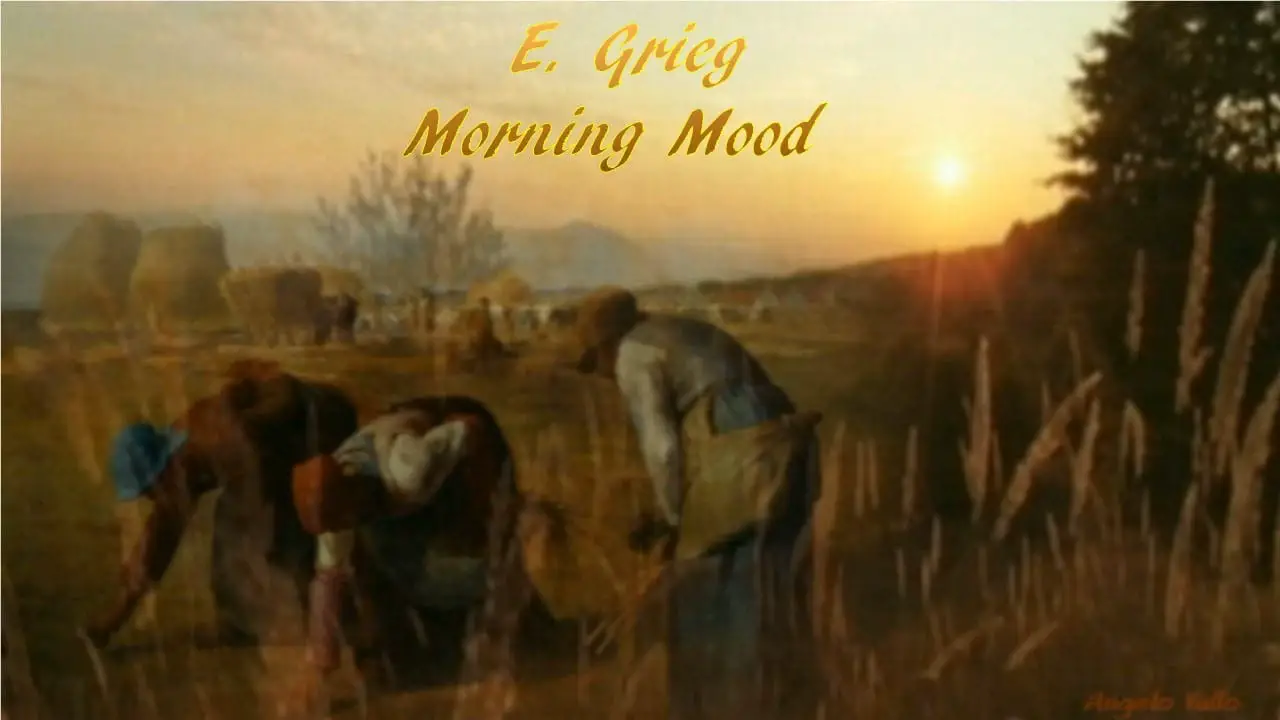 "Morning Mood" is a song that's part of Edvard Grieg's "Peer Gynt." This was written in 1875 as music to Henrik Ibsen's Morning Wood. Also known as the "universal wake-up call" for birds and people who just don't want to wake up yet. The song was played using a variety of instruments, including clarinets, oboes, horns, trumpets, timpani, string, and bassoons. 
"Morning Wood" depicts the beauty of the rising sun. It is not widely known in the original setting, but its Scandinavian origins are the most common scene in the mind of listeners.
15. 'Sabre Dance' by Aram Khachaturian (1942)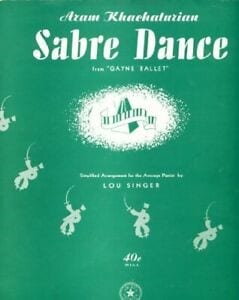 "Sabre Dance" is a part of the final act in Aram Khachaturian's Gayane. The dancers here display their amazing skills with the sabre. There is very little information as to the history of the song but is known as one of the signature work of 20th-century music. The "Sabre Dance" is recognized as a circus song and is used by figure skaters as well. Music experts describe this song as one of the most familiar and catchiest and most interesting tunes. The piece has been enhanced and used as an accompaniment to traveling circuses on T.V. shows.
16. '1812 Overture' by Pyotr Tchaikovsky (1812)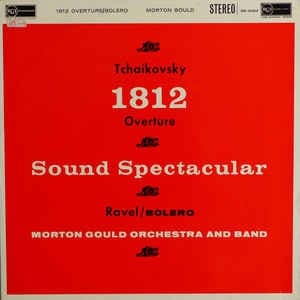 "The Year 1812 Solemn Overture" is classified as a festival overture in E flat major known as "1812 Overture." This is a concert overture created in 1880 by Pyotr Ilyich Tchaikovsky. The Russian composer had written this song to commemorate the Russian defense against Napoleon when he invaded Grande Armee in the year 1812.
This overture was first played in Moscow in 1882 by an orchestra under a tent along the Cathedral of Christ the Saviour, which was then still unfinished. This Cathedral also memorialized Russia's defense in 1812.
This is a 15-minute overture known for its awesome climax with a volley of cannon fire, chimes, and brass finale. It is a very common accompaniment to fireworks displays in the U.S. during Independence Day. The 1812 Overture is one of Tchaikovsky's very popular works along with The Nutcracker, Swan Lake, and The Sleeping Beauty.
And for people who just want to listen to live cannon fire, the 1812 Overture must be the song you're looking for. Check out the most recognizable part with cannons starting at the 14-minute mark.
17. 'Johnny I Hardly Knew Ya' by Joseph B. Geoghegan (1867)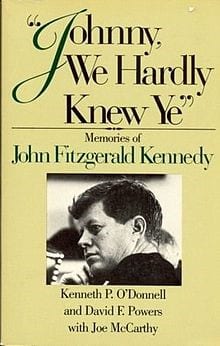 Nowadays, the song "Johnny We Hardly Knew Ya" is used in humorous situations, but actuality has a strong anti-war theme. This was about the hardships that war veterans need to bear and often leading to drastic situations.
The song is all about a lady who finds her soldier- husband disfigured and incapacitated because of the war. The soldier had to panhandle to sustain himself and his young family.
Where the song originated from is dubious, but experts say that it's widely a traditional Irish Folk tune. It was initially published by an Englishman named Joseph B. Geoghegan. But before this, it was also published in the U.S. with different lyrics and named "When Johnny Comes Marching Home." But anyway, this song is a circus song worth playing over and over again. 
Information about circus music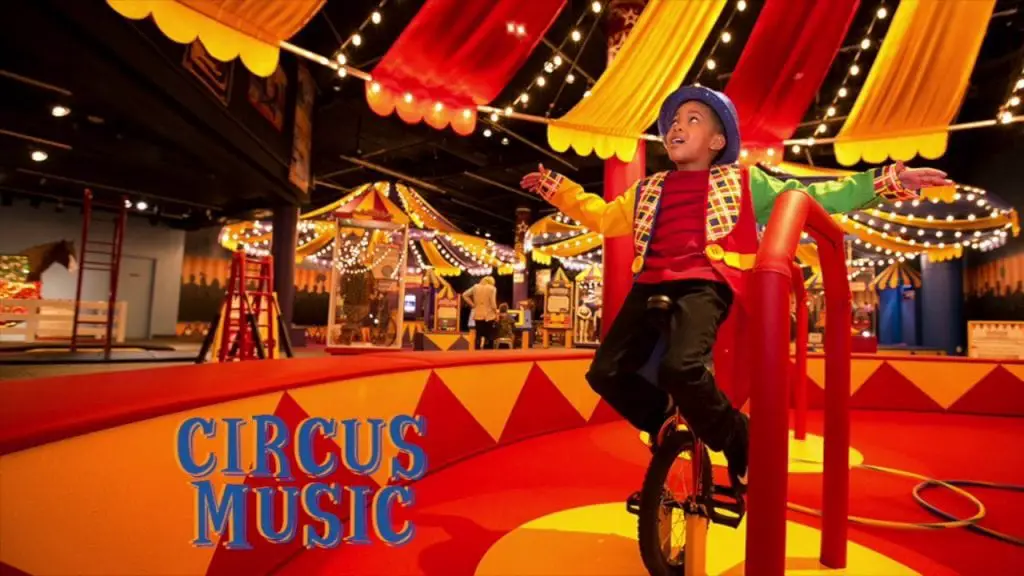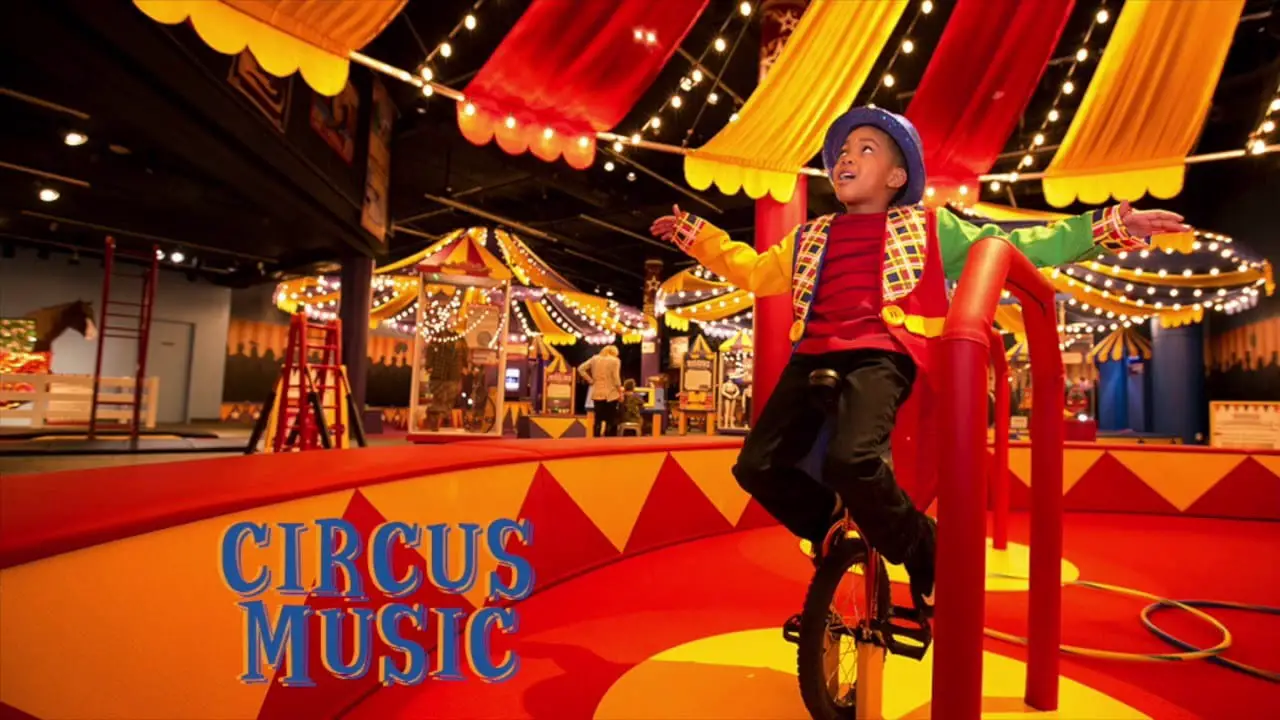 Circus music or carnival music is any kind of music played to accompany performances in a circus. Circus music is also a song that's written to emulate the general style of a circus. There is also popular music arranged to be played by the circus band and songs like waltzes, foxtrots, and many other dances.
History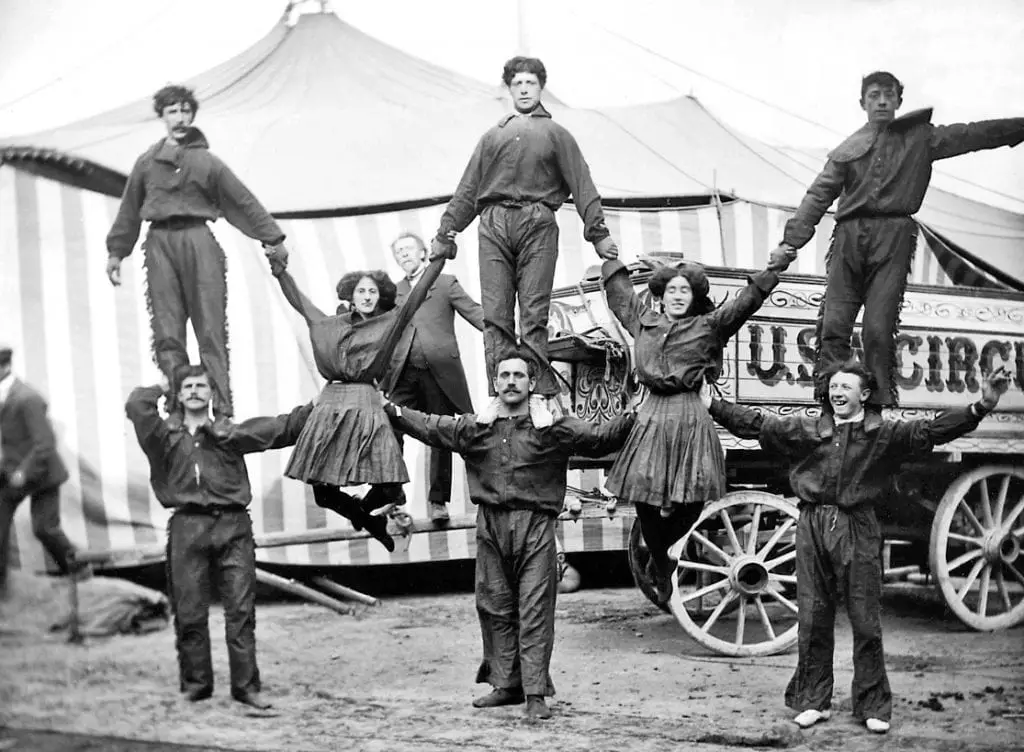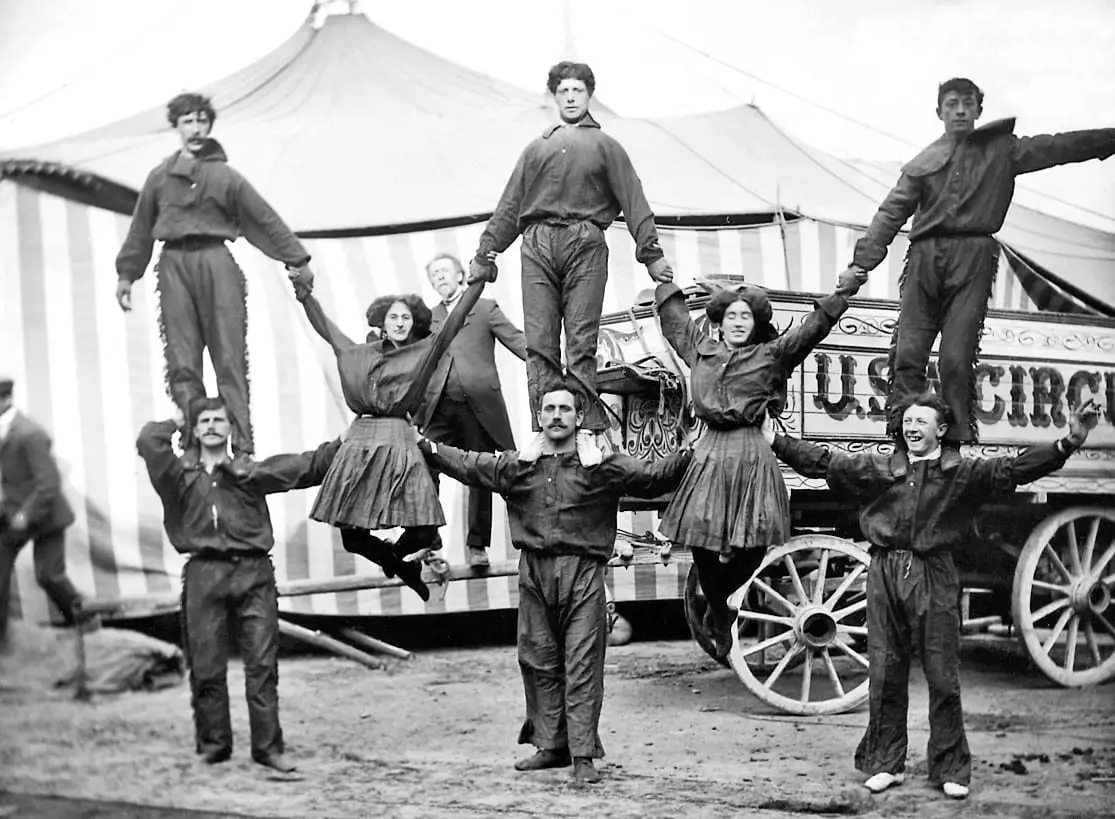 The very first circuses existed during the time of the ancient Romans. Over many years, circus music was initially played by a fiddler or a flutist and was regarded and anticipated by many. 
In the twentieth century, circus music was no longer played by individual instrumentalists but was performed by bands and orchestras. Philip Astley was the very first modern circus director and circus performer. He was a part of the Seven Years' War and was known as a very skilled equestrian.
Astley's horsemanship skills and with the crew of jugglers, acrobats, clowns, and other performers, they opened the first circus in Paris in 1782. The first creator of circus music was Charles Dibdin and was partners with Astley. Dibdin financed the theatre that was used for the royal circus. 
Dibdin was a well-known composer and had written many works before he teamed up with Astley and his circus. Also, Dibdin wrote all of the music used in the circus. His work was mostly comedic pieces. Dibdin used an ensemble of children to sing and dance his pieces for the circus. They performed "The Graces," "Pandora," and "Clump and Cudden." These songs were the most popular pieces because these were initially used for a puppet, which was performed to mock contemporary figures during the time.
Composition and usage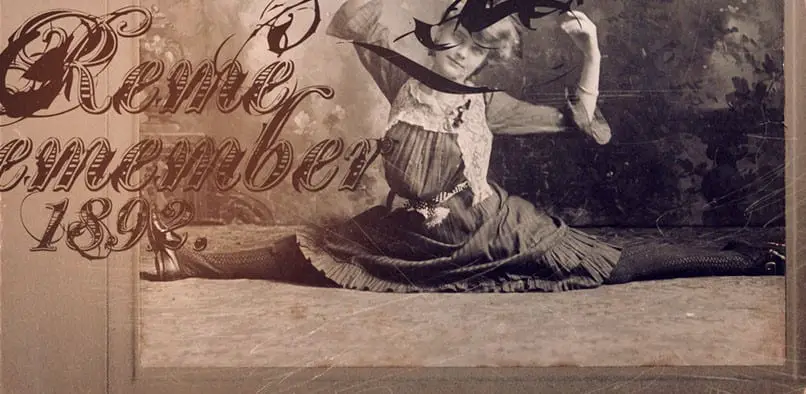 The march or screamer is the most common type of circus music. This type of music is characterized by a quick tempo or rapid tempo at around 200 beats per minute. Within the song, the melodies have showy elements such as leaps, fanfares, and runs. This song is difficult for an ordinary musician to play, and it takes circus musicians to perform this kind of song due to its fast tempo.
Marches are very important in a circus. The ringleader enters the performance area in a marching tune while the performers also use marches to parade around the stage.  In grand entrances and exits of performers and overtures and finales to daredevil acts, the march is the song of choice.
Circus marches are further divided into strains. The exposition is the march's initial section with two strains and is usually preceded by an introduction. The trio is the next section and is usually composed of two different melodies that often repeat or the longest melody repeats. The bleak strain or the "dogfight" follows the trio and is composed of the exposition melody.
Meanwhile, the gallop is another form of circus music, and similar to the march, it is played quickly in a  lively tempo. The gallop is usually played during daredevil acts like trick-riding (performing stunts and tricks while riding a horse) or other performances involving wild animals.
Any kind of fast-paced performance or stunts is accompanied by a gallop. This tune is written in 2/4 time with a short length. However, the song will be played over and over again until the ringmaster signals the end of the performance.  And if the act went on for an extended time, the gallop could be played using da capo. Circus music usually catered to the different needs of the performance or acts. For instance, a high-flying, trapeze act will be accompanied by a gallop or a waltz. A performance where live animals would be presented will need a march.
Instrumentation

As circus music styles have changed, the instrumentation has also adapted. In the nineteenth century, the brass band was used, and string instruments were no longer needed to perform in traditional circus bands. Circus music was described as brighter in tone compared to other music.
New musical instruments were introduced afterward, including the sound of trumpets, trombones, cornets, baritones, tubas and French horns. Bands also paraded around town using these instruments to announce to people that the circus was in town.
Drums were included in circus bands, and despite the saxophone being arguable, these were frequently used as well. The calliope, which was built by Joshua C. Stoddard in 1856 or the "circus piano," is played like a piano but was powered by a steam boiler. This was another trademark of circus music, and its sound can reach for many miles.
Meanwhile, present-day circus music varies in instrumentation, musical style, and form. Musicians today use electric instruments and synthesizers, which are also played alongside traditional instruments like trumpets, drums, pianos, and many more.